Did you know the term podcast is a combination of iPod and broadcast? There's a lot of conjecture around the history and origin of podcasts. It started out as an amateur online radio at best but now is a $100 million business.
Although the name was inspired by Apple, it isn't exclusive to it anymore. Spotify, Amazon Music, Google Podcasts, etc are some of the biggest names in the podcast industry.
Just having a microphone alone could do nothing in the earlier days. Podcasters needed multiple types of heavy equipment and imagining a remote interview across nations was never thought of. But now you don't have to carry around a mixer or even move from your place to connect with guests in other parts of the world.
Most of the podcast recording software today has inbuilt recorders and editors. It doesn't get easier for beginners to enter this industry. In this post, I will walk you through the best podcast recording software for beginners and professionals. I will also talk about ways to record podcasts from smartphones and how to take them to post-production.
An open-source podcast recording software that is ideal for beginners or amateur podcasters. It is available on Windows, Mac, and Linux. Apart from basic editing features like cut, join, move, zoom, etc, Audacity can record live audio from a microphone, mixer, and even streaming audio.
Although it has its limitations, here are the best features of Audacity:
The audio silence tool is easy to apply by selecting an area you wish to mute.
Sync lock tracks to ensure if the length changes of any one track, the same is reflected in all- unless you have deselected that area.
Truncate Silence automatically detects silenced areas and reduces the length of such passages.
Has savable EQ to maintain the effect.
Other than its top features, Audacity has an effective noise reduction and white noise generation feature. In my usage, I could easily reduce white noise throughout the audio and also normalize it. Though it has basic editing features, here's why it doesn't qualify as professional software:
Cons:
It displays two stereo tracks for recording. Multi-tracks are added when you import audio, but not while recording. 
Not as intuitive.
Dated interface.
MP3 plugin is not available.
When I was in college, I had to record and produce radio shows and interviews. Adobe Audition was the first-ever recording and editing software that I used. With a 7 day free trial, it is made for professional use with a sleek interface, multi-track formats, intuitive tools, graphic equalizer. advanced compression and more accessories.
Price: $20.99 per month.
Top features:
Effective audio restoration and noise reduction properties.
Multitrack format allows you to mix multiple audio files, apply different effects to layers, ducking, and more.
Has podcast-specific plug-ins for voice processing.
Allows custom-made recording templates.
Has batch processing capabilities that add the same group of effects to separate files or episodes.
It is not possible to mention every complex feature of Audition. Professional sound editors and podcasters will find all the tools to fine-tune their audio.
Cons:
Involves a learning curve if you aren't familiar with the Adobe interface.
Not suitable for beginners.
Slows down the system and requires a relaunch.
Relatively expensive.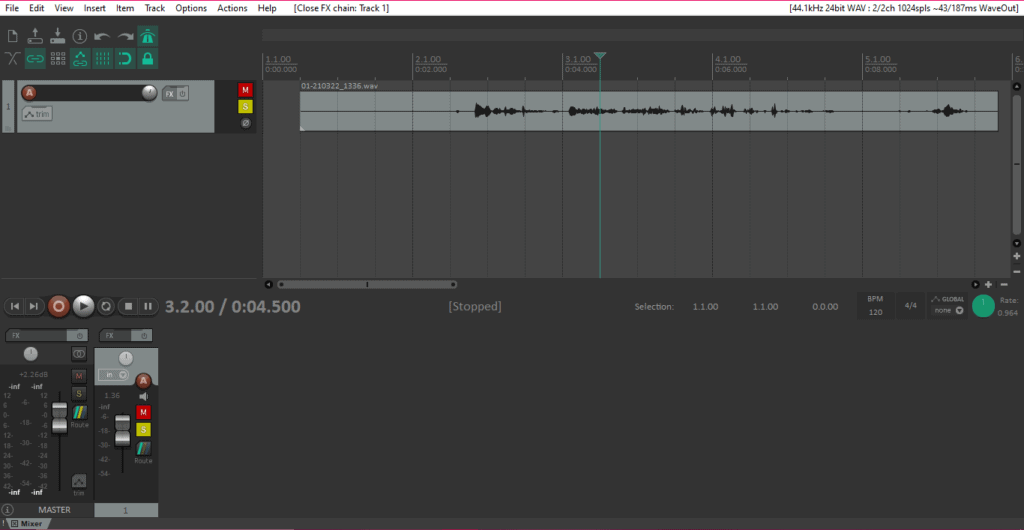 With a 60 day free trial, Reaper gives a generous time to test out its audio recording and editing capabilities. It's available on Mac, Linux, and Windows for the same trial period. Though I found the interface to be intimidating, there is enough and more documentation around this audio recording software.
Price: One-time fee of $60.
Top features:
Built-in plug-ins like RealFIR are available to improve sound quality and remove unwanted noise.
Disarm tracks in the middle of playback.
Enables MIDI editing, mixing, spectral editing, and more.
 Allows customization of hotkeys and editing tools to personalize the experience.
Reaper is stable but less intuitive than Adobe Audition. It can take a while to understand the ways of this podcasting software.
Cons:
Less intuitive and has a learning curve.
Intimidating interface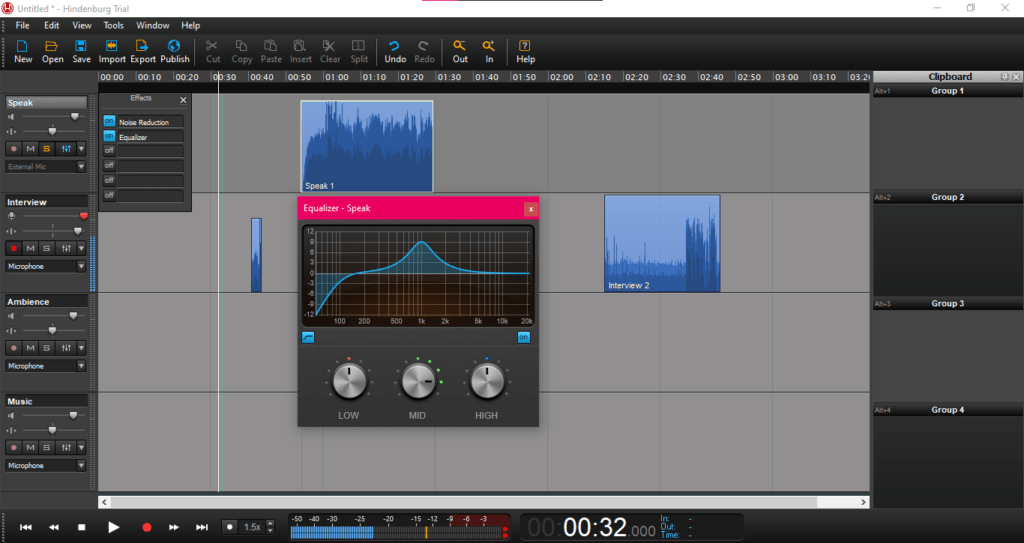 If Adobe Audition is best for professional sound editors, Hindenburg Journalist is ideal for podcast producers and radio journalists. If you look at the screenshot above, it named every track according to elements of a podcast ‒ ambiance, music, speak, and interview.
Hindenburg has two versions‒ Journalist and Journalist Pro. Both versions have a 30-day free trial and are available on Mac and Windows.
Price: 
Journalist $95
Journalist Pro: $375
Top features:
Has an auto-leveling function that takes all the audio elements and places them at appropriate levels.
The clipboard function on the right side lets you organize clips and form a storyline.
Automatically adjusts gains of imported audio files.
Voice profiler tool applies EQ and compression to a voice and optimizes the sound to main balance.
Integrates with podcasting software to directly upload episodes.
Cons:
The basic version lacks important features like noise reduction and integrations.
Expensive to use.
Useful for professionals
Best Podcast Recording Apps For Smartphones
Are you surprised to see this segment? Recording podcasts on the go is easy when you have the perfect software with you. Smartphones have podcasting applications to help you create, edit and share your podcasts directly. Let's look at some of the best applications.
Spreaker comes with high-quality recording ability and instant sharing options. You can record and produce your podcast with Spreaker.
Top Features:
Choose to record or perform a live broadcast.
Control volume across channels and mix them independently.
Instant sharing to Twitter and Facebook and Youtube.
Live chatbox to chat with your audience during a broadcast.
Extensive library of sound effects and allows you to add effects from your smartphone.
While it has decent features there are some drawbacks.
Cons: 
The desktop version does not link to the app on the smartphone so you cannot see your drafts on your laptop/pc.
Crashes often.
The free version has a cap on recordings.
This free podcast hosting platform is by Spotify. You can create, host, distribute and monetize your podcast from your tablet or smartphone. Its episode builder lets you visualize,  edit and arrange your audio segments. Although it's free software, I didn't find it to be the best.
Top features:
Let's you record with up to 4 guests or co-hosts.
Add voice messages from your listeners to your episodes.
You can analyze episode performance and listener demographics.
The analytics dashboard lets you track metrics from multiple platforms like Spotify stats.
Easily record custom ads in your voice and choose their placements.
You can hide Anchor's logo on your cover image.
Apart from its top features, I was impressed to know about Anchor's cover art creator, but it turned out to be disappointing. Its extensive features cannot cover some dire flaws which are hard to overlook.
Cons:
There are next to no editing features whatsoever. All you can do is split, rename and delete the audio.
Processing the audio after recording takes more than 5 minutes.
Distributing to other platforms doesn't work and displays an error message.
Sometimes the cover art isn't visible which makes for a poor user experience.
Popular for its sound quality, Dolby On is an audio and music recording software available on smartphones. It is useful to both musicians and podcast producers with its extensive editing features. Dolby is not limited to audio and allows video recording and live streaming as well.
Top features:
Dynamic EQ feature lets you fine-tune treble, and bass
Noise reduction and de-essing features are effective in improving sound quality.
Boost compression and bass to manage loudness.
Easily export to Logic Pro, Ableton, Pro tools. Bandlab, etc.
Has a Youtube live stream option for video podcast recorders.
It is ideal but isn't foolproof audio recording software. Although except for one issue, the others are auxiliary problems and won't affect your recording as much.
Cons:
No pause button available.
No echo and reverb tool.
Unable to download recordings.
No stereo recording support.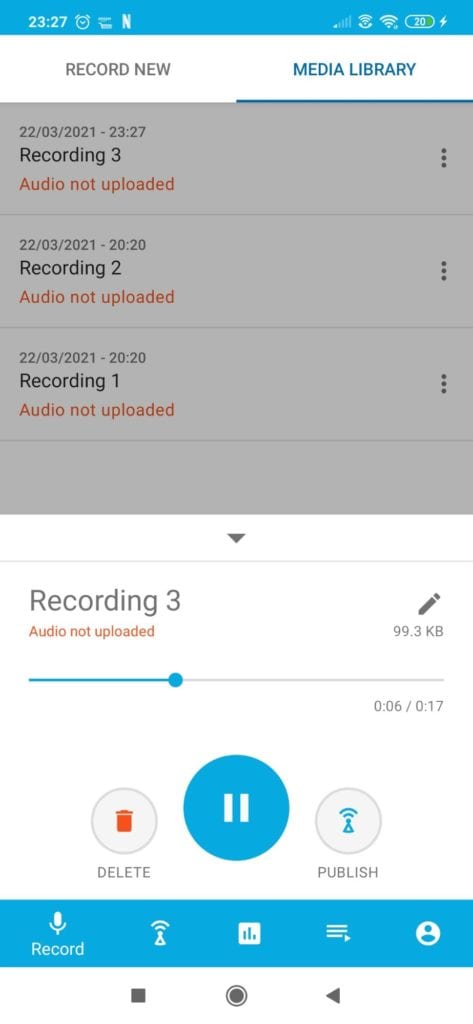 Another Podcast recorder that lets you directly publish your episodes to Facebook, Twitter, and other social media accounts.
Top features: 
Has a co-cast feature to record podcasts with co-hosts or guests.
Publish podcasts directly on Apple Podcast, Google Play, and Spotify.
Track your podcast growth with analytics features like listens, views, follows, likes.
All your episodes are automatically saved in cloud storage.
Upload a custom cover art or choose from the library.
The free account has a storage capacity of 500 MB and 15GB bandwidth. Podomatic has limited features when it comes to being professional software.
Cons:
Cannot edit audio files.
No option to add music and transitions.
It does not let you change your podcast URL.
Other Useful Podcast Software For Production And Editing
The recording is not the only part of publishing a good podcast. After that comes post-production. Some of the software mentioned below are to fine-tune your podcast and some work as hosting platforms.

You may have a podcast, but do you have a platform to host it? Buzzsprout makes podcast hosting seem like a child's play. You can transfer your existing podcast or create one for free. Here's what Buzzsprout does:
Set up your podcast in minimum and easy ways.
Transfers files uploaded in any format.
Lets you directly add your podcast to directories like Apple Podcast, Spotify, Google Podcasts, iHeartRadio, Amazon Music, and many more.
You can easily embed podcast players to your website.
Keeps track of your sponsors and affiliates.
Buzzsprout also provides stats to monitor your podcast growth. It starts at $12/ month and increases with pro versions and upgrades.
Free for only two hours per month with a 7-day free trial, Auphonic is best for basic editing and post-production solutions. The automatic post-production feature requires you to just upload your file and wait for it to be fixed in just a few minutes.
Automatically levels, tails, and top the audio file.
Normalizes loudness in audio.
Filters, encodes, and reduces noise.
Manages metadata, API and has a batch processing feature.
This web-based software processes files in various formats and also integrates with Libsyon and Dropbox. It works like magic. You don't need to edit anything manually. Its algorithm identifies music and voice separately so everything is processed in different ways. Here's where I think the problem lies.
Automatic processing takes away the control of sound and the output.
It misses a few hums and unwanted sounds.
Not suitable for professional podcast recorders or sound editors.
Just how Buzzsprout makes it easy to set up a podcast, Alitu polishes it automatically. You can record a clip or upload a prerecorded file and watch it refine your audio. It has automated audio leveling, podcast host integration, free theme music, and effects.
Solo podcasters without technical editing knowledge will benefit from its intuitive settings. When you upload a track to an episode, Alitu creates empty intro and outro segments automatically. You can directly download your file and share it on their integrated podcasting host platforms like Buzzsprout, Libsyn, Podbean, Spreaker, and more.
However, it has its limitations.
Does not offer editing options like Adobe Audition or a professional DAW.
Does give creative flexibility to the editor.
Has one input set up.
Alitu is well suited for beginners looking for easy and quick solutions to create, edit and publish podcasts. It has a 7-day free trial after which it costs $28/month.
As a new podcaster, you may not know the importance of transcripts. Isn't it easy to search anything just by typing a word? That's why you need transcripts. They are done for SEO purposes so that search engines can index episodes which improves search visibility.
Transcripts increase the podcast's ranks on SERPs for those keywords and also give visitors another option for viewing the episodes.
Scribe is a transcription service company that produces high-quality and accurate transcripts at a reasonable cost. You may be a talented podcast artist but not a good transcriptionist. You just need to drop in your audio file and pay an hourly rate for your transcriptions.
Final Thoughts
In my opinion, nothing beats Adobe Audition as a professional podcast recording and editing tool. Its sleek interface, extensive editing, and post-production features are ideal for professional sound artists and podcasters.
If you have just thought about starting your own podcast or have little to no experience in this field, I suggest you try Audacity or Alitu for recording and Buzzsprout for hosting it. You can also choose either Alitu or Buzzsprout for the complete creation and publishing process.