Overview: Captivate.fm is an advanced podcast hosting platform that genuinely lets you house unlimited podcasts on all of its plans (including private podcasts). Its dashboard is a feast for the power podcaster with tools for publishing, marketing, management, creating your website or even your own podcast network! Their support team is also responsive.
Take a 7-day free trial of any of its plans using my affiliate link.
Pros:
A modern host with tons of features for podcast research, planning, guest booking, and interview management
You can host multiple podcasts without any feature limitations on all of its plans
Cons:
The buffet of podcasting features in the dashboard and its nerdy 2.0 language can overwhelm a beginner
The company should focus more on building monetization tools
Captivate.fm is a relatively new entrant in the podcasting industry. It was started in January 2019 by Mark Asquith and Kieran McKeefery as the first "growth oriented podcast host." Does the platform live up to its name? Is it worth its price? How is the platform holding up after the acquisition of Captivate.fm by Global in December 2021?
Let's find out in today's Captivate.fm review.
What is Captivate.fm?
Captivate is an unlimited podcast hosting platform that lets you host and monetize multiple shows. It has robust planning, guest booking, analytics, podcast management, marketing tool, and more — all from the Captivate dashboard.
I Found Starting a Podcast With Captivate.fm Smooth…
The first screen a new podcaster must see should be to start a podcast. The podcast network could be reserved for the higher tiers.
Captivate with some helpful prompts to guide you through every step.
I got stuck while uploading a podcast artwork, but it helped me upload the appropriate dimension for my podcast cover art.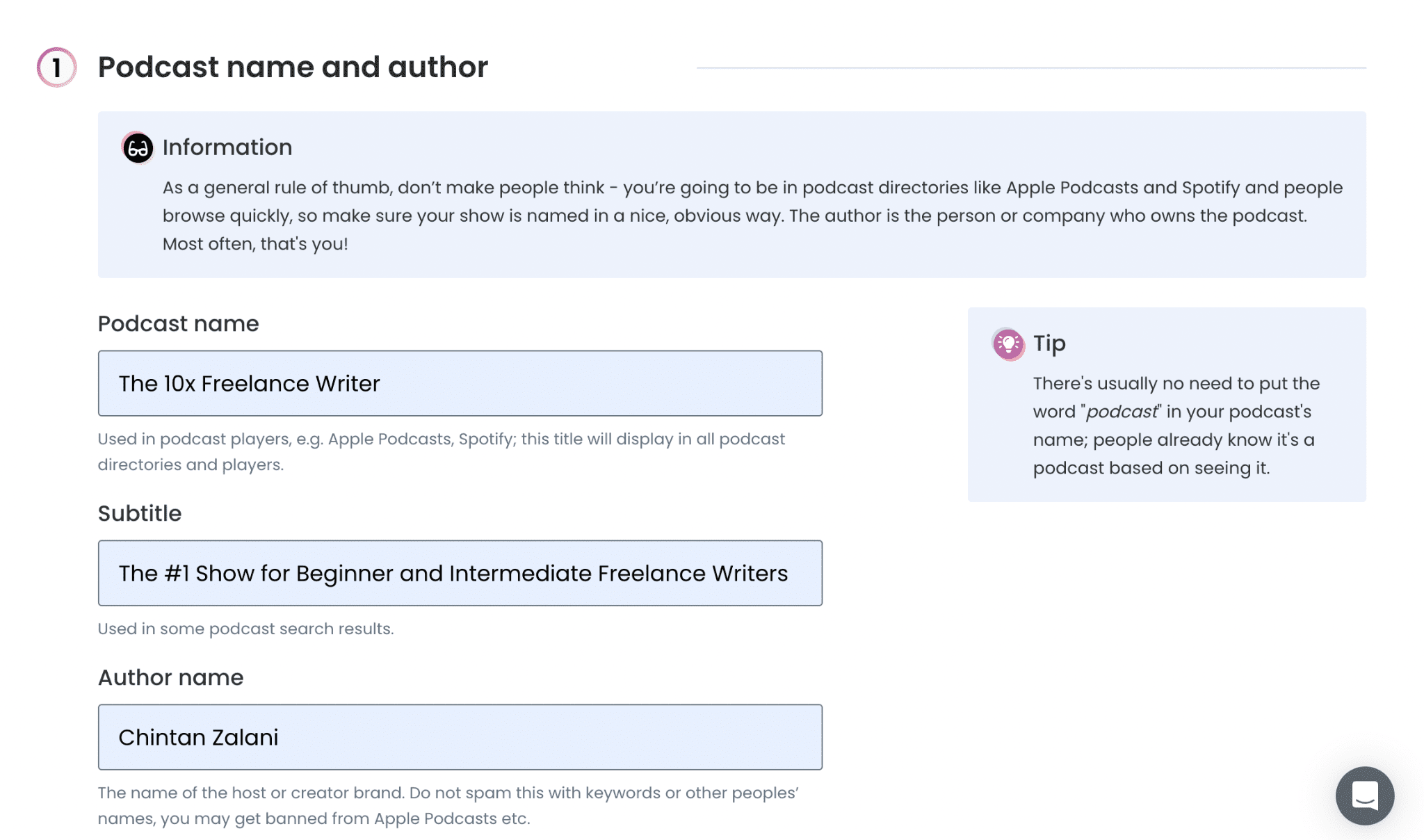 But I found the dashboard overwhelming as soon as I started my podcast. For instance, look at this message asking me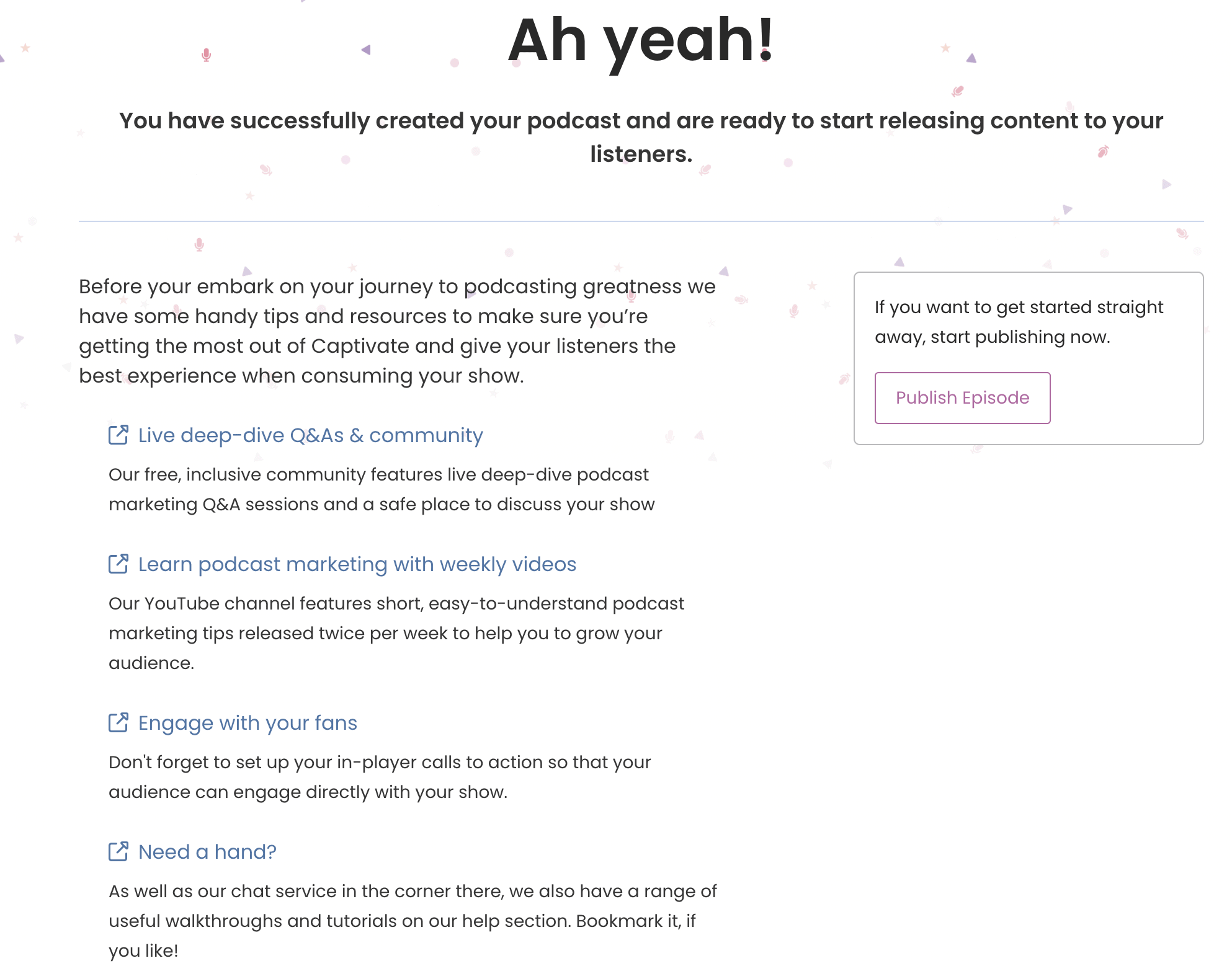 Podcast Distribution
How Much Does Captivate.fm Cost: Is It Competitive?
All Captivate.fm pricing plans allow you to create an unlimited number of shows and access to all of its podcasting features. They are ONLY capped by the number of downloads while enforcing a fair usage policy (if required).
You can pay monthly or save by paying for the whole year upfront. Here are its three plans:
Personal: $19/month or $204 annually (allows up to 30k monthly downloads)
Professional: $49/month or $528 annually (allows up to 150k monthly downloads)
Business: $99/month or $1,080 annually (allows up to 300,000 downloads per month)
You get a 7-day free trial on all the above plans. Sign up by clicking here on my affiliate link.
Captivate.fm's Customer Support is Personal and Helpful
In one of their initial blog posts, Captivate.fm's co-founder, Mark Asquith, share his experience of having recorded over 700 episodes. Their customer service and even the platform's features are reflective of their first-hand podcasting experience. There are tons of help articles in their help section and a responsive live chat.

Live Q&A, Feature Reveals, and More…
Captivate's team is knowledgeable and passionate about educating you on podcasting. They have tons of educational resources and run webinars, regular Q&A sessions, and feature reveals.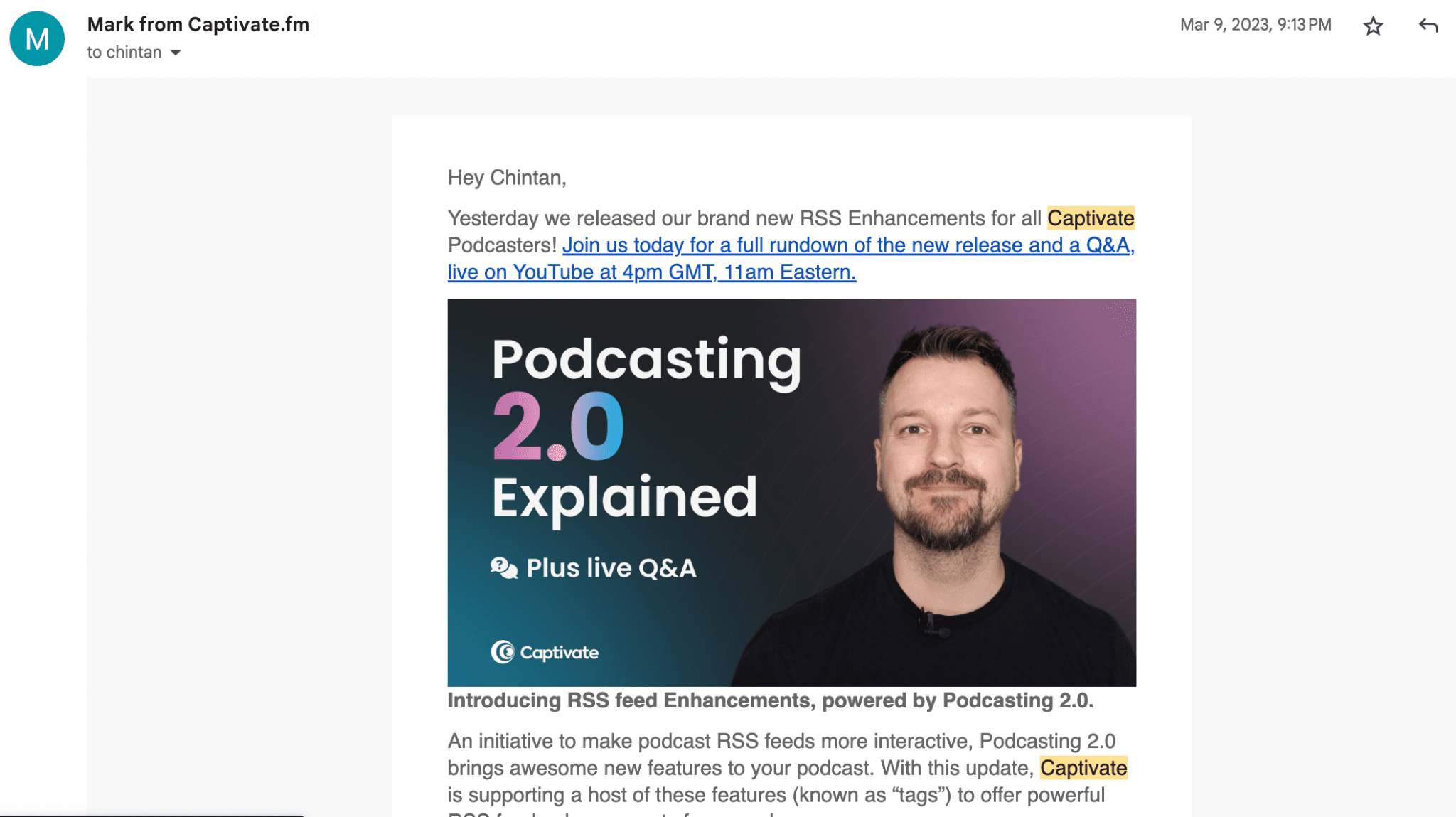 Whether you need help with a basic podcasting feature or want to grow your show, Captivate.fm team — even their co-founder, Mark Asquith — is super approachable and helpful. They also have a Facebook community named "Podcast Launch Accelerator."
Unique Captivate.fm Offerings I Like
Ample Podcast Management Features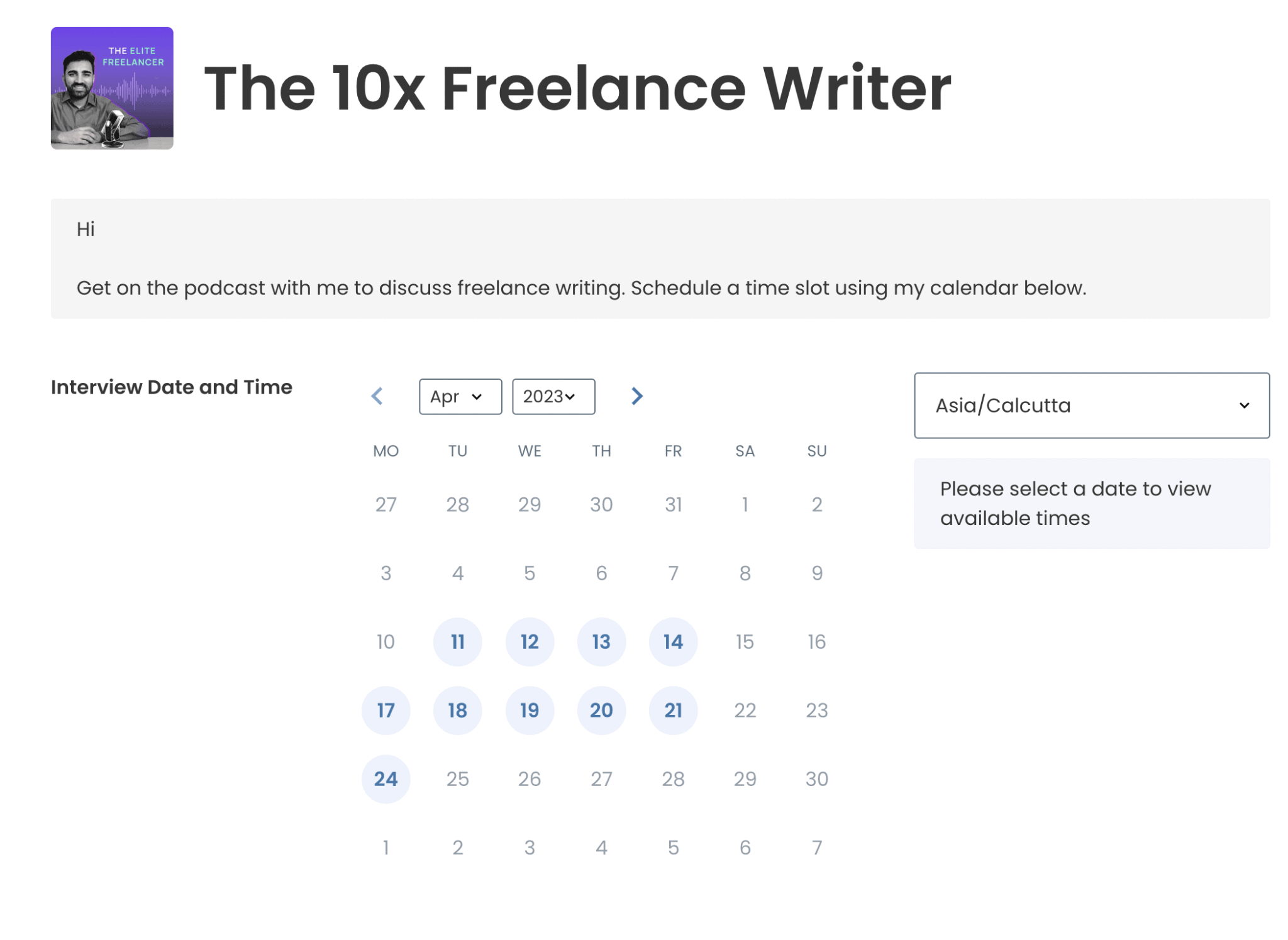 Captivate podcast hosting stands out for its suite of management features:
You can research and plan episodes
Use it as a guest booking and management platform while controlling your availability
Ability to Create Your Own Podcast Network
Captivate lets you
Omni-Search
If you want to search for "anything at all" across your podcasting workflow in Captivate, then you can use omni-search. The company shares these examples you can use ths search for:
"Publish" to begin the publishing process
"Analytics" to dive into your episode analytics
"SEO" to be taken to the deep-dive Captivate SEO tutorial
A team member or podcast name to be taken right there!
Given Captivate's huge amount of features, this is a nice touch.
RSS Enhancements
Captivate.fm brands itself as a forward-thinking passionate podcast host. No wonder, then, that they support Podcasting 2.0 features such as tags.
Valuable Podcasting Education: Growth Labs and More…
The company offers exclusive courses for podcasters on subjects such as SEO, podcast sponsorships, podcast content strategy, and podcast editing. This is on top of their regular live webinars, help center, YouTube videos, and a Facebook community.
Captivate.fm Can Do Better in These Areas
Making the User Experience Uncluttered
Captivate keeps rolling out features to justify its "growth" tag. But there are so many features, the platform can come across as intimidating for a beginner. Well, I know they are meant for the "serious independent podcaster", but hey my expertise shouldn't restrict me from enjoying podcasting.
I know the company is continuously making improvements to the platform, so ultimately, those enhancements should also become easier to navigate.
Video Podcasting
The platform is pushing the boundaries of the podcasting industry, but lacks video hosting capabilities. Given YouTube is one of the biggest podcast listening platforms, I think Captivate should incorporate it at some point.
Develop Native Podcast Monetization Tools
In the name of monetization, the only tool I see in the platform is their "Sponsor Kit" which can automatically generate your show's performance's PDF. You can also charge subscription revenue via Patreon from your private podcast listeners, but again there's nothing natively available to do it.
Captivate.fm Has Enhanced Versions of Almost All Common Podcasting Features
IAB Certified Analytics
Podcast Website
They even have a Sync WordPress plugin.
Template and Block Focused Show Notes Manager
Cool Embeddable Podcast Players
Bulk Ad Editor
Loaded Podcast Promotional Tools
Migrating Your Existing Podcast to Captivate.fm is Easy
Integrations With Email and Podcasting Tools
How Captivate.fm Stacks Against Its Competition
Captivate.fm Vs. Simplecast
Captivate.fm Vs. Buzzsprout
Final Verdict: Is Captivate.fm a Good Podcast Host?
Yep overall, Captivate.fm has a slew of features designed keeping the needs of a podcaster in mind. At $19 per month, access to unlimited storage and network features is great value for money. Sure, the company can do better in its UX and monetization, but it's a platform podcasters would want to stick with and evolve!