Email marketing remains one of the leading tools to connect effectively with your customers. It helps you build a loyal audience base that social media & ads can't. That is why choosing the right email marketing software is essential. 
Mailchimp remains one of the most popular tools in the market for email marketing, with a market share of 69.35%. In this article, we compare it to the second-most popular email marketing software, Constant Contact, which has a 6.10% share over the market. 
Comparison Table: Mailchimp Vs. Constant Contact
I have created a quick comparison table for you to check & evaluate the different features of both software. I also give a breakdown of these features in the next section.
| Feature | Mailchimp | Constant Contact |
| --- | --- | --- |
| Overall User Experience | Beginner-friendly and more aesthetic | Easy-to-use but not that modern |
| Pricing | Flexible pricing plans with no trial | Two plans with a 60-day free trial |
| List Management and Other Email Marketing Capabilities | Comprehensive contacts report and Feature-rich sign-up forms | Basic contacts report and simple sign-up forms |
| Email Design | Modern and aesthetic | Contains almost all features but lacks the modern aesthetic |
| Deliverability | 91% | 89% |
| Automation | Condition maps that can be customized | Only 3 common variations |
| Reporting Analytics | Comprehensive insights into specific and cumulative campaigns | Basic analysis only |
| Customer Support | Phone support only available with the premium plan, but Help Center is comprehensive and complete | Phone support available to all customers but Help Center not that comprehensive |
| Integrations | Offers more number of integrations divided basis categories | Offers integrations divided alphabetically and basis categories |
| A/B Testing | Offers for subject lines, send time, content | Only offers for the subject line |
Mailchimp remains one of the most popular email marketing software in the market, followed by Constant Contact. Both software are relatively similar in their user-interface and ease-of-use. However, Constant Contact lacks the aesthetic sensibilities present in Mailchimp. The email design, automation, and contacts report are much more modern and useful at Mailchimp when compared to Constant Contact. 
Overall, Mailchimp is much more beginner-friendly and modern for your business than Constant Contact. 
Mailchimp offers four plans: Free, Essentials, Standard, and Premium. The free plan allows you to add 2000 contacts. There is no free trial or money-back guarantee, but there is a 'Pay As You Go' plan that you can opt for, especially if you are an infrequent sender.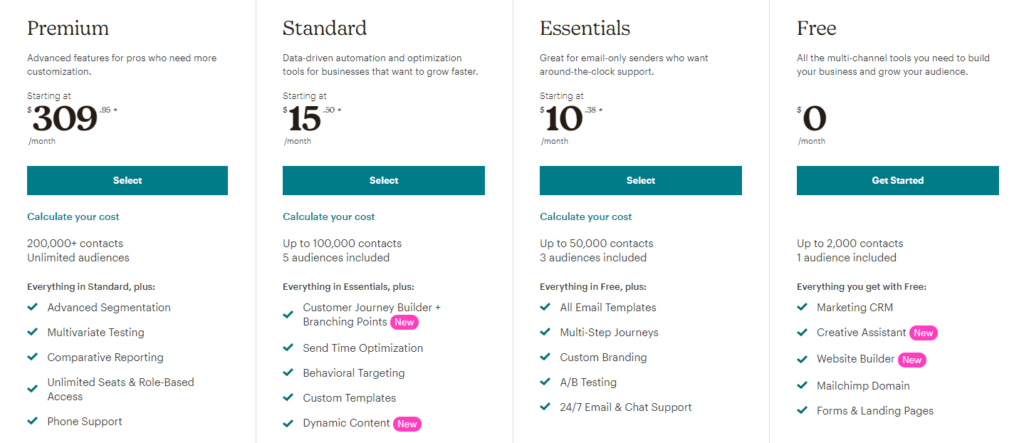 Constant Contact is simpler and offers you only two plans: Email and Email Plus. Although there is no free version, you get a 60-day free trial with any plan you opt for. The price is dependent on the number of contacts that you have.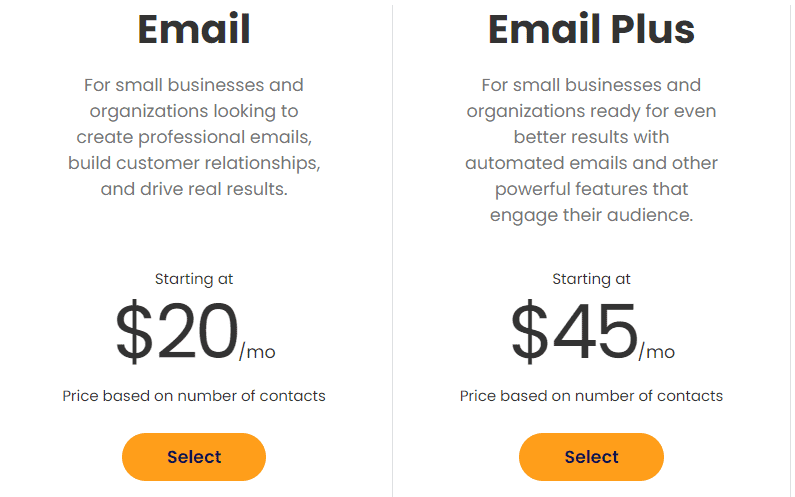 The pricing plans of Mailchimp are more versatile, and thus suited to both the needs of a creator and a small business. Constant Contact's plans are more suitable for a creator or a business with more specialized needs. Constant Contact also bills website and domain services separately, which can be a tedious effort to coordinate if you use them. 
List Management And Other Email Marketing Capabilities
This is the form where your audience lands, so it is important. It can make or break your email marketing game. Mailchimp simply offers more flexibility, design options, integration capabilities for your sign-up-form than Constant Contact. The designs are more modern, with excellent aesthetics, against which Constant Contact's form looks pretty dry. 
The audience dashboard of Mailchimp is also superior (in its analytics and ease-of-use) to Constant Contact. Mailchimp tells you your most engaged contacts, demographics breakdown, and even the top-locations of your subscribers. 
Both allow you to separate your contacts into different segments and add tags to certain audience members if required. However, Constant Contact only offers the basic overall trends and summary in its contact report which lacks the depth offered by Mailchimp. 
Mailchimp offers its classic builder with pre-built templates. The drag-and-drop feature is pretty easy to use and equipped with the modern features and aesthetics of email designs. It also offers unlimited storage space and an in-built photo editor. 

Constant Contact has a similarly uncomplicated drag-and-drop email builder. There are more templates offered in Constant Contact than Mailchimp, but the features lack the modern aesthetic sensibilities of Mailchimp. Although you can store only 2GB of data in Constant Contact, there is a gallery of stock images that you can choose from, which are not available in Mailchimp.
I found the design of Mailchimp to be more intuitive than Constant Contact. It also offers the flexibility to be more creative in your email designs. Mailchimp was the clear winner here. 
Email deliverability is when an email is successfully received in someone's inbox. But, email delivery is not the only thing that you should care about. Your email to your audience members should be delivered at the right place, which is the person's primary inbox, and not spam, junk folder, or promotions. 
According to an Email Deliverability Study of Sep 2020, Mailchimp has an email deliverability rate of 91% and Constant Contact has a rate of 89%. 60% of Mailchimp's emails in this study landed in the 'Promotions' tab. This number was 40% for Constant Contact. 
This is a slim victory for Constant Contact. 
Automation is when you choose to trigger automated emails to subscribers who meet certain criteria. For example, if you want to send a 'Thank You' note for subscribing to your email list, you would opt for everyone who joins your list to receive this message. This saves a lot of manual effort. 
Mailchimp is the clear winner in automation. It allows you to create a condition map for different types of requirements and is more personalized than Constant Contact.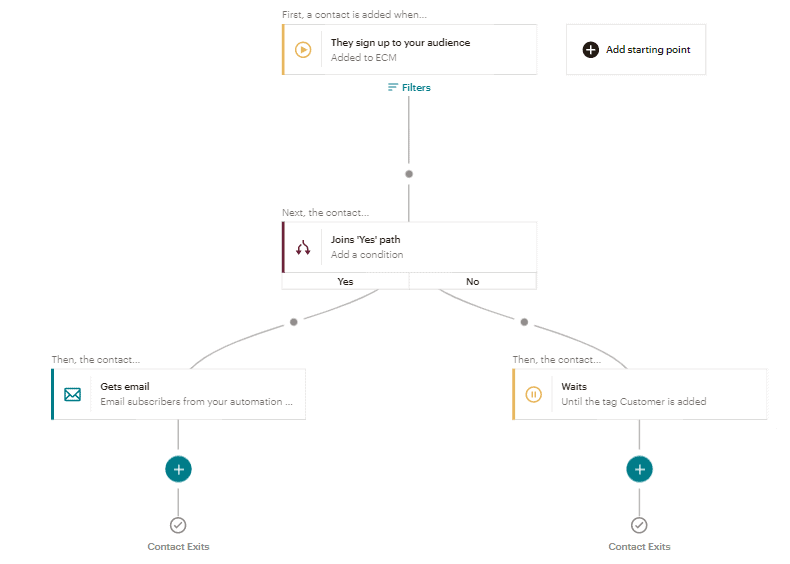 Constant Contact only offers three types of email automation and those are simple email design templates rather than a customized condition map.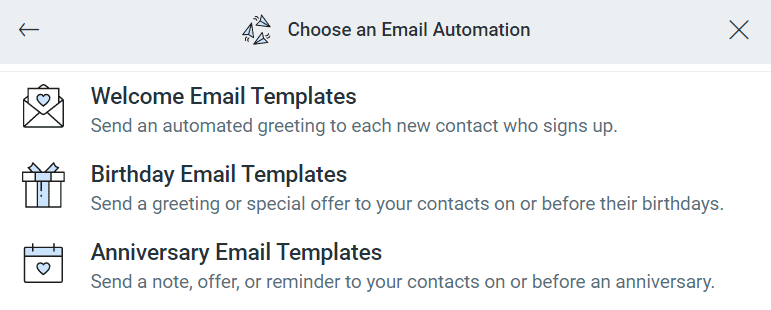 You can trigger automation when certain online behaviors are met, or segment it to only a certain list of customers in Mailchimp. Constant Contact offers no such customizations. 
Insights into your email campaigns can help you figure out what's working well and what needs to be changed. This can pave the way for improved email campaigns in the future. 
Mailchimp and Constant Contact both offer basic email reporting: bounced emails, open rate, click-through rate, bounce rate. But this is pretty much the end with Constant Contact. 
Mailchimp, on the other hand, offers click-maps, forwarded metrics, subscribers who have the most number of opens, social media performance, and interactive graphs. The standout feature in Constant Contact reporting is the offered suggestions to improve your metrics (like how to improve your click-through rate, improve open rates, etc.) 
Despite that, Mailchimp clearly has the upper hand in reporting. 
Good customer support is crucial for keeping your customers happy. It can be especially helpful to beginners who are learning the know-how of email marketing software. 
Mailchimp support options vary on the basis of the plan you have. If you have a free plan, you only have the help-center and email for support. It offers phone support only in the premium plan. 
In contrast, Constant Contact offers email support, a live chat option, and phone support.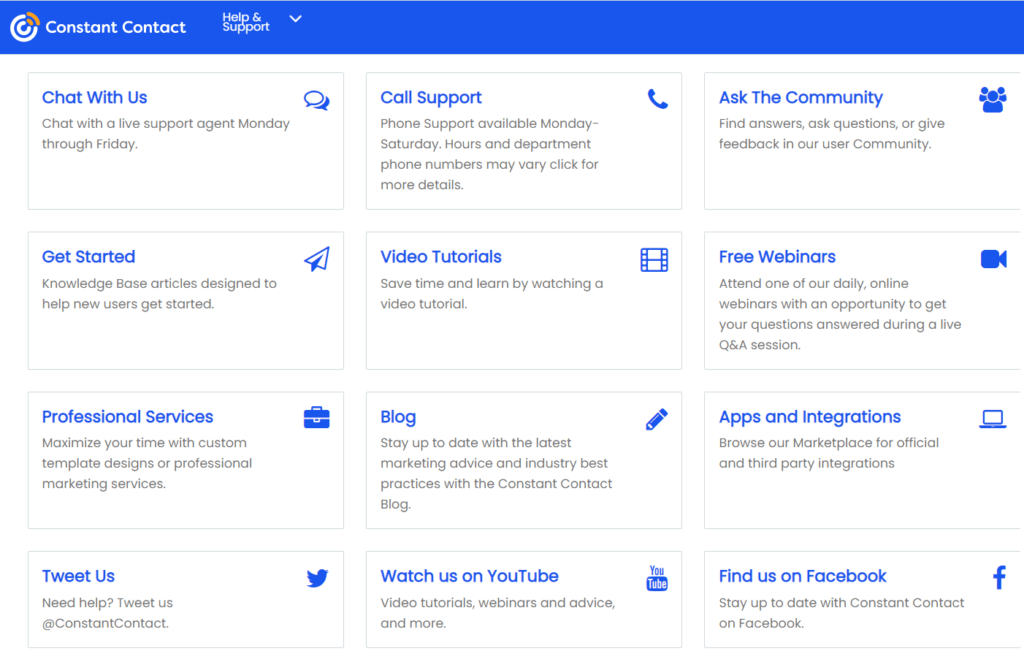 But the help center at Mailchimp is much more comprehensive, easy-to-understand, and useful than Constant Contact. Their articles are not as pervasive and varied in the knowledge base. It would be a slim win for Constant Contact again. 
Integrations can make your email marketing campaigns easier. But integration needs differ from customer to customer and business to business. Salesforce integration might be more relevant for a large business. A creator extensively active on social media might benefit from a Facebook integration more. 
Mailchimp offers 200+ more integrations than Constant Contact. It would be the winner here if you knew what you were looking for already since all these integrations are separated based on categories like E-commerce, Website Builder, etc with a search-bar.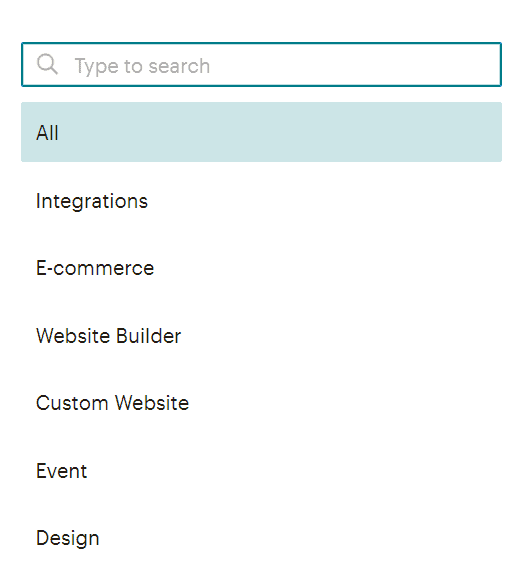 In Constant Contact, you can search for them alphabetically and based on categories like Mailchimp.

I'd say it's a tie between Mailchimp and Constant Contact in integrations because while Mailchimp offers much more integrations (and likely has whatever you are looking for), Constant Contact leads in ease of use. 
An email marketing software lets you test what variations of your email works best for your audience members. 
Mailchimp offers A/B testing for subject lines, send time, content, and more while Constant Contact only offers the same for the subject line. A/B testing is not even an option available for email automation in Constant Contact. That means you spend a lot of time creating different versions of the same email for different recipients. 
Again, Mailchimp is the clear winner here. 
Final Verdict: Constant Contact Vs. Mailchimp
Mailchimp is the winner in most of the features evaluated here. It continues to be one of the simplest, most popular email marketing software for good reasons. However, you can understand the faults and pluses of both the software from the Pros and Cons table below: 
| Mailchimp | | Constant Contact | |
| --- | --- | --- | --- |
| Pros | Cons | Pros | Cons |
| Flexible pricing plans | Phone support only available with the Premium plan | 60-day free trial | Only basic reports and analytics |
| Comprehensive Contacts and Analytics Report | Integrations can be hard to search for if you don't know what you are looking for | Easy-to-use Integrations | Lacks modern aesthetics |
| Over 800 integrations | | Phone customer support | Lack of a comprehensive Help Center |
| Comprehensive Help Center | | | No Automations personalized map |
| Personalized automation creation | | | A/B Testing not available for automation |
If you still think that neither Mailchimp or Constant Contact is right for you: