If you have a Smartphone and an internet connection, you can create digital media and reach a global audience. Anyone with a knack for creating audio, video, text, or visuals can become a content creator and build their personal media empire.
While it may not seem like a big deal, the democratization of distribution is momentous for creators. Not so long ago, you needed to go through middlemen for broadcasting any kind of information.
Now, without spending a penny, you can create media assets and find an audience interested in consuming it through various marketing channels. Why is it then that only a few content creators rule the roost? For instance, over 90% of pages on the internet get zero traffic from Google!
Note: This article contains affiliate links. This means if you purchase anything using my link, then I earn a commission (at no extra cost to you). I only recommend products that I personally find valuable and enjoy. I appreciate your support.
Recommended Reading: 21 Top Content Creation Software
In this article, I'll share a few controversial tips on how to become a sought after content creator in your industry. Let's begin with answering a few FAQs:
Frequently Asked Questions About Content Creators
If you're new to the world of content creation, let's get you to speed and address common objections surrounding the occupation.
In the next section, let's look at a few habits, principles, and tools required to become a high-quality content creator. I might mostly refer to textual content creation in the pointers below, but the overarching ideas are valid to video creators, podcasters, and all kinds of creators.
If the advice below seems counterintuitive, then read through the examples and supporting ideas again. Off we go!
1. Niche Down So That You Can Scale Up
When I began content creation, I got paid a tad over 50 cents for a 500-word blog post. To date, content mills and freelance marketplaces continue paying $5 per article to new writers. In the iWriter pricing plans below, look at the pay for the "Standard" tier.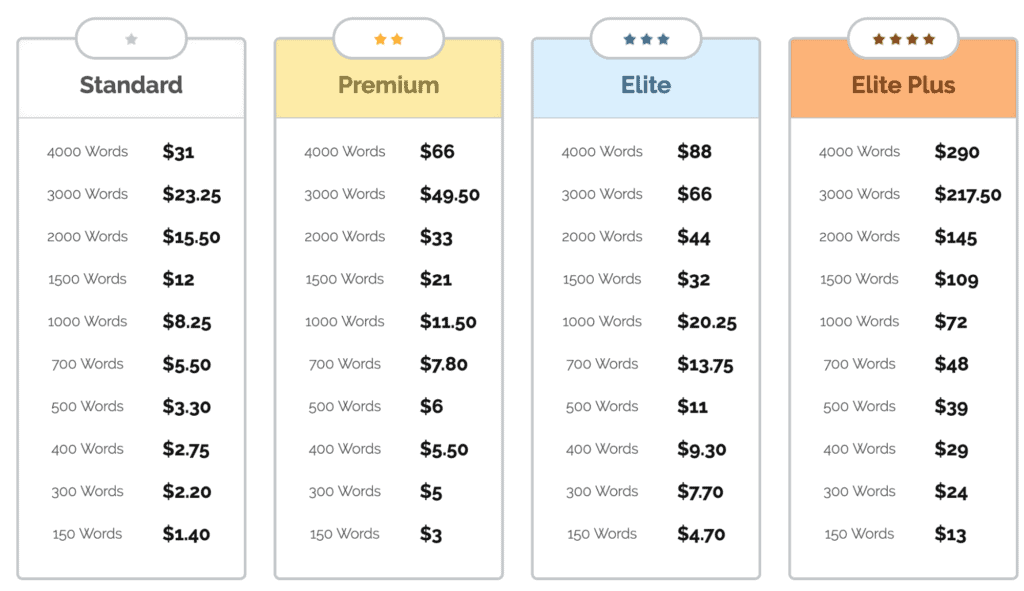 Working for such content creation companies that deem it as a commodity is a huge mistake. It shouldn't be on your cards (barring a few decently paying gigs at Upwork). But can you get paid well at the beginning of your content career at all?
It's a reaffirming YES. Begin by niching down. Don't try to please millions, rather, find those 1000 true fans you would genuinely love to have a conversation with. That's not a big ask given that even appealing to one-in-a-million people of the world would leave you with 7000 people.
Tim Ferriss, author and entrepreneur, lays down the importance of finding this 'narrow niche' for yourself — about aiming for a readership that LOVES every piece of content you create.
I rescued my freelance content career by specializing in writing digital marketing articles and later SaaS content marketing. That's how I raised my rates by over 2000x and scaled up my content business.
Whether you're producing videos for your YouTube channel, starting a podcast, or engaging in any other creative endeavor — niche down. It's going to build a strong foundation for scaling up your audience or your pay later on.
Want to create a persona of your "true" fans? Get started with this free Make My Persona tool by Hubspot.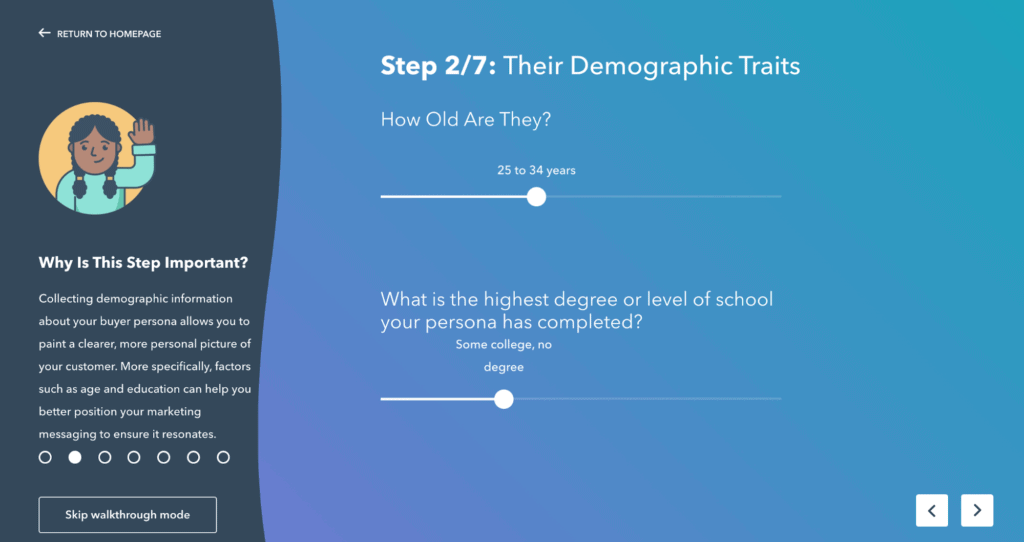 2. Build Streaks To Gain Momentum
Whenever I've set huge goals for myself related to creative projects — be it writing or producing videos — I've felt overwhelmed. I almost always backed out even before starting the project. I learned the hard way that the key to flexing your creative muscles is just by showing up regularly and completing mini-tasks.

If you're getting started with a blog, you need not write 1000 words every day. Just promise yourself to put down 100 words a day and build a streak of the same. The idea is to set the bar so low, you won't feel any resistance in showing up.
Especially at the beginning of a creative project, such streaks help you feel confident and gain momentum. I've found them helpful in building an appetite for taking on bigger challenges. For instance: Once you get the foot in the door with those first 50 words — you'll feel inertia to continue writing. Who knows, you might even complete a whole article.
I like using the Strides app (available on iOS and web) to keep track of my habit streaks. Here's a preview of me trying to "play the guitar" every day. I'm trying to improve the percentage of days I show up.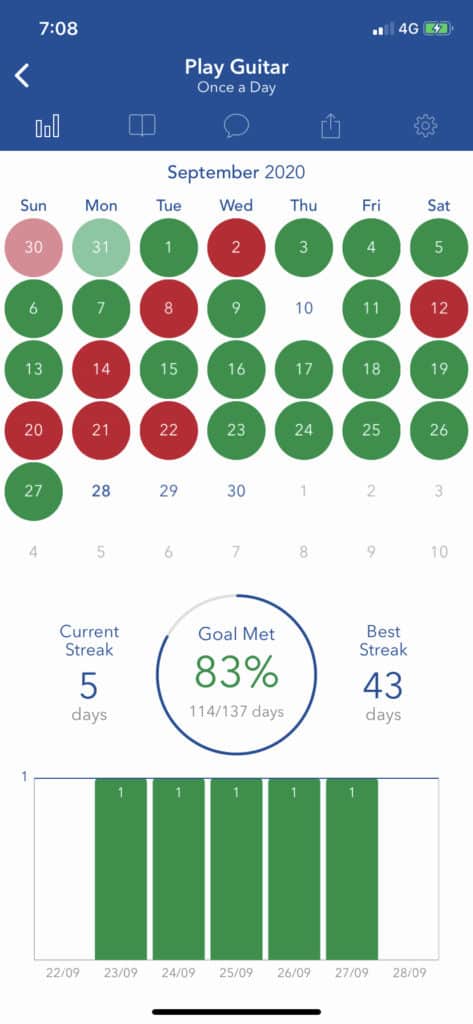 Building such streaks can also take a weekly form. James Clear (author of Atomic Habits) chose a frequency of publishing two articles per week at the beginning of his blogging journey. That has paved his way to becoming a bestselling author and a super successful blogger.
One fine day, James didn't feel like he had any great ideas and wanted to give up. 
So what did he do?
He used some grit and wrote anyway.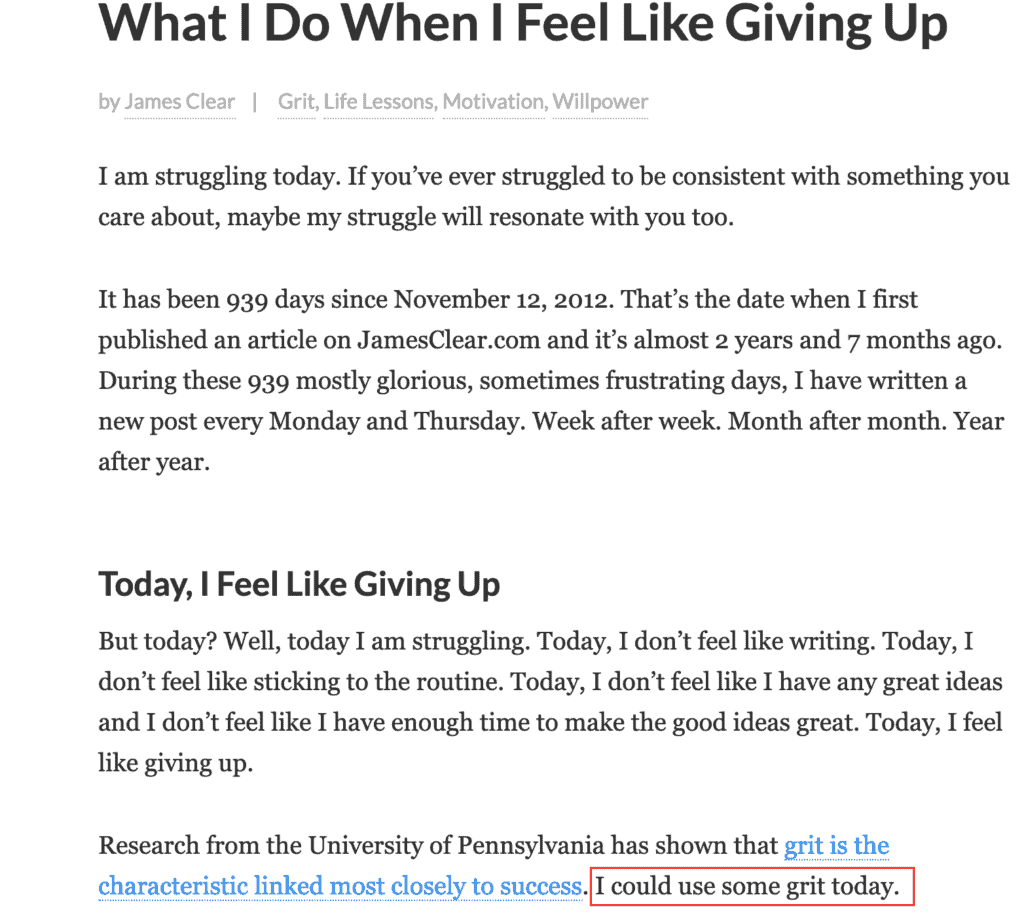 Later in the article, I'll share another application that will help you understand your body's internal clock so you can build your writing routine accordingly.
3. Copy Badasses In Your Industry
I'm not talking about plagiarising content. I want you to scout writers, authors, podcast hosts, artists, or any other creative influencer that you admire and try to emulate their style. 
Maybe you're a video creator and connect with someone like Gary Vaynerchuk. He shares valuable advice for aspiring entrepreneurs, which is such a common subject. But his videos have a characteristic GaryVee exuberance, so you dissect that by watching his videos.

His tone overflows with energy, swearing, and hustle. He isn't worried about being politically correct. He doesn't want to appeal to everyone. So you can take the best parts of his approach.
For a content writer, it could mean reading articles at the New York Times or their favorite blog, then dissecting their usage of punctuation, framing of arguments, sentence structure, and even memes. You can do this for a bunch of your favorite writers.
Conduct the above exercise whenever you want some inspiration — until you realize that you'll only fail at becoming these artistic folks — and in the process, you find your style, your voice.
It's combinatorial creativity at work. As Maria Popova, author and the founder of Brain Pickings, puts it: "We take information, from it synthesize insight, which in turn germinates ideas."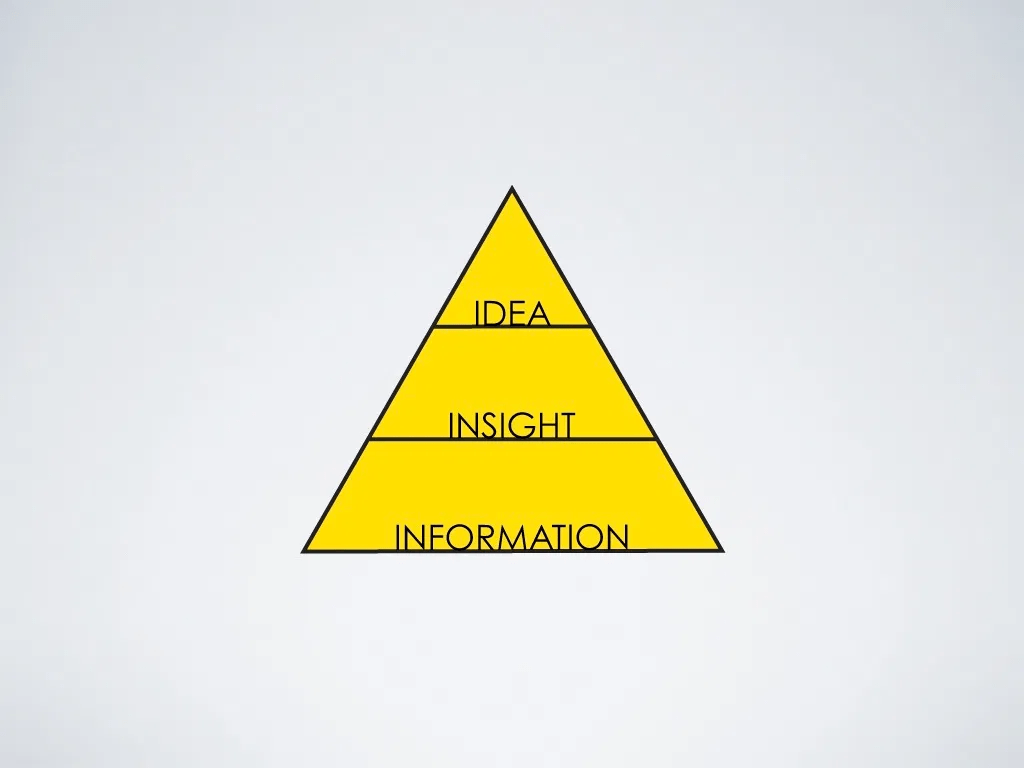 Note: Especially while creating content in crowded industries such as business and marketing, it's important to speak and write from personal experience, all while taking inspiration from the greats you feel inspired by. Your authentic voice is your only defense against competition.
4. Leverage Data To "Inform" Your Content Creation, BUT…
Content is a marketing channel. So it's important for your writing, videos, or any other creative project to help the business bottom line and data can be a great indicator of it. For instance, you can measure:
brand awareness (traffic), 

leads (newsletter signups, product trials and demos, and the like), 

and sales (direct revenue).
So, install Google Analytics (GA) on your website to keep track of your content performance and insist your clients do the same. Besides your website, all other platforms (YouTube, Spotify, Twitter, Facebook, you name it) you create content for will have dedicated analytics.
For instance, here's a snapshot from GA for my article: things to write about. It gets pretty slick engagement, but I can work on reducing the bounce rate of the article.

Indeed, depending on your goals, you can set up key performance indicators (KPIs) to evaluate your content. It can include product trials generated, newsletter signups, average engagement rate, and the like.
Let me share an example to illustrate a few KPIs: 
A comparison review article like "

best online course platforms

" will appeal to course creators who want to purchase course software. It need not generate a lot of traffic, but it should generate

product trials

.
Now consider an informational article like "getting high-paying ghostwriting jobs." It should appeal to freelancers who want to make money writing. If the readers find it valuable, it should generate newsletter signups.
For content creators, traffic, pageviews, search traffic, keywords ranked, and such could be decent starting points. But if you're not a publisher monetizing your content with advertisements, then these are all vanity metrics — because none of them would directly be attributed to the revenue you generate. Choose a metric as close to your bottom line as possible.
At the end of every month, you can review your data, check the performance of your content against your KPIs, and try to answer questions such as:
What kind of content you created is performing the best vs. the worst?

How many articles is a typical website visitor reading when they come to your site?

What is the difference in behavior between a mobile vs. desktop visitor?
You're looking to accrue insights from these questions so that you can iterate your process of content creation. It might mean you find something that goes against your gut. What should you do in such situations? Well, you need to:
5. Create A Body Of Work You're Proud Of…
Your intuition can derail you, so coupling it with data for informing your content creation is all fine and dandy. But let's look at a special scenario: 
Data says that certain kinds of review articles are performing the best. You feel bored exclusively writing them alone, though. You want to experiment with newer and exciting content formats.
Well, for me, the joy of creation can't be compromised consistently. If you want to play the long game, some stats about YouTube or best practices about adding tags in your videos can't be your guiding light.
A creative career in content calls for building a strong body of work — something you feel excited about even while putting sweat equity and something you feel proud of — and that can't happen with "safe" career choices and "proven" frameworks alone.
You need to take risks and let your curiosity guide you — maybe even when data tells you otherwise and even when it doesn't seem to have a financial potential. Remember your portfolio reflects your creative potential and will result in career opportunities of that magnitude.
6. Don't Work On Your Content Creation Skills
When I first started a creative career, I felt outraged at creative professionals who I "felt" were undeserving of their fame and wealth.
My judgemental notions were brought to rest when I read a thing or two about gatekeepers — the influential people who control access to audiences, evaluate the quality of work, and decide who becomes the next BIG thing!
Beyond your core content creation skills, becoming a successful content professional calls for working "on your career." You need to understand what Cal Newport, the author of Deep Work, calls meta-knowledge. 
Here's how he defines it: "Meta-knowledge is knowledge about how your career works. For example, which skills matter, and which you should ignore, and how best demonstrate your talent in your particular industry, and so on."
So do yourself a favor by understanding the business of content marketing. Building a reputation for yourself requires networking with influencers. Having a decent-sized email list and snagging appearances in industry publications (through interviews, guest posts, collaboration, and the like) also helps.
Think of someone like Aaron Orendorff who is currently the VP of Marketing at Common Threads Collective. He began his journey as a copywriter and guest posted on every major marketing blog you can imagine.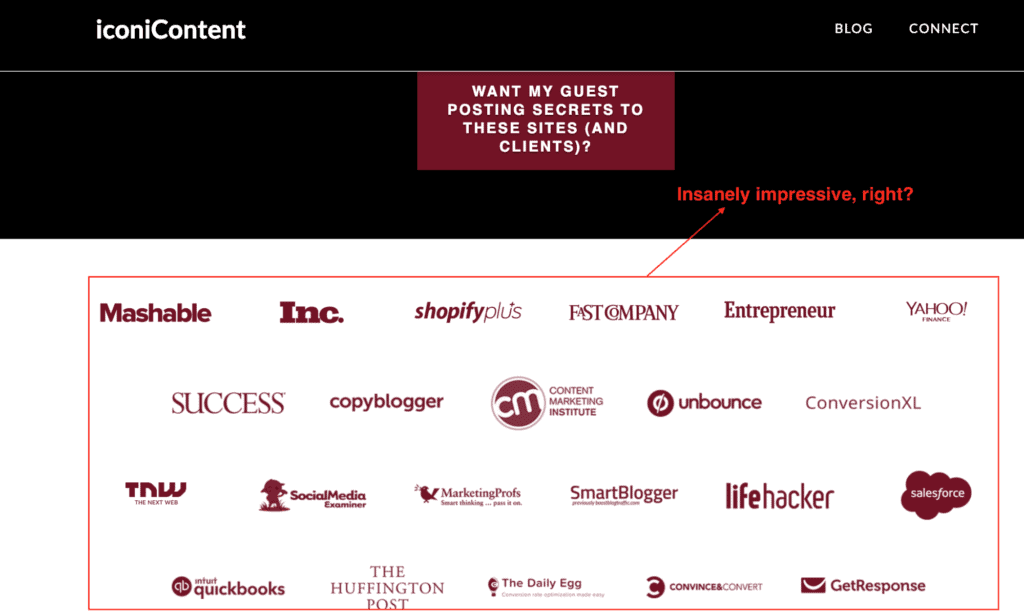 It not only gathered social proof, but he understood the kind of writing expected by these established brands. He got to refine his skills based on feedback from editors and gatekeepers from huge publications. And his focus on quality helped him get "discovered" by Ann Handley, a marketing influencer — that's when his career gained momentum.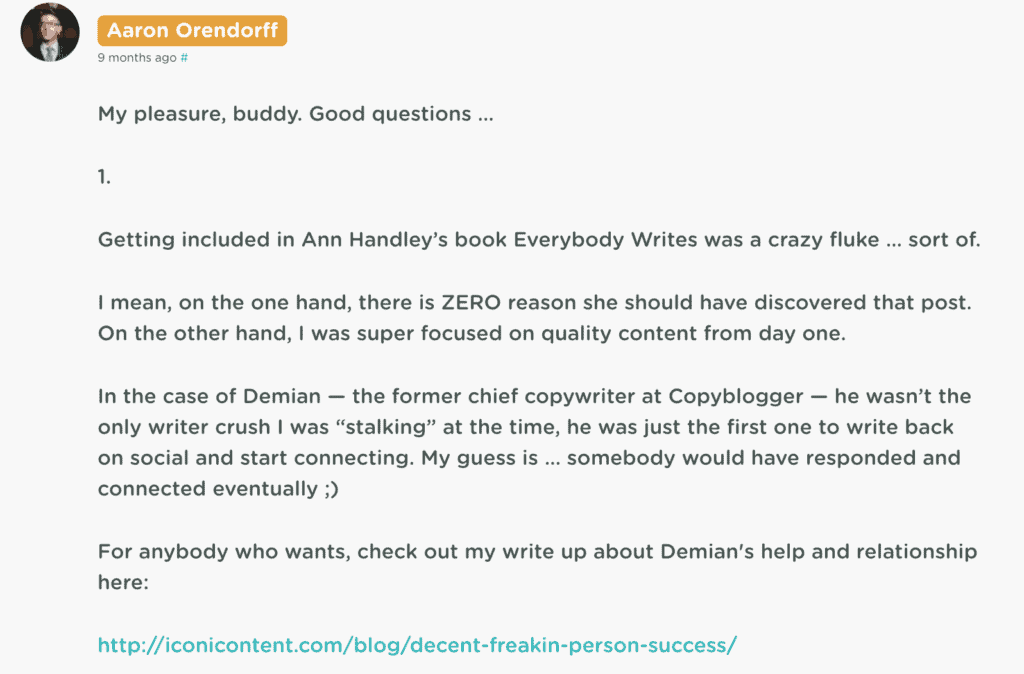 Influencer outreach, relationship building, and collaborating with other creators is going to pay you off — oftentimes even more than creating content. Alongside this, if you can start an email list, you're giving yourself all the security you can get with a creative career.
Those were all of my tips for becoming a successful creator. Up next, explore the top free business tools that will help you with your creative entrepreneurial projects. 
Successful Content Creators Take An Audience-First Approach…
It's about your audience after all, right? So building a successful content creation career starts with pinpoint them. From there, it's about finding inspiration to create regularly and finding joy in the process. During your career, go with your instincts but don't forget to mix it up with data.
Also don't keep pressing publish alone — build an audience, collaborate with other creators, build relationships with influencers, and keep getting feedback about your work. All along, don't mind using a little help from tools to automate tedious bits from creation.
LET'S MEET IN YOUR INBOX 😃
Free online education, online learning sites, online educational platforms, learning platform, learn it online, learn skills online, free online learning
Read More »