Want to conduct webinars but can't make up your mind about which webinar software to go ahead with? You'll get a detailed breakdown of the top tools in the market —EverWebinar vs. WebinarJam Vs. EasyWebinar — in this article.
Note: This article contains affiliate links. It means if you sign up using our link, then Elite Content Marketer earns a commission (at no extra cost to you). We only recommend products that we personally find valuable and enjoy. And we appreciate your support!
Let's start with a quick comparison of these software:
EverWebinar Vs. WebinarJam Vs. EasyWebinar: Quick Table Comparison
| | | | |
| --- | --- | --- | --- |
| Features | WebinarJam | EverWebinar | EasyWebinar |
| Live Webinars | ✓ | ❌ | ✓ |
| Automated and Evergreen Webinars | ❌ | ✓ | ✓ |
| Streaming Quality | Delay in streaming | | |
| Templates | ✓ | ✓ | ✓ |
| Integrations | Integrates with top CRMs. | Lacks structured integrations | Integrates with top CRMs. |
| Analytics | Basic | Basic | Actionable and in-depth analytics. |
| Free Trial | ❌ | ✓ | ✓ |
| Interface | Easy | Easy | Slightly complicated |
WebinarJam is best for conducting live webinars, but you'll have to pair it up with EverWebinar to host automated and on-demand events as they are designed to work together. Its marketing features like one-click registrations, active offers, attractive landing pages with split testing, etc contribute to better conversions.
However, the analytics section is basic at best and lacks in-depth reports on different sections like those presented by other webinar software like GoToWebinar and EasyWebinar.
EverWebinar is only for hosting automated webinars and seamlessly integrates with WebinarJam for conducting live webinars. The registration process is smooth and easy however, sending notifications, integrations with other apps isn't as structured.
EasyWebinar allows you to conduct both live and automated events with flexible scheduling options, attractive funnel pages, customizable email templates, and direct HD live streaming on Youtube and Facebook with no latency.
The analytics section is extremely detailed and you can further use Google Analytics and Facebook pixel for tracking. However, the navigation is relatively complicated and the database is confusing as it doesn't display information even for the most common keywords like analytics.
EasyWebinar is the best overall software for conducting all kinds of events and in this post, you'll see the difference between their interface, features, and pricing along with other alternatives that you can consider.
User Interface Of The Three Software
EasyWebinar's interface is modern but clunky. On the other hand, WebinarJam and EverWebinar have sleek, simple, and professional dashboards.
WebinarJam & EverWebinar
The interface is light and intuitive with an overview of analytics on the dashboard and the option to switch between both the software. There is a seamless flow between the segments of creating a complete funnel in both cases and they also have an extensive database with in-depth articles to solve issues or questions related to the features.
WebinarJam's team follows up constantly to give you tips and tricks for running successful webinars and to make sure you understand how to use the platform to its full potential.
EasyWebinar
EasyWebinar's interface is attractive but slightly clunky as it is packed features making the experience complicated and confusing. It may take a little while to get used to it and once you are familiar with it, you'll be able to flesh out webinars within no time.
Noteworthy Features of WebinarJam, EverWebinar and EasyWebinar
All three webinar software are loaded with features, but, I've combined the key functionalities that these tools offer. Let's look at them one by one.
WebinarJam
Attractive Funnel Pages
You can choose from more than 15 mobile-responsive templates and customize each one of them by playing around with the text color, font style, background image, etc, but you cannot change the placement of elements and that restricts customization.
It's also possible to perform A/B testing of landing pages however, not as robust as dedicated landing page software like Landingi, Leadpages, Clickfunnels, etc.
Active Offers
Webinarjam's Active Offers allow you to sell products by presenting buy links now. This can be done during full configuration or even on the go while you're live. You can also create urgency and scarcity to your offer to increase your sales.
Manage Backend with Control Centre
The Control Center feature is especially for large teams and available on their enterprise plan with all your meetings logistics available here like chats, revenue, sales, duration, etc. One of your team members can manage the backend and re-invite the registrants who left in the middle or didn't attend the webinar while you can focus on your presentation.
One-Click Registrations
Previous or regular attendees don't have to spend time on registration, and being on your auto-responder mailing list they can directly click on the link generated by you and register for the webinar.
However, getting quality leads is more important and such a feature may obstruct that from happening as people can accidentally click on the registration link without being interested in your webinar. This makes one-click registrations a double-edged sword.
Try WebinarJam by clicking here.
EverWebinar
EverWebinar is only for hosting automated webinars and seamlessly integrates with WebinarJam for conducting live webinars. The registration process is smooth and easy however, sending notifications, integrations with other apps isn't as structured. Let's look at its features.
Set-up Dynamic Attendee Number
Everwebinar gives you the option to simulate the environment to make it seem like there are many attendees in the room at the same time. If you want to make it appear that there are always 500 attendees in the event, you can set up the attendee number in advance and it'll display that to attendees.
Customizable Funnel Page Designs
There are various attractive editable templates available for the registration page as well as the form that lets you play around with the color, image, background, fonts, add CTA, etc. Much like in WebinarJam, you can split test the registration page templates and understand how and if at all it has any effect on conversions.
You cannot add custom form fields, but you can password protect your event to make it private.
Connect To WebinarJam for Live Events
Everwebinar is only made for automated and on-demand webinars but because WebinarJam and Everwebinar are designed to use together, there's a seamless integration between the two available at different prices.
You can subscribe to both software, host live events on WebinarJam, and upload it on Everwebinar to convert it into evergreen or an automated webinar.
Advanced Scheduling System and Just-in-time Webinars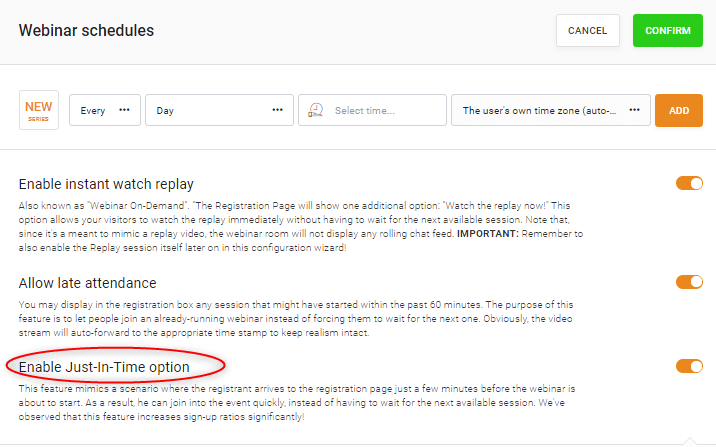 The flexible scheduling options let you organize weekly, monthly, or daily webinars with automatic time conversion for registrants. You can enable instant watch replay and it'll create an on-demand webinar that your visitors can watch without having to wait for the next session.
It's also possible to allow registrants to join an already running webinar without making them wait for the next session. However, this feature isn't useful because it'll auto-forward to the appropriate time stamp to make it look live.
The Just-In-Time feature allows the registrant to join the webinar even if they arrive on the page a few minutes before the event is scheduled to begin and they can watch the event as they register.
Product Offers and Live Sale Alerts
Just like in WebinarJam, you can set up offers and live sale alerts to notify attendees via popups on the screen and create urgency by adding a countdown timer. You can also show the attendees live sale alerts as and when people make purchases in the webinar room which may encourage them to buy the product.
Try EverWebinar by clicking here.
EasyWebinar
Actionable Analytics and Tracking
EasyWebinar has the most robust and actionable analytics that not only gives you an insight into attendance trends but also tells the number of minutes each person watched the webinar. But, you will only have access to it in the window of that event and not on the dashboard.
The software uses Google Analytics for UTM parameter tracking of every and any link you generate for our webinar. You can also use tracking codes like Facebook pixels and other social proof applications.
Nine scheduling options
There are 9 different types of webinars available like One-time live events, Recurring weekly live events, Automated one-time events in the one-time zone, right-on-time events, and more, that put EasyWebinar ahead of the competition.
You can choose to redirect the attendees to the replay page or show the next session available on the registration page by using the flexible scheduling options.
Attractive Funnel pages and Notification mails
The customization of funnel pages like the registration page, thank you page, event page, confirmation page, and replay page have multiple templates and the option of embedding CSS that gives you full control over the design. However, it still isn't a match for dedicated landing pages like Landingi and Leadpages.
There are 9 different types of fully customizable email templates that you can use to send before and follow-up notifications and you won't find such a feature in both competitor webinar software.
HD Live Streaming with Youtube and Facebook Integration
The audio and video quality of the webinars is relatively better compared to the other two software because of Easywebinar's Live Engine feature that doesn't lag or delay the interaction.
With direct integration to Youtube and Facebook, you can live stream events to an unlimited number of attendees, add multiple cameras and complex equipment for production.
EasyWebinar also integrates with Wirecast so you can stream live conferences with even 1000 participants to people across the world.
Complicated Navigation
EasyWebinar contradicts its name as you will have to constantly reach their customer service or database to understand navigation and features. However, their live chat support is quick and helpful.
Try EasyWebinar by clicking here.
Customer Support Comparison
I have clubbed Webinarjam and EverWebinar together in this section as both the tools have the same customer support and database service.
WebinarJam & EverWebinar
WebinarJam doesn't have the best customer support with no live chat option and their email response can take anywhere between 24 hours to five days for them to get back to you.
That said, there's a knowledge base called DocumentWiki to help you navigate and solve problems related to almost every aspect of WebinarJam. They also provide training via videos to help you understand all its advanced features.
But these videos aren't the first thing to pop up when you log in. You have to find them under the training section available on the dashboard.
WebinarJam's Facebook community is the place to connect with users facing similar or different issues. It's a private forum for members to connect and share information.
EasyWebinar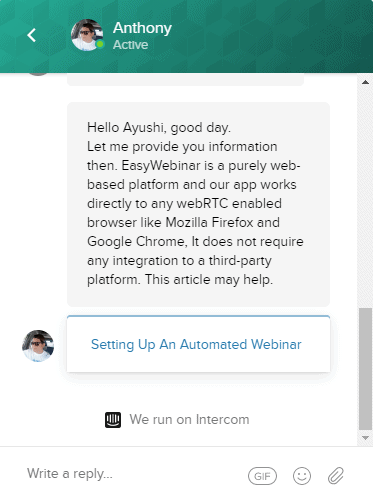 I had to wait for merely 15 minutes to get my query solved by a customer care representative. You can get answers on the live chat as well as your email.
Unfortunately, their article database is confusing and doesn't display information even for the most common keywords like analytics. You will have to dig deeper and spend a lot of time figuring out the particular document.
EasyWebinar also has a private Facebook community group for its members to discuss, connect and share information.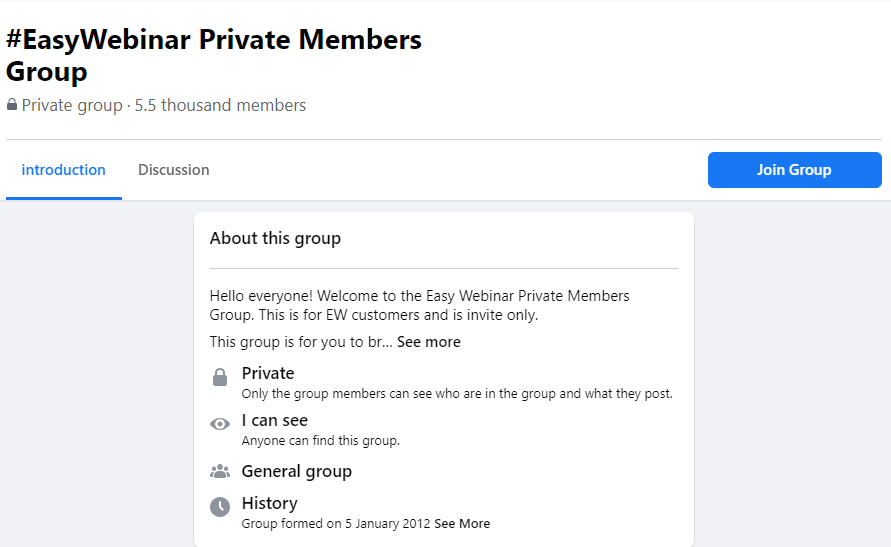 Additionally, each section of the funnel has a video tutorial to help you understand the features and how you can make use of them.
Pricing Plans
Here's how much the three software will cost you individually.
WebinarJam Pricing

WebinarJam's pricing plans are relatively affordable and value for money There are three pricing plans and each one of them offers unlimited webinars. All three plans differ in the number of attendees, the number of presenters, and the duration of the webinar.
Basic: $499/year for 500 attendees and 2 hours max duration
Professional: $699/year for 2000 attendees
Enterprize: $999/year for 5000 attendees
It's a bit off-putting that WebinarJam doesn't have a monthly plan. Also, there is no free trial but they offer a 14-day trial period for $1 and a 30-day risk-free money-back guarantee.
The basic plan is well suited for beginners trying their hands at conducting webinars for the first time. It offers 2 hours maximum duration of running a webinar and it shouldn't be an issue for most people. You can have two presenters in one webinar and 500 attendees.
Even in its lowest plan, this webinar hosting platform offers 500 attendees unlike Demio with 50 attendee-room in its cheapest plan. It is more than enough for first-time webinar presenters.
Its Professional Plan has a duration of 3 hours with 2000 attendees, 4 hosts, an always-on room, and a panic button. The always-on live room is a valuable feature for people conducting back-to-back webinars.
The only thing the enterprise plan has extra than an increased number of hosts, duration and attendees, is the Control room feature. If you have a huge team, you can effectively have one member take care of their logistics from the backend while the presenters are free to concentrate on their presentation.
EverWebinar Pricing
EverWebinar's pricing is different from all other webinar hosting software as it consists of installment, annual, and biennial plans. So there's no monthly subscription.
Installment plan: $199/ year in 3 installments.
Annual plan: $499/year
Biennial plan: $799 for 2 years
All the plans give you access to automated webinars, advanced simulation tools, pre-made landing pages, 24/7 chat support, flexible scheduling, clickable offers, email and SMS system, polls, surveys, dynamic attendee display, analytics, and more.
EasyWebinar Pricing
EasyWebinar has three pricing plans and a 14-day trial that requires a credit card to sign up.
Standard: $78/month for 100 live attendees.
Pro: $129/month for 500 live attendees.
Enterprise: $499/month for 2000 live attendees.
All the plans have unlimited automated webinars for their respective number of attendees, chat support, Easycast streaming, webinar foundation course, and instant onboarding call. This separates them from both WebinarJam and Everwebinar because neither of them offers unlimited automated webinars, and live chat support in their lowest plan.
The difference lies in the number of attendees, custom registration fields (available in the higher plans), and extra courses with account representatives that are available only in the Enterprise plan.
Additionally, you get a three-month discount on an annual subscription.
Webinar Software Alternatives
If none of the above webinar software fits your requirement or budget, here are some other good options to consider.
Demio
Demio has a no-download webinar experience for your audience with extensive marketing tools. While the customer support and simple UI will impress you, the absence of email customization, follow-up messages, and replay stripped of animations can frustrate you to no end.
This webinar software sells itself on marketing, however, when compared to its contemporaries, it fails to deliver on many accounts. In this review and walkthrough, I'll take you through the process of creating a webinar with Demio, its key features, and alternatives.
Pros:
It is easy to use with a simple UI
You don't have to download any additional software to run webinars.
There are multiple audience interaction features like
You can connect with live customer support to solve your queries.
They have customizable sign-up landing pages with the availability of video embeds addition
Demio integrates with powerful software like Zapier, Convertkit, etc
Cons:
There is no general link available instead, there's a separate link for each attendee.
You cannot use more than 3 webcams at once and it could be a problem while holding a conference or panel discussion.
Webinar replays don't have annotations, chats, and polls.
The software lags and has bandwidth issues when accommodating over 100 attendees.
GoToWebinar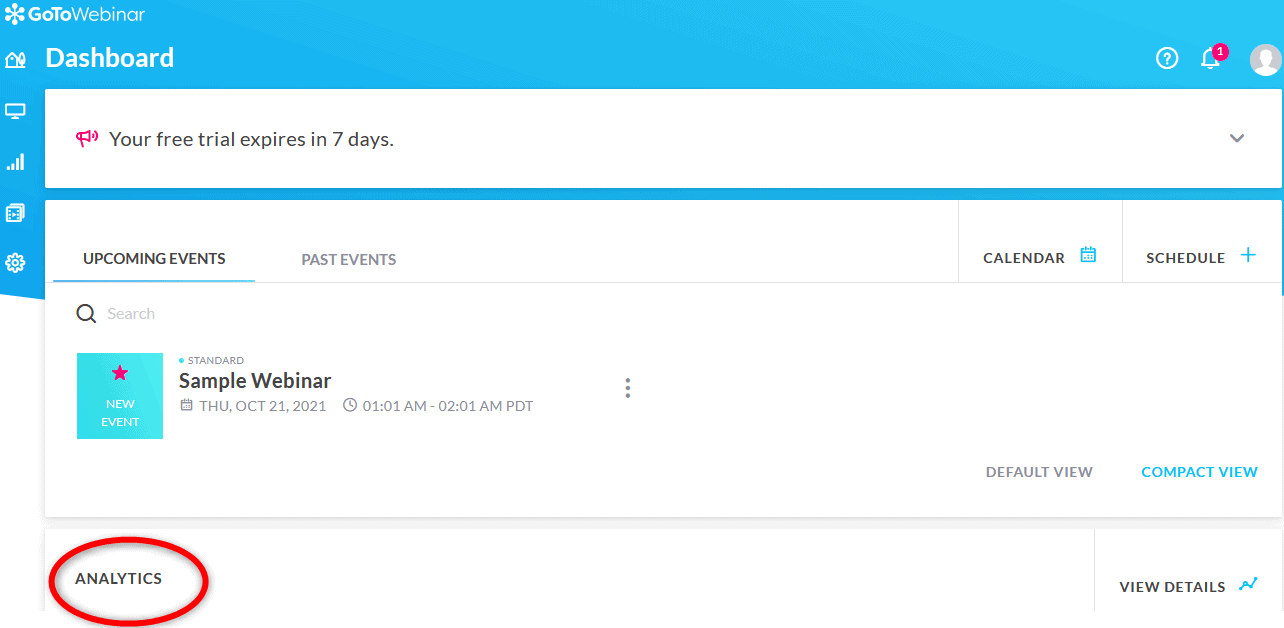 GoToWebinar is a reliable solution to run recurring webinars with no downtime and a large audience spanning states and nations. and suitable for large teams. You can see high-level summary statistics for all your webinar sessions divided into actionable reports on 8 sections like sessions overview, engagement, multi-session attendee, and more.
However, it misses out on the UI which is dull and outmoded. There's a lack of marketing features like active offers, attractive templates, SMS notifications, and more. Though the technical glitches are rare, there is no live customer support to assist you through it. Here's an overview of GoToWebinar :
Pros:
Its built-in analytics gives access to extensive attendee data and attendance trends
You can customize the registration pages for branding by adding your logo and feature image
Scheduling options like webcasts, on-demand, and standard webinars are available.
The video and audio are in HD quality.
It is a reliable platform that offers a 7-day free trial with 100 attendees
Cons:
The user interface looks dated.
It lacks marketing features like one-click registrations, active offer features for sales, etc.
The email notifications have limited customization options.
It is relatively expensive.
There is an absence of live customer support and a lack of documentation in its knowledge base.
Price: There are three pricing plans along with a 7-day free trial without credit card details.
Starter plan: $89/month
Pro Plan: $199
Plus: $429/month
There's another customizable Enterprise plan for 5000 attendees.
Final Verdict
While EverWebinar is the best for automated events, you will have to combine it with WebinarJam to run live sessions at an additional cost. EasyWebinar on the other hand offers both live and automated events with 9 scheduling options, no latency, and a powerful analytics section.
If you are a SaaS company looking to educate customers, an entrepreneur offering professional services, or an educator offering the same course to multiple students, automated webinars would fit well within your requirement and you can do that with EverWebinar.
Conversely, if you are a blogger, a B2B organization, or an entrepreneur looking to engage with your audience you may want to have both options. EasyWebinar will help you do that at a relatively very low price than WebinarJam and EverWebinar combined.