What is GetResponse?
GetResponse is an email marketing tool that has now grown into a full-fledged "all-in-one marketing software."
This means that along with sending emails to your subscribers, you can now build a website, create a landing page, set up autoresponders & live chats, and create powerful marketing automation, all in one place.
GetResponse Review: Summary
GetResponse is an email marketing tool that is perfect for solopreneurs or small business owners who are looking to run a majority of their business from one place. With its advanced features, GetResponse is perfect for anyone who wants to create their landing pages, website, newsletters, autoresponders, and live chats at an affordable price.
Note: This article contains affiliate links. This means if you purchase anything using our links, then we earn a commission (at no extra cost to you). We only recommend products that we find valuable and enjoy. We appreciate your support.
GetResponse Pricing Plans
GetResponse offers a wide variety of pricing plans to meet the needs of a greater pool of customers. There are four plans to choose from:
Basic: Starts at $15/month with a maximum of 1,000 subscribers. You get the website builder, email marketing features, autoresponders, unlimited landing pages, one sales funnel, unlimited leads funnel, and their new chats feature.
Plus: Starts at $49/month for 1,000 members. You get everything included in the basic plan along with 5 marketing automation workflows, webinars (max 100 attendees), 5 sales funnel, 3 users, and contact scoring & tagging.
Professional: Starts at $99/month for 1,000 subscribers. Everything in the plus plan is included along with unlimited marketing automation, paid webinars, unlimited sales funnels, unlimited webinar funnels, etc.
Max: This plan has custom pricing. It includes everything in the professional plan along with SSO login, multiple accounts and users, dedicated support, and transactional emails.
There are a couple of things that make GetResponse's pricing plans stand apart from its competitors:
You can increase the list size from 1,000 in any plan of your choice up to 100,000. This is useful for when you want a lower-tier plan but need more subscribers.
You can choose your billing period and get discounts accordingly. There's the monthly period where you pay for the plan each month. But choosing to opt for a yearly plan gives you a discount of 18% and choosing to go for a two-year billing period gives you a whopping 30%. There are hardly such discounts for annual sign-ups in other services.
You get a free trial of 30-days in each plan. No credit card required.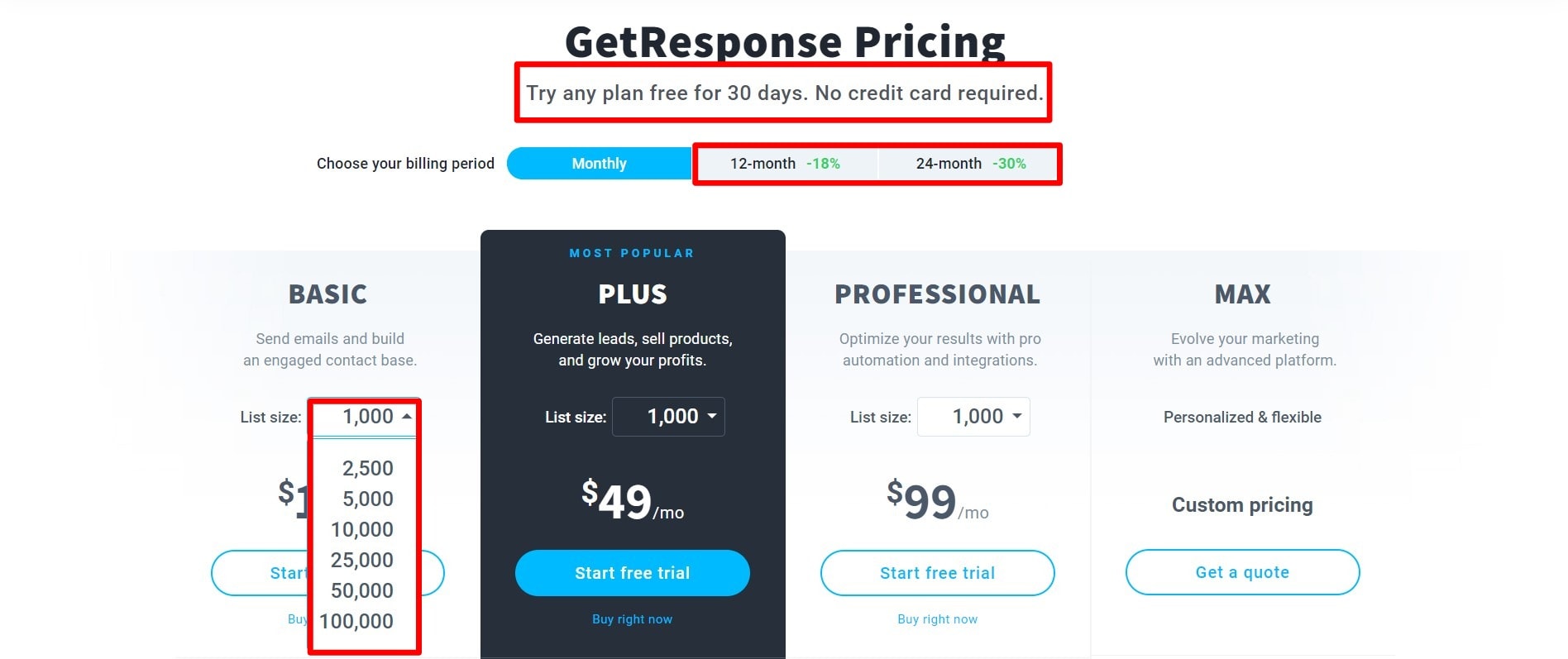 GetResponse offers up to 50% discount to Non-profit companies.
There are certain eCommerce tools that would be useful for small businesses. There's a store and products center that serves as an inventory, recommendations based on past purchases, etc.
GetResponse Key Email Marketing Features
GetResponse started as an email marketing software. Later, it kept enhancing its features to become friendly for eCommerce companies as well. You can create a newsletter, forms, autoresponders, landing pages, etc. using GetResponse.
Newsletters & Autoresponders
The newsletter is simple to create using GetResponse's drag-and-drop editor. You can choose from pre-designed templates, create a template to reuse of your own, or use an HTML editor.
You can also create personalized emails using your subscribers' first names, etc.
While the templates are easy to use, they aren't as intuitive or design-friendly as other providers like Mailchimp.
Apart from this, there are a few standout newsletter features in GetResponse:
GetResponse predicts if your email has any chance of landing in the Spam folder and informs you proactively
Along with the usual click tracking, you can also leverage eCommerce tracking and Google Analytics tracking. Ecommerce tracking allows you to get a workflow of buyer behavior after they've clicked a link on your email — are they buying your product, abandoning their carts, etc. GA allows you to monitor how much of the traffic you get on your site is owed to your email campaigns
GetResponse's feature "Perfect timing" delivers your email to subscribers based on their past history. This allows you to send emails when recipients are the most likely to open it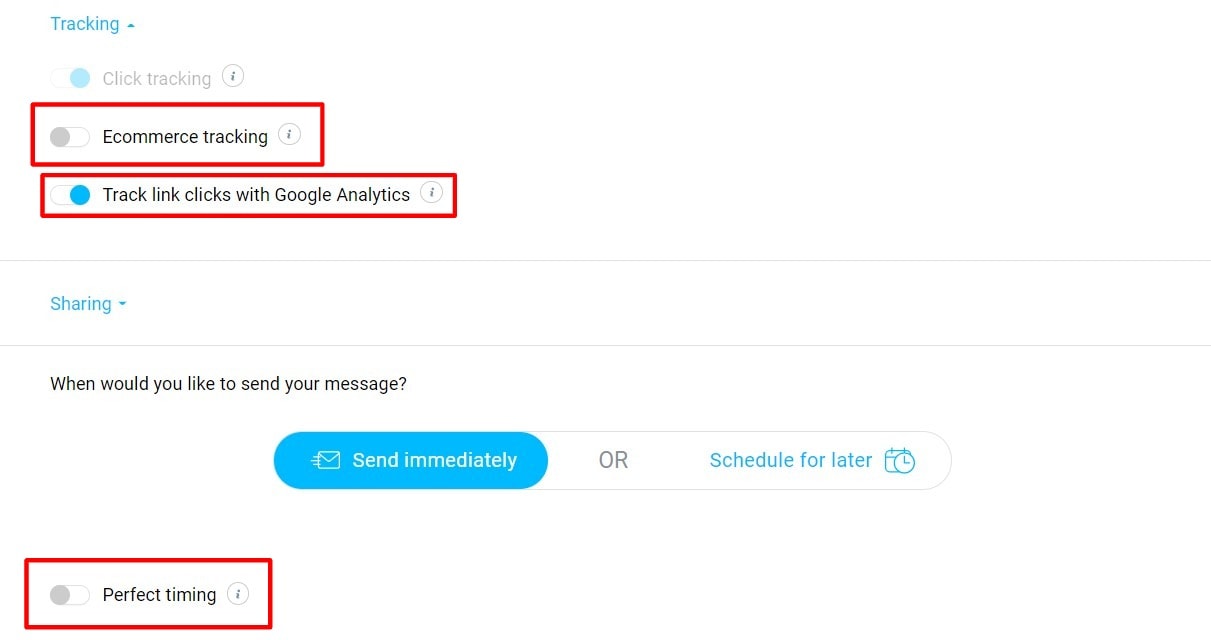 The autoresponder in GetResponse is powerful: you can segment your audience based on location, buyer behavior, etc., and create complex automated sequences easily.
You can also send an automated response if someone abandons their cart and chooses to send an email on specific days of the week.
List management is also made easy by the feature to add tags, recommendations for blacklisting contacts and automate rules. All this makes the task of creating a workflow for autoresponders simple.
Other things like A/B testing, browser view, analytics, etc. are also available.
Forms
You can create a form on GetResponse in four ways: through the list builder wizard, through list builder apps, through integrations, or through plain HTML.
The List Building Wizard embeds forms on your website to get newsletter sign-ups, grab a free download, sign-up for an event, etc. Each category has plenty of templates you can choose from and customize.
You can also see the mobile version, thank you page, and list segmentation. There's also the CAPTCHA feature that prevents fake sign-ups on your website.
One thing that is concerning is the lack of control to turn pop-up forms on or off for certain devices or web pages. I also found that editing the thankyou pages and segmenting the list from the backend is a little difficult and tricky.
Landing Page Creator And Conversion Funnel
As with everything else, GetResponse offers plenty of templates for building landing pages. They're also neatly segmented into creating a landing page for a variety of reasons: free download, about me, newsletter sign-up, promotion, holidays, etc.
These landing pages are part of a conversion funnel that serves as a lead generation feature for you. If you're selling products (digital or physical), hosting events, or running an eCommerce business, this feature would be amazing for you.
You can also track conversions of various landing pages in real-time and use the best-performing one. You can track Google Ads conversions or integrate with a third-party service like Kissmetrics.
This feature of GetResponse is not only time-saving but efficient in cost-saving as well: most email marketing would need you to create a landing page and having that integrated with your email service provider is money saved. You can also enable "Get Response chats" and communicate with someone on your page quickly.
Having said this, there are some problems with creating a landing page at GetResponse:
Editing is clunky — the interface isn't intuitive or a breeze to use
You need to create separate versions of your landing page for desktop and mobile devices. While useful, this can also be time-consuming
There's a lack of a cookie consent banner on GetResponse's landing pages
The conversion funnel at GetResponse allows you to create a product catalog, integrate your store, process payments, run Facebook ad campaigns, etc. This feature is probably more useful for small biz or solopreneurs selling eCommerce products.
You can use your conversion funnel for three purposes:
Building a subscriber list — create a lead magnet or a standard opt-in
Sell a product — create a full or quick sales funnel to redirect people to your sales page
Promote a webinar — this can be paid or free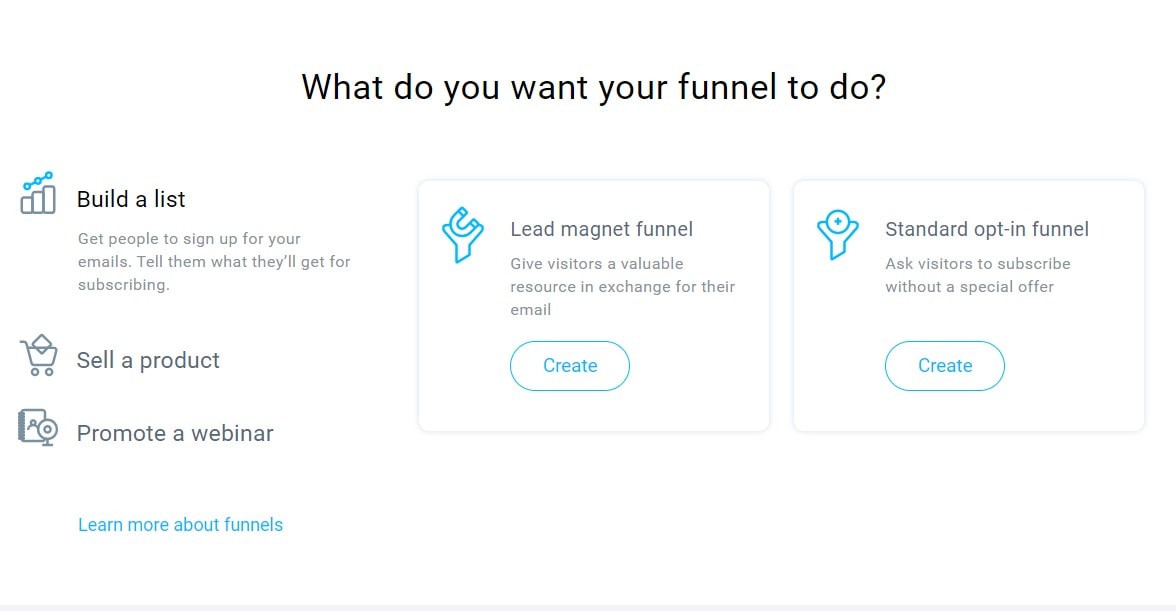 The conversion funnel is easy to use. You can either connect your own store or make a GetResponse store to sell your products. There are options to upload photos of your product, choose which list to sell it to, and set up autoresponders.
Powerful Email Marketing Reports And Analytics
For newsletters, you can see the basic analytics: open rate and click rate, unsubscribes, bounce rates, complaint rates, etc.
You can also see how two newsletters performed side by side and compare their data. The "one-click segmentation" feature also allows you to segment the audience that did not engage with your newsletter and send them a different version of your email.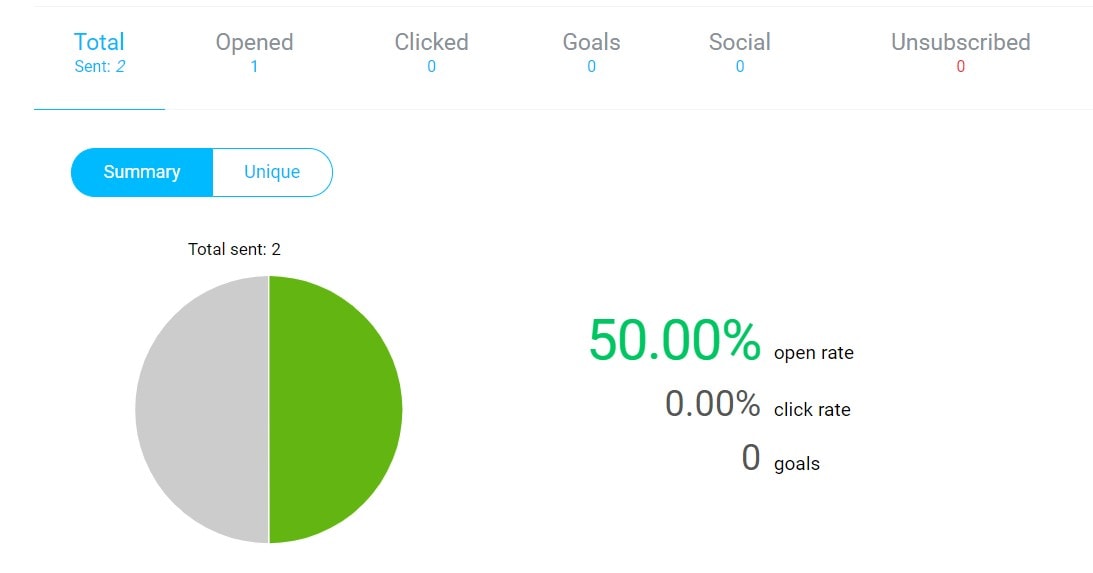 Apart from this, you can see how one individual subscriber is performing, when they signed up, etc., and also track the email ROI of your post-sales page as a whole. You can create a system to have the post-delivery reports emailed to you at regular intervals.
Overall, though, I found the reporting features of GetResponse a little underwhelming. The analytics covers all the basics but doesn't offer anything different from its competitors.
Sophisticated Marketing Automation
The marketing automation feature is a standout at GetResponse. You can create powerful workflows and practice an intelligent segmentation of your customers.
As with everything, there are pre-designed templates for sales promotion, online courses, affiliate marketing, etc. that can help even a newbie setup a complex automation sequence within minutes. If you have made a template already, you can also import it.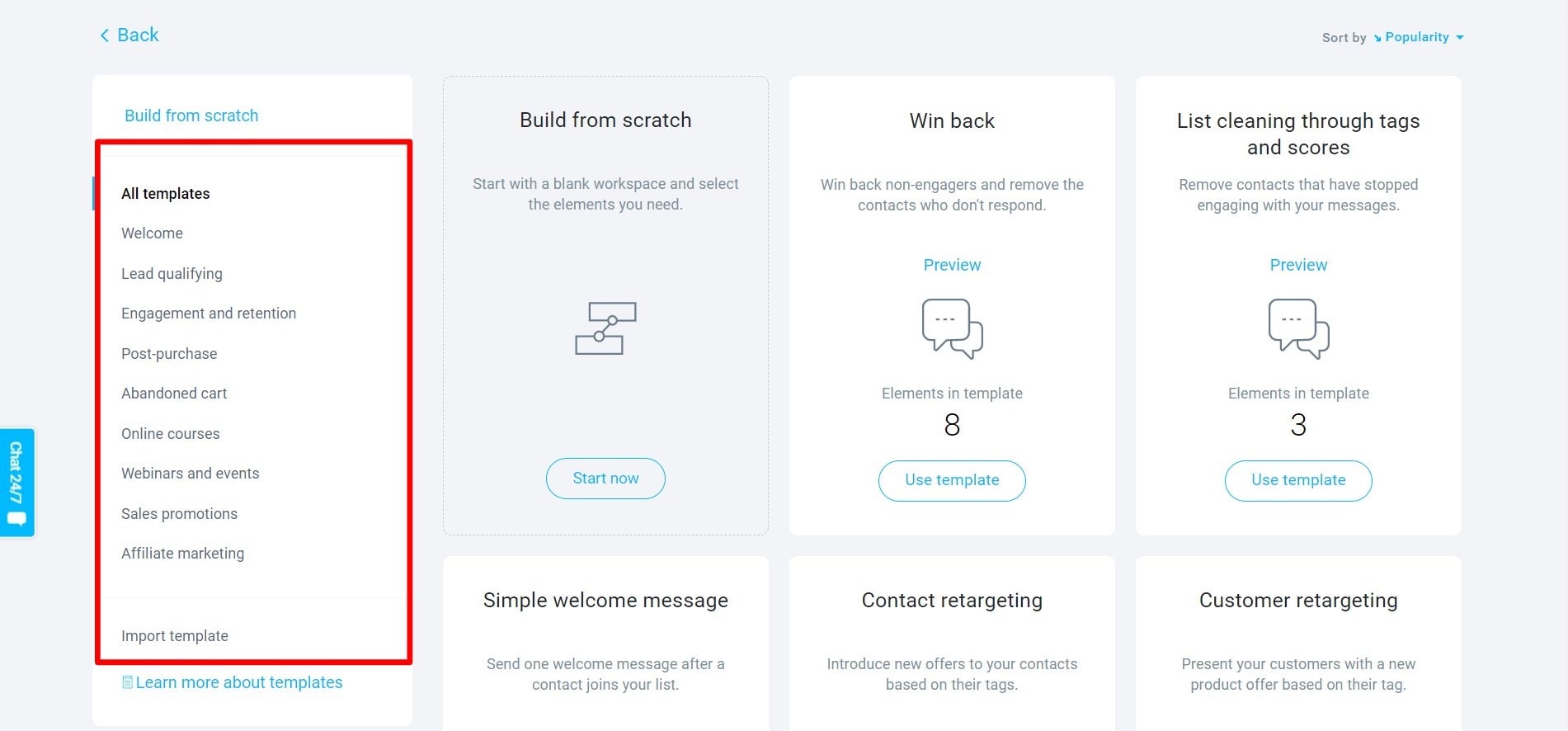 You can perform a whole range of actions with these automation features: send emails, assign lead scores, send autoresponders, tag contacts, update data, segment your list. Creating a flowchart based on user behavior is easier using the drag-and-drop builder at GetResponse.
The functionality of marketing automation goes far beyond what any autoresponders or other email marketing services offer. You can make a complex user journey in a few steps without missing any important stage in the process.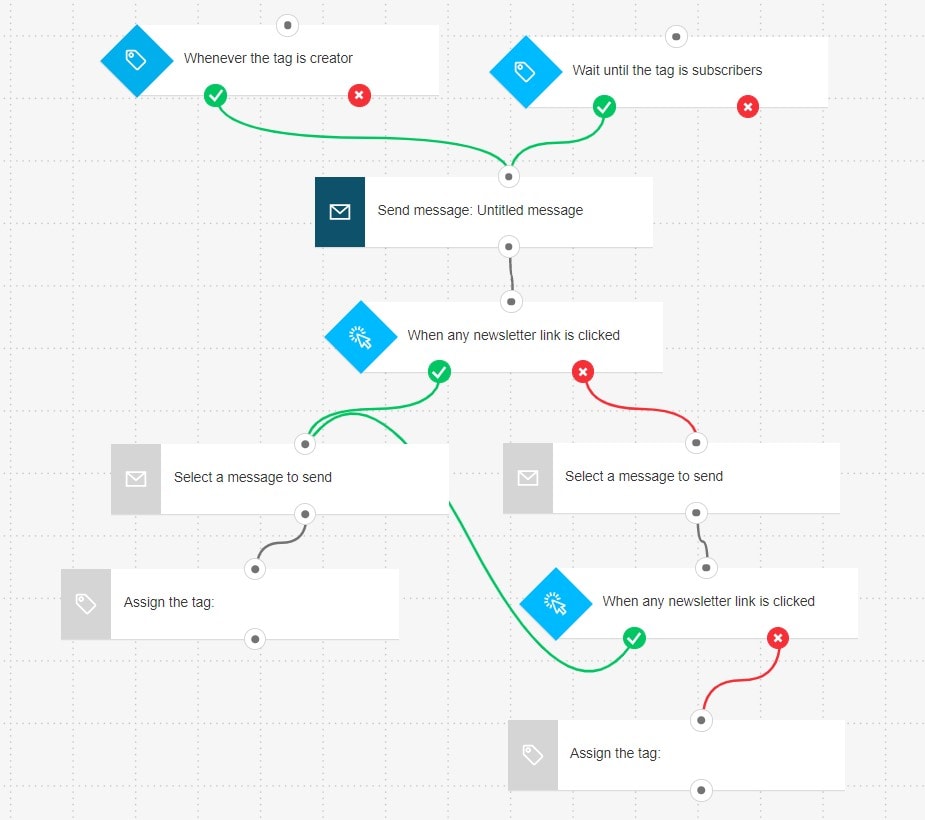 If you are someone who is looking for powerful marketing automation, using GetResponse is a no-brainer.
GetResponse Webinars
While not a dedicated webinar software, GetResponse still lets you to create three kinds of webinars:
Live webinars
On-demand webinars
Recorded webinars (this can only be enabled once you've hosted a live webinar via GetResponse)
In the settings, you can easily modify the webinar's URL, date, duration, set up automatic recording, or put your webinar on-demand as soon as it's over. Apart from this, you can also customize autoresponders to send out prior to and after the webinar. You can choose whether a registration to your webinar is required (this helps you send reminders to people who want to join).
The idea of having an email list and the revenue-generating webinar under one roof is certainly enticing. The number of attendees you can host depends on the plan you've chosen, but even the basic plan allows for 100 attendees. You can also only run paid webinars in the Professional plan or higher.
Other features in GetResponse webinars include:
Ability to download the chat that happened during the webinar
Webinar statistics report
Do a screen share or video share during your webinar
Attendees need to install nothing to attend your webinar
While the webinar feature at GetResponse is certainly great, the limit of 500 attendees in even the highest-tier plans is disappointing. There's no way you can pay to get more attendees registered. The storage capacity (increases in the higher-tier plan) also isn't a lot — the max you can get is 10 hours in the Professional Plan.
GetResponse Live Chat
Many creators prefer adding a live chat option to address the concerns of their audience immediately. GetResponse's latest feature allows you to set up this chat on your website.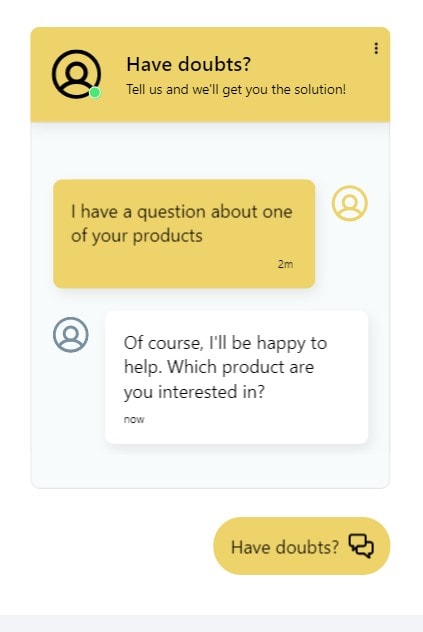 Here are the things you can do with it:
Choose the times this chat button will be active — always, at specific times
Customize its appearance according to your brand — add a logo, your colors, etc.
Decide how it looks on your webpage — what is the pop-up message, button position, etc.
Set up an auto-reply for when you are away
Create a visitor capture form to follow up later
Choose when to get notified (with their mobile app, you can do this on the go)
Set up a quick reply for repeated queries
Get chat statistics — source page, participants, closed chats, active chats, etc.
You need to paste a code on your website's <body> section to display the chat on your website.
GetResponse AI-Based Website Builder
The latest addition to GetResponse's quest to be an "all-in-one" marketing software is the AI-based website builder.
You can build your website via GetResponse and connect it to your domain or buy the domain from GetResponse itself. They have ready-made templates too which would be great to use for beginners. But what stands out is their AI-powered builder.
Here, you can select the type of business you run (education, photography, etc.) and the type of website you want to build (affiliate, membership, portfolio, eCommerce, entertainment, etc.). Based on your industry and site type, GetResponse offers recommendations and also allows you to add other features.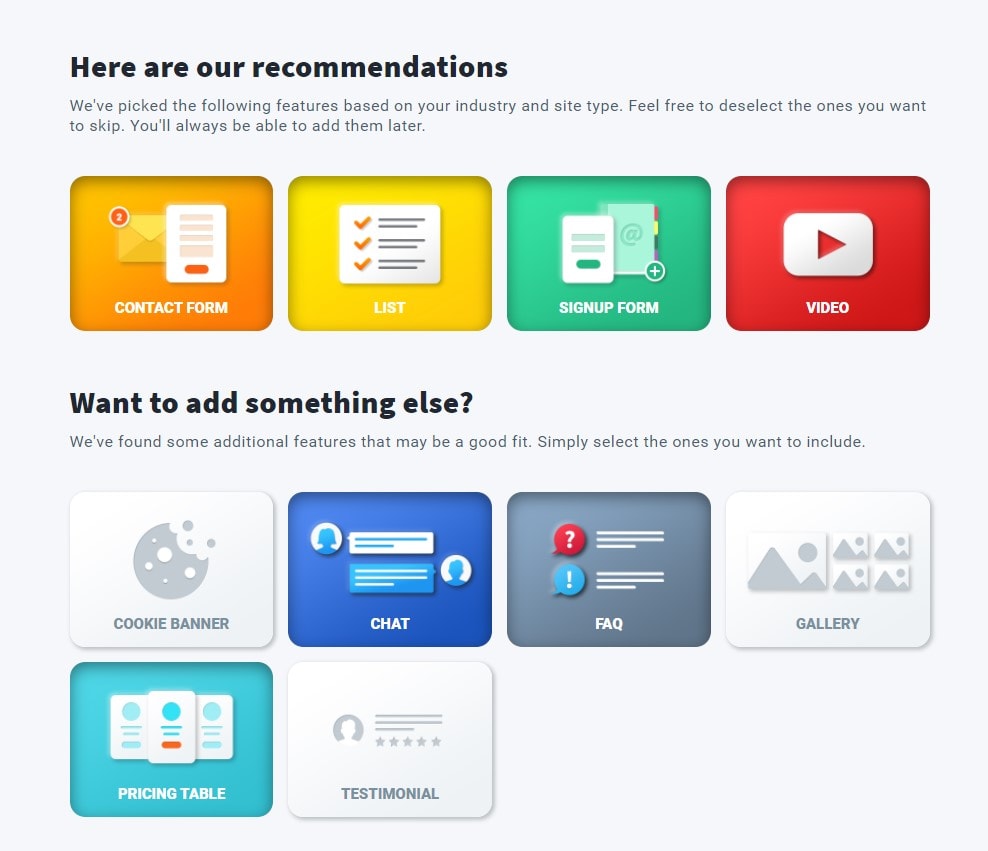 In the next step, you can upload your logo. There's also an option to enter your existing site and it'll pick your logo up from there. Based on your logo, you get a few options to customize your website's theme.
Add a few other details like your company name, address, etc., and voila — the AI software is now working on building your website.
You can pick from three designs based on your logo and theme choice. Once the website is built, you can see suggestions on where to add a CTA, video, etc. You can also check how your website looks on different devices.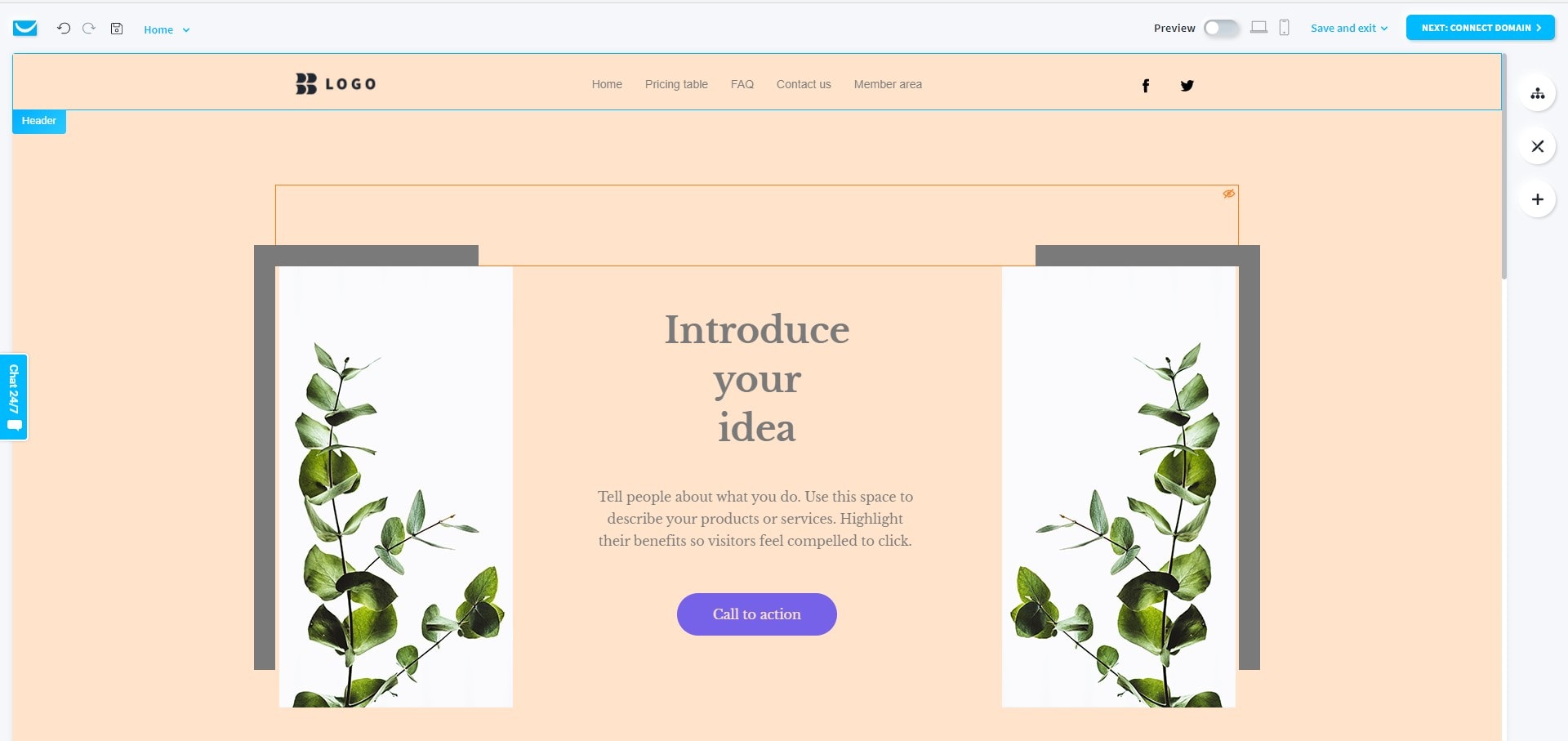 There are options to customize the color palette, fonts, add more elements, etc. Here are the things that I loved about GetResponse's AI-driven website builder:
It is super quick: If you want to set up a good website in under an hour, look no further
It offers a lot of customization options: hide elements on mobile devices if you wish, change fonts, color, etc.
It makes a newbie seem like an expert: If you don't know where to put CTA, what pages to put or not put, the AI feature is useful in determining it based on your industry and business
While the builder is certainly great, it isn't perfect. Here are the things that missed the mark:
The user interface is clunky: The website editor can be slow, it is hard to find the settings you might be looking for
It didn't pick up the logo: I entered the Elite Content Marketer website, but the AI technology failed to catch its logo multiple times.
Limited social media platforms: You can only add the logo of Facebook, Twitter, Instagram, Linked In, Pinterest, and YouTube. There's no option to add other platforms like Reddit, Goodreads, or even email.
Overall, though, the AI-based website builder is powerful and maybe one of the best features of the platform (after a few tweaks). Especially useful for newbies and busy creators, it can make website building seem like a breeze. In the future, you can expect to import your existing website to GetResponse and customize it.
Customer Support
You get a 24/7 live chat and email support with GetResponse. The phone support and slack support are now reserved only for the "Max" plans.
Despite this, I found GetResponse's support team to be comprehensive and quick. I raised a query on the live chat and got a response within minutes. The agents have a robust knowledge of the platform and would certainly be able to help you out.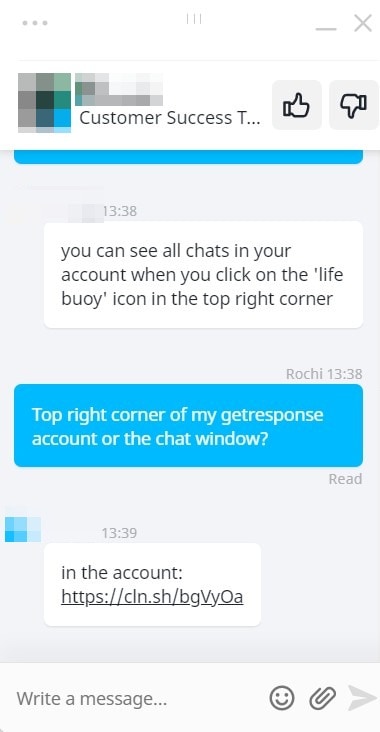 The knowledge base is extensive, thorough, and easy to navigate.
Another plus is that the email support of GetResponse is provided in 8 languages: English, Polish, German, French, Spanish, Italian, Russian, and Portuguese.
GetResponse Integrations
GetResponse offers a variety of integrations in many areas of eCommerce, webinar hosting, payments, social media, etc. It also has a Zapier integration which further allows you to integrate with thousands of apps.
Some essentials for a small business like Shopify, Magento, Salesforce, PrestaShop, WooCommerce, Zoho, and Google Analytics are present. Along with this, GetResponse also has an integration with PayPal, Yandex, and Stripe to fulfill any payment requirements. There's also a WordPress integration to seamlessly customize your landing page and Twitter & Facebook for social media.
But if you do not find any of your needed integrations (and don't want to pay for using Zapier), you can also use the API key to integrate with your choice of application.
GetResponse App
GetResponse also has a mobile app that is great if you want to do things on the go. It also helps you respond to live chats (if you've enabled them) quickly and from anywhere.
On the app, you can personalize your dashboard, see your data, create newsletters, autoresponders, etc. But I find the creation aspect a little too difficult on a smaller screen.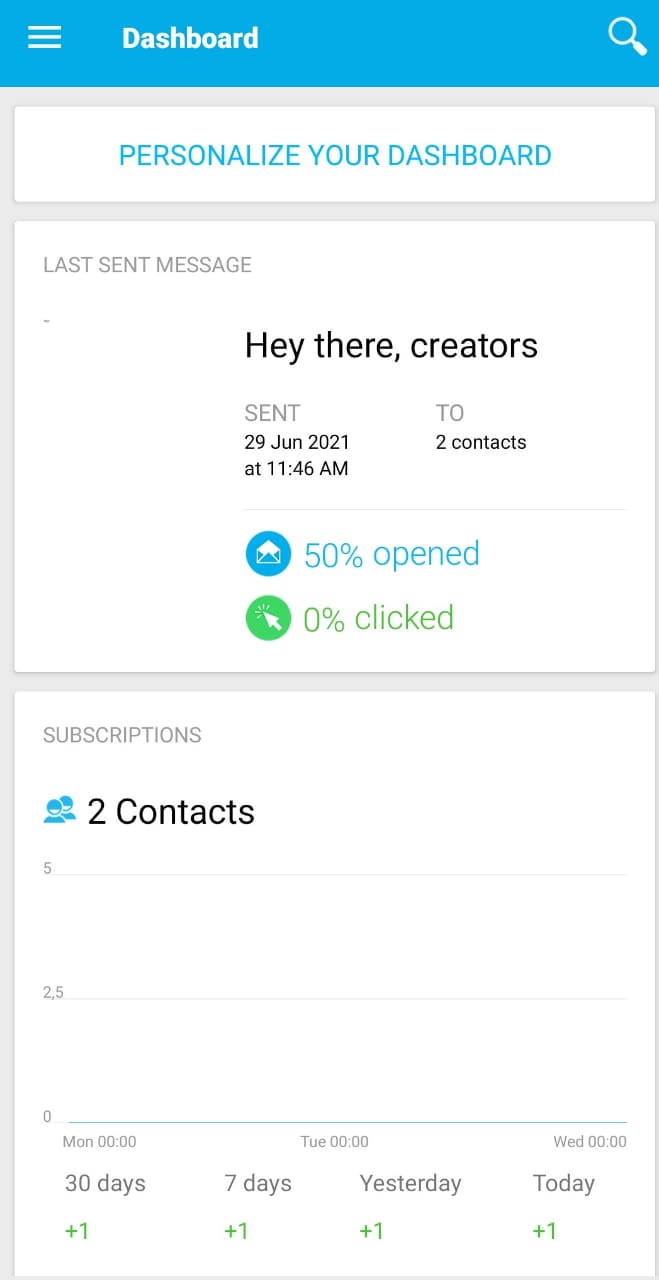 Apart from the GetResponse app, the software also has a GetResponse Social Ads Creator app that makes it easy to create aesthetic videos and banners within minutes. You can download both of these apps for both Android and iOS on their Mobile Apps webpage.
GetResponse Alternatives
Maybe some of the features in GetResponse don't cut the bar for you. There might be some concern over the lack of solid analytics, the clunky interface in landing page builder, or a lack of creator focus for your brand. I get it.
Even if you are thinking about going ahead with GetResponse, it doesn't hurt to look at the alternatives. Here are some other software I'd recommend:
Mailchimp
Remaining one of the most popular ones in the market, Mailchimp has every feature that GetResponse does. It is also quoted as an "all-in-one marketing platform" and has plenty of eCommerce tools to run your business in one place. It is more trusted, has more integration, and has better analytics. Overall, the user interface is also smoother compared to GetResponse.
Mailerlite
If you're just starting out and looking for something simple, cheaper (or even free), go for Mailerlite. For the first thousand subscribers, with 12,000 emails, it is completely free of cost. It doesn't have as powerful automation, but it might just work if your workflow is quite simple.
SendInBlue
If you need software that can handle your sales and your marketing, go for SendInBlue. It has a myriad of features, better UI and UX, and a better CRM. It also has much better analytics using heat maps that give you a better picture of your email campaigns.
ActiveCampaign
ActiveCampaign is famous for its marketing and sales tools. It has a machine learning feature that learns buyer behavior and sends emails at juuust the right time. It also has decent sales, marketing, and CRM tools. Its paid plans of the lower-tier might be more affordable too.
Final Thoughts
GetResponse is a powerful marketing automation tool and email marketing software. If what you're looking for is running your business under one roof, GetResponse may be perfect for you. You can create newsletters, autoresponders, landing pages, websites, webinars, live chats all in one place with GetResponse. And it's quite affordable too.
But if what you're looking for is a specialized email marketing software or better deliverability rates (GetResponse has 86.8%), or a better user interface, you might want to look at other options.
There's no free plan at GetResponse but you can begin right away with a 30-day free trial.