Why did you start with this content creation and freelance writing thingy?
I'm sure one of the top reasons is making big bucks. You got charmed with the flexibility of schedule, independence in pursuing projects, and the overall lifestyle.
Once you dip your toes, you might have realized that the explosion in online content production calls for learning additional skills (like promotion, graphic design, and the like).
But, what if I told you that there's a form of freelancing that can pay you well for the good old writing skills? Yes, there is a form of writing that wants just writing skills.
I'm talking about ghostwriting.
In this article, you'll look at how to find high-paying clients that are ready to take their wallets out on ghostwriters. First, let's discuss the basics.
Table of Contents
Ghostwriting Definition & Basics
You might not be 100% sure what ghostwriting is and what it entails. That's okay. I'll cover all of it for you.
What is Ghostwriting?
Ghostwriting is when you let someone else put their name on your work. You don't get any credit – that goes to the client that hired you.
Essentially, if you are a ghostwriter, you let another person take authorship credits for their work in exchange for money.
Ghostwriting is a common practice in book writing, blog writing, email writing, speeches, and web copies. It has been around way before the Internet.
Celebrities, top executives, politicians, musicians, and even writers used have been using ghostwriters for centuries. Have you ever heard of Wolfgang Amadeus Mozart? He was hired for ghostwriting music for wealthy patrons.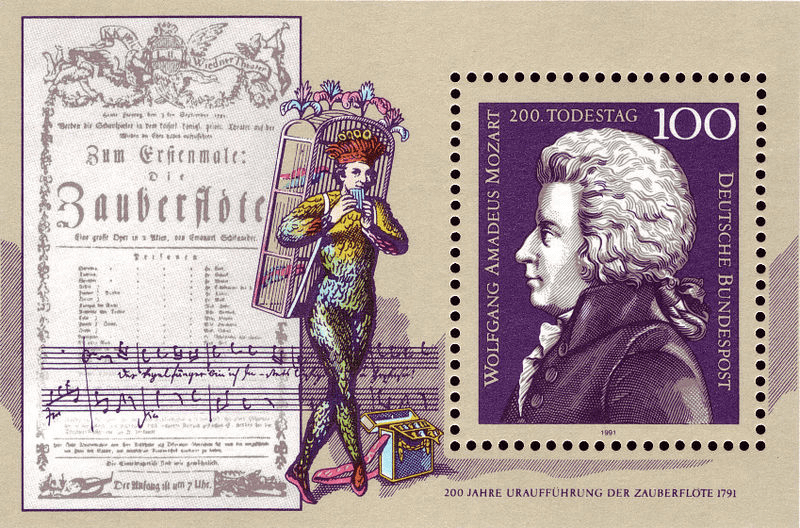 With that clear, let's move on to another question beginners at ghostwriting often have:
Do Ghostwriters Get Credit?
No, they don't.
This means that you cannot share the ghostwritten work anywhere in your writing portfolio unless your client gives you permission to do so. You can't kiss and tell.
What you can do instead is ask for a testimonial or referral. Here's Chintan's personal experience of requesting a testimonial after providing his ghostwriting services to a big shot client for about six months:

Now with the basics clear, you might be wondering if the content you create is suitable to be ghostwritten? Most likely, it is. Let's check some common types of ghostwriting jobs and you can check where your services fit:
Types Of Ghostwriting Jobs
Fiction: If you have a way with stories, you have a huge market laying ahead of you in fiction ghostwriting. With the advent of Wattpad and people getting instant approval for their story on Twitter & Facebook, there are tons of potential clients out there who need you to share their story with the world.
Many authors, like Kevin Anderson, showcase their showcase ghostwriting services on their website: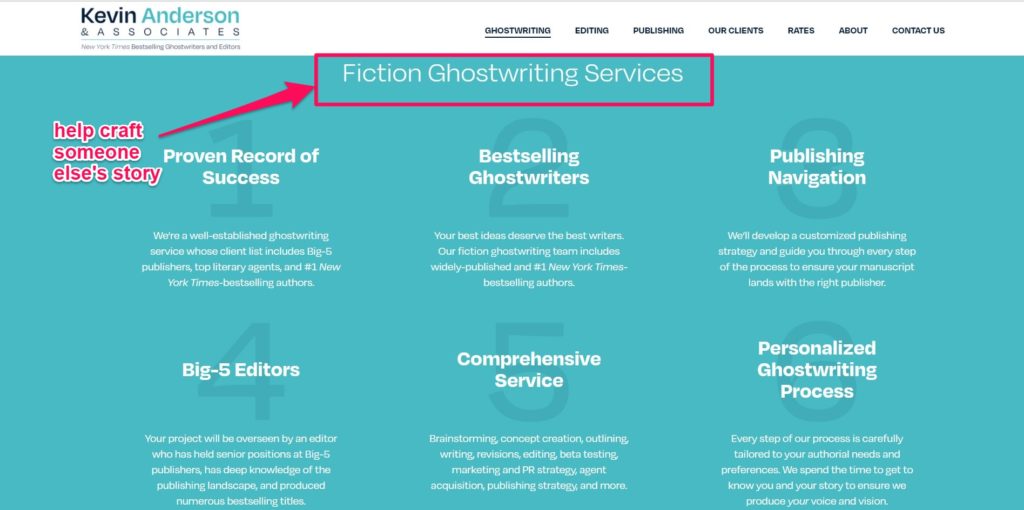 Ebook: If you are a freelance writer who also wrote a book or if you are someone with expertise in any niche, you can offer ghostwriting services for an eBook. Kelly James-Enger talks about how ghostwriting e-Books made her a killing income:

3. Speech: Many celebrities or experts need speechwriters to write every word they say. Other public figures may need writers to give the speech a good structure. Marian Calabro offers to polish your speech or help you craft the message you want to deliver: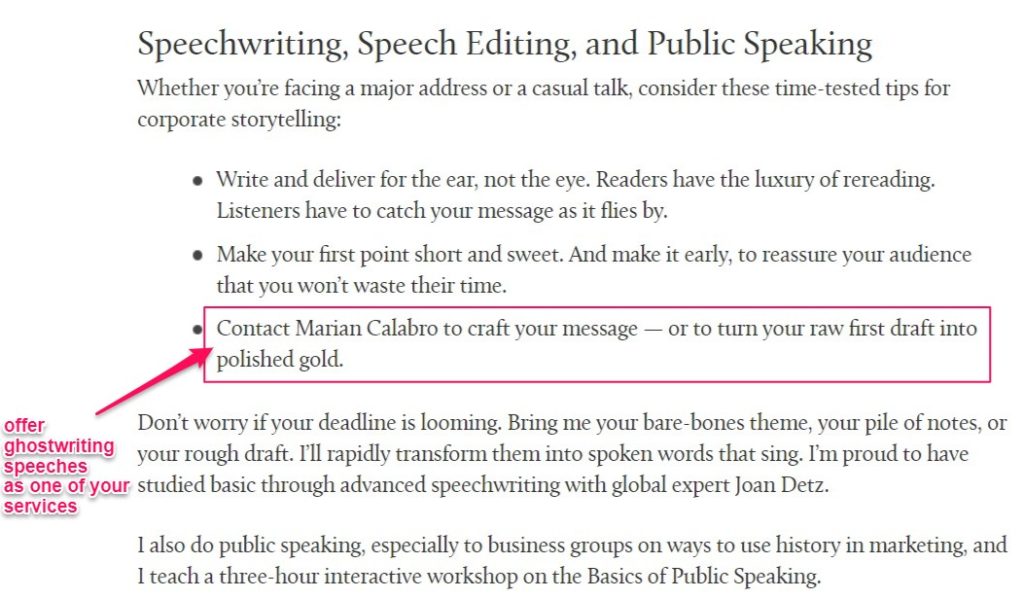 Songs: Do you have a way with words and music? You'd be shocked to know how many lyric ghost songwriters are out there offering their services and making big bucks. You can even search the top ones on SoundBetter and check which lyricists/songwriters are willing to not have any rights to the music.

Blog ghostwriter: Then there's the Internet. Many big names hire ghostwriters for their blogs to help them publish consistent content on their websites. If you know your SEO and have subject matter expertise, you can turnaround content for clients in no time.
Now that you know the basics and the types of ghostwriting jobs, let's get to the ultimate question.
How Much Do Ghostwriters Make?
You saw how much Kelly James-Enger could make by her Ebook ghostwriting services, right? You can make a killing at ghostwriting, no matter what type of services you provide. It takes a little time, sure, but if you stick to it, you'll be able to make a decent monthly income with just one shark client.
If you're looking for specific numbers, then expect to get paid 10-15 cents/word for ghost blogging in the mid-term (at an intermediate level of niche expertise).
Many freelancers offer ghostwriting services because it is more lucrative. It tends to pay much more than regular freelancing. You can typically charge about 20% extra than your freelancing rates in ghostwriting (since you aren't getting any valuable credit for your work).
But, but, but…
I don't think we're done looking at the other objections that are deal-breakers for writers and leads to them going against ghostwriting. Let's address them.
2 Apprehensions About Ghostwriting That Cause Dilemma To Writers
There are big concerns that writers have about ghostwriting. Is it ethical? Aren't I fooling an audience if I am letting my content be published over someone else's name? How is there any long-term value in ghostwriting?
Let's address all of them here.
Apprehension #1: Isn't Ghostwriting unethical because you are helping someone betray their readers?
When you are ghostwriting for someone, they pass off your words as their own. This makes you question if they're fooling their audience and whether this whole practice is unethical.
This apprehension is only natural.
But as with any ethical dilemma, the moral nuances are complicated. Many kinds of writing require the support of others – especially if the client has an original idea but is not good with words. Certain types of ghostwriting (like the one where the client who has hired the ghostwriter has an original idea, established expertise, but doesn't have an engaging writing skill) can be more ethical than others.
But the line where ghostwriting turns unethical is completely personal and something you'll need to ponder over for yourself.
Apprehension #2: What is the Long-Term Viability of Ghostwriting?
You're in it for the money at the beginning, but what about when a lack of samples in your portfolio hampers your ability to gain new clients?
Many ghostwriters struggle to find the time to make their own brand and offer ghostwriting services. It essentially boils down to what your goals are as a writer. Demian Farnworth, in his blog post, The Brutally Honest Truth About Ghostwriting, urges writers to answer this question as a takeaway:
"What do you want to accomplish as a writer? Is building a personal and visible platform important to you? Will it help you in the long run? If you have to ghostwrite to make ends meet, fine. But beat a hasty path out of the business as soon as possible. It's your turn to run the show."
But, listen, it is worth giving some serious consideration if you can make ghostwriting work for you.
You can get the best of both worlds: Build your platform and generate a steady income via ghostwriting. In the next section, I'll give you simple actionable steps on how you can do both.
How Do You Become A Professional Ghostwriter: 4 Simple Steps
Now that you've learned the basics and moved past the objections associated with ghostwriting, here are 4 simple staircases you can climb to become a professional ghostwriter:
1. Learn How To Deliver High-Quality Writing In Someone Else's Voice
Whatever type of ghostwriting job you choose, you should know how to write high-quality content in someone else's voice in that arena.
Book Writing
There's a lot to building a story. You need to know how to develop characters, smoothen out plots, create mystery, and keep your readers hooked.
Even if you are someone who wants to ghostwrite eBooks, keeping the reader engaged is a whole other ball-game in books than on the web.
Many ghostwriters are authors themselves. Whatever type of book writing ghost services you offer, it is best to write at least one yourself. This will not only give your clients more confidence, but you will know how the process works.
Begin by browsing courses on storytelling at these two online learning platforms: Udemy and Masterclass. Neil Gaiman's Masterclass on developing a story can be immensely helpful in breathing life into your characters. Hassan Osman's Udemy course would be great for you if you are wanting to learn how to publish an eBook on Kindle. And if you want a mega-course where you learn everything from writing to publishing, James Patterson's Masterclass is the course for you.
After you've learned the trade, it's time to build a body of work. Write your own novel and self-publish it through Amazon's Kindle Direct Publishing. This is the easiest way to get your work out there without much hassle. Yes, the royalty rates are painful, but it is worth the benefit of getting Amazon's friendly algorithm on your side.
If Amazon doesn't rock your boat, you can try other print-on-demand services like IngramSpark, Blurb, or BookBaby.
Blog Writing
If you are a blog ghostwriter, you can associate metrics (CTR, time on page, bounce rate, and the like) and compare them with industry standards to measure your current skill level.
If you're unaware of your current level of writing skills in non-fiction, then answer these three questions:
Do you know how to write compelling headlines that piques the curiosity of the users?
Can you come up with interesting article ideas that people are eagerly waiting to read? (Brownie points for coming with unique angles!)
Can you write compelling content that emotionally engages the reader and persuades the reader because of your strong examples?
Whatever type of ghostwriting services you choose to provide, remember that you should know how to deliver high-quality content in that category. You can do this by self-publishing your book, starting your own blog, releasing a few of your original songs, or compiling an eBook of your subject-matter expertise.
In the beginning, though, you won't have such metrics handy in your dashboard. Read the article on SEO Copywriting by Ahrefs — it covers a lot of ground on writing ranking-worthy content.
However, to hit the ground running, there's no better way than practicing writing a few articles and putting it in front of people. Which brings me to the next point.
2. Build Your Brand And Your Portfolio
Look, Contently and those other writing portfolio websites are great. That's a great way to start, but when you are in it for the long haul, you need to build a brand. A brand needs a full-fledged website (even freelancers are advised to have a freelancing website of their own). This interview of Chintan with Harsh Agarwal talks more about why a website is crucial to your brand:
<iframe width="560″ height="315″ src="https://www.youtube.com/embed/q2hw0VPykyc" frameborder="0″ allow="accelerometer; autoplay; encrypted-media; gyroscope; picture-in-picture" allowfullscreen></iframe>
A strong foundation of your brand showcases that you are a serious full-time ghostwriter. It builds trust and makes it smooth to build long-lasting relationships with potential clients.
Book Writing
If you are looking to become a fiction ghostwriter, have you demonstrated the ability to write engaging stories that hold a reader's attention? Many ghostwriters are also authors because writing a book for someone else in their voice means that you should understand the nuances of flow, narrative, and voice that can only come through execution & experience.
Mike Towle, a book ghostwriter, demonstrates experience in publishing, writing books for himself, and editing with 1000s of published pieces under his name. This shows credibility to any potential client: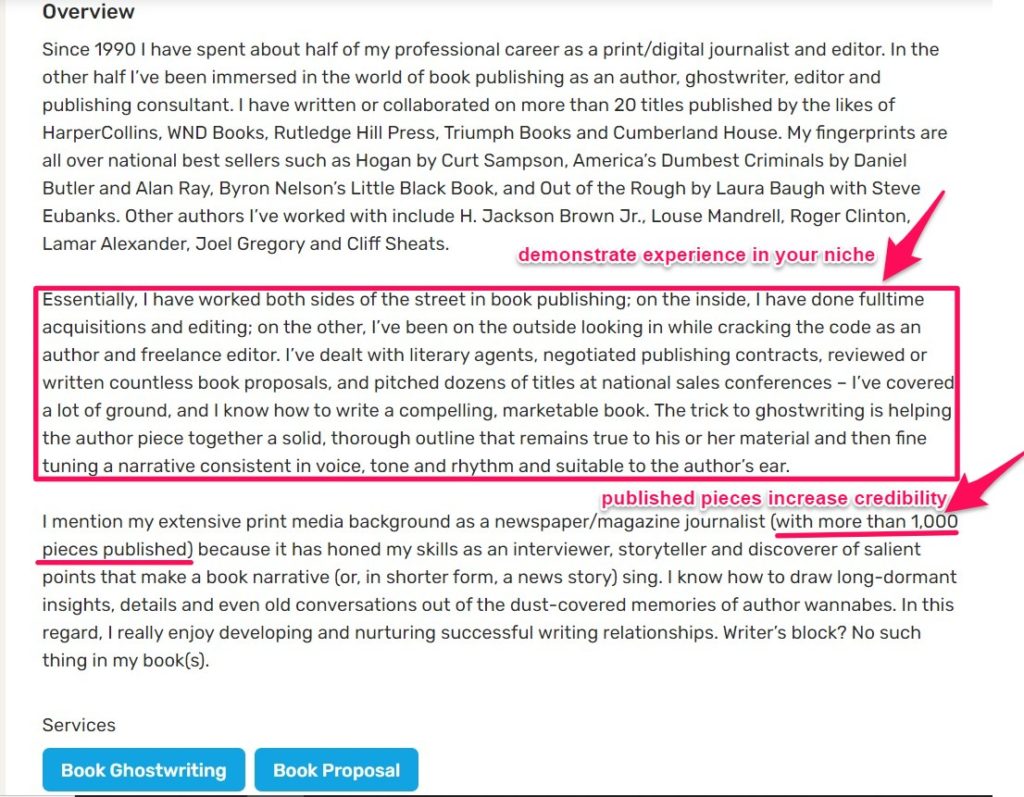 If you want to start ghostwriting stories or eBooks, learning how to write one for yourself is one of the best ways to garner experience, build your brand, and learn along the way.
Blog Writing
You made your writer website. Now what? Should you put in your portfolio as a blog or copywriting ghostwriter? Don't make the mistake of putting everything you've ever written on it.
Repeat after me: Showcase only your best work.
If you have a niche, awesome. Even if you don't, you know the pieces that are doing better than the others. Use them in your portfolio.
Even if you're just starting out, don't jump into ghostwriting services directly. Once you've your site and a few articles up, you can start with sending emails to editors at reputed publications. Get a few guest posts up on websites that your prospective clients frequent. Your first ghostwriting client might end up coming to you through one such guest post.
Your own blog is even crucial when you pitch for a guest post.
Jenna Scaglione, the managing editor at Foundr, goes to the extent of saying that she doesn't like to see writing samples at Forbes and Inc in a guest contributor pitch. The reason is that they have been extensively edited. Instead, Jenna wants to hear "your unique voice and story", which could mean the unfiltered pieces on your own blog.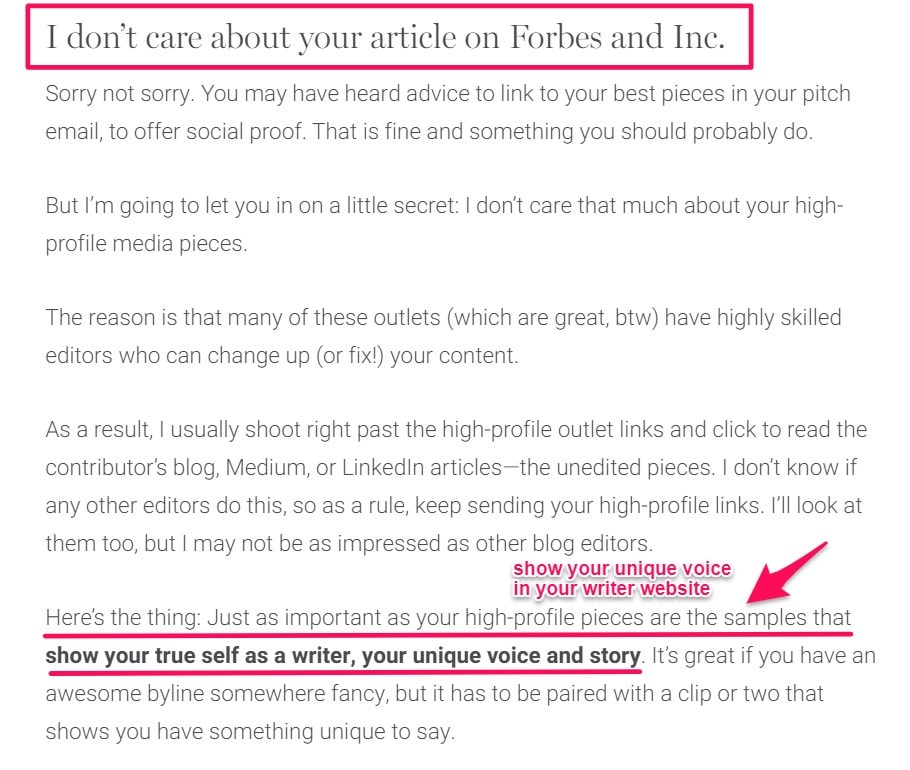 And after you've gathered all the samples, learning, and branding, it's time to actually get out there.
3. Pitch Your Ghostwriting Services
Once you have established your brand by either publishing your own eBooks or getting your name in major guest-post publications, you can actively start looking for clients. There are a couple of ways to do the same.
Leverage Previous Clients: If you're already a freelancer with some clients you've worked with, leverage your existing clients. Don't be hesitant to pitch your ghostwriting services to clients you've worked with in the past or an author you know personally. Maybe you worked with a thought leader who's looking to publish their eBook. This is how many ghostwriters make their big break.
Cold Pitching Your Services – Sending emails to prospective businesses enquiring if they need ghostwriting services. You can even mention the other services you offer alongside it (strategy, direct copy, content marketing, or anything else).
Ryan Robinson did something similar, cold emailing a startup founder to get a quote in one of his blog posts. The relationship grew from there and ended up making Ryan over $50,000 from freelance projects.

A great way to get started is reverse-engineering the clients of another ghostwriter in your industry. You can look at their testimonials or scan their website through Ahrefs and dissect their backlinks. The idea is to find the businesses that are mentioning their site and reaching out to them if they might need your services.
Respond to postings on industry job boards – In such cases, the business is explicitly mentioning the requirement of a ghostwriter. Chintan found most of his ghostwriting leads at the freelancing job boards. Especially in the beginning, it can serve as a decent way to get your business running with gigs at about 10 cents/word.
Even job boards like Upwork often have requirements for long-term ghostwriters for fiction writing.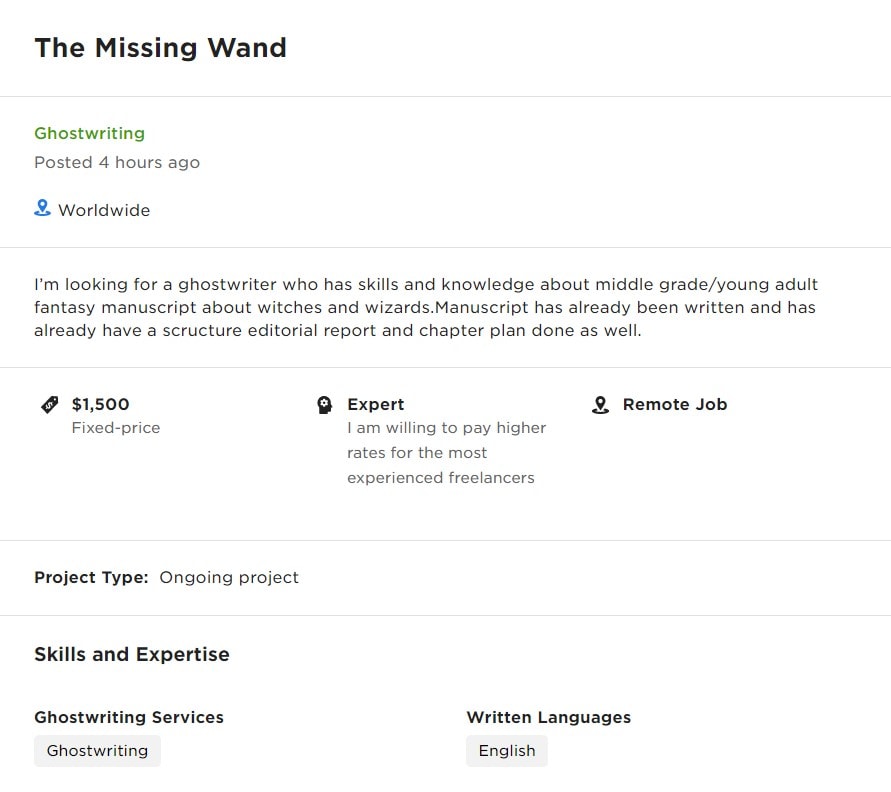 4. Become a ghostwriter for an agency: There are tons of ghostwriting agencies out there. If you don't want to do the dance yourself, getting hired by one of these agencies is the best way to get consistent ghostwriting projects. Some of the best agencies to begin reaching out to are Reedsy, Hot GhostWriter, The Urban Writers, and Professional Ghostwriter.
Most of these agencies require you to fill an application along with a writing sample. Ensuring that you provide your best original writing in these writing samples is the surest way of getting hired by these agencies.
But there's a catch here: Most agencies will require you to have prior experience in book writing. Even if you want to become an eBook ghostwriter, you must have at least one published eBook under your name. This is why, as mentioned in #1, building a body of work is a crucial step in becoming a book ghostwriter.
4. Ask For Referrals From Existing Clients And Keep Networking
If you do a LOT of ghostwriting, then you won't have time to work on your platform and improve your profile.
Hence, if your client changes their strategy/fires you, then you'll keep haggling with new clients. In the process, you'll undercharge just to make a decent monthly income.
Would you like to know a better strategy?
It's allocating a certain amount of time towards marketing yourself while simultaneously pitching guest posts. Preferably, have a consistent stream of work being published under your name – could be a client site or your own blog or your own books.
See, once you've skin in the game, it's all about remaining at "the top of the heads" of your prospects. If you build genuine relationships and keep adding value (without any expectations), then in all likeliness these prospective clients will turn to you when they want to hire someone.
For instance, Chintan had mentioned a content marketing influencer in one of his guest posts at a high-profile publication. They remembered his name since Chintan had mentioned them in his articles an ample number of times.
After a few months of email exchanges, a video call, and social media love, the influencer reached out to Chintan. He was on a month's deadline and wanted to do a long-form piece at a juicy $1000 (wouldn't you like to get such well-paid gigs?) He took up the ghostwriting project, and the influencer liked his work.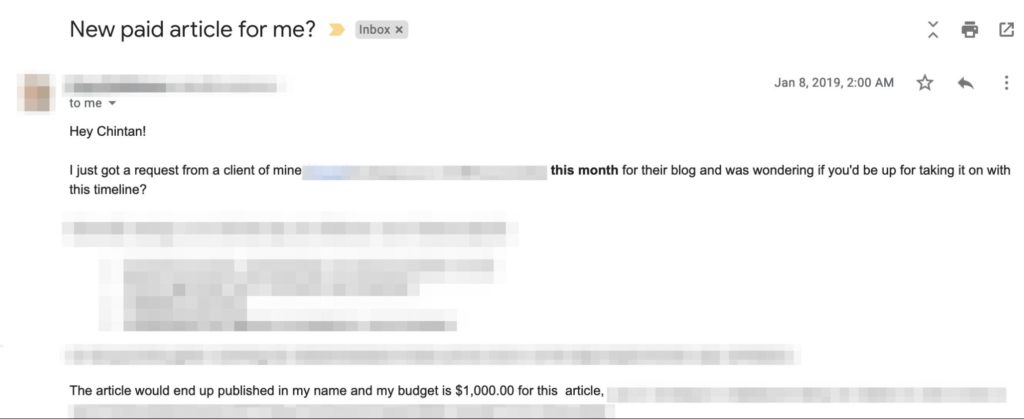 Pro Tip: Start an email newsletter to build relationships with your readers (that might turn into your clients one day). It's a great way to remain in the vicinity of your prospects and keep adding value to your content. Copywriter Elise Dopson, sends a fortnightly newsletter with content marketing resources. She also shares her own latest articles in it.
You can start with your newsletter for free (until 2000 subscribers) at MailChimp.
There you have it: 4 simple steps to become a high-paid ghostwriter. But in case you have more questions about ghostwriting, check out the FAQ section next.
Frequently Asked Questions About Ghostwriting
Here are some of the most commonly asked questions about ghostwriting answered:
How much do ghostwriters make?
Ghostwriting is a lucrative option if you want to earn big bucks. You can charge hourly ($30 to $200), per word ($1 – $3) or per project ($500 – $100,000). How much a ghostwriter earns is dependent on their experience, subject matter expertise, and niche. But even with a few projects, you can make big bucks in ghostwriting.
Yes, ghostwriting is legal. It is an acceptable practice as long as the content is not plagiarized by the ghostwriter. Since the ghostwriter consents to his work being used however the client likes (without giving any credit to the ghostwriter), it does not violate any laws.
How do you become a ghostwriter?
The best way to become a ghostwriter is to find a client by word-of-mouth or referrals. Asking your previous freelancing clients, checking job-postings, and building a solid portfolio are also some of the ways in which anyone can become a ghostwriter.
High-Paying Ghostwriting Jobs Are Waiting For You, But Are You Willing To Take Them?
Ghostwriting might seem unethical because your readers are unaware of the real writer. And it also needs a compromise on building your personal brand as your clients reap the long-term business results of your work.
However, in essence, it's a great way to make money as a writer.
Remember though, that there's always a middle way in which you can build your brand and continue publishing under your name. Simultaneously, you can offer ghostwriting services and charge premium rates. Ultimately, it's up to you.
Have you ever ghostwritten for clients? Else, do you plan to offer ghostwriting services in the future? Let me know in the comments below.
LET'S MEET IN YOUR INBOX 😃
ADDITIONAL READING