LearnWorlds has gained good popularity in the crowded online course platforms market. But is it any good? In today's LearnWorlds review, I'll talk about its standout features, and give you a quick pros & cons list for the platform as well. Let's start with the basics.
What is LearnWorlds?
LearnWorlds is a platform for creating and selling your online course. It has a powerful sales engine and interactive student engagement features. If you want your students engaged with your course, LearnWorlds is a great choice.
Apart from building courses, LearnWorlds also lets you create a course site and blog. Indeed you can also build a membership site.
Overall Summary: LearnWorlds is great at many things like student engagement, interactive activity, etc. But it is not great at course analytics and email marketing. Sign up for LearnWorlds. Here's a quick pros and cons table for the course builder:
| | |
| --- | --- |
| Pros  | Cons |
| Has a 30-day free trial in all their plans | No free plan available |
| Responsive customer service and 24/7 email support on the high-tier plans | No phone or live chat support |
| Pre-built website sections and 8 themes | Rudimentary blog feature |
| Building a course is easy and there are various options to choose from | You cannot do a bulk upload of your content or upload videos from the cloud |
| Advanced Quizzing Features | You have to manually upload each question unless you are in the Learning Center plan |
| Building an interactive course player is possible with many options | Too many choices might be overwhelming and have a maximalist approach |
| Can build a Facebook-like community for your students | Cannot restrict access to students who have met specific criteria |
| Has advanced integration with many tools and Zapier for others | No native certificate builder |
| Can customize your checkout page with the page builder | Cannot accept subscription-based model payments with anything other than Stripe |
| Easily get segmented reports of various students and customers who have enrolled | Sales reporting and data is limited |
LearnWorlds Pricing
LearnWorld's pricing plans are beginner-friendly and you can choose from up to four pricing plans. If you buy yearly, you save 20% on the price. The cheapest plan begins at $29/month. All plans come with a 30-day free trial.

I wouldn't suggest you go for the cheapest Starter plan because:
There's a transaction fee of $5/course
You cannot sell any free courses in this plan
You can create only 3 website pages
You get 24/5 email support whereas in all other plans you get 24/7 email support
You cannot create a landing page
You cannot get customizable certificates
Overall, many awesome features are missing from the Starter plan. If you just want to publish one course or test LearnWorlds, the Starter plan might work. But in most cases, I'd recommend you go for the Pro Trainer or Learning Center plan.
Customer Support
Customer support should be one of your top priorities in choosing an online course builder platform.
The customer service at LearnWorlds is pretty responsive but they do not have a Live Chat or phone support option in any of their plans. This was kind of a bummer to me — especially considering that almost all other course-building platforms offer Live Chat Support.
Their knowledge base is informative with neatly divided answers for almost every segment on the platform. With both articles and videos, it's A1.
When I reached out to their customer support, I got an answer in about 3-4 hours. I had asked if there's any way I can upload questions from a file at LearnWorlds. The response was polite and helpful, but my question wasn't clearly answered until the very end.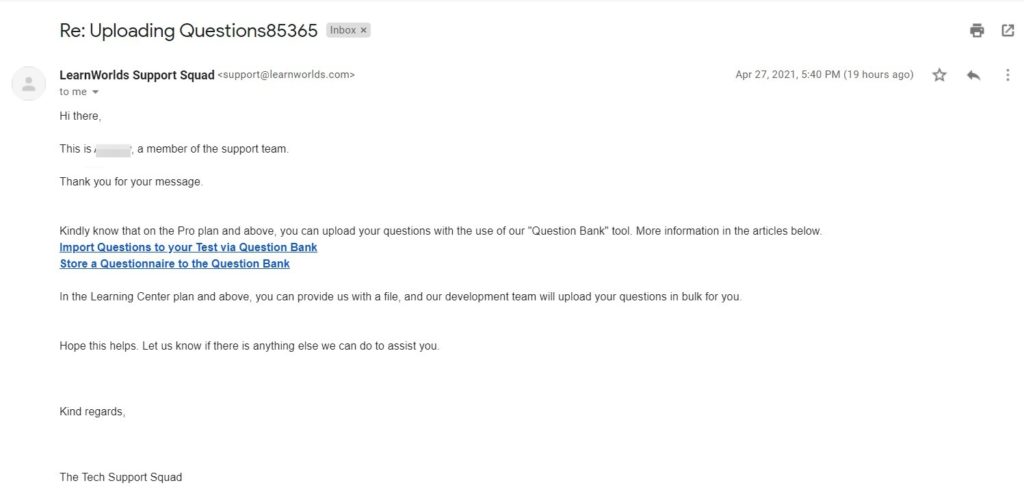 I would've appreciated the answer that this feature is not available unless you are in a Learning Center plan. The extra resources were helpful but the chronology of responding is better reversed.
How To Create A Course Using The LearnWorlds User Interface
Creating a course's material is a huge task in itself. The course platform you choose shouldn't make your job harder. In this section, we'll evaluate how easy or difficult it is to make an engaging course on LearnWorlds.
Building Your School Site: Design And Customization
In this subsection, we'll learn about all the tools LearnWorlds has to build your website and run your blog.
Starting with the basics, you can create a custom domain, get a free SSL certificate, and unlimited hosting with your subscription. LearnWorlds also takes care of the security parts of your website, so you don't have to worry about that either.
You can choose to build your website from 8 themes and then customize the theme in color, layout, typography, etc.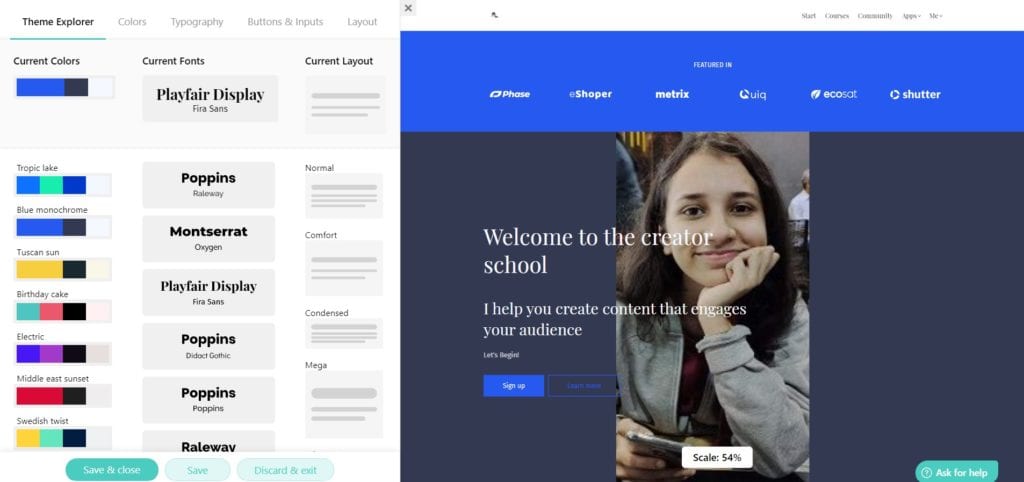 The drag-and-drop builder makes it super easy to build your website, create multiple pages, and customize sections without learning a single line of code. That being said, if you need to add a code to your website, page, or element, you can do so on the platform.
LearnWorld's pre-built sections are a goldmine for any beginner that you can use with a single click. You can also see how your website looks across devices and customize how elements look for different devices.
Apart from all this, LearnWorlds also allows you to create a blog on your website itself. But while it works like a page builder and is pretty straightforward to use, it is also basic and rudimentary in its features. You cannot do much in the SEO aspect too. I'd advise you to stick to WordPress or similar platforms for your blogging needs.
Building Your Course
Creating a course is easy in LearnWorlds. It guides you step-by-step to fill out the basic details of your course like URL Slug, course name, access (free/paid/coming soon/private). Here you can also choose to offer a discount on your course if you want.
You can upload your course image from your computer or the cloud. One thing I disliked about creating the course is that it asks for too much at the beginning itself. For instance, it asked about Drip content, course pricing, discount, etc. even before I could set up the contents of the course. The chronology felt a little backward to me.
It is also unnecessary because most course creators often change these details later on in the course when they finish uploading the media, quizzes, lectures, etc. It's doing the same dance all over again for no reason.
Apart from this minor flaw, LearnWorlds is awesome at creating an engaging course. You can upload videos, ebooks, digital downloads, and even arrange a live web meeting through a Zoom or Webex integration. All the details of the course are manageable from the top without ever leaving the screen.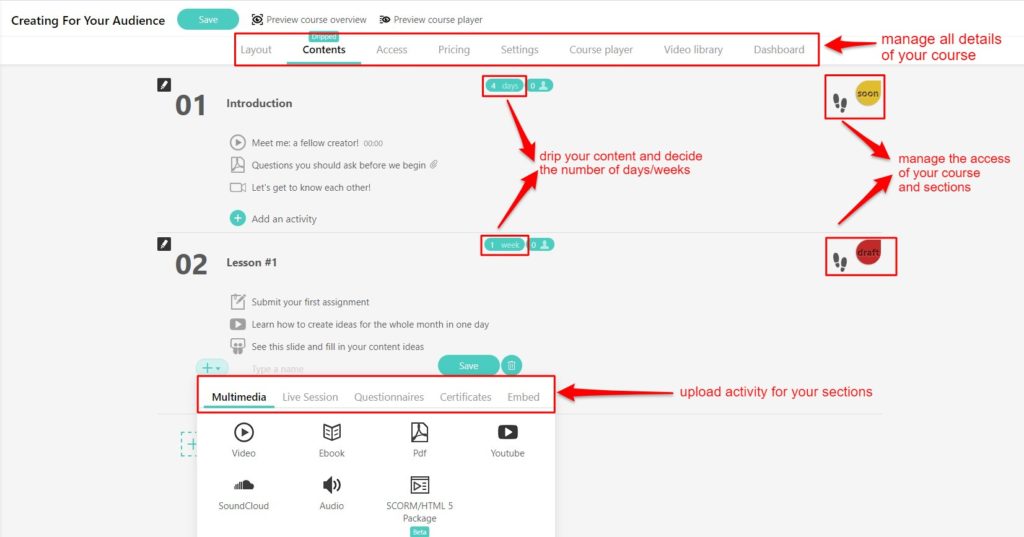 You can upload a YouTube video, upload videos from Wistia or Vimeo, embed your site, add a certificate, add audio, etc. from LearnWorlds. I found that the options at LearnWorlds are plenty and would suffice for most creators. The YouTube option and advanced quizzing feature (more on that in the coming section) is something that is missing from a lot of competitors.
The dripping content is also super simple to use. You would want to drip your course content when you do not want all the course materials to be available for your students immediately upon purchase. You'd want to give them a week before they begin lesson 2, for instance.
There's a "Settings" and a "Preview" feature at the right of every activity when you click on it. This allows you to edit the content you have uploaded and set up a dripping content schedule. You can personalize it and LearnWorlds also has a lot of samples that you can choose from.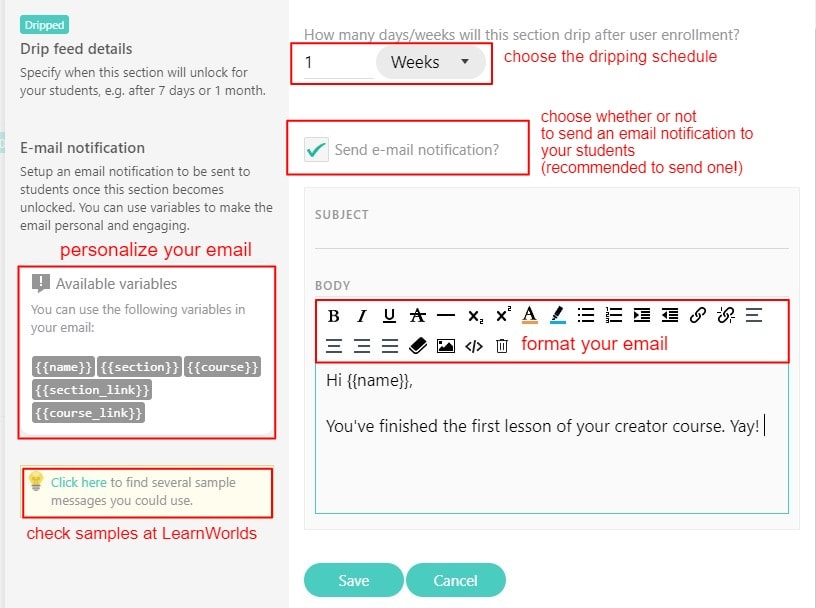 Note: You can only set up a dripping content schedule for section level and not activity level.
While the course building feature of LearnWorlds is great, here are some things I do not like about it:
You cannot upload different types of media in one "activity"
You cannot do a direct Dropbox upload of your video content – you can do so after building a video library at LearnWorlds
You cannot bulk upload your content
The user interface can be overwhelming and a little bit of a maximalist design for a beginner
Interactive Course Player
Let's be honest for a minute: Your content can rock but a bad design can make all of it flop.
The course player is the place where your customers spend most of their time. Its design is important. Not just that, it should be easy to use and find things. Let's see how things are at LearnWorlds in this aspect.
When you want to choose a Course Player, there are 5 themes available at LearnWorlds. You can also choose to apply the same themes (and settings) for all of your courses.

On the "Course Player" page, you can also customize details like when is an activity marked complete, whether or not to show the course discussion tab, whether or not to display the estimated reading times of your digital downloads, etc.
You can also decide the navigation of your course in the "Course Player" section. This takes your dripping one step further and locks the content unless the previous lesson is complete.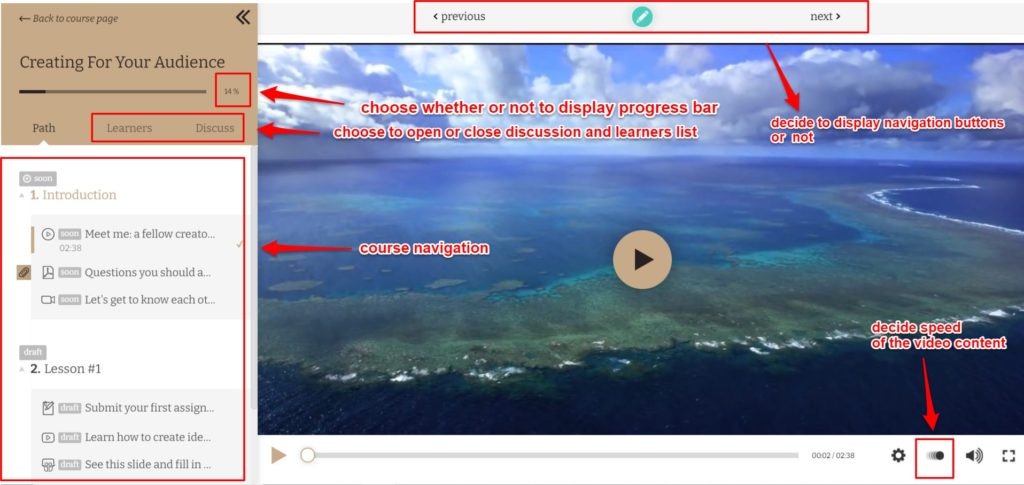 In video settings, you can also decide to display subtitles of the video and do other video settings.
I like how LearnWorlds gives creators complete control in displaying whichever elements of the course they want. But, I personally also disliked the "too many choices" aspect of it. If you want something minimalistic, LearnWorlds might not suit you.
But while this may certainly pose a problem for the creator, the learning experience is great for your customers.
LearnWorlds does not offer a native mobile app, but they can set one up for you in their high-tier plans. Regardless of this, LearnWorlds is responsive on mobile browsers.
Online Community
If you are looking for a robust community feature, LearnWorlds is good news. In its community page, you can find the following features:
Facebook-like community method: Other students can like your post, comment, or create a post of their own. Your post can include a URL, image, or poll.
Sending 1:1 messages: If you enable this from settings, each user profile can send personal messages to other members of the community.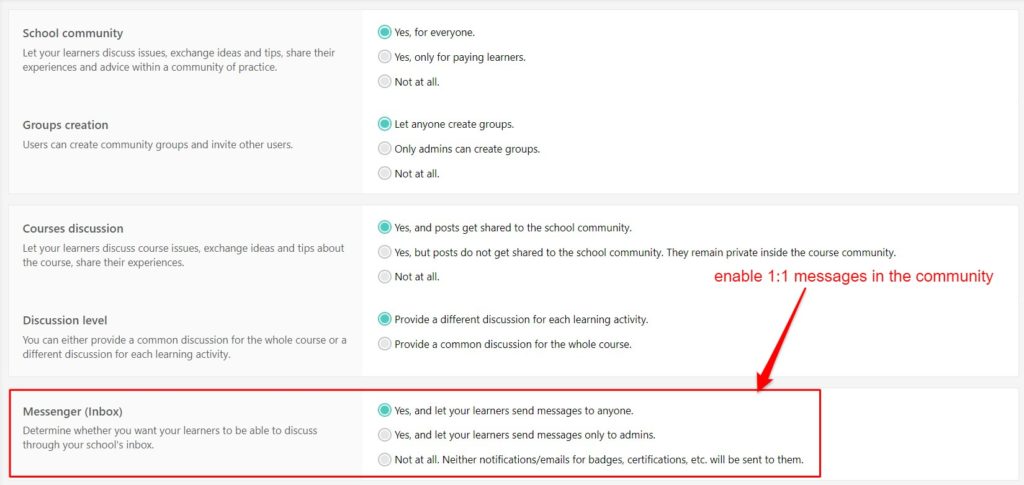 Create sub-groups: If your students want to create a learning group or you need to create a community of instructors only, LearnWorlds got your back.
Reward activity: Increasing engagement in your community can be a cakewalk with LearnWorlds' gamification and badges method. Turn this feature on and reward students based on their activity in the community.Note: You cannot create custom badges.
One flaw with LearnWorlds' Community feature is that it is not possible to restrict access to it only for certain customers who buy a specific course or purchase a membership.
Except this, LearnWorlds' online community feature is robust and would certainly help engage your customers.
Certificates And Course Engagement With LearnWorlds Testing Engine
Another engagement feature where LearnWorlds is great is its quizzing feature. You can create a quiz, an assignment, an exam, or require your students to submit a file assignment that you'll grade manually.
In the quiz, you can create a multiple-choice question with one or more right answers, true/false questions, and open-ended questions.
I like how you can ask different types of questions in one test using LearnWorlds.
Apart from creating basic quizzes, you can create auto-graded exams and set a passing score. What I particularly found great was that you can add a time limit, decide whether or not to show mistakes, set the maximum number of tries, etc. LearnWorlds' advanced customization in this segment exceeds the competitions'.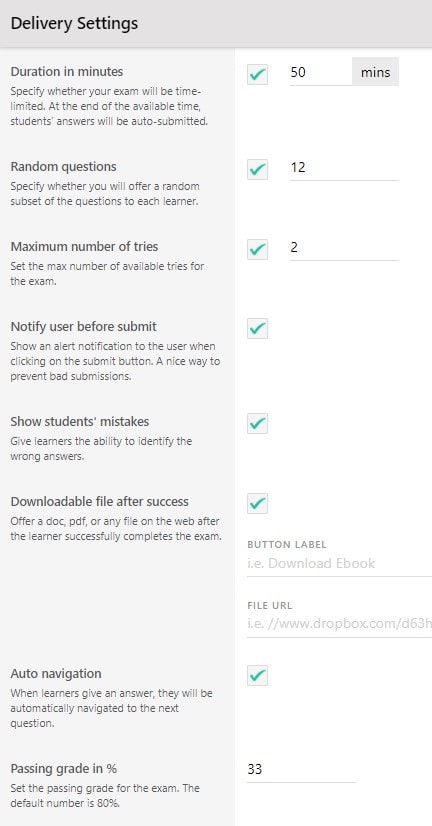 What was a pain point in LearnWorlds' testing engine was that you have to upload every single question manually unless you are on the Learning Center plan. There's no option to do a file upload. This can be time-consuming, especially if you have a lot of tests on your course.
When it comes to creating certificates, LearnWorlds has a PDF certificate template that you can use to create a customized certificate. After uploading that, you just have to add the user details and LearnWorlds takes care of the rest.
But this ease is also a flaw because there's no native certificate builder you can use at LearnWorlds. You have to rely on a third-party PDF editor to make certificates.
Other Key LearnWorlds Features
LearnWorlds may suffice for you in creating a website, a blog, and your course. But that's not enough to give it a go-ahead.
In this section, we'll check how LearnWorlds works in course pricing, checkout, marketing, and integrations.
Marketing And Selling Your Course: Course Pricing And Checkout
Like most course creation platforms, you can use the four common pricing plans for your courses: free, one-time fee, subscription-based, or monthly payments. You can also sell your courses in bundles or choose to give your customers coupons and free trials.
Apart from the basics, you can price your course in 20+ currencies. But since you get this only at the school level, you cannot price your courses in different currencies.
LearnWorlds integrates with five payment getaways (PayPal, Stripe, 2Checkout, Shopify, and PagSeguro), so getting your money shouldn't be a problem. Or so you'd think.
Firstly, you cannot accept subscription-based model payments with anything other than Stripe. Not just this, for any course or membership, you have to choose an option and your students can pay you only through that option. Both of these are serious limitations that may hold you back from investing in LearnWorlds.
When it comes to creating checkout pages, LearnWorlds has quite a few themes you can choose from. It works like the page builder, which means you can customize it however you want. But you cannot create any upsell on your "thank you" page or charge tax on your course price.
Integrations
When it comes to third-party integrations, LearnWorlds has lots of them across domains – from email marketing to analytics solutions. On top of that, you also have a Zapier integration, which allows you to integrate with thousands of other apps.
Since email marketing is not a natively built feature at LearnWorlds, it integrates with Mailchimp, ConvertKit, Aweber, and Active Campaign. For others, you'll have to use Zapier.
LearnWorlds does a decent job when it comes to integrations. There are five payment gateway integrations and many integrations like Zendesk, FreshChat, and Olark for customer service as well.
Course Reports And Analytics
LearnWorlds does not disappoint when it comes to tracking your metrics. There is a whole reporting section on the dashboard giving you numbers on user insights, exam scores, sales, and activity history.
You can easily create filter criteria and search for specific segments of your customers and students.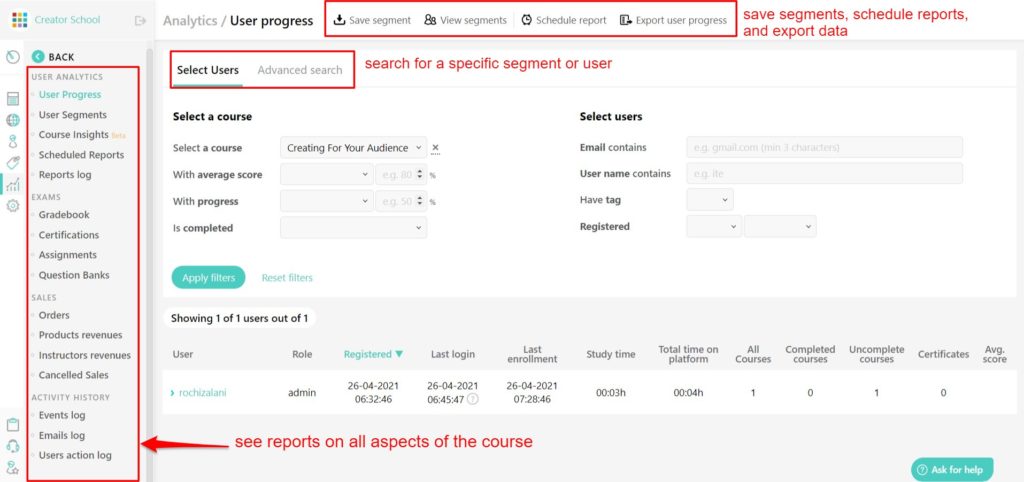 You can even tag users and use separate tags as identification to search for them quickly the next time around. Even video analytics are pretty great with engagement rate, play rate, etc. You also get a heatmap to visualize these numbers.
What I dislike about the course reporting at LearnWorlds is that sales reporting in this platform is pretty limited. You cannot track your monthly revenue, churn rate, etc. You can track only revenue for your courses and instructors. That's pretty much it.
LearnWorlds Alternatives
If you're still on the edge about LearnWorlds, comparing it to its top competitors in the market might help. Let's see if Thinkific or Teachable would do a better job for you than LearnWorlds.
Thinkific Vs. LearnWorlds
Thinkific is a great online course-building platform for a beginner.  If you're someone who wants an advanced examination feature in your course, Thinkific might be the better choice for you. It has advanced features in that segment that no other competitor can beat.
Thinkific is also better in giving you a better reporting of your sales. If you want more data, Thinkific's advanced reporting feature is perfect. When it comes to site building, Thinkific does not allow you to build a blog but has a better design.
Other features are similar in Thinkific and LearnWorlds. I'd recommend going with Thinkific if you're a beginner and just testing the waters because it also has a free plan!
Teachable Vs. LearnWorlds
Teachable is another popular competitor of LearnWorlds that you should evaluate. It has a lot of functionality that makes your job easier: like an iOS App, the ability to upload your content from the cloud and in bulk, and creating a 1:1 coaching program for your customers.
But if you want a good examination and community feature, you might not like Teachable all that much. It just has a rudimentary quizzing feature and no advanced capabilities like Thinkific in this segment.
It has a simple blog feature like LearnWorlds as well but the freedom to customize your website is minimal. Its affiliate marketing is top-notch and I'd recommend it if you are looking for something more advanced in terms of monetizing your courses and digital products.
If you've decided to move ahead with LearnWorlds, great! Congratulations. But if you are still on the verge of choosing between LearnWorlds, Thinkific, or Teachable…
Recommended reading: Teachable Vs. Thinkific: Exhaustive 2021 Comparison
Final Verdict
In this LearnWorlds review, we've evaluated all features that LearnWorlds offers for creators. Overall, LearnWorlds is great at building an interactive course for your students and its advanced examination & community features are great at keeping your students engaged.
The facilities of creating a blog, customizing your website, dripping content, and getting a customized certificate would be awesome for many creators. If you're thinking about trying LearnWorlds, give their 30-day free trial a shot.
I hope this review was helpful for you in deciding whether or not LearnWorlds is the right platform for you or not.