Thinkific is one of the first things you hear when you look for online course platforms on the internet. And it may be great for some creators…but just not enough for others.
Most online course builders offer the same features: build your course, organize your lessons, send emails to those who have enrolled, have multiple payment options, offer coupons & affiliates, etc.
But how does Thinkific stand out (or does it?) Who is it the best fit for? While its free plan may look enticing, don't jump on the bandwagon just yet. Let's see how Thinkific balances in the good-old pro & con list before we dive deeper:
Note: This article contains affiliate links. This means if you purchase anything using our links, then we earn a commission (at no extra cost to you). We only recommend products that we find valuable and enjoy. We appreciate your support.
| Pros of Thinkific | Cons of Thinkific |
| --- | --- |
| Has a free plan | Most excellent features are restricted to the high-tier plans |
| Lack of personalization in customer support | Excellent help center |
| Easy to navigate streaming player | Limited course player customization options |
| Drip and lock course content | Cannot personalize dripping emails |
| 7 templates of course completion certificates | Rudimentary community builder |
| Flexible coupon feature | Limited design customization in the website builder |
| Straightforward payment to your bank account | Affiliate features aren't good enough |
| Excellent third-party integrations | No opportunity to upsell on checkout page |
As you can see, Thinkific holds itself straight pretty well. But Thinkific is so "in" because of its low prices and free plan. But is it all rainbows and sunshine? I don't think so.
Thinkific Pricing Plans
One of the primary reasons most course-making creators go with Thinkific is its free plan.
You get more robust features of course-building like SSO, onboarding package, more course admins, etc in the paid plans. If you want higher flexibility to customize your course, I'd suggest going with the higher-tier plans.
All the paid plans offer a 30-day money-back guarantee.
Catch: Although Thinkific comes at a lower price point, it may end up costing you more than other online course builders like Kajabi. Why? Many features like email marketing, building a sales funnel, etc. are not native to Thinkfic.
You would end up buying third-party services to fulfill those needs and may even have to pay the cost of integrating them with Thinkific. Thinkific might not be the best choice for you if you want to run your whole business under one roof.
But if you just want to build a course to test the waters or have already established processes for other aspects of your business, then Thinkific is the most cost-friendly.
Thinkific Customer Support And Knowledge Base
The live chat feature is limited to the paid plans. When I had reached out to Thinkific with a query, their response seemed somewhat templated. If it was Thinkific vs. Kajabi in customer support, the latter provides a more personalized service in lesser time.
Here's the response I received when I enquired about the analytics I can get in Thinkific's Basic plan:
Some of these features mentioned are available only on the Pro and higher-tier plans. I wasn't clearly told which features would be available in the Basic plan.
I found that the Help Center at Thinkific impeccable. It answers most of the questions consumers can have. Navigation is easy with its neatly divided topics. It took less than 2 minutes to find almost everything I was looking for. 
Building A Course With Thinkific
It is vital that the course builder you choose has all the features you need. I'd recommend running a checklist for yourself that answers questions like:
How advanced quizzing features do I need?
How would I like the community I build via my course to interact?
How important is it for my course to give a completion certificate
What do I want the player to look like?
How much do I want to customize the content I provide via Dripping and Locking?
Course Uploading
Thinkific allows you to upload video, audio, PDF, text, quizzes, and other types of files for your course. You can add two forms of multimedia (like videos and downloadables) in one lesson.
If your lesson structure is relatively similar, you can also copy it. I love the course builder at Thinkific because it is super easy to use, has tons of great features, and has almost zero learning curve. You can upload videos from the cloud, make a lesson downloadable or part of a free preview, and add a Zoom live session or webinar.
One downside to Thinkific's course builder is that you can add only two sub-categories to one lesson—making course-building difficult for complex topics.
You also cannot trigger an automated email to your audience/students after they finish a particular lesson—taking away an opportunity to nudge people to continue with your course.
Course Streaming Player
Course players are what the people who buy your course see. The experience you provide them here is high-impact and long-lasting.
Thinkific does not offer course player themes. There is one design and while it is easy to use, looks professional & modern — it is not highly customizable. And while Thinkific is mobile-friendly, it doesn't have a mobile app.
Apart from that, though, Thinkific's course player is great. Students can easily navigate your course through the search bar and enable the full-screen mode for distraction-free learning. You can also create customized web pages based on your audiences' purchases.
Dripping And Locking Content
You can easily lock the lessons further ahead in the course so that all the people who have signed up complete the prerequisites first. You can also restrict this based on assignment submission and completion of a specific video percentage.
The dripping feature is only available in the paid plans, and you can set it up by student enrollment date, course start date, or another specific date. If students try to access courses that aren't a part of your dripping schedule yet, they get a popup messaging informing when it will be available.
Thinkific does not allow you to send automated emails based on the student's individual journey. All students get the same email when new content is released. No drip schedule can be set on a per-student basis.
Quizzing Features
Thinkific shines in its quizzing features. It has the most advanced quizzing features among all online course platforms, and they're all super easy to use.
You can create a quiz, an assignment, a survey, or a brillium exam within your course. There are also certain advanced features available like:
Randomizing the questions.
Importing quiz questions in an XLSX file.
Add 'explanations' to your questions to give extra context or ask something based on a case study.
Accept or reject submissions from a student shared via the 'assignment' feature.
Add multimedia to your questions.
Easily duplicate your questions for easy edits.
But remember that even though Thinkific has various examination features, many of them are restricted to the Pro plan and above.
Completion Certificates
Completion certificates enhance the learning experience and provide an excellent opportunity for students to spread the word about your course.
Thinkific offers seven pre-made templates of course completion certificates. You can customize this for your brand and use the same design for multiple courses too.
If you prefer third-party services, Thinkific integrates with Accredible to automate the process for you.
Building A Community
Engagement for your course is essential. Today, when people sign-up for your course, they expect to find a community of like-minded individuals they can interact with regularly.
At Thinkific, students can comment on your lessons and enter into discussions with each other.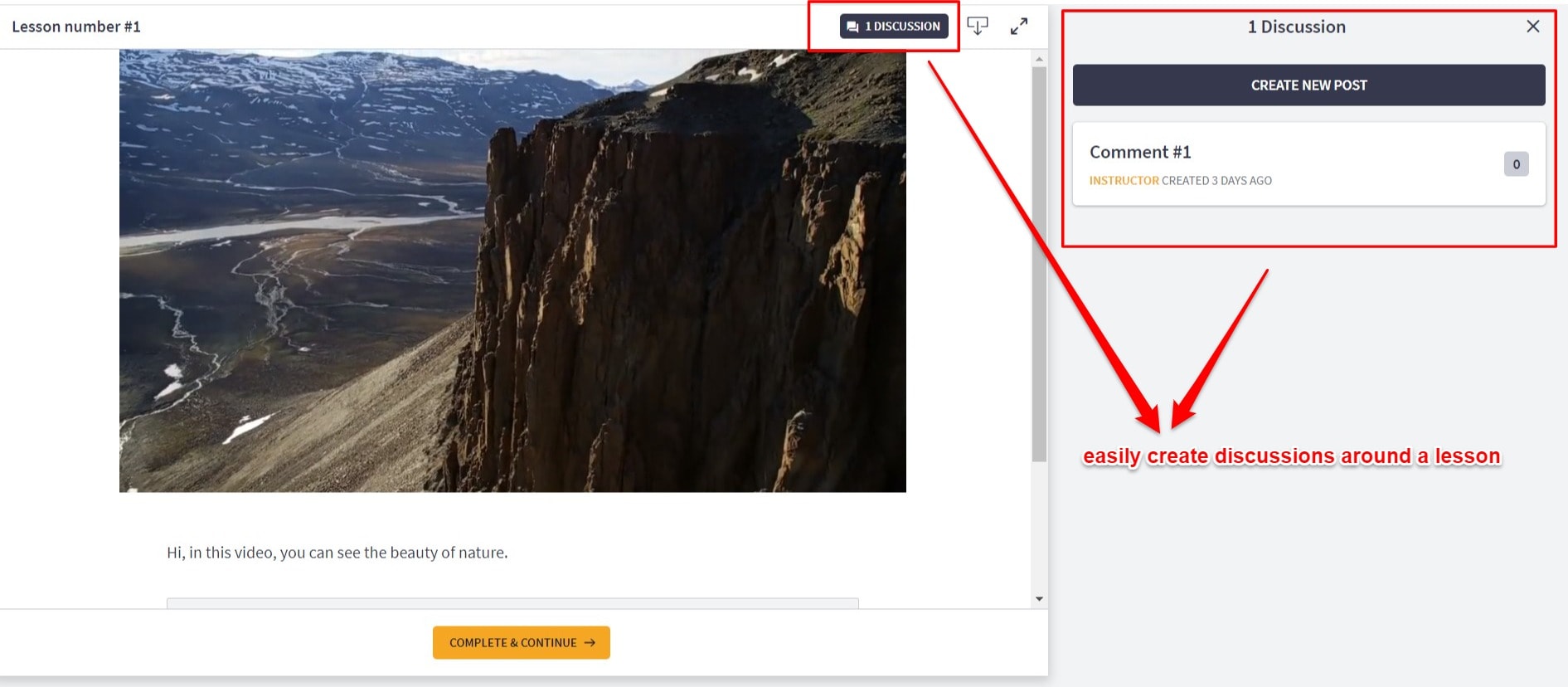 The community-building features of Thinkfiic are rudimentary compared to other platforms like Kajabi.
Marketing, Course Website, And Sales: Key Thinkific Features
"Build, and they will come" isn't true on the internet. When you're creating something, you need the right set of a landing page, a website, and other seamless customer experience features around it that make your target audience hit enroll.
Let's see how those features fare at Thinkific.
Website Themes And Design
Thinkific offers free web hosting, SSL certificate, security, and backup of your website. You can choose to customize your subdomain (www.coursename.thinkific.com) or buy a custom one (no "thinkific" in the domain). You can see how your website looks across different devices and change the language.
Coming to aesthetics, Thinkific offers three themes in 3-4 styles. You can customize this to your brand, colors, and logo. Some premade page templates come in handy.
You can upload your own theme in the high-tier plans or modify the existing ones via code from the backend. Thinkific's page builder also has many advanced features that can enhance the user experience of your website.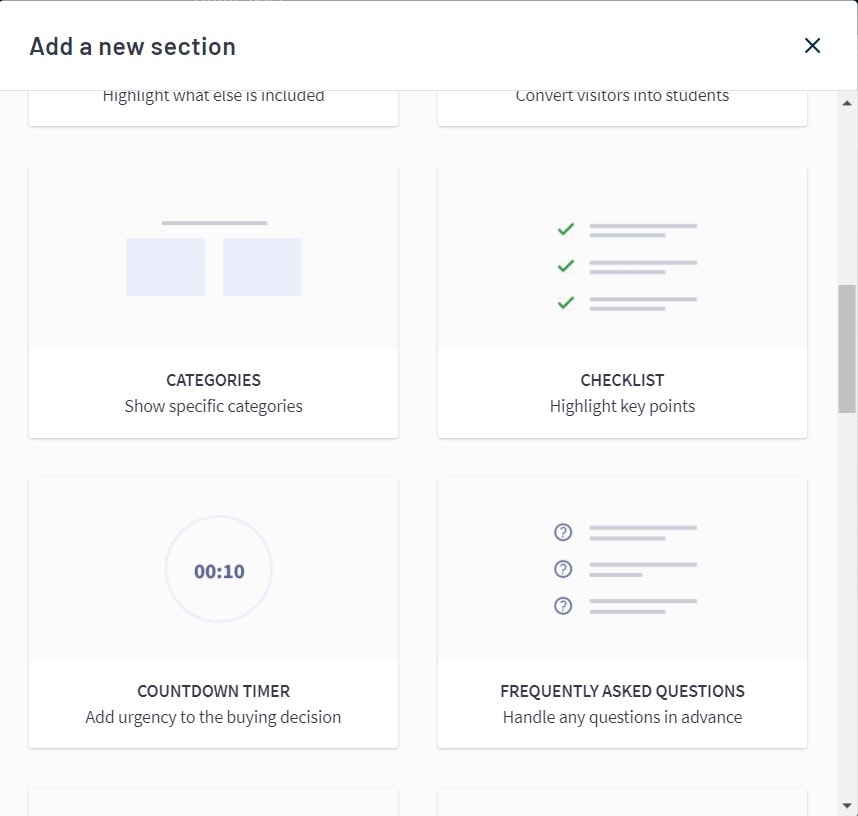 Thinkific offers no blogging capability like Teachable or Kajabi, and the editing features in the lower-tier plans are a tad bit limited compared to other platforms.
Coupons And Affiliate Marketing Tools
You can create an X% off coupon or a direct $X off coupon. You can choose exactly which courses you want a particular coupon to be applicable for, or you can also bundle them together and offer a discount on bulk purchases.
Coupons at Thinkific
You can create affiliate links for your courses and track their activity in the affiliate dashboard and choose which courses you want to create an affiliate program for.
Here are some things I dislike about Thinkific's affiliate feature:
Affiliate payouts aren't automated.
You can't create affiliates via Thinkific if you haven't built your landing page with them.
You can redirect users only to your Thinkific website.
Affiliates need to sign up to Thinkific as regular users to participate.
I'd recommend Thinkific because of its flexible coupon facility, but there's scope for improvement in its affiliate features.
Payment Options
You can price your course in four ways: free, one-time, subscription-based, fixed monthly payments. But the last two are only available for high-tier plans.
You can also charge a setup fee upfront while charging based on subscription — handy when you're trying to build a membership site.
Thinkific has integrated with PayPal and Stripe, which allows your customers to pay you quickly. But you can't offer a PayPal payment option for courses priced at a one-time pricing model.
Thinkific's payment process to you is pretty simple and straightforward: See the pending payments on the "payout" dashboard and get them deposited in your bank account in 2 business days. No third-party app involved.
Checkout Pages
Thinkific isn't as advanced here either. You can have a simple 2-step checkout process, but nothing more. There are no opportunities to upsell, send a quirky thank you note, or add a donation option like Podia.
I enjoy Kajabi's checkout pages much more that allow video testimonials, order-bump, page customization, cart abandonment emails, and more.
Email Marketing Capabilities
Email marketing is not Thinkific's strong suit. I'd recommend going for third-party email marketing software.
You can create a simple broadcast to send your students easily — but this doesn't satisfy the need for most creators who want to give an excellent user experience to their buyers. Dripping autoresponders, regular check-ins—none of it is possible to do at Thinkific.
Thinkific integrates with Mailchimp, ConvertKit, Constant Contact, AWeber, and Active Campaign for email marketing. You can also use their Zapier integration if you don't use any of these email service providers.
Course Reporting And Analytics
To know how your course is doing, you need the numbers. The course builder you choose should help you see how students are doing, what they like, what they want you to improve, and what gets the most traction.
Let's see the data Thinkific can arm you with.
The beta advanced reporting section at Thinkific is pretty neat: You can track enrollments, student engagement, revenue, orders, and advanced video analytics.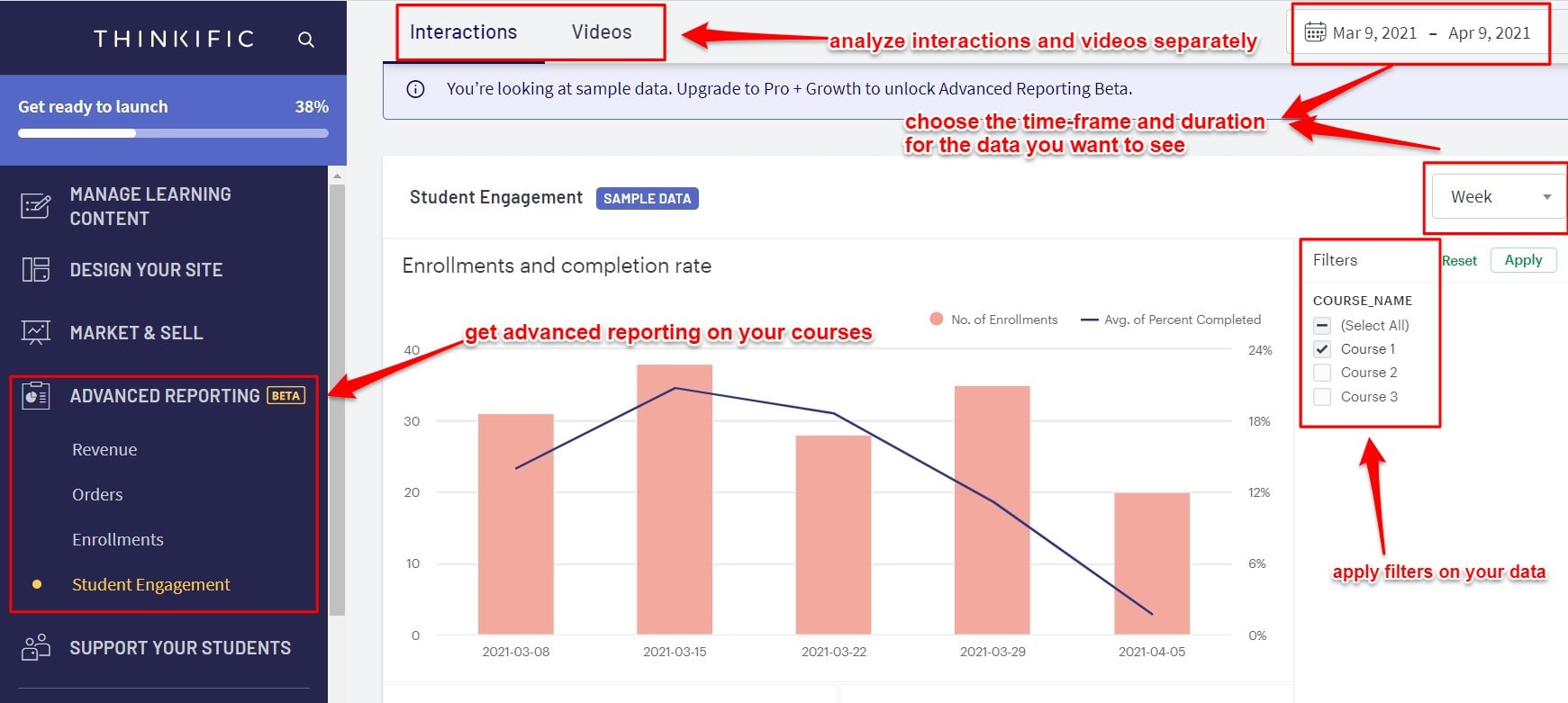 While Thinkific does not have heat maps for video engagement in your courses, it does have data like play rate and engagement to fill that gap.
Thinkific Alternatives
A little sniffing around hurts no one, right? Even if you're sure that Thinkific is the right platform for you, it helps to check out how the other platforms are doing. You may not know which features can come in handy.
Thinkific Vs. Teachable
Teachable is Thinkific's primary competitor because they see eye-to-eye on most features. What Teachable does better is rudimentary blogging, course data, and 1:1 coaching. Thinkific is better if you want to build a membership site, though. The pricing options may be more favorable in Teachable if you have a global audience.
Learn more: Teachable Vs. Thinkific: Exhaustive 2021 Comparison
Thinkific Vs. Kajabi
Kajabi fares better than Thinkific in many features, but it may be heavy on the pocket. Remember that Kajabi is best for running your business under one platform, and Thinkific is best for building an online course only. With Kajabi, you get better analytics, better course features, advanced dripping features, and blogging capabilities. Thinkific's quizzing capabilities are better than Kajabi's.
Thinkific Vs. Mighty Networks
If what you're going for is building a community, go for Mighty Networks. It has apps on both iOS and Android, and the entire structure is designed to foster community engagement. If you want to run polls rather than quizzes, Mighty Networks is your place. You can keep this community free and charge for the courses you offer to give everyone a free taste too. But it doesn't have any quizzing feature, has limited website design options, and no PayPal integration.
Final Verdict
I hope this article helped you understand if Thinkific fits your needs. I'd recommend it to anyone who's just wanting to test the waters of online courses, membership sites, and running a business.
I'd also suggest you give it a shot if you've an established business and need third-party software to create courses. If you're hoping to centralize all your business activity, though, Thinkific might not be suitable for you.