Finding the right words to tell your story is tricky. You can't get too "salesy" else a prospect will run backward. However you also need to prove how your product will benefit the reader to persuade them.
So today I will break down six copywriting examples. You'll get to see a mix of blog posts, about pages, landing pages, homepages, emails, and good old sales letters. Without further ado, let's get started!
1. Homepage Website Copy By Joe Coleman
Joe Coleman is a freelance copywriter with over 15 years of experience. His copywriting chops are on display on his homepage.
You're greeted with an interactive bar at the bottom of his homepage that move along from "Less Hard Sell" to "More Hard Sell." It results in a dynamic change of the copy leveraging principles of persuasion like urgency and social proof.

Why does it work?
1. Joe "shows" the tricks of the copywriting trade in his homepage copy rather than saying that he is a copywriting expert. Show, don't tell is a classic copywriting adage, remember?
2. He strategically uses links to his portfolio pages and the awards he has won to earn the trust of his prospective clients. I would give him brownie points for the hilarious hard-sell copy that uses the cat below, along with his phone number 😂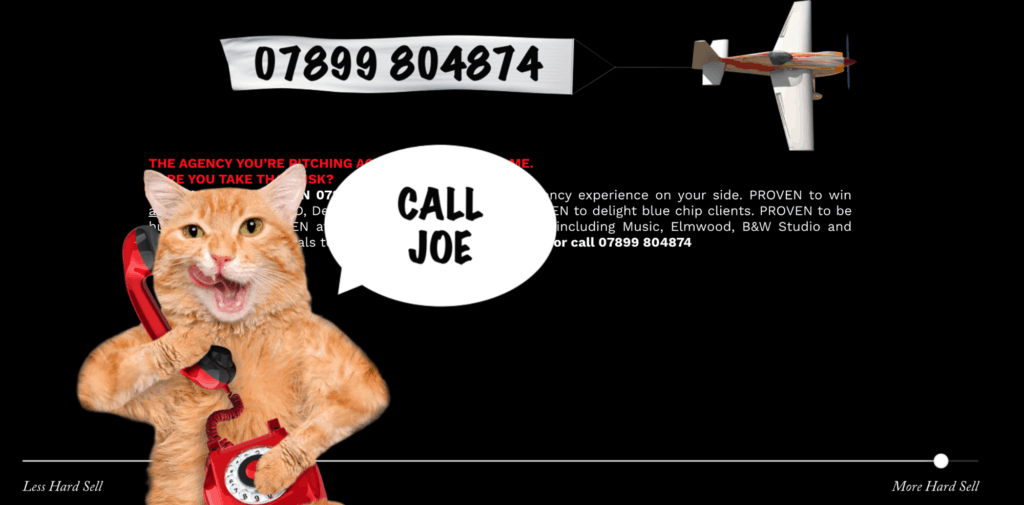 The picture of the dog skateboarding in the background of blasts is not only funny; it demonstrates his copywriting expertise in a memorable manner.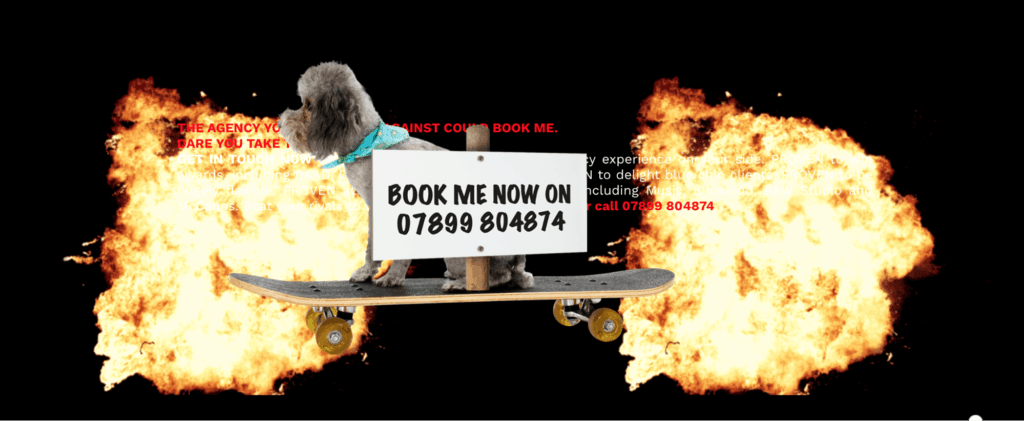 (Clicking this screenshot required demanded some patience!)
Jon Morrow is one of the best web writers and he credits writing recipes to play a significant part in his success. He wrote a piece for Copyblogger that touched 5 million readers.

Today let's look at another another inspirational blog post he wrote for Problogger that reached over a million readers.
Why does it work?
The title of the article makes three remarkable promises that are highly desirable for aspiring bloggers (the target audience of Problogger).

And the introduction (beginning with the question, "After all, that's the dream, right?") is a continuation of the conversation started in the headline.
Jon has divided his story into three parts:
the excruciating details of his accident,
followed by how he moved to a beachfront condo in Mazatlan,
and the skyhigh expenses of his SMA disease.
Jon later confessed that he followed the classic three-act structure, a classic narrative fiction framework used by novelists, while writing the article. Here's how it looks like:

It's incredible how Jon applied the classic storytelling structure to a blog post. For example, the inciting incident (that's a part of act one in the three-act structure) was him getting hit by a car going at 85 miles an hour.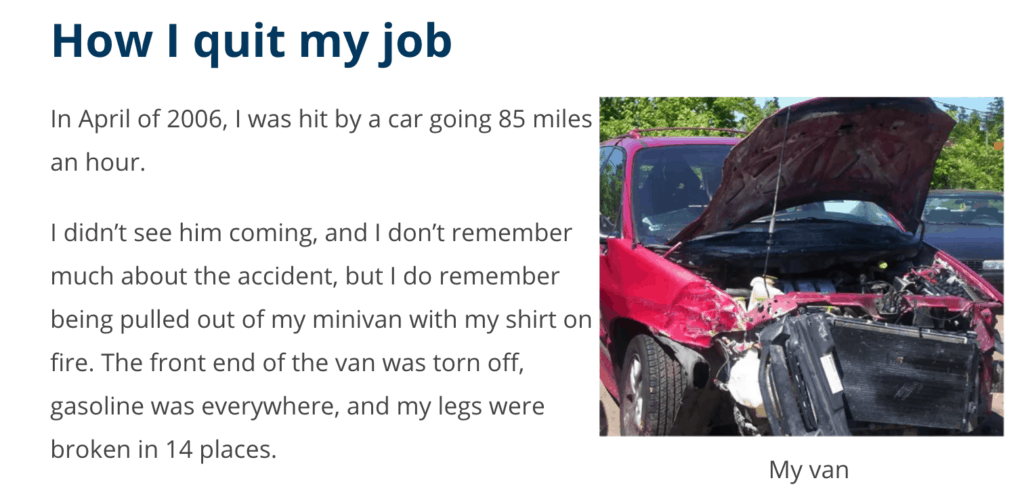 And his third act introduces us to the huge sum he has to pay for staying alive.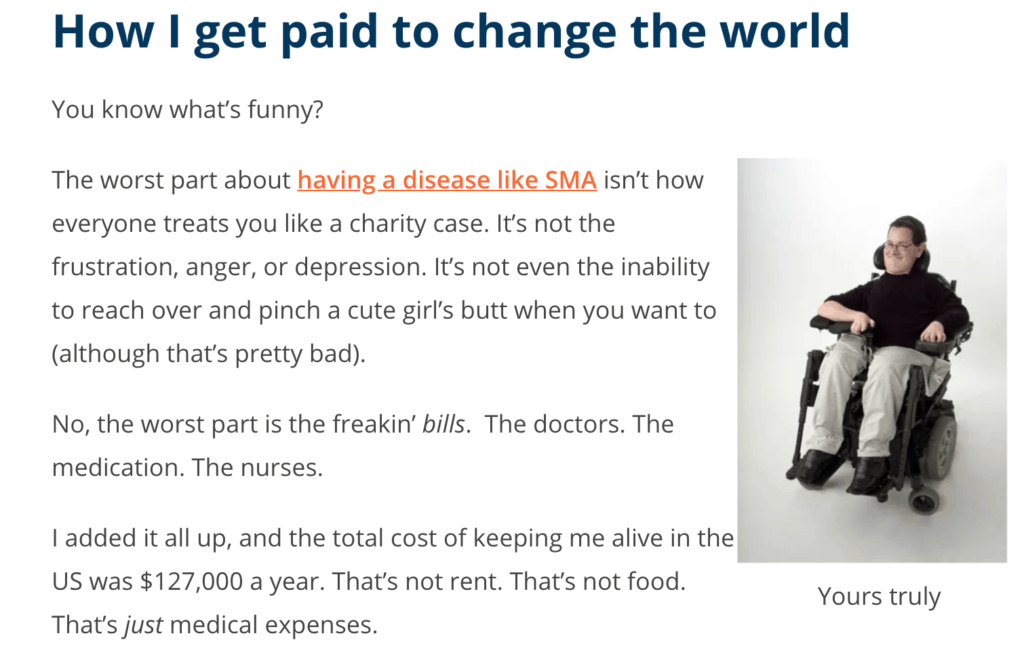 The whole article will take any reader on an emotional rollercoaster. However the details of his blogging journey that Jon weaved in his story made the post irresistible for his audience of bloggers.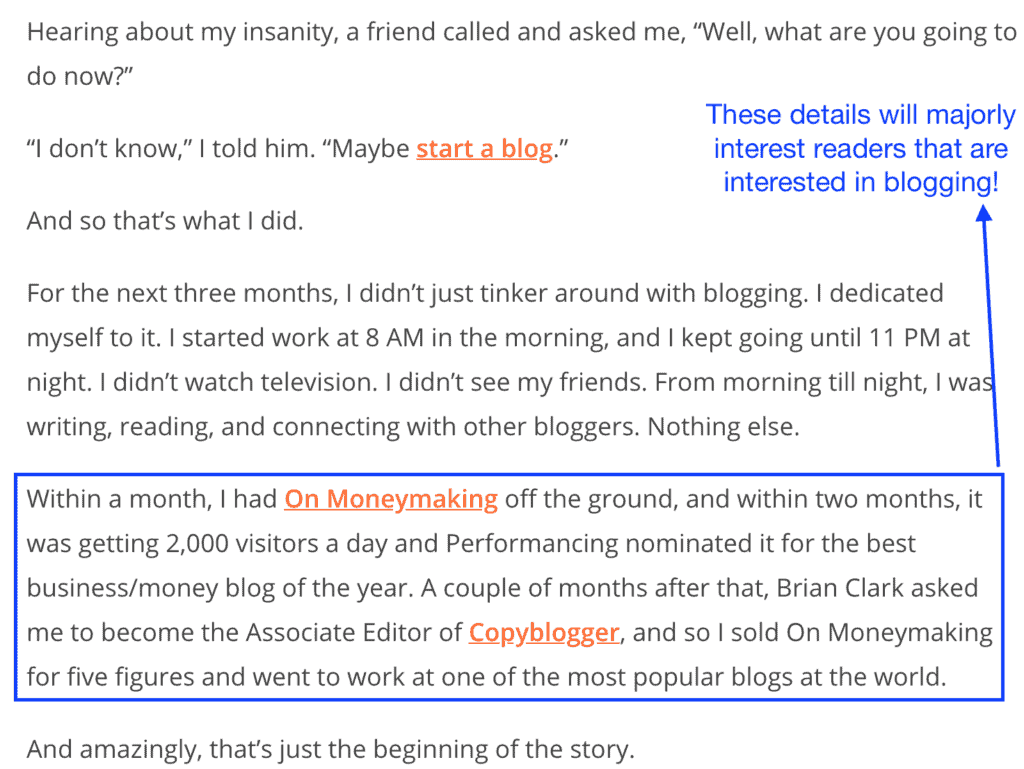 Jon knows the importance of his relentless focus on the benefits for his readers. Indeed after the climax of his third story, he invites the reader with a moving conclusion.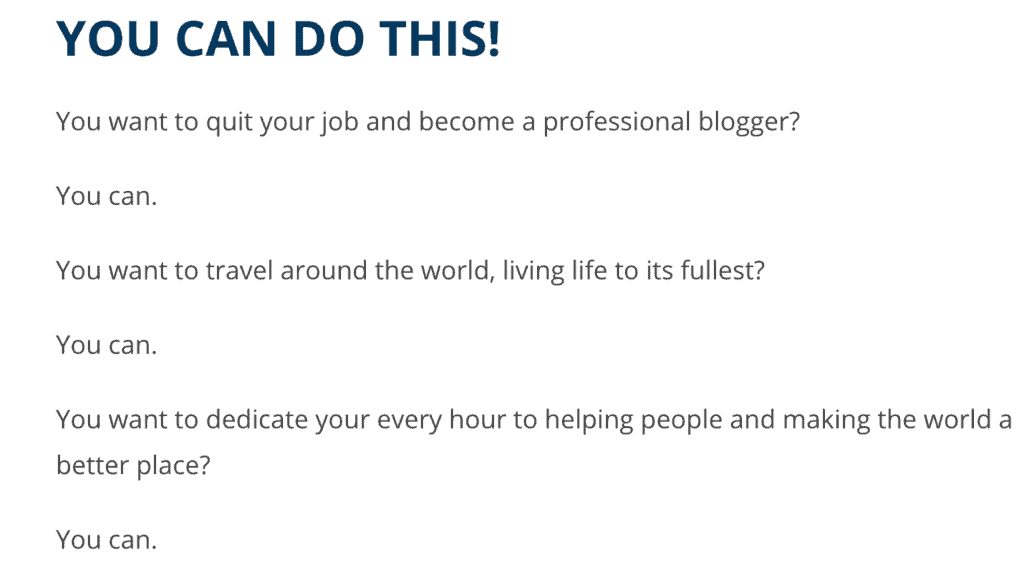 3. Landing Page Copy By Apple
The Apple brand is synonymous with elegance, sleekness, and a terrific product experience. You get no less on their product landing pages. They are neatly designed with benefit-heavy copy and beautiful HD pictures.
Let's analyze their iPhone XR page.
Why does it work?
1. The page also loads quickly with the attention-grabbing headline "Brilliant. In every way." in the front and center. The picture in the background is colorful and visually depicts the product – it wants you to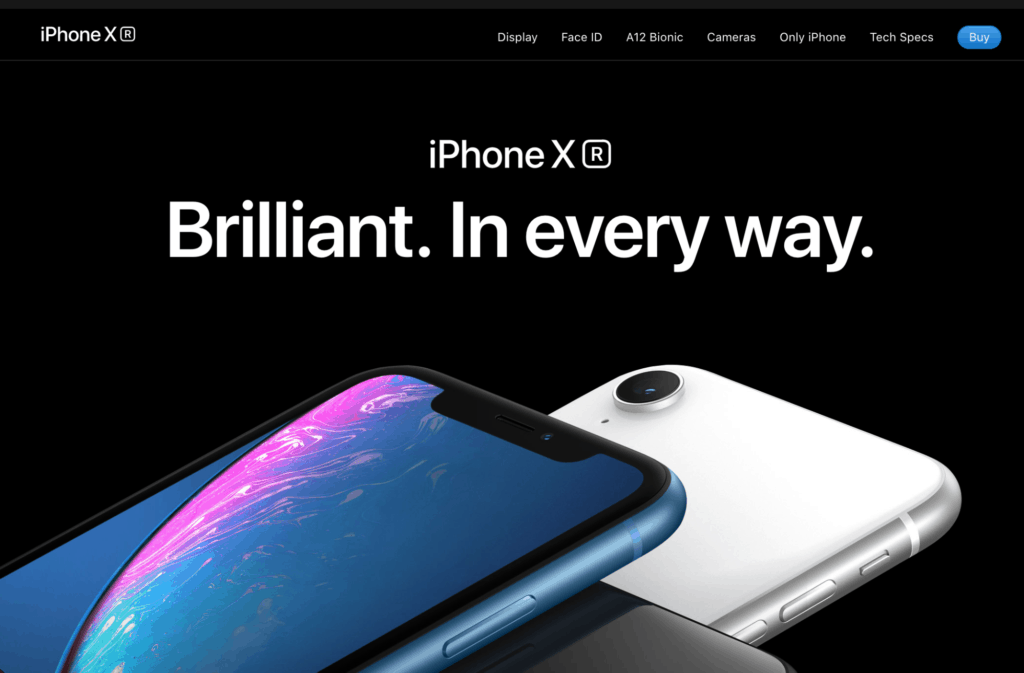 2. As you scroll, the page lists the top features of the iPhone. However, note how the copy doesn't talk just in terms of new specifications like "all-screen design" and "Face ID." Instead, Apple sprinkles the benefits like "longest battery life ever" and "fastest performance" on the page.
Also, note that they end the section with the phrase "It's a brilliant upgrade." and a CTA to "Compare iPhone XR to your current iPhone." The copy is distinguishably targeting current Apple customers (talk about personalizing your marketing!)

4. The Welcome Email By Paul Jarvis
Recently, I subscribed to the Sunday Dispatches. It's an email newsletter by Paul Jarvis with a freelancing experience of over two decades. For a usual creative entrepreneur, his homepage copy will itself likely catch you off guard. I liked how he summarized that his newsletter shares, "contrarian view that business growth isn't always good, and isn't always required."
And I was delighted to receive his email with the subject line "omg!" That alongside the warm welcome by Paul in the email itself will hold your attention. However, the meat of his email below, where he unveils his "semi-controversial beliefs" about business was a deal-breaker for me. Let's have a look at it: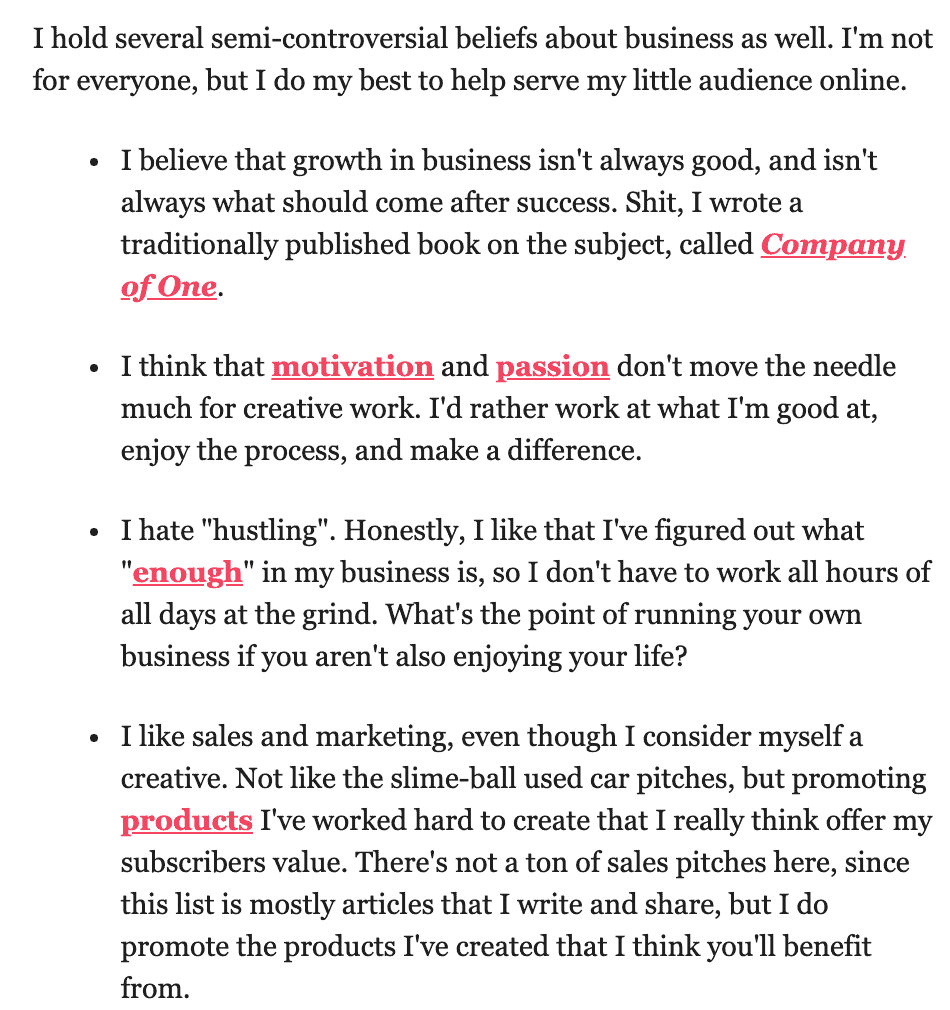 Why does it work?
1. Paul is honest straight-up, stating that "he's not for everyone." And that he just wants to serve his "little audience."
2. He grabs the attention of a new subscriber with a bold statement that "growth in business isn't always good." Then, also establishes his credibility by telling them that he's an author of a book, "The Company Of One."
3. He follows with more of his counterintuitive beliefs like "motivation and passion don't move the needle" and "I hate hustling." Remember, he's a fairly popular and credible personality in the creativity circles. And such bold claims would mean that Paul has all my attention for his Sunday dispatches.
And I present to you the about page of a copywriter that specializes in conversion copywriting for SaaS businesses. If you're on the lookout for B2B copywriting examples, then this page makes the cut for its humor, personality, and authenticity. Let's break down its copy.
Why does it work?
1. The headline is the most important aspect of any kind of copy. And Lianna quickly grabs the attention of her prospects with the title of the page. It's not your usual "About [your name]." Next, she shares a short story and gently brings the conversation back to her target audience of online businesses.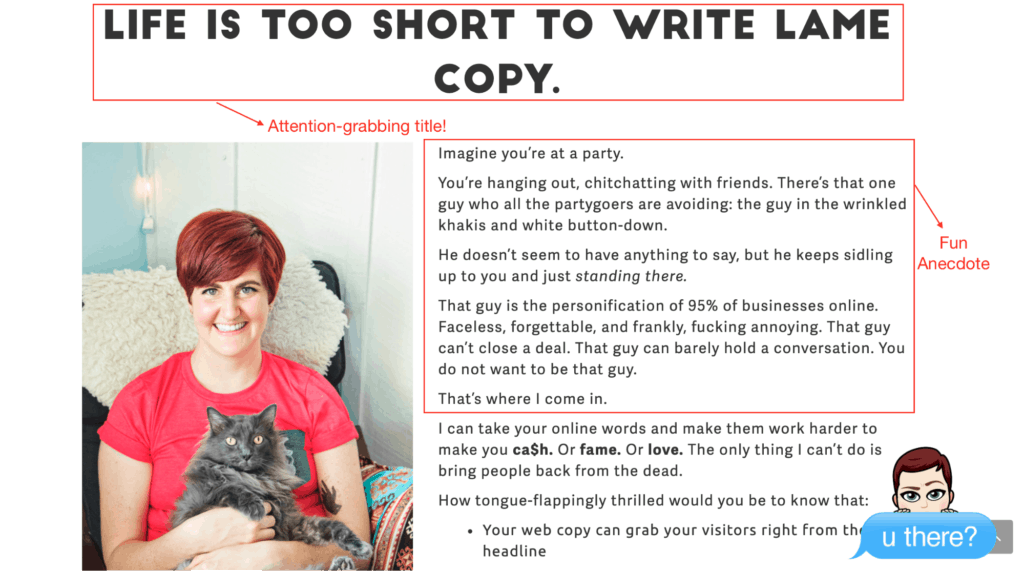 Then, she glides smoothly from the above section into describing the ideal journey of prospective visitors that her audience of online businesses desires. She has fun in the copy with jokes like "The only thing I can't do is bring back people from the dead." And ends with persuasive CTA.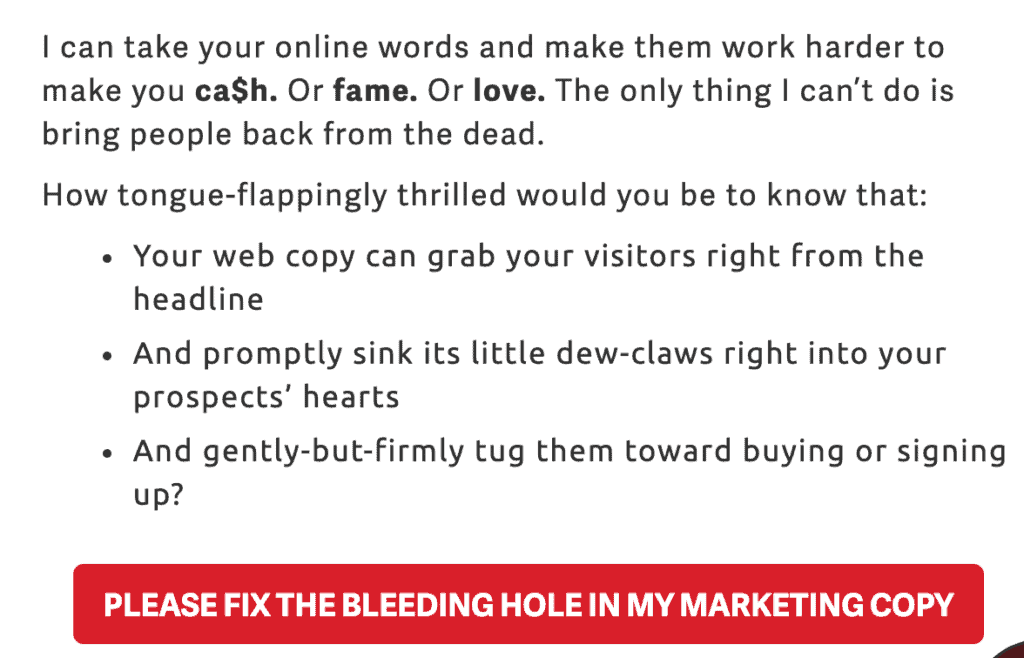 2. Note how in entirety, the 'about' page never focuses on Lianna (she doesn't even introduce herself with her name). She has only put up a cozy photo with a cat that goes well with her personality.
For the visitors that scroll, she discusses her services in detail. The copy is conversational and neatly breaks down her specializations.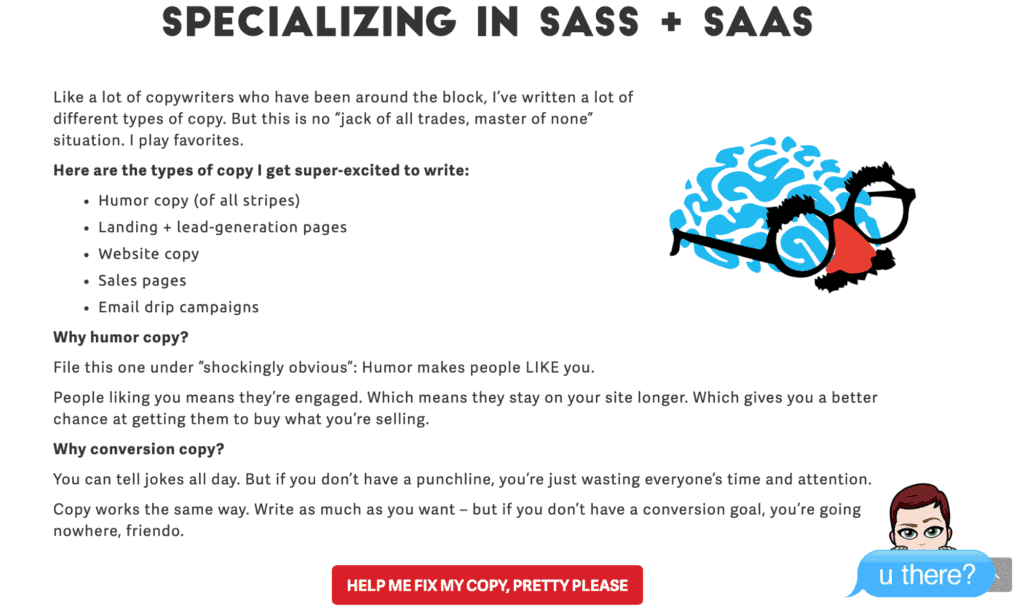 3. Her writing is highly visual. Note the usage of sensory words in her copy. They play a key part in adding flair to her copy and engaging her visitors.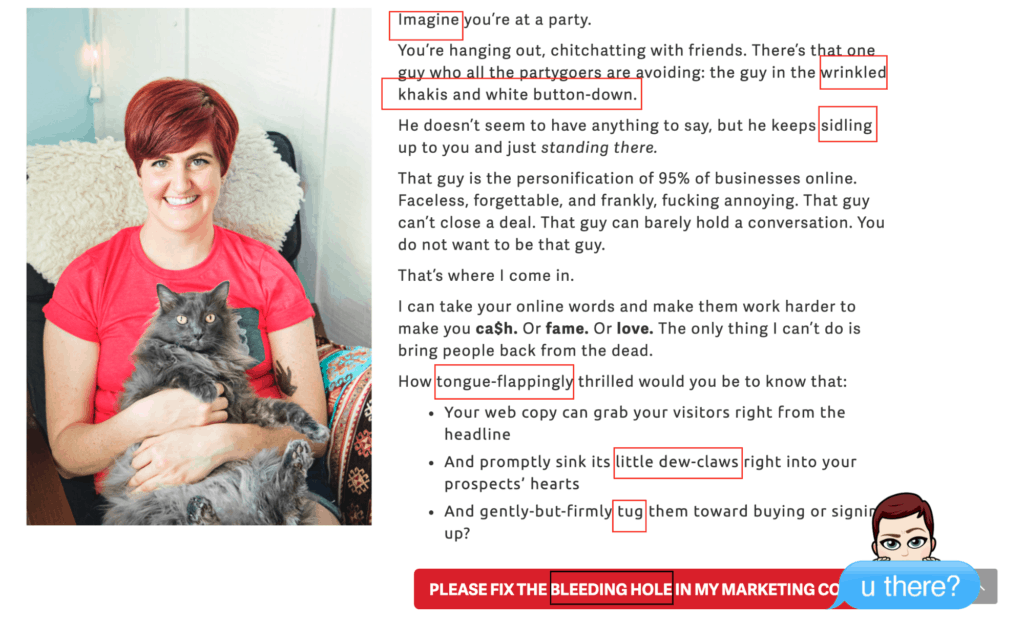 You can also sprinkle your writing with sensory words to evoke feelings and emotions in your reader. Here is a list of 75 sensory words by Enchanting Marketing to get started.
6. The FAQ Page By Cards Against Humanity
"Cards against humanity is a party page for horrible people."
When that's the pitch for your product, you better use sarcasm and insult your customers. Afterall, you've earned that right – your customers associate offensive jokes and politically incorrect entertainment with your brand.
Here is how the card game company has excessive fun on their FAQ Page.
Why does it work?
1. The FAQ page is generally frequented by prospective and current customers. Hence, the stakes are high. However, Cards Against Humanity aren't shy at insulting their visitors. The page itself is titled "Your Dumb Questions." Notice the conversational tone in their phrasing of questions and the swagger in their answers.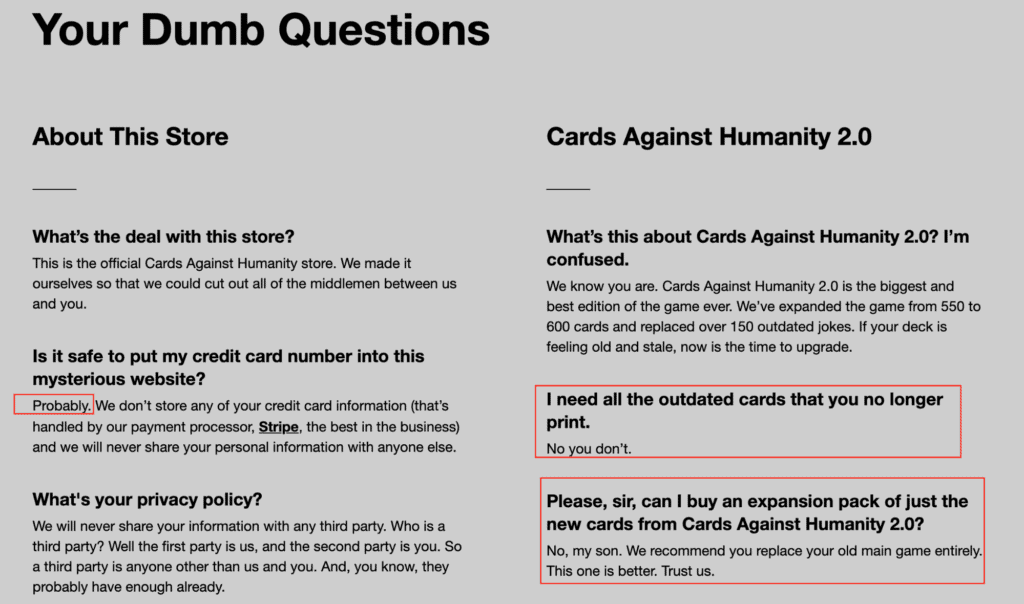 Their caustic writing works well with their audience. Their answers to the BitCoins question and the expansion question (one of their products) made me chuckle.

2. Cards Against Humanity swear and crack jokes effortlessly. It perfectly blends with their brand personality (for which there's no substitute). I especially loved how they tackle questions related to a mess up in their cards.
And shipping.
The FAQ page is a great example of educating your customers about your products while keeping them entertained.
Final Thoughts
Copywriting isn't about using flawless language. It is finding your true fans, understanding their pain points and desires, and connecting with them through your copy.
It is about letting your customer become the hero and show them their obstacles that hamper them from achieving their desires through your copy. Then you can softly place your product as a solution to their problems and let your customers get what they want.
Hope the above copywriting examples inspired you to write persuasive copy for your brand.
What does stellar copywriting mean for you? Did I leave your favorite example? Tell me about them in the comments below!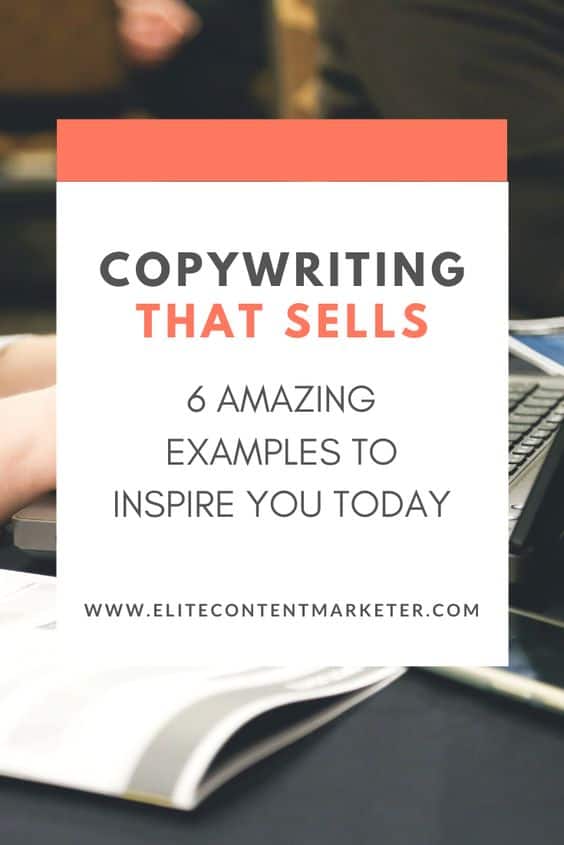 LET'S MEET IN YOUR INBOX 😃
ADDITIONAL READING