Of all the screenwriting software, Final Draft is the industry's favorite professional writing and filmmaking software, and if you purchased Final Draft 11 after Feb 2021, you could get a free upgrade for the latest version of the software.
The new and improved version of Final Draft comes with significant story-development features such as flow lines in beat boards, smart type, alternate dialogue, index cards, focus mode, tagging, and more.
It still keeps up with the industry-standard formatting for screenwriting and allows you to collaborate with fellow writers or editors on beat boards, outline editors, etc.
Note: Just to let you know, this article contains affiliate links. This means Elite Content Marketer gets a commission if you sign up through us, at no extra cost to you. I only recommend products that I personally find valuable and enjoy. I appreciate your support!
However, Final Draft still needs improvement on elements such as exporting to a word document, having beat boards for every aspect of the script, etc. Nevertheless, it improves with every upgrade and is likely to stay the best screenwriting software. Try Final Draft today!
Frequently Asked Questions About Final Draft
Let's answer some of the most asked questions about the Final Draft.
Is Final Draft hard to learn?
Final Draft has a steep learning curve, but with the presence of an excellent knowledge base of how-to articles, you'll be able to understand it easily.
What is the Final Draft?
It is screenwriting software that provides industry-style formatting, real-time collaborations, and other story development features for writing professional scripts.
Is Final Draft better than Scrivener?
Yes, many popular screenwriters swear by the Final Draft, and it overpowers Scrivener in every way.
How Much Does Final Draft Cost?
Final Draft 12 costs $199.99 as a one-time price. There's also a 60-day free trial with no credit card details and without any restrictions on features. You can try it for 60 days and judge the software for your requirements. But, if you have already been using this software, or need an upgrade, here are the following plans:
Upgrade
The upgrade from Final Draft 11 will cost you $99.9, but the company allows you to get a free upgrade if you bought final draft 11 after Feb 2021.
Student/Teacher Plan
Students and teachers are eligible to get the latest version of the Final Draft at a discounted price of $129.99.
You need academic verification documents to qualify for buying this version at a discount.
Final Draft 12 Story Development Tools And Features
Final Draft 12 has some significant upgrades from the last version, and there's a lot in store for the writers and filmmakers.
Industry-Standard Screenwriting Formatting And Templates
Final Draft has five major templates: Educational, Graphic Novel, Script, Text, and TV, and over 100 professional templates under these sections. Screenplay, the most common of all, falls under the script category.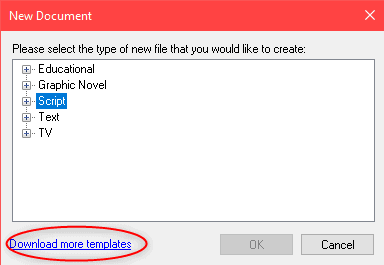 When you import a script, it's automatically formatted according to industry standards. Fortunately, if the titles are not imported in the correct order, you can use the reformatting feature to iron out the kinks.
The PDF files are directly imported to Final Draft with no hassles whatsoever. It's a useful feature as PDF is the standard format for scripts.
Writing And Editing Tools: SmartType, Alternate Dialogue, SpellCheck, Thesaurus
SmartType
You can save time by using the smart type feature to autosave the characters, and Final Draft will prompt you as you type and also create a list as visible in the above picture. It will allow you to duplicate the names and use them throughout the script.
Alternate Dialogue
It's possible to add several speeches in one location, so if you're confused about which dialogue to put in, add both and let the actors say the alternative dialogues during the shoot to help you decide which one fits better.
SpellCheck & Thesaurus
There are no major grammar tools other than the Spellcheck and thesaurus present at the top left corner of the toolbar. You can avoid major spelling errors and look for synonyms whenever you're stuck on a word.
Collaboration, Tracking Changes, And Tagging
The collaboration tool is present in every element of the screenplay. It's a handy tool while co-writing your script or working with an editor.

Final Draft 12 allows you to collaborate with people even on the beat board, and they can see all the changes in real-time as well as leave comments on parts of the script.
Tracking Changes
If you've ever used Microsoft Word, you'll be familiar with tracking all the changes in a document. Here, when you activate the track change feature, it'll mark them in a certain color to make them easily detectable.
When you hover over the changes, it'll show you the person's name who made the change, and you can choose to accept or reject it.
Tagging
Much like in Final Draft 11, you can tag scenes by cast members, background actors, vehicles, props, action scenes, etc. You can also filter the scenes by adding a to each one.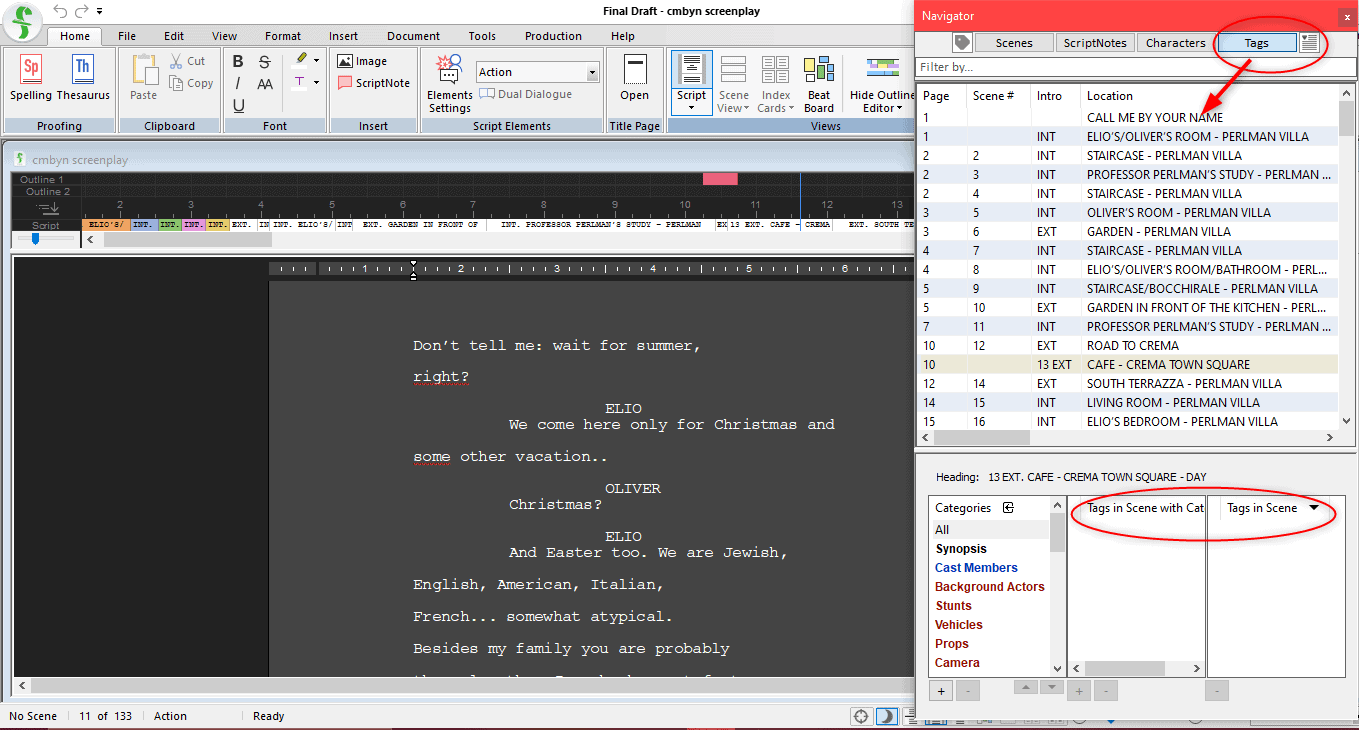 Inserting Images, Beat Board & Outline Editor
They've made significant additions to the Beat board feature, and it's more flexible than before. You can add flow lines to develop a relationship between the beats and change the colors of the arrows used to connect them. Drag one card on top of the other to establish a line between them.
This will help you get an overview of the connection between scenes. Direct collaboration on beat board makes you see the changes in real-time. When someone changes a beat, it is locked until the editing is complete.
However, you can only export the beat board in a PDF format like before, and you're still restricted to one beat board. It would be good to have different beat boards for different aspects of the script.
Outline Editor

Story Map is now called the outline editor in version 12 of the Final Draft. Other than the name, they've also added many new features to make it more convenient to use. You can transfer the beat board to the outline editor for expansion, and it's possible to send the beats directly to the script without messing up the scenes.
You have the freedom to resize the outline editor, zoom in or out and use the top two rows to outline the story. For, e.g., you can use the upper line for action and the lower line for scene sequences. The page numbers are reflected in the outline goal at the top right corner of each beat.
Five outline elements that only appear in the script when you want them to show and serve as note elements.
This means you can add outline notes in the script without adding to the page count and a real part of the screenplay. In other words, they are the same as script elements, and it's possible to use one level for the act, the other for the screenplay, etc.
However, one level is reserved for the body of the outline, that is, the text placed under the heading/title of the outlines.
Night Mode, Focus Mode & Index Cards
The night mode is especially useful for the night owls who like to work through the night but hate the bright white screen obstructing their thought process. This screenwriting software turns the screen black and makes the font gray to help eliminate the pressure on the eyesight.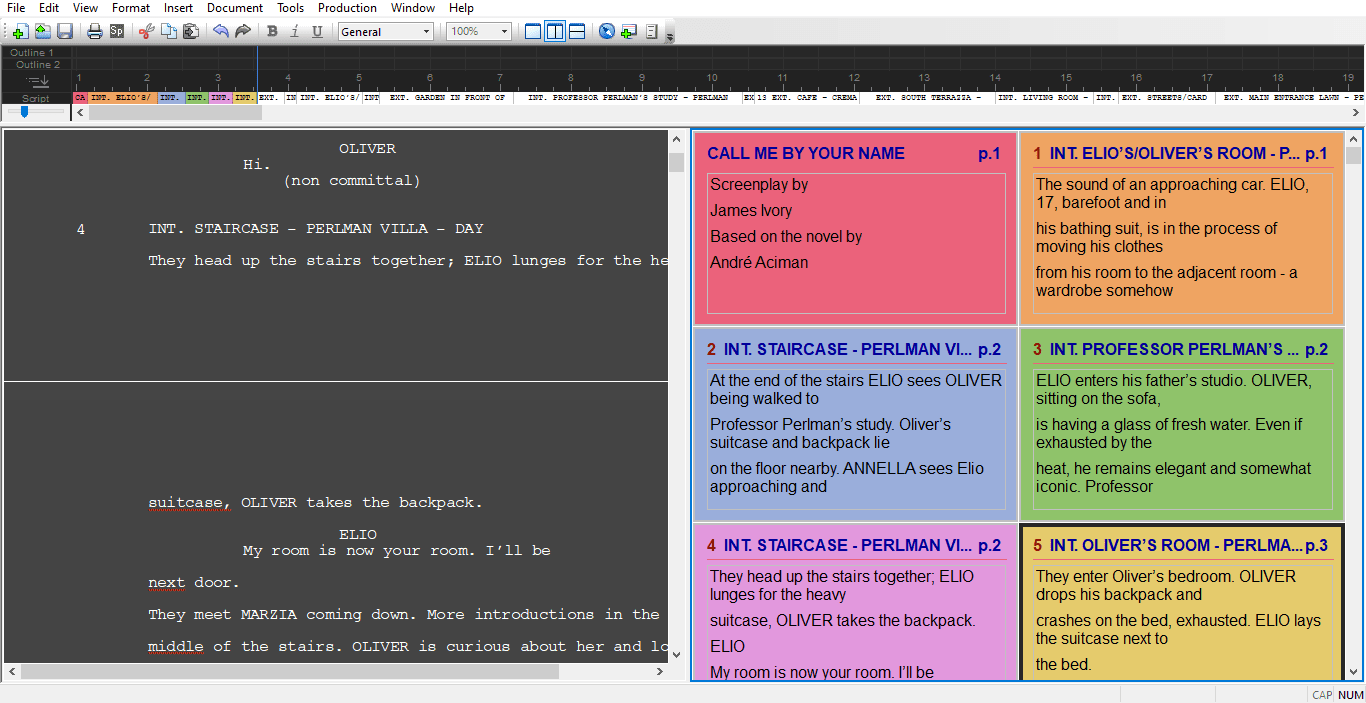 Index Cards
Index cards help you summarize scenes in short sentences. Final Draft allows you to color code and rearrange them as per your choice.
Focus Mode
The focus mode button is present at the bottom of the screen and helps minimize distractions by collapsing the toolbar so you can only see the script on your screen.
Speech To Script
This speech-to-text feature is only available on Mac because of the built-in diction feature available on that operating system. Final Draft uses this feature and lets you write the script with your speech.
This is another productive method to save your fingers from cramping and still be efficient in your work.
Final Draft Versions For Mobile, Desktop, and Tablets
Final Draft does not have an android app because a majority of its users continue to use iOS. The mobile app is easy to navigate and allows you to write and edit on the go. You can either save the script to your device or sync it with iCloud or Dropbox.
The tab and enter keys let you choose the template and format your script. Other features such as SmartType, character highlight, script markers, outline view, tile page, advanced reporting, and more are present in the app.
Final Draft Customer Support
To access customer support, you need to visit Final Draft's website that has live chat support as well as a sufficient knowledge base of articles to solve your queries. You can view faqs or directly contact technical or sales support, as well as the Final Draft team.
Final Draft Alternatives
If Final Draft overwhelms you or doesn't fit your budget, we have three other alternatives to this screenwriting software.
The feature-rich text editor of Squibler makes it an easy choice for screenwriters. With 30 screenplay templates designed with a beginning-middle and end structure, you do not have to waste time making outlines or scene headings, etc.
Notable screenwriting related features:
Move chapters by using the drag and drop feature.
Full-Screen mode helps you concentrate on the process of writing.
It has three modes: Day, Night, and focus mode.
Instantly share your document by entering your email address and sending invites.
Set writing goals and word limits to keep track of your improvement.
Special screenplay mode helps you write scripts according to industry format.
Storyboard maps note to index cards.
Platforms available: Mac and Windows, and Mobile.
Price: It has a 14-day free trial, after which it'll cost you $9.99/ month.
Pros and Cons:
It has a fullscreen mode to help you concentrate on writing.
You can set writing goals and word limits.
It has a special screenplay mode to help you write scripts according to industry format.

The templates are rigid.
You can export your documents in PDF, TXT, DOCS, and Kindle.
Want to try a word processing program designed exclusively for authors? Scrivener is just that. Organizing your whole novel has never been easier. The drag and drop feature is an excellent way to move different scenes of your script.
It lets you set a target count and status for chapters. A self-editing screenplay app such as this gives you the freedom to customize different aspects of your script.
Price: Here are the pricing plans:
For Mac: Scrivener 3 for $49 as a one-time fee.
For Windows: Scrivener 1 for $49 as a one-time fee.
For Mac and Windows: $80 as a one-time fee.
For iOS: $19.99.
Key Features:
Toolbar customization makes for easy utilization.
Setting writing goals and document targets improve efficiency.
Increase efficiency by working on multiple scenes and documents at the same time.
Composition mode lets you write in full-screen mode to minimize distraction.
Adding comments to different sections lets you organize the screenplay.
Use the sidebar to make notes, outlines, and reorder your story.
Compiling and formatting, and exporting your manuscript in different formats like .mobi, .epub ebook, etc., is swift.
Pros and Cons
The Composition mode is useful to avoid distraction while writing.
It is easy and quick to reorder and organize documents.
You can prepare your story for paperback printing.

It requires customization.
It has a steep learning curve.
Final Draft Vs. Celtx
You may dislike Celtx's interface, but you cannot ignore the heavy lifting it does. Being an open-source screenplay writing software makes it a viable choice for up-and-coming screenwriters to write basic scripts.
It has standard features that are required to write a screenplay or novel. However, it lacks advanced features like shot lists, storyboards, etc., offered by other screenwriting software.
Notable screenwriting related features:
Simultaneously collaborate with fellow writers or editors.
One of the best parts about this free scriptwriting software is its offline availability.
Industry-standard commands are available to help you format your screenplay.
Navigate your scene with the outline bar at the side of your screenplay.
Add notes to any dialogue, scene, or sentence and color code them to organize them better.
Drag and drop the index cards and arrange them by a general outline or sort them by scene.
Break down your script to view it better.
Platforms available: Mac and Windows
Price: Although it is free of cost, you will have to pay to access advanced features.
Pros and Cons:
You can also add notes to any dialogue, scene, or sentence and color code them to organize them better.
You can easily drag and drop the index cards and arrange them by a general outline or sort them by scene.
Celtx can be used offline.

You have to pay to get extra features.
The free version lacks advanced features like storyboards, shot lists, etc.
Final Thoughts: Is Final Draft Worth The Money?
Version 12 of the Final Draft is more efficient and useful in story development and tailor-made for collaborations.
It's still a highly professional and well-known screenwriting software that adheres to industry-standard formatting and allows you to import any PDF document directly on its interface.
However, it's relatively expensive and is not suitable for freelancers or small businesses. Here are quick pros and cons to help you decide if you want to buy this software.
Pros and Cons:
You can collaborate with other writers or editors.
The new elements in the beat board and outline editor are efficient and useful.
They have added five outline elements that you can use for different parts of the script.