Mailchimp remains one of the most popular email marketing software in the market. Despite Mailchimp's holding of a 69.35% share in the market, many creators and entrepreneurs are looking for  alternatives to fulfill their diverse needs that Mailchimp is unable to meet.
There are many Mailchimp alternatives in the market like the ones with advanced automation features, better integrations, more straightforward and cheaper pricing models, etc. In this article, I've listed the top 9 alternatives to Mailchimp to help you choose what suits best for your needs.
Mailchimp Alternatives Comparison Table
This table is a quick glance over the alternatives mentioned in this article, their pricing structure, and in what ways they surpass Mailchimp's popular software. I have also broken down and analyzed each software to the last grain in this article.
[table id=83 /]
Why You Should Look For Mailchimp Alternatives
Well for starters, looking out for new options keeps you prepared. But there are several other reasons why you should search for or at least try other email marketing software:
For better customer support: Mailchimp offers phone support provided you have their premium plan. If you are a beginner and need accessible help, Mailchimp may not be the right fit for you.
For advanced automation: Mailchimp's automation, although sleek in design, is not as advanced as some of its competitors. If you are an e-commerce store or want to run an advanced automation based on your contacts' behavior, these alternatives may work much better.
For better pricing plans: Mailchimp is not exactly the cheapest and does not have the most straightforward pricing model out there. If you are operating on a tight budget or simply want a more flexible and simple pricing system, there are many Mailchimp alternatives in this list that you can experiment with.
#1: SendinBlue – For Advanced Automations, Live Chat Software, And Sending Unlimited Emails/Day
SendinBlue is the current running competitor against Mailchimp in the field of user-friendliness. There is no limit to the number of contacts you can add in SendinBlue, and just like Mailchimp, it also offers a free plan limited to 300 emails/day to a maximum of 2000 contacts. If you are someone who is looking for a pay-as-you-go pricing plan alternative, SendinBlue has that option available too. The software is also going one step ahead and making that option available for SMS Marketing.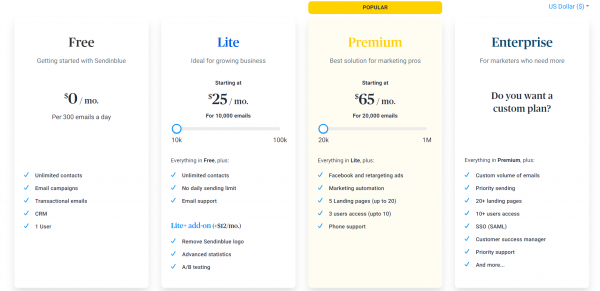 One stand-out feature present in SendinBlue is filtering of the analytics based on a specified time period. You can view all the stats of this particular period instead of seeing the whole effect of your campaign.

The analytics on SendinBlue are much more beginner-friendly than that of Mailchimp. The automation feature at SendinBlue is advanced than what Mailchimp offers, with an elaborate set of advanced options and a more beginner-friendly creation process.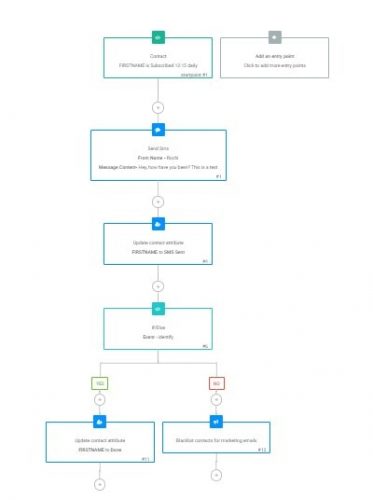 SendinBlue also has a live-chat software which is not available in Mailchimp. SendinBlue comes with great CRM Tools, aesthetic landing pages, and Facebook Ads.
Who Should Use SendinBlue Over Mailchimp?
Someone who wants advanced automation software with a beginner-friendly UI
Someone who is looking for an alternate pay-as-you-go email marketing software
Someone who wants to filter out analytics based on a date range
Someone who wants to send unlimited number of emails per day without restriction (Available on SendinBlue's paid plans)
Someone who needs a live-chat software
#2: Constant Contact – For Simpler Pricing Plans And Better Support
Constant Contact remains one of the most popular alternatives to Mailchimp, having the second-largest market share at 6.10%.
Constant Contact likes to keep things simple and offers you only two pricing plans: Email and Email Plus. Unlike Mailchimp, it does not have a free version but does provide a 60-day trial with both the plans. It is priced based on the number of contacts you import.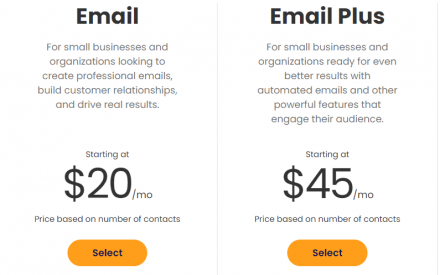 This platform is fit for beginners with its drag-and-drop editor and has all the basic features built in for analysis. It can easily be integrated with social media and its integrations are equipped with an extremely easy-to-use interface.

One more place where Constant Contact beats Mailchimp is at the customer support wing. They offer live chat, phone calls, community support, and an extensive library of helpful resources. Mailchimp only offers phone support only in the premium plan.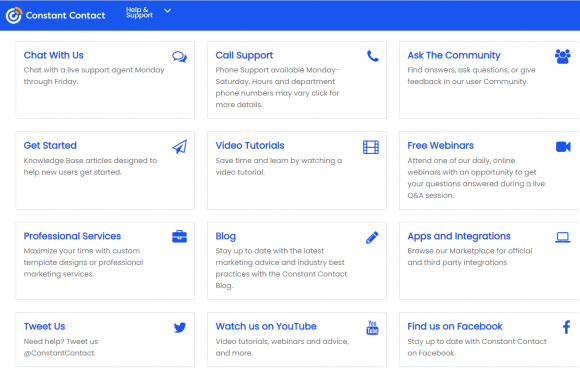 The email deliverability rates of Constant Contact are also at par with Mailchimp at 89%.
Who Should Use Constant Contact Over Mailchimp?
Someone who wants greater access to customer support
Someone who would like their integrations sorted alphabetically and industry-wise
Someone who prefers a simpler pricing plan
#3: Moosend – For Sending Unlimited Emails And Using Pro-Features In A Free Plan
Moosend is the only software in the market, offering almost all of the pro features in their free version.
Moosend also has a rich library of email templates for campaigns and advertising sorted in categories, something that was lacking in Mailchimp.
The list management feature and customer segmentation at Moosend are sophisticated but also  easy-to-use at the same time. The best part is that all of this is available in the free plan too! You can send an unlimited number of emails in the free plan, although the subscriber count is limited to 1000. Even their Pro plan is cheaper than that of Mailchimp with near competitive features and services.
Who Should Use Moosend Over Mailchimp?
Someone who wants an economical and budget friendly plan where almost all the pro-features are available
Someone who is looking for a rich template gallery for email campaigns
Someone who wants to send unlimited number of emails to a maximum of 1000 subscribers for free
#4: HubSpot – For Creating Custom Reports And Contact Views
HubSpot is perfect for someone who is looking to take their current state of email marketing to the next level. If you are a business that needs to connect with its customers at a larger scale, HubSpot might be better for you than Mailchimp, although it may be heavy on your wallet.

There is an entire dashboard for your contacts at HubSpot. This contact-level in-depth analysis is a primary feature for many creators that is missing from Mailchimp. You can segregate these contacts based on ownership too. You can create a whole new 'view' of your contacts so that you don't have to keep reapplying the filters every time you log in.

The basic drag-and-drop email campaign creation is similar to that of Mailchimp's. But you can create custom automation and sequences that suit best for you, only in the paid plans. Lastly, HubSpot also has an option to create your custom reports by choosing the metrics of your choice to track. This is immensely useful for someone who wants to track a metric not readily available in the analytics.
Who Should Use HubSpot Over Mailchimp?
Someone who wants to take their email marketing game to the next level
Someone who wants to get a segregated in-depth analysis of their contact list
Someone who wants to be able to create custom contacts view and personalized reports
#5: ConvertKit – For A More Easy-To-Navigate Help Center And Simpler Email Design Building
ConvertKit is one of those few email marketing software without a drag-and-drop tool. This makes the software comparatively easier to use. But this is not one of its shortcomings since the tool still works excellently, equipped with all the modern features and aesthetics and makes the software comparatively much easier to use.
ConvertKit's Help Center is also better than Mailchimp. There's a search bar that makes hunting for your query quicker. The repository houses articles on every possible topic (many including video guides).  These guides and articles are comprehensive, complete, easy-to-navigate, and super handy.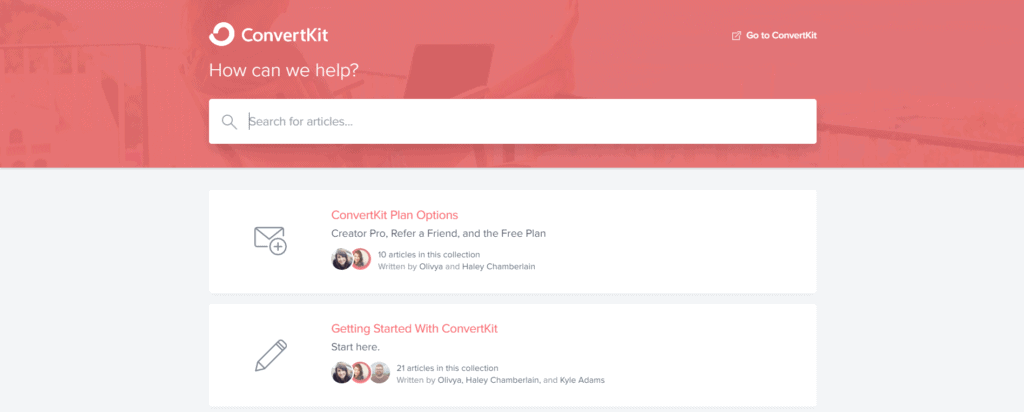 The pricing may pose a problem for some because ConvertKit's free plan only offers to add up to 1000 subscribers. Their Creator and CreatorPro plan are also more expensive than Mailchimp.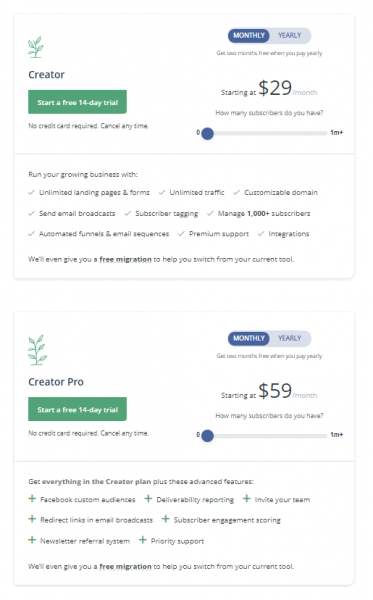 Who Should Use ConvertKit Over Mailchimp?
Someone who wants a comprehensive, easy-to-navigate help center
Someone who prefers a simpler email-design tool without the typical drag-and-drop feature
#6: AWeber – For Easier Integration
AWeber is the most suitable alternative to Mailchimp in terms of the integration feature. It can be used with Unbounce, Magento, and can integrate with a multitude of apps smoothly. The pricing is also pretty great and straightforward for the features offered.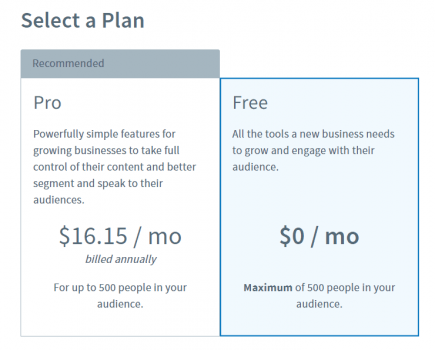 You can add only 500 subscribers in the free version and send upto 3000 emails/month. In the Pro plan, you are charged based on the number of contacts you have.
AWeber has a decent enough template library along with all the required features for setting up autoresponders and automation. Their list management feature is also competitive to Mailchimp's. They also have an excellent mobile app for when you want to send your email campaigns on-the-go.
Who Should Use AWeber Over Mailchimp?
Someone who is looking to make a lot more integrations with their email campaigns
Someone who is looking for a simpler pricing plan
Someone who is looking for a handy mobile app to send emails on-the-go
#7: GetResponse – For Creating Webinars And Editing Landing Pages
GetResponse is the software for you if you are looking for a webinar editor along with email marketing. Although they don't offer a free plan, there is a 30-day free trial available along with all their plans, but you can add only 1000 contacts in the free trial.

It allows you to create landing pages, automation, and email marketing with just a few clicks. The segmentation helps you to move your contacts across the lists, the video-tutorials are easy to find and the software is user-friendly. GetResponse's multimedia and rich template library is handy and useful in making marketing easy.
Who Should Use GetResponse Over Mailchimp?
Someone who is looking for a handy webinar creator
Someone who wants a landing page editor
Someone who is looking for a software with a rich template and multimedia library
#8: MailerLite – For Sending Emails In Your Native Language
MailerLite is yet another close competitor to Mailchimp with a sleek design and beginner-friendly navigation. Their pricing plan is also ridiculously simple and only depends on the number of subscribers you have.

These pricing plans are beneficial for creators and even small-businesses operating on a small budget. Considering that, even the free version at MailerLite allows you to access almost all the features.
The contact management system and analysis at MailerLite is a close competitor to Mailchimp's, highlighting which subscribers you should pay attention to and which ones can be ignored.
MailerLite is multilingual as well, offering five languages for you to send emails in.
Who Should Use MailerLite Over Mailchimp?
Someone who is looking for a multilingual email marketing software
Someone who is looking for a close-competitor to Mailchimp in aspects of design and beginner-friendliness
Someone who wants a simpler pricing plan
#9: Drip – For Advanced Automation And Simpler Pricing Model
Drip is the only software in the email marketing sphere, beating Mailchimp's aesthetics. Their pricing plan is similar to that of MailerLite – simple and interactive. You can send an unlimited number of emails for free without missing out on any of the premium features on their cheapest plan. Although there is no free version, there is a 14-day free trial available without credit card and banking details.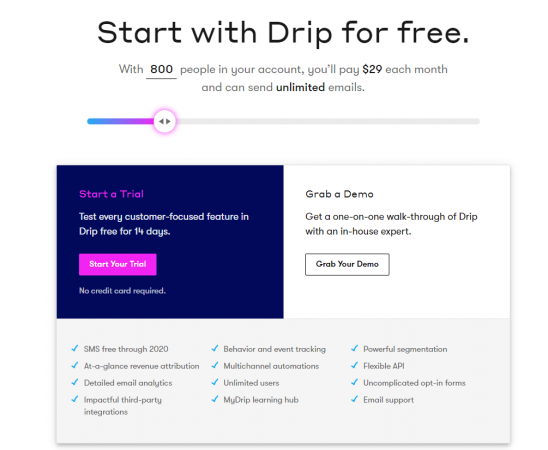 The automation at Drip is suitable for e-Commerce, which is much simpler, and has more advanced features than Mailchimp's. You can reach out to customers at separate points in their buying journey and automate the entire process with no hassle. It also offers increased options in personalization, like having a different discount code for certain buyers, notifications when prices drop, etc.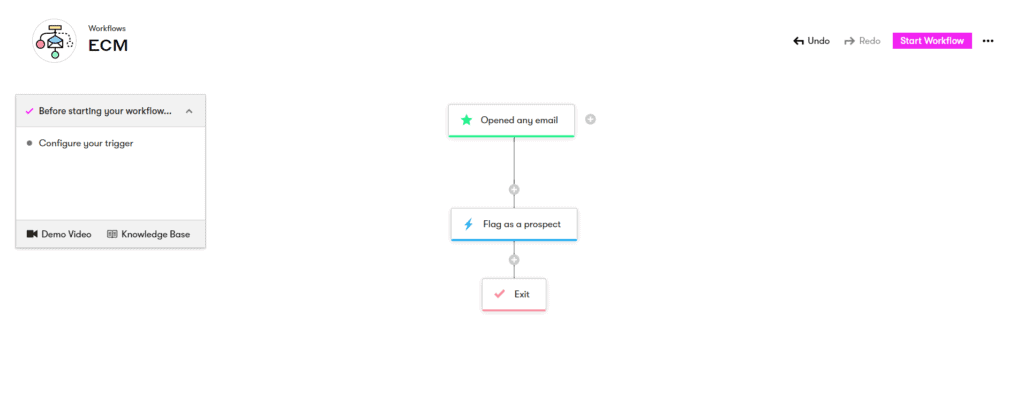 Who Should Use Drip Over Mailchimp?
Someone looking for advanced automation system
Someone looking for a simpler pricing model
Frequently Asked Questions About Mailchimp Alternatives
What is the best alternative to Mailchimp?
Mailchimp remains one of the best and most popular email marketing software in the market. Its close competitors and alternatives are ConvertKit, Constant Contact, GetResponse, and HubSpot.
Is there a free alternative to Mailchimp?
Mailchimp's alternatives that include a free version are ConvertKit, SendinBlue, Moosend, AWeber, and Drip.
What is the best email marketing platform?
The best and most popular email marketing platform is Mailchimp, followed by Constant Contact and ConvertKit. Other alternatives include SendinBlue, HubSpot, Moosend, AWeber, and GetResponse.
Final Thoughts
While Mailchimp remains a top choice for email marketing software in the industry, there are now many affordable alternatives that accommodate the diverse needs of different users.
If you have a decent budget and not many contacts, Mailchimp might be enough for you. However, if you have advanced automation requirements, or if you are a power user of email marketing, consider switching to an alternative suited to your needs.
There are other software that you can try, like Ontraport – if you want a greater contact analysis or Active Campaign – if you use email marketing extensively and frequently. Klaviyo is similar to Drip in its pricing structure and can be used for custom reporting as well.
Hopefully, this article helped you evaluate Mailchimp alternatives and find the one that aligns with your requirements perfectly.
What email marketing software have you used? How was the experience? Tell us in the comments below!