Almost every newsletter software offers a few basic features for your email marketing needs: drag-and-drop builder, creating opt-in forms, designing landing pages, A/B testing, email templates, etc.
But I'll share the differentiating factors of these software and who they're suitable for. There's no "best email newsletter software" tool. It's just which one is right for you.
How do you determine that — especially as a beginner?
Don't worry. I got your back.
Note: This article contains affiliate links. This means if you purchase anything using our links, then we earn a commission (at no extra cost to you). We only recommend products that we find valuable and enjoy. We appreciate your support.
How To Choose Your Newsletter Sending Service?
Email newsletters are a great way to stay in touch with your audience, announce the news, share blog posts, and curate content. However, how do you choose the right software between so many newsletter services in the market?
Here are some factors you should take into account:
Ease Of Use
How easy you find any software to use depends on things like your familiarity with SaaS email software, your tech knowledge, and your requirements. To determine how seamless your experience will be with software, ask:
Does this software meet my technical capabilities? Ensure it's not too easy or too complicated.
Do I find the user interface easy to navigate? Check how many essential features you can find within minutes.
Do I think the aesthetic capabilities meet my needs along with being simple to use? Have an image in mind and check if you can easily templatize it in the software.
All these questions can help you determine if the software is easy for you to use.
Value For Money
All newsletter software on this list has different pricing because of differentiating features, better customer support, or a better-built brand. To understand if you can get your money's worth, ask:
Do I need (and know how to) use all the features this software provides? Don't get tempted by the extra features if irrelevant for your business.
Does the customer service meet my needs? Some software doesn't offer hand-holding or easy support communication. This is an important consideration to make depending on your tech capabilities with newsletter software.
Does my list size meet the financial equivalent of this software's monthly fee? If you're just starting and have a small list, consider budget-friendly software.
Don't purchase unless you can answer "Hell yes!" to all these questions confidently.
Integrations
Integrations have become an important part of newsletters since emails became "the" thing to communicate with readers, buyers, and prospect customers alike. This is why many newsletter software on this list provide plentiful integrations. To check if they meet your needs, ask:
What are the integrations do you need presently? Make a list of tools you use and may need to inculcate with your newsletter software like your Shopify store to sell through email.
What integrations might you need in the future? If you're a growing business, consider the tools you are looking forward to using later and check if the software you choose integrates with them.
Does this software integrate with Zapier? Thousands of softwares' easily integrated right here. But with a slight fee.
Integrations are often an overlooked factor while choosing newsletter software. Make sure you don't miss evaluating it.
Advanced Customization And Segmentation
Depending on your business model, your lists will be slightly, moderately, or heavily segmented. It is important to choose software that can make lists efficiently and help you use them well. To check this, ask questions like:
Can you create the number of lists I'd need with this software? Many software have a "tag" feature instead of lists — so watch out if it works the same way.
Do you need advanced segmentation (or may need it in the future)? Answering this will help you evaluate how important this feature is to you.
Can you customize the design, personalize my emails, and get the reports you need? This is the differentiating factor for many software. The customization features certainly aren't the same.
Even for a small list size, you might need separate lists to evaluate your subscribers. Customization needs are also important and different for everyone. The software you choose should align with it.
Analytics
Data is everything. Maybe you're looking to run a paid newsletter, sell a product, or simply make a buyer part of a conversion sales funnel. To determine how it's going, you'll need the right analytics. Ask:
What are the analytics this software provides? Most common data points are available everywhere. Determine the extra data you need and if the software you chose can give it to you.
Can I import this data or create customized reports? If you're running a business, you might need different numbers that only some software provides.
Can I take action based on the data? If the data is so basic that it doesn't give you any call-to-action, it's not worth it.
All of the newsletters you create can be proven successful or unsuccessful only through data. Make sure the software you choose has the right numbers for you.
Now that you've understood how to evaluate any newsletter software, here are the best ones in the market for 2021 at a glance:
| | | | | |
| --- | --- | --- | --- | --- |
| Newsletter Software | Free plan | Price begins at | Unique feature | Perfect for |
| | Up to 1000 subscribers | $29/month | The email editor isn't drag-and-drop | Creators looking to start their newsletters |
| | Up to 2000 subscribers | $10/month | Marketing automation | Upscaling your business |
| | Up to 1000 subscribers | $49 – single payment | One-time payment | Ultra-simple newsletters |
| | Not available | $15/month | E-commerce tracking | E-commerce businesses |
| | Up to 300 emails/day | $25/month | Sends newsletter at customized times | Inbound marketing |
| | Up to 2500 subscribers and 10k emails/month | $20/month | Value-worthy free plan | Beginners looking to try basic automation |
| | Not available | $20/month | Auto-generated templates | Not-so-fancy newsletters |
| | Up to 500 subscribers and 3000 emails/month | $30/month | List segmentation options are great | Infrequent newsletter creation |
| | Up to 2000 emails/month | $50/month | Strong insights and data | Small businesses looking for more advanced tools |
| | Up to 1000 subscribers | $8/month | Quick support | Not tech-savvy user |
| | Not available | $9/month | Email is their primary service | Creators who need to create different types of emails |
| | Not available | $15/month | Subscription billing | Paid newsletters with a decent builder |
| | Free for as long as you don't charge readers | 10% of whatever you make | Paid newsletter model | Blog-like newsletters |
You've probably shortlisted a few software after going through that table, haven't you? Decide on one based on the details next:
ConvertKit
ConvertKit has done a good job of differentiating itself in a saturated market by targeting its audience: It is made specifically for creators.
I personally use ConvertKit to send my own newsletter, and it's been going great except for a few minor hiccups.
Price: They have a free plan for up to 1000 subscribers. You also get to make landing pages, sell digital products, and get email support. Post that, the plan begins at $29/month.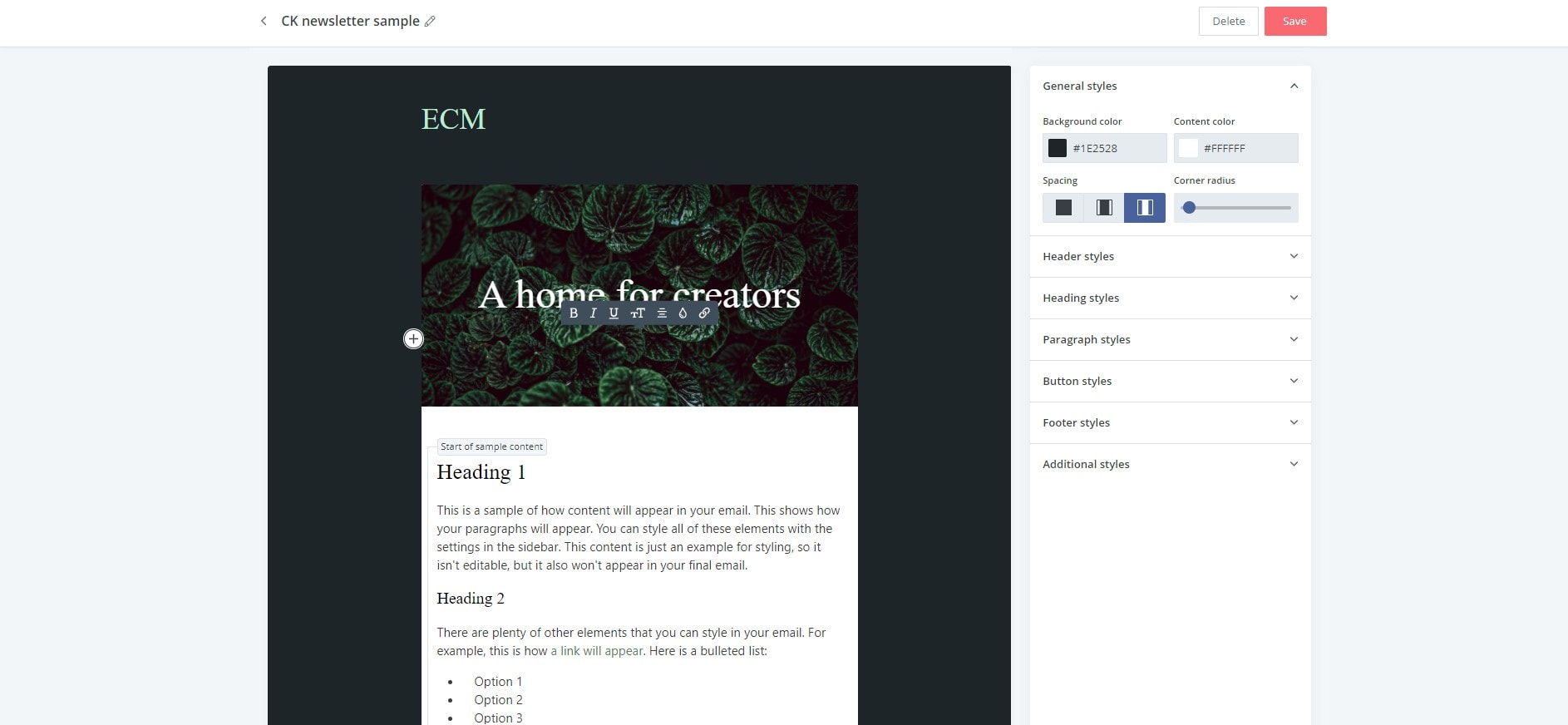 Pros:
Good metric features for your emails: open rates, click rates, A/B testing, etc.
Tagging feature: Helps you segment customers into different sub-lists
Additional features: Make your landing page, forms and set up automation sequences
Third-party integrations: Integrates with plenty of apps, including Zapier
Webinars and community: Have lots of useful webinars and communities for creators
Cons:
Learning curve: The features are robust, but there can be a learning curve to them
So-so support: The supporting service of ConvertKit isn't as well as you'd hope. I've been personally assigned 3 different agents within 5 days for one issue. Repeating it over and over again is time-consuming and not the best service I'd expect
Lack of design: The design at ConvertKit for email templates, landing pages, etc. is limited when compared to its competitors
Mailchimp
Mailchimp has the lead in the market for anything email. It's for good reason. It's a good tool with a free plan and contains every feature and integration you can imagine.
I'd recommend going for Mailchimp if you're looking to upscale your business or email marketing efforts. It's a little too overwhelming and pricey for only newsletters.
Price: Free plan available up to 2000 contacts. Then plans start at $10/month for 500 contacts + more features.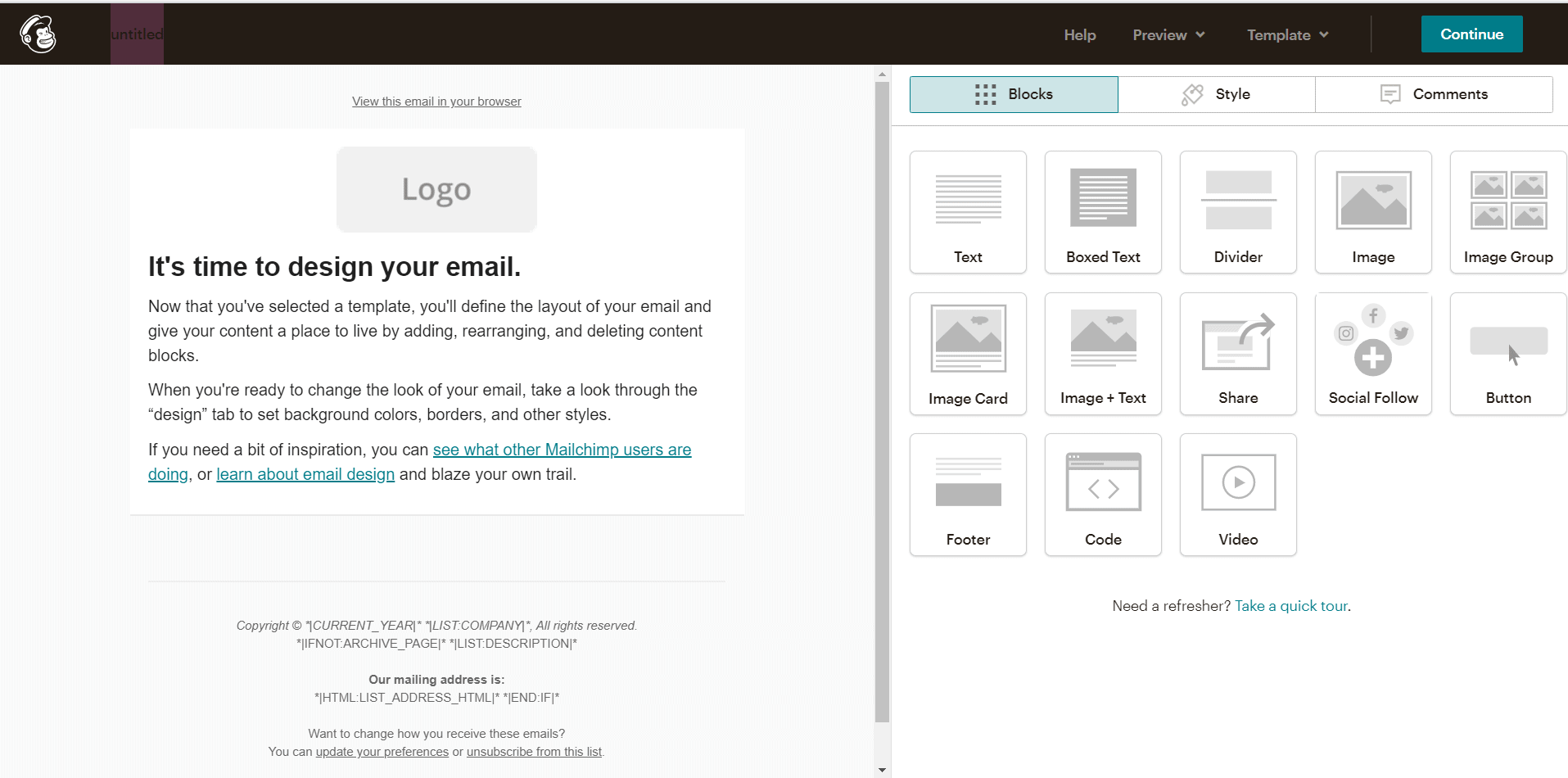 Pros:
One-stop for all shops: Mailchimp can be your all-in-one marketing platform with its plentiful features.
Integrates with everything: Whether you're a blogger or an e-commerce shop owner, Mailchimp integrates with every possible tool you'd need — otherwise there's always Zapier.
Ridiculously simple to use: For the newbies and the non-tech savvy, Mailchimp has the best UI and UX.
Good email templates: If it's looking daunting to begin from scratch, Mailchimp's email templates are many and all good.
Cons:
Complex pricing system: If you want the extra features, you'd be billed starting 500 contacts when the free plan has 2000. The pricing is just too complicated.
Overwhelming features: There are so many features to utilize, it can get overwhelming real quick. They aren't also all straightforward (or necessary) to use.
Basic processes are time-consuming: Some processes at Mailchimp that should be a one-click thing are actually too long — for example, finding & removing bounced emails and deleting duplicate subscribers.
Recommended reading: Mailchimp Alternatives
SendFox
SendFox is the newest addition to the Sumo family. AppSumo has recently launched its email marketing tool specifically designed to create newsletters.
I'd recommend using SendFox if you're on a limited budget or want something permanent. If you need complex automation sequences or aesthetic emails, this isn't the software for you.
Price: There's a free plan with 1000 subscribers. After that, it's a single payment of $49.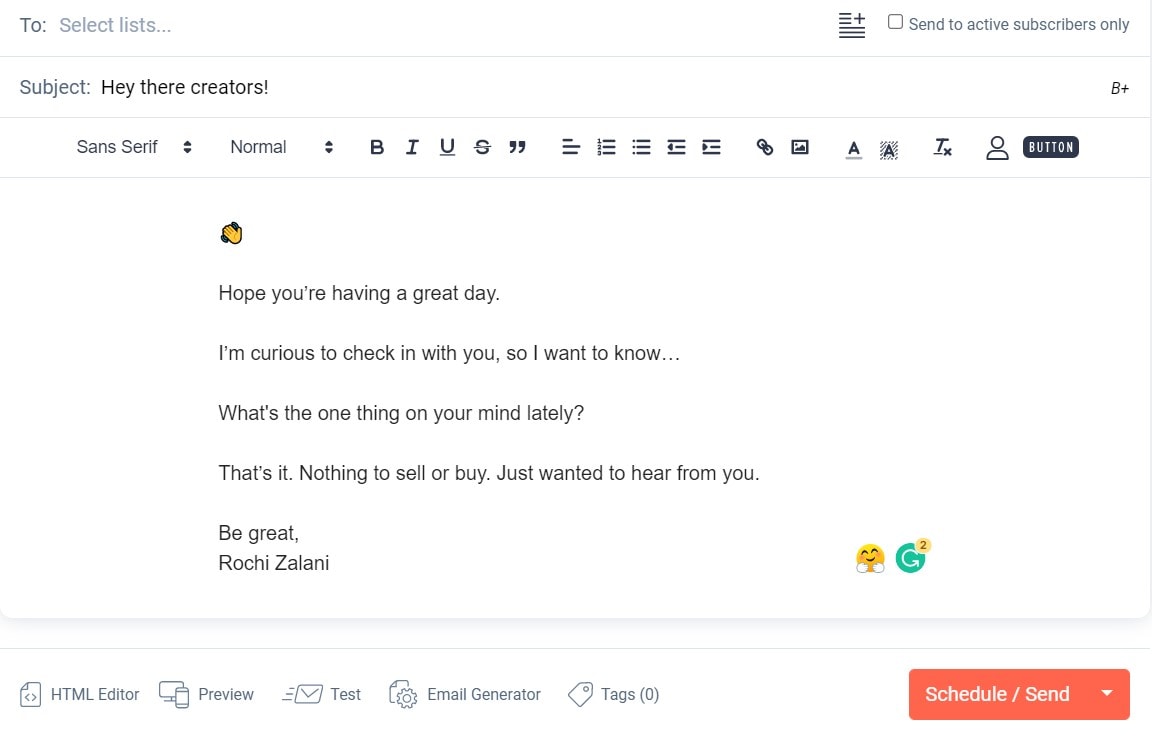 Pros:
Great for shoestrings budget: If you're just starting out or need super-affordable email marketing software, SendFox's pricing (although unusual) is better than competitors'.
Simple automation with analytics: The automation creation at SendFox is super simple. You can also see stats for each email you sent and analyze the sequence accordingly
Not just newsletters: You can also create custom landing pages and forms.
Unlimited email sends: There's no cap on how many emails you can send, even in the free plan.
Cons:
Unusual pricing plan: The pricing plan is a little tricky after you cross 1000 subscribers. To have any more added, you need to buy the lifetime plan — there's no second-tier subscription. Then, there's also the fact that you have to pay $49 more for every 5000 contacts you add.
"Throttled" sends in the free plan: If you're on the free plan, your emails will be sent way slower than the paid ones. If you've got 100 subscribers, it'll take 100 minutes to deliver.
Double-opt-in is a requirement: Unless you purchase the empire add-on for $18/month, all your forms and landing pages will require a double-opt-in.
Scarce email design features: SendFox is basic, like Gmail, when it comes to designing emails. So if what you're looking for is something fancier, or even a drag-and-drop, don't try SendFox. The HTML editor is again only available in the empire add-on.
GetResponse
GetResponse is a direct Mailchimp competitor now that it has advanced its features to include all of marketing. It is designed for solopreneurs or small business owners looking to run their businesses from one place.
An older player in the email marketing industry, I'd recommend GetResponse for any creator who also has an e-commerce shop or digital products to sell.
Price: The basic plan starts at $15/month for 1000 contacts. All plans have a 30-day free trial, but there's no free plan.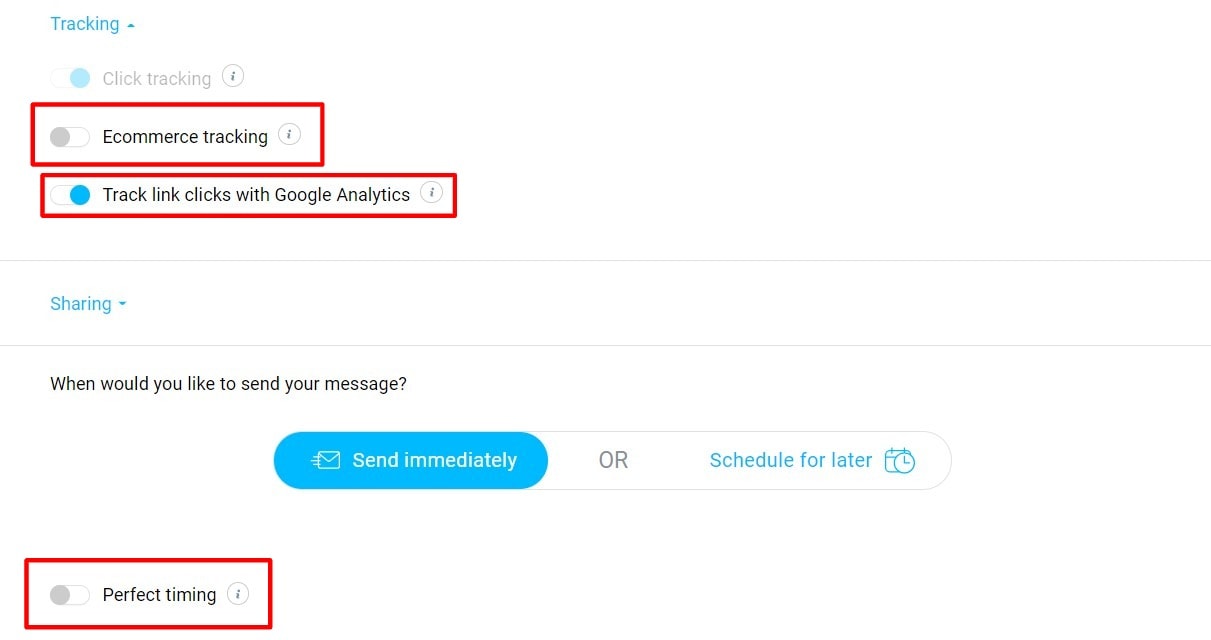 Pros:
Powerful marketing features: GetResponse has an awesome sales funnel builder and a conversion funnel that can give Mailchimp a run for its money.
E-commerce friendly: If you're an e-commerce business starting your newsletter, GetResponse has buyer behavior tracking, e-commerce tools integration, etc., that can be super helpful to you.
Perfect timing feature: GetResponse tracks when your audience opens their email and sends them the following email when they're most likely to open it. A stand-out feature.
Customize it all for mobile: The best part about GetResponse is that it helps you customize anything you build on the software differently (and optimally).
Cons:
No free plan: This might be a dealbreaker for new creators who just want to dip their toes in the market or someone who has a small list.
Every feature is not the best: GetResponse has a clunky lead generation tool, and the landing page builder isn't so great either (I'd much rather use ConvertKit). The webinar features are limited in attendees and flexibility. Too many features here come at the cost of a few being wasted.
Requires some getting used to: There's a certain learning curve to GetResponse that can only improve over time and with help.
SendInBlue
SendInBlue is GetResponse but better. It has all the e-commerce tools, perfect timing features, and services like GetResponse, which are easily scalable from creators to enterprises.
I'd recommend SendInBlue if you're an experienced email software user who needs some solid inbound marketing and e-commerce features.
Price: There's a free plan to add unlimited contacts and send 300 emails/day. After that, it is $25/month.

Pros:
Free plan with unlimited contacts: This is a huge plus for growing email audiences and a heavy segmented list.
Great analytics: The marketing analytics and newsletter data are solid for you to use and learn.
Full-stack for inbound marketing: SendInBlue has all the features you'd need to do inbound marketing apart from sending newsletters.
Clean UI: The user interface is neat and easy to use. Even complex features are simpler to do than other platforms.
Cons:
Support isn't that great: You might have to wait several hours before someone gets back to you for the first time. Especially if you live in a different time zone, communication is difficult.
Email personalization beyond name is hard: If you want to attach any order details or previous info, it is a complex and time-consuming process to do so.
Tedious onboarding: SendInBlue has a validation process for its new customers, especially transactional and automation features, which can stretch and feel unnecessary.
EmailOctopus
EmailOctopus' sole focus is on email marketing. It has one of the best free plans on the market, and the software is famous for consistently evolving its features.
I'd recommend EmailOctopus for creators who are just beginning with newsletters and are eager to use automation sequences in their business.
Price: There's a free plan where you can add up to 2,500 subscribers and send 10,000 emails per month. After that, it is $20/month.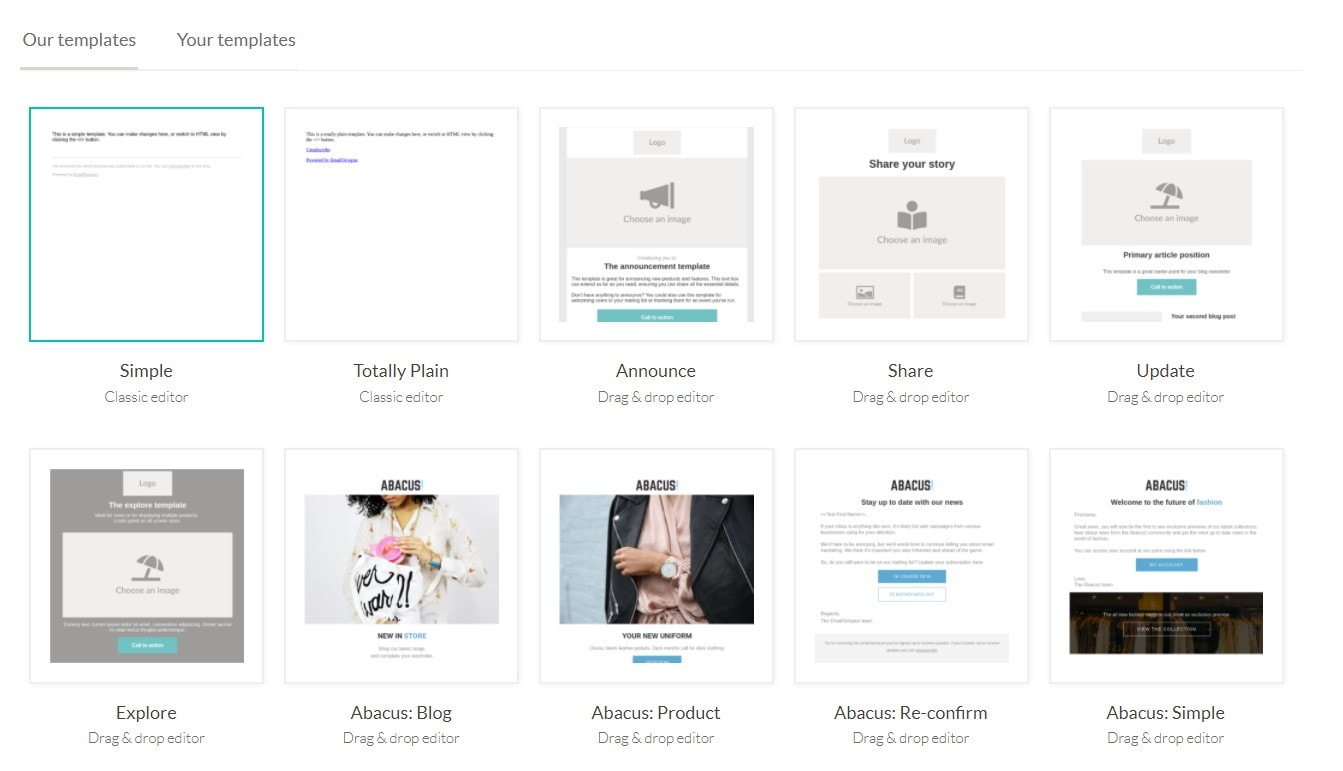 Pros:
Excellent free plan: EmailOctopus has one of the best free plans in the market — both in terms of contacts and number of emails.
Perfect for beginners: The minimalist design and simple-to-use features make EmailOctopus perfect for beginners.
Cons:
Basic segmentation options: The list segmentation features of EmailOctopus are pretty basic, which is great for someone just trying something new but not for the heavily segmented lists.
Lack of advanced automation and workflows: This is another area where EmailOctopus remains surface-level. If you'd like to create advanced automation and complex workflows, EmailOCtopus isn't for you.
Constant Contact
Constant Contact is one of the oldest email marketing software in the market — operational since 1995. Many customers still swear by its great features like creating events, surveys, automation, and the like, along with creating newsletters.
I'd recommend going for Constant Contact only if you want the basic features of newsletter creation without a fancy design. If you wish to complex automation sequences or great email templates, I'd suggest looking at the other tools in this list.
Price: Starts at $20/month. The first month's free.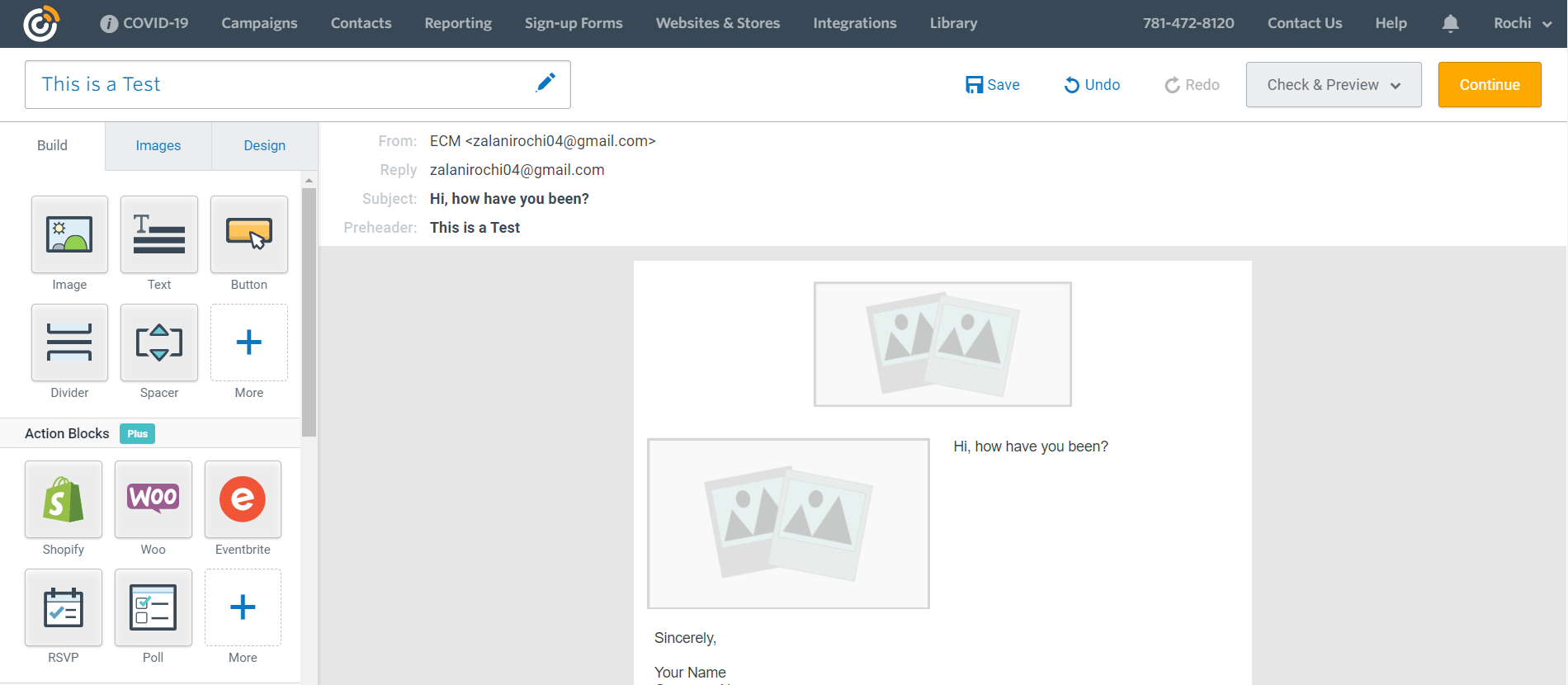 Pros:
Auto-generated templates: Constant Contact is great for the busy who have no time to create newsletter templates. Just enter your website, and it optimizes the colors according to your brand. Done in under two minutes.
Great list-segmentation: Constant Contact has a powerful list segmentation feature, especially for e-commerce businesses. But this can only be utilized in the high-tier plan.
Good reports: Constant Contact has good analytics for your newsletters and several lists like how many people open your email on their mobile phones.
Cons:
Only great for those with straightforward needs: If you want something advanced, ConstantContact isn't the way to go.
Lack of design tools: Constant Contact has pretty basic design features and wouldn't work so great if you're scaling fast.
Poor search function: It's cumbersome to find an old email that you would've sent months ago. Simple entering of the subject keywords in the search bar won't do.
Recommended reading: Constant Contact vs. Mailchimp
Aweber
Aweber is another oldie goldie in the market — founded in 1998 — that retains a loyal following. It has a variety of tools like automation, list segmentation, and detailed analytics.
It's great for beginners who want segmented lists. But it doesn't have many complex and advanced features.
Price: Free for up to 500 subscribers and 3000 emails/month. Post that, it's $30/month.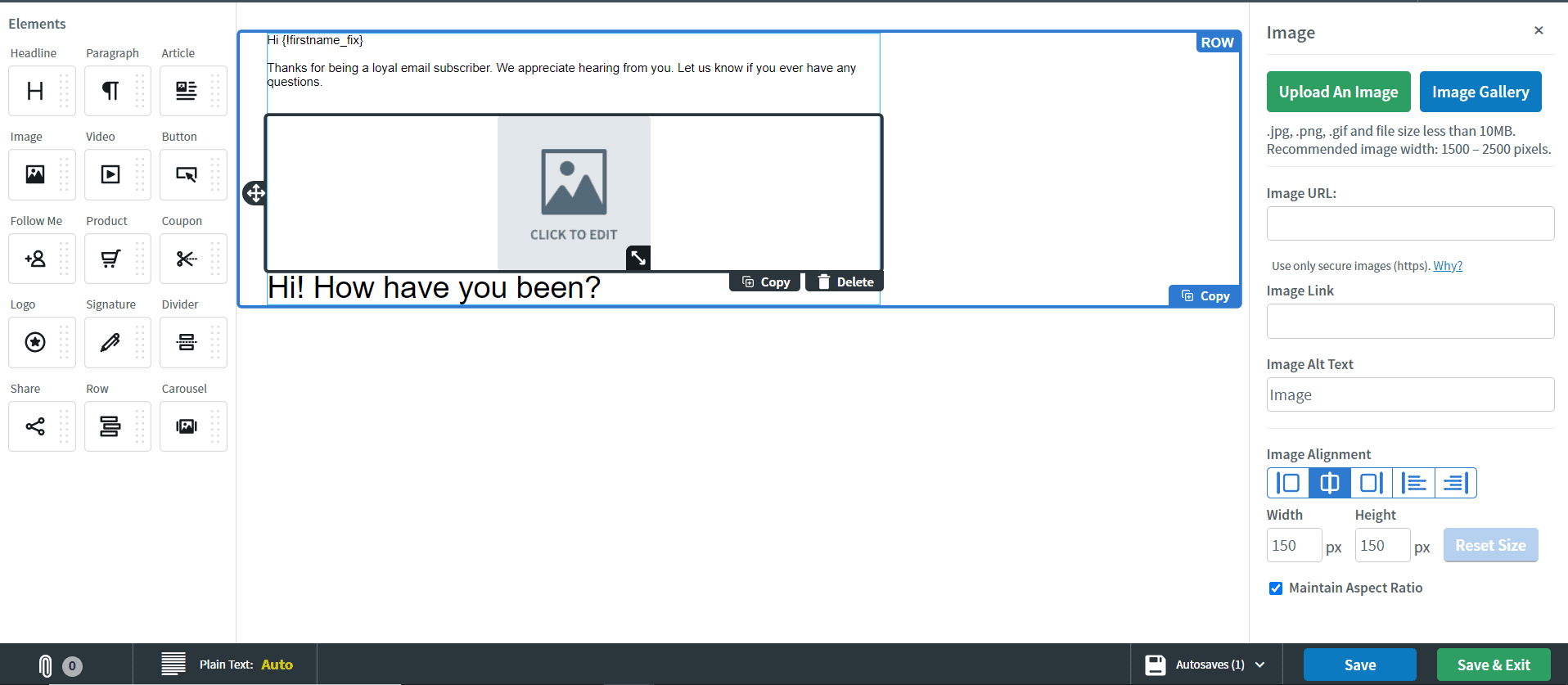 Pros:
Great email list management: Aweber has medium-level list segmentation features. It's great for those who want to divide their contacts into lists but don't have a heavy-segmentation requirement.
Beginner-friendly: The design and features of Aweber are pretty easy to use for any newbie.
Excellent support: Aweber offers prompt support via phone, email, and chat.
Cons:
Not great for power users: If you're someone who's going to be on newsletter software a lot, Aweber doesn't have all the features that you'd need.
Lack of advanced automation features: Aweber made automation popular, but its' own tool lacks some advanced tools that are offered by its competitors.
HubSpot
HubSpot has built its name in the game, and for good reason. It has so many advanced features with email campaigns, automation, landing page creations, etc.
If you're a power user or a small business, I'd recommend giving HubSpot's email marketing tool a shot.
Price: Free for up to 2000 emails/month. Post that, it's $50/month.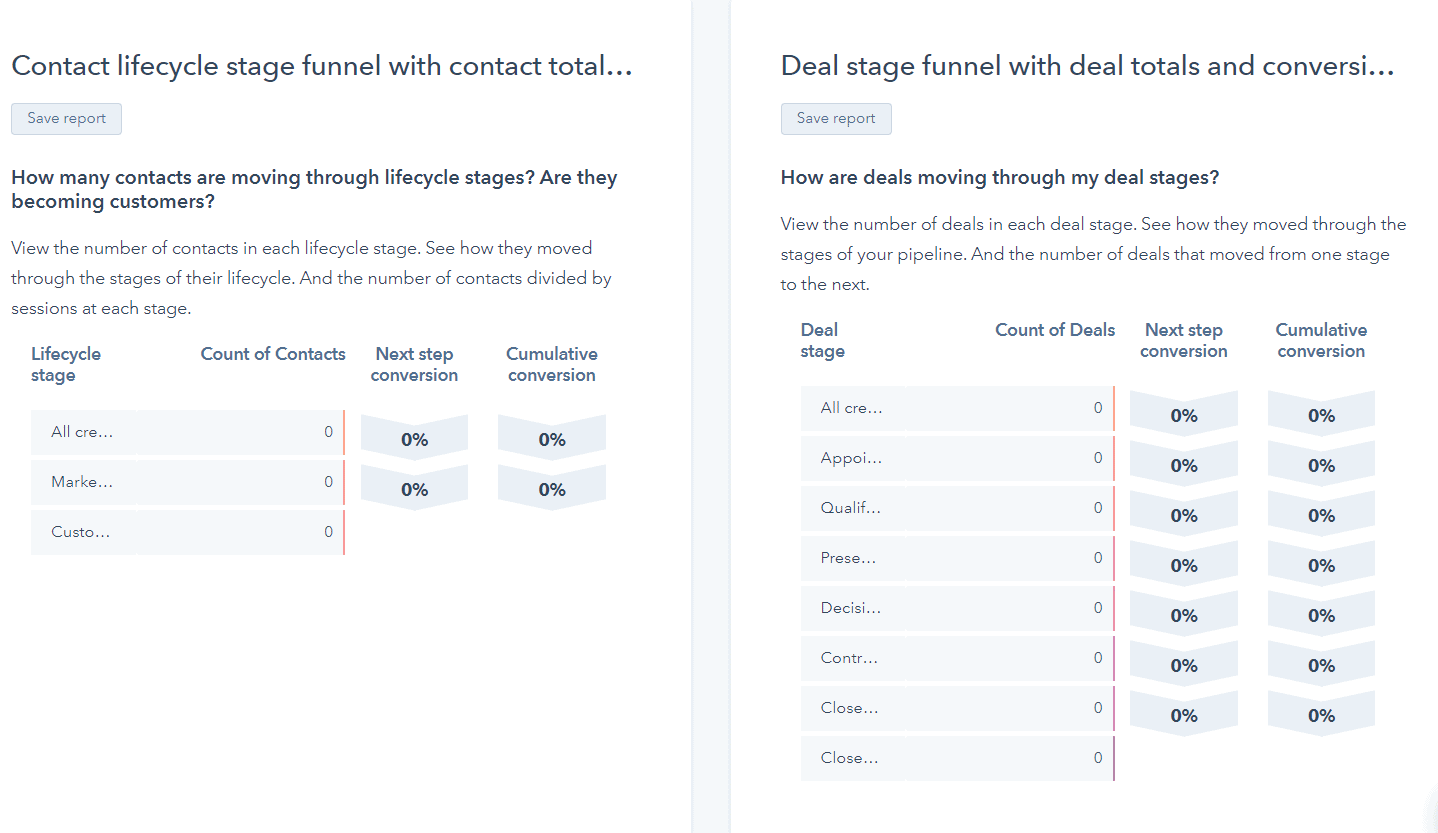 Pros:
Pocket-friendly for beginners: 2000 emails/month is great if you're just starting out and learning the ropes of newsletters and email marketing.
Strong insights: You can see which content is getting the most hits, who's engaging when, and what device they're using.
Pro personalization: The personalization feature at HubSpot allows you to reach your segmented list with previous history and a high degree of personalization.
Cons:
Enterprises may grow out of it: HubSpot is wonderful for small and mid-sized businesses but may not work well for enterprises with an established database.
Can be overwhelming: There are so many features that it can get overwhelming. The beginners especially may struggle to utilize all the features.
Moosend
Moosend is another all-in-one marketing software that's perfect for businesses and beginners. It requires less technical skills to use than the usual email marketing platforms.
If you're someone who's not that tech-savvy and are looking for something affordable, I'd recommend you give Moosend a try.
Price: Free plan available with unlimited email sends and up to 1000 subscribers. Post that, it's $8/month.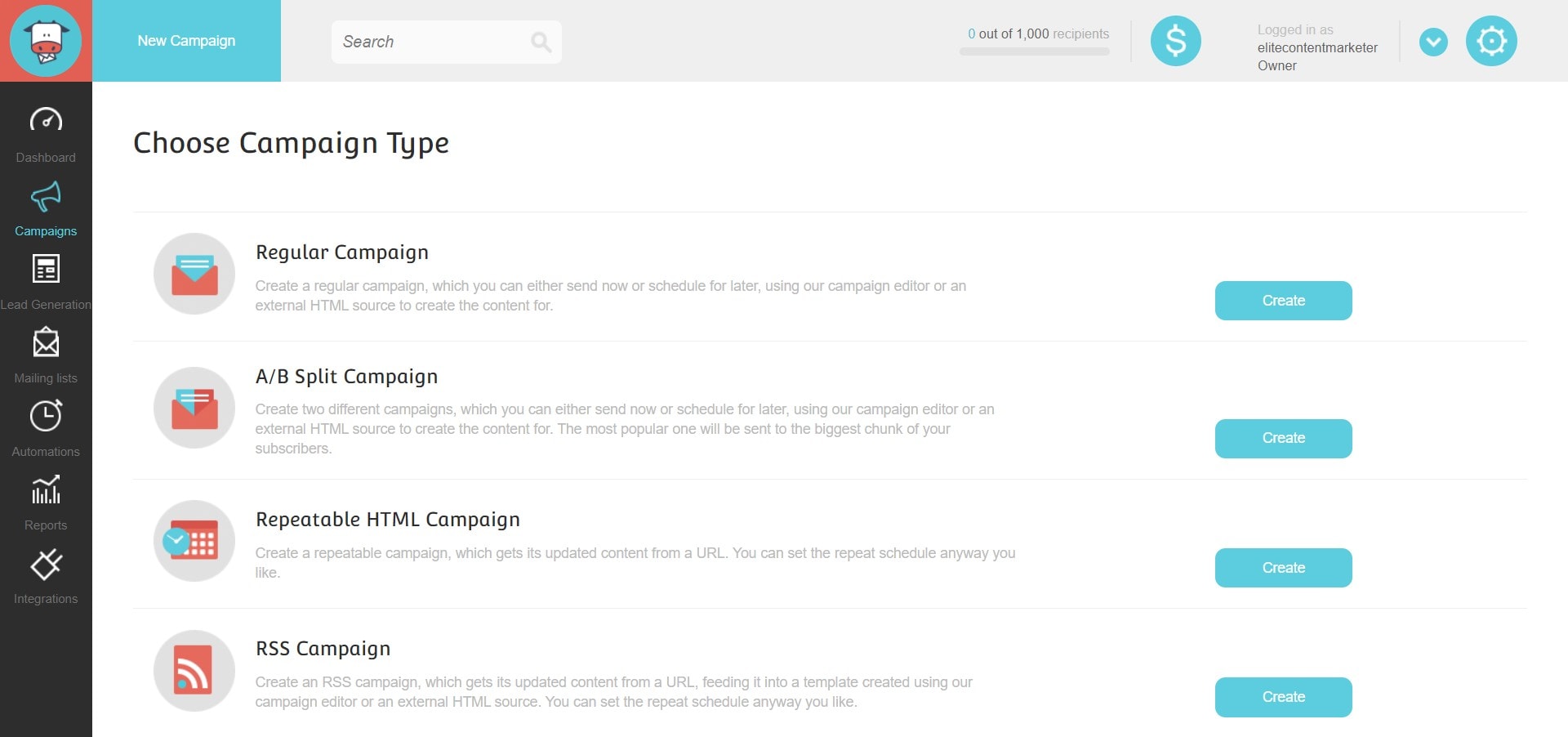 Pros:
Affordable: Moosend is great if you're on a shoestring budget or just trying things out with email. You can get the same features that every other marketer provides at a much cheaper cost.
No problem for not-so-technically-equipped: Moosend requires no technical skill and can be used by anyone from beginner to pro without hassles.
Excellent reporting: The report in the basic and premium features is detailed and helpful
Quick support: The staff at Moosend is responsive and resolves each concern you'd share.
Cons:
Doesn't autosave: This is a word of caution that's crucial if you're creating a newsletter from scratch.
UX could be improved: The interface can be a little outdated, and the editor's a little clunky.
Campaign Monitor
Campaign Monitor is a leader in creating different types of emails — from transactional to newsletter.
I'd recommend you for Campaign Monitor if you want to create a variety of emails from a standard template.
Price: The basic plan starts at $9/month with 500 contacts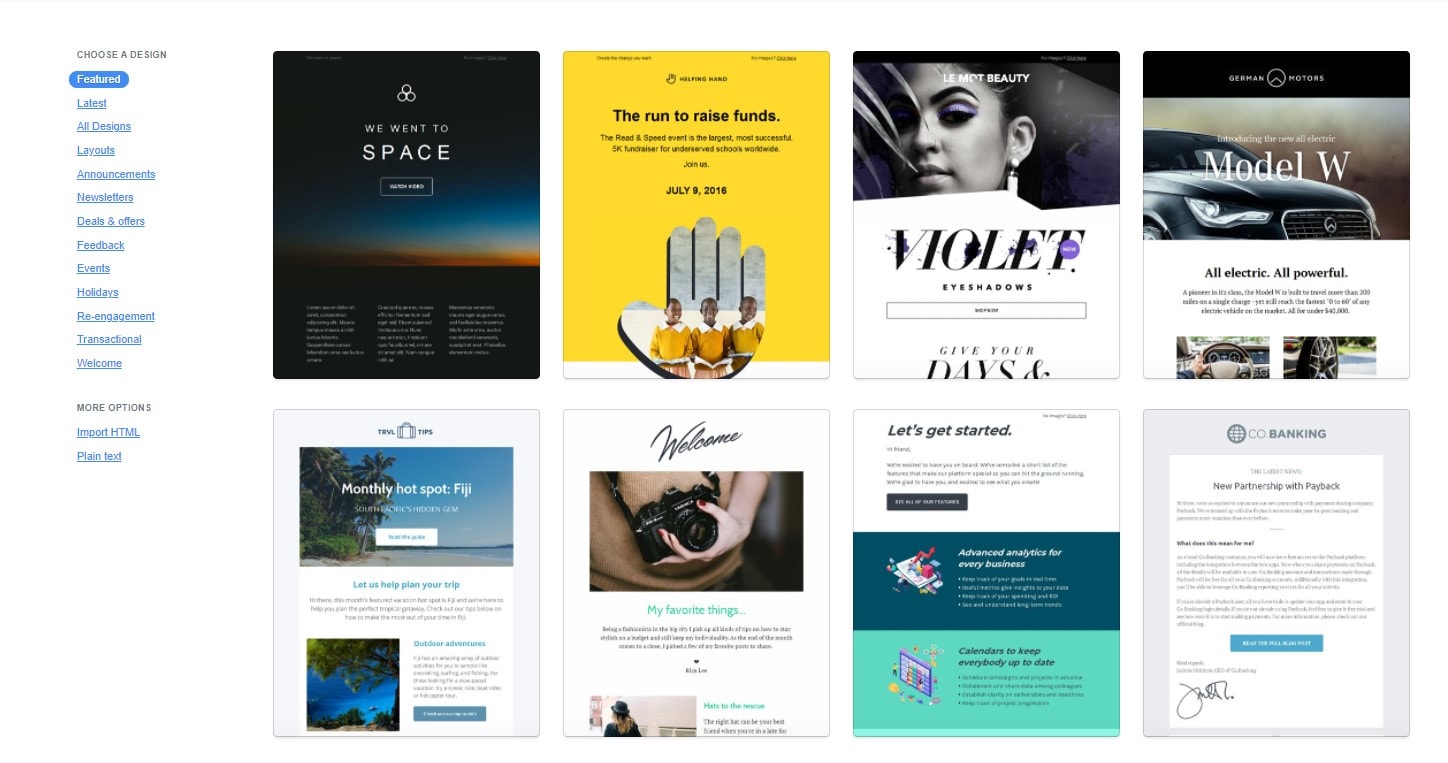 Pros:
Create all types of emails: Campaign Monitor is one of the best in helping you create all types of emails — from transactional to behavioral.
Personalized automation: The automation feature of Campaign Monitor can help you create personalized journeys for each subscriber.
Great analytics: The data suite of Campaign Monitor is great to monitor your newsletter's performance in the long haul.
Cons:
The user interface is not that friendly: Campaign Monitor's UI is not that friendly compared to others in this list.
Slightly tech-heavy: Some features at Campaign Monitor may require technical skills to be used effectively.
Limited customizations: Campaign Monitor's email templates are great, but they offer limited customization in terms of style and format.
Pabbly
Pabbly is a powerful bulk emailing tool with no feature restrictions of its software, no matter what plan you choose.
If you're running a paid newsletter, I'd highly recommend checking out Pabbly since it also offers subscription billing.
Price: The cheapest plan starts at $15/month.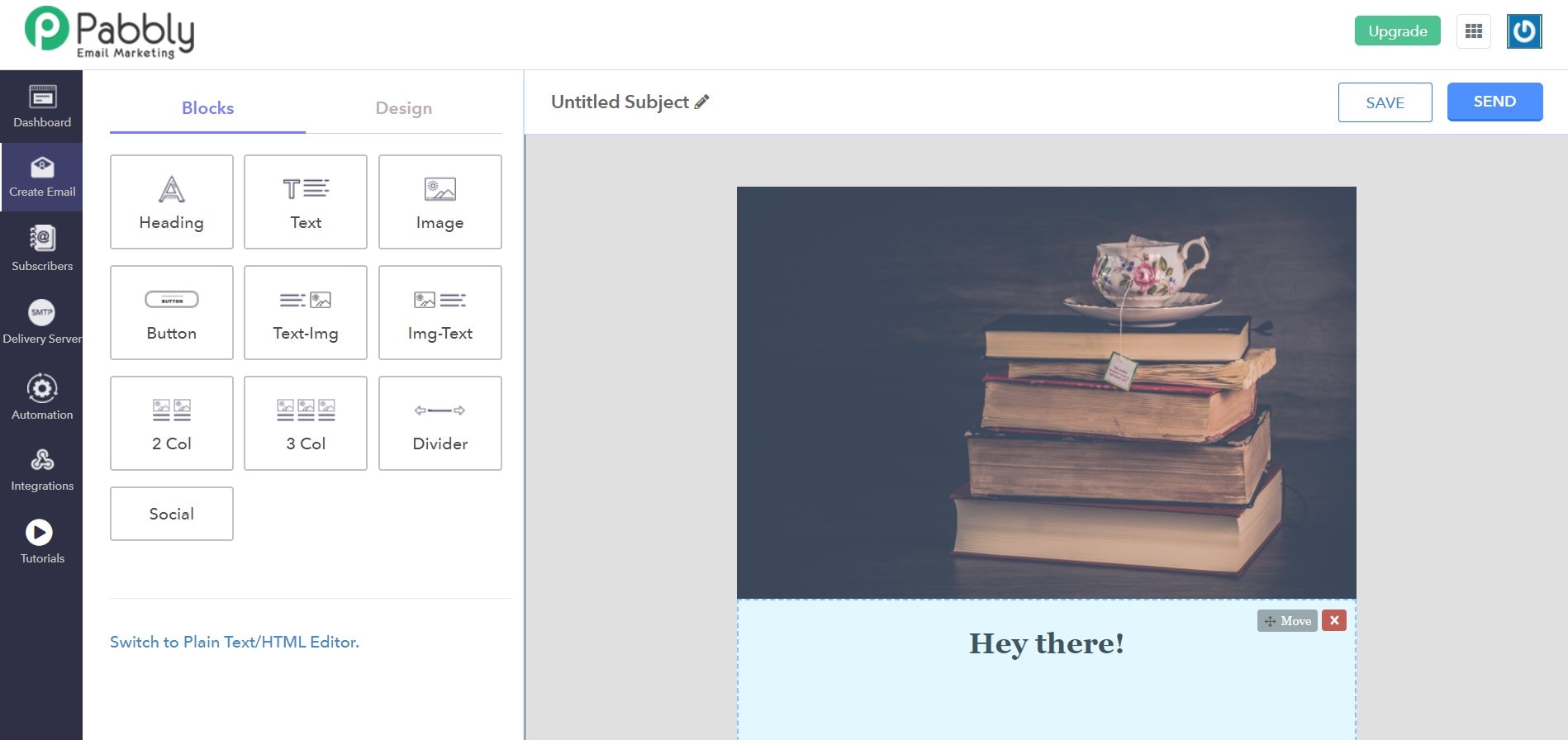 Pros:
Has its own subscription billing: This is useful for paid newsletters. Pabbly also has 0% transaction charges.
No restrictions on features: The software doesn't limit any functionalities, even in its basic plans.
Cons:
Tricky UI: The user interface is not the best, and it can be a little tricky to get the hang of it.
Can't host complex subscription models: Pabbly's subscription model is pretty basic and wouldn't be useful for anyone trying to run a more complex one.
Substack
Substack is the new kid on the market that also makes it super easy to run paid newsletters. No matter what you want to write, here you can monetize it. But it is only if you already have an established audience. For newbies, this monetization isn't so straightforward.
If you're someone who wants to run a paid newsletter and wants something super simple for it, go for Substack.
Price: Publishing is free. They charge 10% of what you make + credit card transaction fees after you start running paid newsletters.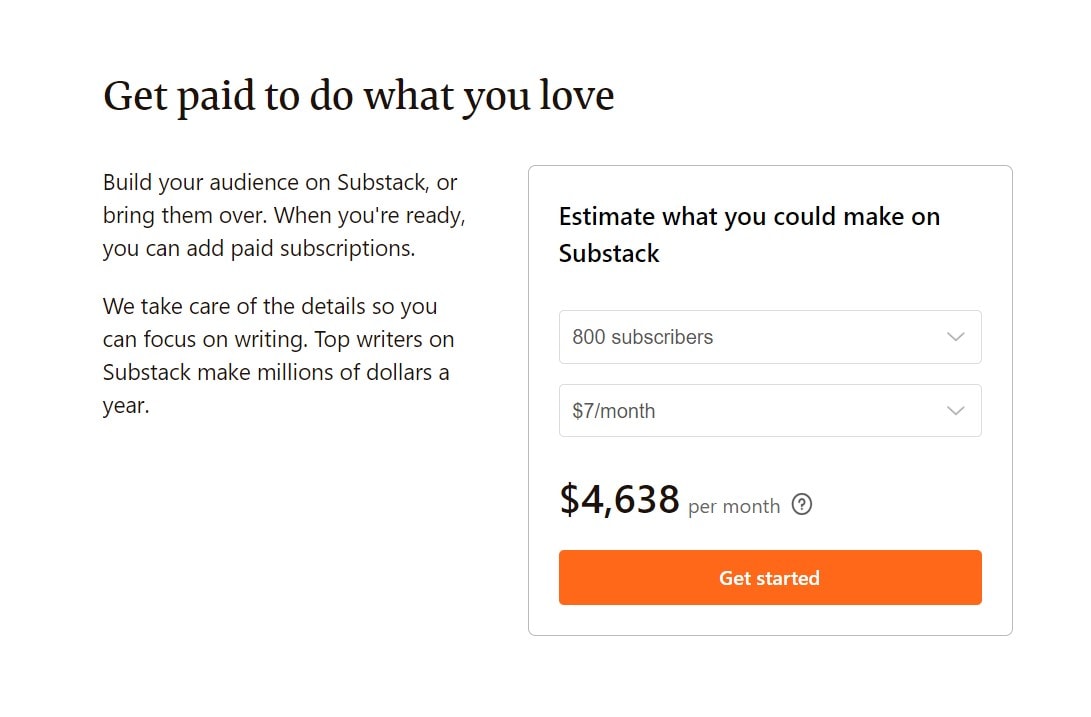 Pros:
As easy as it can get: Using substack is amazingly simple if you don't want anything fancy out of newsletters.
Free for free: If you're running a free newsletter, you can publish it on Substack for free
Subscription model made easy: If you want to begin charging for newsletters, Substack makes it quick & easy.
Past posts: Your previous newsletters can be published as posts which potential subscribers can see.
Cons:
Not for the fancy design: Since Substack makes it so simple, it compromises on building an aesthetic email.
Analytics are poor: Since the company is fairly new, the analytics may not serve much use. It's still a black area.
No custom URL: You don't get a custom URL as the subscription link.
Conclusion: Which Is The Best Software To Make A Newsletter?
As you can see, each newsletter service offers the same basic feature. All go above and beyond the simple newsletter service and help you create landing pages, opt-in forms, and even websites.
The best software to make a newsletter depends on:
What differentiating features do you need?
What is your budget?
What is your list size?
What integrations do you need?
What analytics do you need?
What is your technical savviness?
What is your goal with newsletter creation?
All the best for choosing a newsletter software for your project.