Podcasts remain a largely untapped opportunity for marketers and creators. The appetite for audio consumption seems to be high, yet they are not paid as much attention as video and textual content by brands and artists.
Today, I'll show you a few podcast statistics that will hopefully give you a head start in 2021 to launch your show.
Recommended Reading: How To Make Money With Your Podcast: 12 Monetization Strategies
General Podcast Statistics 2021
Let's start with getting a broad overview of the podcasting industry.
How many Podcasts are there?
Apple Podcasts hosts over 1.74 million podcasts spanning 42.9 million episodes. However, the number of active podcasts differs from the total.
Note: Active podcasts refer to those that have released at least one episode in the past 90 days. Inactive podcasts include shows that have ended, retired, been put on hold, or have an infrequent publishing schedule. They also include dead and podfaded podcasts.
So how many podcasts are currently active on Apple Podcasts?
990,000 podcasts are currently active on Apple Podcasts (iTunes).
This means that 39.90% of podcasts are active as of December 2020.
Feel inspired to start your podcast? Then, choose a podcast hosting and get going. If you want to start a show as a hobby before going full-time, these free podcast hosting platforms might work better!
Let's dive into the listenership facts and discover other podcast stats and trends.
Listenership Facts: US Demographics
Research from Edison's Infinite Dial, Spoken Word Audio, and others found the following: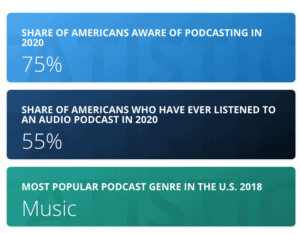 More than one-third of Americans aged 12 and over (104 million) consume podcasts regularly.
Monthly Podcast listening is now at 37% in the USA.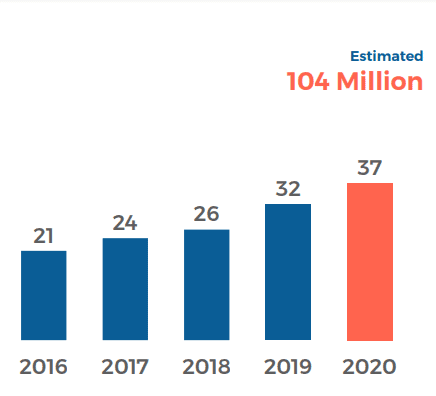 75% of Americans aged 12+ (212 million) are familiar with podcasting.
55% of Americans have listened to podcasts for the first time in 2020.
43% of the US population aged 13 and above listen to spoken-word audio daily. This includes podcasts, news, sports, talk radio, and audiobooks.
62% of those in the US age 12 and over, use voice-operated assistants.
93% listen to all or most of each episode.
Most Americans listen to a podcast between 7:13 and 8:15 a.m. (Share of Ear Report 2020)
Web listeners are less likely to complete a whole episode as compared to the ones who tune in via Spotify, or Apple Podcasts (Pacific Content 2020).
19% of listeners increase the speed of the podcast.
On average, people spend over 6 hours listening to podcasts.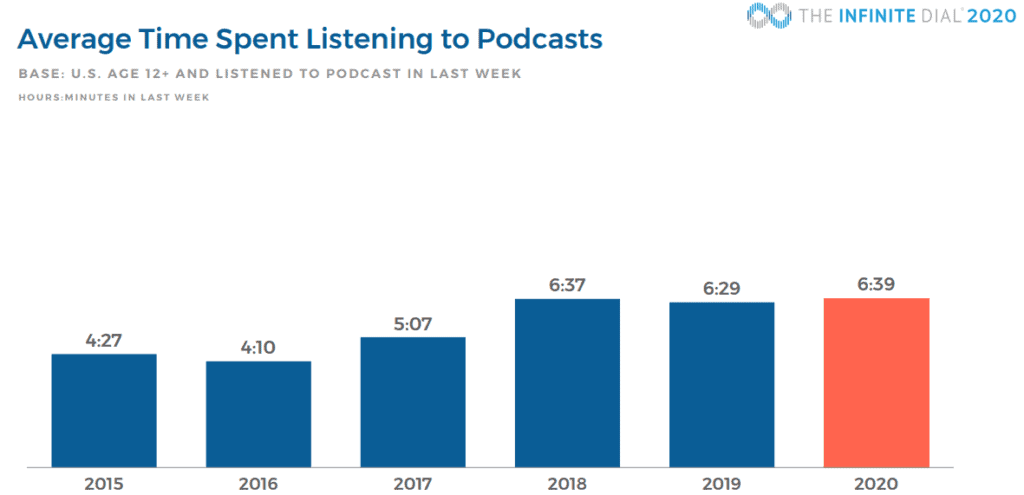 39% of men and 36% of women are podcast listeners.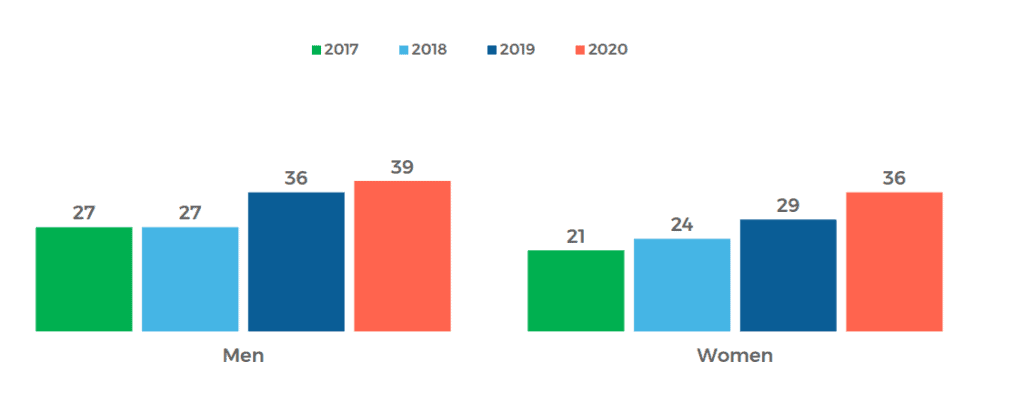 12-34: 37%
35-54: 40%
55+: 23%

16 million people in the US are avid podcast fans.
Comedy, education, and news are the most popular podcasting genres.
Recommended Reading: Top Podcast Directories For Getting New Listeners
Where And How Do People Listen To Podcasts?
Owning smart speakers has a lot to do with the listenership of podcasts by the American audience.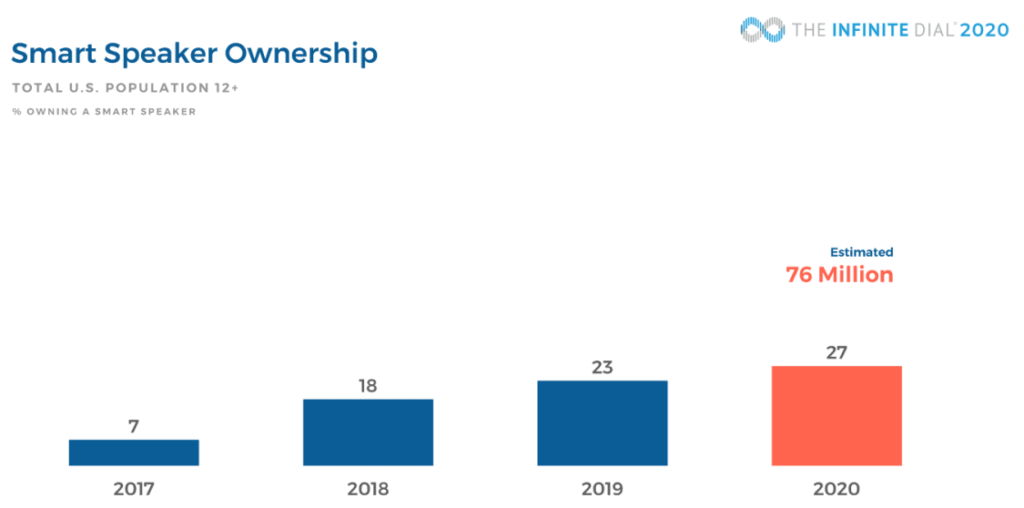 Approximately 76 million people own smart speakers in the USA. The most popular smart speaker in the USA is Amazon Alexa. According to the consumer podcast report of 2019, here is what people do while listening to podcasts:
70% of listeners do not do anything while listening to a podcast.
59% of listeners do household work while listening to podcasts.
52% listen to podcasts while driving.
Here are some additional listenership facts:
On Average, podcast listeners subscribe to 6 shows in a week.
65% of monthly podcast listeners have been listening for less than 3 years.
Spotify Statistics

25% of people in the US have listened to Spotify in the past month – up from 24% in 2019,
48% of 12 to 13-year-olds have listened to Spotify in the last month – up from 46% in 2019.
Now that we know the go-to podcast application of listeners, let's look at the favorite podcast shows of Americans in 2020.
Top 30 Podcast Shows in 2020 (USA)
According to Edison Research, The Joe Rogan Experience continues to top the charts from the summer of 2019 in the USA. This list comprises podcasts by reach, i.e. the percentage of weekly podcast listeners claiming to have heard any one of these shows, rather than by download. Here are the top 30 podcasts in the USA: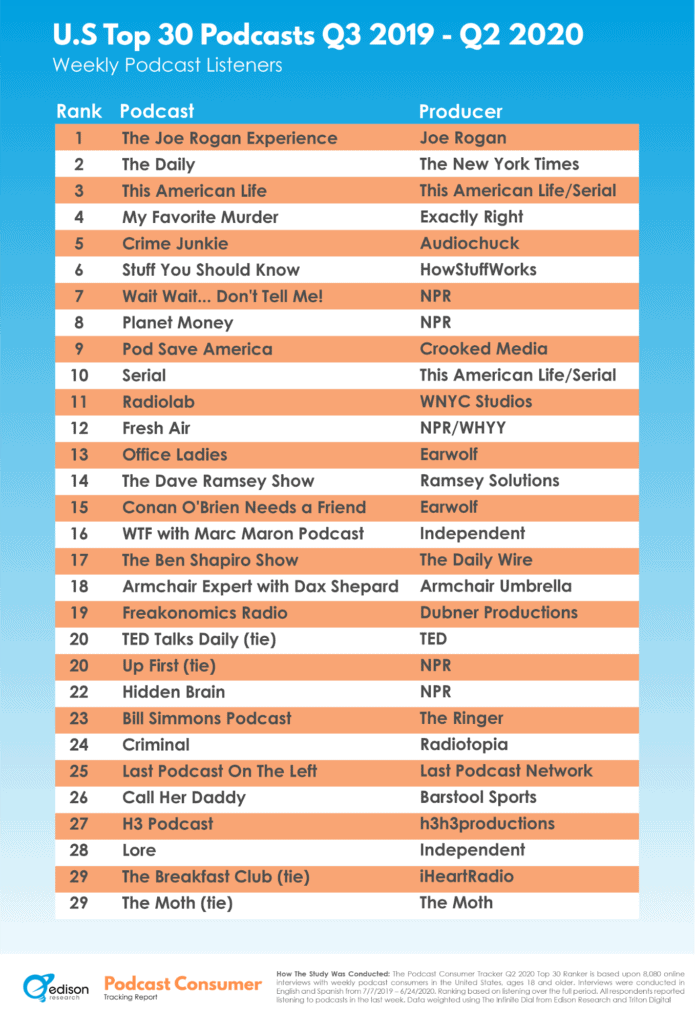 Apart from the above-mentioned podcasts here's GH's pick of podcasts that people must listen to in 2021.
Bodies: A documentary-style podcast hosted by Allison Behringer who reveals unheard medical mysteries.
Becoming Wise: Krista Tippet's podcast talks about life and mortality with guests like John Brewis and Brene Brown.
Every Little Thing: Flora Litchmen's podcast discusses every little thing from office plants to black holes. You'll find yourself curious about every topic.
We-Well Being: Canada's First Lady, Sofie Trudeau explores mental health and the stigma associated with it. Being a sufferer of anxiety and eating disorders herself, she hopes to raise awareness and give people a platform to discuss their mental health without shame.
This American Life: A storytelling podcast about people and their lifestyles. This podcast by Ira Glass is the first Pulitzer Prize-winning podcast.
Now let's take a closer look at all the popular podcast genres in 2020, and how the pandemic has affected them.
Leading Genres in the US. in 2020
The coronavirus outbreak has changed the dynamic of podcasting. Previously, listeners would tune in to podcasts during their commute, so staying at home changed when they were consumed. Do you know which genres top the charts and why?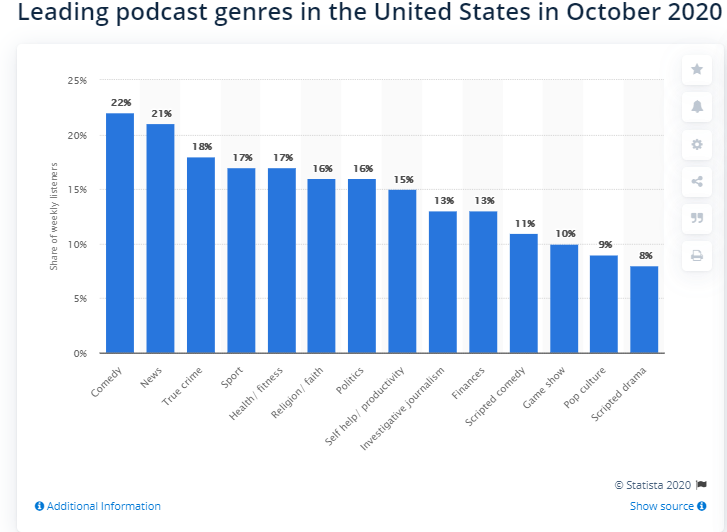 According to Statista, In October 2020, the most popular genre in the US was comedy, with 22% of respondents claiming that they were interested in podcasts that made them laugh. Makes sense as people wanted a break from stress-filled news.
According to Grandview Research, the news and politics segment was the highest in 2019 with a revenue share of over 30%.
Which Application Do People Use To Listen To Podcasts?
From the Buzzsprout statistics we know which app people use to download podcasts. iTunes/Apple Podcasts and Spotify are at the top among America's public for monthly users, while Google Podcasts has become a strong third, buoyed by smart speaker owners.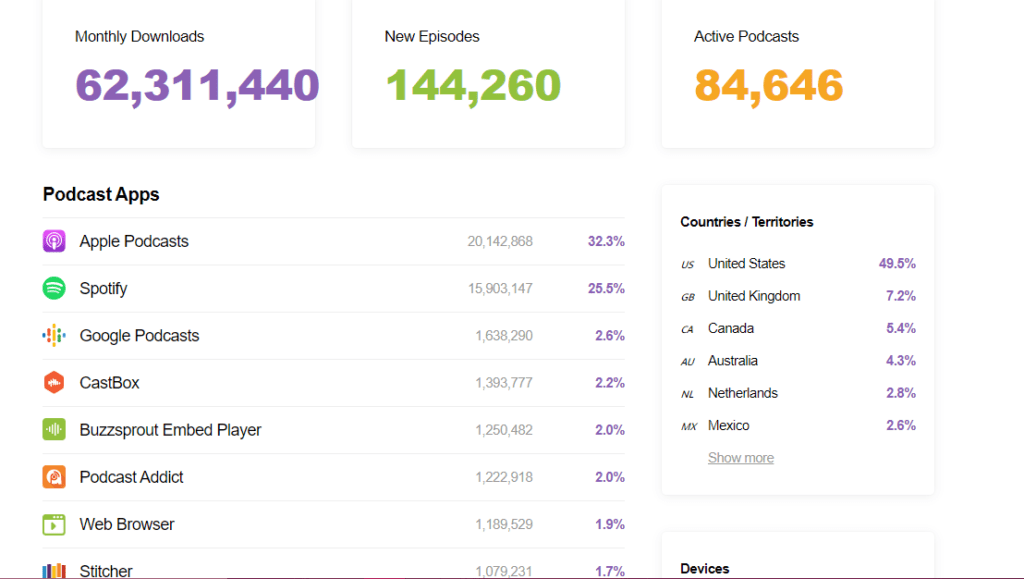 32.3% of people from all over the world download podcasts from Apple Podcasts.
25.5% of listeners used Spotify to download podcasts.
Google Podcasts is slowly gaining prominence with 2.6% of all downloads.
CastBox is a close 4th with 2.2% downloads
2% of podcast listeners from all over the world downloaded podcasts from Buzzsprout Embed Player.
Spotify has increased the monthly listening of American audiences as reported by Triton Digital's Report of 2020.
Global Podcast Statistics
Podcasts are quite popular among the young audience. According to the Digital Reuters Report of 2019, South Korea loves podcasts the most, followed by Spain, Ireland, Sweden, and the USA.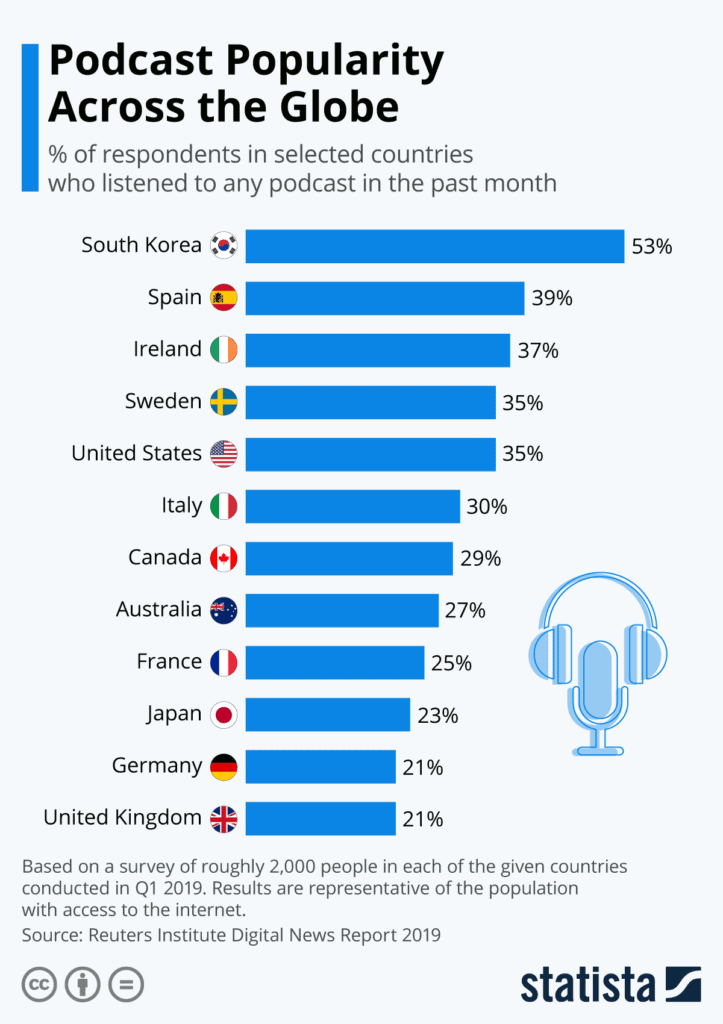 55% of South Koreans listen to podcasts,
39% of people in Spain enjoy podcasts,
37% of people in Ireland love podcasts
From 35% in 2019, monthly podcast listening in the USA has increased to 37%: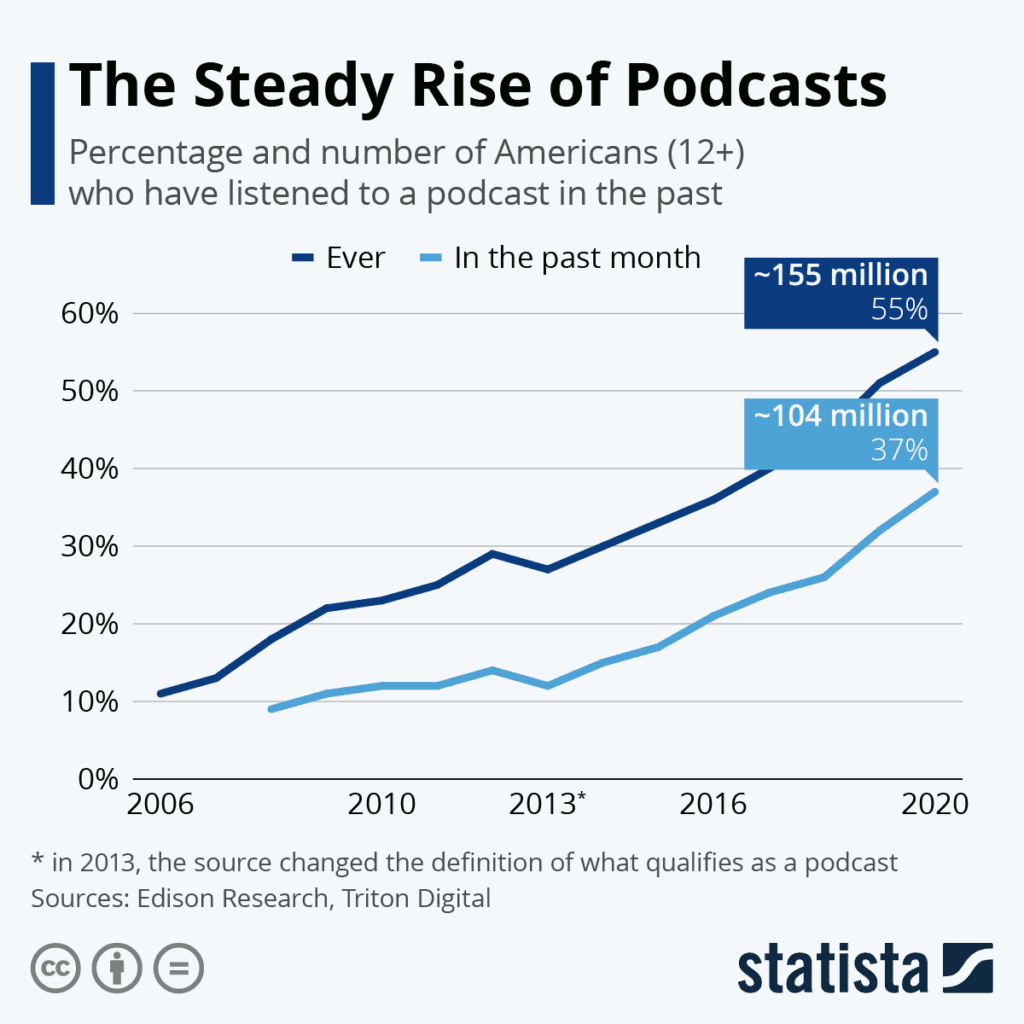 Even though podcasts are on a rise in the USA, how many people end up subscribing to podcasts? 
Let's take a look. According to Buzzsprout stats, here are the statistics based on downloads per episode within the first 7 days, as of November 2020:
Top 1% of the podcasts: 3135
Top 5% of the podcasts: 532
Top 10% of the podcasts: 229
Top 25% of the podcasts: 73
Top 50% of the podcasts: 27
Monthly downloads of podcasts are at 62,311,440. Out of which, 49.5% of downloads happen in the USA. Everyone can't be listening to the same podcast show, can they? Then how do people discover new podcasts?
Podcast Discovering Statistics
The podcast host surveyed podcast discovery statistics. 28.9% of the 780 participants said that they would give a show 15 minutes to hook them.
So how do people even find new podcasts?
40% of people said to search their podcast's app dictionary. Here are all the survey's results: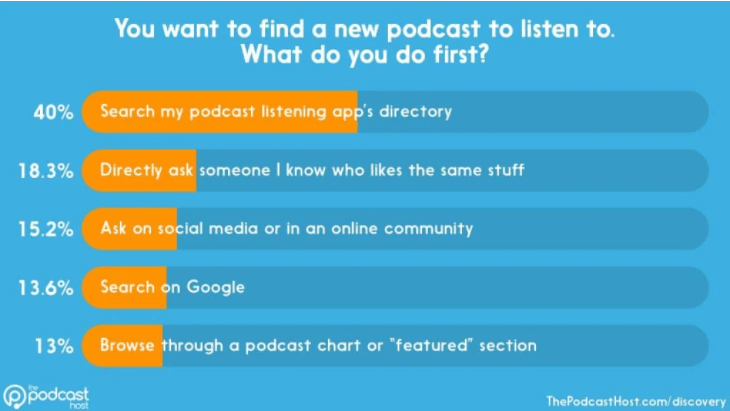 With this new information arises the question, after discovering a new podcast, are people happy with the commercials? Do podcast commercials make a difference?
Relation Between Auto Marketer's and Podcasts
According to an analysis conducted by Nielson's Podcast Listener Buying Power Service, 35.8 million people were shopping for vehicles online. Of these, 10.5 million were listening to podcasts. These engaged podcasts listeners represent a $302 Billion opportunity for marketers and advertisers.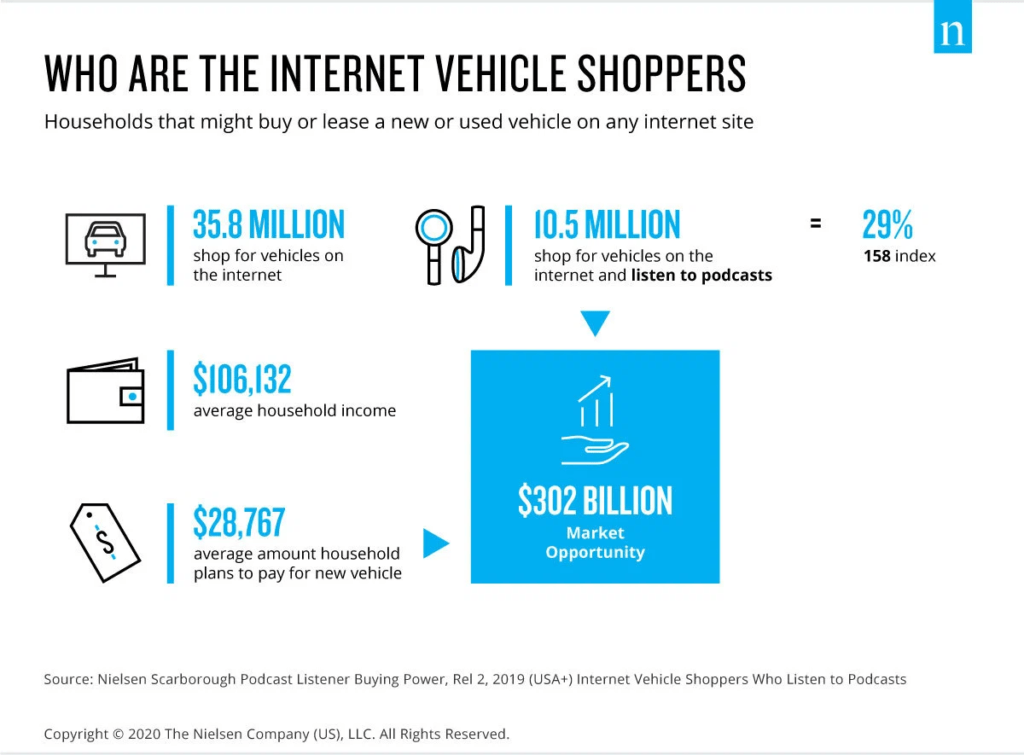 Here is how people react to podcast commercials:
81% of listeners pay attention to podcast ads,
60% of podcast listeners visited the website of the product advertised to order something,
45% visited the website for more info about the product advertised in the podcast,
7% purchased the product at a retail location.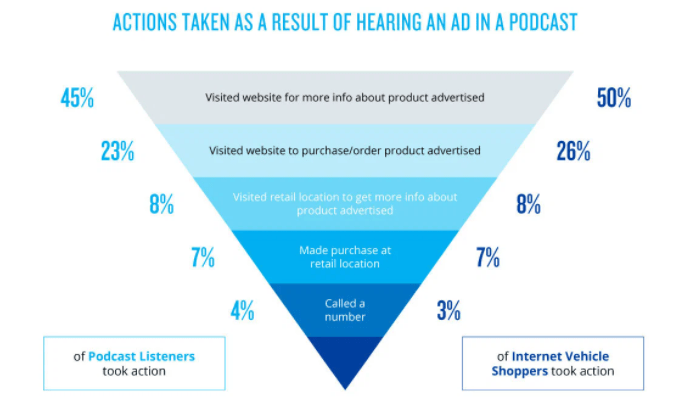 Apart from vehicles and leases, podcasts also offer opportunities for auto repair. Compared to the average US consumer, podcast listeners are:
11% more likely to pay for an oil change,
16% more likely to buy new tires,
16% more likely to get a brake job.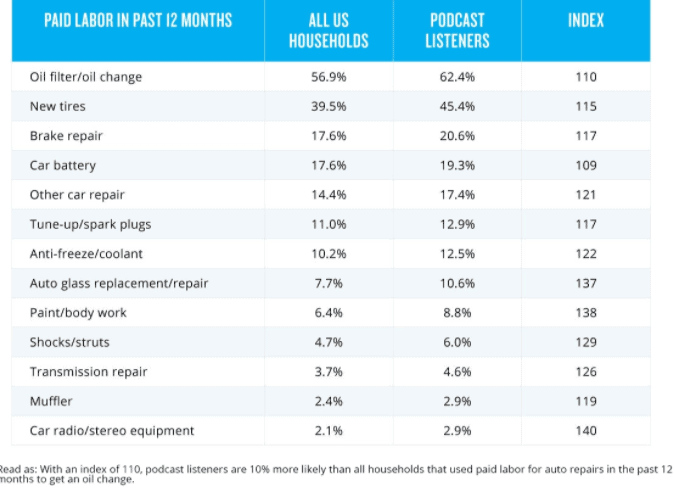 Advertising in cases of crisis can work well for advertisers and marketers. More and more marketers are finding out the benefits of podcasts to the marketing and advertising industry.
Final Thoughts
Podcasts continue their upward trajectory. Apple Podcasts and Spotify are the go-to brands for podcasts. I hope that the podcast statistics I've presented here help you chart an effective podcasting strategy for 2021.