Our Verdict
vidIQ is a powerful YouTube marketing platform. It offers a slew of tools for keyword research, competitor research, channel auditing, trends alert, and managing tedious channel management tasks.

Start Using VidIQ
Our Rating: 4.5/5
Usability
96%
Value For Money
99%
Customer Support
97%
Pros
YouTube Certified Platform
30 day free trial
Excellent customer support
Offers comprehensive channel audit
Academy dedicated to YouTube training
Cons
Limited features on the mobile app
Pro Plan needed for features such as keyword research
Want to get more video views and make money on YouTube?
vidIQ, a Chrome extension, can help. It has a range of audience growth, YouTube SEO, competitor research, channel management, and other tools. As a YouTube creator, you'll be able to increase the organic reach of your videos, save time, and get much more from your channel.
In this article, I'll review vidIQ and walk you through its major features. I'll also compare its capabilities with TubeBuddy, another superb YouTube growth tool. You can additionally check out a few other YouTube tools that will help your channel's growth.
Note: Just to let you know, this article contains affiliate links. This means Elite Content Marketer gets a commission if you sign up through us, at no extra cost to you. I only recommend products that I personally find valuable and enjoy. I appreciate your support.
The vidIQ team has generously offered a 30-day free trial on all of their paid plans for Elite Content Marketer readers. Use the code "EliteContentMarketer" at checkout to avail it. You can also sign up for a plan here and access the free trial on its paid plans.
Table of Contents
Frequently Asked Questions About vidIQ
Before we begin dissecting the user experience and looking at specific vidIQ features, let's answer some basic questions about the tool.
vidIQ is a SaaS product that helps YouTube creators analyze their channel, perform keyword and competitor research, save time on tedious channel management tasks, and grow their YouTube brand.
A range of top brands such as BuzzFeed, AOL, and lots more creators trust vidIQ. The product doesn't violate YouTube terms and conditions. They are also YouTube certified as per the tag beside the logo on their website.
The Basic Plan with limited features is available for free. The PRO plan starts at $7.5 per month and the BOOST plan with even more channel features starts at $39 per month. Its BOOST+ plan (that comes with personalized coaching) starts at $415 per month.
The suite of vidIQ tools can analyze the performance of your YouTube videos, improve their organic visibility, unveil insights about your competitors, save your time, and much more. Overall it's a robust product and useful for creators committed to the growth of their YouTube channels.
Is TubeBuddy better than vidIQ?
Both the tools excel in their set of core premium features with a slight difference in their user experience. vidIQ focuses on providing you real-time stats and view velocity of videos, which shows you what's trending "right now." TubeBuddy offers A/B video testing and invaluable member perks on its paid plans. Try both the tools to find your personal preference.
vidIQ Pricing
vidIQ offers three tiers besides its free "Basic" plan. Here they are: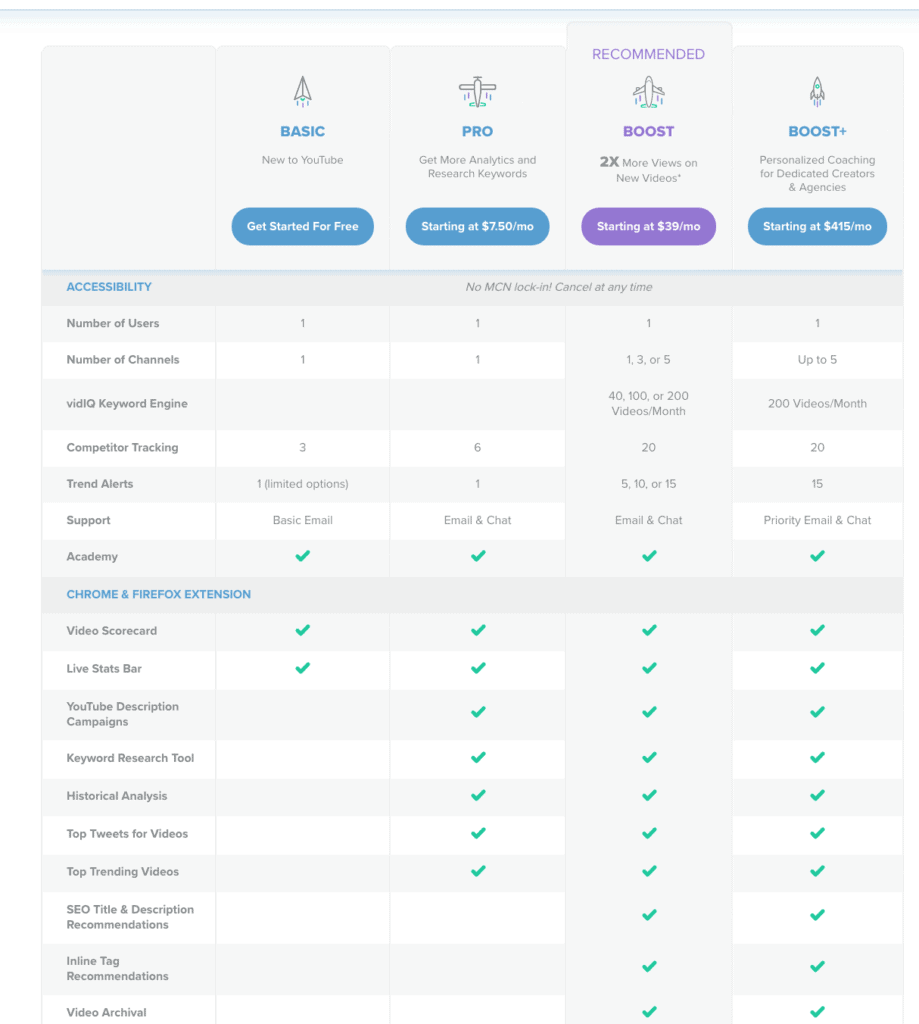 Let me break down each of the plans for you with their unique features again:
PRO plan costs $9 per month with its starting line of premium features,
BOOST plan costs $49 per month (per channel) with its dedicated suite of premium features,
BOOST+ plan is priced at $499 per month (for up to five channels) and comes with a monthly virtual coaching call and personalized help for your channel.
An enterprise plan is also available for brands that want to manage more than five YouTube channels. Note that all the above pricing is when you get billed monthly. If you opt for yearly billing (like me), you get two or more months free.
Most YouTube creators will find its premium features such as keyword research and historical analysis in its PRO plan sufficient for unlocking growth. Get a free one-month trial on all of these paid plans by signing up through this link.
vidIQ Help Center And Customer Support
The company has an extensive help center with articles covering all of the product's features with screenshots. Explanations for their proprietary attributes such as Views Per Hour (VPH), vidIQ score, and the like are also well-documented.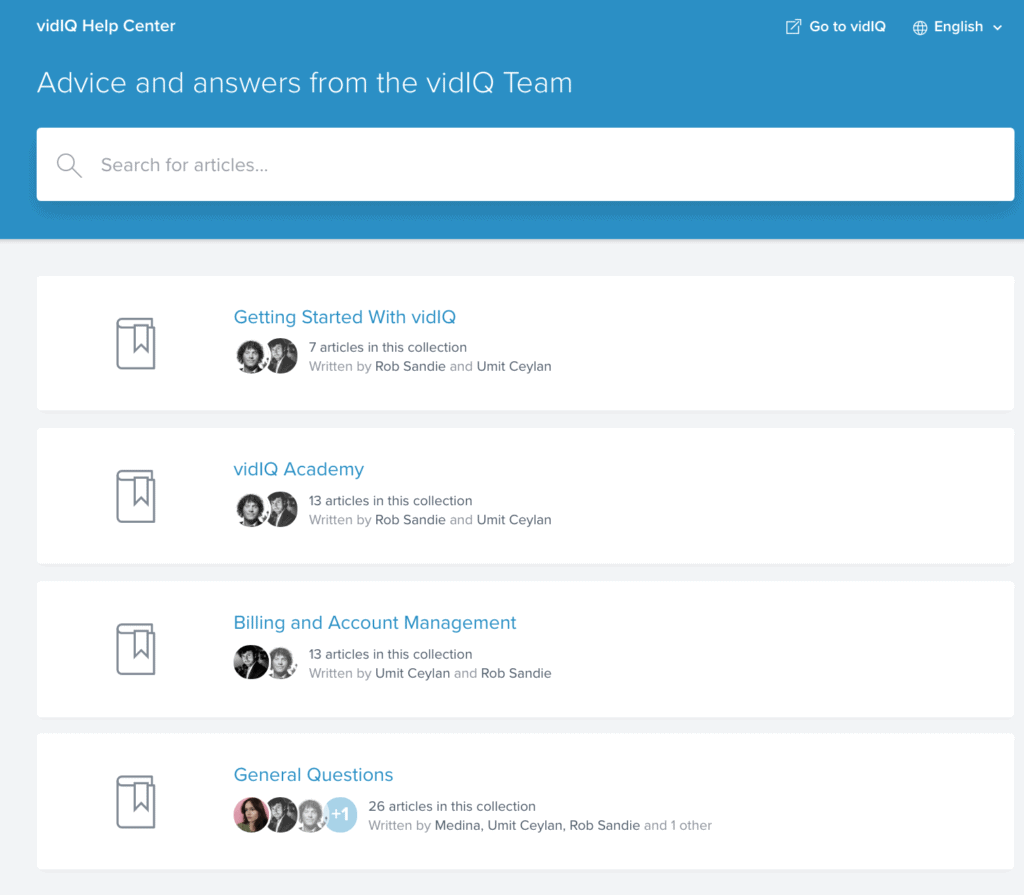 Their YouTube channel is a goldmine of resourceful videos on the subject of YouTube growth too. And they almost always show their features in action. Here's a video where they walk you through 100 of their tools!
Starting from their Pro plan, they also offer courses by the vidIQ academy for free. I'm not sure whether it counts as customer support, but the literature is helpful for beginners in organizing their video marketing efforts and streamlining their YouTube journey.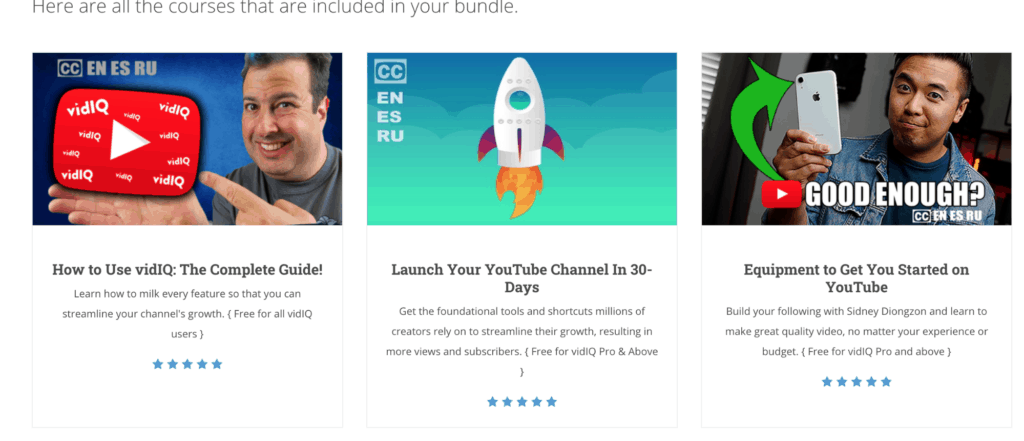 Besides the help center, email support is available on their free plans and live chat on their paid plans. You can't rely on the chat as instantaneous customer service, though. A couple of questions I asked while writing the review went unanswered for over 13 hours.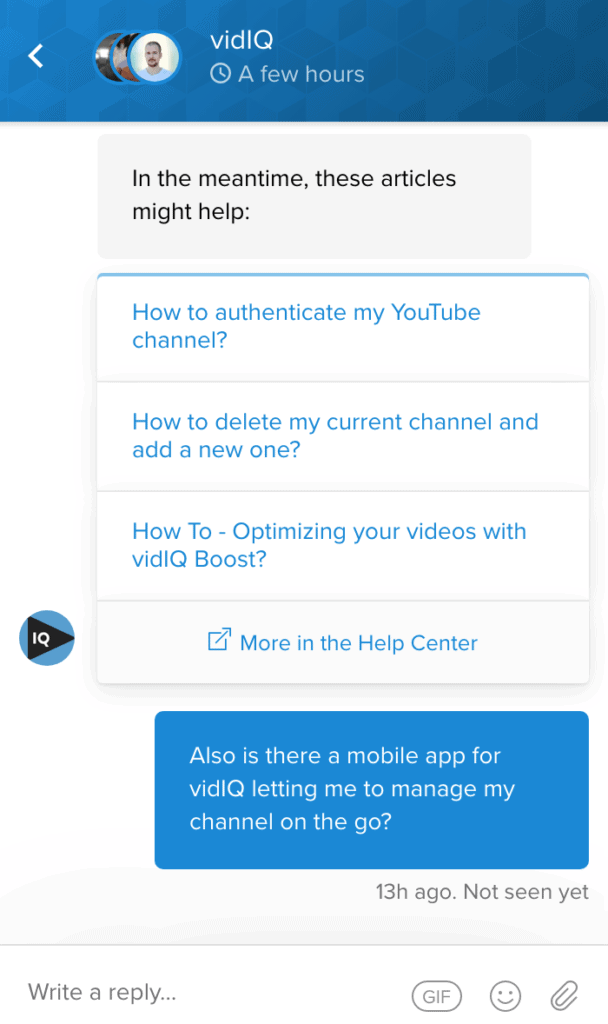 I got a reply to my questions a few hours later through email, though.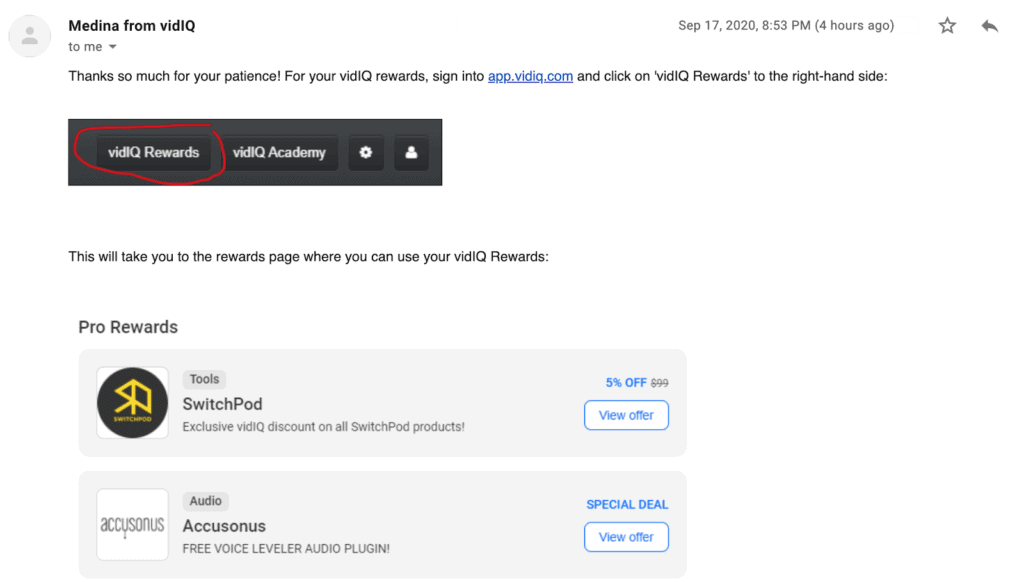 So you can expect email replies and some support in the basic paid plans, but it won't be real-time. In their higher-tier plans, vidIQ offers personalized coaching for growing your channel. And you can expect premium and priority support as well.
vidIQ Key Features
Now let's look at a few of the best vidIQ features that can power your YouTube channel.
Get A Bird's Eye View Of A YouTube Video Through the vidIQ Scorecard
Once you've installed the vidIQ extension, you get a scorecard besides every YouTube video which has four tabs. Let's begin by looking at the overview tab for this Led Zeppelin composition.
Note: I'm skipping the SEO score and related sections from this feature as I'll cover them in detail later in the article.
The first section shows the video's VPH, total views, and duration.

For your channel, the average view duration percentage, your top devices, top countries, and device metrics are also shown from the data vidIQ gathers from YouTube. An overall vidIQ score is also shown. Here's an example:

The next section shows the video's social media performance, including the likes/dislikes ratio on YouTube, its YouTube engagement rate, Facebook likes, and Reddit upvotes.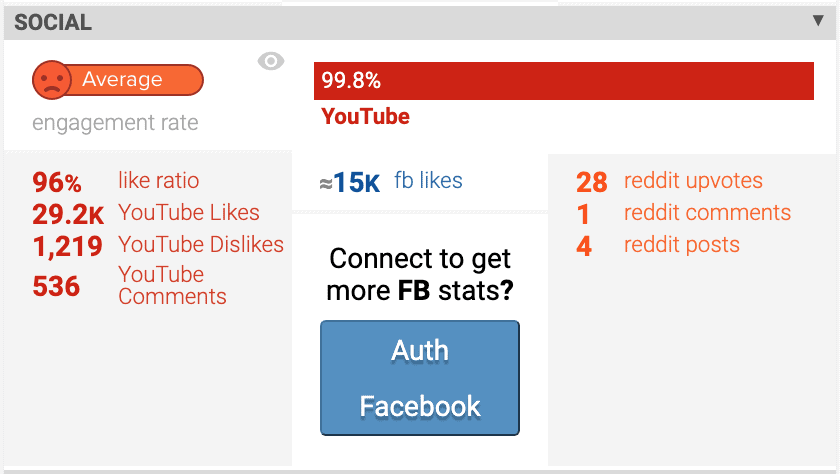 The next few sections show the channel's performance, video and channel tags they have used, and the like.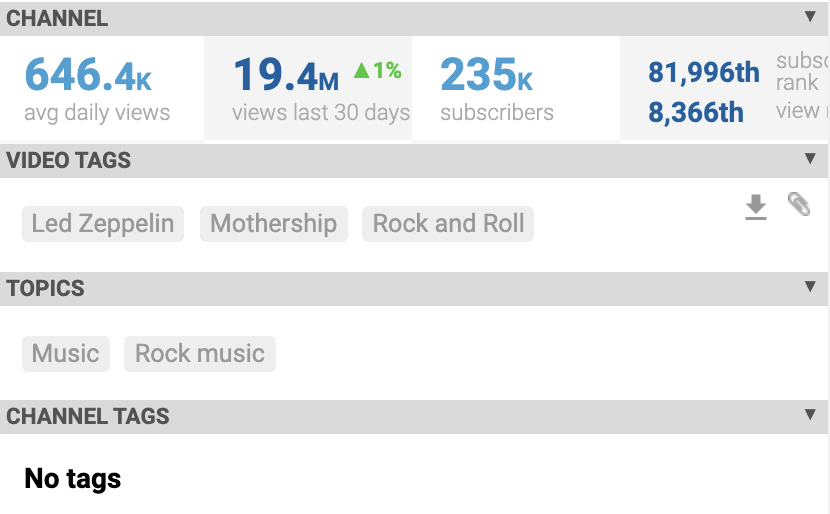 Next, let's look at the "Historical" tab, where there are two graphs. The first one shows you how the video has raked in views from the date it was published on YouTube. And the second graph breaks down the video's performance by VPH, so you know if the video is getting views right now.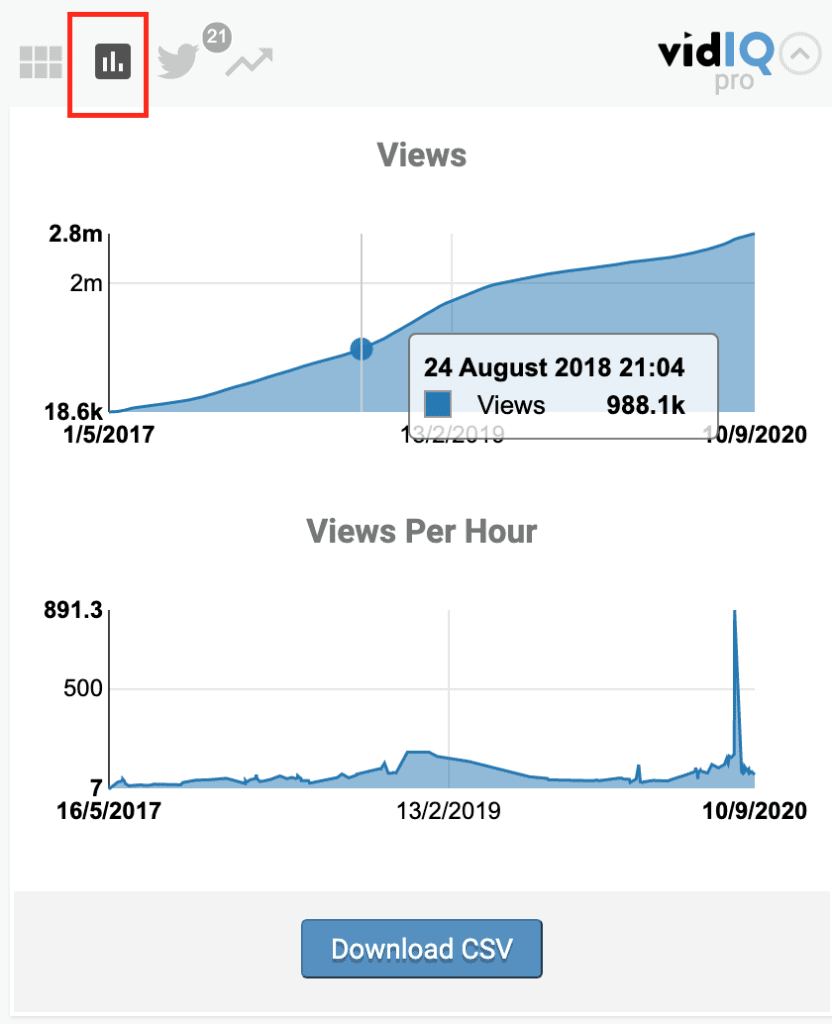 The "Tweets" tab shows the latest tweets about the video. It's handy if you create a similar video as you already have a list of people to reach out to for getting the word out.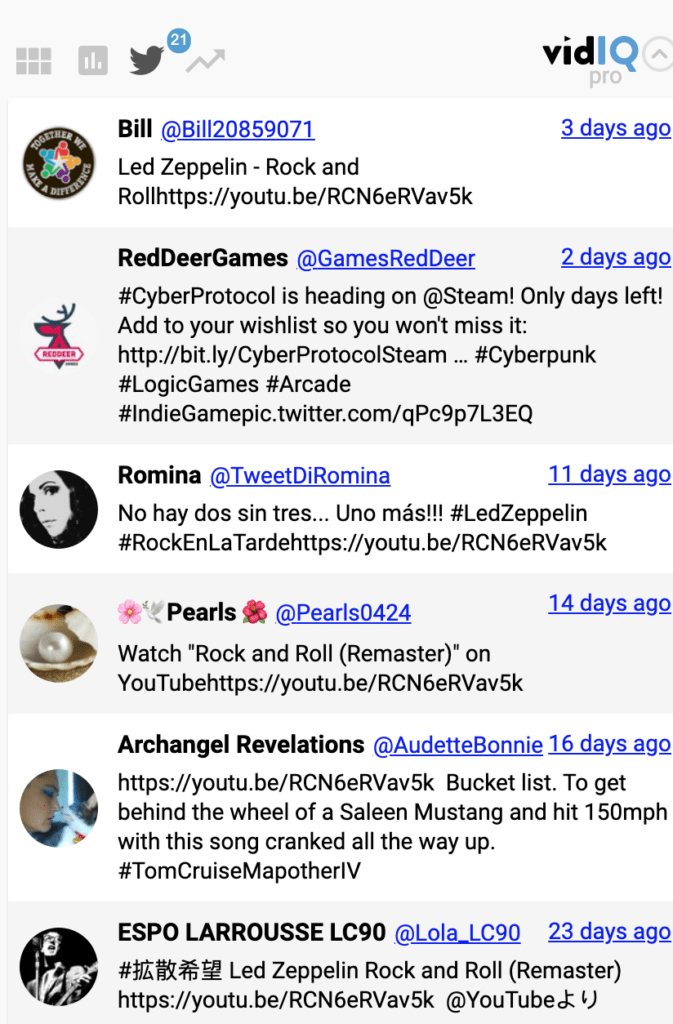 The "Trending" tab shows similar videos that are currently getting views. As Led Zeppelin's album's name is "Mothership", this tab (weirdly) shows numerous videos related to this keyword, but unrelated to the Led Zeppelin composition.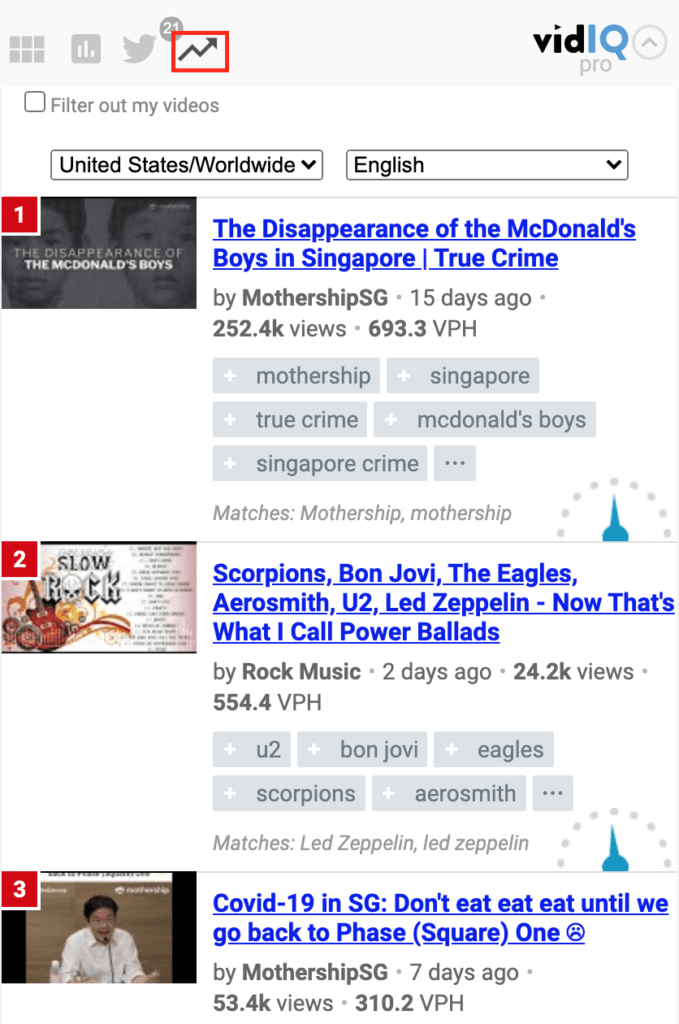 Compare Views With Competitors (Or Yourself)
Hands down, one of the best capabilities of vidIQ is that it lets you compare your video's "view velocity" with any other YouTube video or channel. You can compare your performance against competitors or even benchmark your newly published video content with the average video views on your channel.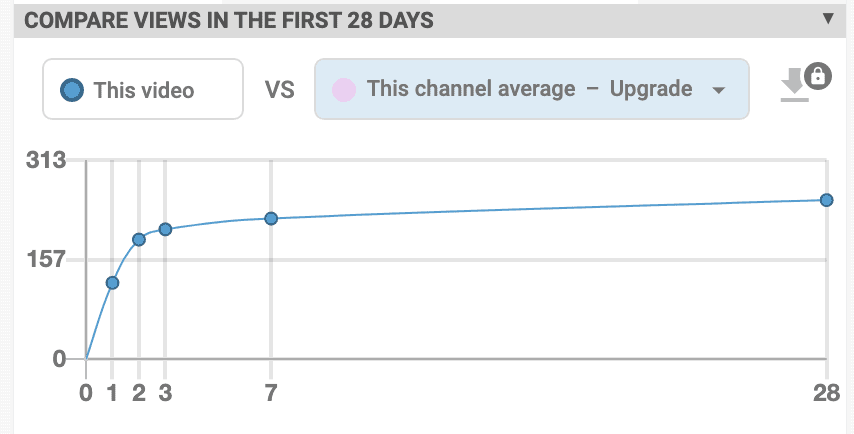 Here are the various comparison options you can plot the performance of your videos against. Besides videos and channels, playlist comparisons are also available.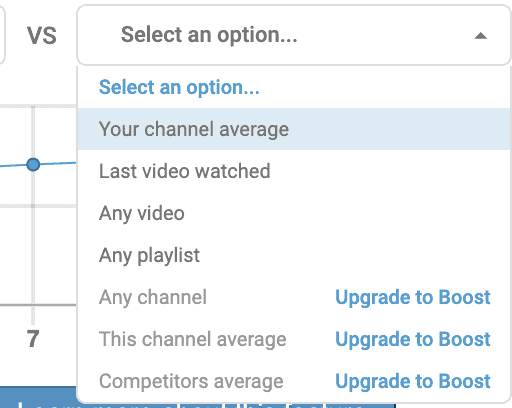 (As you can see, a few options for comparisons are only available BOOST plan onwards. Exporting the comparison metrics in an excel sheet is also restricted to the higher-tier plans).
The compare stats are invaluable as your initial video velocity gives you real-time audience feedback on what's working for them. And by improving your video's early performance after publishing (say the first 24 hours), you can get it ranked for its target keyword or even go viral.
Work On Your YouTube Channel's SEO
YouTube is a nifty search engine billions of users log on to for learning recipes, finding information, and much more. And YouTube SEO is loosely about finding the keywords (or topics) people are searching for and creating high-quality videos on them.
You can use the YouTube search suggestions feature to find some keyword ideas. As you plug some keywords, the search autocompletes with related phrases that people are typing in YouTube: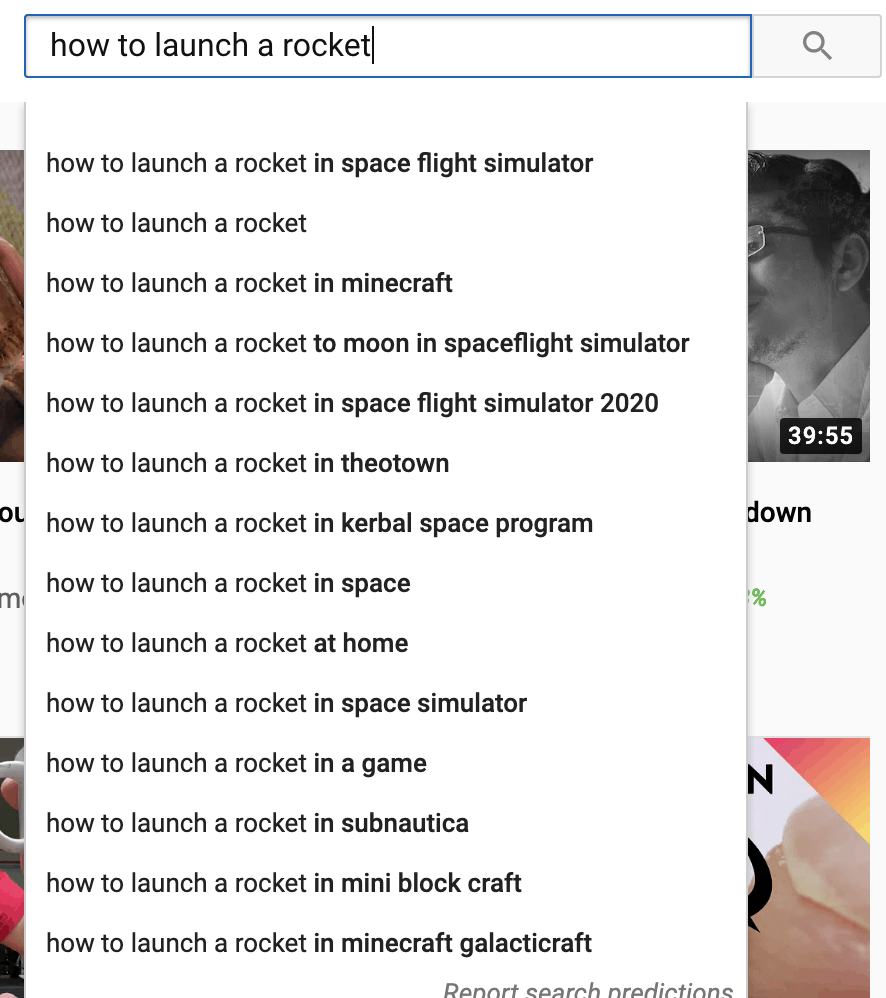 vidIQ, with its set of YouTube SEO tools, can take your research to the next level. First up, when you type a phrase on YouTube, vidIQ displays a wealth of information about its "keyword universe" in the right sidebar. You get an idea about volume, competition, and an overall score for the keyword (which is determined by gauging its demand vs. supply).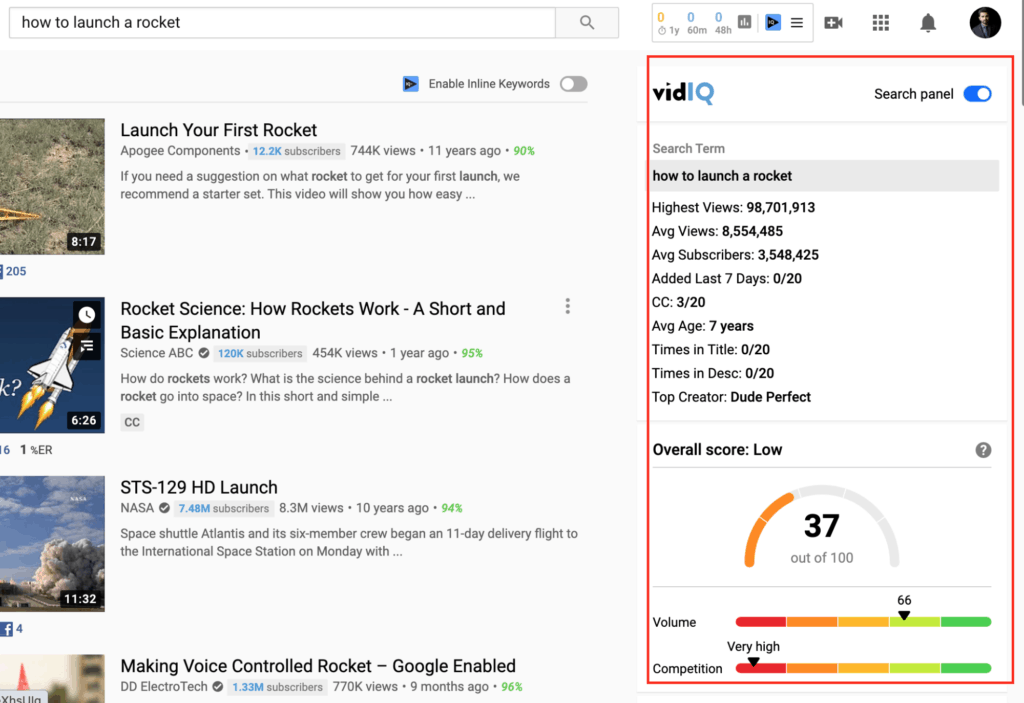 There are a few more panels telling you the top channels, related keyword opportunities, trending videos for the search term, and more. This information is super useful in determining if a keyword is worth targeting for your channel or if you should niche down further.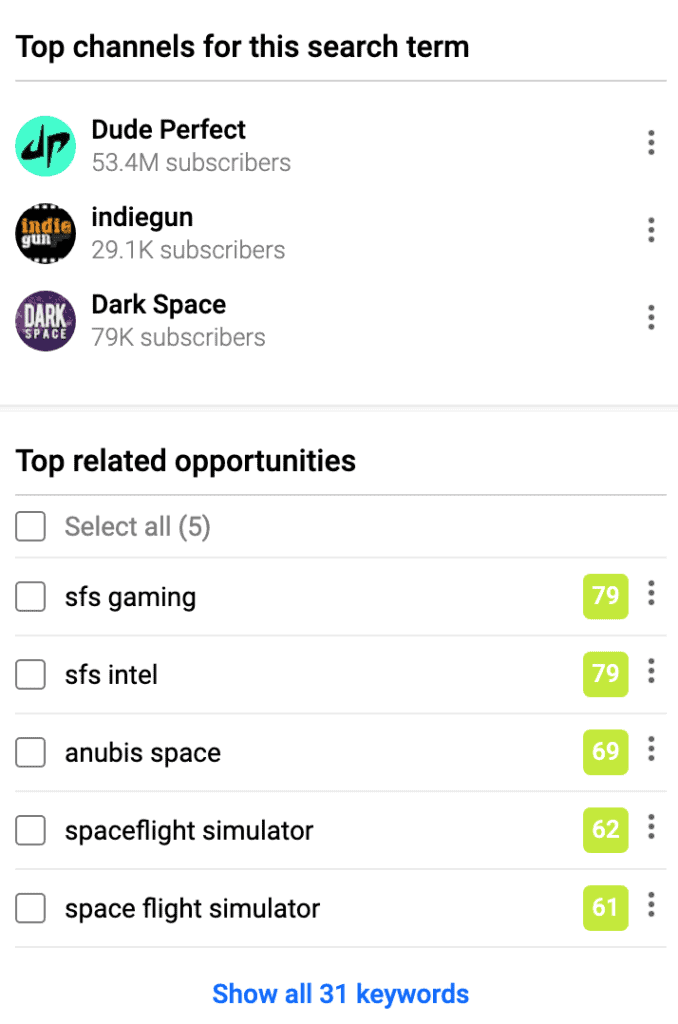 You can also plug a keyword in the "Keyword Inspector" and get an idea of its competition, volume, and overall score alongside a bunch of related keywords.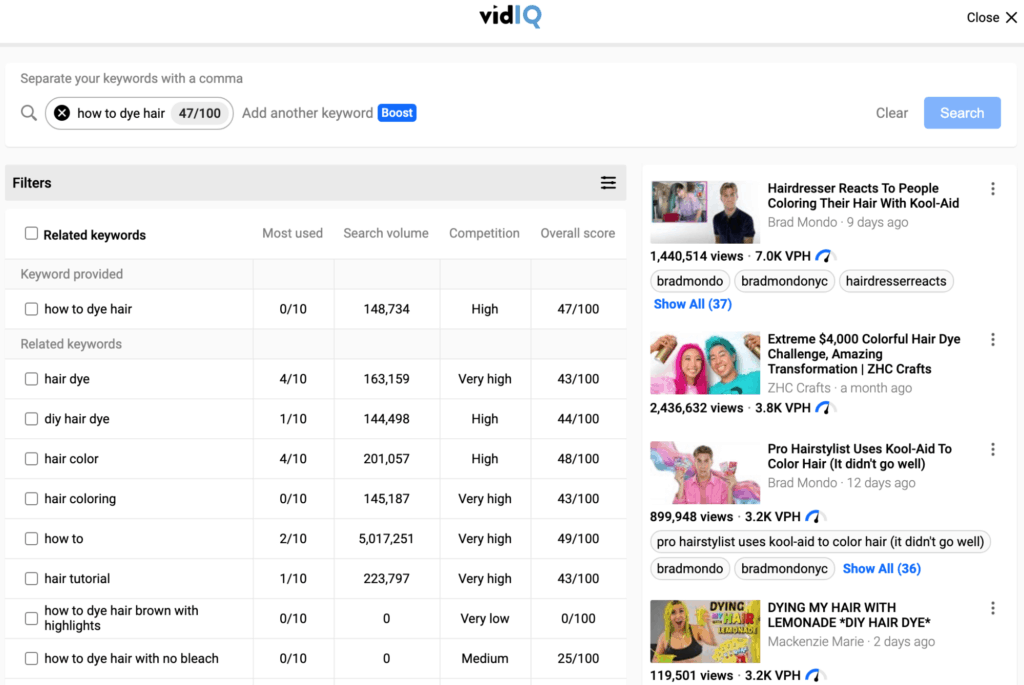 If you enable "Inline Keywords", alongside every result you'll get a list of tags your currently ranking competitors are using. It's handy in generating content ideas and noting down a few of them to use in your future videos.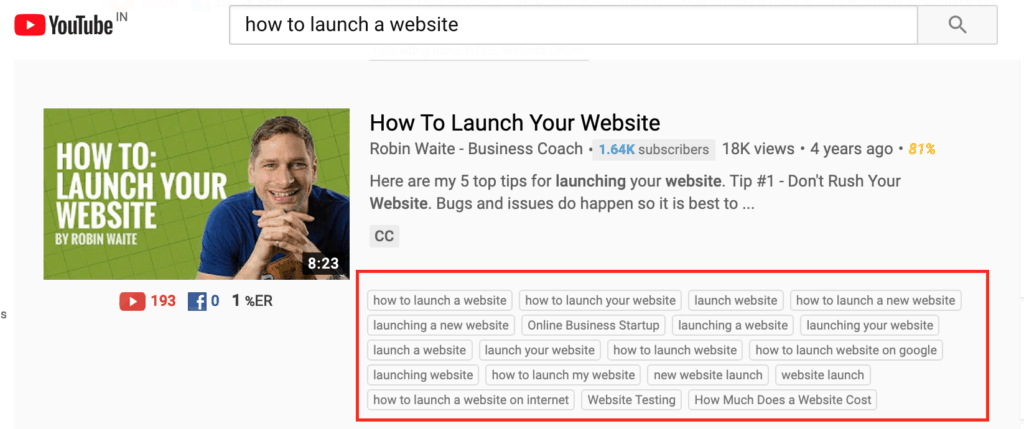 Once you've produced a video, how do you ensure its metadata is optimized for its target phrase and it's ready to rake in views and subscribers?
The vidIQ video optimization checklist can come in handy for the same. If you've used a controversial keyword anywhere in your title, tags, or description, then it will point it out. For a video I'm uploading, vidIQ shows I've used "Too Short" tags among its other findings. So I can go back to add more suggested tags by vidIQ to the video.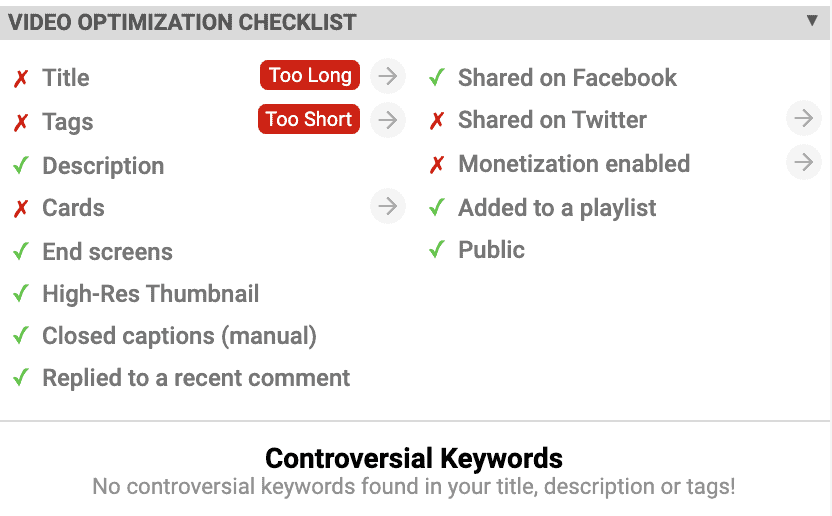 Leverage A Popular Trend To Your Advantage Through "Trend Alerts"
Your competitor's videos with a lot of views might not be popular right now. So are they worth targeting for your channel?
vidIQ uses its unique "views per hour" (VPH) metric to find the currently trending subjects on YouTube and the trending videos of your competitor's channels.
To set up email alerts for trending videos, head over to "Trend alerts" from the vidIQ dropdown (as visible in the screenshot below).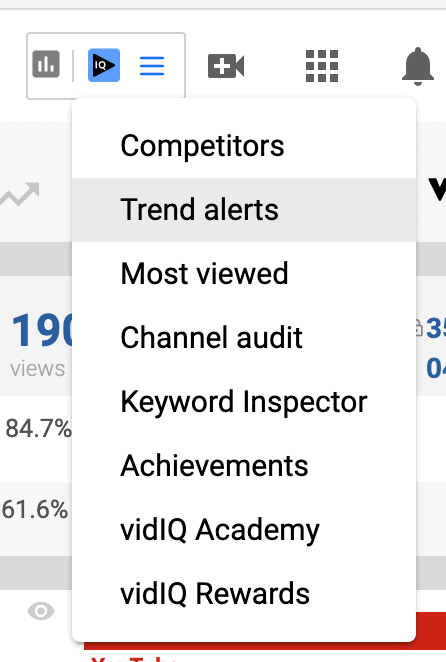 You'll need to:
Fill a name for your alert,
Choose a keyword you want to track and its category,
Enter a VPH threshold (which tells you what trends are going viral),
Decide the frequency with which you want to receive email alerts,
And choose the language of the videos you want to monitor.
If you're tracking competitors through vidIQ, then it will show the option to track any of them in the "category" field.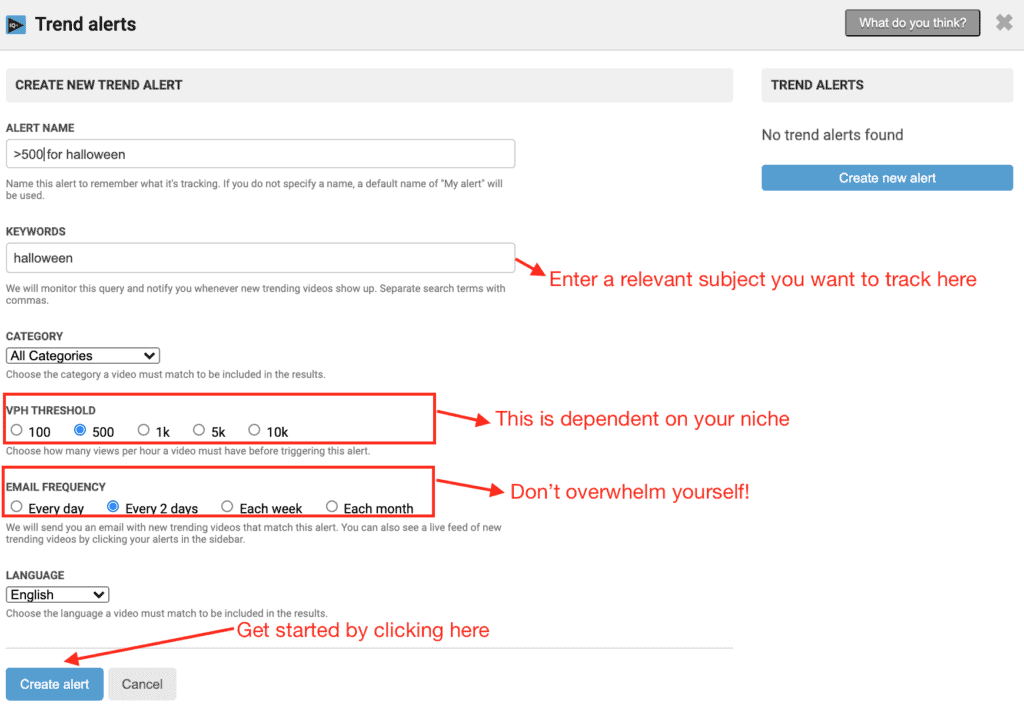 Note that viral is a term relative to the industry you're creating videos in and so the "VPH Threshold" will also vary. If you target B2B software vendors, it'll probably be more useful to track your competitors directly and VPH could be as low as 100. Whereas if you create mobile reviews, then 5k could function as a valid threshold while tracking keywords such as "Apple."
Audit Your Overall Performance With Channel Audits
Another handy feature, which vidIQ calls as your "personal YouTube consultant", is channel audit. You can access it from the vidIQ menu – it's the fourth item in the dropdown.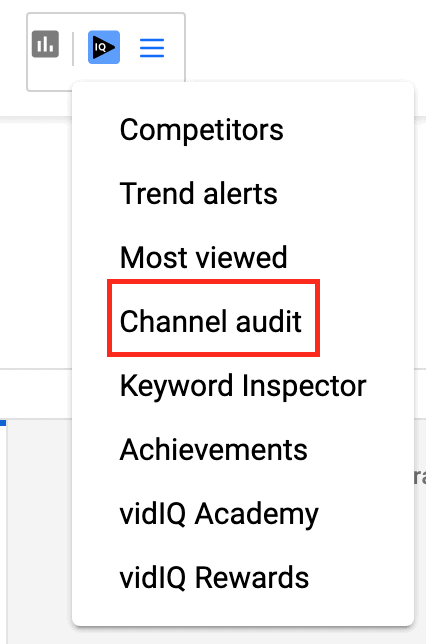 It gives you an overall understanding of your channel's performance in terms of the monthly views, subscribers, and watch time growth as compared to the last month.

There's a "Content To Double Down On" section showing which videos are working for your channel right now by getting decent VPH and roping in subscribers for you.

You also get a detailed breakdown of videos that contribute the most watch time and are watched the longest (which is super important for your channel's growth). The videos with top retention percentage, the playlists driving most views, and the non-owned videos driving you traffic are also a part of the breakdown.

This section also offers the top search terms your channel's videos are getting discovered with, the click rates of your end screens, and card click rates.

Next there's a section "Content That Could Use Work" with the videos having lowest retention and resulting in a poor performance leading you to even lose subscribers.

Note: A video from my channel came under both the sections "Content To Double Down On"  and "Content That Could Use Work." I reckon it's because the video is on a sensitive subject. So people watch and dislike it. Then drop off sharply. Creating more such videos is a judgment call. There's only so much a tool can tell you, right?
There are a couple more sections in the channel audit tool telling you the "Average Metrics Over the Last 30 Days" and "Items to Improve Upon." The recommendations here are based on your usage of metadata (length of the title, description, and tags), your average SEO score, and the like. From here, it's possible to find out the videos that have missing tags, end screens, cards, and the like.
Note: If you've not uploaded videos in the last month or so (like me), then insights won't be available in these two sections. vidIQ might recommend making your posting schedule consistent by uploading "at least one new video each week."

Other vidIQ Tools
I want to touch upon a few other tools offered by vidIQ quickly and talk about their utility in your YouTube workflow.
Best Time To Upload Your Videos
Based on the viewing habits of your subscribers, vidIQ graphs the ideal time to upload your next video.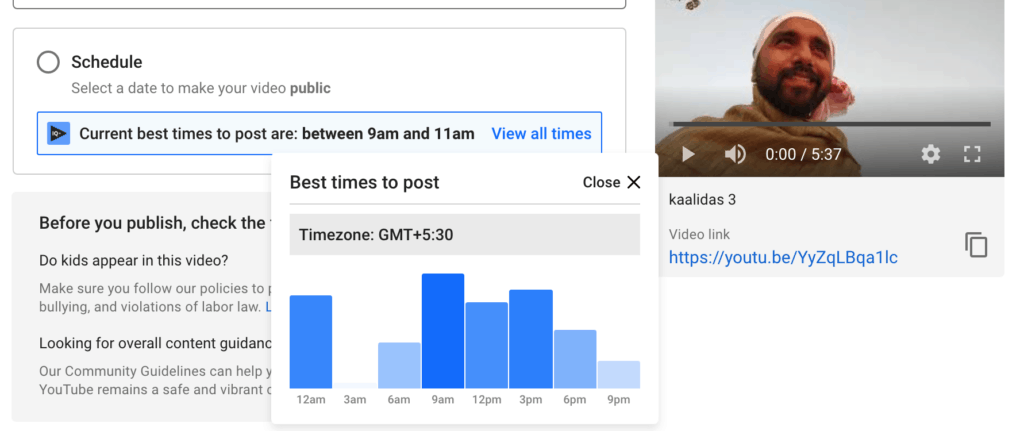 For smaller channels, you need to indulge in promoting your channel outside of YouTube manually. So I haven't found the tool particularly useful i.e. translating to better performance. Using your judgment for when your audience would be online is also fine in the initial stages of your YouTube journey.
Competitors
You can directly add your competitor channels to vidIQ and discover their highest viewed videos, subscriber growth, top keywords, and the like. Such competitor research can help in refreshing your content strategy.
Thumbnail Generator
Most YouTube viewers won't watch a video with a bad thumbnail as it's the first impression of your channel. vidIQ offers a thumbnail generator where you can design stills from your video (at your desired frame). But dedicated graphic design tools such as Stencil and Canva are much better for crafting click-worthy ones.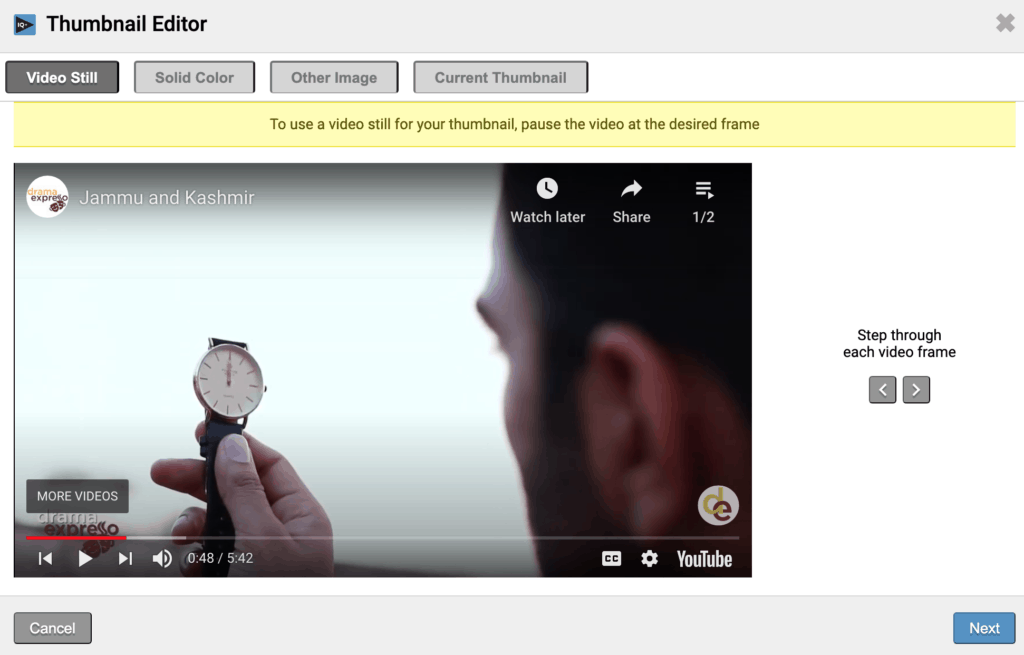 Now, vidIQ even gives you the option to compare your thumbnail against the other videos ranking in the YouTube search for your target keyword. It could be handy before you close in on your final thumbnail.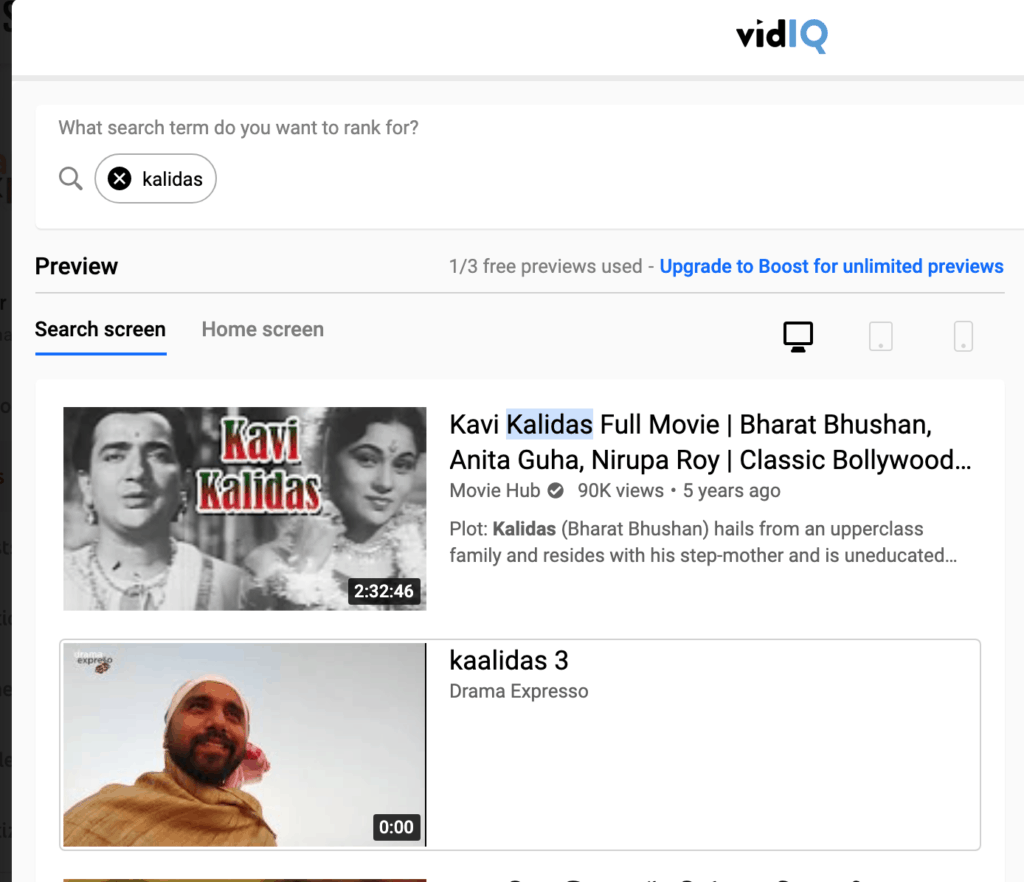 Productivity Tools
If you want to replace all of your end screens and bulk add cards of a video that's driving subscribers for your channel, then vidIQ Bulk Copy/Edit makes it possible. You can also create comment templates and ensure none of the comments on your videos go unanswered. It's even possible to download all of your metadata in a CSV file and keep a backup.
Real-Time Stats Bar
This keeps tabs on the high-level statistics of your channel including views, watch time, and subscribers. If you want to monetize your channel, it provides a nice real-time update. It's tucked right beside the vidIQ menu button.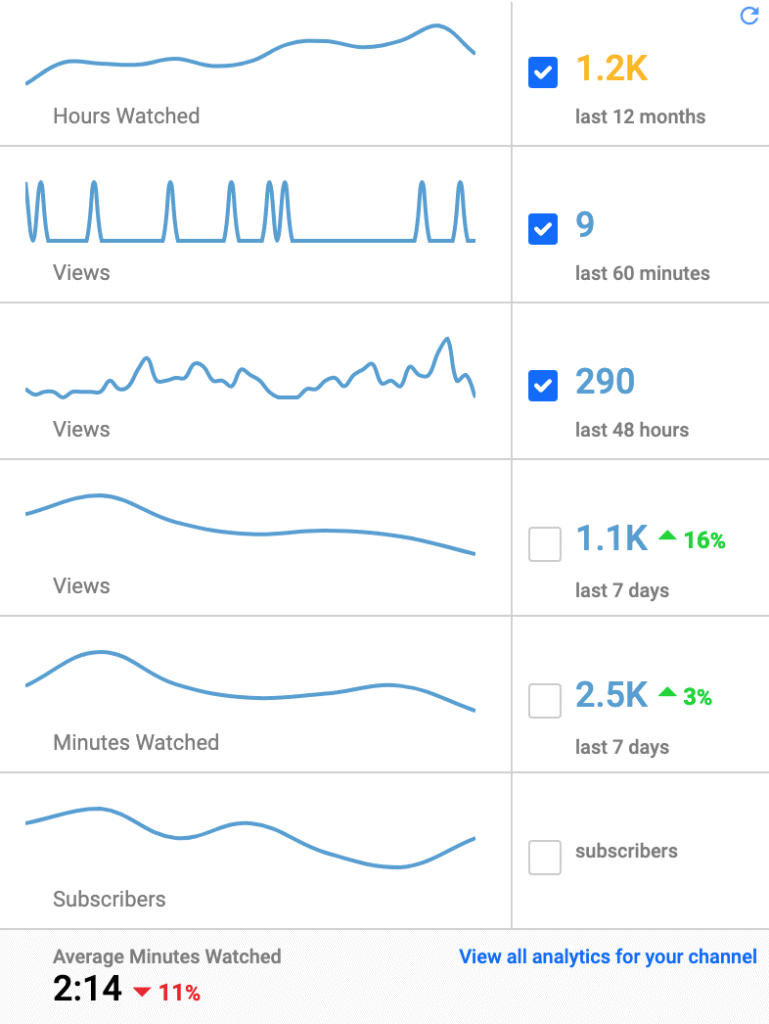 There's another "Achievements" tool that updates you on every subscriber, views, and other major channel milestones you crack. You can also share them with your friends on social media.
Mobile App
vidIQ launched apps for both iOS and Android platforms a few months ago. But in the words of their customer support representative, Medina, "it's more of a research and statistics widget to your account and progress." It is worth checking out while the apps are being developed.
And those were all the vidIQ tools and features I wanted to introduce to you. Next up let's see how the tool stacks up against its top competitor.
TubeBuddy vs. vidIQ
TubeBuddy, another freemium Chrome extension, has features similar to vidIQ. Among other tools, it offers Videolytics, a keyword explorer, a thumbnail generator, best practice checks, comment moderation, health report, and bulk processing for your channel.
TubeBuddy doesn't have an academy with dedicated YouTube training like vidIQ. It does offer a free "Make YouTube your Business Virtual Summit", though. Now let me show you around a few of the unique functionalities of TubeBuddy:
One of the exclusive TubeBuddy features is "Channel Valuation", but it's powered by Social Bluebook. I won't call it a major differentiator as the functioning offered is basic.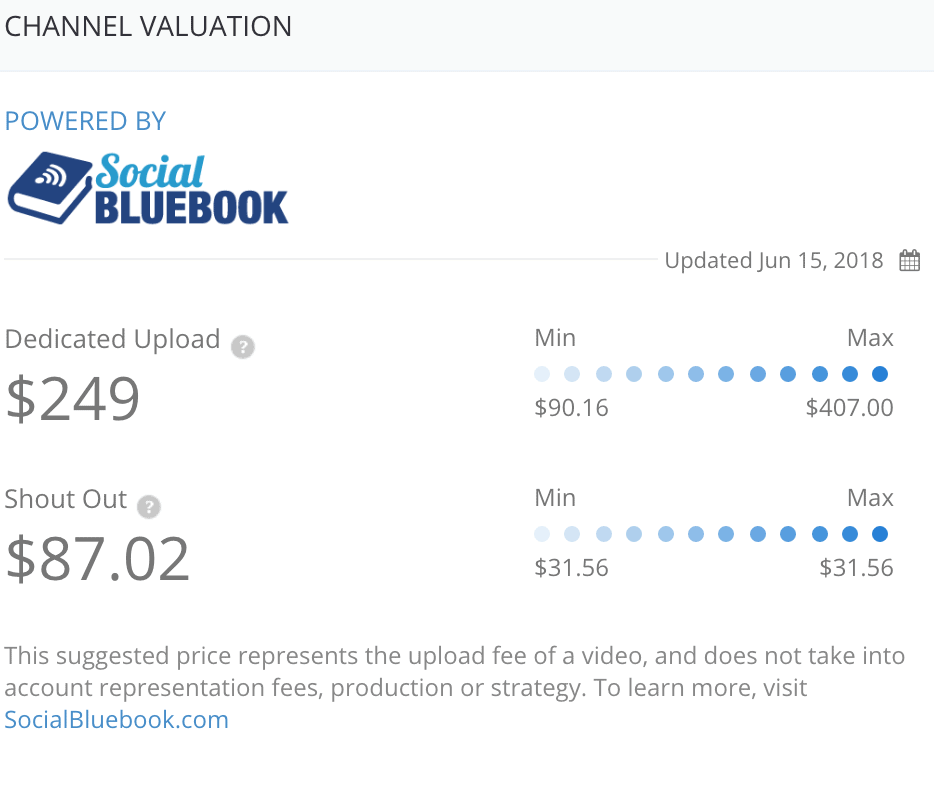 Another is a savings calculator that maps your TubeBuddy actions with the amount of time it saved you.
One of its more useful features is the COPPA (Children's Online Privacy Protection Act) Center. Available on the tool's free version as well, it scans your videos and identifies the ones marked as "Made for Kids." COPPA is an FTC compliance introduced in September 2019, so it'll come in handy for you.
The place where TubeBuddy could stand out for you is in its ability to let you A/B test your video's title, tags, descriptions, and thumbnails. You can find out how these variations affect the performance of your video. It's only available in their Legend level plan (starting $49 per month), though. So it's not for casual YouTube creators.
I'll give TubeBuddy an edge in its member perks as it's available on all the paid plans. While vidIQ offers a few rewards and exclusive offers on stock music and other products, TubeBuddy offers a library of 250k music tracks (categorized based on moods among other options) for free through AudioHero.
Additionally, it offers mobile apps to manage your channel on the move! Both of these features make TubeBuddy packages much more valuable. And the other member discounts on products such as "Epidemic Sound" and "Filmora 9" make their plans more affordable.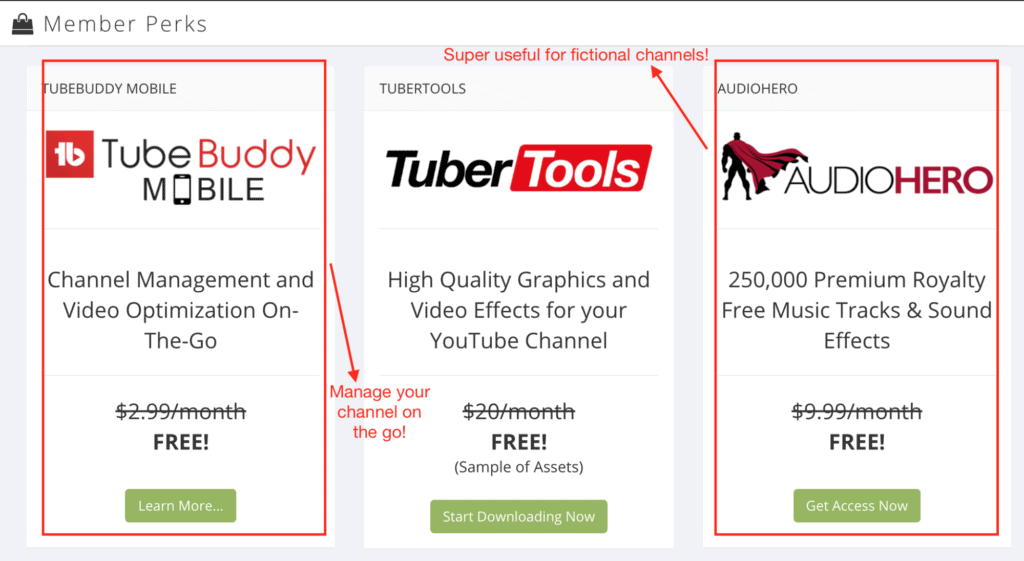 Ultimately both tools are similar in their core features. I encourage you to try both of these tools and settle with the one that fits your preferences and channel's requirements better!
Final Verdict (And A Special Offer…)
VidIQ is a legit YouTube tool you can rely on to access actionable insights about your videos, your competitors, and growing your channel. I've shown you around its core set of features and encourage you to give it a shot.
To conclude, we have a quick summary of VidIQ for you below.
vidIQ is a powerful YouTube marketing platform. It offers a slew of tools for keyword research, competitor research, channel auditing, trends alert, managing tedious channel management tasks, and more. While its free Chrome extension might suffice for beginner YouTube creators, its paid versions can change the growth trajectory of your channel.

Use Code "EliteContentMarketer" to get free 30 day trial

If you want to try its premium features, then use the code "EliteContentMarketer" at the checkout for availing a free 30-day trial. Here's the link to sign up for any of its paid plans and get started.