Webinars are interactive web seminars, video presentations, online courses, workshops or training hosted online with the webinar software. It can be a live, automated/on-demand, or a hybrid webinar which is a mix of both, either free or paid.
You can build a relationship with your audience via presentations, chats, giving handouts, making affiliate offers, etc. Webinars are highly effective for marketing and WebinarNinja is one such software that offers promising features. Let's see how it performs.
WebinarNinja Overview
WebinarNinja is a simple, intuitive, and easy software to run different kinds of free and paid webinars at a competitive price. You can conduct live, automated, series, and hybrid webinars with customizable registration pages, thank you pages, registration forms, and automatic email notifications with replays.
The analytics section offers insight on basic but useful metrics such as conversion, user registrations, and replay attendees, but does not offer advanced analytics like attendance trends, geographical reports, device and location information, etc.
Though WebinarNinja offers promising features for marketing and audience interaction, it lacks in performance as polls and offers to stay hidden inside their respective tabs with a lackluster design and you cannot display them on the screen.
You may also experience audio and video lag issues if your session runs over 2 hours, you upload a heavy file, or share your screen for a long time. Basically, WebinarNinja delivers less than it advertises.
I wouldn't recommend it for large teams or businesses with a large audience spanning countries, but it fits well with entrepreneurs who want to try out webinars for the first time.
Pros:
It is light and intuitive with a clean interface.
All pricing plans allow unlimited automated webinar attendees.
WebinarNinja automatically records webinars and creates replays in the replay room.
It integrates with top CRM software like Aweber, Mailchimp, Drip, Hubspot, etc.
You can run 4 types of webinars: live, automated, series, and hybrid.
The customer support is quick and live 24/7 with a large knowledge base.
Cons:
It has only one payment integration — Stripe.
You can experience lags and delays in streaming while conducting webinars longer than 2 hours or sharing large files.
The customization is limited and doesn't allow branding.
There are only 4 landing page templates with limited customization.
WebinarNinja Pricing
There are four pricing tiers and each of these majorly differs in the number of live webinar attendees, additional presenters, duration of sessions, and you can save 20% on annual payments. Each plan offers unlimited automated webinar attendees and a 14-day free trial.
Starter: $39/month, billed annually for 100 live attendees.
Pro: $79/month, billed annually for 300 live attendees.
Plus: $129/month, billed annually for 500 live attendees.
Power: $199/month, billed annually for 1000 live attendees.
The starter plan includes 100 attendees, 2 additional presenters, and 2 hour-long sessions along with live and automated webinars. It is pretty straightforward with basic features and useful for entrepreneurs and small businesses.
Jumping to the pro plan increases the live attendees to 300 with 4 additional presenters and 4-hour long sessions. You also get access to Facebook ad integration which you can use to promote your webinar on Facebook and track its effectiveness using pixels.
The Plus and Power plan have exactly similar features except for the number of attendees that increase from 500 to 1000, presenters change from 6 to 10, duration of sessions rises from 6 hours to 8 hours and you get access to run hybrid webinars on both plans.
Customer Support

The presence of live customer chat support makes it convenient to use WebinarNinja without any hiccups. Although they say the usual response time could be a few hours, I received a reply within two minutes of addressing my issue.
If you don't want to make use of their live email and chat support, you can access their database filled with ample articles and how-to video guides to solve your issues.
How To Host A Live Webinar With WebinarNinja: Walkthrough
The dashboard gives a simple yet modern feel and greets you with an overview of the current stats section of each webinar you conduct through WebinarNinja.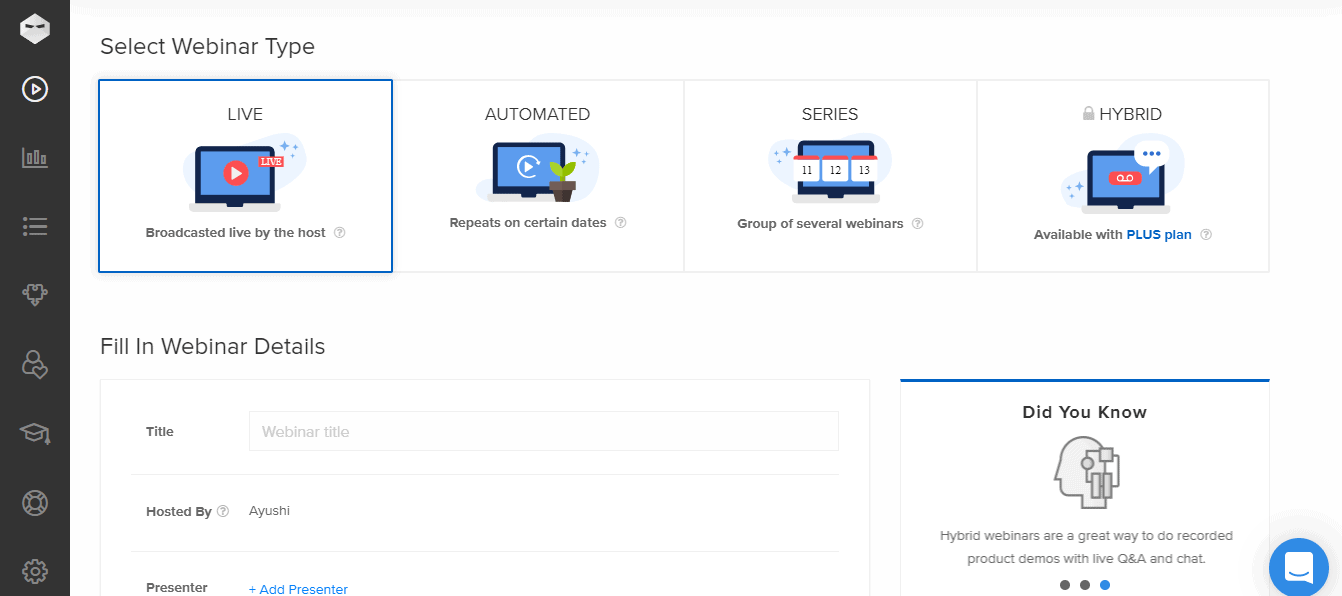 You can create 4 types of webinars with WebinarNinja:
Live: These are real-time webinars that take place at a specific time and date.
Automated: Also known as evergreen webinars, are pre-recorded webinars that took place before but you can schedule it for a later broadcast repeatedly or once, giving the audience the same feel as a live webinar.
Series: It offers a multi-session event course for registrants and you have to schedule it ahead of time.
Hybrid: This is a mix of automated and live webinars but the presenter has to be present during the broadcast to interact with the audience via chat and polls.
There's a small section consisting of interesting facts about running a successful webinar that is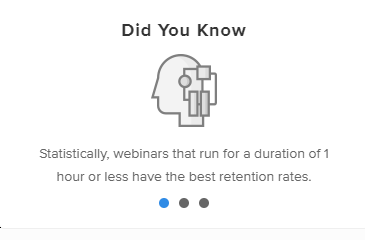 present at the side of the screen.
You can start by adding live webinar details like title, date, time, payment integration, and send an invite to the presenter, hit the create button to save it. Webinarninja will take you back to the dashboard where you'll have to edit the rest of the funnel one by one instead of doing it in a seamless flow.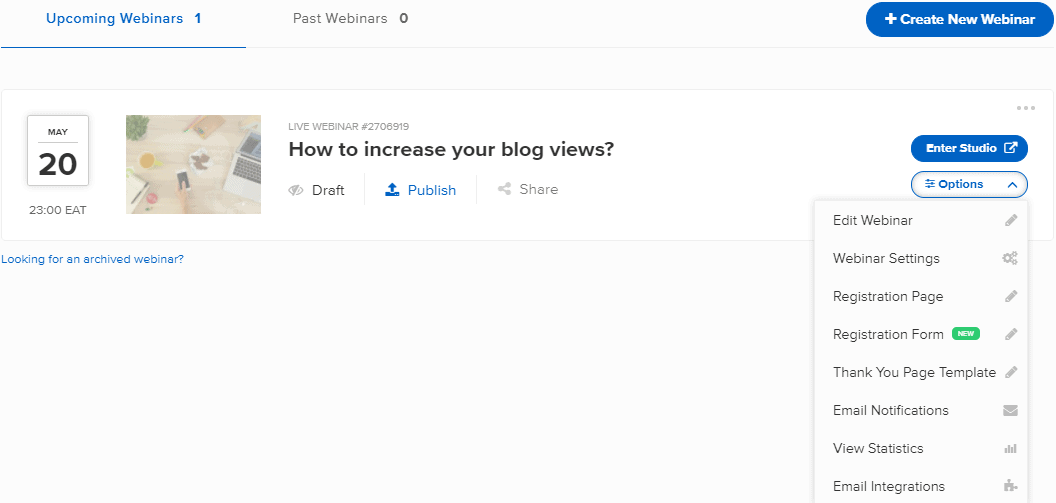 There are only 4 templates with limited customization such as background image, overlay color, the title of the webinar, subtitle, CTA button, countdown timer, and social sharing icons. However, you cannot change the placement of any element or add your logo to every template.
It's easy to add custom fields to the registration form and set it as default for all your webinars. The thank-you page is similar to the registration page with the addition of an embedded subscribe button.
While creating a new webinar you can choose to clone the previous webinar details without having to start from scratch. Now let's go over the functionalities in detail.
Key WebinarNinja Features
WebinarNinja has offers some strong features, however, they aren't as advanced as other webinar software. Let's take a look at them.
Pre-Recorded Webinars
WebinarNinja lets you run automated or evergreen webinars for free or paid and you can run your pre-recorded webinars on-demand or whenever you choose with an unlimited number of attendees in every plan. The host and time details are pre-filled but you can customize the latter.
Polls, Chat, Handout, And Other Engagement Tools
Much like with every other webinar software, you can set up interaction tools like polls, chats, offers, handouts, questions, etc. The difference here is that you can separate questions from the chat by asking the attendees to drop questions in the question tab and focus only on those.
But, your attendees cannot upvote the questions which means that you will have to browse the list to know the most asked question and it is similar to sifting through the general chat to find questions.
Every answered question in the replay will have a time stamp on it, however, you won't be able to highlight or star a question while answering it.
The issue with Polls and Offers is that you cannot display them at the time of your choosing and both of these will be available in their respective tabs and attendees have to scroll down and click on these sections to see them.
Affiliate marketers might as well put the link of the offer in the chat instead as it'll have the same effect. Unlike WebinarJam there is no scarcity and urgency feature with offers that limits the impact of it.
Marketing Tools
I won't include offers in the marketing tools as we have already discussed it in the previous section. .
Subscriptions: Attendees and viewers are allowed to subscribe to you and any other host on WebinarNinja and will be notified every time a new webinar is published by that host with an invite to register for it.
Webinar Finder: This may seem like a directory that WebinarJam and GoToWebinar have, but it is google optimized. You can add your webinar to WebinarNinja's database where viewers can search for the webinars. However, it is unlikely that anyone would try to look for a webinar.
Automatic Email Notifications: WebinarNinja sends 6 automatic email notifications and each of them is customizable in terms of color, body, shortcodes, etc. Registration triggers emails:
A confirmation email,
24 hours before the webinar starts,
On the day of the webinar,
1 hour and 5 minutes before the webinar,
Replay access for people who missed the webinar,
A Thank you email post-event with or without a replay.
Add to calendar options allows registrants to lock your webinar date by integrating with Google Calendar, Yahoo Calendar, Outlook, and ICal.
WebinarNinja also has a host of CRM integrations that we'll discuss later.
Auto Recording And Replaying Of Webinars
WebinarNinja automatically records your sessions and creates a replay in the replay room that has the same layout as the live room that makes it look identical.
Chats don't run in real-time and are available right from the start of the replay and the viewers also cannot add any comment to the chat in the replay room that makes it of no use.
You can customize the replay access options and choose to offer indefinite access, limited-time access, or offer no replay at all.
Paid Webinars
WebinarNinja allows you to run all four types of events as paid or free webinars with Stripe integration for payments. Paid webinars are useful when you're offering an elite course or training sessions or even a panel discussion with eminent people.
Basic Stats And Analytics
WebinarNinja's stats section gives actionable insights on key metrics such as conversion, attention, retention rates user registrations, and replay attendees. Unfortunately, you cannot see attendance trends, geographical reports, device and location information, etc.
If you added ads on Facebook to promote your webinar, you can use their Facebook pixel features that let you track the effectiveness of your Facebook ads in getting people to sign up for your webinar.
Integrations
It's possible to directly connect WebinarNinja to MailChimp, Aweber, Infusionsoft, ActiveCampaign, ConvertKit, Drip, and Hubspot. You can also connect hundreds of other apps via Zapier like MailerLite and SendPlus.
WebinarNinja Alternatives
If you are looking for advanced marketing features, actionable analytics, more customization, and direct integration with more CRMs, you may want to consider these two alternatives.
WebinarJam
From registration to replay, you can live stream everything on WebinarJam. The software is light with an intuitive interface that caters to all your broadcasting needs at a very low price. It is best for conducting live webinars, but you'll have to pair it up with EverWebinar to host automated and on-demand events as they are designed to work together.
Its marketing features like one-click registrations, active offers, attractive landing pages with split testing, etc contribute to better conversions. However, the analytics section is basic at best and lacks in-depth reports on different sections like those presented by other webinar software like GoToWebinar and EasyWebinar.
Pros:
It's possible to set up one-click registration for webinars.
You can send notifications via WebinarJam's powerful automated email responder.
Control center for big enterprises to manage backend logistics,
This software has powerful integrations with CRMs, Shopping apps, Payment gateways, etc.
Cons:
There is no free trial.
You can experience a streaming delay for 10 to 30 seconds.
Foreign languages other than English do not get translated accurately in landing pages and emails.
The video annotations get lost while sharing presentations.
The recorded video of the webinar is not in HD quality.
You can host on-demand webinars only after switching to EverWebinar
Demio
Demio has a no-download webinar experience for your audience with extensive marketing tools. While the customer support and simple UI will impress you, the absence of email customization, follow-up messages, and replay stripped of annotation can be annoying.
This webinar software sells itself on marketing, however, when compared to its contemporaries, it fails to deliver on many accounts.
Pros:
It is easy to use with a simple UI
You don't have to download any additional software to run webinars.
There are multiple audience interaction features like interactive polls, launch offers, etc.
You can connect with live customer support to solve your queries.
They have customizable sign-up landing pages with the availability of video embeds addition
Demio integrates with powerful software like Zapier, Convertkit, etc
Cons:
There is no general link available instead, there's a separate link for each attendee.
You cannot use more than 3 webcams at once and it could be a problem while holding a conference or panel discussion., display,chatboxWebinar replays don't have annotations, chats, and polls.
The software lags and has bandwidth issues when accommodating over 100 attendees.
Price:
There are three pricing plans with a 14-day trial period without credit card details.
Starter: $34/month paid annually for 50 attendees
Growth:$64/month paid annually for 150 attendees
Business: $164/ month paid annually for 500 attendees.
There's another bespoke premium plan for 1000 attendees that you can negotiate and discuss with Demios's team.
Final Verdict
From a pricing point, WebinarNinja makes competitive offers as an all-in-one solution but is not suited for large enterprises. If you are looking for reliability, you may want to try GoToWebinar. WebinarJam is the best alternative for live webinars, but Demio is good for both live and automated webinars.