It's inevitable.
Sooner or later, you'll be staring at a blank page, and you'll feel like your creative reservoir has run out (Hint: It never does). Your internal resistance will be at its peak. You might have limiting thoughts around your writing skills. "You're a cheat and were fooling people all this time", an inner voice might echo.
If you're currently suffering from the blank page syndrome, then understand that it's completely normal. Damn that inner voice. Once in a while, your writing muscles might resign. It could happen even when you've been writing every single day. 
So to flex your writing exercises, the article covers a wealth of creative writing exercises. 
Ever wondered how you can practice your writing? 
Well, the exercises below will help you refine your creative chops irrespective of whether you're a non-fiction writer, fiction author, blogger, copywriter, or a content writer. These exercises will help get into writing again. So let's get down to it and work out those writing muscles!
1. Use Morning Pages To Cage Your Monkey Mind On Paper
In her book, The Artist's Way, author Julia Cameron, talks about writing morning pages and refers to them as 'spiritual windshield wipers.' If there's LOTS of chatter in your mind when you wake up, then writing down your thoughts will help.
Mind you this is not a breeding ground for getting inspiration and writing ideas. Instead, the process of writing will structure your thoughts and restore your sanity. Here's how Julia puts it, "Once we get those muddy, maddening, confusing thoughts [nebulous worries, jitters, and preoccupations] on the page, we face our day with clearer eyes."
Basically, morning pages are an exercise for all kinds of writers to move beyond confusion and attack the day with energy. Here's a morning page from the journal of author Tim Ferriss.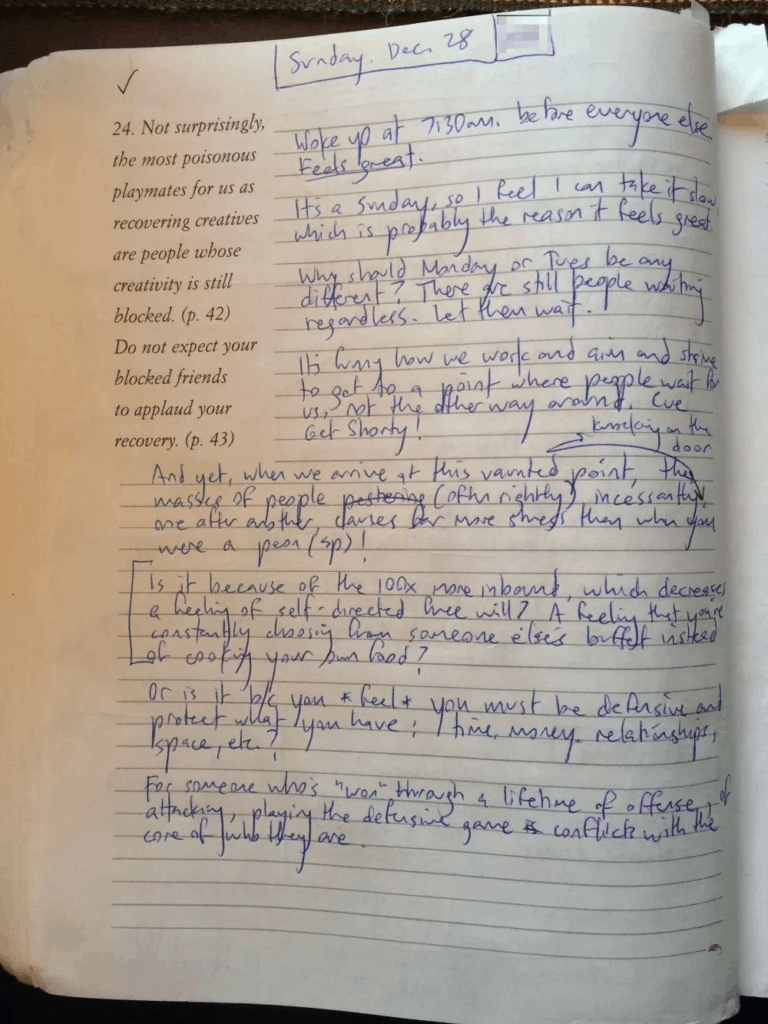 2. Write Ten Things You Would Have Done Differently If You Could Relive Your Last Decade
Do you regularly contemplate on what you could have done differently only if you can rewind your life? Well, here's your chance of taking a stab at it (in your imagination). Take out a piece of paper and go back to the highlights of your life in the last decade.
Recount the life experiences and events that shaped you. And beside your learnings from them, is there any advice you'd share with your younger self? Maybe, your wiser adult self will praise your younger version for showing courage at a particular juncture. Perhaps, you'll empathize and forgive your younger self for their mistakes.
Looking back at your life can emotionally overwhelm you, so don't overthink the exercise. You can take time to cherish your memories, but get down to writing ASAP (without filters).
3. Pick Your Favorite Character From A Recent Movie You Watched. Now, Write Their Backstory…
One primary tool that actors use to emote honestly on screen is constructing a backstory for the characters they are portraying. The idea is to imagine events in the past life of the character (mostly not depicted in a movie) that justify that scene. 
The process of structuring such a backstory to a character adds layers and depth to the acting performances. 
So as a fun, creative writing exercise, you can recall a recent movie you liked watching and reverse engineer your favorite character. You can use the questions below as cues for coming up with past life experiences of the character (I'm assuming your character's name is Mark):
What did Mark want in the story of the movie and why?

Why does Mark want 'it'

now

? 

What will happen if Mark doesn't get 'it'?

Compare your world-view with Mark's and write down the life experiences of Mark that might have led to your differences.

Are there any painful secrets of Mark that lead to his current actions?
The exercise will need empathy and using your emotional capital to feel for Mark – only then, you can come up with a legitimate backstory. You can also conduct the same exercise with your favorite character from a novel you recently read.
4. Pick Your Favorite Author And Write One Of Their Best Work By Hand
It might sound tedious and uncreative. However, copying the writing of your favorite author is one simple way to understand and internalize their writing style.

So pick up your favorite novel, or an article by your favorite journalist, or a blog post by a blogger you admire. And hand write it word for word. 
But what happens when you become a copycat?
You get a sense of the rhythm, pacing, grammar, word choices, sentence structure, and the overall composition of the author's writing.
I know, it might sound like an ordinary and ineffective pursuit because of the simplicity of the exercise. However, let me share an example:
Copywriting trainer, Derek Johanson, sells his copywriting cartel at $500 at his website Copyhour. Majority of students see a transformation in their copywriting and overall communication skills in a period of 90-days of doing this handwriting thingy.
Don't undermine the ability of an ordinary looking exercise to catapult your writing skills. This stuff is powerful!
5. Teach A Concept You Know Well To A Toddler…
Learned any interesting concepts and ideas recently? 
Then, go ahead and write down an explanation, assuming you're teaching it to a kid. 
If you have a deep understanding of the concept, then you'll be able to convey it without using buzzwords and jargon. In the process of writing, you'll simplify your understanding of the idea as you have to fall back to simple words and phrases.
You're following the first steps of the Feynman Technique (an effective learning method of learning a concept from the ground up).
Remember that your writing has to engage a toddler. Hence, you can't write in an official-sounding language. Keep it conversational and have fun.
6. Rewrite One Of Your Past Articles
When you get to the drawing board, you don't need to always start with a fresh set of ideas. 
How would you like revisiting a write-up from your archive? 
If you go five years back (or even a couple of years), then you'll likely see your own writing in a new light. You might even have better examples, stats, and ideas to make a more persuasive argument. Better yet, it can also spark a new idea for your current writing project.
If you're a blogger, then you might like to know that updating older content leads to strong results. It's simple to see why – readers like updated information.
Even if you're writing fiction, your skill level must have progressed to facilitate a better expression and storytelling of your ideas.
7. Engage In Fantasy By Cross-Pollinating Your Interests
If you're like the average human, then you'll have multiple interests that go beyond your day job. You might like cooking, music, football, writing, and even more to different degrees.
At the outset, it might look like there's no relation between these entities. However, if you let your thinking run wild, then it will form weird associations and come up with a seemingly original idea. (Don't tell anyone, but such combinatorial creativity is the way I do most of my writing!) 
Here's an example of engaging in such fantasy, forming associations, and ending up with decent ideas.

I let concepts from songwriting, method acting, psychology, writing, and content marketing mix and match all the time. The creative flexing of muscles by cross-pollinating principles from these fields often also leads to intriguing ideas.
8. Restrict Yourself To Certain Words And Characters (And Write A Short Story…)
If you feel that creativity is all about unrestrained and raw madness, then think again. In 2016, Solar Bones by Mike McCormack won the Goldsmiths prize for books that 'break the mold.'
You know the chief differentiator of the beautifully simple Solar Bones?
It's a single sentence novel.
Yep, you got that right.
Here's an excerpt from the book that Martin Riker shared in his review for The New York Times.
You can also take another challenge like omitting certain words and alphabets while writing a short story. In 1939, American author, Ernest Vincent Wright, wrote a 50,000 word-novel, Gadsby, without using the letter "E."
9. Rewrite A Popular Article From Scratch
Pick up a piece of popular writing that's getting shared a LOT on social media. Else, plug a phrase on your favorite subject that you love to talk about in Google. And snag one of the top ranking results.
First, read the article and try to understand why it's gotten so popular. As you like the subject, you'll probably follow the concepts, principles, and ideas shared in the article. Most likely, the article will contain old ideas with different examples and a distinct storytelling framework. Occasionally, you might run into original ideas.
Once you get the gist of the article, it's time to rewrite the piece from scratch. Open a Google Doc (or a notebook if that suits you better) and use your words to present the ideas you just read in the article.
If you're up for a challenge, then you can add another layer of complexity to the exercise. In the interest of brevity, try to reduce the length of the original article by about 20 percent.
The process will likely involve these three steps:
Get a bird's eye view of the whole piece and eliminate the repetition of major ideas. 

Next, scan the writing closely at the sentence and word level, and cut down the use of redundant phrases.

Ensure that the writing is coherent and flows well.
10. Use Writing Prompts To Get Your Creative Juices Flowing
To jumpstart the creative writing process, it often helps to have an existing idea. If you get ticked off by existing sentences, paragraphs, and narratives, then here are a few prompts for inspiration to strike.
"Why can't you understand the gravity of the situation?" he yelled. But she was her calmer self, unable to decipher if there's something even to worry about.
Initially, he thought it was a dream. But then, he woke up feeling nauseated. And within no time, he ran frantically to the washroom and puked. Damn. He was shocked to find that the cat was out of the closet.
It was pitch dark inside. And there was no sign of water, light, and food. Heck, there was no human to talk to. How could have she survived another day?
You can get creative and use the prompts in any way you deem fit. They can serve as the beginning, middle, or the end of your story. You'll find LOTS of writing prompts and things to write about through a simple search online.
You can also create your own prompts. Here's how:
Find a book lying nearby you. Open its fifth page and get down to the fifth paragraph. Now, use the fifth sentence as your writing prompt and expand a short story out of it.
Once you've used the above prompts to write for about 10 minutes, you will have the momentum to get back to your current writing project.
Now, It's Up To You To Use These Writing Exercises To Improve Writing!
The above writing exercises are proven to flex those creative muscles. The cadence of these creativity workout sessions depends on you. It can be every day, every week, or every month, depending on the results you get. In fact, you can pick a different exercise each week and keep experimenting to find what works for you.
It's all about tapping into your imagination, getting away from judging your work, and letting your ideas flow. Start a routine of 15-20 minutes and keep at it until you transform into an idea generation machine that spits the shit out a blank paper.
Gone are the days of starting for prolonged periods at the blank page, aye?
Are there any other creative writing exercises that you have successfully implemented in your writing routine? Let me know in the comments below. Also, if you liked the ideas shared in this blog post, you can save the pin image below to your Pinterest board to refer to them anytime.
LET'S MEET IN YOUR INBOX 😃
Free online education, online learning sites, online educational platforms, learning platform, learn it online, learn skills online, free online learning
Read More »