They say, "imitation is the sincerest form of flattery". On the internet, some people take this a step ahead. While plagiarism is common in academics, online professional writing is not free from it.
Sure referring authoritative third-party sources in your writing adds weight to your arguments. However, if you (even accidentally) misrepresent someone else's ideas as your own, your reputation as an author will plummet.
Today I'll share six simple tips to help you avoid plagiarism. Let's start with answering the basic questions on the subject.
Note: This article contains affiliate links. It means if you sign up using my link, then I earn a commission (at no extra cost to you). I only recommend products that I personally find valuable and enjoy. I appreciate your support!
Frequently Asked Questions About Plagiarism
Plagiarism is an ethical issue that has severe repercussions in academic and professional settings. Unfortunately, our tech-forward culture has blurred the line between what's OK to copy-paste and what's not. To avoid ending up in hot water, understand what plagiarism means.
What Is Plagiarism?
Plagiarism is defined as the process or practice of reproducing, recycling, or lifting excerpts from another person's work without seeking their permission. It is a violation to rehash others' online work without permission or payment.
There are four common types of plagiarism:
I. Direct Plagiarism
That happens when you copy and paste complete sentences or paragraphs written by someone else, without attributing them or including quotation marks.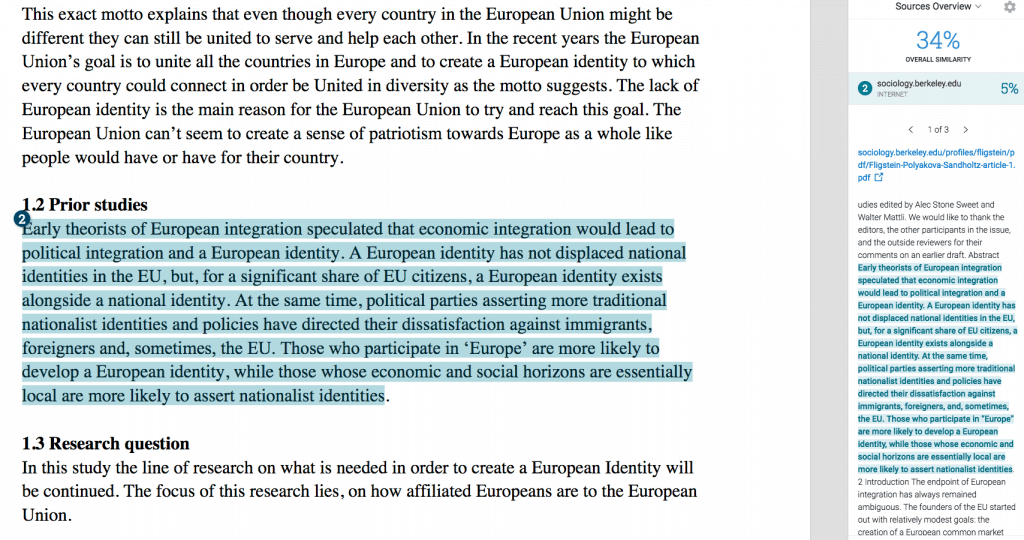 In the above screenshot, 34% of the text was found to be plagiarized in a term paper. The original content wasn't cited or quoted, which means the student committed a gross violation of copyright.
ii. Mosaic PlagiarismAlso known as 'patchwriting,' Poynter's Kelly McBride defines it as "a failed attempt at paraphrasing." This form of plagiarism occurs when a writer lifts phrases without using quotation marks or replaces certain words with their synonyms to maintain the original structure and meaning of the text.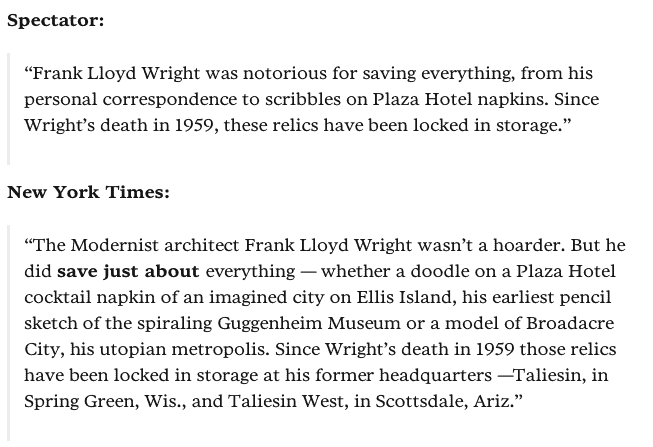 In the above example, a Spectator writer came under the scanner for plagiarizing from a New York Times article. It would have been alright if only he had quoted the newspaper correctly.
iii. Self-Plagiarism
This form of plagiarism is more rampant in research-focused settings. Where a student submits a term paper or thesis by using his previous works in bits and pieces, and without getting permission from all the professors involved.
It could also be like submitting the same article to two different editors. After all – how is duplicating your content called plagiarism? It is!
iv. Accidental Plagiarism
As the name suggests, this form of plagiarism happens by accident. For example, if you forget to cite or misquote your sources, or paraphrase a full section from another magazine without attributing it, you have committed plagiarism.
To avoid being subject to adverse consequences, attribute your sources wherever possible. The exercise is handy when you write for popular online publications. The editors take extra care to keep plagiarism at bay by proper citations. Do that job well, and they will be relieved.
Why Should You Not Plagiarize?
1. It's unethical. Compromising integrity might mean losing the respect of peers. And your career growth can stall.
2. The original creator can take legal action. Many freelance contracts and T&C's of online publications generally tend to protect the company and deem the writer responsible for any damage. Word of advice? Always check indemnification clauses before signing contracts.
3. As a content creator, you should know that duplicate content can sometimes impact search rankings. If Google finds "appreciably similar" content in more than one place on the internet, it becomes difficult for its algorithms to identify the version more relevant to a given search query.
How Do You Not Plagiarize Facts?
i. Historical Overview
Information on historical events can be found in multiple places on the internet, in textbooks, publications, and more. History is out there; everyone knows about it. Therefore, if you happen to write on them, you can do away with a reference.
ii. Your Findings Or Conclusion
If your article talks about an experiment you conducted or a graph you created, mention that they are yours. However, if you referred to an external article, don't forget to cite it.
iii. Common Knowledge
Scribbr's Shona McCombes defines common knowledge as:
Information that most people know (such as proverbs, idioms, and famous sayings)
Information shared by a community of people, such as a national or cultural group, or members of a particular professional field
General descriptions of traditions and social customs, and observable world phenomena – all fall under "common knowledge." Next time you want to use MLK's "I had a dream," do it without fearing plagiarism.
What Is Common Knowledge (And How To Cite It…?)
In academic writing, common knowledge refers to the information that an average reader would know and accept without needing to validate it through a source reference. Such information can change depending upon the geographic location, culture, and other factors.
For example: the names of Indian prime ministers might be commonly known in India, but not necessarily be termed as common knowledge in other parts of the world.
As mentioned before, you don't need to cite common knowledge. However, if your article involves data and statistics, you should always cite the sources of such figures. Let us take a look at the examples below to understand the what is common knowledge and what's not:

When Do You Give Credits?
In your blog post or academic piece, if you include something someone said, emailed, implied, wrote, or emailed, you should cite the source. Many professional organizations such as American Psychological Association (APA) and the Modern Language Association (MLA) have comprehensive guidelines on citing sources.
To make your job easier, here is a brief list of what should be cited:
When you include the exact words or phrases
Information gained via interviewing or conversing with another person – that could be over-the-phone, in writing, or face-to-face
When you include illustrations, pictures, charts, or other visuals
Words presented in a newspaper, book, magazine, TV & film, song, advertisement, or any other medium
When you repost any digital media, including audio, video, or images
How Can You Protect Your Intellectual Property From Getting Plagiarized?
When you publish content online, there's always a chance that others can copy and publish it as their own. Thankfully, with services such as Copyscape and Grammarly, you can find your copied content on the internet.
Alternatively, you can pick one sentence or a short passage from your blog post and do a Google search it to see places where they have been wrongfully published.
However, sometimes, the plagiarized content ranks higher than the original post. Therefore, to protect your web rankings, you should report them to Google. Here's how ShoutMeLoud explains it:
Visit Google's DMCA page, and select "Submit A Legal Request.
Select the product that your request relates to. That could be Web Search, Blogspot, Image Search, or others. Select multiple options, if necessary.
Then, fill out the form and report all the links and click "Submit."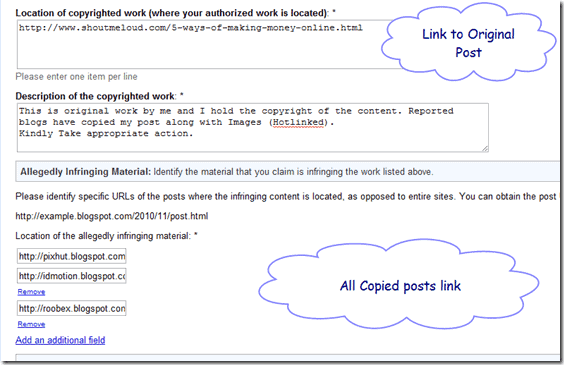 Within a few days, all the reported plagiarized content will be removed.
6 Effective Ways To Avoid Plagiarism
The internet is rife with plagiarism. Capturing and transferring words from one article to another is way too easy. Oftentimes, the practice may seem harmless; you may even forget that a particular sentence or paragraph is not yours.
But, what happens when you get called out on the internet for plagiarizing? Not only does it tarnish your reputation as a professional but it also spoils your relationship with current employers. Therefore, whenever you write an article, always remember to:
1. Paraphrase The Right Way
I find the writing styles of many journalists, marketing professionals, and authors inspiring. However, that doesn't mean it is OK for me to copy them exactly. That's just wrong! Unfortunately, paraphrasing tools like Small SEO Tools have given a new and an unethical meaning to rewriting. Let me show you how.
I used the tool to conduct a little experiment on the first two paragraphs of a productivity blog post I wrote for my website.
Original text:
Rewritten text:

With just a click of a button, I could rewrite (read: plagiarize) my article! The version doesn't even make sense. However, for some writers, it would! So, if you want to paraphrase a passage written by someone else, here's how to do it:
i. Change the sentence structure.
Rearrange parts of speech such as adverbs, pronouns, and adjectives to change the delivery of emotions and ideas. TheClassRoom.com explains it well through this example:
Original text:
"The deer bolted across the meadow and flushed a flock of grouse."
Rearranged sentence:
"As the deer bolted across the meadow, it flushed a flock of grouse."
ii. Personalize it.
Going back to my productivity blog, I will show you how the first paragraph can be rewritten completely:
Original text: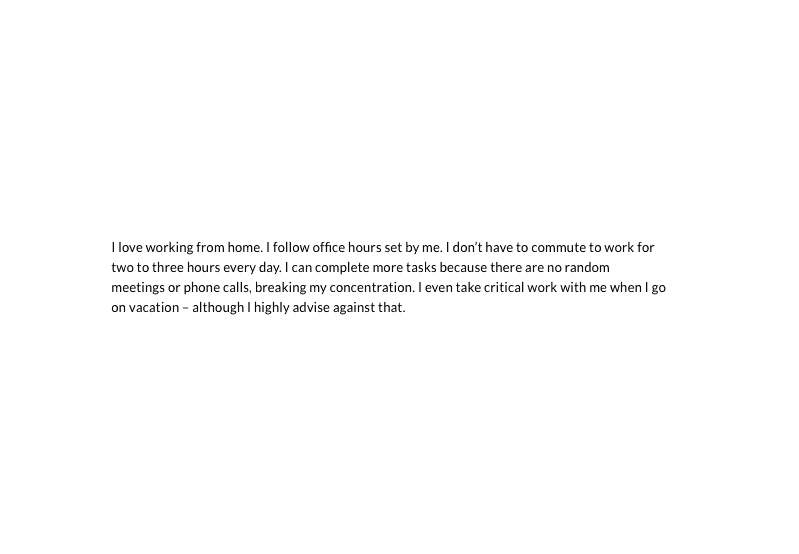 Personalized text:
"If given a choice between going to work for several hours a day and working from home, I will choose the latter. Working remotely offers me the flexibility to work on more tasks. It's easier to concentrate on the job-in-hand, and I can plan my day in advance if I have a call to take or an online meeting to attend."
Easy, right? Unless you're combining different ideas to arrive at something new, remember that you need to cite the original author, which brings us to our next tip.
2. Cite Your Sources
Want a fool-proof way to avoid plagiarism? Cite your references. Whether it is a quote or your article, proper citations can save you from landing in hot soup. There are three common styles of citation, including:
APA is used primarily in psychology and education
MLA is followed in the humanities discipline
Chicago A is used in history, most commonly notes and bibliography
Chicago B follows the "author-date" format and is used in the sciences.
In case you want to explore in more depth, visit this dedicated citation style resource.
Mark Manson, famous blogger, and author of "The Subtle Art of Not Giving A F*ck," hyperlinks sources at the bottom of every article in a 'reference style' format. He often references his pieces as well. Here's an example.
Therefore, when you start working for a new publication, ask the editor for the citation guidelines followed by them. Citing is simple. Leverage it thoroughly while writing.
3. A Simple Way To Recycle Your Own Ideas And Prevent "Self-Plagiarism"
Self-plagiarism is real. Just because you wrote it doesn't mean you can reuse it anywhere you like. Once it is published, you should consider your article as if someone else wrote it. Let me share four practices I follow to recycle my ideas:
i. Dip Your Toes Into The Resource Bank
You've spent several hours researching a subject to write an article that's now published. Several months later, you have another task at hand, i.e., to write on a similar topic. Instead of re-visiting your article, check out the sources that helped you in writing it. Reuse them and create new content in half the time.
ii. Check Your Notes Again
It's great if you have the habit of writing notes. Next time you sit to write an identical article, go over the notes again and expand them. That will give you enough meat to work on without breaking a sweat.
iii. Cite Your Previous Work
This practice is identical to what we call "internal linking" in content marketing. Meaning, if you ever come across a section in your article which is similar to what "you have already discussed in your previous article," cite it!
I do that a lot on my website. However, since I engage with multiple clients, it may not always be possible for me cross-refer the articles I have written for them. But, if you are still keen to cite, get permission.
4. Quote Directly
It's OK to use block quotes and words of someone else as they are. In academic circles, it's preferable to use quotes for under 40 words.
However:
i. If you're extensively curating writing by others, then you don't need to take a conservative approach in using quotes.
ii. If you're weaving interviews into an original article, then it's OK to quote. In this G2 article, the author uses the exact words of multiple entrepreneurs he interviewed for the article. Direct quotations add value to the content.
5. Use Duplicate Content Checker Tools
I am a massive fan of plagiarism tools! They are a great way to avoid accidental plagiarism. Almost everything I write undergoes at least two plagiarism checks if not three. Let's take a look at the top five plagiarism tools:
i. Grammarly
Grammarly is a writing tool that not only detects grammatical errors and typos but also checks for plagiarism. Copy-paste the text onto a new document or upload your document directly on their website to run it through the tool.
Grammarly picks up content that has been directly copied from any research sources or previously published articles. If you use this tool, then I hope it's the paid version.
The free tool detects the errors but doesn't reveal what they are or how they can be rectified. Currently, Grammarly has three pricing plans:
Monthly — $29.95 USD/month
Quarterly Subscription — $19.98/month (one-time payment is $59.95 USD)
Annual Subscription — $11.66/month (one-time payment is $139.95 USD)
A Grammarly extension is available for Chrome.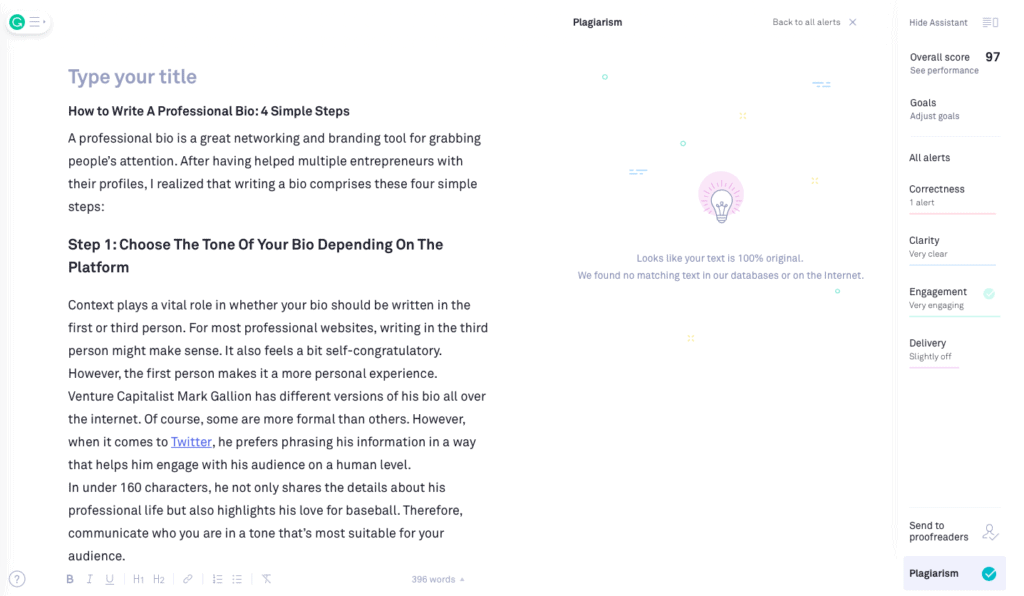 ii. Copyscape
Copyscape is an old but popular plagiarism tool out there. Insert the link in the Copyscape Search bar to check the originality of your content. There is a premium version of the tool which allows an in-depth plagiarism check of the content. If you have a WordPress blog, you can also add a Copyscape widget to it, thus copyrighting your site. Sign up and use Copyscape for free!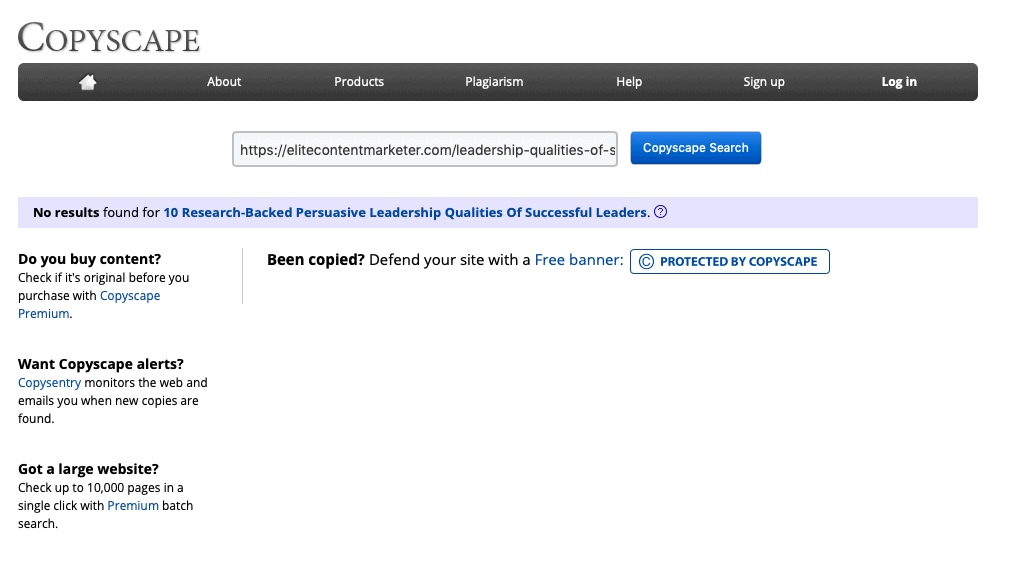 iii. Duplichecker
Duplichecker is an excellent tool that not just tracks plagiarism but also gives an account of unique content and already-published text with related-meaning. The tool is free to use.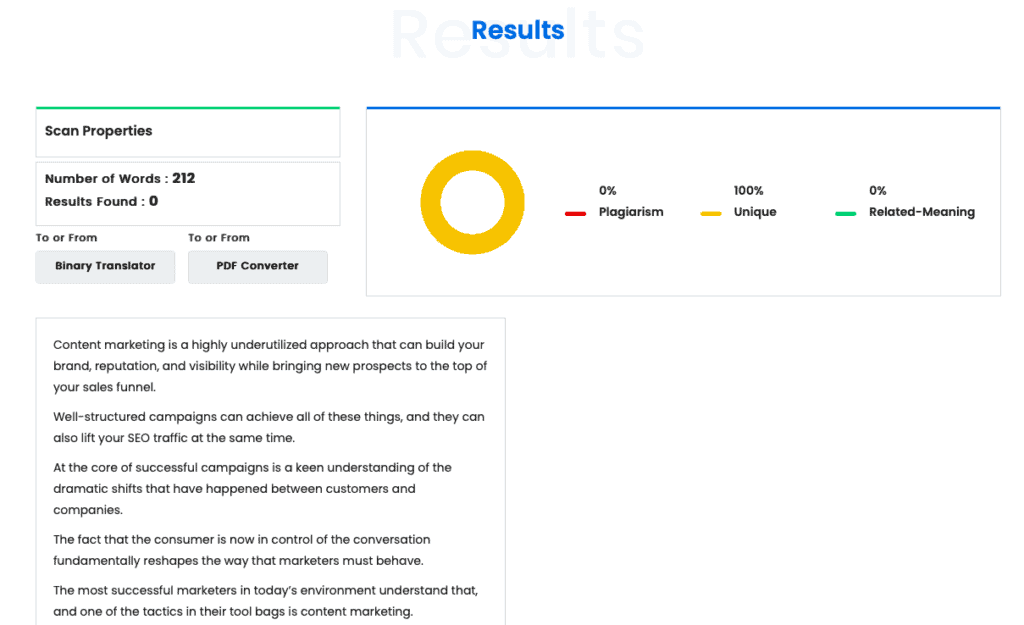 iv. Copywritely
Copywritely is a convenient tool to check content for SEO issues. It also gives tips on how to fix the errors, rewrite the text, and publish updated content. The only thing is that if you haven't signed in, it allows you to check only the first 500 words of the article for plagiarism.
And, if you want to avail of other SEO-related services offered by the tool, go premium. Currently, Copywritely has three pricing plans:
Beginner — $5/month
Basic — $18/month
Pro — $47/month
A Copywritely extension is available for Chrome.

v. Siteliner
As the name suggests, Siteliner is perfect if you want to check the entire website for plagiarism. I use it whenever a client website goes live. The free version analyzes sites having up to 250 pages, whereas the premium service lets you analyze up to 25,000 pages, and as often as you like. Sign up for its premium service for free.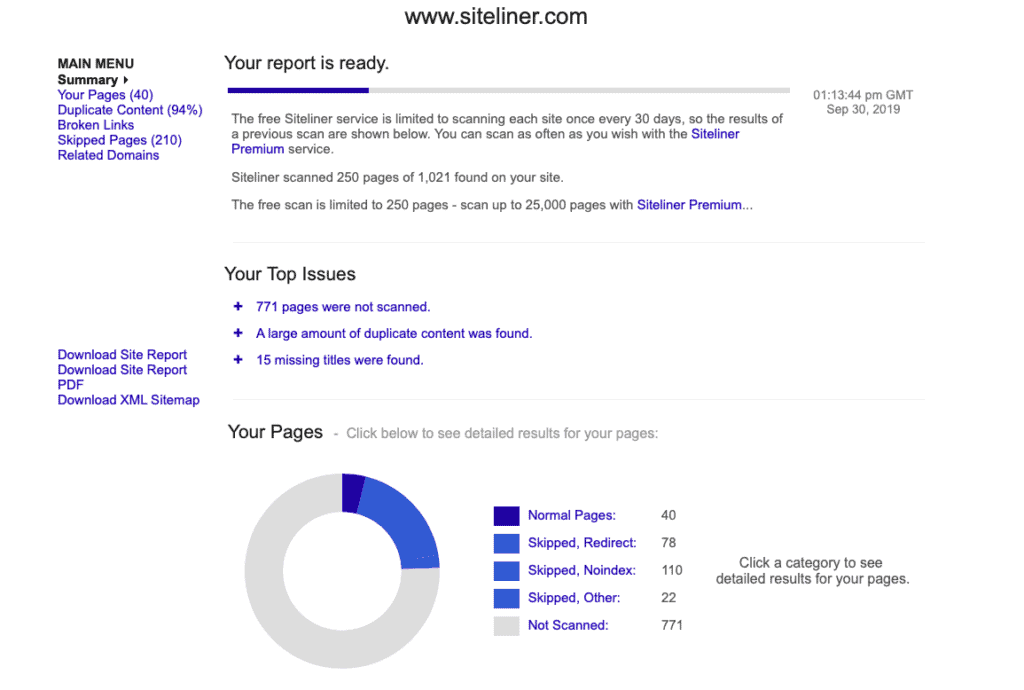 6. Here's How To Summarize Without Plagiarizing…
A summary is a shortened version of the original paragraph that highlights the key ideas in your own words. It is like summarizing an entire chapter of marketing into a blog post. If you summarize a paragraph, it will be several lines, and it won't be considered plagiarized.
If there is a paragraph I want to summarize, I make sure I read it several times along with similar articles. I make a good note of the sources that I need to cite in the article. Once I have understood the concept or thinking behind the text, I type it down in my own words. Easy!
Bonus: How To Copy And Paste Without Plagiarizing
If you want to borrow an author's ideas in your article, then here are the steps to copy and paste them (without plagiarizing).
1. Change the order of words
This one's simple. Going back to TheClassRoom.com's example of the deer. Here's how you can shuffle words and write a completely new sentence.
Original text:
"The deer bolted across the meadow and flushed a flock of grouse."
Rearranged sentence:
"As the deer bolted across the meadow, it flushed a flock of grouse."
2. Choose a lesser known entity's work
Remember when Melania Trump's speechwriter copied a 2008 Michelle Obama speech? That was a bad idea. She admitted herself. If you find yourself relating to something a person wrote, especially if that person is famous, don't just randomly twist and tweak the words.
It is easier to get caught in such a scenario. Instead, dig deeper and find another well-meaning person's content to plagiarize smartly.
3. Insert adjectives and adverbs
If you particularly like a sentence, make sure you add extra words to it. The more syllables, the better. So, instead of copy, "you are a hard worker and want everything in life;" you can write, "I work hard and hope to achieve everything in this amazing life." Simple, isn't it?
4. Use synonyms
I love using synonyms to avoid bearing any similarities to the sentence I copied. Thesaurus.com is an excellent source for choosing synonyms for words I feel can be replaced. Similarly, you can use antonyms and change the structure of the sentence a little so that its meaning doesn't get changed.
Even if you're deriving inspiration and not copying someone else's idea, you should credit them. So even if you use the above 4-step tactic (which should be sparingly), don't claim the idea as yours. Your original ideas and scooping a little personality are the ideal ways to go.
Final Thoughts
If you're a writer, avoiding plagiarism is crucial for maintaining a healthy growth trajectory of your writing career. For business owners, copying content can result in financial losses, legal hassles, and damage to your brand.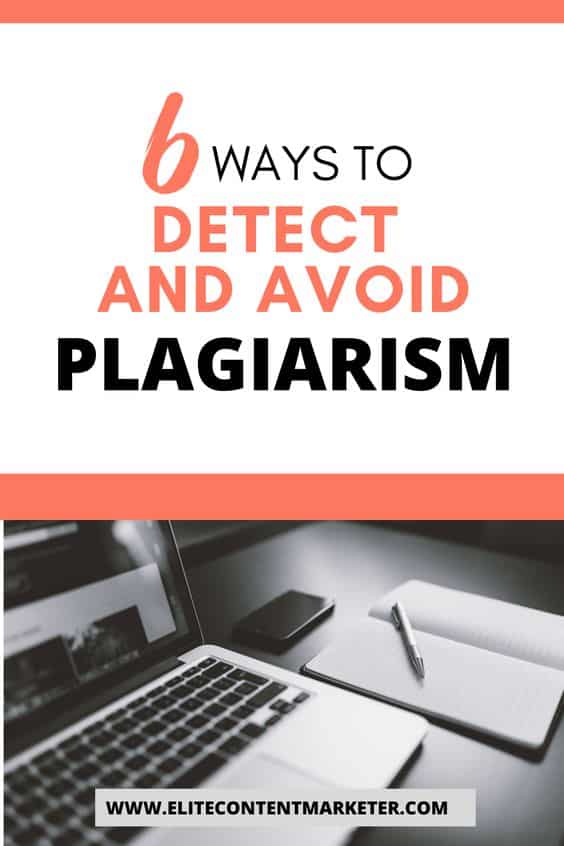 LET'S MEET IN YOUR INBOX 😃
Free online education, online learning sites, online educational platforms, learning platform, learn it online, learn skills online, free online learning
Read More »