Our Verdict
An affordable, user-friendly podcasting platform for beginners & seasoned podcasters alike.
Higher-tier plans offer premium features such as video podcasts.

Start Using PodBean
Our Rating
 4.5/5
Pros
Unlimited bandwidth and storage
Easy to use interface and neat design
Offers Mobile app
Allows publishing text only podcasts
Offers post-production tools
Offers Podbean Ad marketplace to monetize podcasts
Cons
Offers only live chat support on business plans
Podbean is a seasoned media host that's been in the podcasting business since the mid-2000s. So does the years of experience mean it's worthy of hosting your podcast?
In this article, I'll walk you through the Podbean podcast hosting interface and review its unique features and functionalities. You can also check out my reviews of other podcasting platforms if you want to look beyond Podbean.
Note: Just to let you know, this article contains affiliate links. That means Elite Content Marketer gets a commission if you sign up through us, at no extra cost to you. I only recommend products that I personally find valuable and enjoy. I appreciate your support!
Table of Contents
Frequently Asked Questions About Podbean
Before we get started with understanding more about the podcast hosting service, let's answer the top queries related to it.
Podbean is a podcast hosting, publishing, and monetization service. It's the place where your podcast "lives" and from where you can submit its RSS feed to listening platforms such as iTunes.
Podbean is a seasoned media host that provides robust podcasting and monetization features with an easy to use interface. You can customize the look and feel of your podcast website with its set of Pro themes. Its higher-tier plans also let you host video podcasts and create private podcasts.
There are three Podbean plans priced at $14 per month (for Unlimited Audio), $39 per month (for Unlimited Plus), and $129 per month (for Business). You can save up to 35% on all the plans by paying annually. While the plans differ in some of their features, they all come with unlimited storage and bandwidth.
Spotify is an official "passthrough" partner for Podbean and posts content from your RSS feed like other podcast apps. You can submit your show through the "Podcast Apps" tab in the "Distribution" menu. But your podcast is eligible for submission only if you are on one of the paid Podbean plans and have published five episodes.
Which is better: Podbean or Buzzsprout?
Beginner podcasters will find Buzzsprout as a value for money host comprising all the necessary podcasting features essential to launch a successful show. For enterprise podcasting, Podbean is a better choice with its array of premium video podcasting and monetization features. It also offers unlimited storage and bandwidth on all its plans.
Podbean Pricing
Podbean hosting plans offer the best value when you pay upfront for the whole year. All of their plans come with unlimited storage, bandwidth, and comprehensive podcast stats. Here are those plans which might suit independent podcasters:
– The Podbean Unlimited Audio Plan costs $14 per month if you pay monthly. You can save 35% by paying $108 annually (the cost becomes $9 per month).
– The Unlimited Plus Plan is priced at $348 per year when you pay annually, which comes out to $29 per month. But its cost shoots up to $39 per month if you pay monthly. This plan comes with their full set of custom designs, video podcasts, and monetization capabilities like PodAds.
If you sign up for a Podbean Unlimited plan using this link (or click on the image below), then you'll get the first month free.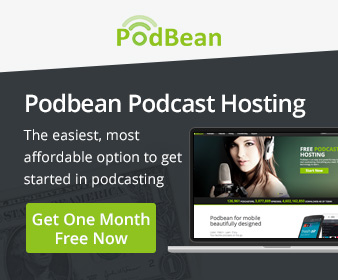 – Their Podbean business plan offers exclusive enterprise podcasting features such as private podcasting and multiple podcast channels. It's priced at $129 per month, but it's cheaper if you pay annually (comes to $99 per month). This plan is suited for enterprises and podcast networks.
Again, you'll get the first month free by signing up through this link (or click on the image below).
A Basic Podbean plan is also available. It offers free podcasting with storage space of 5 hours and a 100 GB monthly bandwidth.
Podbean Dashboard And Onboarding
My onboarding with Podbean involved an automated email that lacked a human touch. But when I logged in to the platform, I liked its easy to use interface and neat design. Its dashboard welcomes you with three clear action steps to set up your show. Click on "Go to setup" if you're starting a new podcast: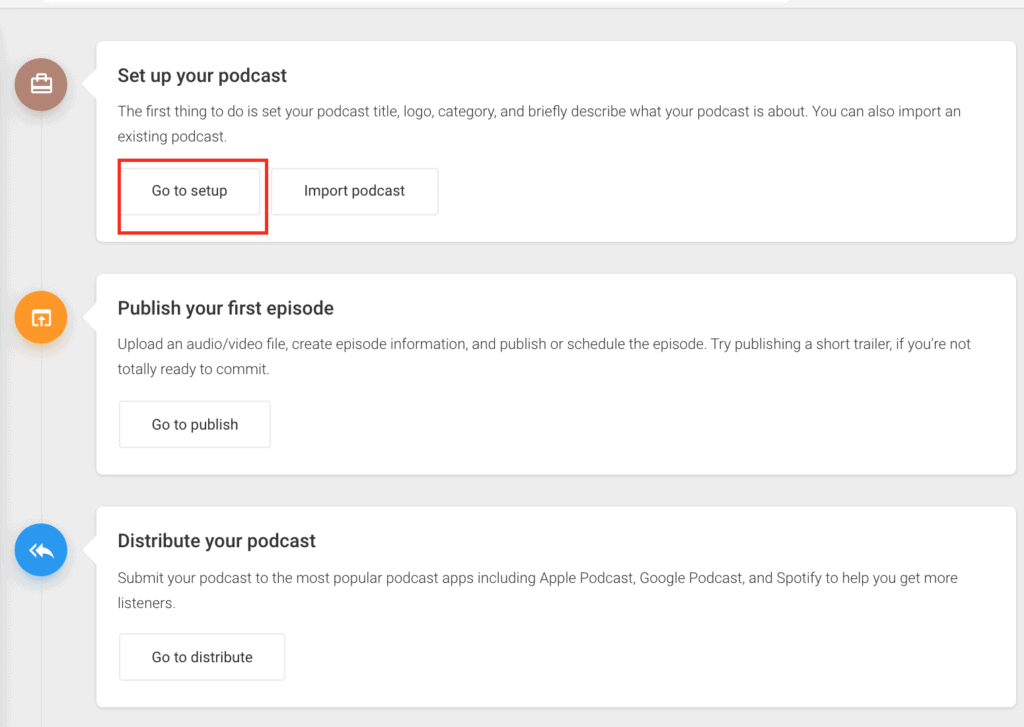 Here you'll need to fill in basic information about your podcast, including a title and description. Then choose a category and upload a logo.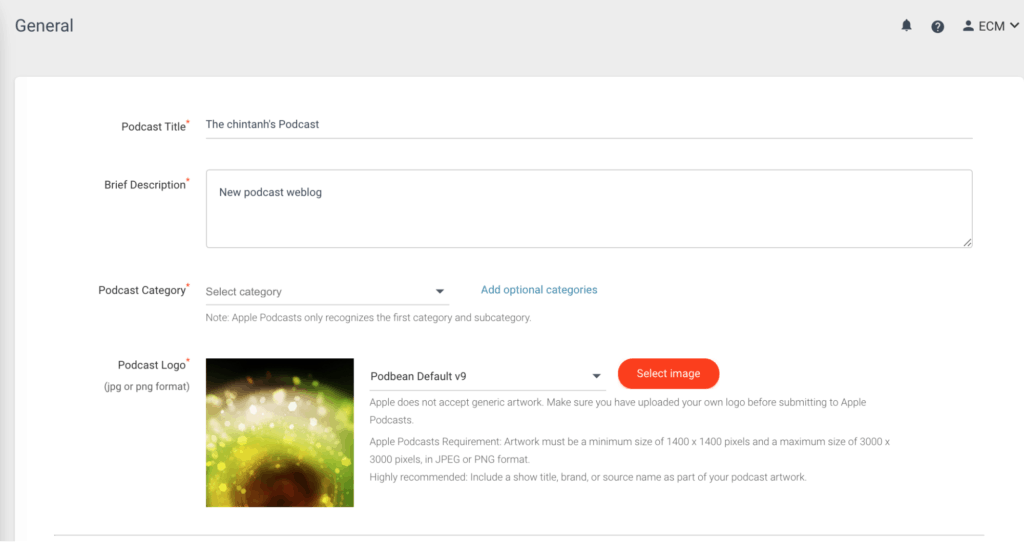 If you're switching from a different host to Podbean, you can simply paste your RSS feed and start importing your media files.

You can access the RSS Feed settings from where you'll enter the information about your podcast from "Feed" under the Settings menu in the left sidebar.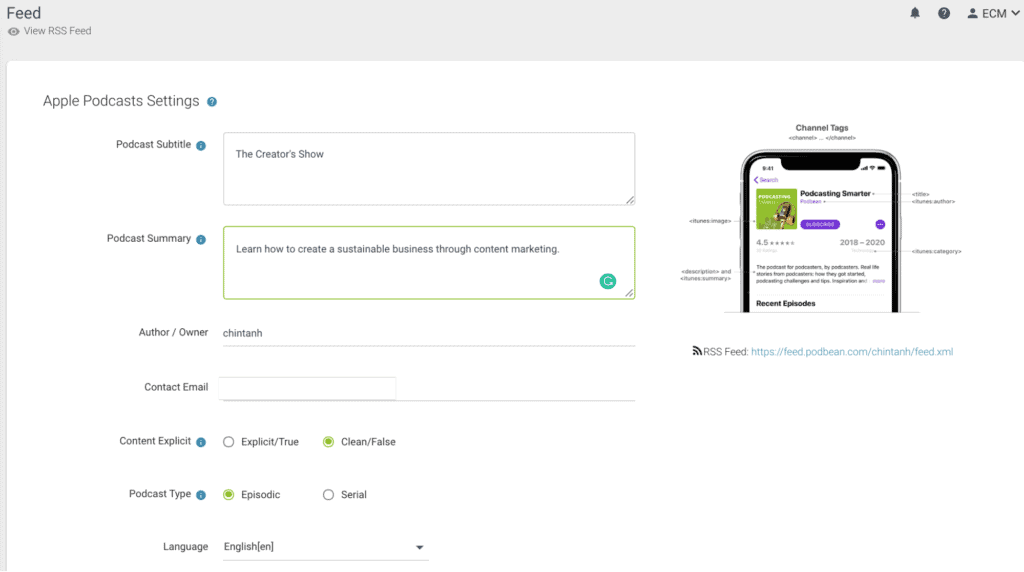 You can directly click on "Go To Publish" from the Podcast dashboard to enter information and upload your file for scheduling/publishing your first episode. It's even possible to publish text-only posts with Podbean, which is a pleasant surprise for writers who are into podcasting.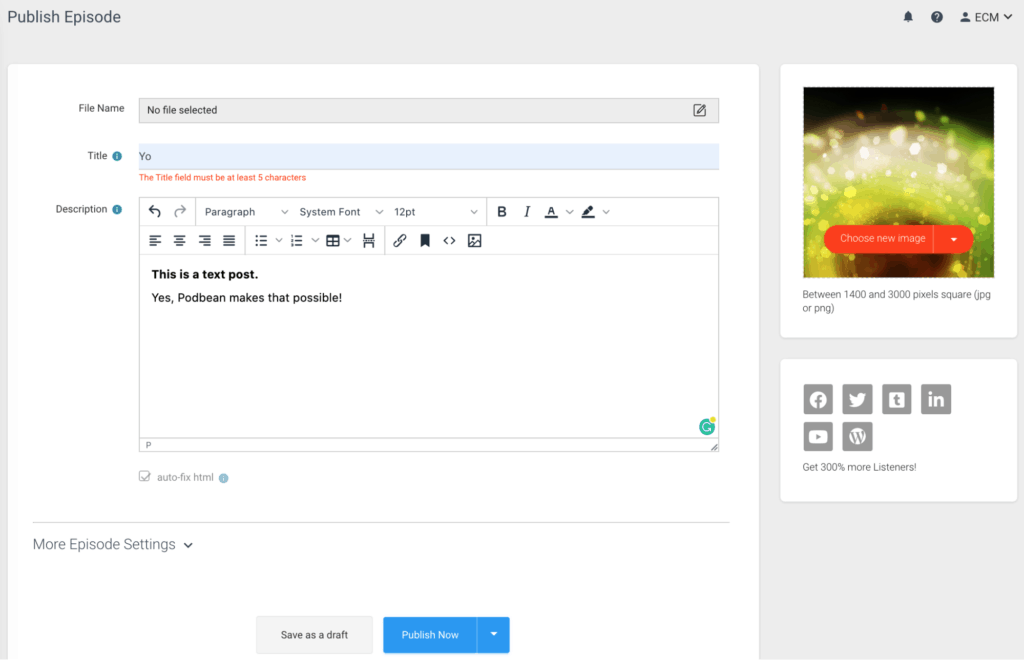 For setting up the distribution of your podcast, you'll need to submit your podcast to popular podcasting apps manually.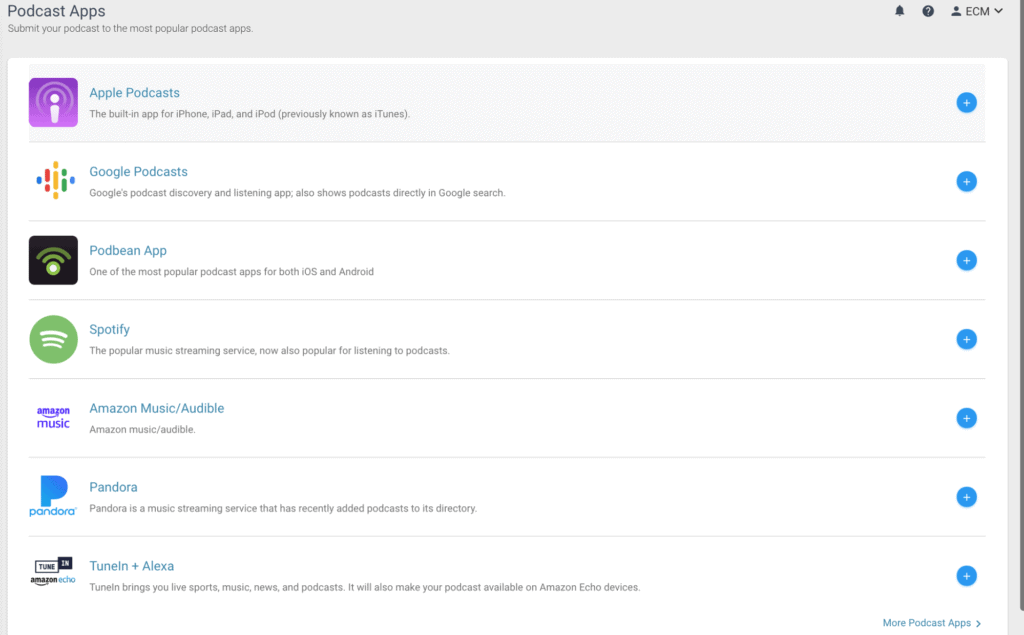 Clicking the "+" button takes you to a detailed step-by-step rundown of how to submit your podcast to a specific podcast app.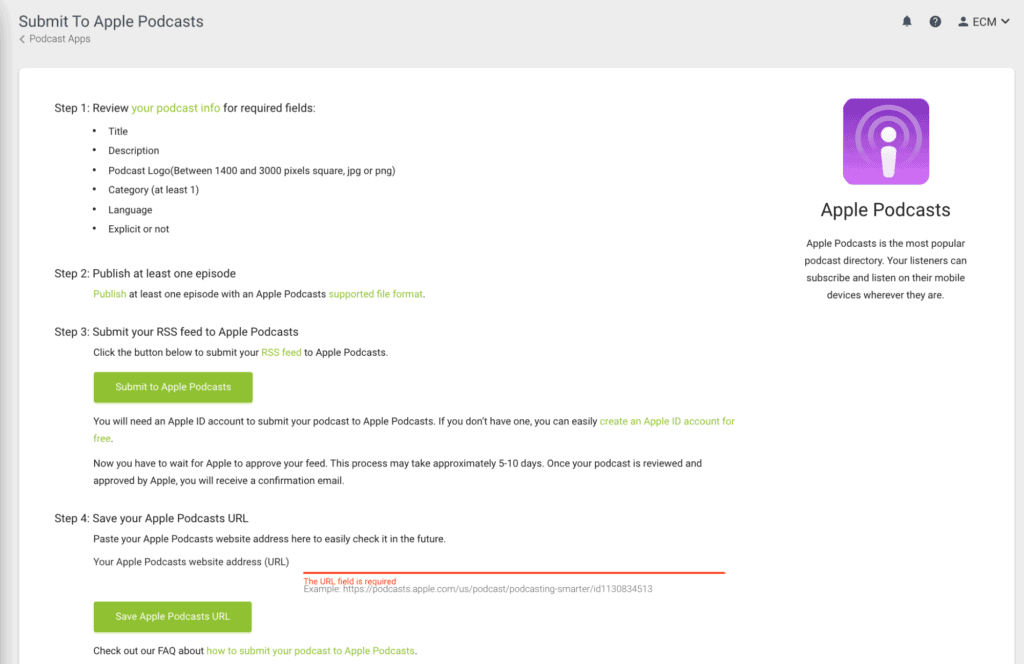 Customer Service And Podbean Support Center
While Podbean offers live chat only with its business podcasting plan, its other plans also offer decent support. Even if you want to be on your own, exploring its features and finding your way upon getting stuck won't be a problem. Its support center is extensive, covering every feature on the platform and its Android and iOS apps.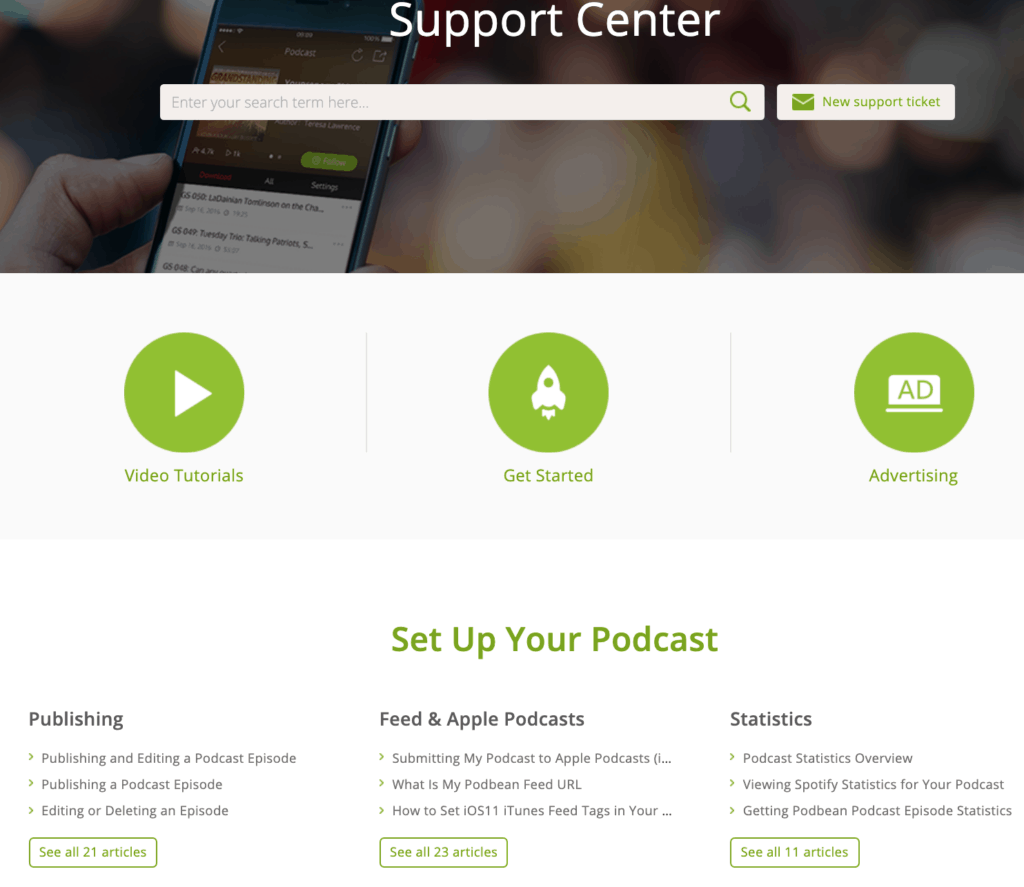 Video tutorials are also available to walk you through the features on the platform. Besides helping you get started with its tools, the Podbean team also conducts free webinars to acquaint you with the business of podcasting.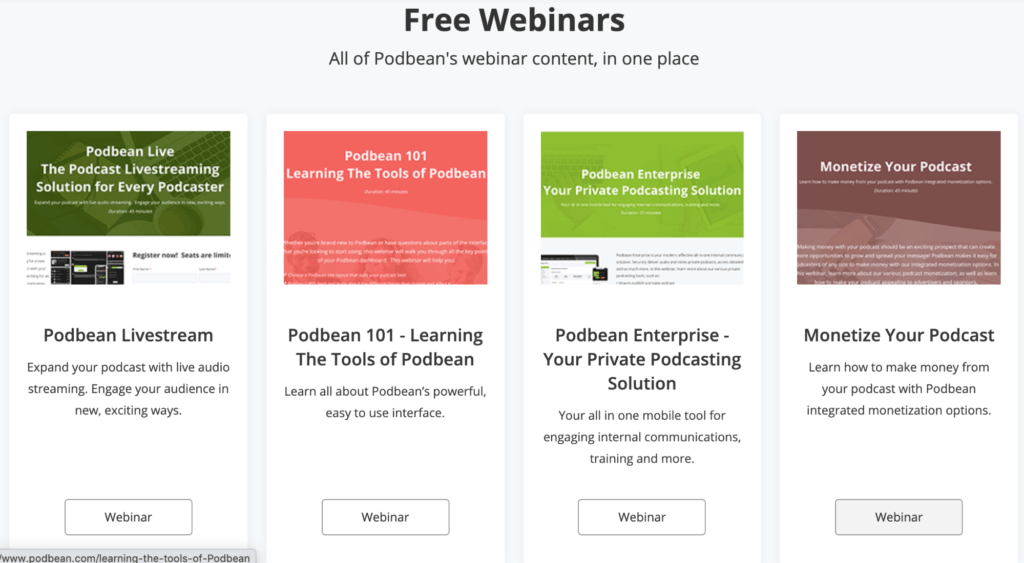 Podbean Features
Let's look at a few of Podbean's podcasting features and where the platform stands out.
Podcast Website
Podbean excels in its podcast website customization options. So don't worry even if you don't have an existing website. You get to choose from a range of templated themes and complete control of the design and the HTML/CSS for your podcast site.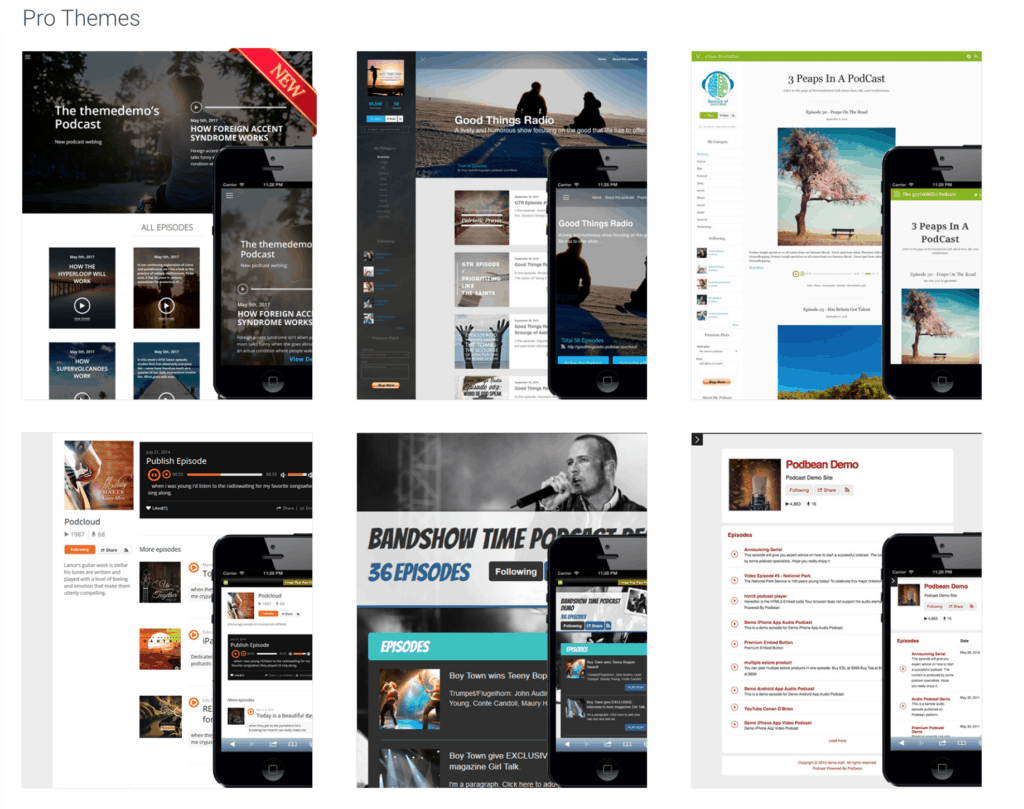 Those of you familiar with a WordPress like content management system will appreciate its usage of the terminologies. You can add "Pages" to showcase biography, contact, and other information about your podcast.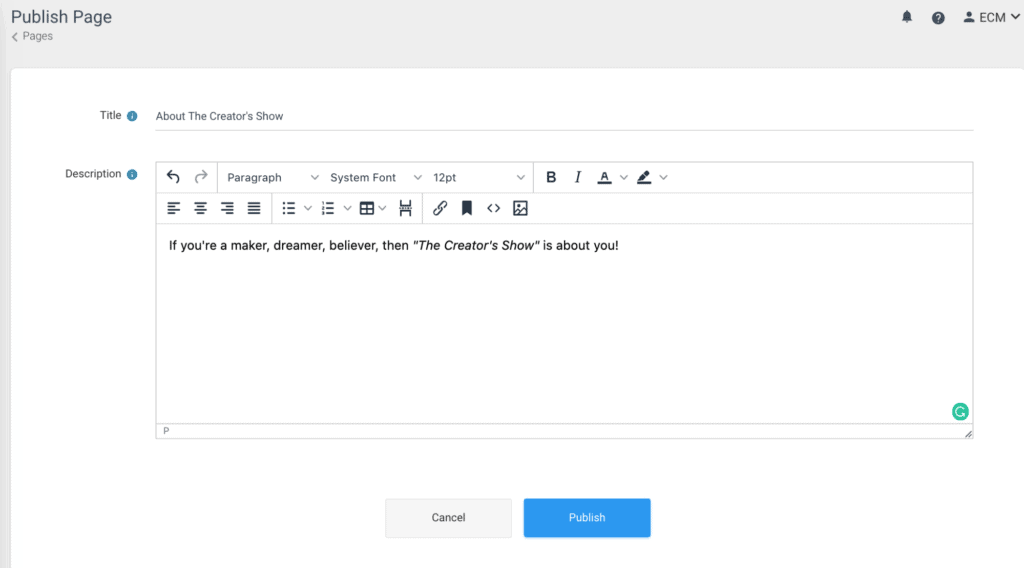 And the "Sidebar Widgets" enable additional functionalities on your site.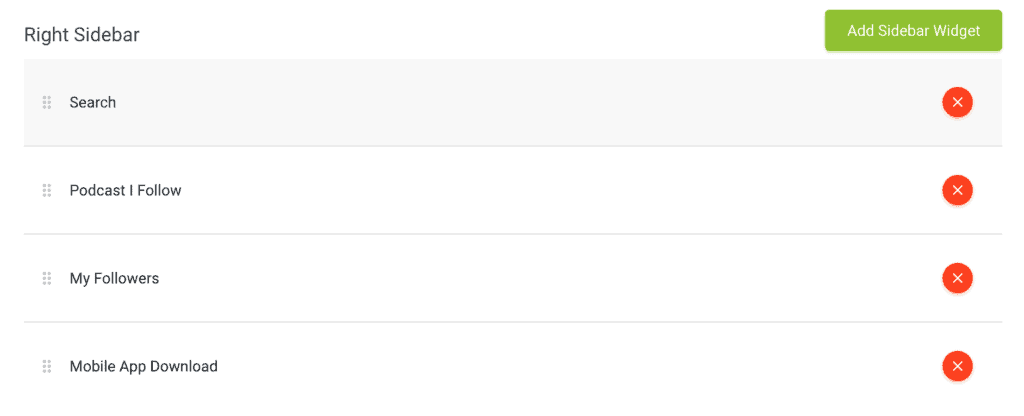 You can further modify the visual style of your site using its CSS editor and even map your included Podbean podcast site to your domain!
Podbean Plugins
Much like WordPress, Podbean offers a set of plugins that add functionality to your podcast. Most of the services are free, but a couple of paid plugins are also available.
These plugins enable directly importing files from your Dropbox, adding episode tags to categorize your podcast episodes on your site, sending emails to your Mailchimp subscribers when you publish a new episode and the like.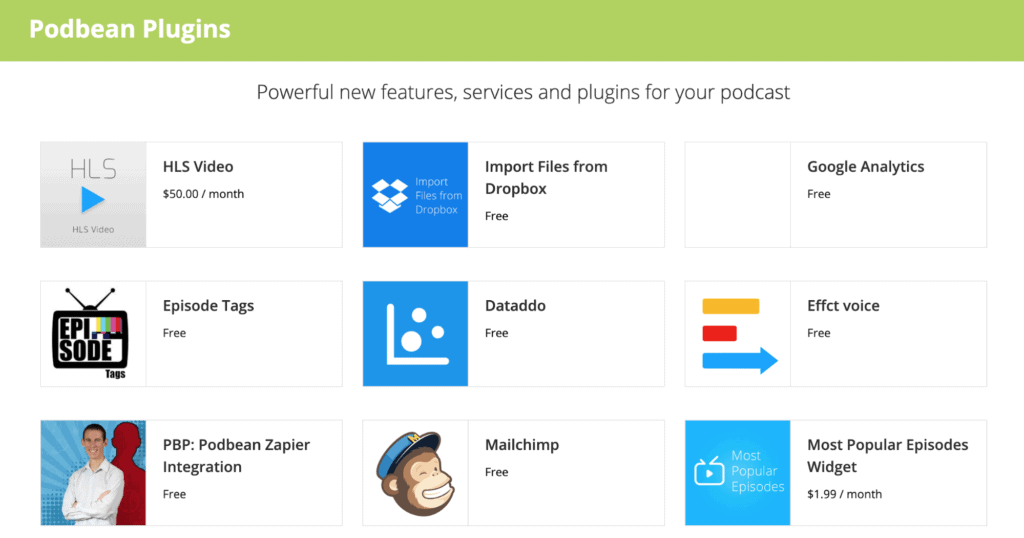 Audio Recorder
If you want to make a show from your Smartphone, then the Podbean Podcast App comes in handy. Besides being a place for discovering new podcasts, it has a nifty audio recorder. You can podcast on the go simply by pressing the microphone icon located in the top right corner of the app.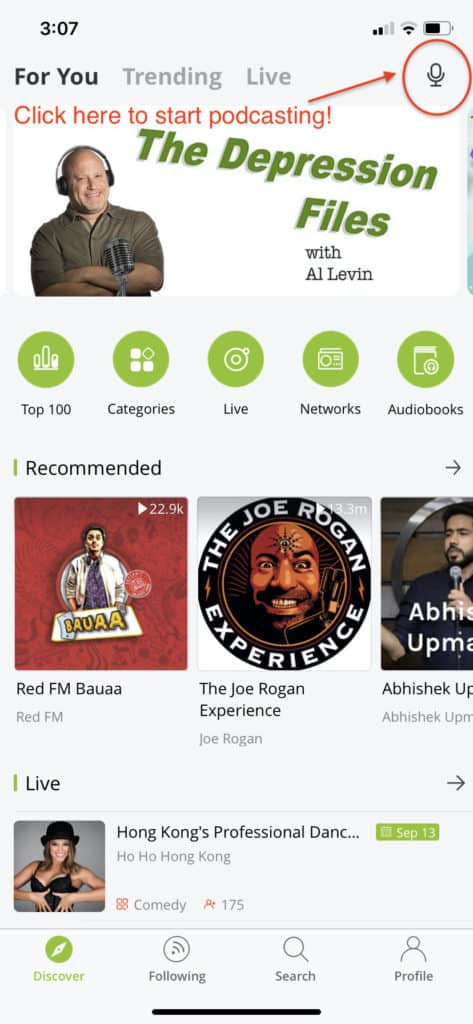 You get the option to "Record Audio" or "Start Livecast." Once you've recorded your podcast, you can add background music, sound effects, and access a slew of post-production features.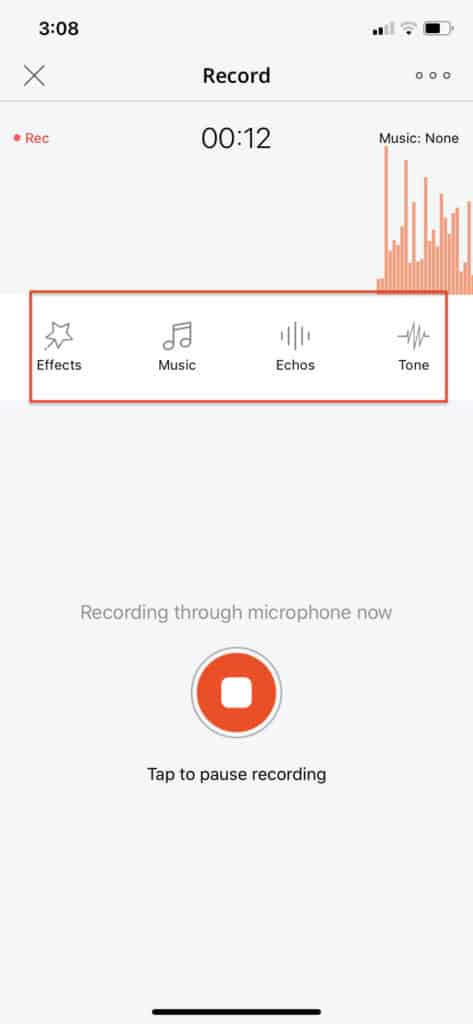 The Podbean mobile app is a terrific addition to your podcasting kit because of its powerful recording and editing capabilities.
Live Stream And Embeddable Players
If you want to launch a live public show, then click on the "Live Stream" tab in the left sidebar from your profile. Once you've filled in basic information about your show, you can click on the "Start now" button (or even schedule the live show at a later time).
It's possible to make the visibility of your show "unlisted" (much like YouTube) so that it's only accessible to people that have a link. You can also use it for testing your live stream and recording episodes with your guests.
To embed your podcast on other websites, you can find the "Embeddable Player" from the Distribution menu (in the left sidebar) on your Podbean profile.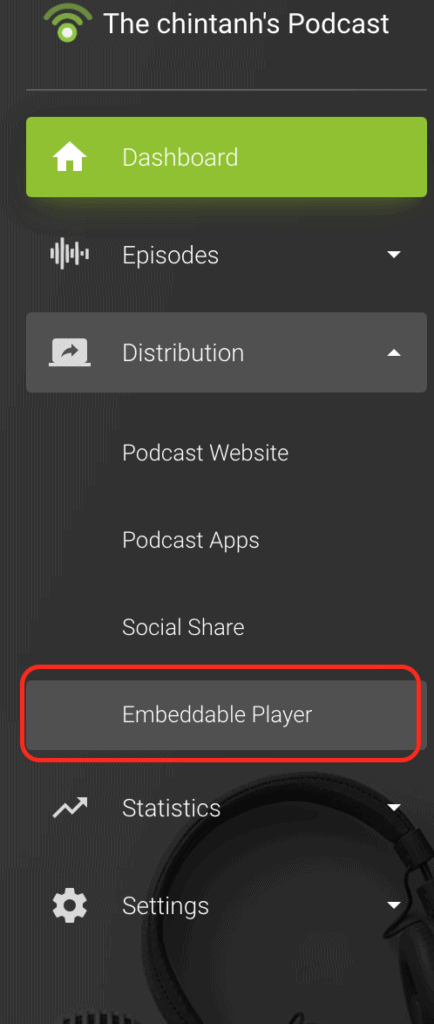 It's possible to customize the colors, font, and overall appearance of the player to suit your brand.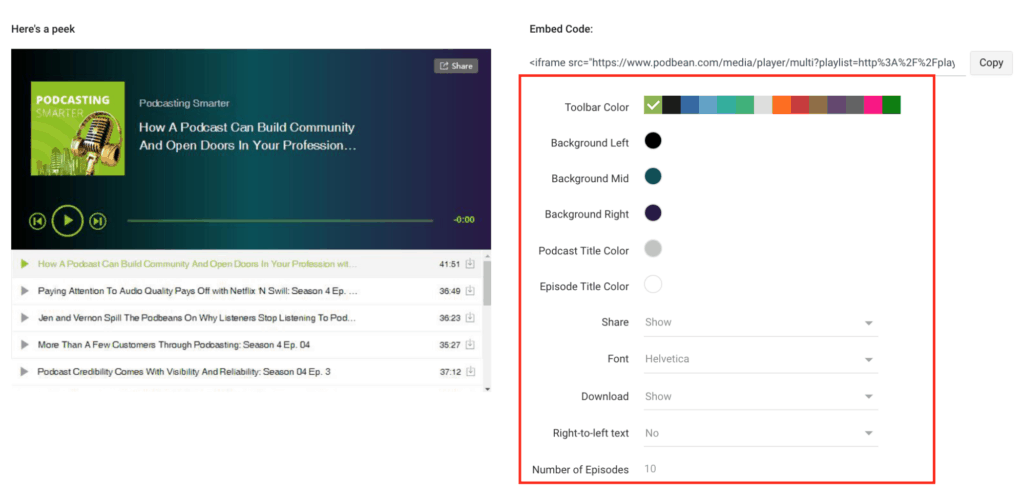 Monetization And Premium Content
Podcasts of all sizes can join the Podbean Ad marketplace for free to generate revenue from programmatic ad campaigns.

There's even a calculator that predicts your income potential if you plug in numbers related to your show (such as your average downloads per episode and estimated episodes per year).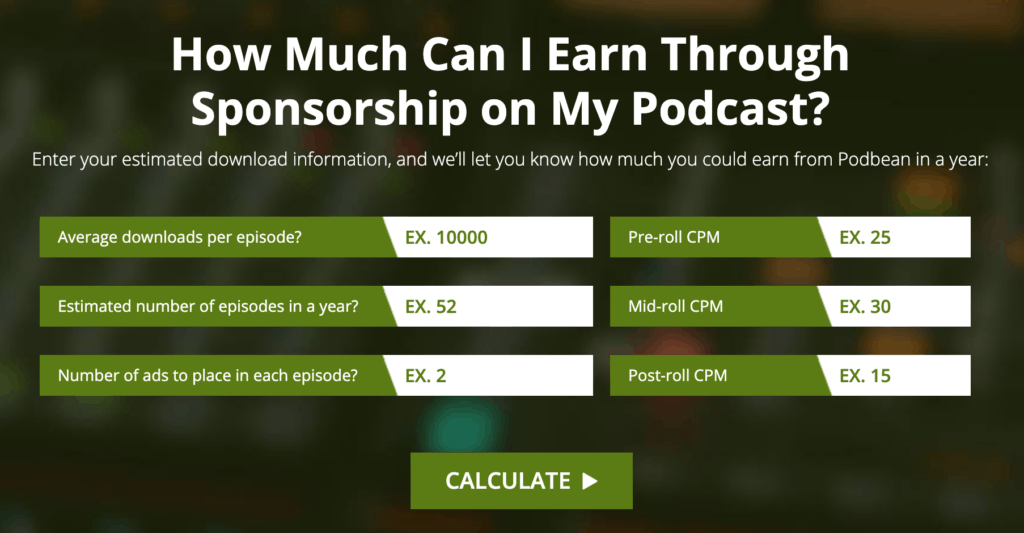 Starting from its "Unlimited Plus" plan, you can leverage PodAds (a Podbean dynamic ad insertion technology) to insert ads in your show. Labeled as a SaaS for Podcast Advertising, it's a handy way to manage your ad sponsorships conveniently.
It's ideal for podcast networks that want to run ads to listeners in specific geographies with access to comprehensive analytics. A flat $1/CPM service fee is applicable for using the platform.

You can also sell premium audio, video, and PDF content to your listeners and monetize your show. This feature is available starting from the Unlimited Audio plan itself.
It means an additional income stream if your listeners would like to pay for bonus episodes. Or even access to a library/archive of episodes from your previous season. It's up to you if you want to sell a subscription or individual episodes. And you get to keep 85% of your generated income. Not bad, eh?
Note: Though you can sell premium content by creating a Patreon campaign as well, it might require some manual work. You'll need to update your list of paying subscribers every month and send them a new password to access your exclusive podcast feed. Podbean offers some convenience through its automated premium content model.
Statistics
From your Podcast dashboard, you can access "Statistics" to analyze the performance of your show. It's possible to find out the geography of your listeners, the top destinations where your audience is turning in, the most downloaded episodes, and much more. Here's an overview of these tools by Podbean:
Advanced Podcasting
Let's explore a few premium features of Podbean that are (mostly) restricted to its higher-tier plans.
Video Podcast
Besides creating video for your audio podcast episodes (which is handy for sharing on YouTube), video podcasting is also available on Podbean. You need to be on the Podbean Unlimited Plus Plan or a higher-tier to access it.
Note: Please note that Spotify doesn't support video or a mixed media feed. So your podcasting feed needs to be in the MP3 format while submitting your show there.
Private Podcasting
If you want to create a private podcast that's exclusively accessible by your employees or the members of your community, then the Podbean business plan provides that opportunity.
If you exclusively want private podcasting, then Transistor offers a much cheaper plan starting $49 per month (as compared with the $99 per month on the Podbean enterprise plan). Its user interface and overall experience are also excellent.
Patron Program
PodBean also runs its own version of Patreon that lets you collect recurring revenue from your listeners. It enables the "Be a patron" button on the Podbean app so you can gather ongoing financial support. For setting up the crowdfunding page, you'll need to submit your podcast feed URL. But you need to be on the Podbean Plus or higher plan.

API
Developers interested in building an application on the top of Podbean can access its API documentation and register a new app here.
Next, let's compare Podbean with a few of its alternatives.
Buzzsprout Vs. Podbean
Buzzsprout is a veteran podcasting host like Podbean with a similar line of features. Here's where it differs:
Buzzsprout only offers monthly plans which are billed by the number of hours of audio upload you do. For instance, its $12 per month plan offers 3 hours of monthly audio. All plans come with a 250 GB bandwidth (about 20k to 40k monthly downloads).
Buzzsprout offers more human customer support and smoother email onboarding than Podbean. It also has a clean and easy to use interface.
For beginner podcasters especially, its line of features offers greater value for money than Podbean.
Private podcasting and video podcasting capabilities aren't available on Buzzsprout. Its monetization features are also limited as compared to Podbean.
Buzzsprout also doesn't have a lot of options to customize the look and feel of your podcasting website.
If you want to give Buzzsprout a try, then sign up through this link — you'll get a free $20 Amazon gift card when you switch to a paid Buzzsprout plan.
I've conducted a detailed Buzzsprout review you can check out if you want to find out more about the podcasting platform.
Libsyn Vs. Podbean
Liberated Syndication (Libsyn) is another veteran podcast hosting company that's been around since 2004. Its cheapest plan, Classic 50, costs merely $5. The catch? The storage you get on this plan is merely 50 MB, and you need $2 additionally for accessing "basic stats."
You can consider its Classic 250 plan that comes with 250 MB of monthly storage, but their user experience is subpar. You'll need to pay an extra $2 per month if you want to use your own domain.
While it has unique features such as a custom mobile app, it costs an additional $10 per month or more. Also, the utility of such a feature is questionable. Here's the link to the Libsyn homepage if you want to try the platform.
Soundcloud Vs. Podbean
While Soundcloud is compared with Podbean and used by some creators for podcasting, the former is primarily built for indie musicians.
With Soundcloud, you get basic stats that aren't in line with IAB (podcasting industry standard). So you might face issues when trying to onboard a sponsor for your show. The future of the company is also doubtable as it has a broken business model.
But you can consider using SoundCloud for its social nature. Think of it as a distribution platform for your podcast (that's hosted on Podbean) to extend your listening community.
The platform only allows 3 hours of audio upload on its free plan though, so you might have to create mini clips from your show. Or delete older episodes when you upload newer ones.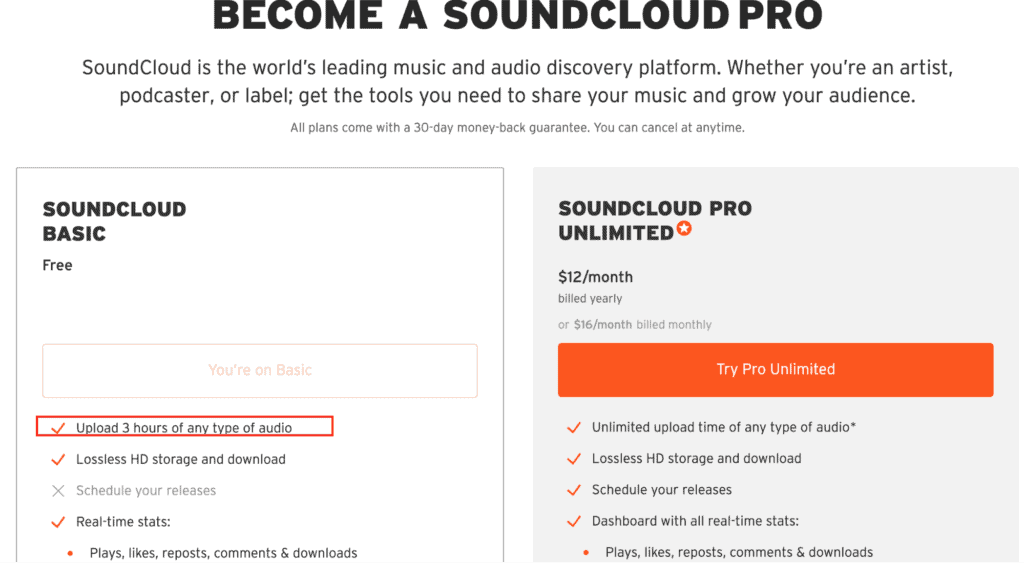 Final Verdict (And Get One Month Free)
I hope this Podbean hosting review cleared your doubts about the company. You get the reliability of an old guard in media hosting along with the ability to podcast on the go through its mobile applications. Additionally, the service innovates and keeps improving its service. It's among one of the top podcast hosting services, and I recommend you to give it a try.
To conclude, we have a quick summary of PodBean for you below.
Podbean is an affordable and user-friendly podcasting platform for beginners and seasoned podcasters alike. Its Podbean mobile app comes with a handy podcast recorder (with post-production tools) and makes publishing from your mobile a breeze. You can also live stream your show and customize the look of your podcast site. Its higher-tier plans offer premium features such as video podcasts. Give Podbean a shot – you won't be disappointed.
As Podbean's free features are limited, you can try one of its paid unlimited plans. If you sign up using this link (or click on the image below), you get the first month free!