Whether you're looking for a podcast host for your new show, or considering switching, there are tons of options. Further most podcast hosts boast similar features, so it's challenging to find the one that fits your needs.
While there isn't a one-size-fits-all podcasting solution, I'll introduce you to few of the finest podcast hosting platforms in the market in this article. You can consider how the features and price fit your requirements to find the perfect hosting company for your show.
But:
Can't you upload audio files on your website hosting itself?
I can see how website hosting platforms which promise "unlimited" storage might tempt you to upload your podcast episodes on their server.
Guess what, though?
All website hosting plans come with a limited bandwidth and have fair usage policies. Audio files are large in size — think 25 MB or more — at least 100 times larger than the usual files (such as text and images) you upload on your site.
If multiple people stream and download from your site, it will call for hundreds of thousands of megabytes of bandwidth. The listening experience will turn poor for your audience and your website hosting company might even kick you out from using their platform.
Even if you're short on budget, there are numerous free and affordable podcast hosting options. Let's get started with our first pick, Buzzsprout.
Note: Just to let you know, this article contains affiliate links. This means Elite Content Marketer gets a commission if you sign up through us, at no extra cost to you. I only recommend products that I personally find valuable and enjoyable. I appreciate your support!
Buzzsprout is a value for money podcast hosting platform for entrepreneurs, creators, or even churches who are looking to start a podcast.

Price: $12 per month for 3 hours of upload every month. $18 per month for 6 hours and $24 per month for 12 hours of upload every month. For uploading additional content, the cost is merely $2 per hour. The platform offers Magic Mastering™ technology for optimizing your audio files to match best practices. This is available at an additional monthly cost of $6, $9, and $12 per month in the above three plans.
Trial: They offer a forever free plan, but it has limited features.
It's one of the most generous companies in the podcast hosting market, though your episodes expire after being hosted for 90 days in the free plan. In a day after I signed up, there were onboarding emails from the head of marketing and customer success underlining how much the company cares about its customers.
You get 250 GB of free bandwidth on all the paid plans (which could mean over 20k to 40k downloads per episode). It's also possible to create multiple podcasts from the same dashboard, but each will get billed separately. Don't have a site? Then a custom subdomain of Buzzsprout can serve as a home for your podcast.
Among other features, you can submit your podcast to online directories and embed its audio player on your website to broadcast shows. For the convenience of your listeners, creating chapter markers is also possible.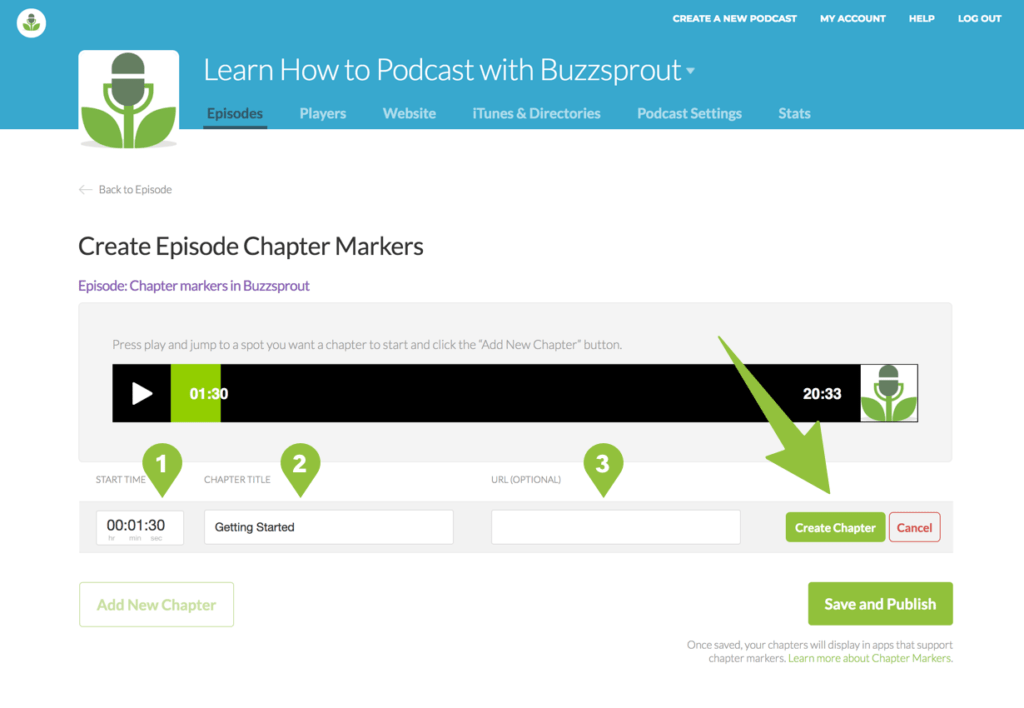 Even churches use Buzzsprout to host their sermons online. It's probably the best podcasting platform for beginners because of its affordability and simplicity of usage.
A podcast publishing platform geared towards brands for creating multiple shows with a modern and minimalistic user experience. It also allows you to publish protected premium content and internal podcasts for your team.

Price: $19 per month for the Starter Plan capped at 10k downloads. The Professional Plan priced at $49 per month is capped at 50k downloads and the Business Plan costs $99 per month and allows 150k downloads. Pay annually to get two months free.
Trial Details: You can access a 14-day free trial, but you'll need to enter your credit card details.
If you've caught on to the recent rush to produce a branded show, then Transistor is the app to bring it to life. You can create both kinds of shows — standalone episodic or narrative/thematic style serial. You're directly asked to enter the details of your show on its dashboard, so there's no fudging around!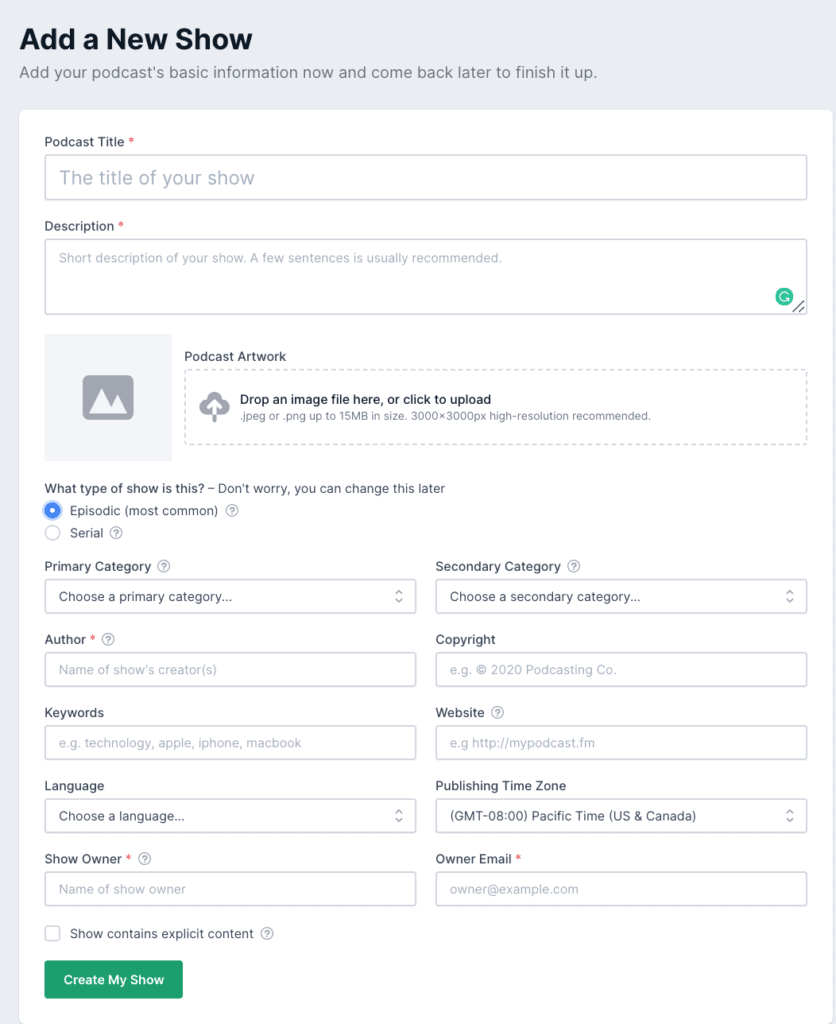 There's an option to enable a podcasting website with customizable options for colors, introduction text, website logo, footer text, and custom CSS. For tracking page views, simply submit your Google Analytics ID or Fathom Analytics ID. The details of your social media and podcast listening apps can also be added from the 'Social' tab in the left sidebar.
If you want to make your show available on your site, there's an option to configure a custom domain for your podcast. It requires updating the DNS settings by logging into your domain registrar as explained here.
You can connect your Google account to Transistor and let it upload your episodes directly to YouTube. Once you've uploaded an artwork for your podcast, the platform will submit your show for inclusion in Spotify and even pull the analytics every morning for you. It's also possible to integrate your email suite (ConvertKit, Mailerlite, Drip, ConvertKit, or Drip) and let your listeners subscribe to your newsletter.
Transistor lets you host unlimited shows, venture into private podcasts, add and manage team members, run exclusive feeds and episodes for your community, and get access to advanced analytics. Overall it's a nifty podcast hosting platform for brands that want to run multiple shows.
A fairly new podcast host built for independent podcasters who want to run multiple shows. You can add team members to simplify your workflow and access a suite of tools to grow your audience.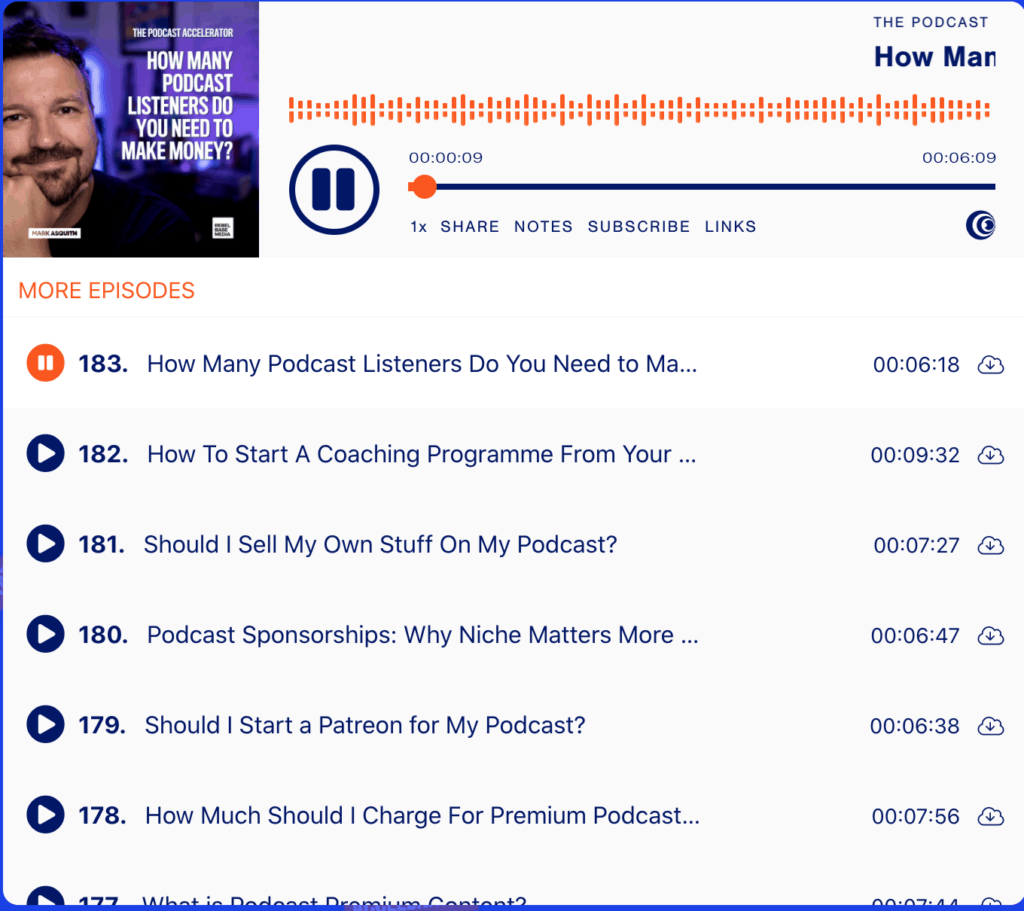 Price: $19 per month for 'The Podcaster Plan' with 12k monthly downloads. 'The Audio Influencer Plan' is priced at $49 per month and allows 60k monthly downloads. 'The Podcast Brand' at $99 per month will cap you at 150k monthly downloads. Annual payments allow you to save $17 per month, $44 per month, and $90 per month respectively.
Trial Details: A 7-day free trial is available, but you'll need to put in your card details. If you forget to cancel your account, the company will automatically charge you, and also has a 'no refund' policy. Remember to cancel your account before your trial ends if you don't like them.
Captivate has a clean and modern dashboard. Once you log in, you're greeted by Mark, the CEO of the company, in the chat with a short video tutorial on adding your information and podcast on the platform. The onboarding is smooth and you'll truly feel welcome to the self-proclaimed, "world's only growth-oriented podcast host."
Interactive pop ups with handy tips, progress bars, and chat messages appear when you miss steps (such as filling your profile). Their marketing tools are where the podcast hosting service stands out.
There's an in-built CTA button inside the embeddable podcast player — you can direct people to donate to your Patreon, subscribe to your email list, or add links to your sponsors through it. You can also generate a sponsorship kit PDF with the download numbers of your recent episodes.
Captivate is geared towards creative entrepreneurs who want to foray into podcasting professionally. They are a fast-moving startup: new features are added to the platform every week. Also, none of their core features are restricted to a high-tier plan — you can create unlimited shows (with a limit of 12k downloads) even in their Podcaster plan.
Captivate is a fit for intermediate to advanced podcasters focused on growth. But beginners will equally relish their marketing features.
An established podcast hosting platform with an easy to use interface and sharing tools to grow your show. Its high-tier plans carry its premium features, so it's best suited for brands. New podcasters can give them a try, though.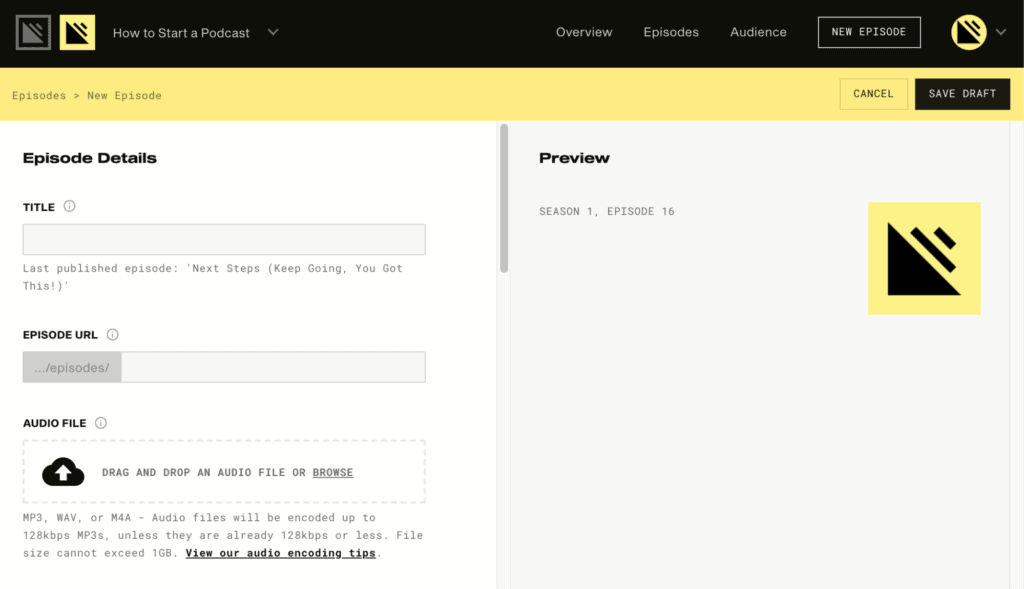 Price: $15 per month for the Basic plan with 20k monthly downloads included. $35 per month for the Essentials plan with 50k monthly downloads and $85 for the Growth plan with 120k monthly downloads included. You get a 10% discount on all plans by paying annually.
Trial Details: A 14-day free trial is offered and you don't need to enter your card details.
The onboarding and overall experience of getting started with Simplecast is slightly challenging. I had to fiddle around their knowledge base and enter the show's details multiple times to publish it. The welcome email from the company is also straightforward (without a personal touch).
But once you choose "Starting From Scratch", you're welcomed by Simplecast with a form requesting the details of your show. Here you need to add a title, upload your artwork, choose a format category for your show, and add the author details.
Once you've entered the details and uploaded your audio file, your episode will automatically be updated on your show's Simplecast site as well. While the platform does not offer a lot of customization for your site, you can add pages to it. There's also an option to set up your own custom domain.
Simplecast excels in its sharing tools. This includes Recast®, which lets listeners share custom clips from your episodes on social media. It also houses an elegant web player that makes for a sweet listener experience. The listener reports let you compare the performance of episodes, generate location heatmaps, get info on the devices and directories used, and more.
Many established brands rely on Simplecast and happily pay a premium for its reliability. As an independent podcaster, you might find its higher-tier plans (where its advanced analytics and other unique features are available) really expensive.
Update: Recently Simplecast announced getting acquired by SiriusXM, an ad-supported audio entertainment streaming service. So in future, the product might include advanced monetization and distribution features and even get a major overhaul of its core features.
Manage your podcast on your WordPress site itself through their Seriously Simple Podcasting plugin. You can also avail podcast editing, episode transcriptions, and even personalized coaching/consultation from audio engineers and podcasting experts at the company.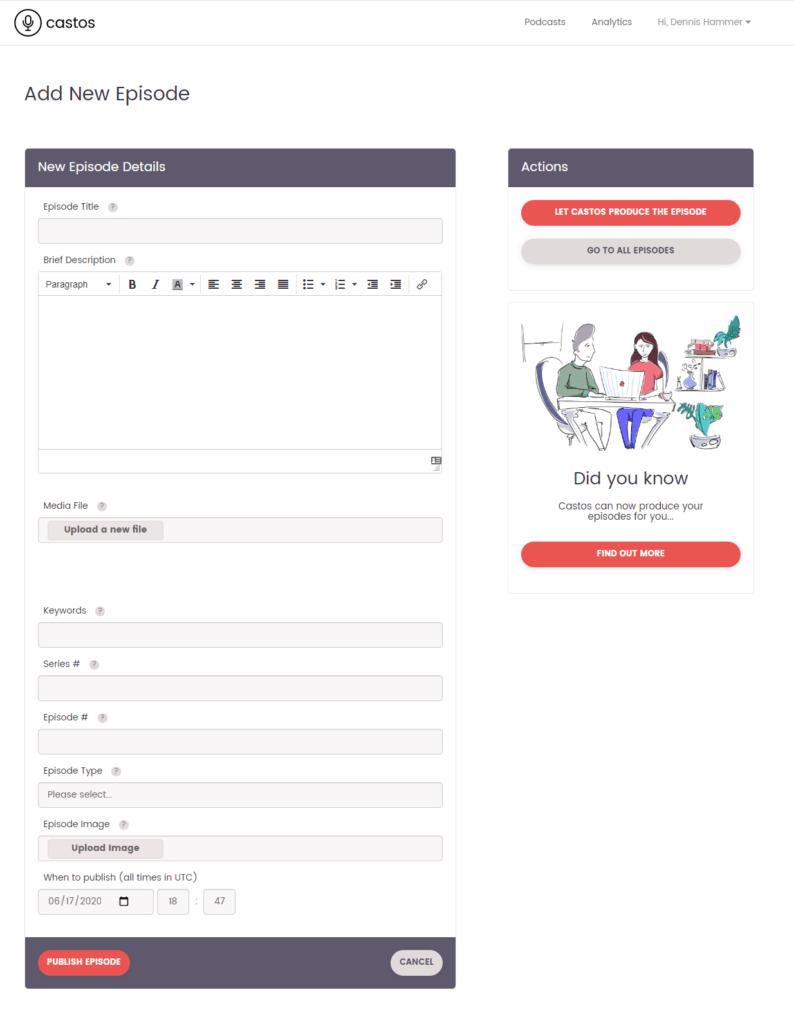 Price: $19 per month for the Starter Plan. $49 per month for the Growth Plan with headliner audiogram integration and video republishing as additional features over the Starter. $99 per month for the Pro Plan with advanced analytics and video hosting. You can get two months for free by paying annually.
Trial Details: Get a 14-day free trial for the Starter Plan without putting your credit card information.
If you own a WordPress site, I'm sure you'll appreciate the ability to manage your podcast content and publish new episodes from its familiar dashboard. The Seriously Simple Podcasting plugin lets you upload your podcast audio file, create a WordPress page with relevant podcast information, and make playlists to display them anywhere on the site.
All plans offer an unlimited number of podcasts, episode uploads, and downloads. What's more? Castos Productions even offers a podcast editing service — the Concierge Service priced at $150 per episode can put your entire production process on autopilot.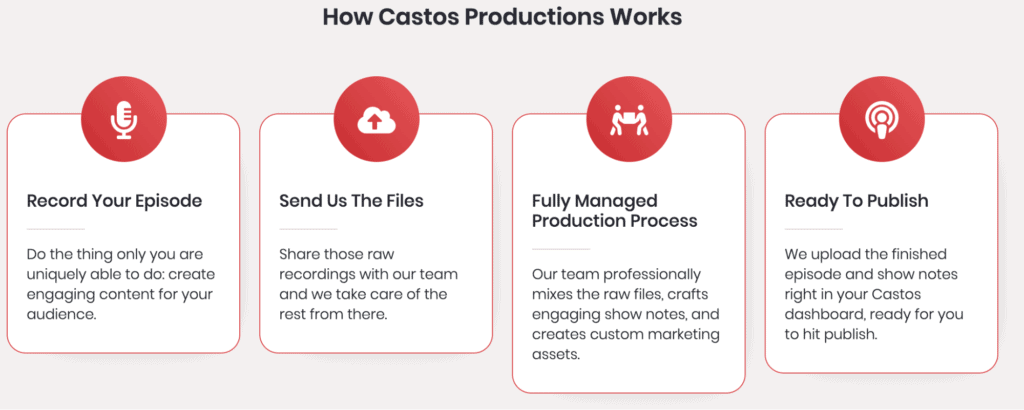 You can fill details for your podcast feed, modify your podcast plug on the Castos subdomain and social media presence, and add subscribe links on your podcast pages.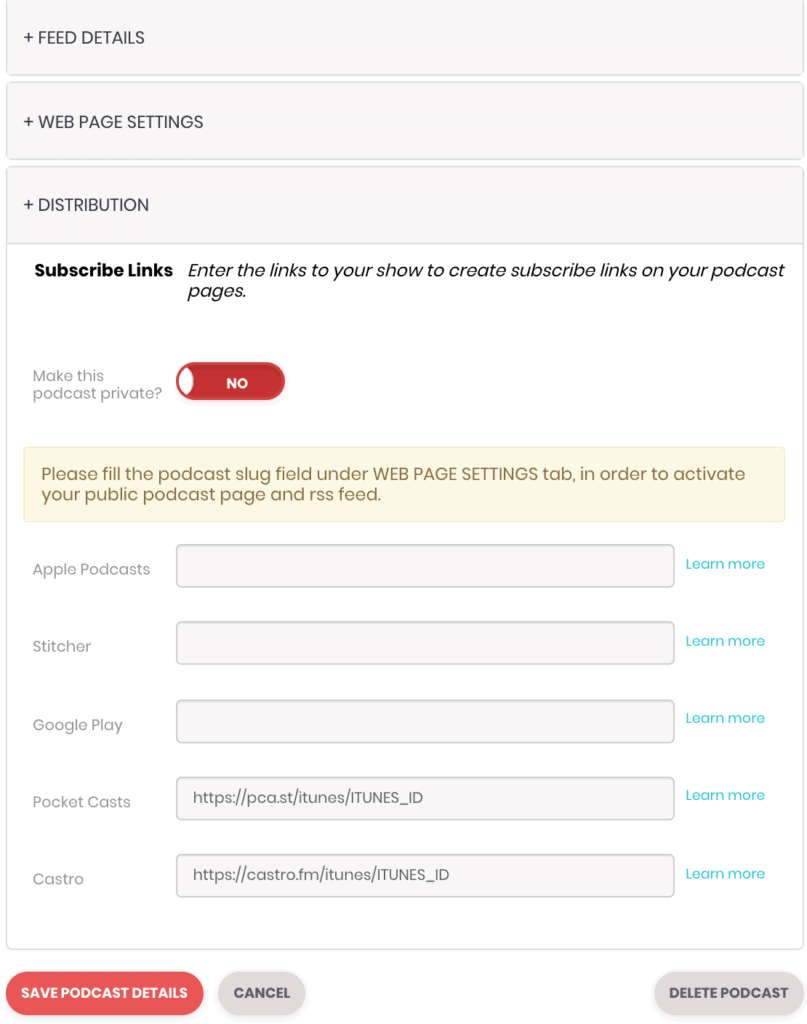 Right from the get go, Castos encourages you to publish your first episode and make it easy for you to launch your podcast. If you want to directly venture into professional grade podcasting and are willing to shell out a little extra to get help from experts, then Castos is a great bet.
Nonprofits and religious organizations can contact the company for special discounts.
6. Podbean
Podbean is an affordable podcast hosting platform for beginner creators — it's easy to use and includes video hosting in its higher price tiers.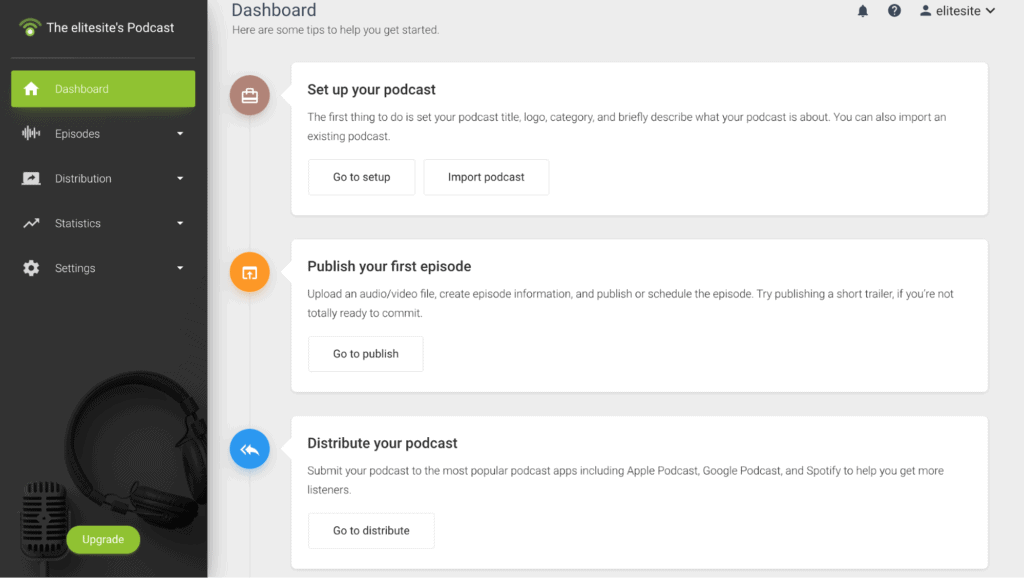 Price: $9 per month for the 'Unlimited Audio' plan with unlimited storage and bandwidth. The 'Unlimited Plus' plan costs $29 per month with a podcast patron program and access to a Podcast ads marketplace. The Business Plan is $99 per month for advanced customization.
Trial: They offer a forever free 'Basic' plan, but it has limited features.
The welcome email from Podbean was a vanilla "Congratulations" message. Their dashboard (in the screenshot above) is uncluttered though and new podcasters will relish its user-friendliness. You also get unlimited hosting, distribution (including free syncing of your podcast on your YouTube channel), robust statistics, and monetization features.
With every plan, you get a customizable podcast website. Not only can you modify the colors, fonts, and the images — the "layout" tab will take you to a WordPress-like dashboard for editing its design.
There are a range of customizable responsive themes catering to various use cases including talk shows, video podcasts, and musicians. You can add both left and right sidebar widgets from a few options visible below.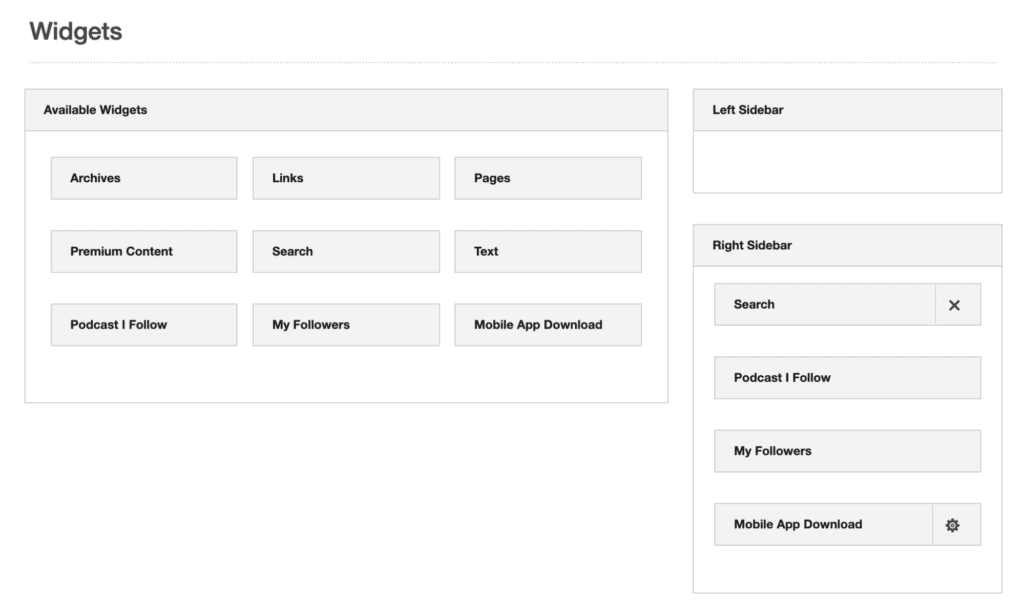 It's possible to modify the site's visual style by adding pages and using a CSS Stylesheet Editor. Once you fill in relevant feed information, you can submit your podcast to Apple Podcasts and Google Podcasts.
Podbean also offers PodAds, a dynamic ad insertion service, which they refer to as SaaS for podcast advertising.
If you want audio storage with a slew of podcast editing and recording apps, then look no further then Spreaker.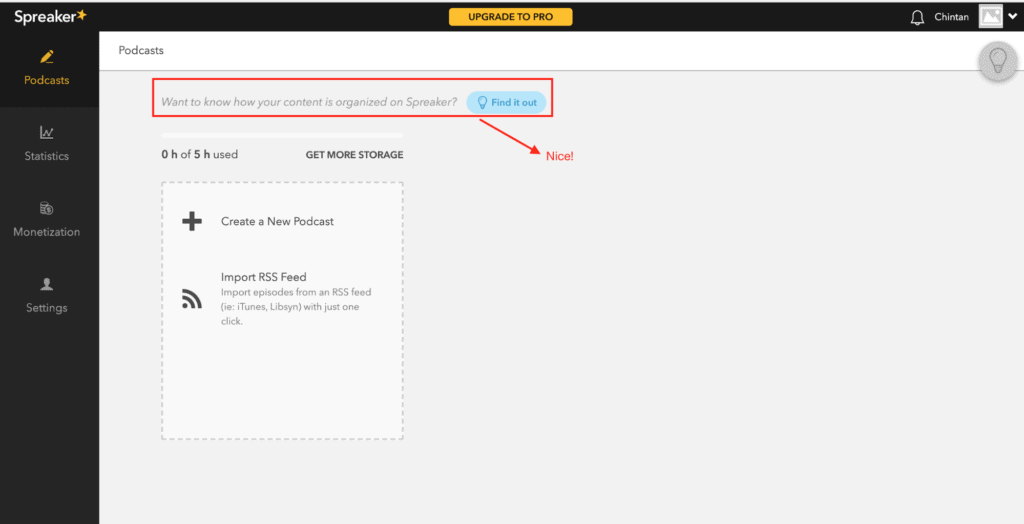 Price: $7 per month for the On-Air Talent Plan with 100-hour audio storage. The Broadcaster Plan comes at $20 per month with 500-hour audio storage and advanced statistics. The Anchorman Plan costs $50 per month and offers 1,500-hour audio storage with customizable player controls. You can save on all the plans by paying annually.
There's also a 'Publisher' Plan for enterprises with a pay-as-you-go pricing starting at $120 per month for 60k downloads. It's a turnkey service for high-volume content creators.
Trial Details: A Free Speech plan with 15 minutes of live broadcasting time per session is available to test the platform. It comes with 5-hour audio storage and basic audience analytics.
The Content Management System (CMS) of Spreaker welcomes you with the two options to get started. You can either 'Create a New Podcast' or 'Import RSS Feed' to migrate your podcast from another audio hosting site. I like the little interactive prompts that pop up alongside every step with links to support articles about the features.
The CMS is also where you control the three most important entities for your shows:
your user profile with your biographical information,
your podcast page with artwork, description, and the like,
your podcast episodes which are the audio files.
The 'Statistics' tab gives an overview of your downloads, likes, followers, and more. From the Pro Plan onwards you get in depth podcast statistics. These include demographics, sources, devices, and the kind of content resonating with your listeners. It's also IAB certified, so onboarding advertisers will not be a problem when your show grows.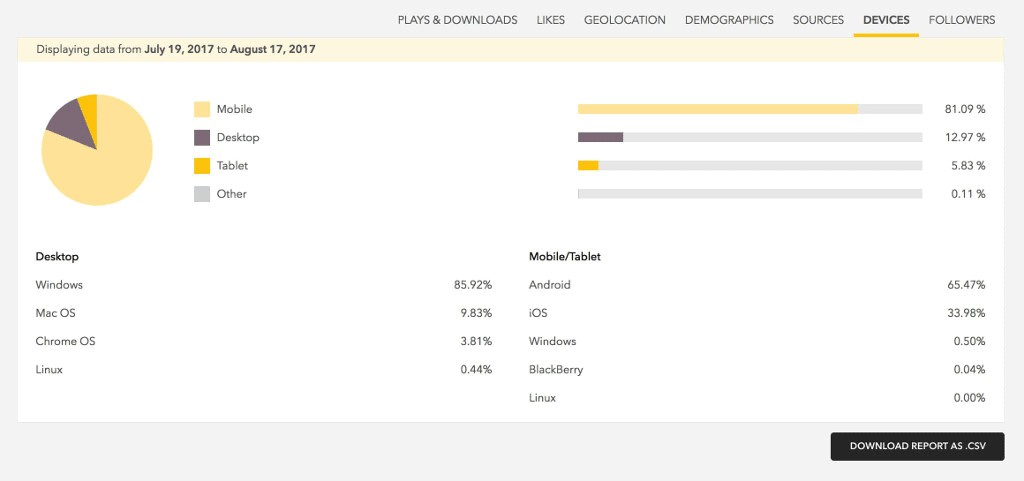 For monetizing your podcast, dynamic ad insertion is available. The Broadcaster Plan allows live broadcasts for up to three hours.
For distributing your podcast, you can connect to Facebook, YouTube, Google, Twitter, Soundcloud, Apple Podcasts, Stitcher, Spotify, JioSaavn, and other RSS-catching platforms. It's also possible to run Ad Campaigns within the Spreaker community starting at $10 to promote your podcast.
To insert your episodes in blog posts and external websites, Spreaker offers an embeddable player. Overall it's a great audio hosting service with generous storage and numerous tools that other platforms lack.
They are one of the oldest podcast companies that offer hosting and boast a community of experienced podcasters. For podcast hosting, you get a user-friendly basic interface alongside robust monetization opportunities based on a transparent revenue share model.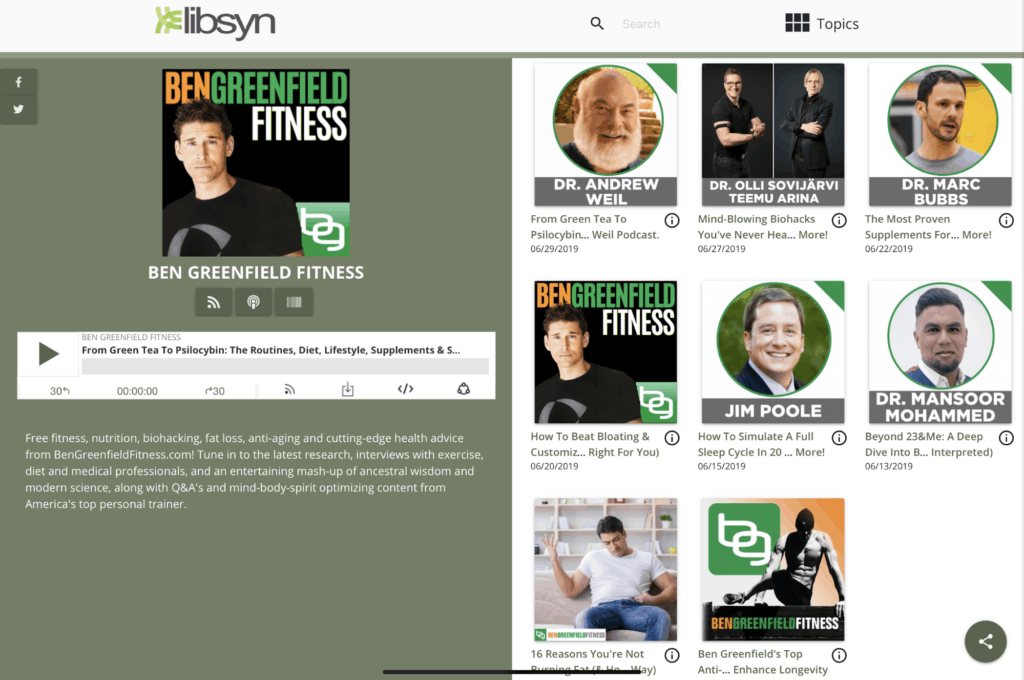 Price: $5 per month for the Classic 50 Plan with a 50 MB monthly upload limit (approximately 50 minutes). The Classic 250 at $15 per month, Advanced 400 at $20 per month, and Advanced 800 at $40 per month are three other plans with more monthly storage.
For enterprises, the Advanced 1500 at $75 per month and Advanced 3000 at $150 per month plans offer even more capacity.
Trial Details: No free or paid trial.
Want the reliability of an old-guard podcast host? Well, Libsyn has been around since 2004. Their user interface isn't the best. But if you want to upload about an hour's worth of audio content every week along, then the Classic 250 Plan works well.
The hosting service comes without bells and whistles, but it's affordable and has responsive customer support. If you've an engaged audience that demands premium content, you can monetize your podcast by selling subscriptions while splitting the revenue with Libsyn. If your show gets 5k US downloads a month, it could also be considered for advertising campaigns on the platform.
You can also tailor the look of your show, distribute its RSS Feed and avail help from support if you get stuck. If you don't mind a slightly clunky UX and want basic podcast hosting features, Libsyn will do the job.
The company boasts a suite of podcasting tools including one of the best podcast hosting platforms, professional podcasting statistics, and the PowerPress plugin. It's suitable for creators who own a WordPress website (or are comfortable with its UX) and want to start a podcast.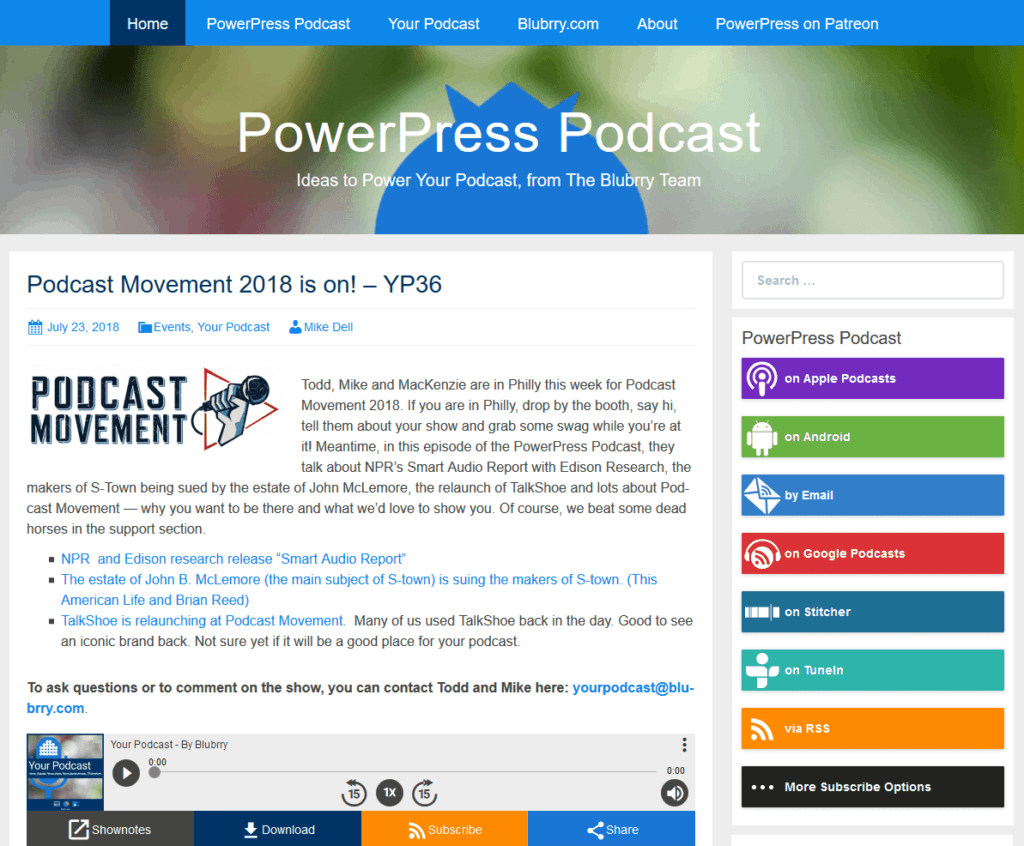 Price: $12 per month for the Small Plan with 100 MB monthly storage. Video uploads are only available in the following plans: $20 per month for the Medium Plan with 250 MB, $40 per month for the Large Plan with 500 MB, $80 per month for the Extra Large Plan with 1,000 MB. A Professional Plan with unlimited monthly storage is also available on request.
Trial Details: You can try their PowerPress plugin on a WordPress site for free. A trial of Blubrry isn't available, though.
Renowned for their PowerPress plugin (that lets anyone run a podcast from their website), the platform lets you manage your podcasts from your WordPress dashboard.
Its bragging rights include the ability to post, upload, and publish your episodes using its plugin (here's a video demonstrating it). So write and put your show notes, upload your MP3 file, and press publish right inside WordPress.
Other CMS platforms can also use the embeddable player to display your episodes on your site, else blubrry.com/your-podcast can serve as a functional home for your podcast.
What I love about Blubrry is their creator-first approach. You get unlimited bandwidth, premium statistics, and an optimized RSS-feed on all their plans. They also offer a no-fault podcast hosting so you can stay at peace even if you exceed your monthly storage by a little.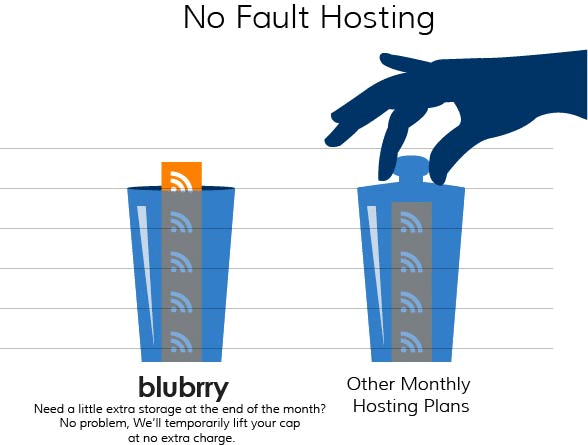 Further, its Long Tail Podcasting abilities allow you to go back to your archives to edit and republish your content. It is useful for editing your intros, inserting advertisements, and more, at no additional cost as long as the new upload is within 10% of the original file size.
Blubrry is like an affordable version of Podcast Websites with a few nice addons, but depending on the hosting plan you opt for, it can have some limitations.
Touting itself as the platform to host, distribute, and monetize your podcast, Audioboom comes with robust monetization tools. You can host as many podcasts as you want and pay every month based on the number of listens.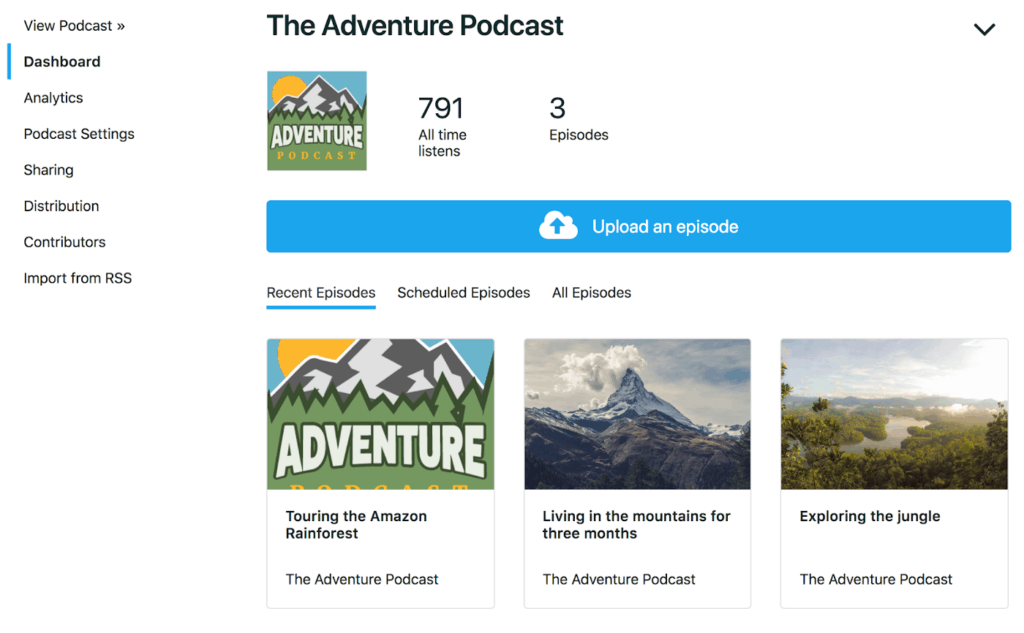 Price: $9.99 per month for the Standard Plan with unlimited episodes and up to 10,000 listens per month. You can avail the plan at $99 by paying annually. For up to 25,000 listens per month, you'll need to upgrade to the Plus Plan at $19.99 per month (or $199 per year).
Trial Details: You get a full refund if you cancel anytime during your first month on the Standard Plan.
Once you sign up and create a podcast with a new title, the Audioboom dashboard below will welcome you. To set up the podcast, add a logo and a description, choose a subscription plan, upload your first episode, and distribute your podcast to Apple Podcasts, Spotify and more.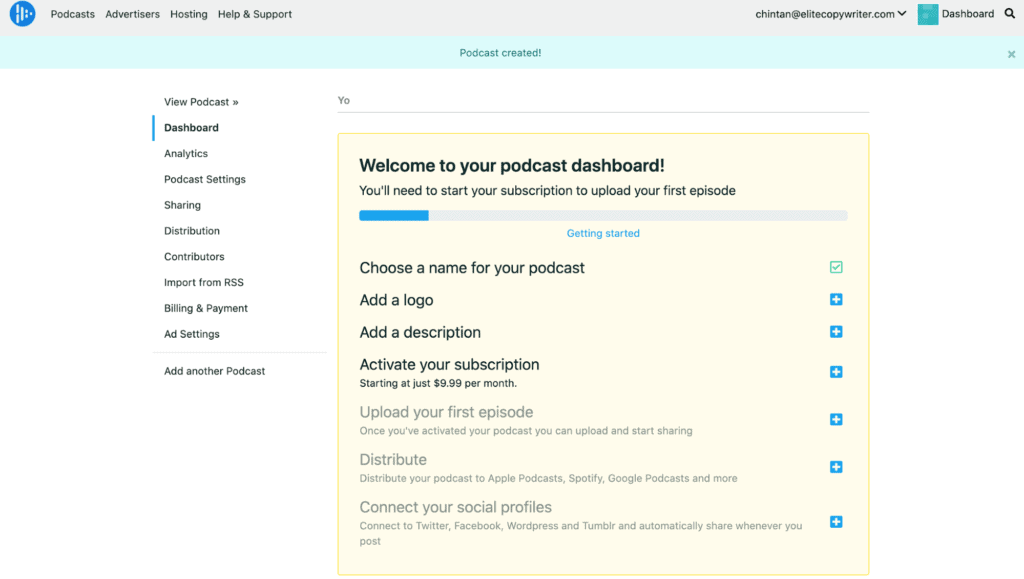 The platform offers IAB certified analytics tools. This lets you generate detailed insights for your "most listened to" podcasts. The generated reports include information on your audience's geography, their devices, and the platforms they use to sign in to your podcast.
The monetization tools on the platform enable you to sell "host read" and "live read" spots on your show. Once you get about 10k listens per month, you can opt to let Audioboom automatically add pre-roll, mid-roll, and post-roll ads to your show. You can control these ads through the 'Ad Restrictions' link on your dashboard.
There's news though that the podcast company could be sold. If the uncertainty around its future works for you and you want impressive monetization features, then give Audioboom a spin.
A robust enterprise podcast hosting platform providing podcast hosting for publishers and an advertising marketplace for brands. Podcast networks with multiple shows averaging over 20k downloads per episode will find Megaphone valuable.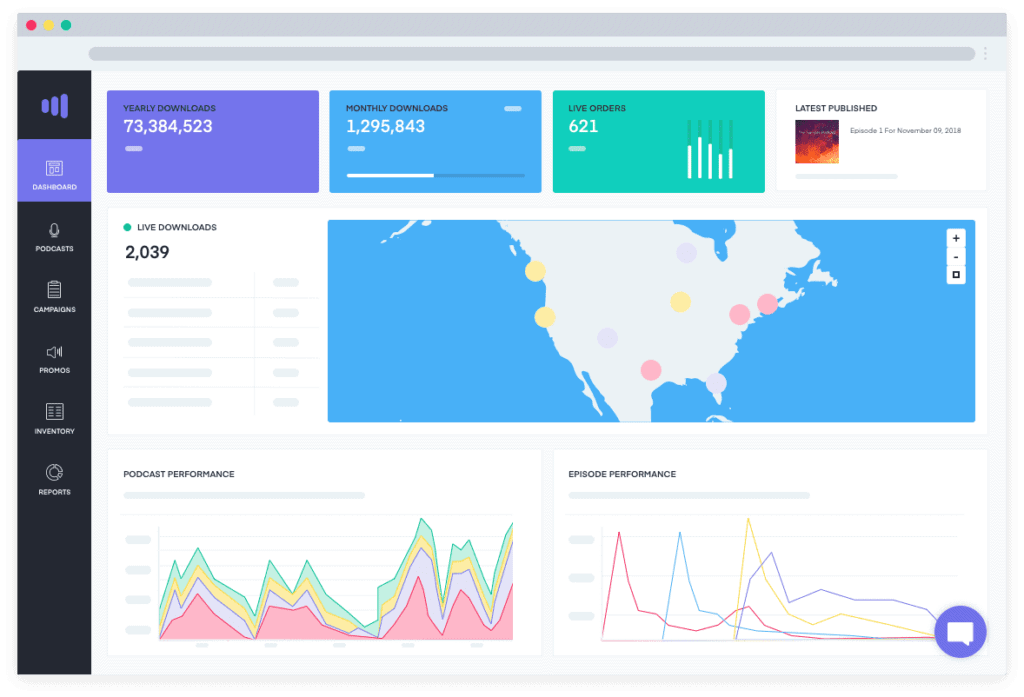 Price: Get a custom quote by contacting them!
Trial Details: Not available.
Built by professional podcasters with a decade of experience, Megaphone is trusted by publishers like The Wall Street Journal and howstuffworks. Its CMS is intuitive, but the platform excels in their podcast monetization features. They include dynamic ad insertion, advanced ad targeting, and granular control over campaign delivery.
As an established podcast network, they let you make your inventory available in their targeted marketplace and earn additional revenue besides direct ad sales. Everything ranging from publishing, analytics, uploading your ad creative to managing your campaigns is possible on Megaphone.
Further your podcast reports will be broken down across geography, devices, advertiser, agency, and a various other attributes. For certain podcast apps, you'll even get data when your listeners pause or skip your episodes.
The company prides itself on technical innovation and as a media publisher you'll have a great time with Megaphone. If you are stuck along the way, don't worry — their support and engineering teams are available in the chat window.
An all-in-one package with a self-hosted WordPress site, email, domain, and more, all added to the reliable Captivate podcast hosting. Podcast Websites is ideal for creators who are starting from scratch and want to build a serious business with audio content.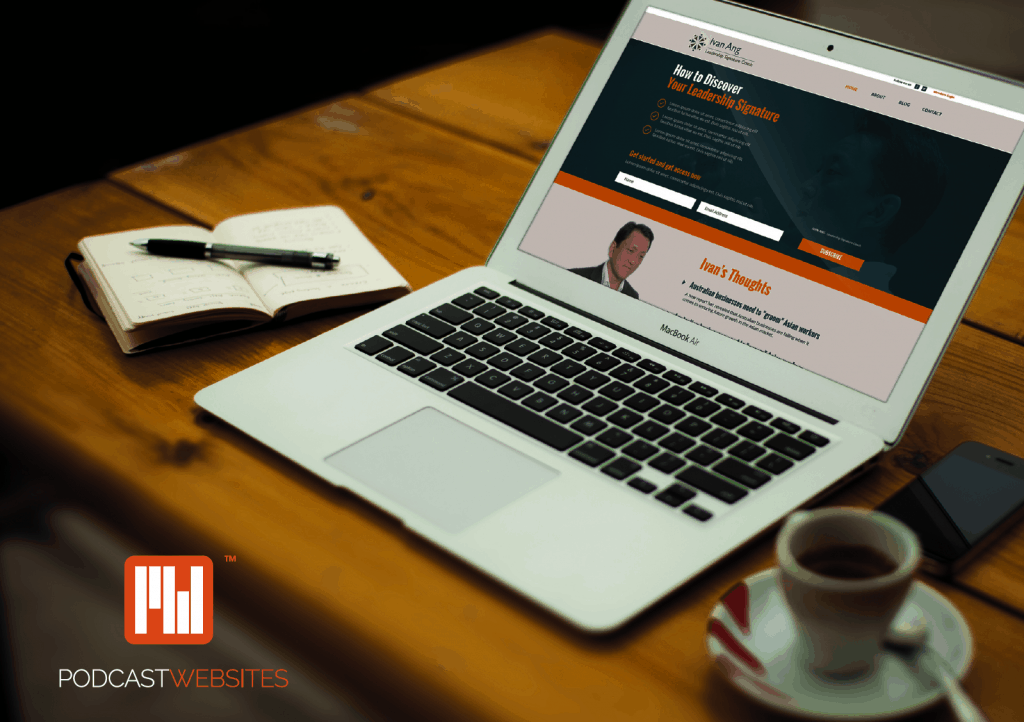 Price: $97 per month, but you need to pay $10 per month per RSS feed for unlimited and unmetered built-in podcast hosting and advanced download statistics. The same plan costs $77 per month if you pay annually.
Trial Details: While a demo of the product is available and they offer a 7-day money back guarantee, they don't offer a trial.
Most podcast platforms on our list offer mini podcast sites. The issue with them is little flexibility for design and customization. If you want to completely control the listening experience and don't own a website right now, then Podcast Websites is a great platform.
It's expensive as compared to all the other podcast streaming services on our list. Why? Because it includes a domain, web hosting, and a host of WordPress plugins to grow your show. You also get a drag and drop builder, themes unique to podcasters, and digital marketing support to promote your podcast.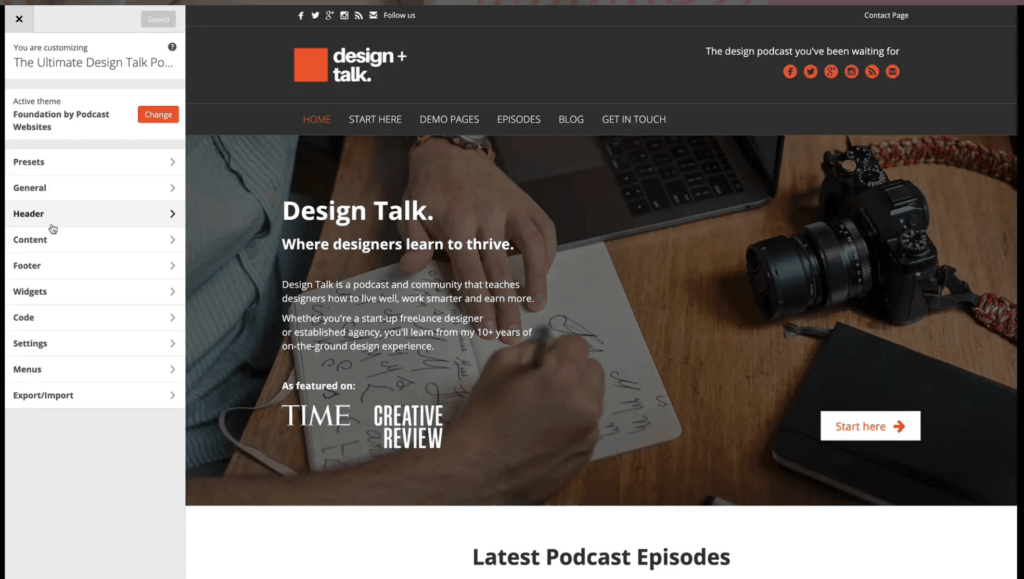 Other features include daily backups, website security, a Simple Podcast Press player, and a video tutorial library in its The Podcast Success Academy. You can also add to this list, its integrations with email marketing software like Aweber, ConvertKit, Mailchimp, and more.
If you're new to podcasting and want to quickly launch your show, then Podcast Websites is worth checking out. It will simplify your workflow and give you peace of mind so you can take care of producing engaging episodes for your audience.
If you want to switch your hosting platform, then almost all services allow migration of your existing podcasts.
Other Podcast Hosting Sites To Consider
Didn't like any tool from the above list of the best in class podcast hosting platforms? Don't you worry. I've got a few more options lined up below: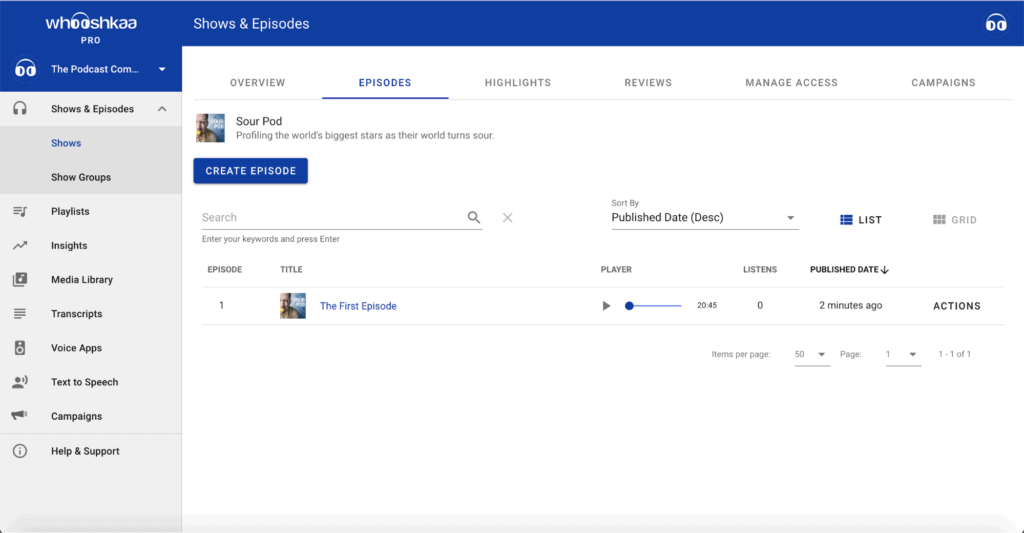 Labeling itself as a full-service audio on demand company, Whooshkaa is a relatively new Australian podcast hosting service that started in 2016. Their enterprise grade audio technology is promising. Beyond podcasting, you can deliver dynamic audio content to any channel (think Alexa of any Smart home speaker).
It's possible for creators to repurpose their audio content and adapt it to match whatever gets maximum interaction. The company's core values of security and privacy with its advanced tech make it expensive — the lowest-tier plan costs $29 per month for 10k monthly listens. But you get a full-service podcast hosting platform with monetization capabilities through dynamic ad insertions.
The renowned website builder also lets you host podcasts, providing an audio player and a RSS feed to sync with Apple Podcasts. You can set up a blog page for your podcasts and host your show by simply paying for the website you built through them.
But there are several limitations with Squarespace, including audio file size and inflexibility with the appearance of your podcasting website.
Dan Benjamin, the founder of the 5by5 network, dipped his toes in the podcast hosting world by launching Fireside.fm in 2016. At an affordable price tag of $19 per month, they provide hosting, a built-in website, podcast analytics, and unlimited episodes, storage, and downloads.
With unlimited storage starting $12.99 per month, Podiant comes with a production assistant system to write notes, review your episodes, and write scripts from your podcasting dashboard. The company also offers production consultancy services.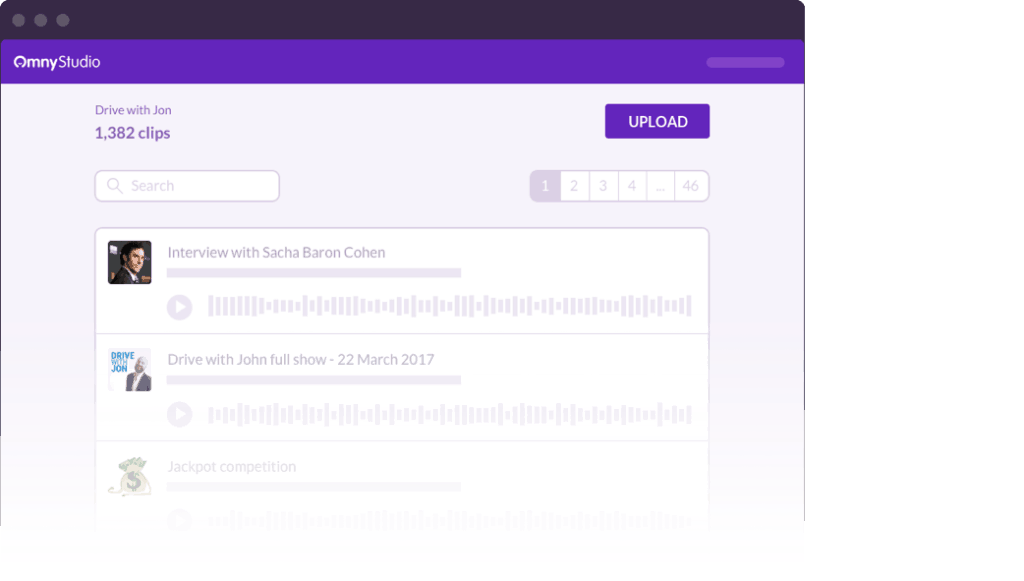 If you're a radio station or an enterprise company looking for an end-to-end audio management solution to manage hundreds of podcasts and users, then OmnyStudio is a great fit. It's "Starter Plan", priced at $29 per month, comes with 1 TB bandwidth, and unlimited storage and users. You also get a suite of tools for editing, publishing & sharing, monetization, and analytics.
Are you a B2B business owner or a creator focused on selling to businesses? Then get a free 14-day trial of bCast that was launched in April, 2020 by B2B tech marketing veterans. The company is solely focused on helping B2B brands grow and profit from audio content.
Its unique features include an Auto Optin that converts listeners into leads. It just requires them to send a blank email to a custom email address. You can also insert dynamic content in your podcast archive to promote your webinars, demo, or anything else within a couple of clicks.
How would you like it if you could just upload your podcast file and let someone take care of making it available across podcast networks such as Apple Podcasts?
PodServe touts itself as one such 'full-service' podcast hosting platform. It costs $19 per month for unlimited storage and podcasts, and includes free podcast promotion on PodParadise (which gets 5k daily visits from avid listeners).
The company will create a "done for you" website for your podcast alongside providing the hosting. If you don't want to deal with tech at all, you can simply choose a custom theme and send your content to PodcastGIANT and they'll do the rest for you. While the premise of the podcast hosting service is enticing, it carries a steep price tag of $49 per month.
Even More (Free) Podcast Hosting Sites
Many hobbyist creators become ecstatic when they see "free" hosting sites. After all, they are their tickets to turn their podcast ideas into reality.
The truth is, all of these services will eventually restrict your growth. Their features will mostly include an RSS Feed with a limited upload time and bandwidth. As your audience grows the playback speeds just won't make the cut. You get access to limited podcast analytics and basic metrics, and it hinders your growth and revenue generation opportunities.
That being said, the free podcast hosting services below are decent if you just want to dip your toes into the world of podcasting. If you want to build a sustainable podcasting brand, consider an upgrade to one of the paid services above.
They offer 500 MB of audio content storage with 15 GB of monthly bandwidth (up to 180 hours of listening) for free. Since they began in 2005, they have been one of the most committed companies for independent casters, claiming your episodes (even on the free plan) will be housed till 'the internet expires.'
The hub of indie musicians could also serve as a home for your podcast. They offer up to 3 hours of audio storage for free, but you don't get stats and common podcasting features.
One of my favorite bloggers, Scott H Young, uses their paid service for his podcast, which is $144 per year. If you also want unlimited upload time, then this 'SoundCloud Pro Unlimited' Plan is worth considering.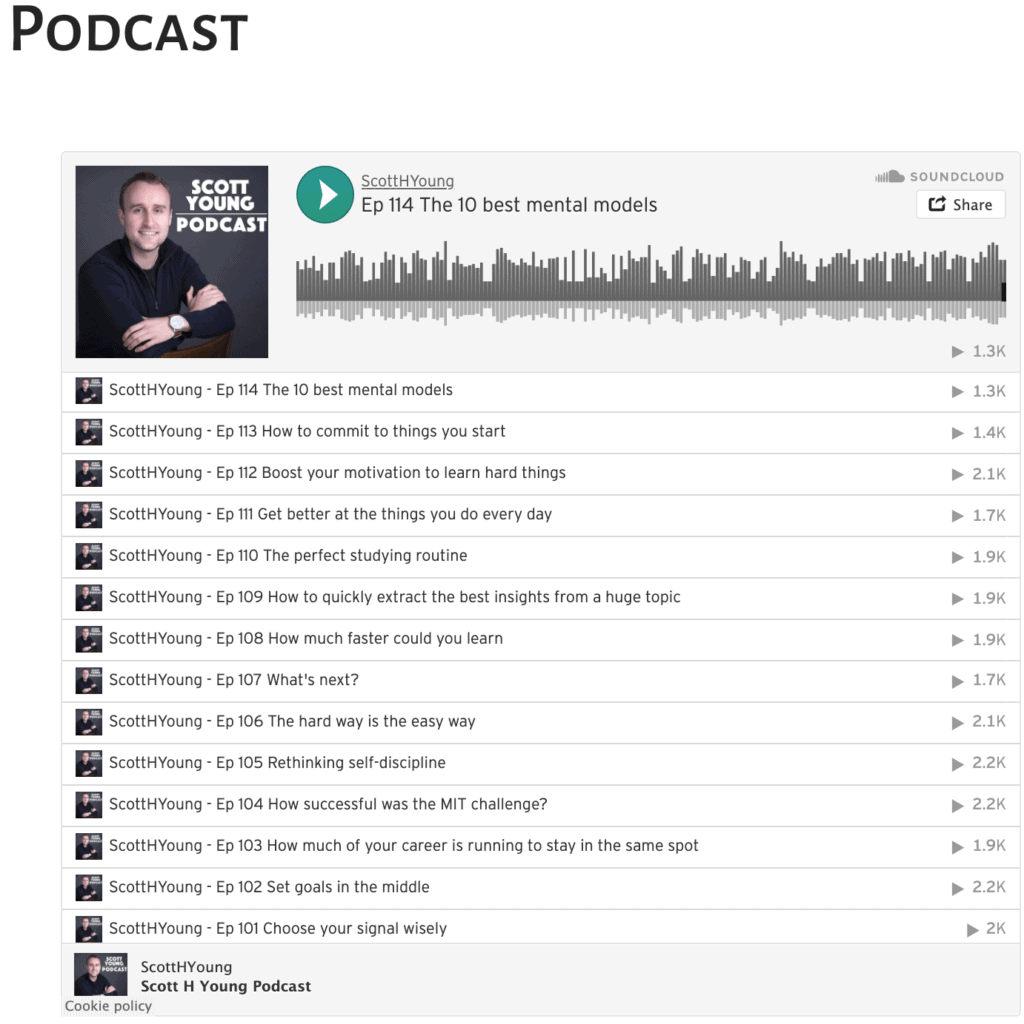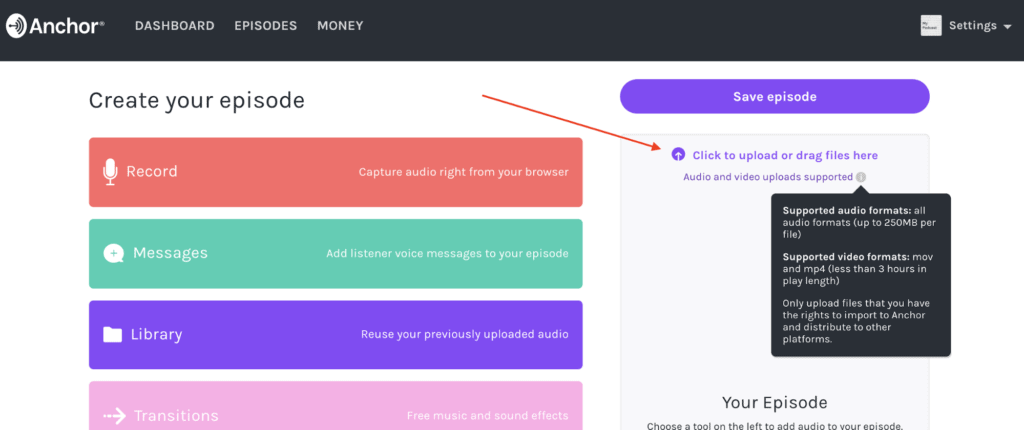 Found with the premise of democratizing audio they offer unlimited storage and insist they are 100% free. While Anchor.fm is the flag bearer of free podcast hosting, it was acquired by Spotify (which puts their future in jeopardy).
Previously, they have invited criticism for claiming they 'own your content' in their Terms and Conditions. Even today, Anchor submits your show to Apple Podcasts from its own account. This means that you get restricted from accessing podcasting analytics including the drop-off and completion rates of your episodes.
Also, you can't change the email address — which is used to verify your podcast — in your RSS feed at all. Overall Anchor is a decent platform to test the podcasting waters for free as a hobbyist podcaster, but I wouldn't recommend housing any of your long-term shows on it.
A free and unlimited podcast hosting platform that encourages you to produce audio content and monetize it. The catch? You share the revenue generated through brand advertisements, subscriptions, and donations from your listeners with them.
There's even a cross-promotion marketplace to connect with fellow podcasters, strike partnerships, and launch joint campaigns to grow your audience.
Feel free to experiment for your first few episodes with RedCircle. But if you decide to stick with podcasting longer, then choosing another podcasting host that's more established makes sense.
Note: My top pick for free podcast hosting remains Buzzsprout because it doesn't skimp on any essential podcasting features and has a sustainable business model. If you grow, the company has affordable paid plans that you can consider.
Complementary Podcasting Software
Once you've chosen a podcast hosting platform, here are a few additional tools to make your job easier.
VoIP Podcast Interviews Recorder: Zencastr

To record your podcast interviews in studio quality, you can trust Zencastr. It has an in-built VoIP recorder and lets you send a recording link to every guest you interview remotely. The company has recently also launched video HD recording in beta. To get started, refer to this Zencastr recording guide.
While it has a soundboard for live editing and limited hours of postproduction every month, these might not be sufficient and Zencastr itself is expensive at $20 per month. The tool is also unreliable and could occasionally fail your interviews by not recording at all. You can try the tool's free plan to get a taste of its user interface and evaluate its fit for your podcast.
Podcast Player: Fusebox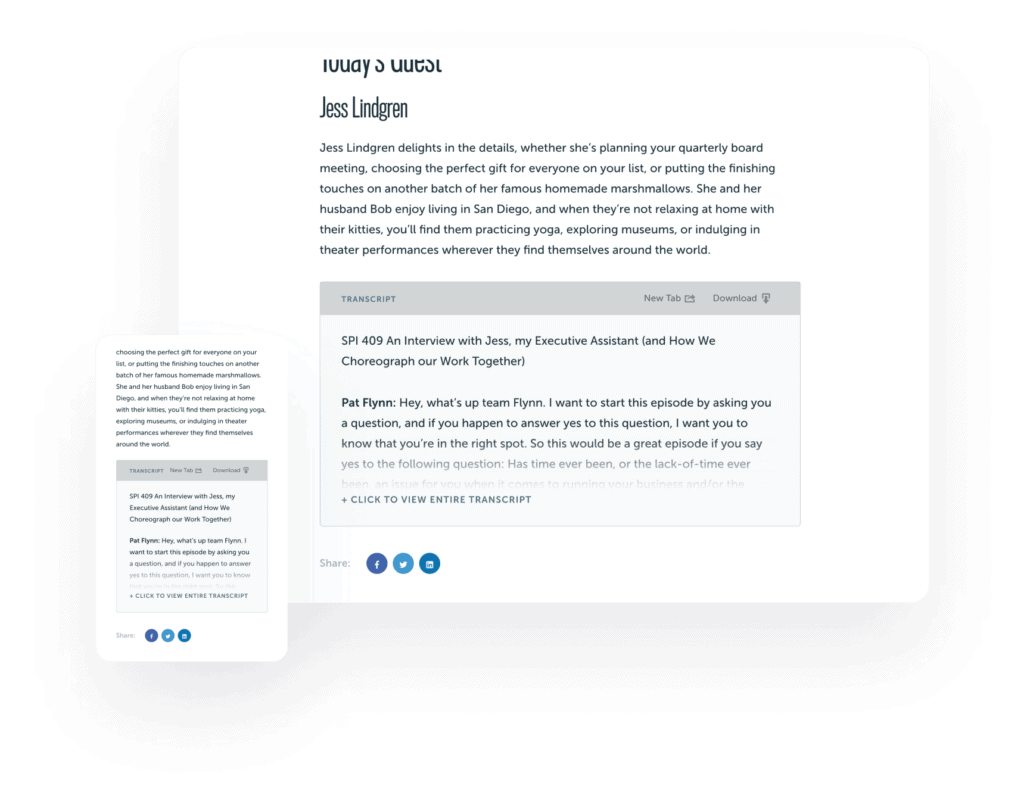 How would you like a podcasting toolset with an elegant looking player that neatly displays your podcast transcripts and episodes on your WordPress website? Fusebox, co-founded by affiliate marketing and podcasting veteran Pat Flynn, does that exactly.
The pricing starts at $12 per month for the Pro Plan ($8 per month if you pay annually). You can also collect emails of your listeners, customize the color of the player, and much more. It is worth a try for WordPress website owners who host shows.
Podcast Maker: Alitu
Editing your raw podcast recordings by adding music, reducing noise, leveling volume, and fine tuning the audio gives your show a professional touch. Alitu simplifies this entire postproduction process by cleaning your audio and removing your mistakes — all you have to do is upload your raw file and leverage its easy to use interface to do the rest.
Did I forget to mention that Alitu will even upload the final audio file directly to your podcast host? The hosts include Buzzsprout, Captivate, Blubrry, Podbean, and Spreaker. Workflow simplification unlocked!
Advanced Podcast Analytics: Backtracks.fm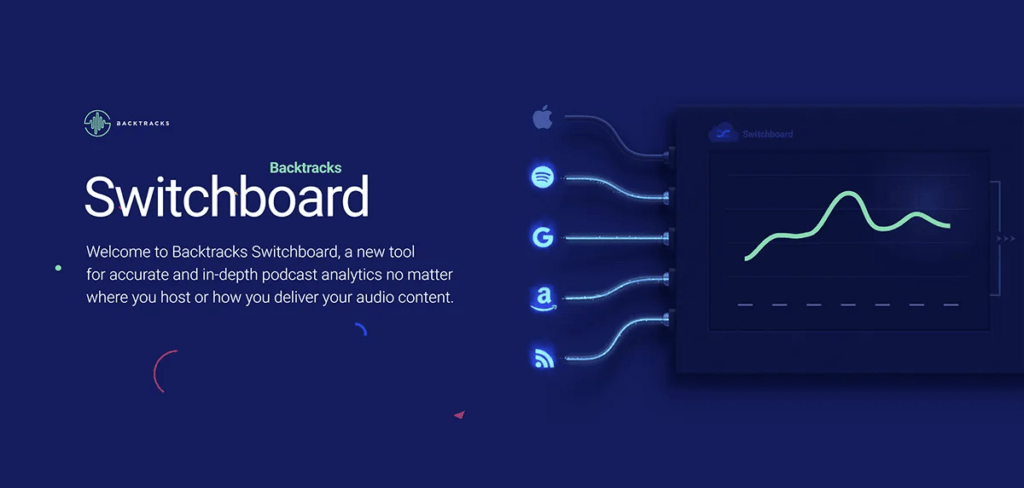 If you want a dedicated software to measure and analyze your audio (handy for understanding growing your audience), then consider the Open Podcast Analytics (OPA) technology by Backtracks. The analytics is agnostic to your host and how you deliver your audio.
The company also has Backtracks Charts™ and Backtracks Data Hub™ to help podcasters discover trends and find opportunities. Besides its robust dataset and analytics features, it has an elegant embeddable podcasting player for your site.
High-Accuracy Manual Transcriptions: Rev
While some podcast hosting platforms have the ability to transcribe your podcast audio automatically, nothing beats the accuracy of manual transcriptions. Rev is a premium transcription service priced at $1.25 per minute that will provide you with high-quality episode scripts — they help your site's SEO and provide convenient text to your audience.
Frequently Asked Questions About Podcast Hosting Services
Here are the answers to few of the most commonly asked questions regarding podcasting platforms.
Yes, podcast hosts come with file storage to upload your episodes and an RSS feed (a listing of your episodes) to make your show available on podcasting apps such as iTunes and Spotify. If you try to upload large MP3 files on your website, it might crash with just a few listeners and your web host can kick you out for using extra server resources. So choose a robust podcast hosting service to facilitate your growth.
What is the best podcast hosting site?
Buzzsprout, Podbean, Transistor, and Captivate are few of the best podcasting platforms. All of them offer an intuitive user experience with decent audience growth tools. You can get free trials or limited versions for each of these hosts.
How much does podcast hosting cost?
Beginner podcasters can expect to pay under $20 per month to their podcast hosting company. On average, the price can run between $5 per month to $50 per month depending on your plan and the popularity of your podcast.
Where can I host a podcast for free?
Buzzsprout, Podbean, and Spreaker are some of the best free podcast hosting services. Avoid other free platforms like Anchor and Soundcloud because they provide unreliable podcast stats, a limited toolset, and you don't even "own" your show's listing on iTunes and other podcast directors.
Depending on the number of downloads an average podcast episode gets, brands sponsor shows to get exposure in front of the audience. Besides monetization through ads, podcasters also sell their own services and products that their listeners might buy.
How much does podcasting cost?
A fixed cost of $50 for a headset microphone and about $20 per month for the podcast hosting platform are the only essentials for starting a podcast — so under $100. On the higher end, buying professional-grade equipment and software could fare you an additional one-time cost of $1000.
Pick A Podcast Host NOW And Launch Your Show!
If you've had the itch to launch your podcast for a while, now is the time to choose a hosting platform and give it a spin.
Here are some questions to answer while evaluating podcast hosting companies:
– Do the features (such as bandwidth, monthly storage, monetization, and add-ons like website development) fulfill your requirements?
– How does the price fit into your budget?
– How well does the platform integrate with your current CMS and overall workflow?
For most beginner creators, BuzzSprout is an affordable podcast host with almost all the features you'll need. But feel free to try other platforms such as Captivate, Transistor, and Podbean to compare the user experience. Just stay away from "unlimited free" podcast hosting platforms because they might control and monetize your data.
Which is your favorite podcast host? Share your reviews of the platforms you've tried in the comments below.