Present in the market since 2013, Simplecast is one of the best podcast hosting platforms. Their robust analytics are a treat, giving you an insight into your audience with unique listener reports, location heatmaps, and more.
What they do even better is promote and share your podcast. Recast, by Simplecast, is a fantastic tool allowing users to share custom clips from your episode to social media.
Overall Summary: Simplecast is reliable and trusted by brands. However, its pricing plans can put you off if you just started podcasting or are an independent podcaster. You can't record podcasts with Simplecast, though.
Overall, Simplecast is best for brands that are looking to grow and entertain a large audience.
Simplecast Pricing And Plan Details
Simplecast isn't the cheapest podcast hosting platform out there. There are three pricing tiers:
Basic: $15/month or $13.50 /month if prepaid annually.
Essential: $35/month or $31.50 /month if prepaid annually.
Growth: $85/month or $76.50/ month if prepaid annually.
There's also a 14-day free trial that doesn't require credit card details but has many limitations.
Each plan includes the following features:
Unlimited storage and uploads,
Ability to launch multiple shows from one account,
Recast for social sharing,
Embeddable episode web player,
Distribution to other podcast directories.
Apart from minor restrictions, the major difference lies in download limits, analytics, and member seats.
The basic plan has a download limit of 20k with access to basic analytics, and only 2 member seats. When you compare this to Transistor's pricing, the analytics is equally advanced in all of its plans, which gives it an upper hand over Simplecast. You won't have trouble with these numbers if you are a beginner or have a small audience.
The Essential plan allows 4 team members, 50k downloads per month, and access to unique listener reports, technology reports, and other advanced analytics.
The Growth plan on the other hand lets you add 9 members, and caters to podcasters with a large audience by allowing 120k downloads per month. Even the analytics section broadens with insights on device details, embed locations, etc.
Both essential and growth plans are fit for hosts with a wide audience. However, they are quite expensive as compared to other podcast hosting services like Alitu, Transistor.fm, Buzzsprout, and others.
Customer Support
Live customer support is only available in Simplecast's higher plans. In the basic plan, you only have email support, which isn't the best either. They claim to keep it simple by adding email support however, a live chat is far more useful and efficient.
However useful the knowledge base is, I spent far too much time browsing through topics instead of focusing on my podcast.
Creating A New Show Using Simplecast
I found the onboarding process impersonal. The automated email didn't have any guide or steps to get started. However, as soon as you sign in to the dashboard you get two options. Let's look at them:
If You're Switching From Another Host, Then "Import Your Show"
I had some trouble trying to get around this because the import button wasn't clickable on the first try, but after momentary trouble, the importing process went smoothly.
If you have a podcast and it is already registered in any podcast directory like Apple Podcasts, Spotify, Google Podcasts, then you can either find your podcast by its name or by pasting its URL to the RSS feed URL.
From there you can directly move on to distributing or adding other details to your podcasts which we will discuss below.
If You're Starting A New Podcast, Then Choose "Start From Scratch"
The show's details form and the overall interface are appealing. It is divided into sections and appears as you scroll down in a smooth transition.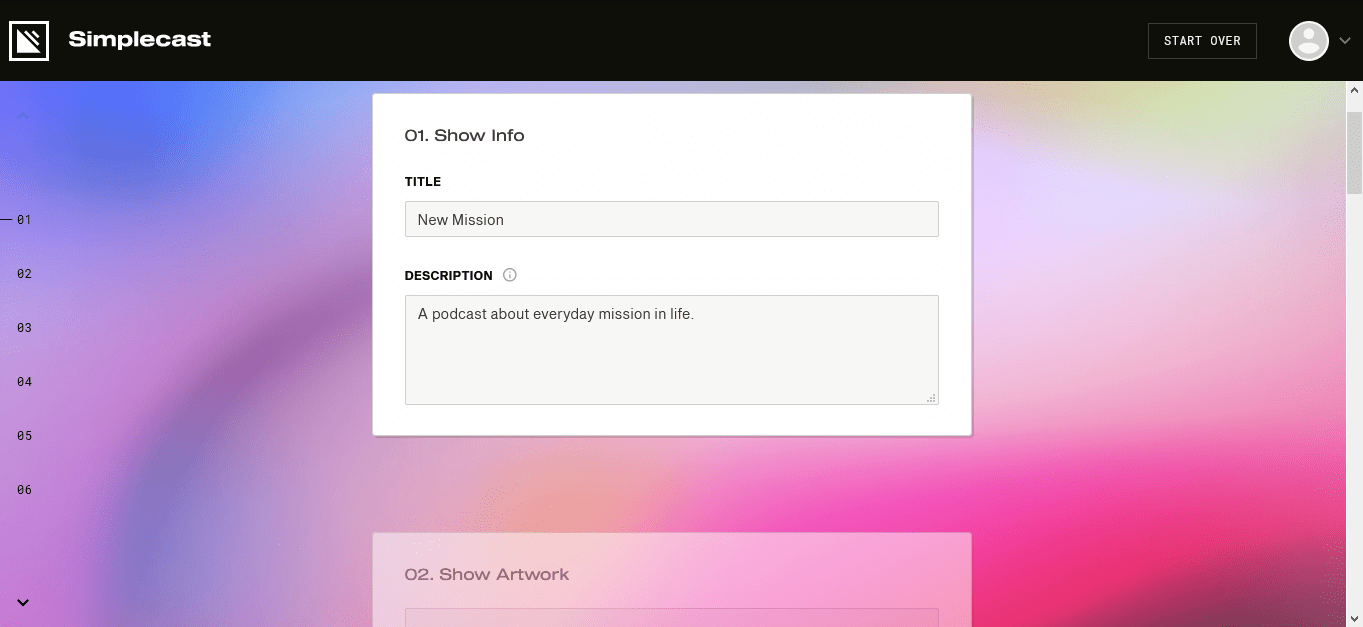 The show info requires title, description, format, artwork, podcast category, tags, publishing time zone—useful if your podcast audience is in a different timezone than yours.
If you make an error in adding details, you can always start over.
Episode Details
Each new episode requires you to fill in the details below:
Title
Episode URL
Audio file
Episode type
Summary
Notes
Contributors
Episode privacy (RSS feed)
Alternate episode URL
You can also resize your episode art right on the screen with little to no effort.
There's another that you don't see on any other podcasting hosting site – Recast, we'll talk about it later.
While creating your episode, you can see its preview on the right, which makes it convenient to spot any errors in name, color, or the picture, and how it'll look once you publish your episode.
Once your episode is ready, you can schedule it at an appropriate time.
Publishing Schedule
Simplecast also allows you to schedule your publishing at the time of your choice which can be the next day or even years from now.
Promotion
There are three ways to promote your episode:
Embedding short link: When you paste the link on WordPress, Medium, Twitter, or other popular sites, it'll automatically embed a web player. If you want your listeners to only listen or start listening from a specific part of your episode, you can enter the time in the time stamp.
Web Players and Recast: Customize your web players by changing the layout, colors, style, and image or use Recast for easy sharing which is a social sharing and discovery tool to create short audio clips with artwork to share on social media, blogs, iMessage, Slack, etc. We'll come back to it later in a different section.
Sharing: If the above methods aren't enough, manually share your episode by the download link given in this section and share your podcast on all social media apps like Facebook, Twitter, Instagram, etc.
Add Transcript
Adding a transcript to each episode will:
Allow search engines to better understand the content of your podcast episodes, thereby potentially boosting your SERP visibility,
Increase the rank of the podcast on SERPs for those keywords,
Increase the overall ranking of that website domain in SERPs for those particular keywords.
It also gives the audience another option for viewing the episodes.
Simplecast lets you copy-paste or write and edit your transcript on its dashboard.
Salient Features Of Simplecast
Now that you know how to create a new podcast, it's time to explore some key features of Simplecast.
File Uploading Formats
Unfortunately, recording audio is not possible with Simplecast, but you can upload audio files in mp3, mp4a, or Wav format. It's best to import the files in mp3 as Simplecast will automatically convert them into their desired audio format.
Wondering why they do that? Perhaps what difference does it make if you choose any audio format?
Wav: Wav files capture and recreate sound in the highest quality possible without changing the sonic characteristics of sound.
Sounds complicated?
The Wav format is lossless, meaning there is no loss of data at all along with high-quality sound in an uncompressed form. However, the file size is huge because they don't compress the audio.
MP3: These files are compressed. Imagine a picture taken in HD and the same in 240p. The one in 240p will be highly pixelated and of poor quality, right? That's what happens when you download the file in MP3 format.
But it's preferred because of ease of sharing and less size. You can maintain the quality of the sound if you keep the bitrate at 128 kbps (which is also recommended by Simplecast).
MP4/MP4a: It's Apple's version of the MP3 format. They deliver higher audio quality while maintaining the same bitrate as MP3. However, it still isn't preferred over MP3 because of its lack of compatibility.
Hence, MP3 remains the reigning champion. Simplecast has a detailed article on encoding audio. You must take a look while recording and editing your file.
Podcast Website

Simplecast also has a customizable, built-in website feature available at the bottom of the dashboard with limited customization options available at the top of the screen. You can change the favicon if you don't like the boring one that's already there.
It's possible to add a link to your site from the "Site Settings" tab on the left and also for all your social media accounts like Twitter, Instagram, Patreon, Linkedin, Facebook, etc. You can also set up advanced analytics for your website in the same section.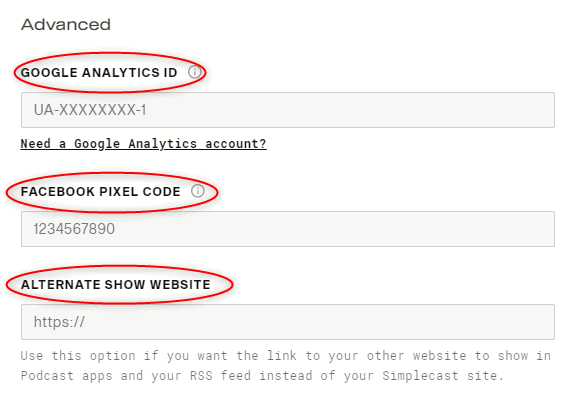 Simplecast uses Google Analytics and Facebook Pixel to give you a clear picture of your website's reach. Pixel only shows you stats and information related to Facebook advertising and isn't as comprehensive as Google Analytics, therefore, it is beneficial to use both.
If you don't want to use Simplecast's built-in website, turn it off from the general settings. If you do choose to go ahead with the site, you have the option to enable a custom domain instead of the default one.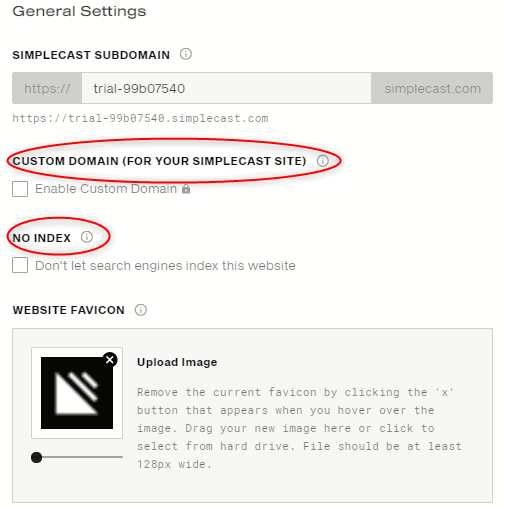 New episodes will automatically show up on your site when you publish them.
Stats And Analytics
Simplecast shines bright when it comes to analytics. In my review of Transistor.fm. But only offers basic analytics on its cheapest plan, whereas Transistor.fm offers advanced analytics on all of its plans. Both of these podcast hosting platforms have IAB-certified analytics, though.
The dashboard gives you an overview of these factors and a graphical representation of downloads in the first seven days since release.
All-time downloads,
Downloads today,
Last 7 days,
Previous 7 days,
Unique Listeners.
Each of these has a detailed section and you can view it as you scroll or choose from the tab on the left. They also use location heat maps and several other tracking mechanisms. Location, technology, unique listener reports, and device analytics are only available in the higher plan of Simplecast.
The visual representation of each of these factors is slick and can come in handy to improve your reach.
Web Player
Web Players come in three different sizes — Standard, Mini, and Show. The latter two are only available with the upgraded plan. Even color customization is not available in the basic pricing plan.
You can preview the player simultaneously and choose the best-looking one. It also has direct share and subscribe buttons which help the listeners to directly subscribe to your podcast without having to go through the trouble of opening the site to do the same.
You can copy the embed code of the episode and paste it on your website.
Private Podcasting
Simplecast doesn't have a dedicated private podcasting section like Transistor. Here you can hide your RSS feed in the privacy section.
This option is available under episode details when you add a new episode. When you do this, the episode will not appear in your feed and all other directories. Private podcasting allows you to give members access to a series of audio files that they can listen to in their podcast app.
Businesses can use private podcasts for internal communication such as offer audio training to employees or send a weekly message to your team, etc.
It is possible to change previously published episodes from public to private by editing them at any time.
Sharing Made Easy With Recast
Recast is a fully listener-accessible audiogram social sharing and discovery tool created by Simplecast that lets you and your audience create short clips of your episodes and share those bites to promote your podcast:

The above screenshot shows the entire episode with highlighted areas as a short clip. When you hit the Recast and share button, Simplecast trims your audio as per your requirement and makes it ready to distribute.
It's a cool promotion tool and even the audience can use Recast on their device and share clips of your episode.
Podcast Team Management
Suppose you are working with a bunch of people on your podcast show. The team member option lets you invite them via email. Two people, including you, are allowed on the basic plan, four on standard, and nine on the essential plan.
Show analytics members can only see podcast metrics, show managers are episode editors, and show admins are the same as owners but cannot delete any show or account.
Simplecast Alternatives
Here are some other podcast hosting platforms you can consider and all three of these have unlimited storage.
Buzzsprout: It helps you host, promote, track your podcast and scale your business. Buzzsprout provides automatic episode optimization.
Price: There's a free plan with 5 hours of storage and the starter plan is priced at $12/month.
Transistor.fm: Cheaper alternative and best for people who want to host multiple shows as there is no cap on it. With Transistor, you can create an unlimited number of accounts with no extra charge and have access to powerful built-in analytics.
Price: Stars at $9/month.
Podbean: It is the easiest software to use with the Patreon program to accept recurring revenue from listeners.
Price: There's a free plan with 5 hours of storage and the starter plan is $9/month for unlimited storage.
Final Verdict
Simplecast has tons of features that are fruitful to big brands, individuals with large audiences, or even small businesses as it shines in both analytics and promotional tools.
The 14-day trial, even with its minor limitations, gives you enough time to evaluate its features. Being part of the SiriusXM family gives Simplecast an edge over other podcast hosts like Alitu, Buzzsprout, Transistor, etc as it pairs with Adwizz to make monetization a seamless process.