Strengths
Accurate grammar checking software
Quick and easy-to-use interface
Concise suggestions and overall report
Accurate and quick plagiarism checker
Weaknesses
Translation feature is not available
Dictionary not available
Grammar, an essential yardstick of judging the quality of writing. It doesn't matter if you are in content creation or if you simply write occasional emails, grammar matters everywhere.
Incorrect grammar can come across as unprofessional and can severely impact your business and its reputation. This is the reason why most people prefer using grammar checking software to ensure that their writing is correct.
But, they are not perfect. Many grammar softwares may not catch contextually incorrect errors in your writing, or offer irrelevant style suggestions. Lastly, grammatically correct writing might not necessarily be easy to read.
With the caveats out of the way, let's look at ten of the most popular grammar checking software in the market. I have listed the features, pricing, availability, and pros & cons of each software so that you can make an informed decision about which software is the best one for you.
Before I get into details, it is essential to note that grammar checking softwares behaves differently with different text types. I have done my best to ensure consistency and a fair evaluation of all the software listed here by following the research process below.
Research Process: How I Ensured Unbiased Evaluation
I started by copy-pasting one of the articles from our website onto different grammar checking softwares. I ensured that I used the same content (till point #2) in all the softwares. I deliberately made contextual, spelling, and punctuation mistakes (the same ones) in all the software(s).
In this manner, I could check if a software missed any detail caught by another software as an error, at one go. This process also made it easy to compare the scores and the writing analysis reports.
For the purpose of comparison, I either used the web-version or the desktop app or both for all of the softwares listed here.
Before I begin, there are things you should keep in mind when evaluating grammar checking software amongst each other. To know which one will work the best for you, you should know what editing features you value over others.
Choosing A Grammar Checker: Important Factors
There are certain factors that you should consider before you decide on a grammar checking software. Keep these pointers in mind as you evaluate all the softwares listed below:
Your Use-Case: Are you using a grammar checker to check:
non-fictional content,
or for a fictional book you're writing,
or is it merely to check grammar,
syntax and punctuation for emails and other formal communication?
Your answer would decide what kind of features you would require. If you are writing fiction, an in-depth writing analysis may help you more than just signifying 'goals' for your writing. But if you are writing only for professional reasons, the 'goals' and 'tone' features may be essential.
Your Frequency of use: If you consider using a grammar-checking software for professional reasons, a premium version will suit you best and would be worth evaluating. But if you are going to use the grammar checking software to check occasional emails or social media copy, then investing in premium plans may not be worth it.
Your Accuracy and Readability Requirement: Do you need your writing to be just grammatically correct, or do you need to enhance its readability to keep your readers engaged? If accuracy is more important to you than styling features, place more emphasis on those while evaluating these software(s). However, if you value style and structure more than (or as much as) accuracy, consider evaluating this feature in your grammar checking tools.
Your Availability Requirements: Do you need a software that works perfectly on your desktop, and you are not concerned if it's available on your phone? Or are you someone who edits on-the-go and requires an efficient mobile app? Maybe you are somebody who prefers to write offline and would go for softwares with desktop apps that work without an internet connection.
Your Budget: Lastly, you should have a budget in mind on how many dollars you are willing to spend on a grammar checking software. You can base this on the first four pointers listed above – whether your requirements and demands for a grammar checking software is high or low.
1. Grammarly: Quick And Straightforward Grammar Correcting Process + Best Plagiarism Checker
Grammarly remains one of the most popular grammar checking software in the market, and for a pretty good reason. Its features fit perfectly well with most of the requirements of any grammar checking software.
Availability
Grammarly is available as a desktop app, a web-based app and as a Chrome extension. The grammar software  is also available on iOS and Android.
Key features
Grammarly is one of the most accurate correctors of your grammar, punctuation, and contextual errors. The process of correction is quite straightforward and user-friendly. I like how there isn't too much information in the suggestions – it is short, simple, and digestible.
You also get a quick overall report on your writing that is downloadable as a PDF. This can be useful for a short writing analysis for writers of all genre: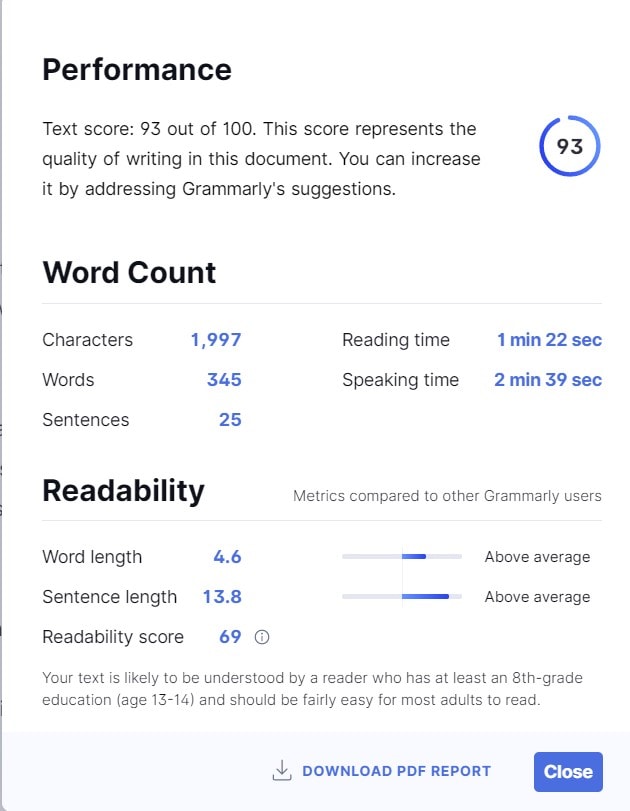 You can choose to set goals on how you want your writing to sound like, and you can also check your writing for plagiarism, which is immensely accurate and quick. You can double click a word to find its synonyms.
There is no personal dictionary feature, nor a simple dictionary, or a translator available at Grammarly. This can be troubling for non-native English speakers.
Pricing
There is a free version of Grammarly that does not offer as many writing suggestions and reports. You can get the Premium version for $29.95/month. You can also try Grammarly business if you are a team using the software. The pricing is done on how many members need a Grammarly account.
Strengths and Weaknesses
Strengths
Accurate grammar checking software
Quick and easy-to-use interface
Concise suggestions and overall report
Accurate and quick plagiarism checker
Weaknesses
Translation feature is not available
Dictionary not available
2. ProWritingAid: Most In-Depth Writing Analysis
ProWritingAid is a style editor and grammar checker particularly suited for bloggers and content creators.
Availability
ProWritingAid is available as a web-based app by creating an account, a desktop app, and as a Chrome extension.
Key features
ProWritingAid remains as one of the most accurate grammar checking tools in the market. The software highlights every possible grammatical error, style improvement, and punctuation mistake.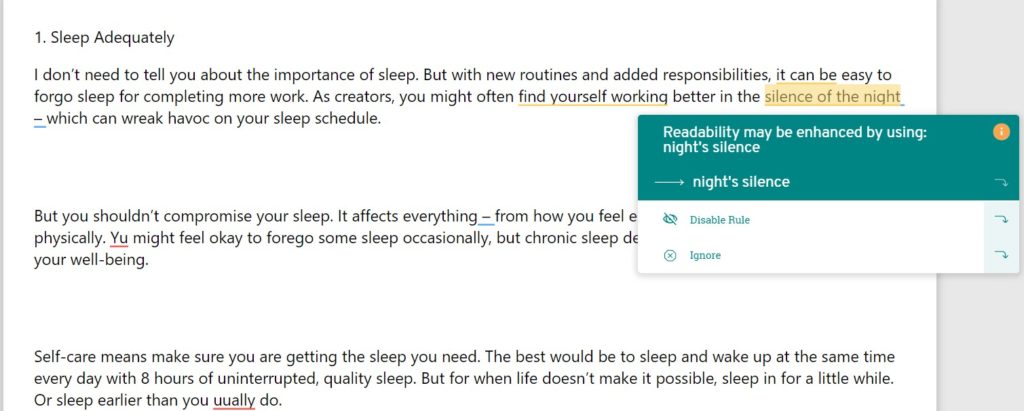 You can also disable this rule, which can be useful for fiction authors' with regard to the character names in their writing. Clicking on the orange "i" will also tell you more about the particular suggestion provided by the software. This can be useful for non-native English writers.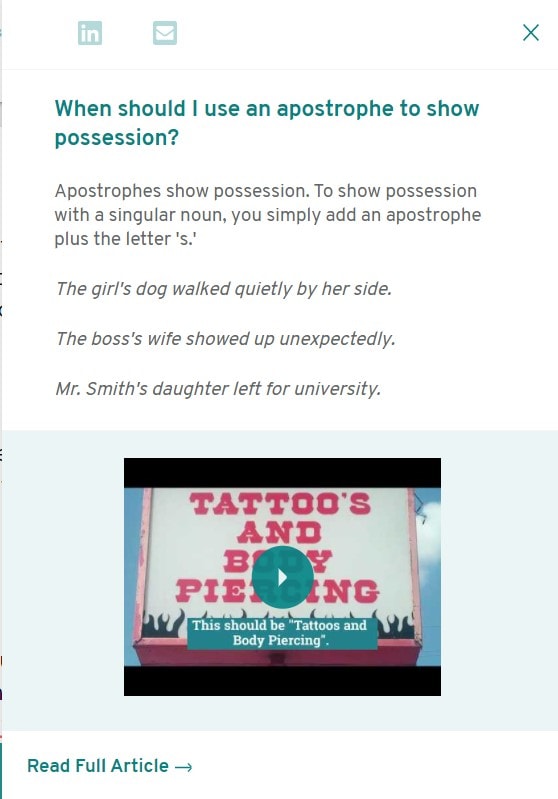 The feature analysis includes a printable summary report, which is my favorite part of the whole software. The only drawback is that it is too long to be a 'summary' report. But the report can offer you a personalized, in-depth analysis of your writing, which can be immensely beneficial.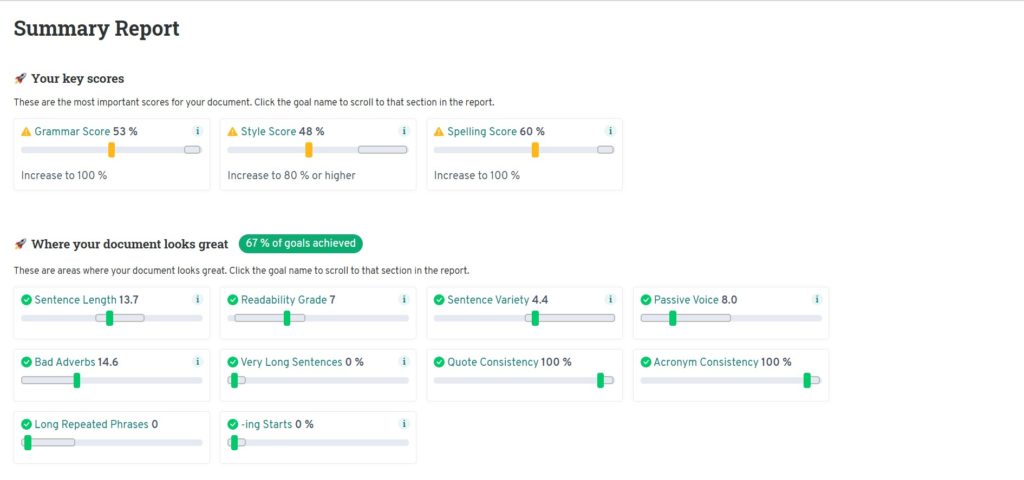 There is an option of "More Reports" available on the software to get even deeper into your writing. There is a feature called "Echoes" to tell you which phrases and/or words you have overused in your writing. The whole dashboard is a repository to nitpick delicate details in your writing  and give you valuable insights.

However, the app can be a little slow, and its user-interface is not the best, compared to its competitors.
Pricing
ProWritingAid has a free version but it is limited to a maximum of 500 words. The premium version offers three plans, but this does not include the plagiarism checker. The software offers  a 14-day guarantee to all the three plans.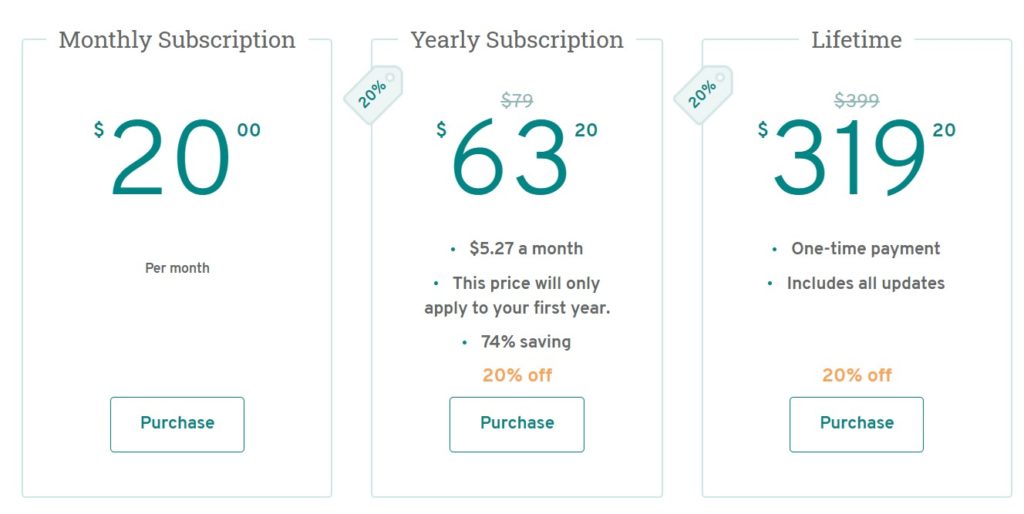 If you want to include a plagiarism checker to your plan, you have to try their premium plus plans. But you can purchase plagiarism checks on a per usage basis separately.
Strengths
More significant writing insights available via a repository of articles
Comprehensive reports and analysis of your writing
Accurate grammar, punctuation, and spell checking
'Disable Rule' feature
Weaknesses
Complicated pricing plans
Its too slow to load
Unpolished user-interface
Long "summary" report
Strengths and Weaknesses
Strengths
More significant writing insights available via a repository of articles
Comprehensive reports and analysis of your writing
Accurate grammar, punctuation, and spell checking
'Disable Rule' feature
Weaknesses
Complicated pricing plans
Its too slow to load
Unpolished user-interface
Long "summary" report
3. Whitesmoke: Writing Tutorials And Built-In Templates
Whitesmoke is a grammar checking software that proofreads your text as well as offers styling corrections. This also helps writers who are unfamiliar to the rules of the English language.
Availability
WhiteSmoke is available as a desktop app and also has a web-version. Their website claims that the software is available in the form of mobile applications, but they have been discontinued.
Key features
WhiteSmoke has a translator and a dictionary for over 50 languages, along with a plagiarism checker. The grammar corrections give you a total score out of 10, examining your sentence length, structure, word choice, etc.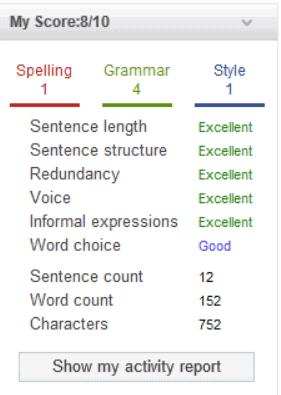 The "activity report" gives you an error summary that only opens on the web-version of the software and does not work on the application. But overall, the analysis is not as comprehensive as its competitors.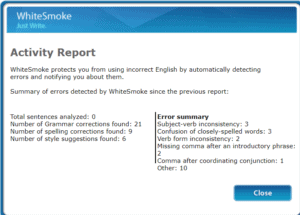 The web-version allows your writing to remain formatted, which is a feature I liked, and I hope it can be incorporated into the mobile application too. You can check the reasons behind a suggestion, which also tells you "How to use" the particular text. This can be particularly helpful for someone who has English as their second language.
The "Writing Tutorials" also provide the same function. There are also many built-in templates if you want to draft something quickly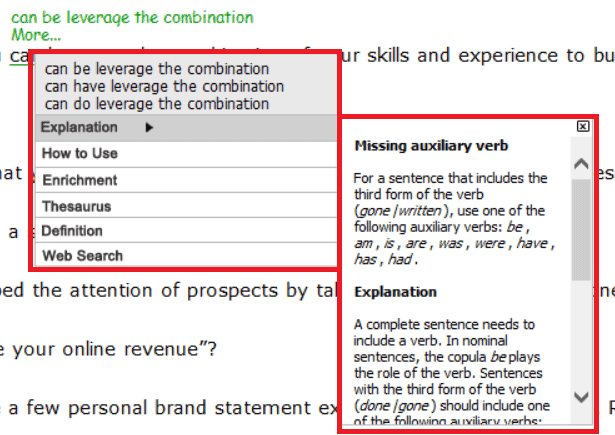 The plagiarism checker runs your text through billions of websites and research material to ensure your text is authentic. But it is a little slow and inaccurate. It will monitor every single word pasted and give you many results that are inapplicable and useless. Anything that is remotely familiar to the writing marked as plagiarism. You can also only check 10,000 characters at a time.
Pricing
There are three plans and two billing periods available on WhiteSmoke. No monthly plans, free versions or trials are available for using the software. You can, however, request a cancellation within seven days of purchasing WhiteSmoke.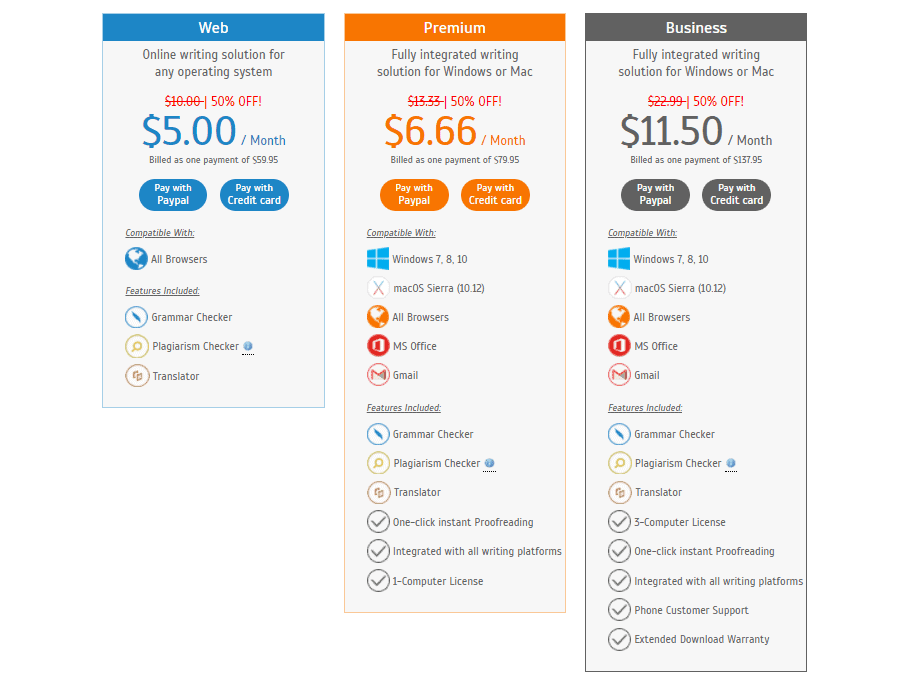 Strengths and Weaknesses
Strengths
Translator for over 50 languages
Pre-built templates
Writing tutorials available
"How to use" feature for every error/suggestion
Weaknesses
No monthly plans available
No free version or free trial available
10,000 character limit
Faulty plagiarism checker
Limited writing analysis
4. Ginger: Add Character Names In Your Personal Dictionary And Reframe Sentences Easily
Ginger Software helps you to check any grammatical or spelling errors in your writing. It also corrects punctuation and offers suggestions for alternative sentence structures.
Availability
It is available as an extension in Chrome and Safari, as a mobile application on iOS, Android and on Windows. Installing the app and signing in was a task as it caused my laptop to hang multiple times.
Key features
Unable to use the application, I tried to use the web extension. The software worked perfectly on Chrome, but not on the Brave browser. It might be something to keep in mind if you don't use Chrome or Safari.
The Ginger software also has a translator with 60+ languages. Along with that, you can also easily find synonyms of words by double-clicking them or simply searching for their meaning in the dictionary.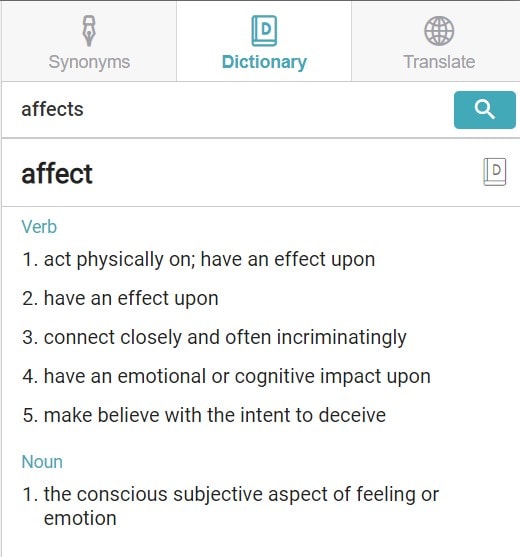 On examining the browser extension, I found that the grammar and spell-checkers worked but were a little slow compared to other softwares in the market. It also could not detect that I had misspelled 'You' to'Yu.' This means you might have to proofread writing again since Ginger can miss these small errors.

If you want to change up your sentences, try its "Rephrase" feature. Here's an example: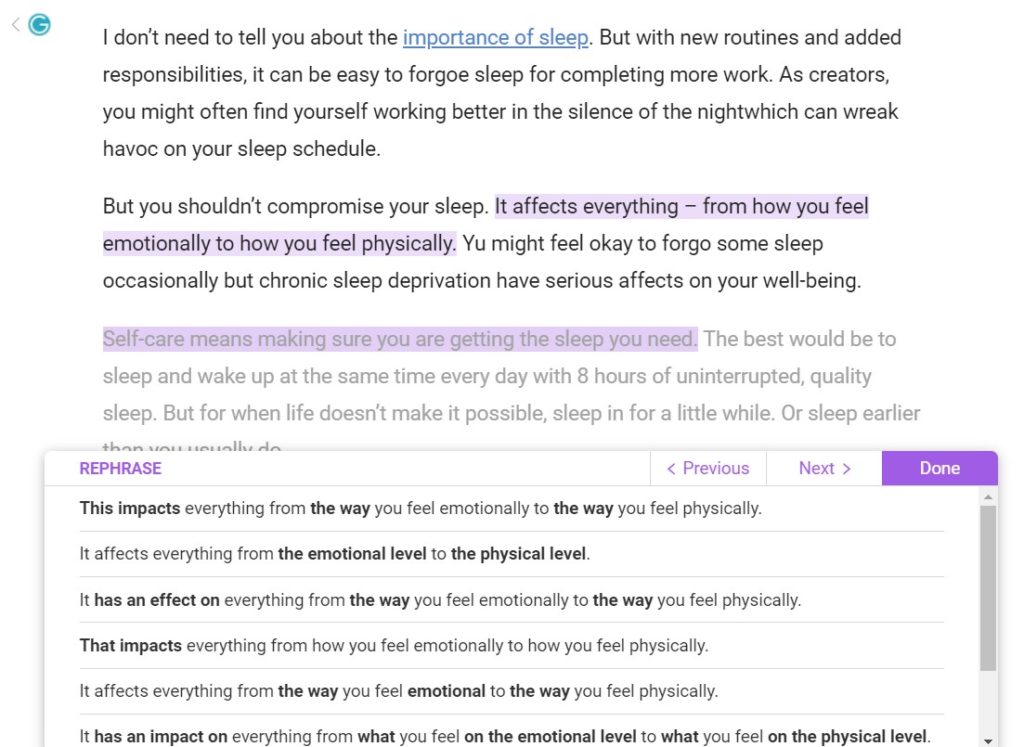 Apart from this feature, I also adore the "Personal Dictionary" feature. Here, you can add words that you commonly use for writing purposes (like character names) that appear as mistakes. Highlighting them in your dictionary prevents the software from marking them as mistakes. This would be a useful feature for authors who have a lot of character names embedded in their writing.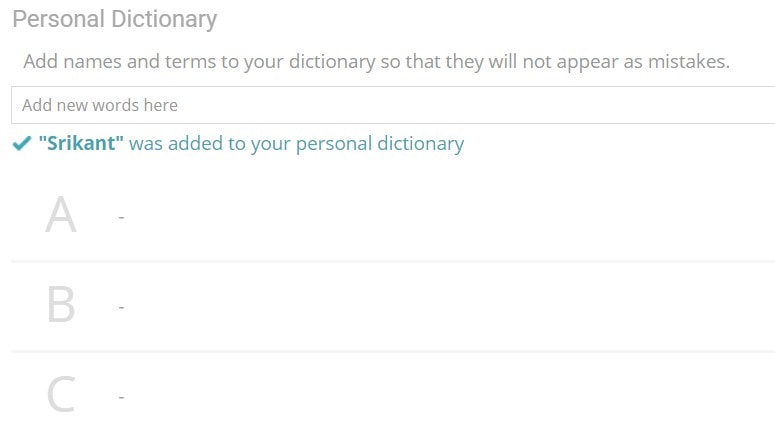 The downside to Ginger, apart from its faulty Windows application and the fact that it does not work on Brave browser, is that it does not have a plagiarism detector. Additionally, if you wanted to check for advanced features like subject-verb agreement, it is only available in the paid version.
Pricing
Ginger offers a free plan with some character and grammar limitations. Apart from advanced grammar checks, the premium version also provides a virtual writing tutor who can provide you with grammar lessons and tests. This can help non-English speakers tremendously. The translation feature is  only available in the premium version.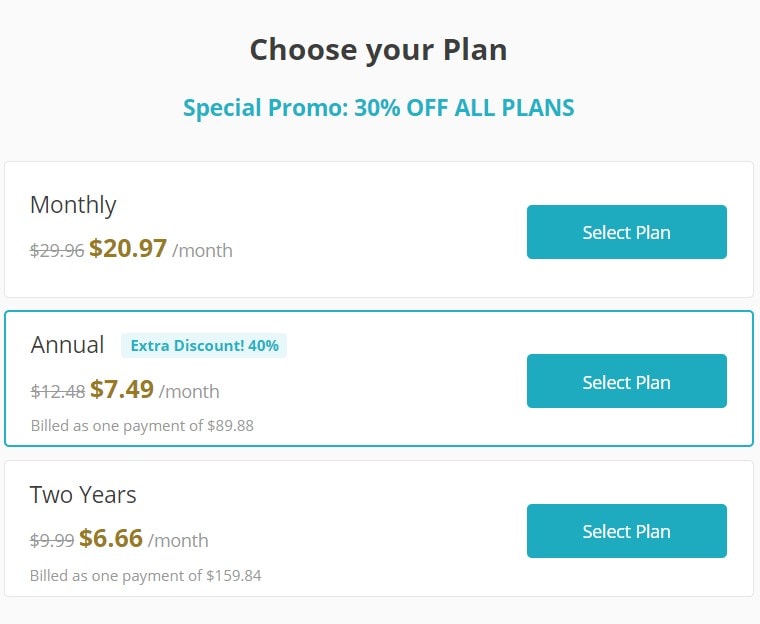 Strengths and Weaknesses
Strengths
Free version available
Rephrasing sentences feature
Personal dictionary feature
Available as an extension, desktop app and mobile app
Translator available for over 60+ languages
Personal virtual writing trainer in the paid version
Weaknesses
No translator and advanced grammar checks in the free version
No plagiarism detector
It may not work in all browsers
Windows application is not efficient
May miss common, small spelling errors
There's limited capacity in the free-version
5. Language Tool: Know Your Text Score And Edit Quickly With 'Picky Mode'
Language Tool is an open-source grammar checking software. The software's interface and suggestions are a lot like Grammarly. It offers all the essential grammar corrections, highlights spelling errors and advanced suggestions. It can be integrated with Google Docs, Microsoft Word, Microsoft Edge, and LibreOffice.
Availability
Language Tool is available for free as a browser extension, Android App, and Microsoft Store. While writing this, I could not find any iOS version of the app or a desktop app of the software.
Key Features
Language Tool is an excellent grammar checker software. It highlights advanced "suggestions" (don't use different spellings of the same word in one text), common grammatical errors, and spelling mistakes. You can double click a word to get its synonyms. You can also get a word/sentence/synonym count at the bottom.

There is also a "picky mode" feature, which can come in super handy for the times when you just want to quickly proofread your documents for significant errors without nitpicking them for edits. Turn it on, and you will get only flawed (or changeable) errors in your document.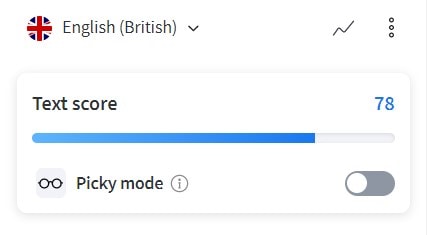 It also offers to check your text in many different languages (list available here), so it is handy for multilingual writers. You can also get a quick analysis of your writing and the text you analysed by clicking on the "Text Score"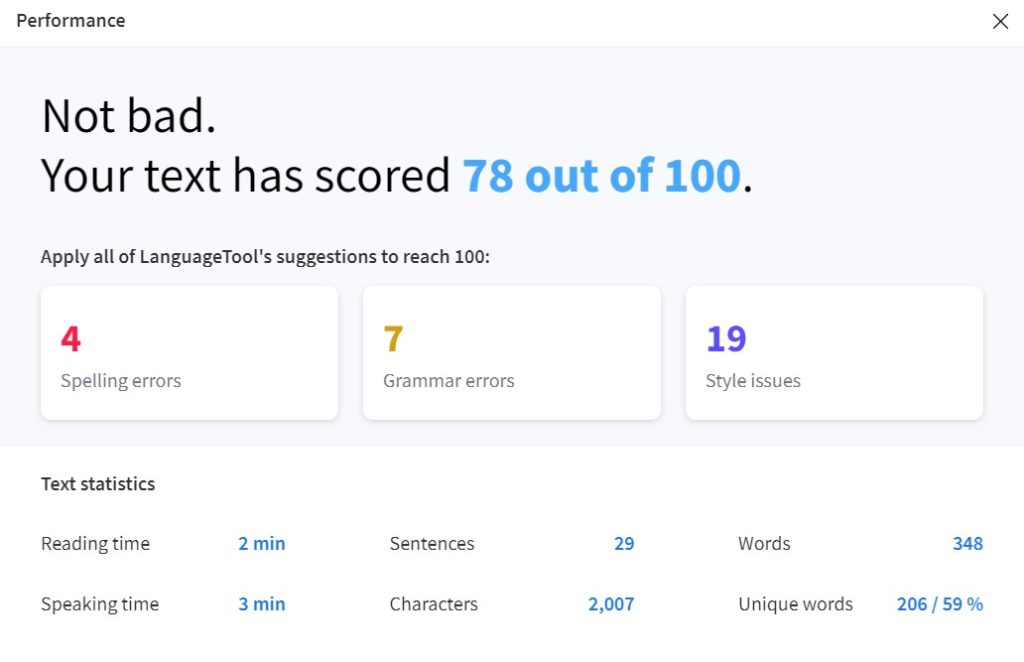 It also has a "Personal Dictionary" feature available like Ginger.
Pricing
LanguageTool is free to add as an extension and download in Chrome. However, the free version is limited only to 20,000 characters. If you want to check any more than that, you would have to buy the software's premium version.

The "For Teams" plan would be useful for companies or multiple editors collaborating on writing projects. If you have more than 20 users, you need to personally contact LanguageTool for custom pricing.
Strengths and Weaknesses
Strengths
Reliable grammar checking software
Picky mode feature
Quick writing analysis with "Text Score"
Translation for over 20 languages
Personal Dictionary Feature
Can choose to permanently or temporarily save the writing you edit
Weaknesses
Free version limited to 20,000 characters
iOS/Android App not available
The slight learning curve to utilize all the features
The premium version does not highlight all the style issues
6. Microsoft Word: Editor Score And Writing Insights
When there was nothing else, there was Microsoft Word. Word has a grammar checker, spell corrector, and punctuation checker built into the application.
Availability
Microsoft Word can be found in the Windows Store, Google Play, for Mac in the Microsoft Store, and the App Store. It comes with the Microsoft Suite plan as well.
Key Features
You can see the spelling errors and grammatical errors highlighted in the document. You can also find synonyms and dictionary meanings of the words by right-clicking on them. There is also an option available to translate certain words or the entire document in over 60 languages.

The premium version also checks for your writing style, gives you in-depth writing insights, and offers premium suggestions to improve your writing. The editor score in the free version broadly highlights only the spelling and grammatical errors without other insights.
Microsoft Word is pretty limited in its features when compared with competitors. It misses many small errors (like spelling "You" as "Yu") and doesn't check your writing for clichés or repetitive phrases.

Pricing
Microsoft Word offers a free plan with limited checks on spelling and grammar. The paid version provides you with valuable writing insights personalized to your style. There are several other plans of Microsoft apart from the basic ones that you can find here.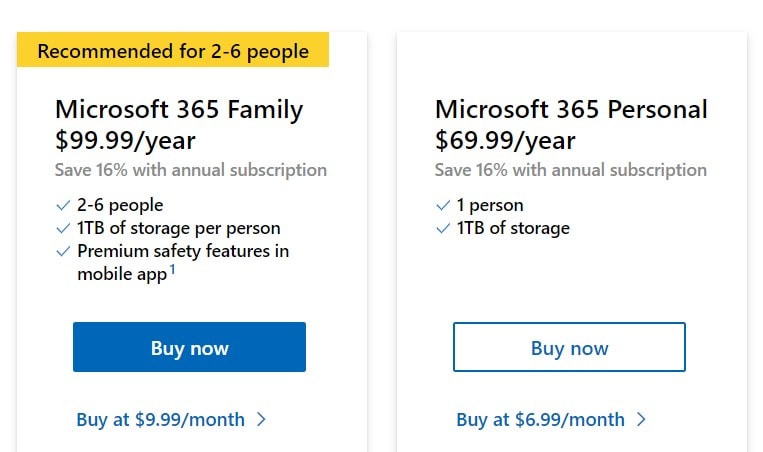 Strengths and Weaknesses
Strengths
Free version available
Fit for quick spell and grammar checks
Translator available for over 60 languages
Premium features offer writing suggestions and insights
Weaknesses
May miss a few small errors in the document
Limited writing insights in the free version
Formatting can be a hassle when you copy-paste
Pricey plans for the premium version
7. Google Documents: Correct Basic Errors As You Type
Google Documents have inbuilt grammar and spell checker. It can be a perfect tool for editing overlooked spellings and contextually wrong sentences.
Availability
You can simply log in to your Google account from a browser and go to docs.google.com. There is also a mobile application available on Android and iOS.
Key features
Google Documents is a basic editor to check for missed spellings, punctuation, and grammar errors. It doesn't live up to the market competitors to check for clichés, writing style, and premium suggestions. Though, if you want just quickly proofread your document, Google Documents is pretty great.

The best feature that I find in Google Documents is that it automatically corrects your little errors on-the-go. So, you don't have to wait for it to underline your text and then click on it, check the mistake, correct the error, etc.
Pricing
Google Documents is free , and all the grammar features work in it perfectly. But there are G-Suite Premium plans that you can look into for extra storage. You can also take a free trial for 14 days.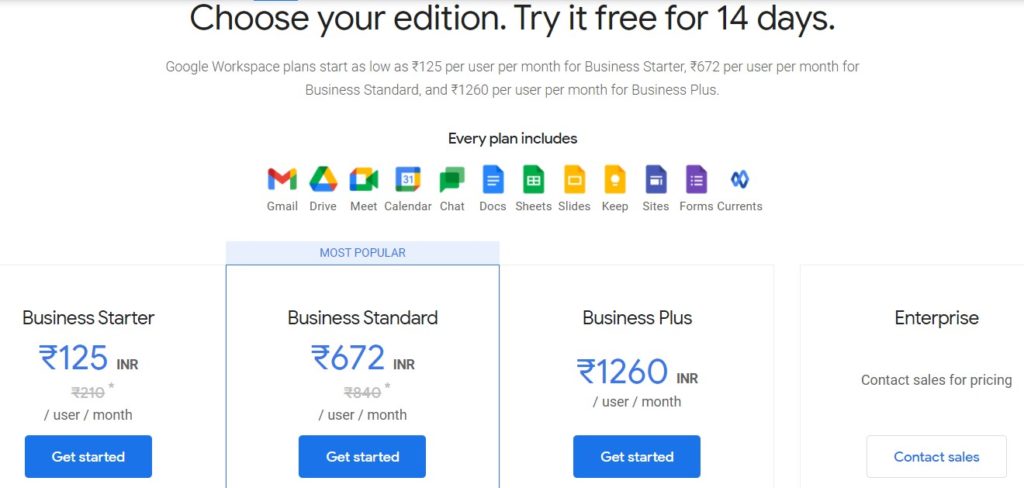 Strengths and Weaknesses
Strengths
Reads into the tiniest of errors
Corrects your writing on-the-go as you type
Weaknesses
No writing style suggestions available
No personalized writing style enhancements available
8. Hemingway: Enhance Readability of Your Writing
Hemingway is one of the most reliable, beginner-friendly grammar checking software.
Availability
Hemingway is available as a desktop app, but its website is also fully functional for use. They also have mobile applications on Android and iOS.
Key features
It highlights your text in multiple color-coded formats with red being hard to read, green being the use of passive voice and blue for poor adverbs. It also highlights how many words are in your document, what is their readability, etc.

You can also switch between 'writing' and 'editing' to be undistracted by the software's suggestions.
However, Hemingway does not provide contextual suggestions, synonyms, or dictionary features available in other software on this list.
Pricing
Hemingway's web-based editor is free, and the desktop app is downloadable for $19.99.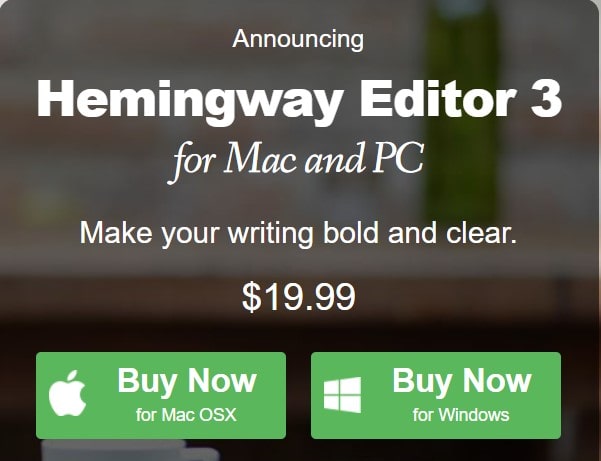 The application does not offer any new features but is less distracting to work on than a browser.
Strengths and Weaknesses
Strengths
Enhances readability of your writing
Checks for passive voice, hard to read sentences, etc.
'Writing' mode makes it a viable writing software as well.
Free web browser version available
Weaknesses
Insufficient grammar checker tool
Not enough features like synonyms, dictionary etc. compared to its competitors
Pricey app with no extra features
9. SpellCheckPlus: Language Tutorials And Grammar Score
SpellCheckPlus is an unpopular but efficient grammar and spell-checking software. It also highlights your punctuation errors and gives you word forms and contextual suggestions.
Availability
SpellCheckPlus is available in all browsers. You can simply go to their website and copy-paste your text. There is also a Pro version available in the browsers. There are also mobile applications available on both Android and iOS.
Key Features
SpellCheckPlus is quite different in its basic features compared to its competitors. While the suggestions are pretty much the same, the aesthetic and build of the website seem vintage. The speed and accuracy of the software was  commendable throughout the editing process.

It also has a feature of giving you a grammar score and a breakdown of all the mistakes and corrections. This can be particularly useful for non-native speakers to recognize common errors.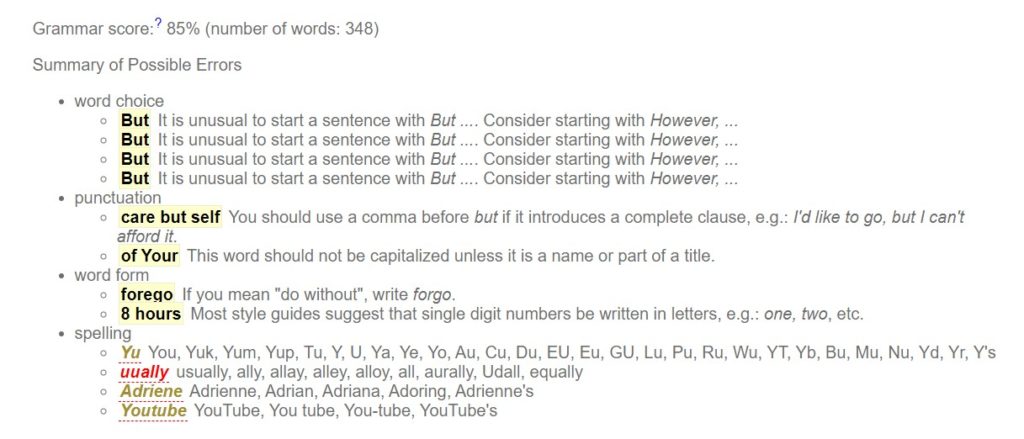 SpellCheckPlus vocabulary provides learning tutorials on their website. Linguistic principles and basic building blocks of a new language are available in this feature.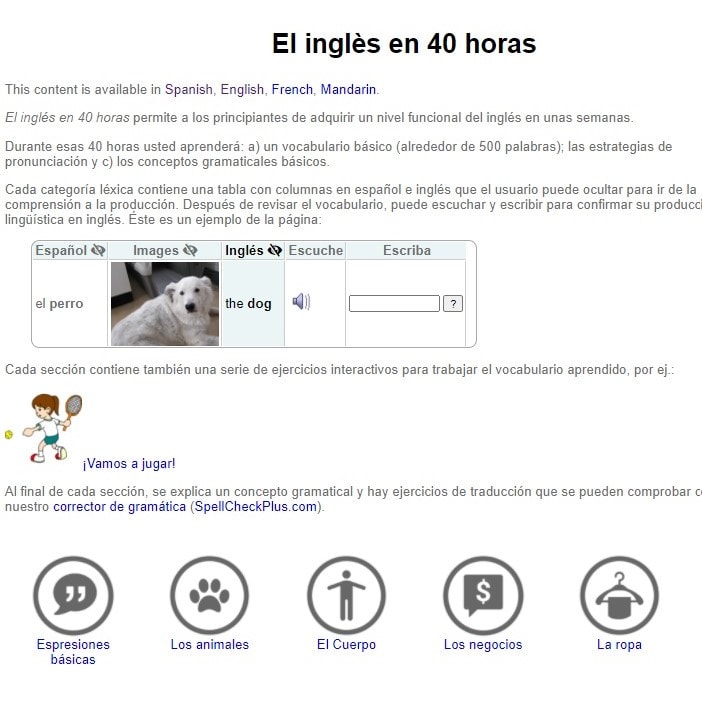 SpellCheckPlus does not offer any personalized writing style suggestions, a dictionary or a repository of synonyms. The grammar suggestions can often be repetitive (don't start a sentence with 'but') and there's no place to mark exceptions to the rule even if you want it.
Pricing
SpellCheckPlus is a free tool to use on their website with a limit of 2000 characters at a time. There is a Pro version available at $14.99/year with logged texts, a full-screen editor, no ads, and grammar exercises. Pricing plans for shared licenses, permits for schools or academicians are also available at custom pricing.
Strengths and Weaknesses
Strengths
Free version available
Pro-version affordable for new writers
Language tutorials available
Beginner-friendly
Weaknesses
Personal Dictionary not available
Repetitive errors highlighted - no feature to mark certain cases as exceptions
No synonyms feature or dictionary feature
Works only as a website on the desktop
10. PaperRater: To Check And Analyze Papers And Get A Printable Report On Your Writing
PaperRater is a web-based application to check for grammar, spelling, and plagiarism. It is made for high-school and college students to check their assignments.
Availability
PaperRater is only available as a web-based application on their website.
Key Features
You can go to  PaperRater's website and paste your writing where you are required to select a type of writing and the education level of those who will be reading your writing. This feature can be useful for writing informational articles, particularly to a specific educational demographic. But there is no "blog" or "article" option available as a type of writing. The options are mostly student-oriented.
The grammar-checker does not take into account the context of the writing. While all of the spelling errors and basic grammar errors will be highlighted, a few contextual mistakes might get missed by PaperRater. For example, here, 'affect' was not highlighted and overlooked when it should've been 'effect'.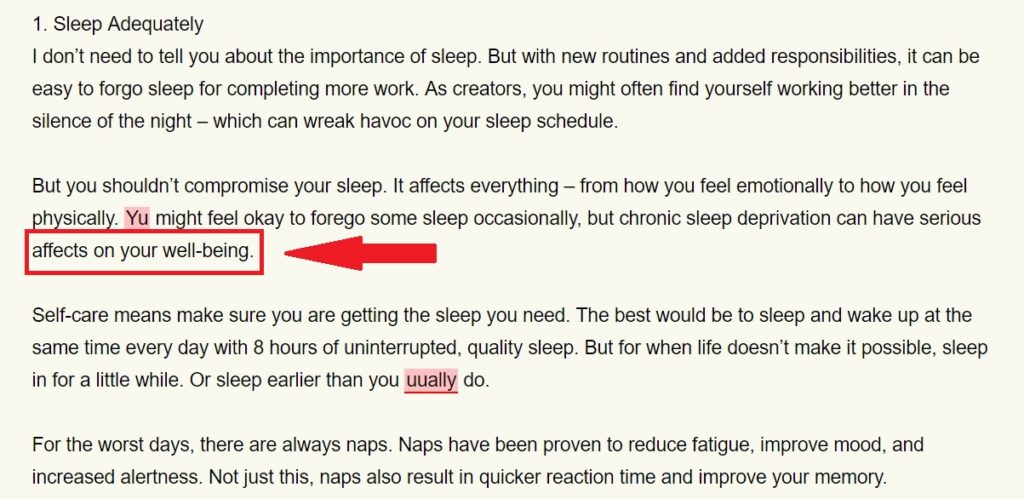 There are also styling suggestions examining your transition words, readability, sentence length, sentence beginnings, passive voice, etc. You can also get a quick snippet of the analysis of your word choices and vocabulary.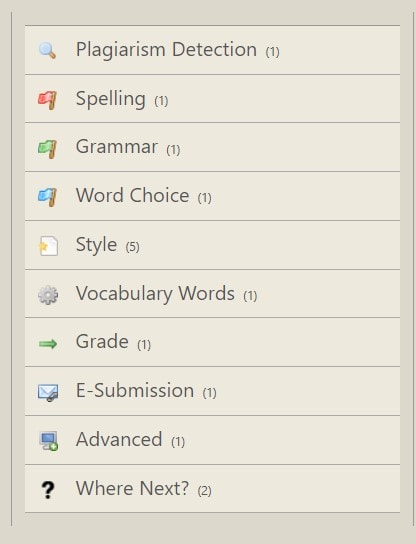 There is a printable report available of all the analysis too. There is also a plagiarism detector, although it is a  little slow. The software lacks the feature of a dictionary or synonym finder.
Pricing
PaperRater has a premium version available that offers more plagiarism checks per month, premium modules, faster processing, advanced plagiarism checks, etc.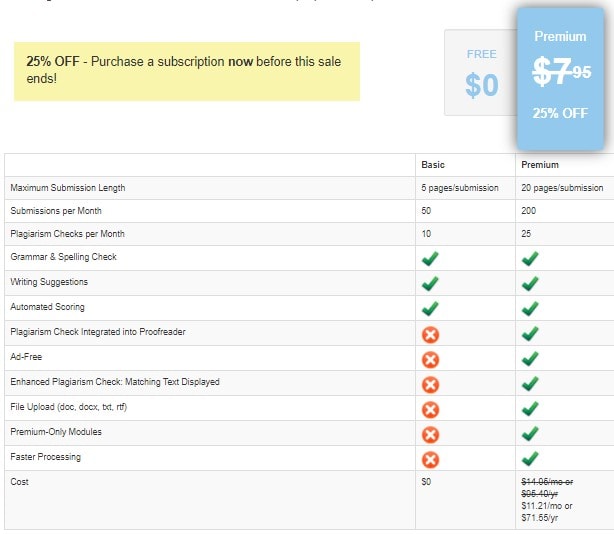 Strengths and Weaknesses
Strengths
Free version available
Plagiarism checker available
Personalized styling suggestions
Weaknesses
May miss certain contextual mistakes
Mostly suitable only for students
No dictionary or synonym feature available
No desktop or mobile app available
After you are done choosing the right grammar checking software for you, see how you can utilize it better, and use its extra features to your advantage.
How To Use A Grammar Checker To Improve Your Writing Quality
Anyone who communicates through the medium of writing needs a grammar checker. With the advent of email, that's almost all of us. But don't limit your writing to being grammatically correct —enhance its readability and improve your writing style.
Here are some tips to enhance your writing quality through grammar checking software:
Analyse Your Writing Patterns: Almost all the tools in this list offer a writing analysis of your text. Whichever one you choose, try and identify the writing patterns that you are faulty to improve them. This is especially useful for fiction authors. ProWritingAid offers you the most in-depth writing analysis, while Grammarly ensures a digestible amount of information that you can act on for improving your writing.
Improve Readability of Your Writing: Good writing is not just grammatically correct but easy to grasp and understand. Even if you are not in a job  where writing is , simple enhancements in your readability can make better emails and thus, more satisfied clients. I speak from experience when I say that all customers appreciate emails that are a breeze to read. Hemingway would be the best readability enhancing software in this list.
Enhance Your Vocabulary: You might use certain words that can become a  replacement in order to not  sound too repetitive. Utilize the synonyms feature available in most of the softwares provided here and enhance the word choices you make.
Utilise Writing Tutorials: The repository of grammar and style enhancements articles in these software(s) can improve your writing skills. Especially if English is your second language, use this knowledge to your advantage. WhiteSmoke and ProWritingAid have some of the most straightforward and most accessible writing repositories.
Frequently Asked Questions About Best Grammar Checker
What is grammar checker software?
A grammar checker software checks and highlights grammatical mistakes in your writing. It uses several rules to detect errors like agreement in tense, spelling mistakes, punctuation, etc.
Who needs a spelling or grammar checker?
Anyone who writes frequently or occasionally in their jobs should use a spelling and grammar checker. It helps you highlight common errors and fix them faster. It is best to hire a proofreader for longer articles.
What is the best free grammar checker?
Grammarly remains one of the most popular grammar checking software in the market. Its free version enables you to check your writing for grammatical mistakes and spelling errors. Good alternatives to Grammarly are ProWritingAid and Whitesmoke.
Can grammar checkers work offline?
Most grammar checker software(s) require an internet connection to check your text for common grammatical errors. However, the app version of Hemingway software works offline too.
Is a grammar checker safe to use?
Broadly, yes. A grammar checker does not monitor your content. Most software(s) don't even auto-save your writing. However, it is best to read the Privacy Policy of the software you are using. This is especially important if you are writing something commercially or legally sensitive.
Final Thoughts
There are many grammar checking software out there in the market, but the most popular ones remain Grammarly, ProWritingAid, Hemingway, and WhiteSmoke.
Hemingway is perfect for improving your writing's readability.
WhiteSmoke is ideal for non-native English speakers.
ProWritingAid suits fiction authors the best.
Finally, Grammarly is perfect for non-fiction, social media, and any other formal communication.
Complement one with the other, or stick to any one. Hopefully, this article has helped you find the best grammar checking software for your needs.