You've finally decided that you want to be a freelance writer. But you have no clue where to begin. You don't know how to pitch without any published samples or a writer's website. How do you start your journey as a freelance writer?
Let me tell you straight away: You start by creating your writing portfolio.
A writing portfolio is a way to showcase some of your best work and accomplishments to your prospective clients. A prospect won't hire you without looking at a few samples of your work in their niche.
Having a solid writing portfolio is the first step to converting prospects into customers. In this article, I'll tell you how you can make your writing portfolio, give you examples of some great ones, and give you 5 solid steps to creating samples that land gigs.
Ready?
If you prefer a video version of creating your freelance writing portfolio, here's a tutorial by Chintan to get you started:
Table of Contents
Frequently Asked Questions About Writing Portfolio
Before we begin, let me answer some of the most commonly asked questions about creating portfolios:
A writing portfolio is an online page or website that showcases your writing samples. It contains only your best works for a prospective client's evaluation. There are no strict guidelines on what your writing portfolio should look like, just you should have one or more than one to showcase your writing and subject-matter expertise.
What's the purpose of a writing portfolio?
The purpose of a writing portfolio is to showcase your achievements as a writer. It is something you can give to your clients so that they can judge the quality of your work. Portfolios allow you to present your best writing in an attractive format.
Is the writing portfolio a resume?
No, a writing portfolio is not a resume. A resume showcases your educational and academic background while a writing portfolio is a demonstration of your writing skill. If you cannot make a writing resume, you can share a writing portfolio with your prospects.
What are some free writing portfolio websites?
Contently remains one of the best choices for free writing portfolio websites. You can use WordPress.com for a basic blog. JournoPortfolio is also a great writing portfolio website that offers up to 10 free articles for hosting. Journalistic writers can use MuckRack for free. Clippings.me's basic version with up to 10 articles is also free.
With all that clear, let's get into what websites can help you make your writing portfolio.
Top Portfolio Sites For Freelance Writers
There are many websites out there that help you make your writing portfolio. Not all of them are worth trying. Here are the 8 best ones with their features, pricing, and other details:
WordPress.com
WordPress remains one of the most loved content management platforms. While the site creation here is not specifically geared towards the creation of a writing portfolio, the creative flexibility it offers is a major plus.
If you already have a website, WordPress also allows you to separately manage your portfolio through its Portfolio Projects.
Features:
Easily customize your portfolio by using drag-and-drop blocks
Hundreds of impressive themes
Customizable portfolio
Creation of a separate portfolio project
Useful plugins for social media sharing, SEO, etc.
Pricing: Creating a basic WordPress site with the name sitename.wordpress.com is free. There are also paid plans for custom domains and unlimited email support. The cheapest plan starts at $2.20/month. A comparison of all the plans is available here.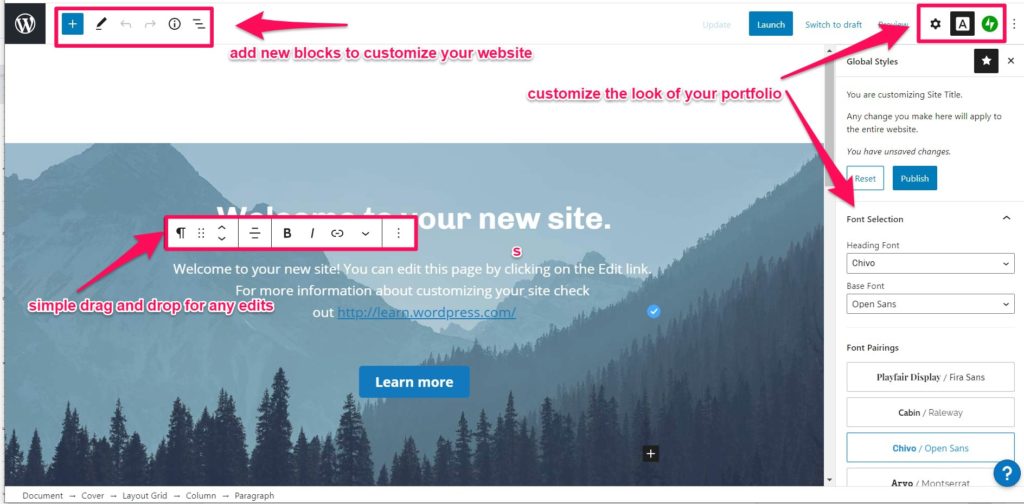 Contently is a marketing and technology company that is also focused on portfolio creation for freelancers. This means that you can not only create the perfect writing portfolio here but can also connect with potential employers.
Features:
Unlimited articles
Easily digestible single-page portfolio to display your best work
Automatic collation possible from the websites you have already worked at
Customizing options to change themes, biography, areas of expertise, etc.
Filtering by clients, topics, and skills (great for writers who work in multiple niches)
Pricing: Contently is free. But they do charge an agent's fee for all the work you attain through Contently.
JournoPortfolio is a modern, easy-to-use online portfolio to showcase your writing. You can choose between six themes, create separate pages within your portfolio, and link directly to clips.
Features:
URL clips grab the details of your article automatically
6 themes and various background images to choose from
Upload many different kinds of multimedia like PDF, videos, images, etc.
Built-in analytics to measure visitors easily
Create multiple pages in your portfolio
Pricing: A free plan is available but you can add only 10 articles here. The paid plan with unlimited articles and unlimited pages begins at $2.75/month.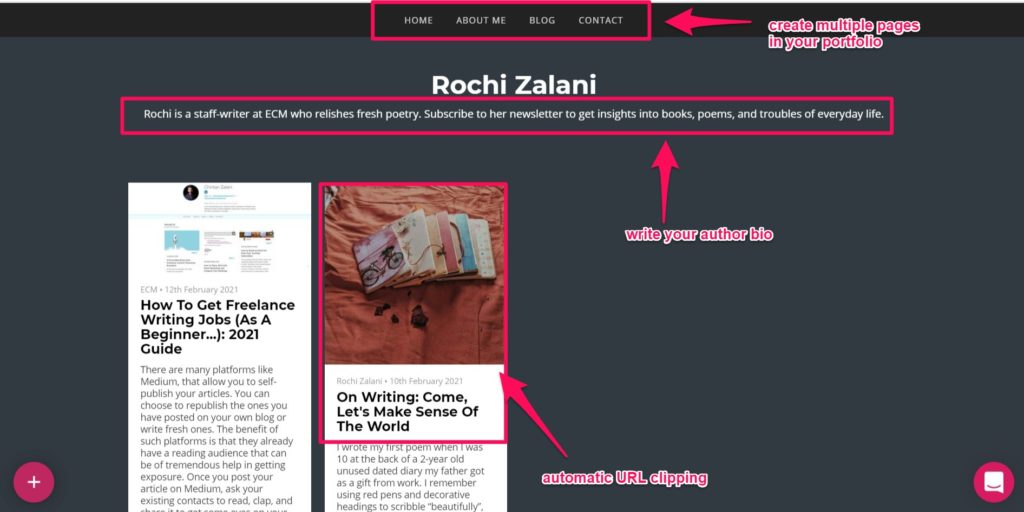 Clippings.me is a simple writing portfolio website with minimal technical skills required. It is minimalistic and you can make your writing portfolio within minutes.
It is specifically writing-focused, unlike many of its competitors.
Features:
Multimedia uploads available
Personalized design
Offers a directory that can be used by journalists to search for potential interviewees
Has a writing portfolio guide
Pricing: Free plan available but you can add only 10 articles under it. The Premium plan starts at $5.99/month.
Squarespace is an easy-to-use drag-and-drop website builder. Although it isn't specifically geared towards creating portfolios, it would be the perfect choice for you if you want to create a visually appealing one.
Features:
Ridiculously easy-to-use and creates a professional-looking website
Drag-and-drop features to creating all pages
Thousands of templates to browse from, including portfolio websites
Mobile optimization
24*7 client support
Pricing: No free plans available but there is a free trial for 14 days. The cheapest plan starts at $12/month. Compare all the pricing plans here.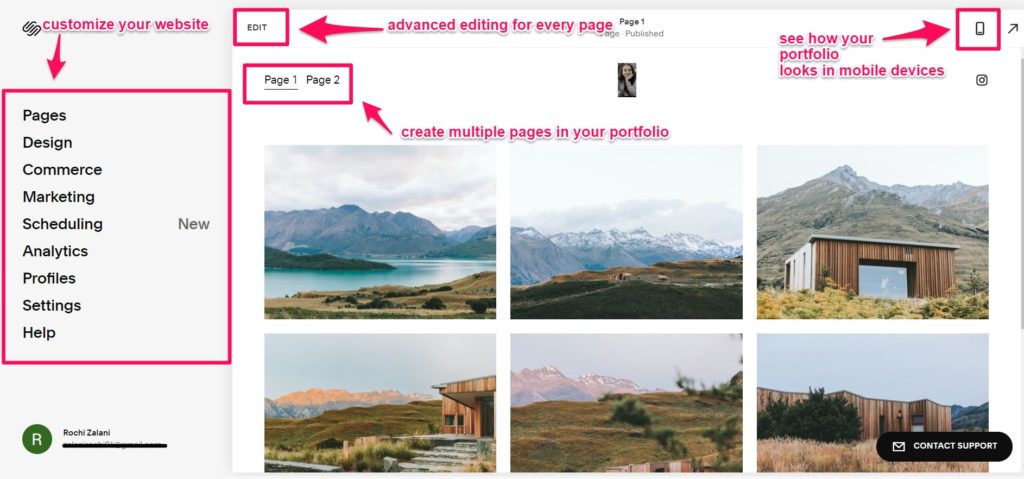 Muck Rack is a writing portfolio website particularly designed for journalists and PR professionals. The most outstanding part of Muck Rack is that it automatically adds to your portfolio by compiling social media profiles, outlets, and articles.
Features:
Supports PDFs along with articles
Automatically compiles your portfolio
Link your social media profiles easily
Customize your profile however you want
Add topics that you don't cover
Pricing: Muck Rack is completely free.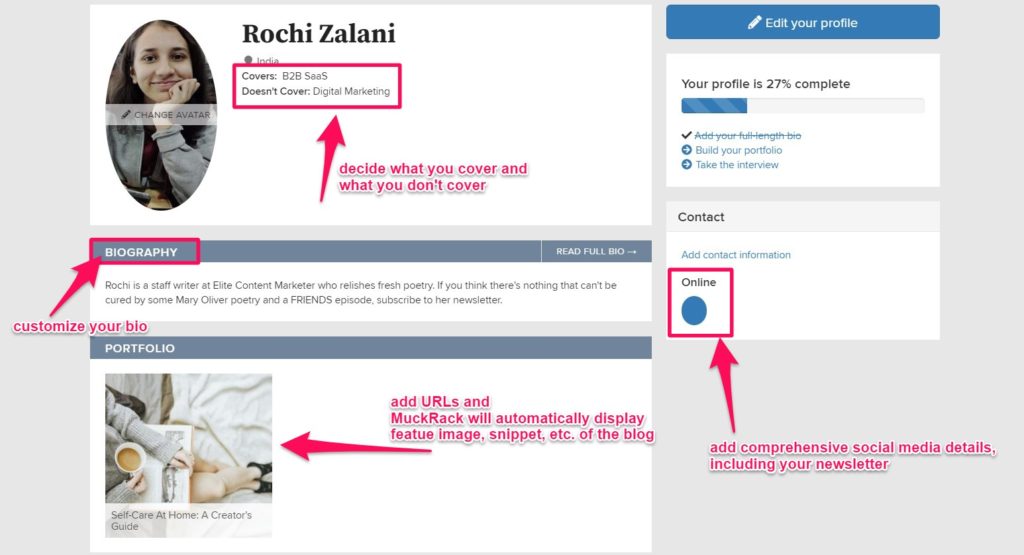 Pressfolios is a writing portfolio website exclusively aimed at freelance journalists. But it works perfectly well for all types of content creators as well.
Features:
Full-text backups for all articles/PDF/image uploads sent to cloud storage
Customize and layout your portfolio according to your preferences
Add stories directly to Pressfolios using its Google Chrome extension
Customizable URL
Add differentiating links and social media accounts
Pricing: No free plan available. The Lite plan begins at $9.99/month. A 14-day free trial is available, but it allows you to add only 12 stories.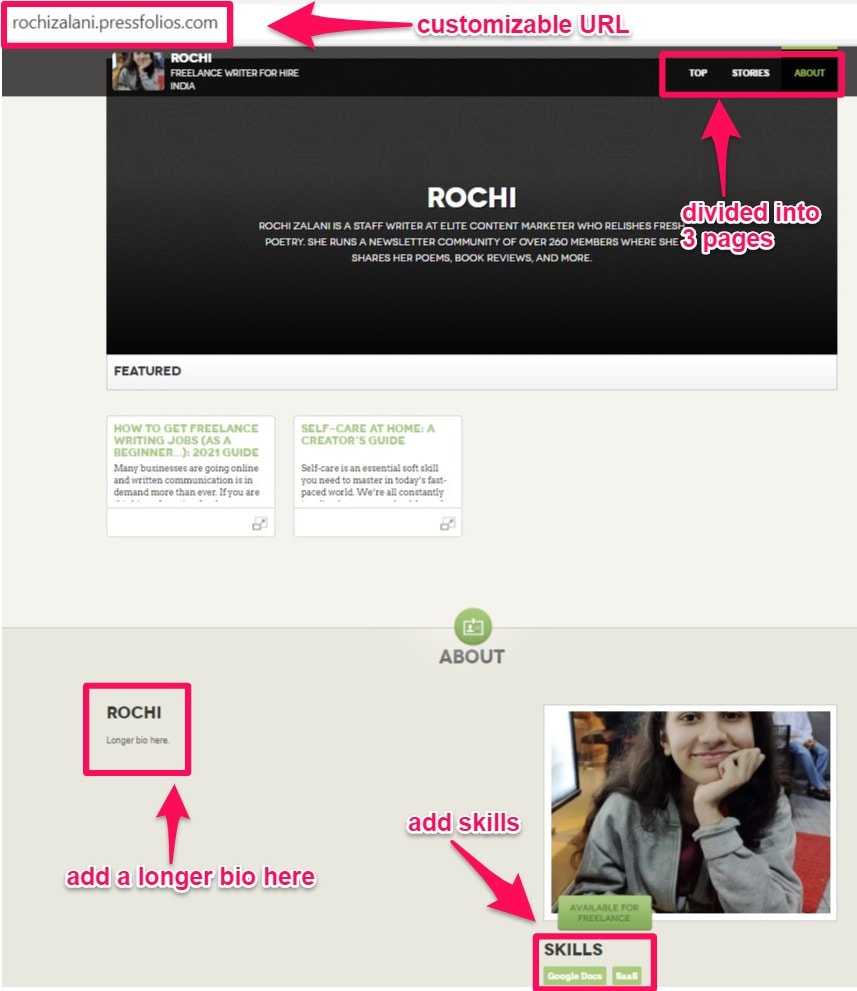 Writerfolio helps you create a writing portfolio that stands out of the ordinary to attract potential clients and editors. You can create a sleek looking portfolio without having advanced computer skills.
Features:
Variety of themes
Upload unlimited writing samples and/or attachments
100% satisfaction guarantee – Writerfolio will return your money if you are not satisfied
Setup your portfolio with simple fill-in-the-blank ease
Pricing: No free plan available. But you can get a free demo without signing up. Plans begin at $4/month.
When I was trying out the "Demo Link" of Writerfolio, the captcha kept reloading despite many tries on multiple browsers and devices.
Now that you know the various resources that you can utilize to create your writing portfolio, let's see examples of some great ones.
Example Writer Portfolios
A great writer website or portfolio doesn't have to be complicated. It can be a simple author bio with details about you, some of your best work, and contact details.
You can level up by showcasing some of your achievements and giving some creativity to your writing portfolio.
Whatever you decide to do, good design and clarity are key to a great writing portfolio. Here are some writers whose portfolios stand out:
Jennifer Fernandez is a freelance writer and editor talking about design, lifestyle, and travel. Her writing portfolio follows a format and stands out in its minimalistic and aesthetic design. Notice how she has separated her niches into pages, this makes it easy for prospective clients to evaluate her work.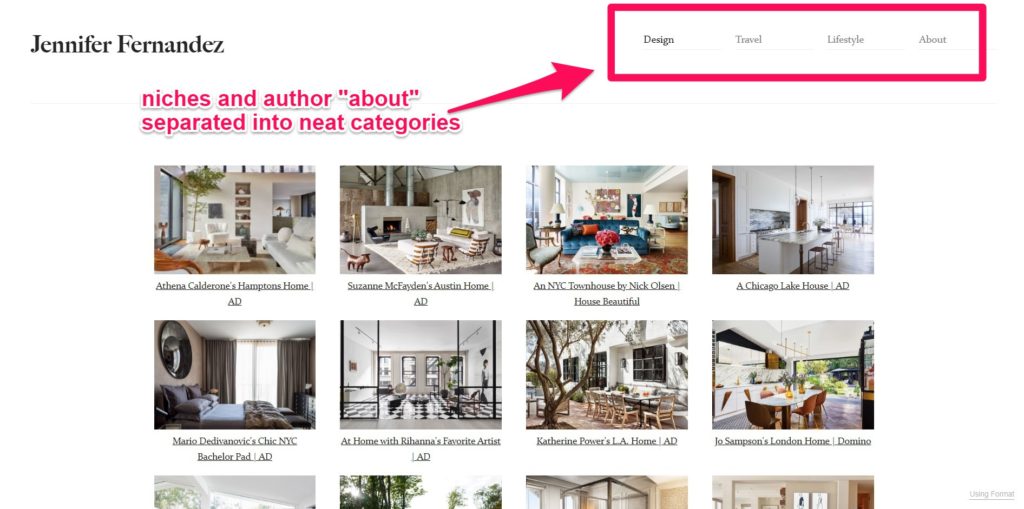 Ann Friedman is an established writer, journalist, and podcaster. She does many things, but her writer website showcases them in the most organized and accessible manner possible. Ann'sTumblr blog doubles as her writer website and writing portfolio.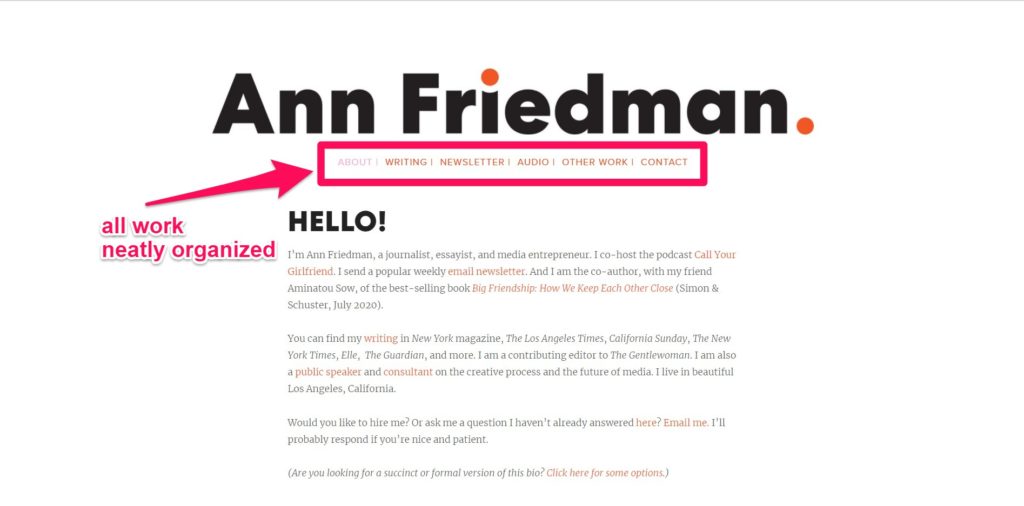 Ellen Shang is an editor, writer, and content strategist, with her niche focusing on financial services. Her Contently portfolio is perfect because it lays out the keywords of her profile, her niche, and her LinkedIn.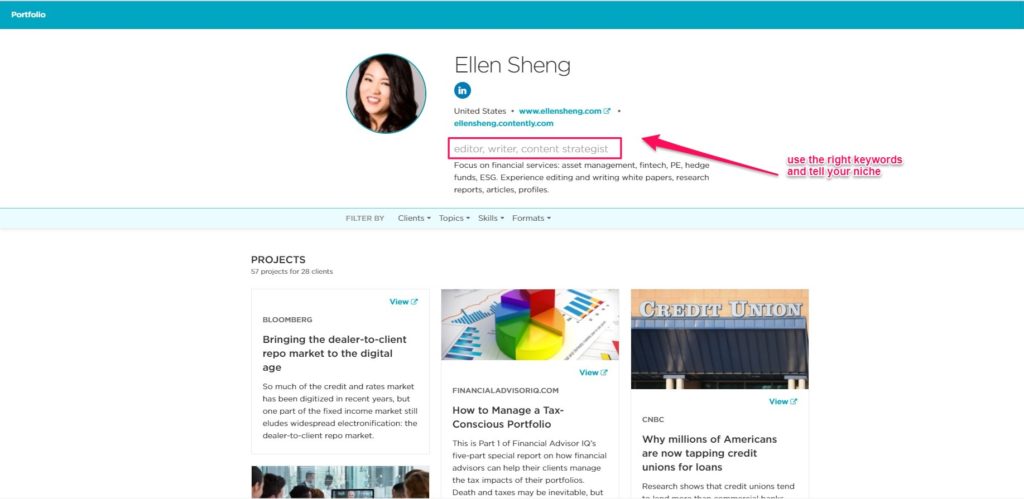 It doesn't hurt to align your writer portfolio's theme to your niche. Hank Herman's writer website screams funny. The portfolio is easy to find and navigate. This an example of the kind of creativity that wouldn't hurt you to use as well.

Zachary Sniderman is a freelance writer at Mashable. When potential clients hunt her portfolio on Muck Rack, they immediately see her accomplishments and where she has been published. It also helps to ensure there's a featured image attached to your samples.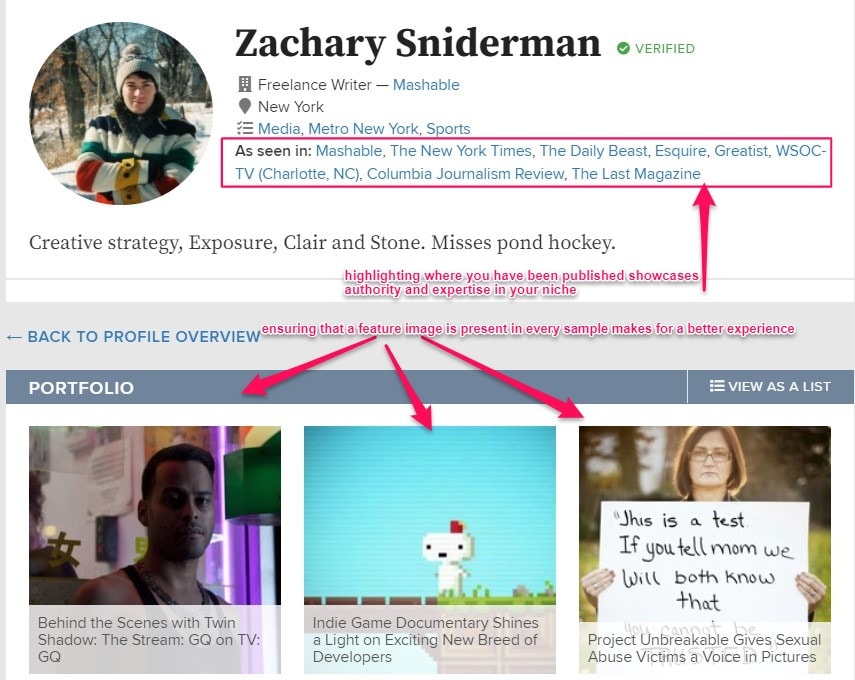 Great. You have chosen your portfolio site, and designed a writing portfolio that is aesthetically appealing, easy to navigate, and makes a client's evaluation of you easy.
But how do you gather samples? Do you put all the articles you've written in your portfolio?
How To Make A Notable Writing Portfolio
If you're a beginner, you'll hardly have much in your pocket. And even if you are a little ahead in your freelancing journey, should you really put every article you've ever written in your writing portfolio?
No. Don't make that mistake! Given below are 5 steps you can follow to create a notable writing portfolio:
Step #1: Self-Publish Articles
The first place you should publish your articles is your own website. This is your place to shine and show off your writing skills with no "writing requirements" inhibitions.
Your blog can be versatile, here you can not only offer your services but also build your portfolio. Many notable freelancers recommend having a "Portfolio" page on your own website.
Starting a blog and publishing your own articles is easy. You don't have to be tech-savvy to do it as you can read in that linked article.
But if you cannot create a website right now, self-publish on platforms like Medium and Vocal Media. There are several publications that can help you gain a good quantity of readers.
Step #2: Choose A Niche And Find Authoritative Publications That Accept Guest Posts
Let me get this straight: Choosing a niche for your services is crucial to growing your freelance writing business. When a client looks at your portfolio, they feel more confident knowing you have authority in one niche rather than an intermediate skill level in five different niches.
After choosing a niche, find authoritative publications that accept guest posts in your niche. Guest Posting is when you publish your post on someone else's blog. This is one of the best ways to build credibility and generate a name for yourself in whatever niche you choose. Guest posts can be paid, but more often than not, it's a free opportunity to get more readers for your writing and create samples for your portfolio.
How do you find publications that accept guest posts in your niche? Do a simple Google search like this: "your niche + write for us"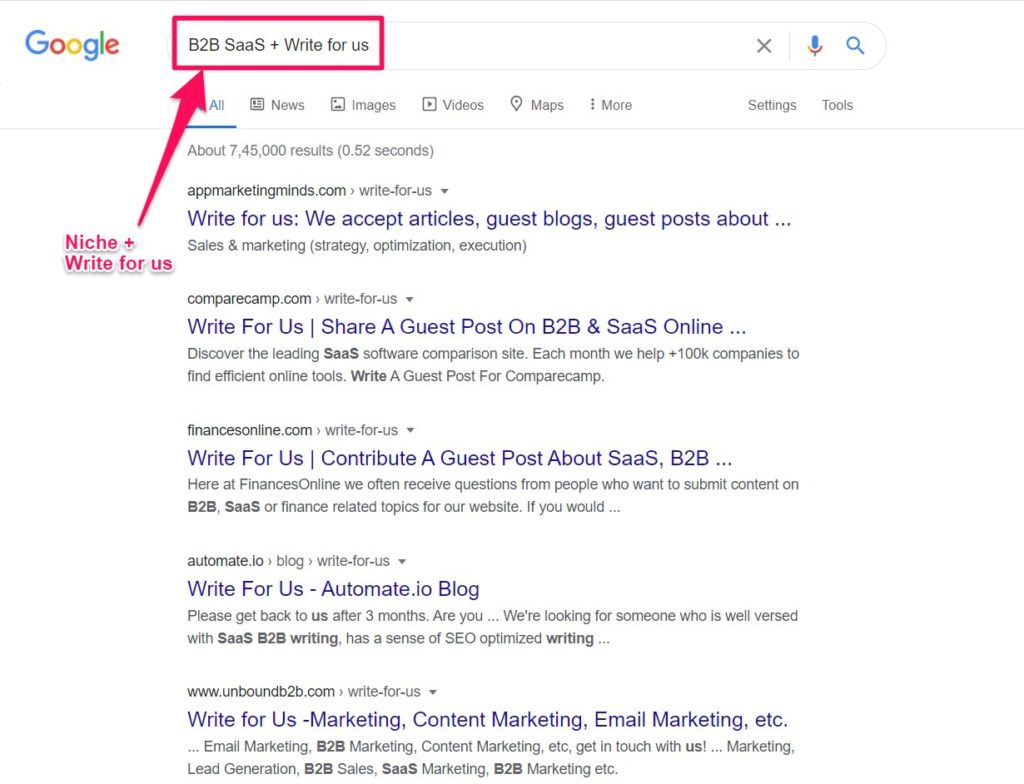 Now you can scour through literally hundreds of websites that accept guest posts in your niche. I'd recommend sticking to authoritative publications to gain some street cred in your writing samples.
Step #3: Pitch Article Ideas To Editors
After you read the guest blog guidelines (and adhere to them!), the time comes to pitch the article idea to the editor.
Different blogs will want different things: some will expect you to give the post within the pitch (like Tiny Buddha), some would want to hear a few ideas first (like Psychology Today). Figure out what the website wants and then craft your pitch accordingly.
Your pitch should sound personal and well-researched. One template won't work for all guest posting websites. Learn more about the blog you are pitching to, the kind of posts they publish, how they format their work, and how long their posts are. This will help your pitch stand out.
And if possible, become a regular contributor to some publications. This will help you build relationships as a freelancer and continue gathering samples in your niche. Here is one of my pitches to a publication where I become a monthly contributor:

Step #4: Write Your Article
Once you have been accepted, write your article. If the publication required you to send it along in the pitch itself, this task would've been done already with step #3.
But remember: Do not pitch the same idea to multiple guest posting websites. If the same idea gets accepted for two publications, you won't be able to publish it in at least one place. You can't swap ideas and withdrawing your idea after pitching it leaves a bad impression on the editor.
Instead, try pitching on different aspects of the same topic. This way you can write many articles with less effort.
After writing your article, market your freelancing business in your author bio. A good bio can make or break your lead generation from guest posts. Here is the ultimate guide on how you can write a great bio.
Step #5: Rinse And Repeat
Do these first 4 steps for as many good publications as you can and build an amazing portfolio. The key here is consistency and gaining eyeballs in a variety of websites. Remembering that you have to stay out there is crucial.
Not only will this help you build a credible writing portfolio, but you can also gain clients to reach out to you for your services.
Final Thoughts
A writing portfolio can make or break your freelance writing business. It is the first thing prospective clients ask for when they look to hire you. A portfolio that is attention-grabbing and displays your best work and expertise in a particular niche can help you stand out from the competition.
Hopefully, this article provided you with all the resources, inspiration, and steps you need to build your writing portfolio from scratch.