Webinars are invaluable to a creator — they enhance your connection with your audience, let you engage with your prospects, and sell more of your products. But you can't settle for an average user interface and shabby presentation. You want the best webinar software to ensure your attendees have a slick experience.
In this article, you'll look at some of the most premium webinar services available in the market right now. Webinars are also important to team collaboration, hiring, customer support, and other use cases. So with every software below, I've shared standout attributes, price points, and short reviews to help you pick the one that fits your needs.
Given that all webinar software isn't created equal, here are a few aspects to consider to find the one for you.
How To Pick The Best Webinar Software? Here Are Five Factors You Can Consider…
Different use cases call for different features in a webinar platform. Some creators might want to conduct live webinars for their online course students and want engagement tools. Others might want to sell more products through webinar marketing, so they want professional-grade promotional tools.
While I'll share a crisp webinar platform review for every item on our list, here are a few broad attributes to keep in mind:
1. Number Of Attendees and Presenters
Do you want to conduct a large virtual conference with thousands of attendees and multiple speakers, or collaborate with your team members while working from home? Maybe you want to deliver a presentation around your expertise to a niche audience and generate leads for your product. Each webinar software you'll see in the article is built for specific use cases.
2. Audience Engagement Tools
You don't want to bore your audience. So for most webinar hosts, interaction through polls, surveys, Q&As, and gamification tools is important. Occasionally, even letting your audience members speak on the virtual stage could come in handy. Carefully look at all the interactive elements available on the platform of your choice before, during, and after your webinar.
3. User Experience For Your Audience And You
Do your attendees need to download clunky extensions and plugins? Is the software buggy and has difficulties in broadcasting video or sound? How is the degree of customizations and the overall experience from your registration page, to your email invites, all the way to your webinar room?
If all is good for your attendees, then ensure the dashboard isn't too complicated for your technical dexterity — a long learning curve will cause unnecessary delay in presenting your webinar.
4. Marketing And Analytics Features
Are you looking for a pre-recorded webinar software to run evergreen webinars to generate leads on autopilot? Do you want to live stream your webinar across social media platforms? What kind of integrations do you want with your CRM — is dedicated email contact management important for you? Further, what kind of webinar metrics is the software able to track? Does it let you install retargeting pixels and javascript tags?
You need to take stock of how the webinar tool fits into your marketing stack and weigh its analytical capabilities.
5. Security And Technical Support
What if you want to password protect your webinar behind a paywall? How does the platform ensure it keeps payment information and other webinar registrants' data secure? Also, if you get stuck, how responsive is the customer support team? Does the company have a dedicated knowledge base with technical tutorials to set up the software?
Note that your 'dream' webinar software, the one with every functionally you want at your price point, is difficult to find. But webinar tools are available across the spectrum, and one of the following platforms will definitely serve your needs.
Keeping these attributes in mind, let's look the top webinar software now:
If you want complete control over the nitty-gritty of your webinar, then WebinarJam will do the job for you. It's one of the most versatile webinar platforms (with all the bells and whistles you're probably looking for) to sell your products and services. 
Price: $499 per year for the Basic Plan which allows up to 500 attendees. The Professional Plan is $699 per year and allows up to 2,000 attendees (it comes with the "Panic Button" and an "Always-On live room"). For the Enterprise Plan, you'll pay $999 per year (with the ability to accommodate 5,000 attendees).
Don't let their long and clunky homepage fool you — WebinarJam is powerful that lets you customize the complete experience of your webinar audience. The browser-based webinar platform comes with a Page Builder that comes with a template library. Not only can you modify the contents of the page (like text, colors, images, logo) but also split test two designs.
You can schedule a single or a series of webinar sessions. It's even possible to get an "Always On" room dedicated to your brand enabling you to go live on-demand within seconds. WebinarJam can also record your sessions at the click of a button. Indeed, mimicking the second-by-second sequence of comments, surveys, and offers that rolled during the live session is possible through its "Replica Replay" feature.
Its Email & SMS System lets you send email and text reminders to your registrants. So you get to tailor your post-webinar emails based on the actions the attendees took during the webinar. Your audience need not download any software for attending your sessions as it's a browser-based and device-agnostic platform.
For your webinar itself, the tool lets you customize the color scheme of your interface and create polls, surveys, product offers, and handouts before your event. Furthermore, your attendees can also request to speak and come up on the virtual stage through "Attendee Spotlight." If you want to stream live on YouTube, you can do that too.
There's a "panic button" for times when tech issues arise and you find something isn't running the way it should. Pressing it will take all the presenters and the attendees to a brand new live room within 10 to 15 seconds. The Enterprise Plan also has 'The Control Center' for large webinars which require staff to assist in managing the attendees.
This webinar software has an intuitive user experience for both you and your audience. It also comes with an extensive suite of marketing tools to promote your event and drive more webinar signups.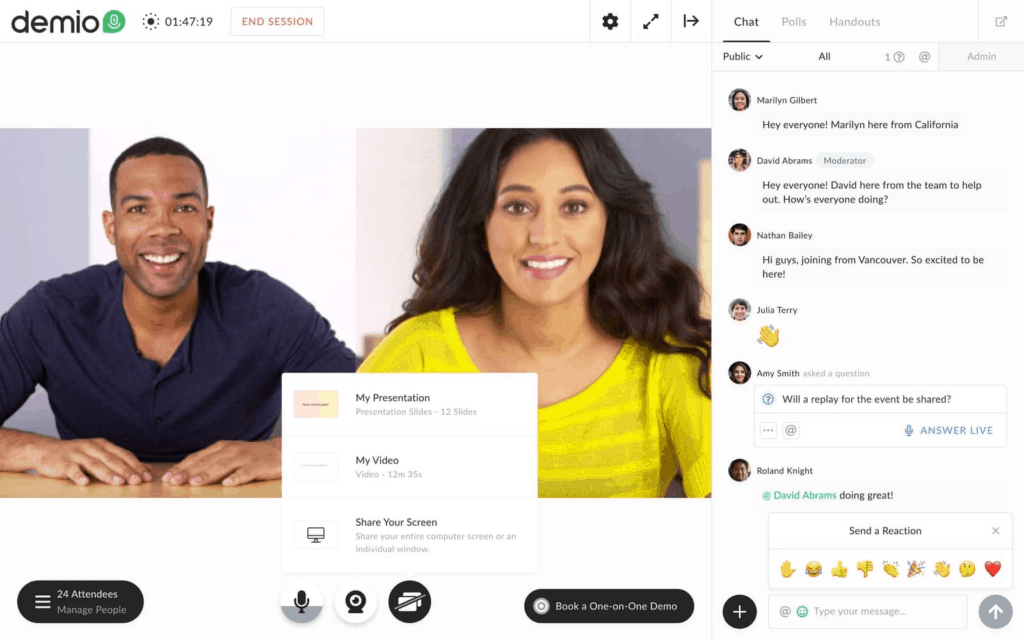 Price: $49 per month for The Starter Plan with a capacity of a 50-attendee room and a 3-hour session limit. The Growth Plan costs $99 per month with an increased capacity of 150 attendees (with automation and branding features). Its Business Plan costs $234 per month and comes with a 500-attendee room. Save 30% by paying annually.
Demio is an easy-to-use webinar platform for beginners and advanced marketers alike. It has elegant and intuitive presenter controls, tracking signups, and offers extensive automation. It also runs on all browsers and devices without needing to download a software.
During your webinar, interact with your audience through polls, share downloadable bonuses and handouts, answer questions from your audience and interact in a real-time chat, and use "Featured Actions" to launch an offer or any CTA during the event.
You can record unlimited webinars on all the plans and store up to 100 recordings. For customizing the material according to the look and feel of your brand — including the registration and thank you pages — there are inbuilt templates. If you want to launch a recurring webinar series, your attendees will need to register only once.
After your webinar is over, customize the replay page and set custom rules for following up with contacts based on their interaction during your webinar. It even has a "Like Live Replay" feature that lets second-time attendees have the same experience as the original.
Finally, you can analyze the effectiveness of your promotions by tracking registrations for your events, and find out when attendees lost interest in your webinar content.
Overall Demio offers robust features with a user-friendly interface — it's a fit for beginner creators and advanced marketers alike who are interested in delivering a captivating webinar for their audience.
Lets you create webinars in under a minute, create automated re-runs, and access a suite of marketing tools with granular control on the webinar experience of your attendees.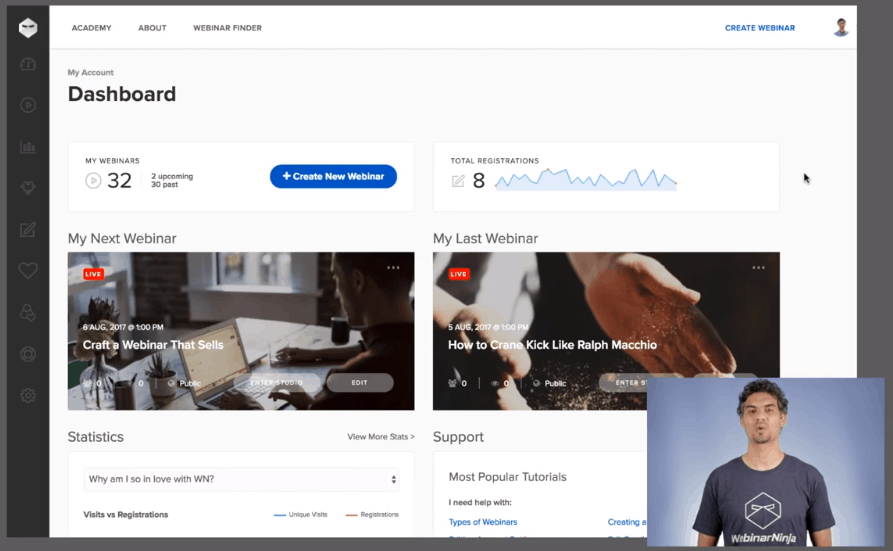 Price: $49 per month for the Starter Plan with 100 attendees. But for accessing Webinar series, summits, and Facebook Ad tracking, you'll need their Pro Plan priced at $95 per month which comes with 300 attendees. Save 20% by paying annually.
WebinarNinja promises to function as an all-in-one software that'll enable you to conduct effective webinars. No need to juggle between a landing page creator, an email marketing suite, and a presentation tool. Your participants don't even need to download a software  — it's all on the cloud.
As soon as you fill in the details to create a webinar, it'll enable access to a webinar sign up and a thank you page. Its live page editor lets you customize these pages by adding your branded elements, images, videos, and more.
The email notifications and automation on 'My Webinars' cards are customizable. So don't mind adding a personal touch to the confirmation and reminder emails to your registrants. To start your webinar you need to access its 'Studio' — where you can upload your presentation slides. There's an option to play a YouTube video during your webinar as well.
While the webinar is in session, you get access to a live chat, a separate area for questions, conduct interactive polls, and change the layout of your screen at any time. Marketers would especially relish the tool's ability to show special offers at any time during the event.
Overall, WebinarNinja lets you create four types of webinars – live, automated, hybrid, and summits. These correspond to the ability to run live webinars, fully automated pre-recorded webinars, or a combination of both.
In terms of reporting, you get access to important stats including your sign up and show up rates. At the end of the webinar,  learn about the engagement of your webinar attendees — the percentage of people who clicked on your offer, participated in the chat, and the like.
The WebinarNinja Academy gives you access to training on all things webinars — including marketing, sales, and engagement techniques. You can also add your webinar to their webinar search engine and get a few attendees rolling in through their in-built community.
WebinarNinja is value for money with some powerful marketing and webinar features stacked up within an easy-to-use platform. Beginner and advanced creators will both adore it.
An easy-to-use webinar and online conferencing software for large businesses that want to reach more people (up to 5000 people are allowed in a room).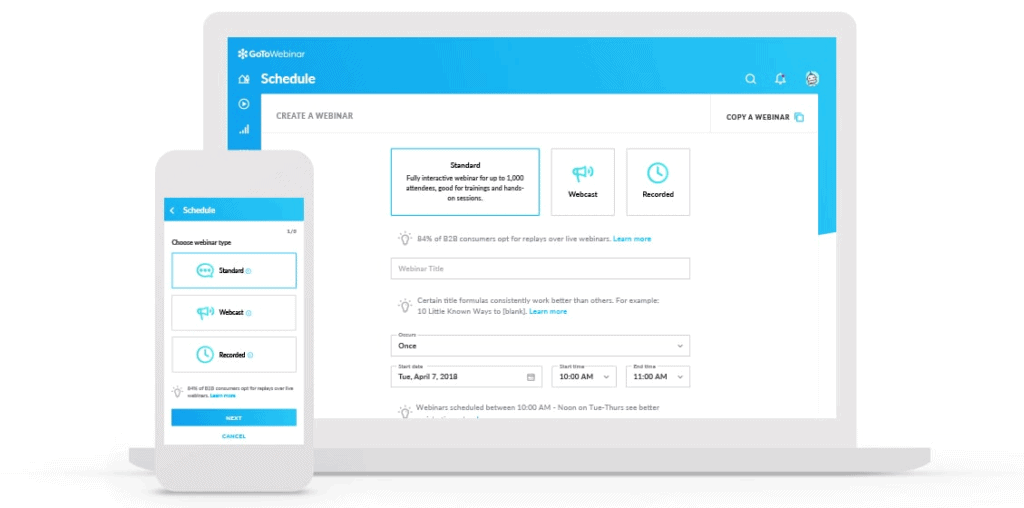 Price: $109 per month for the Basic Plan with 100 attendees. Upgrade to the PRO Plan at $249 per month to accommodate 500 attendees and get advanced features like Recorded Events, Video Editor, and Transcripts. The Plus Plan at $499 per month accommodates 1000 participants. Save 20% by paying annually.
Being a trusted leader in the online events industry, it is likely for your attendees and your presenters to be familiar with the GoToWebinar interface. Irrespective of your technical skill level, you'll be able to plan and present a webinar within a few clicks.
Its sister product GoToMeeting is built for a group of large attendees. So, their self-service webinar solution is a fit for large businesses using webinars for demand generation, corporate training, and internal communications.
You can easily schedule one-time lives, series, or on-demand events. Its webinar templates let you import settings from your past webinars and save time. You get automated email reminders, custom webinar invitations, and a registration page to solicit sign ups for your online events.
During your webinar, conduct polls and surveys, send files, and use the software's engagement dashboard to monitor the attentiveness of webinar participants.
Once your webinar is over, you get event analytics to evaluate its performance and a comprehensive attendees report. You'll know who attended your webinar, the questions they asked, how engaged they were, and the channels that drove the most webinar sign ups for you. And it'll let you integrate the attendees' data with your CRM.
Your webinar recording can then be used to drive more leads by creating an automated webinar experience through its "Simulated Live" feature. Such webinars can be scheduled at a fixed time or on-demand (whenever the attendees want it).
There's an option to publish your recorded webinars on their GoToStage platform — it's like the YouTube for webinars of the GoTo community. You get your own branded channel to host your webinars and you're allowed to customize its look so you're discovered on the right foot.
While sans the bells and whistles of other webinar platforms, GoToWebinar is a fit for large organizations. It's a reliable webinar platform by LogMeIn, which is among the top 10 SaaS companies in the world.
The company offers flexible pricing based on the number of your attendees so creators new to webinars can pay less while learning the ropes of online events. It also lets you embed and run webinars for visitors on your WordPress website through a plugin.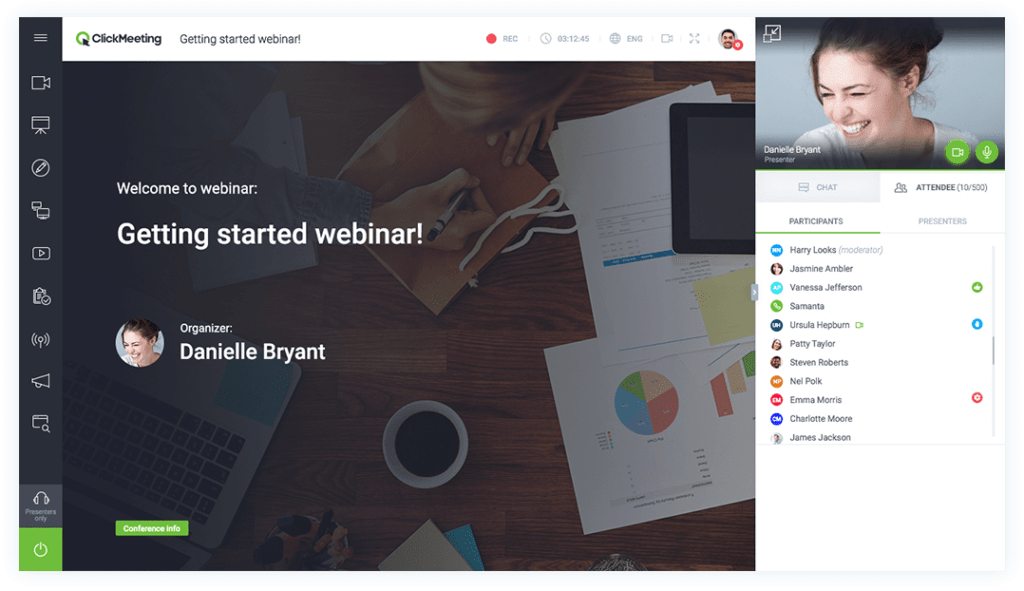 Price: $30 per month for the Live Plan with up to 25 attendees. The Automated Plan lets you conduct automated and on-demand webinars costing you $45 per month for the same number of participants. Save 20% on both the plans by paying annually. To increase the capacity of your webinar rooms, you'll need to pay more.
The browser-based webinar tool makes it easy to customize your webinar room through its uncluttered interface. Personalizing your profile page with your brand colors, logos, and include information about upcoming events is possible. The meetings room, webinar registration, and emails — all allow a healthy degree of customization with design.
To engage your audience before you host the webinar, create a virtual waiting room where you share your agenda, the details of the speaker, and important files relevant to the webinar. You also get a handy webinar timeline with important info related to your past and upcoming webinars.
ClickMeeting lets you conduct presentations by uploading documents as slides, sharing your screen, and getting feedback from your audience by conducting polls & surveys. It even has an interactive whiteboard with text boxes, shapes, and drawing tools to illustrate your ideas. You can also stream your webinars live on YouTube and Facebook.
Your audience can interact with you through the moderated Q&A. The chat conversations are even available for simultaneous translations in 52 languages through Google Translate. For urging your audience to take action, the software lets you present relevant offers at the right time of your event with custom CTAs.
While you can record your webinars, you'll need to download and share them manually. Stats on your webinar attendance and other relevant metrics are available at the end of your event. Overall ClickMeeting is a user-friendly webinar software that could work well for solopreneurs, and startups on a tight budget, though it's a tad unstable and can give you poor performance.
A bare-bones web conferencing software with webinar features that comes at an affordable price — it's a fit for creators with basic technical skills who want to dip their toes in online events.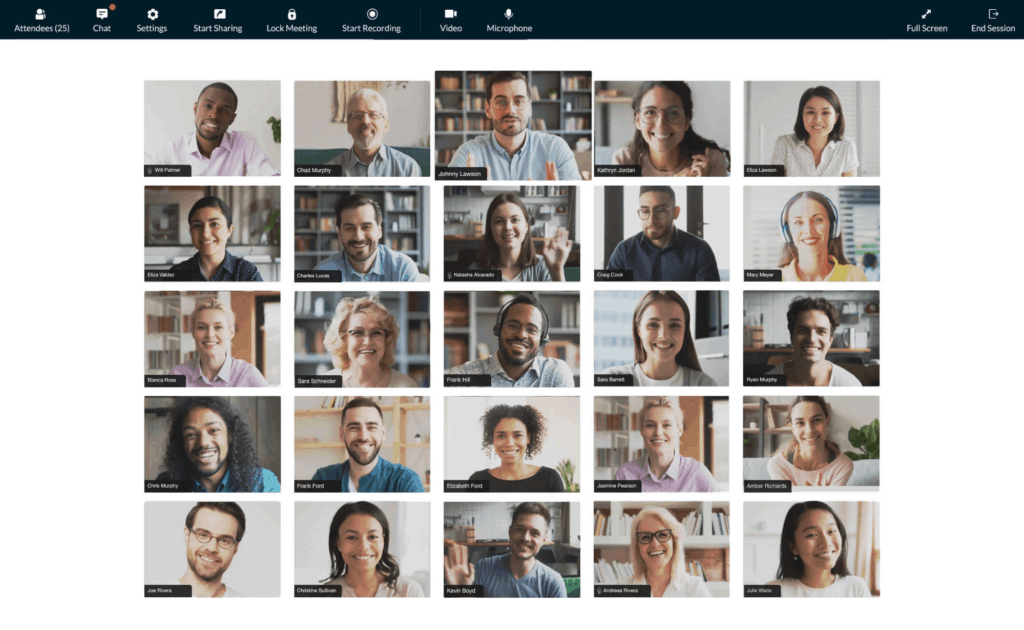 Price: The Free Edition lets you host 10 attendees. At $10 per month per host, its Meeting Edition allows up to 100 participants. Its Webinar-25 Plan costs $19 per month per host, is suitable for conducting webinars, and can accommodate 25 attendees. The price scales up to $79 per month per host in the Webinar-250 Plan with 250 attendees and more cloud storage.
Zoho Meeting is built for collaboration of remote teams through online meetings and video conferencing, but the company also offers webinar features with this product. Their browser-based sessions let you screen share, conduct Q&A and polls, and allow attendees to raise their hands as well as talk to ask questions.
Though it's not your typical landing page experience, you can customize the registration forms by adding your logo and other custom fields. It's also possible to embed the form on your website and blog posts to solicit webinar sign ups. During your webinar, you get to filter the sign ups based on prerequisites like filling a survey and keep spammers at bay.
After conducting a webinar, you get XLS or CSV reports to analyze your attendees. Online recordings of your sessions are available in MP4 format, so you may share their links with your audience later.
Overall it's a simple webinar platform with basic functionalities for broadcasting to an audience. But it falls short in marketing, so once you've learned the ropes of conducting webinars, you'll probably want to advance on to a more premium webinar software from our list.
The company also offers Zoho ShowTime, which is a learning management system (LMS) for delivering virtual training. It's pretty similar to Zoho Meeting in its features, so it might also make a decent webinar service for your needs.
It's suitable for creators who want to house their webinars, email list management, and basic marketing automation in one place.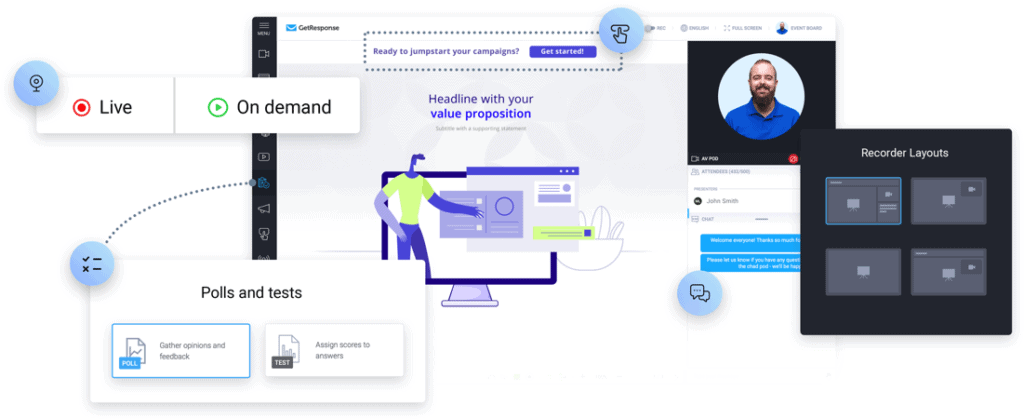 Price: $49 per month for the Plus Plan with up to 100 attendees and core features. The Pro Plan costs $99 per month and allows up to 300 participants and the ability to conduct on-demand webinars. Save 18% by paying annually and 30% by paying for two years.
While it's usually touted as an email marketing software, GetResponse also lets you conduct webinars. So you get a power-packed toolset with marketing automation which makes it easy to promote your webinars.
In the uncluttered and intuitive webinar presenter offered by GetResponse, you can display your presentation, share your screen, leverage a whiteboard, run polls and surveys, enable chats, and broadcast YouTube videos during your live session. If your audience is more likely to find and enjoy it on these platforms, then livestreaming your webinar on Facebook or YouTube is also available.
Where the tool excels is its email marketing tools. For creating a webinar as well, you'll have to  go through a setup wizard for sending emails to your subscribers. You can leverage autoresponders, landing pages, segmentation, and integrate Facebook Pixel to retarget the visitors with relevant offers later.
Not only can you filter and control who gets your webinar invitations, but send the message at the 'optimal time of the day' (when your subscriber is most likely to open and click on your emails). At the end of the webinar, you can access reports to analyze your performance, and access webinar recordings to set up on-demand webinars and generate leads on autopilot.
While it's a full-fledged email marketing suite, GetResponse has decent webinar marketing capabilities. It's convenient because you don't need to integrate multiple tools for carrying out webinar marketing activities and it offers great value for its price.
Run high-performance online video streams on a flexible bandwidth-based pricing model. It's ideal for corporations that want to conduct large online events and reach an international audience.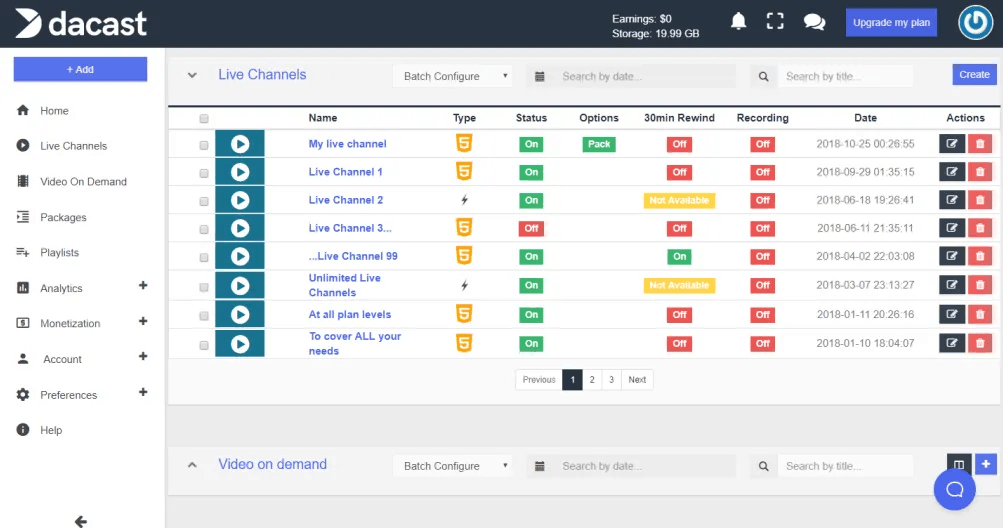 Price: $19 per month billed annually for the Starter Plan with a bandwidth of 100 GB (comes to $0.19 per GB). Flexible pricing plans are available for one-off events with a bandwidth of 40-100 TB costing $0.06 per GB and carrying a validity of 12 months.
DaCast makes it easy to stream your online events on your website, social media, or any other platform, and add watermarks to it. You can also charge for conducting paid events. And hey, it's a white label player so you get to add your logos, watermarks, and brand your event.
If you're planning on conducting a premium virtual summit, high-production quality (Full 1080p HD Broadcasting) is paramount and that's where DaCast excels. The online video platform leverages CDN delivery to increase the scalability of your webinars internationally.
While recording your streaming sessions is possible, you won't find other typical webinar features in DaCast because it simply isn't built for that. However, you can include email captures and other Call To Actions (CTA) on your video. There's a video API so your developers can even build your own video content management system.
For monetizing your videos, the player handles payments and lets you set up pay-per-view streaming prices with promo codes. There's even an option to insert video ads through a variety of ad networks to boost your revenue. You simply need to copy and paste your ad URL to your DaCast account.
The analytics inside the tool, with data on your top content, viewership, plays and viewers per time, consumption per device, and lots more, is one of the most robust on our list. There's also revenue analytics to evaluate your sales performance over time and segregate by country.
If you're already conducting an event at a physical location, then DaCast is a reliable solution to stream it Live on the web. There's a 10-second or less latency and a free direct HLS software encoder. While technical support is available, DaCast is for tech-savvy creators who want to conduct large-scale events — even beyond 5000 attendees.
The webinar conferencing software has a user-friendly interface housing basic features to conduct a webinar smoothly. Even beginners will find it nonthreatening to begin their journey of webinars through AnyMeeting.
Price: $48 per user per month for the Webinar Lite Plan with a capacity of up to 50 attendees. The Webinar Pro Plan costs $128 per user per month allowing up to 200 attendees. Until 2021, the pro license is available for free.
The product promises to make "telling your stories" easier and it delivers with the simplicity of its tools and features. Don't worry about its webinar capabilities though — you can broadcast live in HD video with up to 12 presenters, share your screen, conduct live audience Q&As and real-time polls, and let your attendees engage in live chat.
There's a "Presenter green room" for all the presenters to meet up for up to an hour before the scheduled webinar time to discuss and prep for the event. Even your attendees can hangout in an "Audience waiting room" until you go on air.
International participants can dial-in to connect to your webinar from their phones and save the costs of an international call! This service is available for 40 different countries.
For branding and marketing, you get to send custom invitations to your email list (by uploading it on the webinar platform) with necessary joining information. It's possible to add your logo and customize the background of your webinar. You can also record your webinar, direct your attendees to a specific URL, and conduct a custom survey after your session ends.
Although you'll need to integrate AnyMeeting with other software for conducting advanced marketing, it's core webinar features will suffice for creators who want to focus on their content and presentation.
Educational institutes and large businesses will find the ability to build world-class streaming experiences through Livestream the most useful. And hey, having unlimited attendees for your events is no issue!
Price: $75 per month for the Premium Plan (billed annually). For advanced features including enhanced security, dedicated support and training, branded OTT app, and more, you'll need to buy the Enterprise Plan and contact the customer support for a custom quote.
For filmmakers, artists, and businesses that want to leverage high-performance videos for their business, Vimeo is a well-known name. It was huge news when the company announced its acquisition of Livestream in 2017.
Vimeo comprises a high-quality video player (with 4K & HDR support) and collaboration, distribution & marketing, privacy, analytics, priority support, and monetization features. Livestream (only available starting with the Vimeo Premium Plan) enhances the product's appeal by incorporating live streaming capabilities.
The webinar interaction and marketing features that you get with Livestream include lead generation tools, live overlay graphics, Q&A and Polls, and audience chat. There's dedicated account management and even technical phone support if you stream during business hours in the US Eastern time.
Livestream also offers studio software to convert your computer into a professional control room. As a Livestream customer, you have the option to request turnkey on-site live video services.
Unlimited attendees, advanced editing functionalities, extensive user-level analytics with engagement graphs, multiple cameras, streaming to multiple locations — Livestream makes it possible to achieve your video production vision.
If you want to live stream a small scale fireside chat, panel discussion, or a remote interview, that's also available. It will help if you record and broadcast these events through Mevo, originally a brand subsidiary of Livestream (independent now). It's a camera with a mind of its own and it's technology enables it to follow the speaking head, recording from multiple angles.
The Premium Plan is worth experimenting with for creators, artists, individuals, and small organizations — think in terms of viewership in millions. But it could get really expensive if you don't monetize your video streams or don't have a large existing audience.
If you're a paid G Suite customer and like using Google's legacy products like Gmail and Hangouts, you'll like the familiar user experience on Google Meet.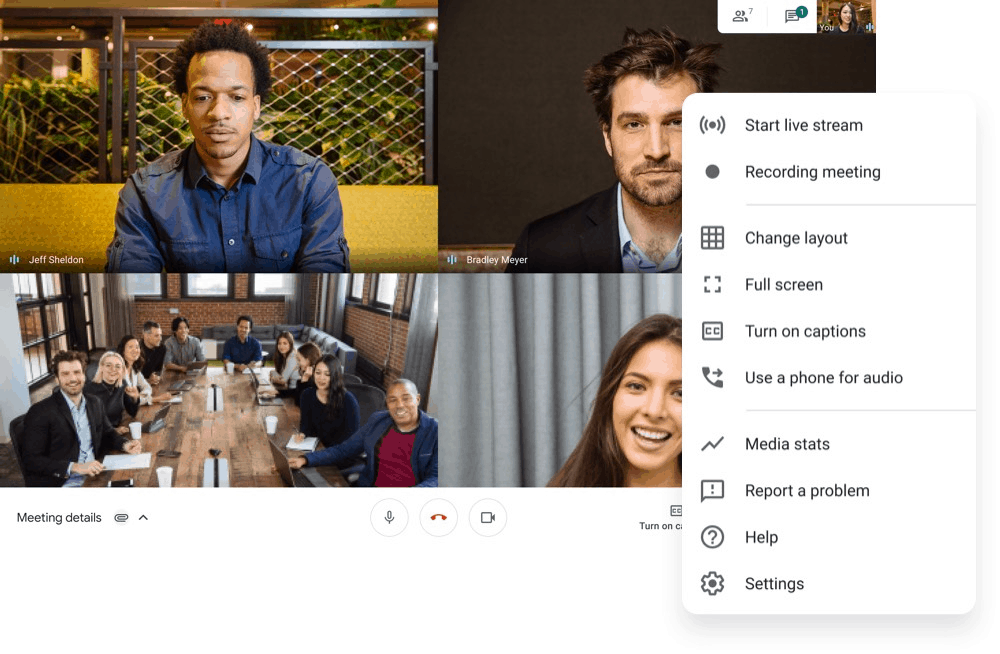 Price: $10 per active user per month on the G Suite Essentials Plan with a limit of 150 participants. $20 per active user per month for the G Suite Enterprise Essentials Plan with an increased limit of 250 participants, live streaming in-domain for up to 100,000 viewers, and more advanced features. All plans are available for free until September 2020.
To give Zoom a run for its money, Google re-engineered its enterprise-grade video conferencing product (previously called Hangouts Meet) into Meet and made it available for everyone with a Google account. Subsequently, its usage skyrocketed with the video meeting solution adding 2 million new users a day in the initial days.
Depending on your G suite Plan, it'll let you host up to 250 participants in a meeting which makes it a viable webinar hosting platform. You just need to share a meeting URL or a code with your attendees to join your meeting from a browser or mobile app.
It's standout features include noise cancellation which intelligently filters out background distractions like a dog barking and your keystroke taps if you take notes. There's also a low-light mode (available on mobile phones only at the time of writing) that uses an AI to adjust your video in suboptimal lighting conditions to make you more visible.
The presenter can share their screens and even share a single Chrome tab. Participants can dial in to join a video meeting and send chat messages. Live closed captioning is also available in English. You can save the Meeting Recording to your Google Drive and share it with your audience.
The Zoom-like tiled layout feature was introduced recently and allows web users to simultaneously see up to 16 participants at once. It's a great addition for remote workers who want to collaborate.
Its exclusive features over Zoom are focused on safety — people are required to log in to their Google account to attend a meeting and participants who don't join via a calendar invite, enter a green room that can only be permitted entry only by the host.
Google Meet is a powerful video conferencing app that integrates with G Suite and is a viable choice for educational institutes and even large corporates. For creators, it's a transient solution for online events — back of the napkin webinar software comparison shows how the products lack marketing tools and advanced webinar functionalities.
If you don't want a mere webinar platform, but grow a live "channel" by connecting with your audience through online events, then CrowdCast fits the bill. Given its integrations with 500+ apps, it's a robust platform that enables individual creators to foray into high-end productions.
Price: $29 per month for the Starter Plan accommodating 50 live attendees and it lets you stream up to 5 hours per month. The Lite Plan is priced at $49 per month, the Pro Plan at $89 per month, and the Business Plan at $195 per month (double increase in accommodation and stream hours in every plan to 1000 attendees and 40 hours). Pay annually to save 30% on all plans.
Crowdcast is geared towards individual creators, coaches, marketers, and solopreneurs. It lets them conduct workshops, interactive live classes, video Q&As, webinars, presentations, interviews, town halls, summits, and any other broadcasts. You can build a following on the platform itself and let it notify your audience about your upcoming events.
There's even an option to conduct Patron-only Livestreams for Patreon Creators. If your audience is scattered across Facebook, YouTube, LinkedIn, Twitch, Periscope, then you can multistream to all live video platforms. The attendee size of your events is also flexible — you're charged 15¢ per extra live attendee beyond the capacity of your plan.
CrowdCast, however, will limit your ability to create a full-fledged webinar experience because you rely on the in-built registration page to solicit sign-ups for your live events. There's a single smart URL (which is customizable) for registration, watching, and replaying your webinar. It sure is a convenience for creators with limited tech skills, but most brands prefer more customization.
Its webinar marketing features include the ability to capture emails, send push notifications, and put a call-to-action in your webinars for selling your products. During your webinar, it's possible to share your screen, conduct polls, and allow attendees to chat, ask questions, vote for their favorites, and invite anyone on screen.
While the in-built features are limited, Crowdcast RTMP Studio allows you to connect it with professional third-party streaming software like OBS, Ecamm Live, and Wirecast. So setting up advanced custom streams that even include multiple cameras is also on the cards.
Individual creators (if ready for the work required in the custom setup) get the ability to create a high-end production through Crowdcast and even charge for events. However, it gets expensive quickly given that there's an additional transaction fee of 5% per ticket and Stripe processing fee of 2.9% + 30¢.
If you're already conducting an event at a physical location, then DaCast is a reliable solution to stream it Live on the web. There's a 10-second or less latency and a free direct HLS software encoder. While technical support is available, DaCast is for tech-savvy creators who want to conduct large-scale events — even beyond 5000 attendees.
A video conferencing suite for hosting webinars, online meetings, training sessions, and live events. It's ideal for team collaboration, although conducting customer webinars is also possible.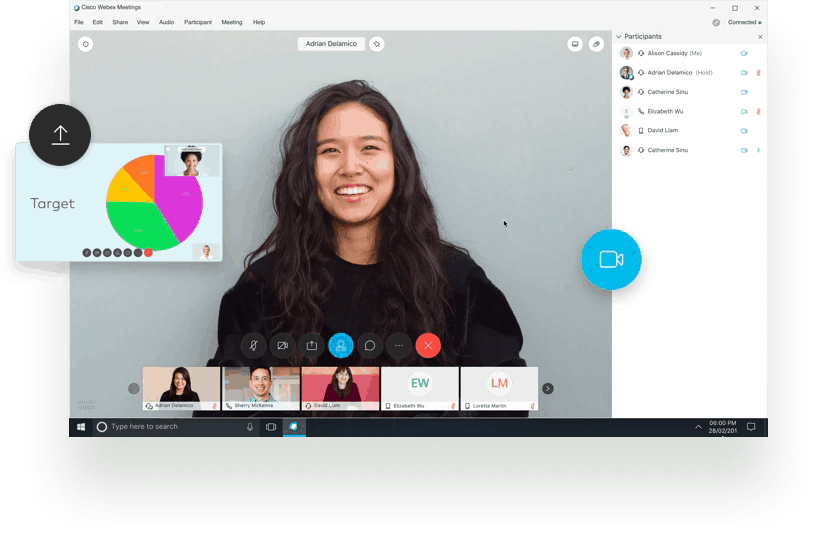 Price: You'll need to contact the sales team to get a custom quote (as the company is experiencing unprecedented demand due to the pandemic).
A product of the American multinational conglomerate, Cisco, trust Webex for communication and collaboration. Its HD video, audio, and screen sharing products are geared towards corporations for virtual training, cloud calling, remote support management for customers, and online meetings. But they also offer a "events & webcasting" product.
You can host up to 3000 people in an interactive webinar with the ability to use a whiteboard, enable chat, and conduct Q&A as well as polls. You get to customize the enrollment process with questions for scoring and tracking your leads. Beyond branding your webinar invites and registration page, though, no major marketing tools are available for selling your products.
There's an option to conduct large events accommodating 100,000 attendees along with white-glove fully-produced support before, during, and after your meetings. With the ability to record your meetings, it can also function as your pre-recorded webinar software.
Webex is a legacy webinar tool and comes with the reliability of a huge brand. While it's ideal for corporate events, it falls short as a consumer webinar platform for creators who want to educate and sell to prospects.
Host webinars, collaborate with your team, broadcast large video meetings and conferences, and take care of other video communication in a novel context like a "live video podcast" through LiveStorm.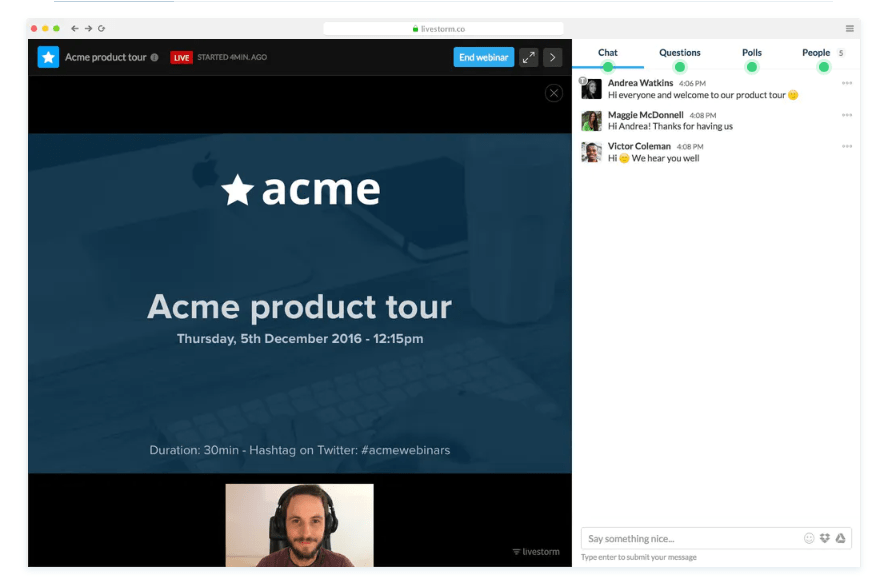 Price: $109 per month per host for the Webinar Premium Plan with a capacity of 100 live attendees. Pay an extra $229 to upgrade to 1000 attendees. Save $120 by paying annually. There's a Free Plan with unlimited webinars but limits the capacity to 10 attendees.
In LiveStorm, you get a modern, clean, and slick platform for conducting webinars. It lets you host interactive events with chat and polls, and record these webinars, making them available "on-demand" and automated by defining workflows. It's fully responsive and browser-based — attendees can even dial-in via their phones to attend a webinar.
You can scale your customer training, conduct live video podcasts, online summits, webinars for your online courses, and more. There's a dedicated tab for soliciting questions from your audience and there's a voting option for fellow audience members so that you know which questions are most important for your attendees.
While the registration forms are clean and can be embedded on a landing page on your website, the customization options are limited. Customize your experience by branding the email invites, modifying the message, and choosing when you want LiveStorm to send emails to your registrants. Available emailing options are one-hour and start-time reminders, thank you emails, and follow ups from there.
You also get to add javascript tags from Google Analytics and retargeting pixels to the registration page. It enables you to track your registration page visitors and retarget your webinar attendees on Facebook, LinkedIn, and other platforms.
For your webinars, a detailed report with the source of registrations, the number of people who attended your event, their engagement, and detailed attendance analytics, is available.
While a strong webinar platform full of useful features, it's a tad expensive. If you're a creator or a company that leverages video communication in contexts beyond customer webinars, you'll probably extract the most value from LiveStorm.
A powerful webinar platform with integrations and in-built marketing tools aplenty — it's perfect for conducting video-based series and even large online events.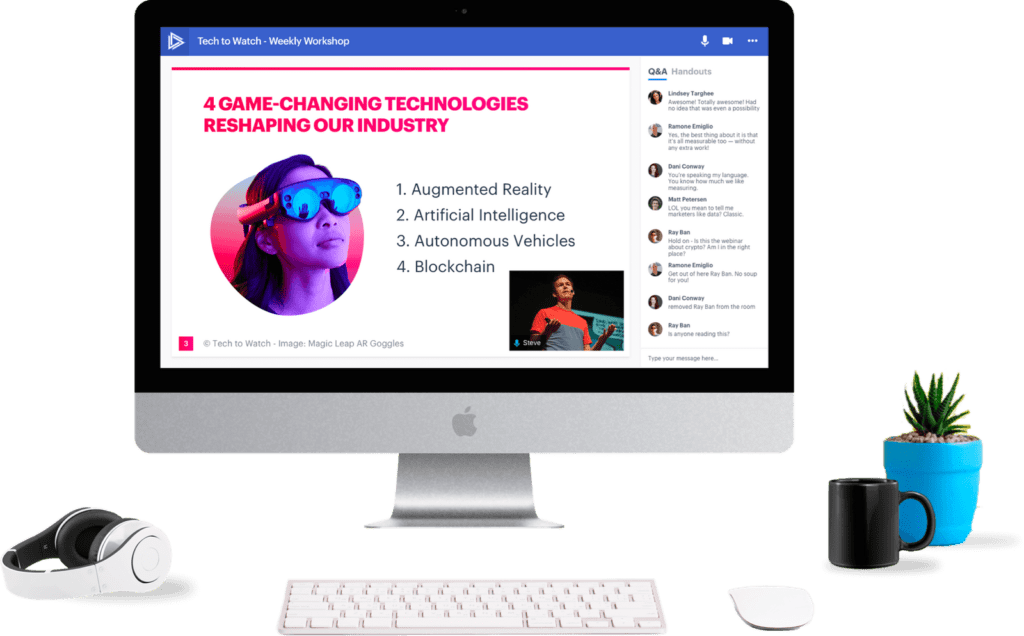 Price: $99 per month for the 'Starter Plan' accommodating 100 attendees. The 'Elite Plan' is for $189 per month with 500 attendees (two host licenses included) and $399 per month for the 'Premier Plan' with 1000 attendees (four host licenses included). Save from $20 up to 100$ per month by paying annually.
BigMarker is a smooth browser-based webinar tool that gives the legacy Cisco and Vimeo webinar platforms we've looked at in the article a run for their money. And with the company offering API access, you can integrate BigMarker in your web application or site. Further, you'll have unlimited presenters for your events — a helpful attribute during summits & virtual conferences.
Its 'White Label Plan' boasts a capacity of 10,000 attendees with the ability to control the webinar experience end-to-end. It'll let you build a branded live video platform with white-labeled webinar rooms, emails, landing pages, branded toll-free dial-in numbers, and host it on your domain.
Even its other plans offer integrations with a suite of marketing tools in a flexible, intuitive interface. Within the Starter Plan itself, you'll get a landing page builder with 15+ templates, customizable email campaigns, chat, polls, Q&As, and handouts. There's even an option to import your email list from HubSpot, Mailchimp, and other CRMs directly or through CSV, and send messages through BigMarker.
You can even create pop up offers with CTAs to sell your products during webinars and a customer-facing channel with your webinar recordings to build an audience. The webinar chat can be connected to Twitter so that you get social mileage for your event with a hashtag. It's also possible to stream your webinar live for your audience on YouTube and Facebook.
Its analytics comes with simple reports for finding out your most engaged audience members. The integration with Google Analytics could mean tracking every click and action of your prospects with your webinars.
The only downside of BigMarker? A few of its features are restricted in the Starter Plan, so to experience its might, you'll need to shell out a hefty $159 every month.
LiveWebinar packs impressive webinar features with seamless integration with popular marketing and CRM platforms. On top of that, it's affordable 'Pro Plan' is seriously value for money.
Price: $14.99 per month for the Pro Plan with up to 100 attendees and six hours of recordings. The Business Plan is priced at $119 per month and lets up to 500 attendees. Save 20% by paying annually. There's a custom white-label solution available for enterprises with a capacity of up to 1000 attendees.
LiveWebinar is the new kid of the block (launched in 2019) with cloud-based webinar capabilities wrapped in a suite of professional marketing tools. It's even touted as an alternative to Zoom with similar features like breakout room for splitting your main meeting into smaller webinar rooms. But beyond team meetings, onboarding, and video calls, it's a decent webinar software.
The recency of its development means the webinar platform is not only composed of interactive features like a whiteboard, screen share, polls & surveys, and video recordings but also weaves lesser-known attributes like safety.
RTCLab, the parent company, has implemented a double SSL encryption with validation for securing every connection. It also ensures your webinar data will be safe from leaks and unauthorized access.
You can share your screen, display Prezi presentations with interactive forms to your audience, and broadcast live to YouTube, Periscope, Vimeo, and Facebook. The marketing capabilities are limited in LiveWebinar and it's pretty much a work in progress with new developments rolling in. But it's a value for money choice for beginner creators who want to experiment with webinars.
While ideal for general purpose web conferencing involving a large panel of speakers, you won't get it better than Zoom for free webinar hosting.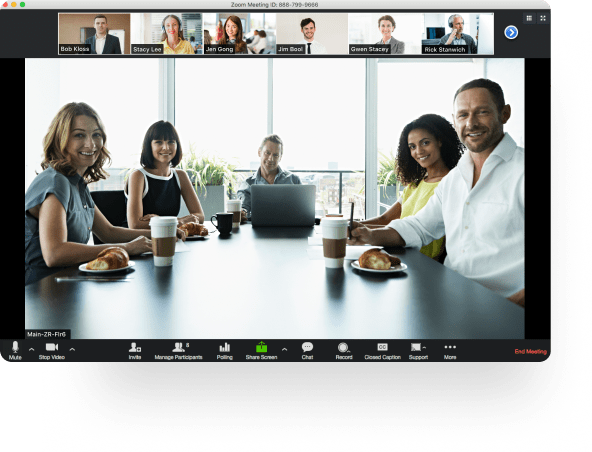 Price: Free for personal meetings with a time limit of 40 minutes and hosting up to 100 participants). Its Pro Plan costs $14.99 per month per host. The costs for business and enterprise plans can skyrocket dramatically.
Zoom has made a huge news splash during the pandemic with an explosion in its usage and surge in its valuation. Its users include educators at universities to even informal social gatherings between people.
But can it serve as a dedicated webinar service for organizations and creative entrepreneurs? While you won't get any marketing features with the webinar conferencing software, the free solution lets you host up to 100 participants for up to 40 minutes of meetings. During your event, it's possible to conduct Q&As, polls, and let your attendees engage through live chat.
It's a robust tool for live webinar hosting and allows you to add up to 50 panelists, share your screen, provide text captions for hard-of-hearing audiences, and customize the presentation style of your webinar. Best of all, the Zoom interface lets you stream live to YouTube and Facebook.
Zoom is a great fit for creators and businesses that want to dip their toes into online events. As its name is ubiquitous, even audiences not versed with technology won't mind jumping on a Zoom conference with you.
As its pricing is based on the number of hosts, you'll need to buy its customized extras and addons. Want more participants, extra cloud recording storage, their H.323/SIP room connector, or its advanced features like a Zoom Room? Then you'll need to pay extra. While you might like these customizations, as a small business owner your yearly bill could quickly rack up.
Now that we've had a look at the best webinar software available on the market in 2020, let's address the prominent queries regarding them before we wrap up.
Frequently Asked Questions About Webinar Software
Now that we've looked at webinar platform reviews, let's wrap up by answering around them
What is the best webinar software?
It varies based on the requirements of the host. WebinarJam, Demio, and WebinarNinja are great overall webinar software for creative entrepreneurs. But large businesses might prefer Vimeo Livestream for high-end productions and conducting large online events.
How do free webinars make money?
The webinar host pitches a paid product/service at the end of the webinar. Generally, the product is an organic extension of the webinar material as it helps the attendees go to the next level by applying the teaching from the presentation.
Do you have to show your face on a webinar?
As an attendee, you need not be on camera. But if you're a webinar host, your audience will connect better with your presentation if they see you interacting live with them.
What equipment do I need for a webinar?
As a host, you would ideally need an HD web camera, a headset with an adjustable microphone, and a reliable webinar software. Of course, you also need a computer with a steady internet connection.
What is the best day to do a webinar?
Wednesdays and Thursdays are the best days to host a webinar as that's when most are conducted — your audience is also likely accustomed to attending them during these days.
Now it's YOUR turn:
Pick A Webinar Software And Go!
Those were a few of the best webinar services on the market right now. Depending on your needs and the factors I mentioned at the beginning of the article, pick one that suits your needs the most.
Remember that while you may have the best-in-class webinar tool and excellent production quality, they are just the mechanics — your material and presentation need to engage your audience. If you're confused, a webinar software comparison among the ones that interest you will help.
What's your favorite webinar software? Share your experiences with it in the comments below.
LET'S MEET IN YOUR INBOX 😃
ADDITIONAL READING