Kajabi and Teachable are popular online course platforms. Both have their share of pros and cons — but which one's the best suited for your needs? Let's break down the Kajabi vs Teachable debate in this article.
Overall, I'd recommend going for Kajabi if you're a pro-creator and need a one-stop shop for all your business needs. Kajabi is wonderful for managing all your business under one roof.
Teachable is perfect for beginners who are just dipping their toes in the course creation business. It would also work for you if you have established systems for your business and just need a course-builder. It's more budget-friendly than Kajabi, but not as feature extensive.
Note: This article contains affiliate links. This means if you purchase anything using our links, then we earn a commission (at no extra cost to you). We only recommend products that we find valuable and enjoy. We appreciate your support.
Let's compare their top features and how they rank against each other first, shall we?
| | | |
| --- | --- | --- |
| Parameter | Kajabi | Teachable |
| Pricing | Starts at $149/month | Starts at $29/month |
| Customer Support | 24/7 chat support | Personalized responses |
| Course creation | Can create different types of courses | Can do bulk settings more efficiently |
| Course Engagement | Can do marketing surveys and quizzes | Has a native certificate builder |
| Learning Experience | Has 10+ themes | Has no themes |
| Course Reporting | Basic stats available | Easier to navigate data |
| Community and Coaching | Advanced community features | Can take 1:1 coaching |
| Course Site Design | Has eight themes | Has one default customizable theme |
| Email Marketing | Has powerful automation features | Can do basic email broadcasting and drip |
| Blogging and Affiliate Marketing | Has good blogging features and affiliate dashboard | Basic blogging and complicated affiliate process |
| Sales pipeline builder | Has solid funnel builder | Can't build sales funnels |
| Checkout experience | Lots of opportunities to upsell | Can customize a bit |
| Third-party integrations | Integrates with more email marketing platforms | Integrates with only 2 email marketing platforms |
| Payment processing | Processes in all currencies and on all billing periods | PayPal available only when you offer a one-time charge in USD |
Now that you know how the features stand next to each other at a glance, let's dive deeper. We start with pricing.
Kajabi Vs. Teachable: Pricing Plans
Kajabi has three pricing plan tiers with the cheapest plan starting at $149/month. You get a 14-day free trial on all plans. You get a 20% off on all plans with annual billing.

Pricing Plans: Kajabi
In all plans, you get unlimited landing pages & marketing emails along with 0% transaction fees. The differences arise in the number of contacts, the number of products, and the number of pipelines. Few features like the affiliate program, 24/7 chat support, and removing Kajabi branding are only available in the higher-tier plans.
Teachable, on the other hand, has cheaper plans. Their lowest-tier plan only costs you $29/month. Similar to Kajabi, they're discounted for annual billing and offer a 14-day free trial.

It would be easy to see how Teachable would be more preferable for most creators because of its cheap cost. But remember: Kajabi is not just a course-creation platform. It is an all-in-one tool that you can use for almost all of your business needs — from hosting a website, running a newsletter, creating courses, and building a sales pipeline.
Recommended reading: Kajabi Pricing: Is It Expensive?
If you consider all that Kajabi offers, you'd find that it is reasonably priced. You don't have to use a bunch of other tools, pay for them, or hassle with integration when you choose Kajabi.
Winner: Teachable for beginners, Kajabi for pros
Which platform you should choose should depend upon what is your budget and what features you need. A beginner just dipping their toes in course creation would find Teachable's pricing and features more friendly.
But Kajabi is great for those who want to run all their business under one roof. You don't just save costs by not paying for additional tools like email marketing software, but you also find it easier to manage all things in one tool.
How Does Their Customer Support Stack Up?
The support at both Teachable and Kajabi is great. But the primary difference is that Kajabi offers 24/7 chat support on its higher-tier plans. This gives Kajabi some edge in customer support.
When I reached out to Teachable's service, the response was personalized and helpful. I liked how the response was tailored to my request and not a templated solution. The agent also redirected me to other helpful resources.
Question: Is it possible for my students to submit homework and assignments directly through Teachable's course portal?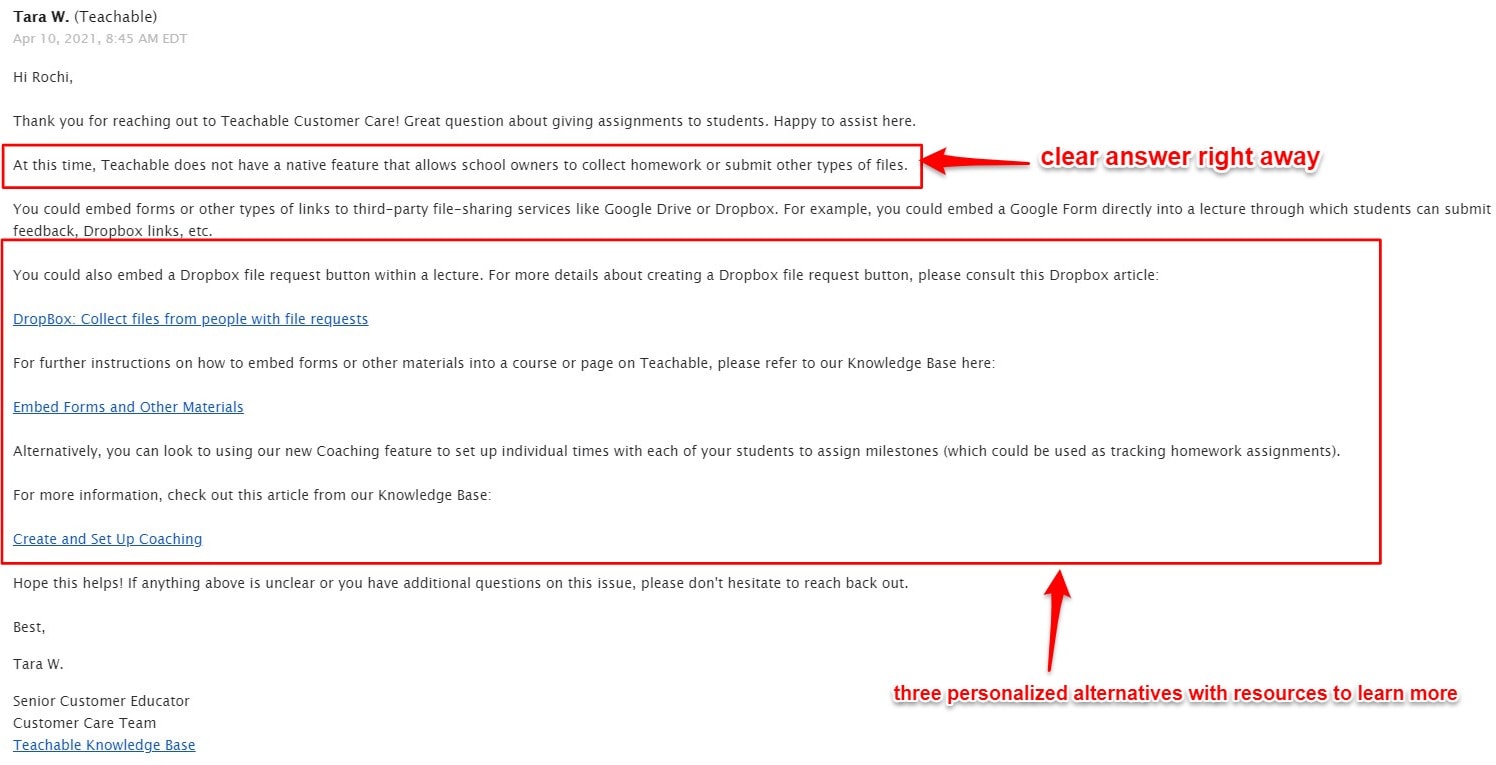 Support Agent at Teachable
For someone who's a beginner or may have a lot of feature requests, Teachable also has a separate webpage where you can track the status of all your tickets. The knowledge base is also extensive and well-written.
The live support chat at Kajabi and knowledge base is similar to Teachable. Quick response and personalized to the customer's request.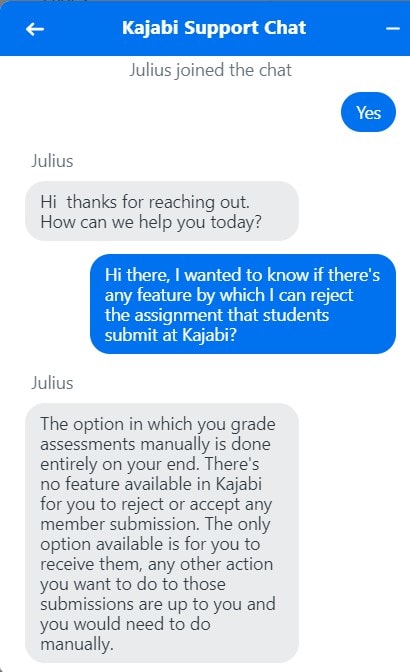 Chat support at Kajabi
Both Kajabi and Teachable have resources that can help creators grow their businesses. Teachable has TeachableU — an online training school for creators — and Kajabi has Kajabi University — containing lots of training on how you can run your digital business well.
Winner: Kajabi
Kajabi steals the deal because of its 24/7 customer support. When you're in the middle of creating a course and need some help but live in a different time zone, this 24/7 chat is a blessing.
Kajabi Vs. Teachable: How To Create And Deliver Your Course
The primary job of an online course builder is to help you create your course as quickly and as seamlessly as possible. It should also have engaging features to keep students' attention and analytics to help you gauge what works and what doesn't.
In this section, we'll evaluate Kajabi and Teachable on each of the course creation and delivery metrics.
Creation Of Course
Both Kajabi and Teachable are similar in the types of content they support on their platform. You can add audio, videos, PDFs, texts, and quizzes.
The first difference is that you can create many different things in Kajabi: a mini-course, a drip course, a coaching program, or a community. But in Teachable, you can either create a course or a coaching program.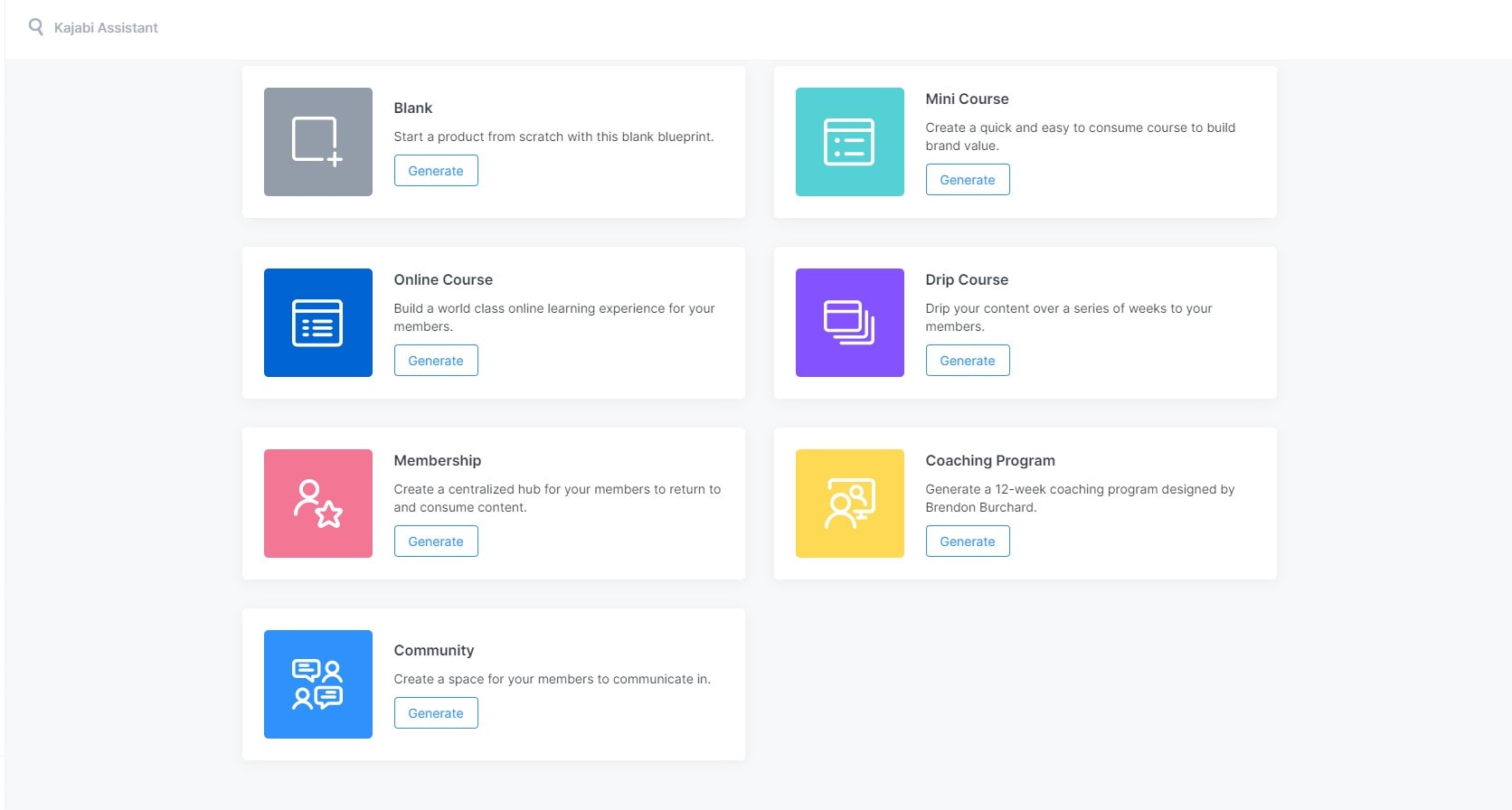 Course types at Kajabi
Kajabi's course-builder is a simple drag-and-drop. You can do a bulk upload of your content and organize them into neat categories for your course. The platform is simple to use. But you cannot add two types of multimedia or a zoom link in your lesson.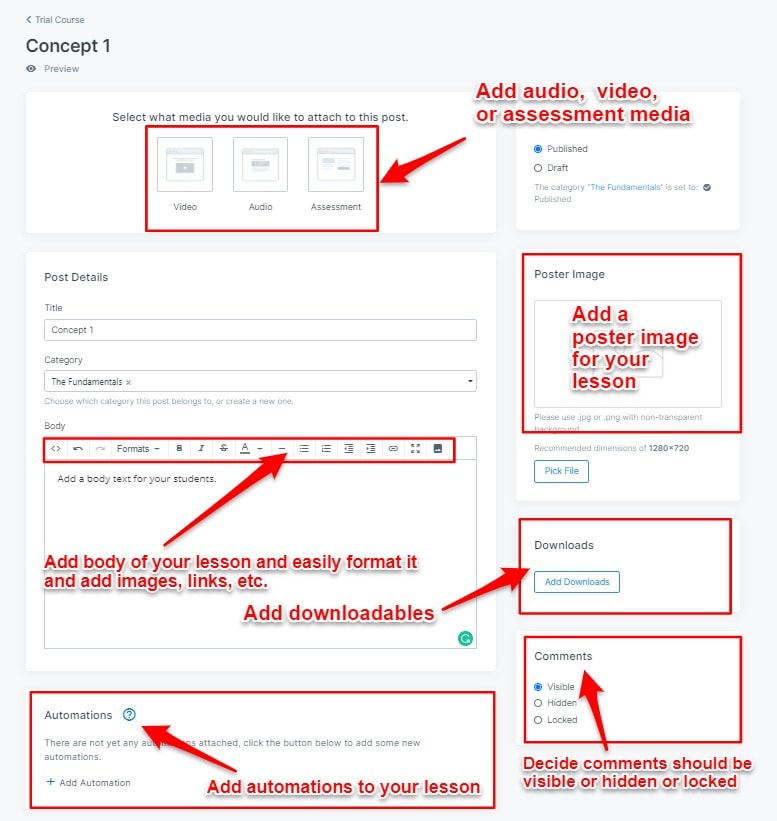 Course Builder: Kajabi
I find Teachable's course-builder more user-friendly and intuitive to use. It is a similar drag-and-drop and you can also upload bulk content, but you can modify your settings for all lessons on the curriculum page itself. This is much more efficient than Kajabi, where you have to modify individual settings.

Course Builder at Teachable
Unlike Kajabi, you can also add different types of multimedia in one lesson. This means that you can upload two videos or one video and one quiz at Teachable, but this isn't possible in Kajabi.
Winner: Teachable
Teachable's features are more flexible and the course-builder is more user-friendly. It wins in this department. That being said, Kajabi is better at automation and managing cart abandonment.
Course Engagement Tools: Assignments, Certificates, And More
At Kajabi, you can create quizzes of different kinds: multiple-choice, paragraph-style, etc. You can choose to automatically grade your students and set a passing grade too. You can also upload images on your questions and do marketing surveys through these questions.
Overall, Kajabi's quizzes feature is flexible and has lots of uses. But there's no option to reject an assignment or randomize the questions on your test. You can read more about Kajabi's quizzing features in my Kajabi Review.
Assessment feature at Kajabi
Teachable's quizzing feature isn't its strongest suit. You cannot accept assignments or survey students at Teachable. You also cannot add multimedia to your questions. Like Kajabi, some advanced quizzing features like randomizing questions, importing questions, etc. are not available at Teachable.
But when it comes to certificates, Teachable shines. It has a native certificate builder that is easily customizable and has 3 templates. You can also create your own custom certificate using LIQUID/HTML. You need to create different certificates for different courses.
Kajabi does not create or sends certificates to your students on the platform. You will need to integrate a certificate builder like Accredible to make it happen.
Winner: Kajabi for quizzes, Teachable for certificates
While both platforms lack advanced quizzing features available in course platforms like Thinkific, Kajabi's quizzing tools are more flexible and look more aesthetic on the frontend.
Teachable offers to create certificates natively on the platform itself while you'd need an external solution for Kajabi.
Learning Experience Through Course Players
Course players are an important parameter for online course builders because this is ultimately what your students see. Kajabi offers 10+ course themes that can easily be customized according to your requirement. You can also upload your own theme. I personally love the Momentum theme.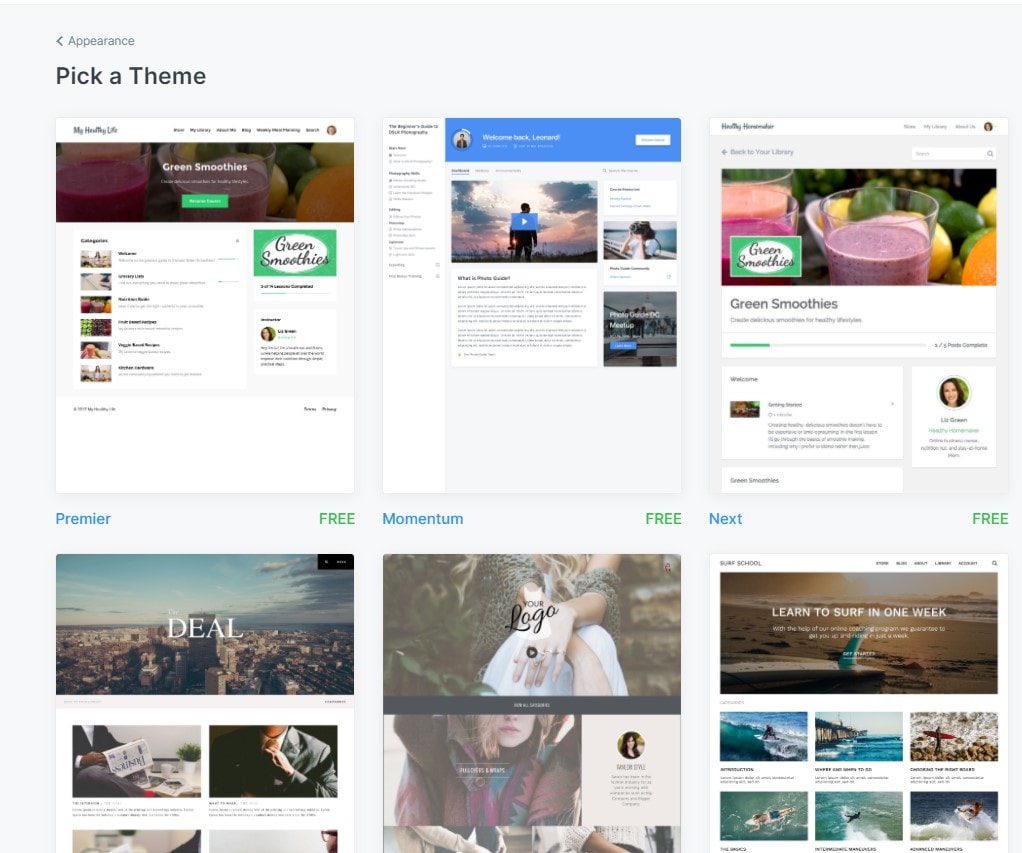 Course player themes at Kajabi
The best part about Kajabi is that its themes are mobile-friendly and there are Kajabi apps for both iOS and Android. This means easy access to your courses for students anywhere. Teachable only offers an iOS App.
Teachable has limited options too: There's only a single theme which is the default for all course players. This might not work so well — especially if you're building a membership site. The theme's customization is also limited.
Winner: Kajabi
Kajabi is the clear winner here because of its various customization options and the availability of its mobile app on both iOS and Android.
Course Reports And Analytics
There are some common elements in course reporting in both Kajabi and Teachable: you can track video engagement, completion rates, quiz scores, etc.
But Teachable is a clear winner because of its in-depth data analytics. You can track completion rates down to the student level and see aggregated video stats for the whole course. This is currently not possible at Kajabi.
Reporting Dashboard at Teachable
The analysis of the data is also much easier at Teachable since you can navigate through different reports easily. At Kajabi, you'll have to go to different places to find different numbers. You can also export your report in a CSV with Teachable.
Winner: Teachable
Teachable's extensive analytics and easy navigation make it a clear winner.
Community and Coaching
Kajabi allows you to build a community along with your course/membership site. But you can also sell this as a separate product. The community feature is also advanced — allowing you to organize discussions into relevant topics, customize the sidebar, and pin relevant comments.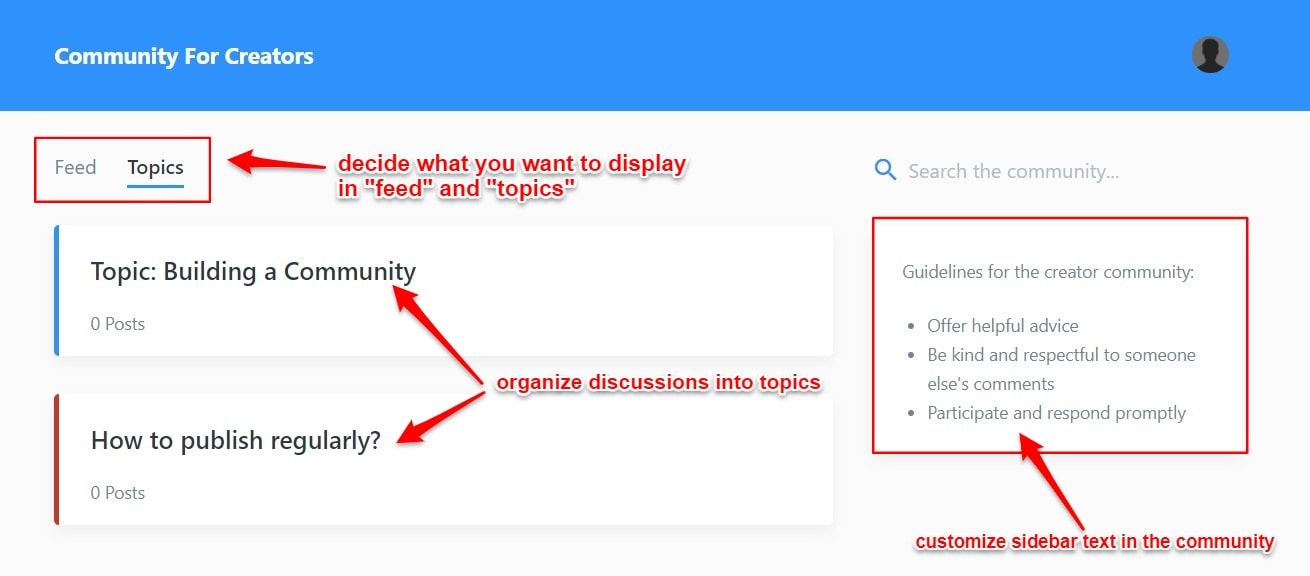 Community Feature at Kajabi
Instead of a native community feature, Teachable offers a coaching program. Here, you can set up meetings 1:1 with your students and decide on the pricing accordingly. It integrates with Calendly and Google Calendar.
Coaching at Teachable
Both features fulfill different needs. Kajabi doesn't have the option to build a 1:1 coaching and Teachable does not offer a native community builder.
Winner: Dependent on your needs
As it is clear, both Kajabi and Teachable have different ways of allowing you to interact with your students. Depending on your course type and requirement, choose one that fits your needs best.
Marketing And Sales Of Your Course (Kajabi Vs. Teachable)
You've made the course but your job's not done yet. Marketing your course, making a website for it, and managing its payments is another ball game. Let's check how Kajabi and Teachable fare in this department.
Course Site Design
Both Kajabi and Teachable allow you to build a website to sell your courses and other digital products. You get free hosting, SSL certificate, backup & security on both platforms. You can also get your subdomain or use your own in both.
Kajabi has eight themes you can choose from. There are also six other themes available — but the Kajabi team does not work on improving them anymore. Kajabi offers you a lot of editing options: you can choose to customize each page, check how it looks on mobile, create animations, and design your own layouts.

Website design at Kajabi
Don't like any of the themes? You can upload your own and start from scratch.
Teachable does not have any themes to choose from — there's a default template that is used by all its customers. But you can customize your website by adding a logo and choosing a color. You cannot use custom themes at Teachable.
Winner: Kajabi
Kajabi is the clear winner since it has the option to choose a theme for your website, upload your own, and customize it according to your brand. You cannot customize your website at the theme level at Teachable.
Email Marketing
Email is crucial for your business. Apart from broadcasting, you can also send email automation at Kajabi. You can tag students and organize them into different categories as well.
Email sequence at Kajabi
Teachable allows you to drip content and send email broadcasts. But Kajabi's email automation features are far more powerful. You can automate your email marketing completely with Kajabi — without the need for a third-party service provider.
But if you do need one, Kajabi does offer integration with email service providers like ConvertKit, Mailchimp, Active Campaign, or Aweber. Teachable offers integration with Mailchimp and ConverKit. Anything else and you'll have to use Zapier.
Winner: Kajabi
Kajabi eliminates the need for an external email marketing tool with its powerful automation features. Teachable doesn't have advanced email features and also lacks integration with some popular newsletter platforms.
Blogging And Affiliate Marketing
You can create a blog at both Teachable and Kajabi. But the blog feature at Teachable is pretty basic and you can't get much use out of it if you're serious about blogging. Kajabi's blogging feature, on the other hand, is good enough to suffice the need for most creators.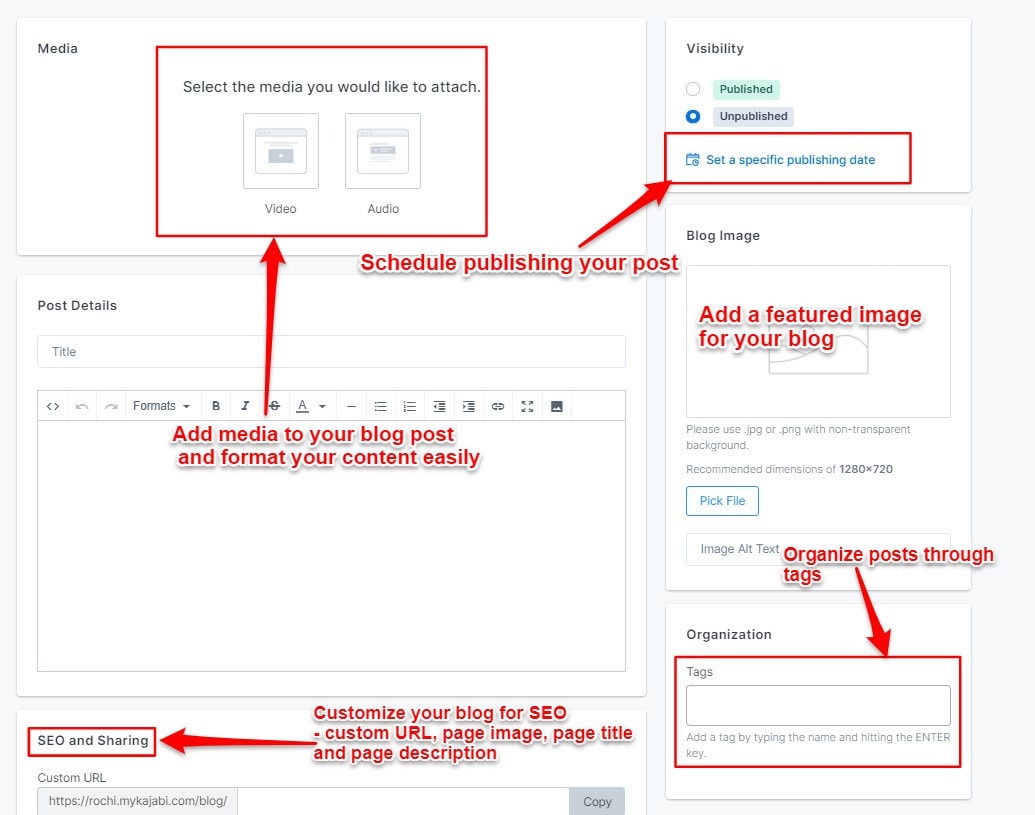 Blogging feature at Kajabi
You can define SEO settings, tag your posts, and specialize them into categories. It is no WordPress, but may be suitable if you're wanting to start a blog and just dip your toes in the space.
In affiliate marketing, Kajabi's dashboard allows you to track all your metrics. You can also create links that can be redirected to any website — not just Kajabi's. Teachable allows you to create affiliates even if you don't build your landing page on their platform.
At Teachable, you need to manually approve each affiliate but at Kajabi they can fill a form using a separate registration page. The process of creating a link at Teachable is also at the affiliate's end and is not at all intuitive.
Winner: Kajabi
While both platforms' blogging feature isn't as advanced as WordPress, Kajabi's is far more customizable and powerful. In affiliate marketing, Teachable is unnecessarily complicated while Kajabi is simple to use.
Sales Pipeline Builder
Teachable does not have the functionality to build sales funnels natively on the platform. But you can integrate it with third-party solutions like ClickFunnels or Leadpages.
Kajabi has a solid sales pipeline builder. You can create many different types of marketing funnels with just a few simple clicks. There are several blueprints available for landing pages, email campaigns, etc. that can be customized.
Sales pipeline builder at Kajabi
Kajabi also gives you the option to customize each landing page, email campaign, etc. without even leaving the builder. Even from a user's perspective, it is designed well and is easy to use.
Winner: Kajabi
Kajabi's sales pipeline is a handy feature if you want to run a marketing campaign with little knowledge about it. It is one of the most advanced features on the platform. Teachable currently does not offer a sales funnel builder.
Checkout Experience
Kajabi and Teachable offer you a one-step checkout process. But Kajabi's checkout page has far more features that increase the opportunity for upselling. You can add your testimonials, introductory video, add badges, etc.
If you want to collect extra information like addresses from your customers, Kajabi allows you to do that as well. You can also automate sending an email to those customers who have abandoned their carts.
While some features like adding badges and testimonials are available in Teachable too, you cannot add videos or product images or collect more details. There are also fewer options to upsell. The Kajabi interface is also more elegant than Teachable's.
Winner: Kajabi
Kajabi's upsell features steal the winner tag. It has far more opportunities to make your customers buy more from you than Teachable.
Third-Party Integrations
Both Kajabi and Teachable integrate with Zapier, which makes it far easier to connect thousands of other apps. But the primary difference is in the integration of email marketing solutions — Kajabi connects with far more than Teachable.
Kajabi integrates with ConvertKit, MailChimp, Aweber, Active Campaign, and Drip while Teachable only integrates with ConvertKit and MailChimp.
Both platforms have the option of integrating with analytic tools like Google Analytics, Segment, Facebook Pixel, etc.
Winner: Kajabi
Kajabi integrates with more email marketing platforms when compared with Teachable.
Payment Processing
Kajabi and Teachable integrate with Stripe and PayPal and your customers can pay you via credit card or their PayPal account. But PayPal is available for Teachable only when you offer a one-time charge in USD.
On the other hand, Kajabi is available for non-US currencies and for subscription models as well.
Winner: Kajabi
Kajabi is the clear winner — especially if you have a global audience.
Final Verdict
As it is clear from this article, Kajabi has plenty of better features than Teachable. It won on almost all of the essential parameters tested and it makes it easy to manage your business. But Teachable has its own set of features that make it more appealing — especially for beginners.
I'd suggest going for Kajabi when you can truly get your money's worth. If you don't need that many features, if you already have other tools for different business needs (like email marketing), and if you're on a tight budget, go for Teachable instead.
Teachable is highly recommended for beginners who want to build courses and take a coaching program. Depending on your needs and feature requirements, choose between Kajabi and Teachable. I hope this guide helped you arrive at a decision!