Kajabi is one of the most popular online course platforms in the market today. It's unique selling point is that it is a one-stop shop for all your online business needs including course creation, website builder, email marketing, marketing pipeline blueprints, integrated checkouts, and more.
But its cheapest plan begins at $119/month. You'd likely spend the same amount, if not more, by buying the services of a third-party platform to meet all your requirements.
But it's not all hunky-dory. In this exhaustive Kajabi review, we'll explore each nook and cranny of the course platform's features, beginning with a pros & cons list.
Pros And Cons of Kajabi
Kajabi has many pros but some of them do not outweigh the cons. This list might be important for you if you are looking for a specific feature that might not be available at Kajabi. It's also useful to determine if the higher price point is worth it for you.
| | |
| --- | --- |
| Pros of Kajabi | Cons of Kajabi |
| No need to integrate a third-party email provider: Kajabi has advanced email marketing capabilities | Will need to integrate a third-party service provider for course certificates |
| The Sales Pipeline Builder lets you create marketing funnels to drive sales | Assessment Feature: The assessment feature at Kajabi is not that powerful. You cannot reject assignments or create an advanced examination environment like other platforms |
| Customize your site from 14 themes and use Kajabi's handy sections to improve your website. You can create your custom domain and remove Kajabi's branding too | Kajabi's price point may not suit a beginner or someone who is just testing the waters of building online courses |
| Kajabi lets you create a checkout page that converts: It has advanced features like video testimonials, upsells, etc. | The Affiliate Program is not available in the "Basic" plan |
| You can easily engage your students through Kajabi's advanced "community" feature | |
| The variety in payment options are beneficial for students who want to enroll and there's no transaction fee that you have to pay | |
| Excellent pre-made templates for every feature that can come in handy when you don't have the time to begin from scratch | |
| Excellent customer support – 24/7 live chat in Growth and Pro plans | |
As you can see, the pros definitely outweigh the cons. But the cons can help you determine if Kajabi might not meet all your needs – or might not be worth the price point for you.
Let's explore Kajabi's features in detail in the next sections.
Kajabi Pricing
Kajabi has three pricing options. The cheapest plan begins at $119/month billed annually. All plans at Kajabi include chat support, 0% transaction fees, and assessment features.
If you select a monthly plan, the basic plan begins at $149/month. All the plans have a 14-day free trial.

The Basic plan allows you to create 3 products and 3 pipelines. This number increases by 5 times in the Growth plan and reaches 100 in the Pro plan. All plans allow you to create unlimited landing pages, host 1 website (3 in Pro plan) and send unlimited marketing emails.
The advanced automation features, priority 24/7 support, and more active members are only available in the Growth and Pro plan.
Kajabi's pricing might seem too expensive compared to its competitors like Teachable and Thinkific, but keep in mind that Kajabi is not just a course-building platform. You can host your website, email marketing, and sales pipeline through Kajabi alone.
While the pricing at other online course builders may be cheap, they do not offer you all the services that Kajabi does. You'll end up paying for 3-4 different platforms for your email services, blog, and sales pipeline. At Kajabi, you can have it all in one place. This makes your tasks much easier to manage.
My take would be to go for Kajabi if you're looking to build your website, blog, email marketing, and course from scratch. The Growth plan suffices the needs of most creators.
Customer Support
Kajabi is one of the few online course building platforms that offer 24/7 chat support (not in the Basic plan, though). It also has options to create a support ticket and a live Q&A training session.
When I reached out to Kajabi with my query, I got a response in under 15 minutes. I had asked about the feature to reject assignments given by students. The answer was clear, concise, and to the point.
Apart from their excellent 24/7 customer support, they also have a Hero University that allows you to learn to create your online course, marketing it, etc. – and all of it for free. There are also plenty of blogs and articles on their website to address almost every query you might have about Kajabi.
Course Creation And Management Inside Kajabi
Creating a great course and an impeccable learning experience is part of one of the basic features of an online course creation platform. In this section, we'll evaluate how Kajabi performs in creating a course, member engagement, and learning features.
Let's start with uploading a course on the platform.
Course Uploading
Kajabi offers many different types of products you can use to create an online course. You can create a coaching program, a mini-course, and a community hub. Their blank blueprint allows you to customize your course from scratch.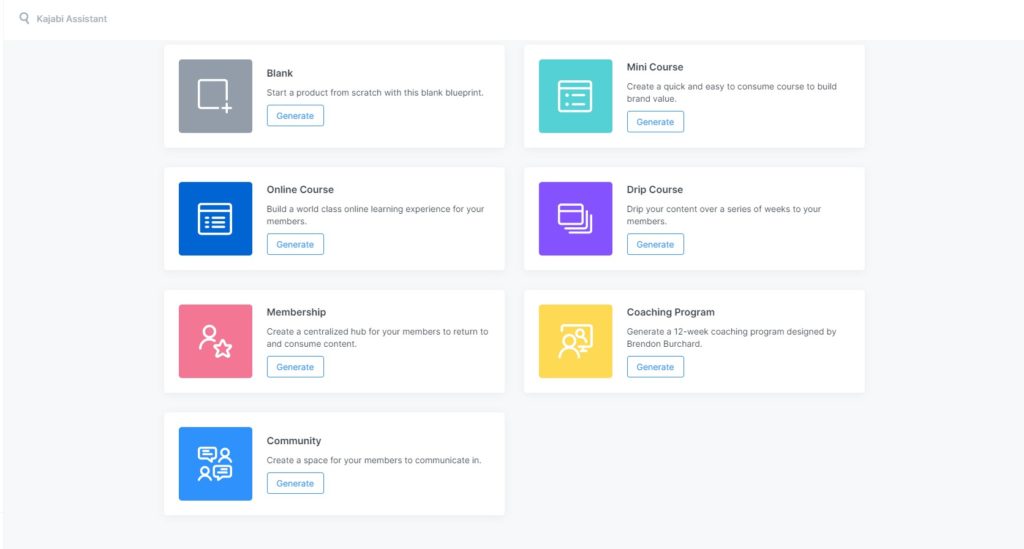 Once you start building your course, there are many features you can utilize:
Add downloadable PDFs to your course lessons
Add audio/video/images in your lessons
Bulk upload your content – you can also do this using cloud like Google Drive
Decide whether you want to enable or disable comments on a lesson
You can also add automation to your lessons if you want to email your students if they have met a certain condition. You can add up to 3 levels of categories at Kajabi and drag & drop your lesson easily. The overall course builder is easy to use and intuitive.
With that said, you cannot upload two types of multimedia in one lesson. Also, you can't add a live webinar or Zoom link to your lessons. You'll have to use Kajabi's coaching platform to meet this need.
Dripping & Locking Content
Most platforms offer you the feature to easily drip your course content. This means that you can release certain lessons or categories of your course after the student has enrolled for a set number of days.
Kajabi sends an email to your student automatically according to the dripping schedule you set.
Another feature at Kajabi is the "Lock" feature which allows you to block access to a certain lesson or category unless a prerequisite lesson is finished. However, the locking feature only locks the content you selected. This allows a student to skip over the locked content to the unlocked sections.
Both of these features are great at Kajabi and increase student engagement.
Course Streaming Player
A course streaming player is important because this is what your students see. A good course builder should be able to create a great learning experience for your students. And Kajabi doesn't disappoint in this area, at all.
Kajabi offers 10+ course player themes that you can choose from. You can choose different themes for different products and easily customize the theme according to your requirements. I personally love the "Momentum" theme of Kajabi.
While all themes can be customized without using code, you can also upload your own theme at Kajabi if you prefer.
All themes are sleek, aesthetic, and professional. They are also mobile-friendly, so your students can access them from anywhere and from any device. In addition, Kajabi also offers a mobile app for both iOS and Android. This app enables you to send push notifications to your students whenever a new lesson is released or a new discussion is begun in the community area.
Community Discussions
Kajabi allows you to disable, enable, or lock comments in a lesson. But along with this, Kajabi also has the option of creating a community of your students on the platform. You can club this community with your membership site or sell it as a separate product.
The community feature of Kajabi is much more advanced than its competitors. You can organize discussions into relevant topics. The design is modern and clean. You can also pin posts and comments to the community feed.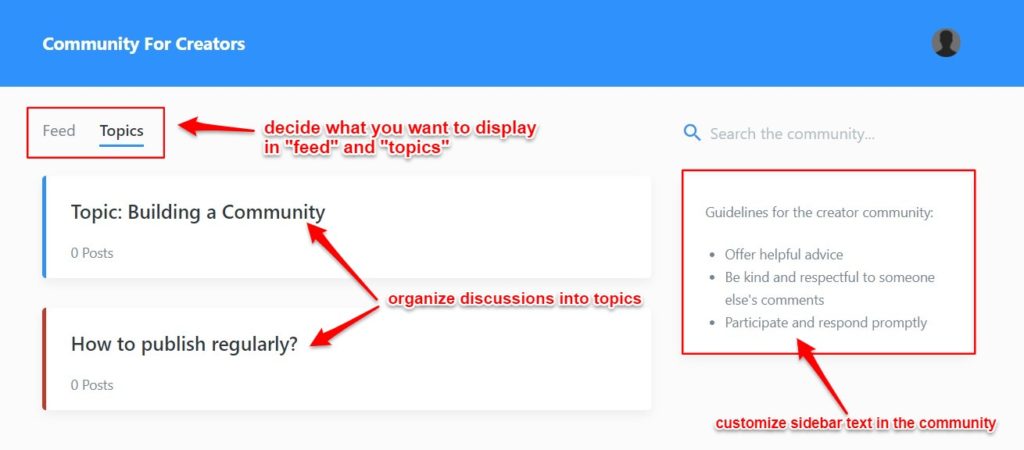 Members can also see each other's profiles and send personal messages if you enable a Member's Directory. Kajabi's community feature is a great alternative to Facebook groups.
However, you cannot add polls or events to this feature yet. You can't also set up live streaming. 
Quizzes, Certificates, and Assessments
The assessments feature at Kajabi allows you to create quizzes of different kinds: you can add multiple-choice questions, paragraph-style questions, etc. The students will be automatically graded based on their answers.
You can also ask your students to submit a file if you want them to submit an assignment for a lesson. However, there's no option to reject an assignment at Kajabi.
There are a few weaknesses in Kajabi's assessment platform. You can't do a file upload of your questions, which is a handy feature available on other platforms. There are also misses in advance quizzing features like setting a time limit for the test, randomizing questions, etc.
Kajabi also does not offer a native course creation feature on their platform. You have to use a third-party service provider to integrate with Kajabi to give course certificates to your students.
Marketing, Sales, And Course Website Customization Features
Having a great website is a prerequisite to ensuring more people enroll in your course. At Kajabi, you can easily build your website, blog, and even do email marketing. Kajabi is laden with such handy marketing and sales features.
In this section, we'll explore if the features at Kajabi are good enough to be the front end of your website.
Website Themes And Design
Kajabi makes it easy to have a customizable website on the platform. It also offers a free SSL certificate, security, maintenance of your website, and a customizable domain. The Growth and Pro plan also allows you to remove the Kajabi branding from your website and courses.
Kajabi has eight themes you can choose from and all of them are equally great. Apart from this, Kajabi also has six "Legacy Themes" which the team doesn't work to improve anymore. You can choose from any of these 14 theme options. I'd personally recommend choosing from the eight "Premier" themes.
Kajabi offers strong customization options for each page of your website. You can see how it looks on mobile and change it, you can create animations, you can add layouts of your choice, etc. It offers you a lot of editing features but remains easy to use.

If none of the existing themes suit you, you can also upload your own theme and begin from scratch.
Blogging
Most online course builders either do not offer a blogging platform or offer one that is pretty basic and won't be of much use to a creator who wants to run a blog and a course in the same place.
But Kajabi's blogging feature has advanced capabilities that would suffice the need for most creators. It won't be as powerful as WordPress or Squarespace and wouldn't take care of the SEO aspect entirely, but it would suit the needs of almost all beginner bloggers.
You can also control how your blog listings appear and even add a CTA at the end. It is a truly handy feature if you want to run your website, your course, and your blog all in one place.
Affiliate Marketing Options
Kajabi's Affiliate dashboard allows you to manage sales, commissions, and track your affiliates. It also lets you create links that can be redirected to any website, not just Kajabi's.
If you want, you can also create a separate registration page for affiliates at Kajabi. From here, they can get automatically approved. They get a login page of their own to track statistics for their promotions and check their affiliate links.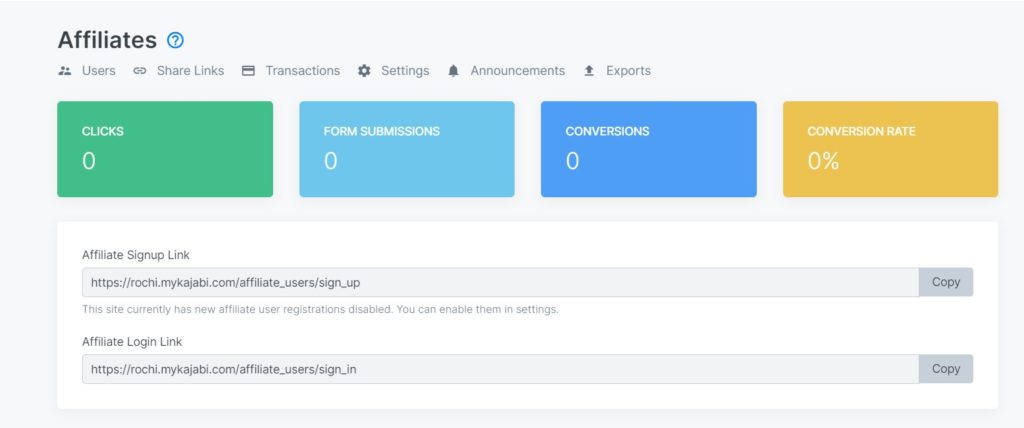 The affiliate program does not enable you to add swipe files for your affiliates or add a custom tracking period.
Product Selling, Payments, And Checkouts
When you are pricing your course, you can choose from four common pricing models: one-time payment, multiple payments, subscription-based pricing, or free. Kajabi goes one step ahead and allows you to price your course in a weekly or bi-weekly subscription model as well. You can charge your course in multiple currencies – which is great if you have an international audience.
Kajabi has a checkout feature that enables you to create high-conversation checkout pages. You can have a one-step checkout process, add testimonials, add an order-bump, track customers who abandoned their cart, and even upsell with a single click after the "thank you" page.
When it comes to processing payments, Kajabi allows your customers to pay via Stripe or PayPal. It is available for non-USD currencies and subscription-based pricing as well. There's no transaction fee and you immediately get the course payments in your account.
Overall, the payment, checkouts, and course pricing features at Kajabi are great!
Email Marketing Capabilities
Kajabi does much more than allow you to send email broadcasts to your students and members. You can send automated emails based on a user's actions and easily schedule emails to be sent after a student has enrolled.
Along with this, you can also tag the students or members and classify them into different categories. Then, you can send email sequences based on the tag you've assigned.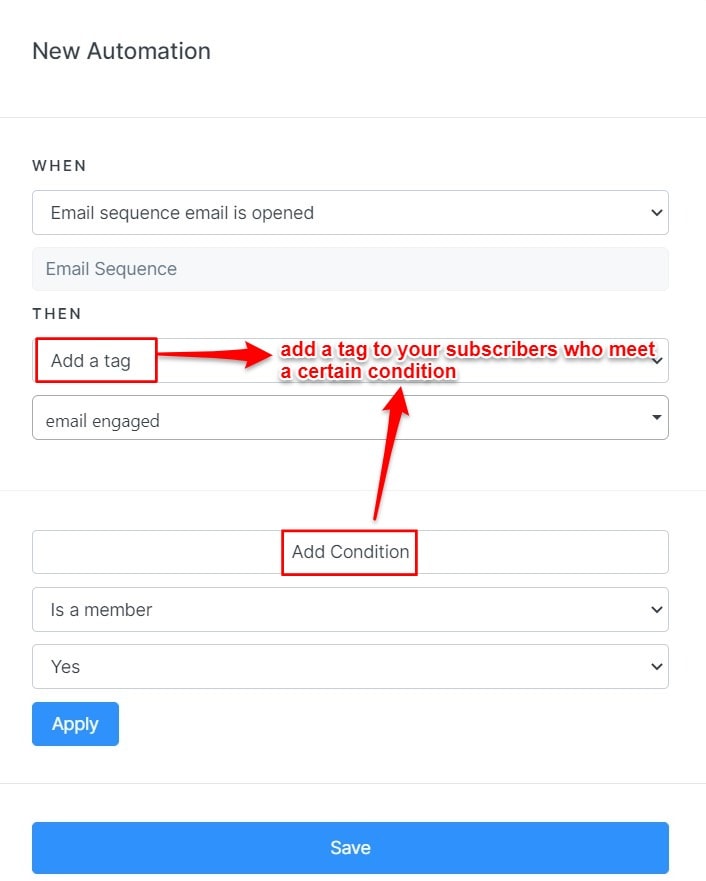 The email marketing capabilities of Kajabi are powerful. But it doesn't allow you to specify what days to send your email campaign or send an email a couple of hours after the previous one has gone out.
Overall, Kajabi eliminates the need of using a third-party email marketing service provider. Its plentiful features allow you to manage and implement your email marketing within one platform itself.
Sales Pipeline Builder
If you have zero to limited knowledge of marketing, sales funnels are your best friend. You can create different types of marketing funnels with a few clicks at Kajabi.
You can choose from a set of pre-built templates or build your own marketing funnel from scratch.
For example, if you are offering a freebie as your lead magnet to attract consumers to your course, you can choose the freebie template. Once you select the blueprint, Kajabi puts all the other pieces together. Now, you just need to edit the placeholder content for your prospects.
You can completely customize this funnel and make it your own. Add more pages, add more email sequences, you can do whatever you like and prefer.
You can customize each and every email, landing page, email sequence, etc. without even leaving the builder. The sales pipeline builder remains one of the most advanced features at Kajabi.
Course Reporting And Analytics
Analytics can help you determine what aspects of your course are working well and what are the areas of improvement. Accurate and insightful numbers are essential to run your online course business successfully.
Kajabi has a separate analytics dashboard where you can find several reports like net revenue, page views, product progress, etc.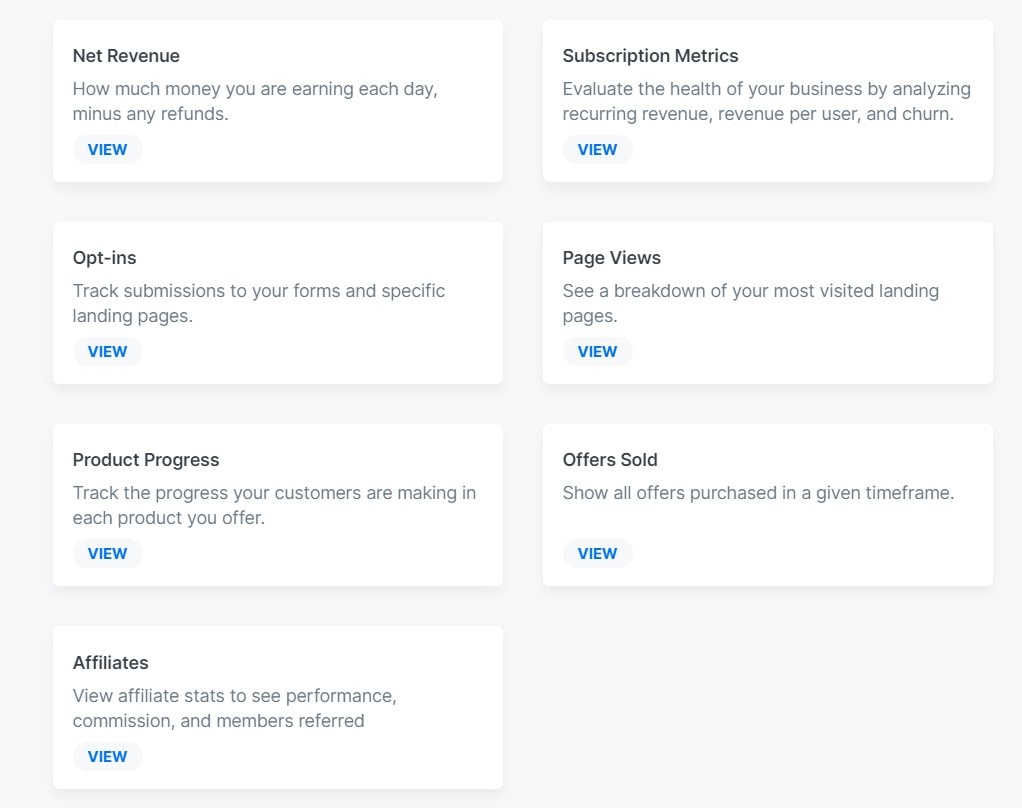 Analytics like Monthly Recurring Revenue (MRR) is really handy if you plan to create a membership site on Kajabi. Each individual report is designed very well and allows you to segment and filter your report for individual members, a certain time range, or a group as well.
For video analytics, you can track engagement rate, play rate, etc. It also has video heatmaps that give you visual engagement on how your videos are performing.
Overall, the course reporting and analytics feature of Kajabi is powerful and can be really useful if you run a membership site.
Kajabi Alternatives
Before concluding this review, it is important that we take a look at the various Kajabi alternatives available in the market and how they fare against the competition.
Kajabi vs. Thinkific
Thinkific is a popular online course builder in the market and it remains a leader in the space. Thinkific might be perfect for beginners or creators who are just testing the waters of running an online course. It has a free plan with limited features and even the higher-tier plans are much cheaper than Kajabi. There are certain cases in which Thinkific might work better for you than Kajabi.
Check our Kajabi vs Thinkific comparison if you want to further explore the comparison between these two platforms.
Kajabi vs. Teachable
Teachable is another popular alternative to Kajabi in course-building platforms. While it is a great tool for building your course and customizing it, it might not be great for you if you want a native community-building platform. The site-building capabilities of Teachable are also not as advanced as Kajabi. But if site-building and community features are not one of your priorities, you can definitely try out Teachable.
Final Verdict
Kajabi is a great tool for building your next course online. I'd highly recommend it as the home of your online business, including hosting your website, blog, and pursuing email marketing. The all-in-one functionality of Kajabi makes it worth the price. But if you're a beginner or someone who is just experimenting with online courses, Kajabi might not be the most budget-friendly fit.