Your content can either be found as plagiarism or start a revolution. Have you heard these words before? This sentence is a paraphrased version of Paul Gauguin's quote: Art is either plagiarism or revolution. You may call this an inspiration or even a light fabrication. Either way, the effect is different after knowing the fact that the words aren't 100% original. Plagiarized content takes away the authenticity of your work and carts-off the credibility from you.
Table of Contents
Methodology For Testing The Software
I copied a couple of sentences from two websites and added an original text in the middle. This text is 89% plagiarized.
"A marketing strategy refers to a business's overall game plan for reaching prospective consumers and turning them into customers of their products or services. I have listed the strategies applied by renowned companies and entrepreneurs. We took a look at recent survey results and reports that compiled data on the topic, and created a list of 10 B2B marketing strategies commonly recognized as successful regardless of industry".
I ran this paragraph through all the plagiarism checking software mentioned in  this article and here are the results:
[table id=84 /]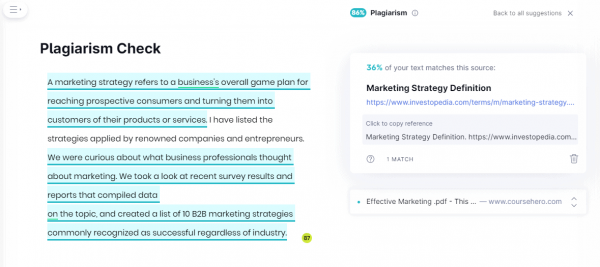 Grammarly is an outstanding writing app that has it all. It offers a paid plagiarism detector that functions perfectly. It takes a few seconds for Grammarly to list down the sources and highlight the copied content. This application also tells you the percentage of plagiarized text from each site and source.
Top Features:
It checks the text for grammar, spelling, style, punctuation, passive voice, plagiarism, and more.
It is easy to use and has a sleek interface.
It gives you an overall plagiarism score.
It tells us the percentage of text copied from each site.
It identifies intentional plagiarism.
It provides several suggestions to paraphrase sentences.
It flags errors in real-time.
It improves writing style, clarity, and engagement.
Strengths and Weaknesses
Strengths
It correctly identified 86% plagiarism and provided exact matching sources of the text.
It highlighted the duplicate content.
Gives plagiarism score and percentage
Weaknesses
It is relatively expensive compared to other plagiarism checkers.
It does not provide an in-depth report unlike some of its competitors.
You have to make a user account to use Grammarly.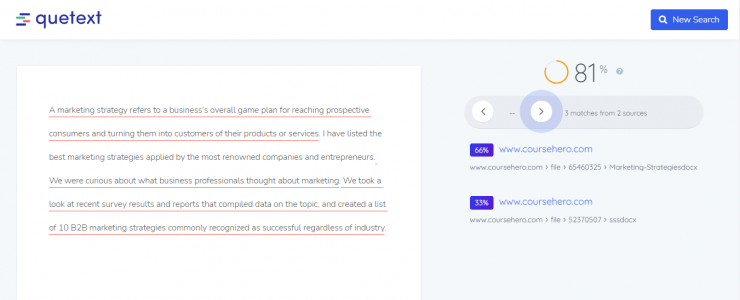 QueText is a free and powerful plagiarism checker that accurately detects copied text and cross-checked over a lot of factors. It detects plagiarism content within seconds and provides links to the original document. QueText accurately detected 81% of plagiarism when I tested the software.
Top Features: 
It has a clean user interface.
It color codes feedback, which makes it easy to differentiate plagiarized content.
It scores the plagiarized content in the page.
It detects plagiarism from web pages, news sources, online textbooks, and academic sources.
It also has a citation generator based on the style of writing. 
Strengths and Weaknesses
Strengths
It accurately detects plagiarism within seconds.
It is free of use.
It doesn't require sign-up or registration to use the application.
Weaknesses
You can only copy-paste your text onto the board. It does not allow you to upload your documents and then edit them.
Price: Free to use with an internet connection.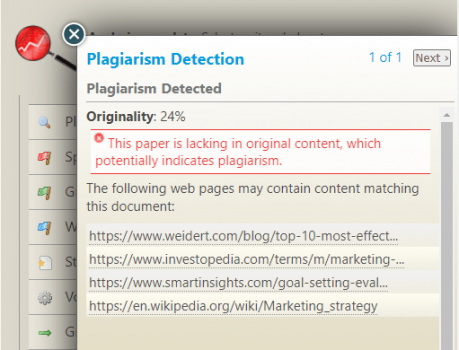 Paper Rater is online plagiarism, spelling, and grammar checker. Before performing the check, it asks you to choose the grade level, type of paper, and other such details. It detected 24% of originality in my text. It also provided links to the sources that contained the matching content.
Top Features:
It is a multipurpose paper checker.
It checks plagiarism, grammar and spellings.
It provides word suggestions and synonyms for corrections.
It corrects the style of the document and provides a concise report of your writing.
It proofreads the entire text for punctuation errors as well.
It is developed by a team of linguists and subject matter experts.
Strengths and Weaknesses
Strengths
It accurately detects the plagiarised content.
It provides links to the original sources with the nearest possible match.
It gives your text an originality score.
Weaknesses
It doesn't save the writing reports the software generates.
Price:
The free version is available with an internet connection.
The premium version costs $7.95/month or $95.40/year.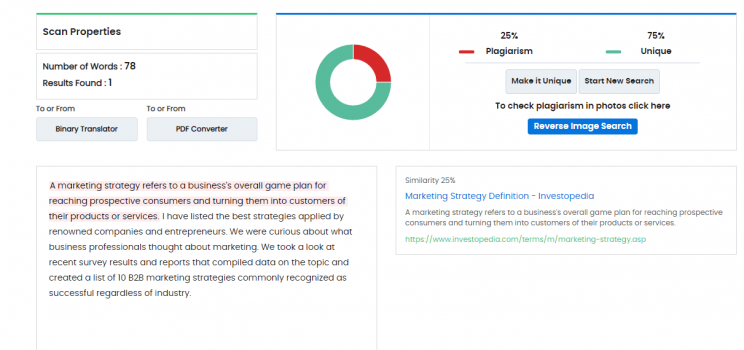 DupliChecker is a plagiarism checker that is easy to use and gives results in seconds. But, DulpliChecker isn't as accurate in checking for plagiarism as others. It only identified 25% of the plagiarism in a text with 80% of plagiarized content.
Top Features:
The free version lets you check only up to 1000 words per search.
You can upload files in varied formats like .tex, .txt, .doc, .docx, .odt, .pdf, and .rtf
You can also check for plagiarism via the web page URL.
It has a simple interface.
DupliChecker has other free tools like paraphrasing tools, word counters, text analysis, keyword research tools, SEO backlinks tools, web management tools, and more to make your text more engaging.
Strengths and Weaknesses
Strengths
It detects direct plagiarism from the text.
Can upload documents in various formats.
Easy to use and integrate with other free tools.
Weaknesses
It couldn't detect patchwork plagiarism.
The free version has limitations on the number of words that can run through the software.
Price:
A free version that is available online.
The paid plan has many options starting with the Basic ll, which is for $10/month with 100 searches and a word limit of 10,000.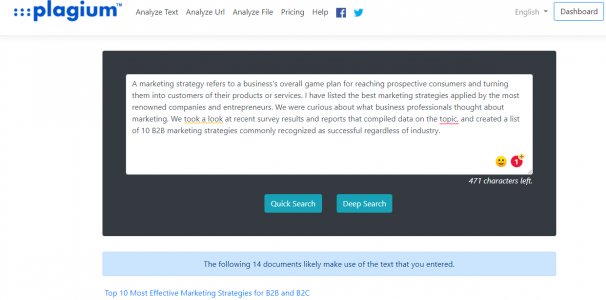 Plagium works quite differently than other plagiarism checkers. It doesn't give a plagiarism score or percentage like the rest, but it links all the sites that resemble the plagiarised texts. Plagium detects plagiarism at different levels of search: Quick and Deep.
Top Features: 
It provides links to all the websites used for the lifted text.
It performs Quick and Deep searches. The Deep search does an in-depth plagiarism check.
You can check the text of up to 1000 characters for free.
You can analyze text, URL, and files.
Plagium can help you compare text documents for plagiarism.
Strengths and Weaknesses
Strengths
The Deep Search feature gives an in-depth analysis of the plagiarized content.
It is inexpensive
It has a Google Documents add-on.
Weaknesses
It does not give a plagiarism score, unlike many software.
You have to register and have a paid plan to upload documents and get a word-usage report.
If you are a frequent user of Plagium, then the software will urge you to buy a premium plan.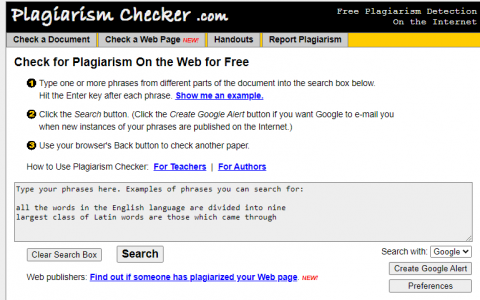 Plagiarism Checker uses browsers like Google Chrome or Yahoo! to check the content for duplication. It is similar to performing a Google search for your content on the internet. It is suitable for students, teachers, and especially authors. There is a detailed guide for usage of the software with clear instructions. The interface is simple and easy to use.
Top Features:
It lets you check if someone has plagiarized your web page or content.
It is free of cost.
It supports browsers like Google Chrome and Yahoo!.
You can also report the plagiarism you've found through this site.
You can create Google Alert buttons to get email notifications when similar phrases or content pop-up on the internet.
Strengths and Weaknesses
Strengths
It is free of cost and easy to use.
You can use the checker to check for online plagiarism as well.
Weaknesses
It only works on Google Chrome and Yahoo! browsers.
It doesn't highlight any text.
It has a word limit of 34 words. You can paste different phrases from your text.
Price: Free to use with an internet connection.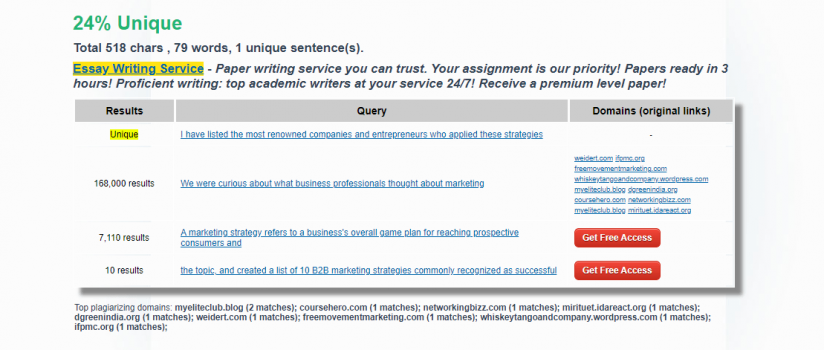 Plagiarisma is a quick and efficient plagiarism checker. It identifies duplicated content and provides a unique score for the content pasted. It also tells the number of sentences that are unique in the text. It accurately detected one sentence to be unique in my testing and gave a score of 24%.
Top Features: 
Checks text in 190+ languages.
You can either copy-paste your text or upload your file from your device or drive.
It checks the URL as well.
It supports documents in TXT, HTML, RTF, MS Word DOC, DOCX, PPTX, XLSX, XLS, PDF, ODT, EPUB, FB2.
It has a Firefox and Chrome extension.
Strengths and Weaknesses
Strengths
This plagiarism checker is useful for students, teachers, and writers from all industries.
It accurately identified the unique content and provided links to the sources of the plagiarised text.
It checks texts in 190+ languages and gives the word and character count as well.
Weaknesses
It doesn't save text files or reports.
Price: Free to use with an internet connection.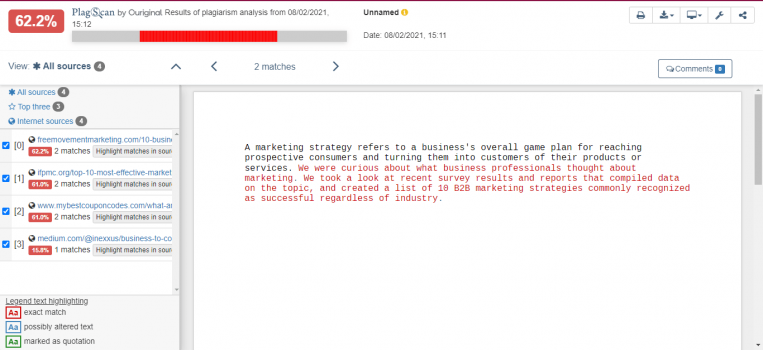 PlagScan isn't as accurate as other plagiarism checkers in the market. It highlights the plagiarized content and scores it. However, you cannot entirely rely on it. It could only detect 62% of plagiarism in my text.
Top Features:
It color codes and highlights the matches to its original sources.
You can copy-paste your text, upload it from your device or upload it from storage apps like Dropbox, Google Drive, and OneDrive.
You can download the file after making changes directly to the editor.
You can check the corresponding URLs of the matching text.
You can add comments to your document.
The interface is different and much more advanced as compared to the other plagiarism checkers.
It integrates with many Content and Learning Management Systems.
It offers a 100% money-back guarantee if the user is unhappy with the product.
Strengths and Weaknesses
Strengths
It highlights and scores plagiarized content.
You can integrate Plagscan into various Content and Learning Management Systems.
Weaknesses
It isn't fully accurate and doesn't pick up every plagiarised content.
Cluttered interface.
You have to sign-in/register to run the check.
Price: It has the following Private pricing plans:
$5.99 for 24 pages and 6,000 words.
$12.99 for 74 pages and 17,500 words.
$24.99 for 160 pages and 40,000 words.
$49.99 for 400 pages and 100,000 words.
The pricing plans vary accordingly for businesses, enterprises, and schools.
Bonus: Perform A Google Search
If you don't want to use any software, you can always do a quick Google search to check the amount of plagiarism in your text. All you need to do is copy-paste your text on the search bar and hit search to see the results. Google will display all related links that are either an exact match or a possible close match to your content.
However, you will have multiple results and wouldn't know which sentence is copied from a particular site. Moreover, you cannot paste an entire document on the search tab. Google has a word limit and often omits words for better search.
Frequently Asked Questions About Plagiarism Checker
Let's address some common questions related to plagiarism checkers.
How does a plagiarism checker work?
You can use a plagiarism checker to detect duplicated or pirated content. Softwares like Grammarly, QueText, Plagiarisma, etc., require you to either copy-paste your text or upload your file to run a plagiarism test. They give you a plagiarism score or an originality score to let you know the percentage of duplicate content in your whole document.
Is Grammarly's plagiarism checker reliable?
Yes. Grammarly accurately detects the duplicated text and provides the exact matching source to it on the internet.
What is the most accurate free plagiarism checker?
Grammarly and QueText are the closest to accurately detecting plagiarism and highlighting it to discern it from the original content.
Which plagiarism checker is the best?
QueText and Grammarly are the top two plagiarism checkers available on the internet.
What percentage of plagiarism is acceptable?
A text or piece of the document containing above 25% of plagiarism is unacceptable.
What plagiarism checkers do universities use?
Universities use software like Grammarly, Quetext, Paper Rater, Turnitin, and more.
Final Thoughts
You have nothing to worry about turning-in any form of plagiarized content. Plagiarism can cost you your career, so try your best to stay out of its limits. The best plagiarism software listed above will help you retain your credibility. Let me know which software works the best for you.