Your YouTube video organically crossed ten thousand views and received a LOT of positive feedback from viewers. The exposure and fanfare from this first hit have made you curious.
You're thinking:
Is it genuinely possible to make money on YouTube?
Do you have enough "talent" to deliver another hit video?
Can you generate enough revenue to make a living through YouTube?
The answer to all of the above questions is, most probably, a resounding YES.
But wait:
Aren't you going to compete with thousands of professional musicians, filmmakers, media houses, and small businesses?
Yes, you are.
(Every video creator wants a slice of the attention of the 2 billion logged-in monthly users on YouTube!)
But you only need to find your tribe of true fans who will LOVE the videos you create.
In this article, I'll share fifteen effective ways to make money on YouTube. They include both simple and advanced strategies. But you can make money even if you have a low production budget and no expensive gear. Heck, your videos don't even need to go viral.
Note: This article contains affiliate links. This means if you sign up for any product using my link, then I earn a commission (at no extra cost to you). I only recommend products that I enjoy. I appreciate your support.

Also Read: How To Get YouTube Subscribers
Before we look at the first legitimate way to generate revenue from YouTube, I want to share an important note.
Want To Make A Living From YouTube? Don't Rely On Adsense!
The most straightforward way of making an income through YouTube is monetizing the video viewership of your channel with advertisements. That's how media houses function.
But I'll share how to make money from the YouTube Partner Program (YPP) in the end.
Why?
Relying on advertisements is a weak monetization strategy, given that YouTube stars with 1.4 million monthly viewers also end up earning less than $17k a year. The platform has also started strictly monitoring content and demonetizing videos that are inappropriate for advertisers.
If you want to make a decent income on the video hosting platform, make a mindset shift. Treat your YouTube channel as a brand and build a business on top of it with multiple income streams.
You can share products from brands you love, sell your merchandise and products, or license the creative assets on your channel.
With that in mind, below is the first way to make money on YouTube without AdSense. I've organized each monetization strategy based on their difficulty and relevance for different kinds of creators — mix and match the ones that make sense for you and your YouTube channel.
1. Offer Video Editing Services
Who's it For: All kinds of video creators
Difficulty: Easy to Intermediate
As a YouTube creator, the first lucrative skill with market demand is video editing — given you've been doing it for your own videos.
Numerous brands continue debuting their new channels, so offering them a concierge YouTube video editing service could make you a decent amount of money. I've personally paid over $500 hiring professionals to put together my raw footage into polished YouTube videos because editing seems tedious to learn.
But video editing requires specialized expertise, consumes time, and requires creativity to ensure the information flows well and keeps the viewer engaged. If you create video sketches regularly for your channel, they will improve your skills — while also elevating your portfolio.
To find clients, your network is a great place to start because they might already be aware of your YouTube channel and the quality of your videos.
Pitching to local businesses where you live is also a great bet. You can tell them how YouTube aids discoverability and can help them get more business — besides building their brand.
Lastly, you can try freelance marketplaces such as Fiverr, Upwork, and Freelancer to get your first few clients.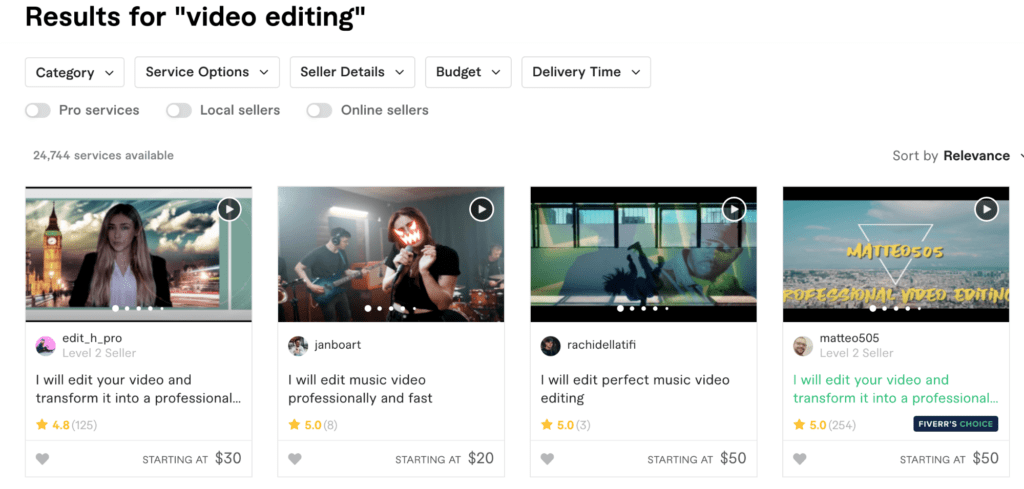 At these platforms, you can even offer packages depending on the components of video editing you will take care of including color correction, color grading, adding transitions, sound design, subtitles, video run time, and the like.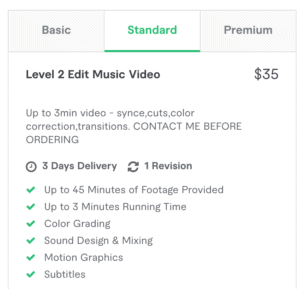 If you like offering video editing services, then consider the first few freelance jobs on these marketplaces as valuable professional experience. But walk away from them ASAP because gigs tend to pay less and the competition is fierce.
2. Become An Affiliate And Review Products
Who's it For: All kinds of video creators
Difficulty: Easy
Getting a sponsorship could require a large subscriber base. But you can still associate with brands and earn commissions by reviewing their products that are relevant to your audience.
It requires signing up for their affiliate programs — many have a low bar for entry. Then promoting them by sharing your unique affiliate link in your video description. Staying transparent with your audience is key here so you don't affect your relationships with them.
For instance, Channel Junkies shared their genuine review of TubeBuddy, a YouTube growth tool. Their audience is realtors with a YouTube channel. So Jackson, the channel owner, shares tips on how the software could grow the channels of his subscribers.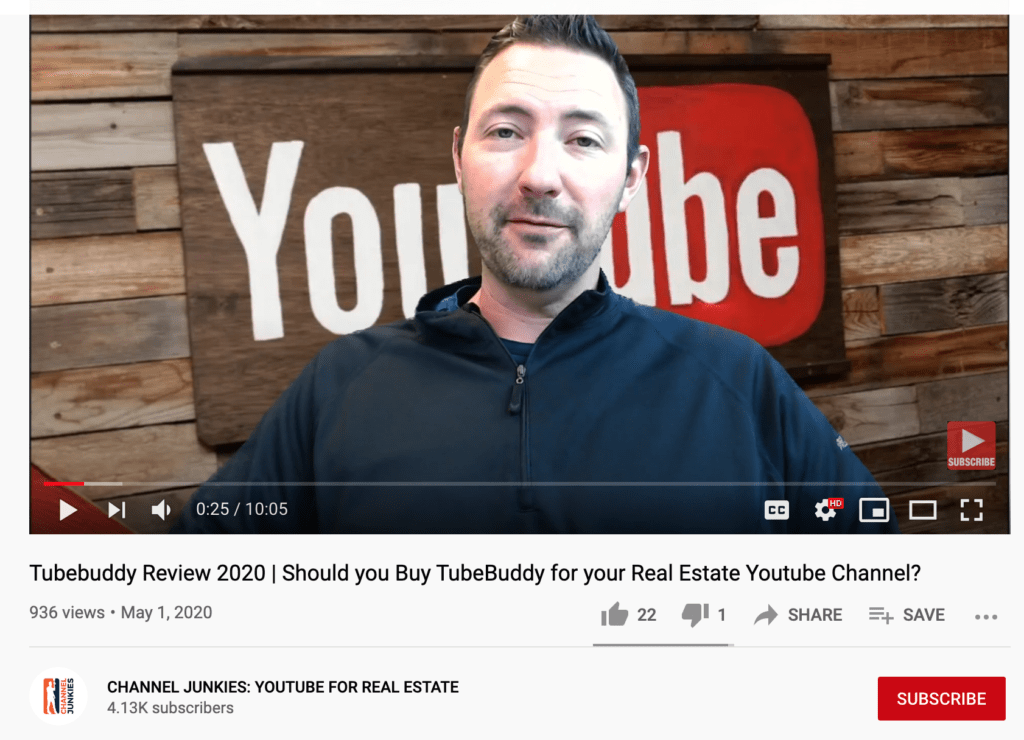 Towards the end of his review, Jackon spells out the affiliate link and tells the viewers it's available in the video description. He also shares that he's on their $19 plan, along with a disclaimer stating that the link shared is an affiliate one which gives him a commission.
Here's his video description sharing TubeBuddy affiliate links: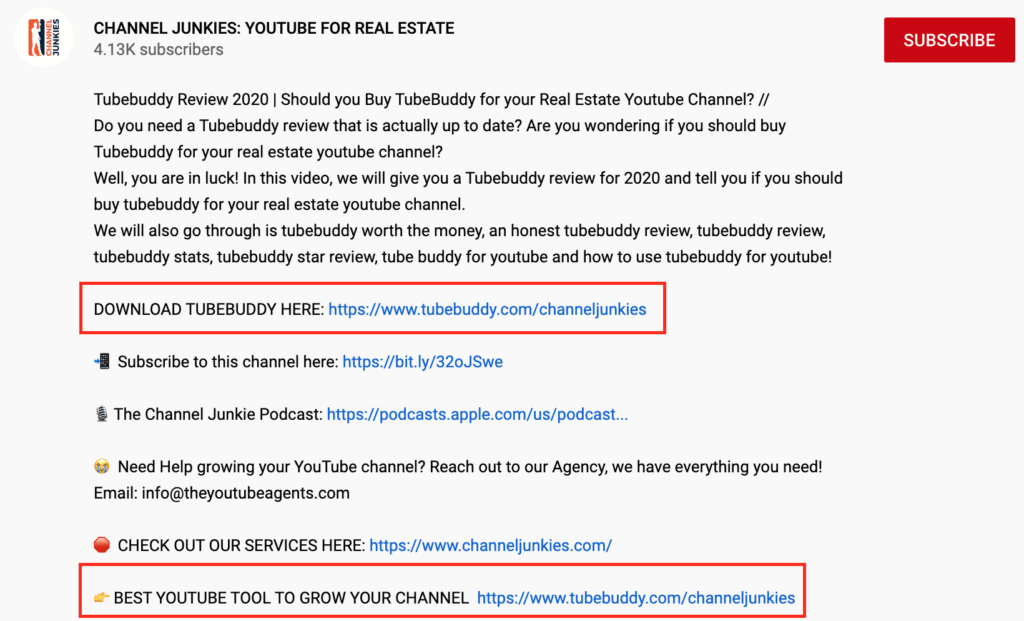 Jackson even uses his channel art banner image and one of its links to promote a TubeBuddy free 30-day trial.

Now there are three aspects to affiliate marketing you need to remember.
Disclose Your Affiliate Relationships
An empirical study of 500k YouTube videos found that merely 10% of videos contained written disclosures of participation in affiliate relationships.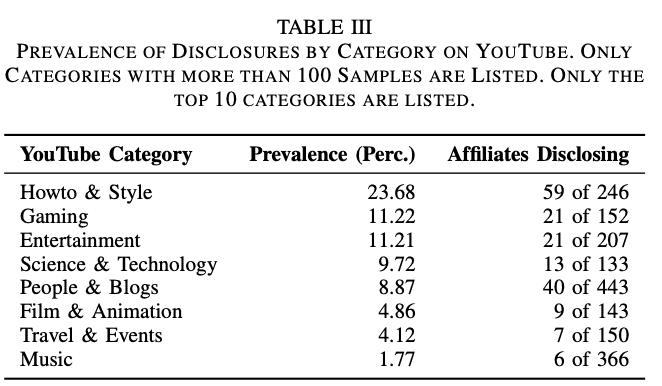 If you're creating videos for kids, then you can land in even more troubled waters. Ryan Kaji, the highest earning YouTube creator for 2019, was accused of including a paid product recommendation in at least 90% of their videos.
Abiding by the FTC guidelines is key to not become a part of future crackdowns and to remain in the good books of your audience. Ideally, your viewers should know you're getting financial incentives for your endorsements. It ensures they give your review only requisite weightage before making a purchase.
https://elitecontentmarketer.com/recommends/semrush-marketing-software/
Prefer Programs With Recurring Commission
Living in the subscription economy, you might already be paying companies — such as Netflix — every month for their products.
What if you can get paid every month for recommending such products as well?
Recurring affiliate programs provide such an opportunity. They let you earn an income as long as your referred visitor remains a customer of the company. Examples of companies offering such commissions include Demio, GetResponse, and SEMRush.
Speak From Personal Experience
There's enough "researched information" curated from third-party sources about most kinds of products.
So, create an unbiased and authentic review based on your experience of using a product. Such a recommendation will genuinely help the consumers make a buying decision, and thereby help you make more money.
Authority Hacker, a company that creates video training for internet marketers, regularly reviews products for their audience. They put in the effort of trying out every service as visible in the video below: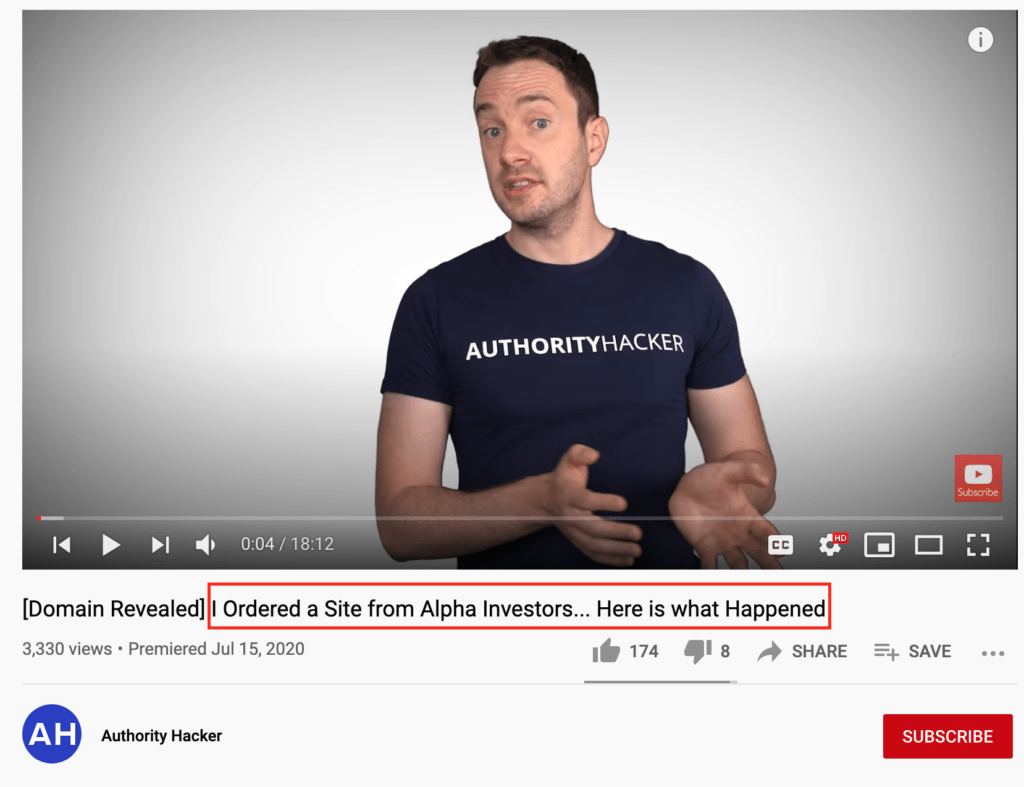 Finding Relevant Affiliate Programs For Your Audience
Here are three simple ways to get started with finding affiliate programs for your channel:
1. Explore the products you use: Start with making a list of all the software, digital products, and other purchases you've made in the last couple of years. And for the ones you love using regularly, research if they have an affiliate program.
When I made such a list and researched, I found affiliate programs by web hosting providers: WPEngine and Siteground. They also offered generous commissions.
2. Dissect competitors: What products are the creators in your niche promoting? Scout their channels and video descriptions to find out.
For instance, I found this recently launched Adidas sneaker's review on Seth Fowler's channel. He links to its listing on the sneaker marketplace, Goat.com, in the first line of his video's description.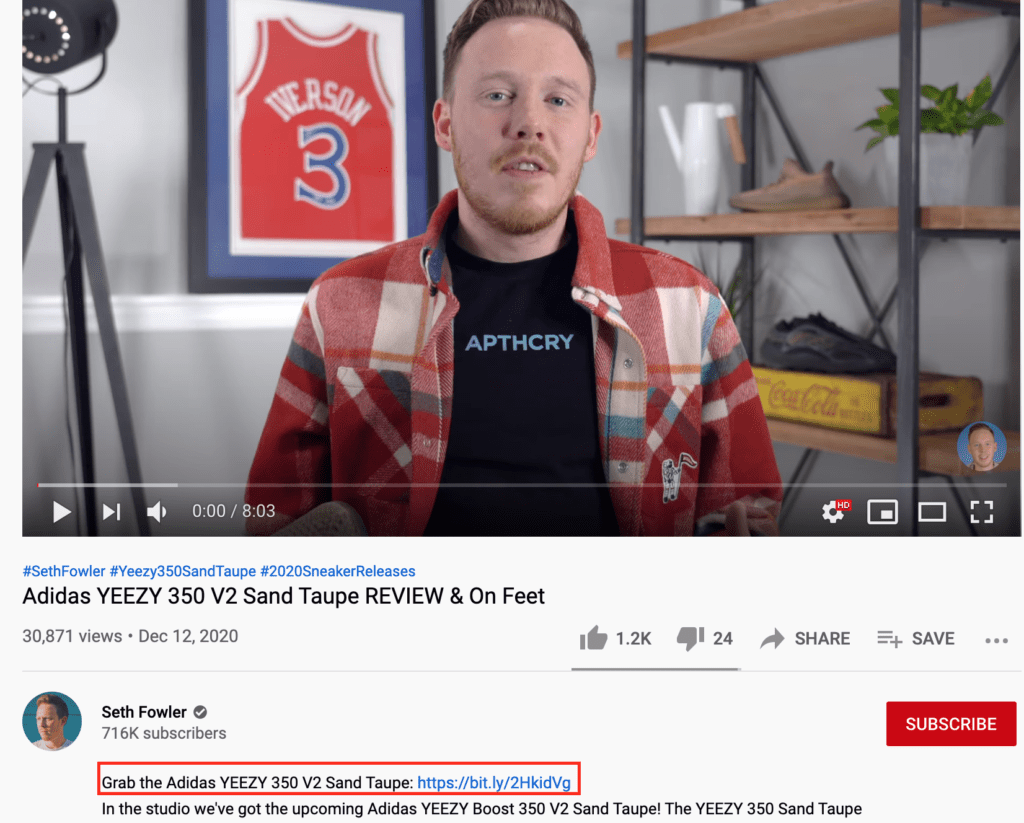 If you run a channel related to sports or lifestyle, you can review products on Amazon and earn commission by becoming a part of Amazon's affiliate program.
3. Explore ShareASale (owned by AWin), ClickBank, Impact, and other affiliate networks: Most companies rely on an intermediary — called affiliate networks — to reach out to content creators like you. You can sign up as a "publisher" on these platforms and access programs by reputable affiliate companies.
Here's a preview of some affiliate programs I signed up for through ShareASale: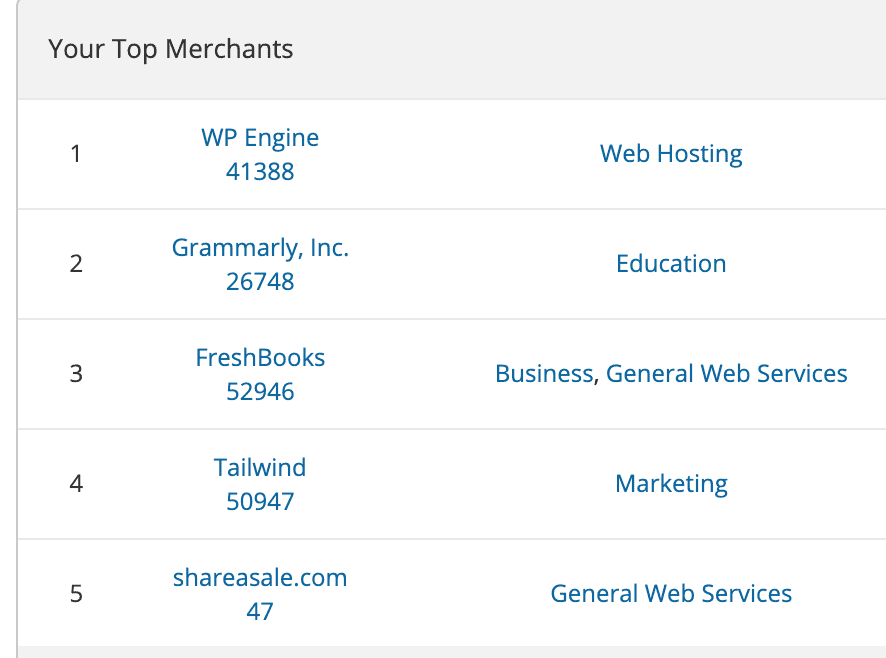 Consider A Channel Focused On Reviews
Generally, creators interlace product reviews with informational and educational videos. Variety keeps their viewers engaged and interests their creative appetite as well. But many channels, like Carlo Ople, exclusively focus their channel on unboxing, reviews, and the like: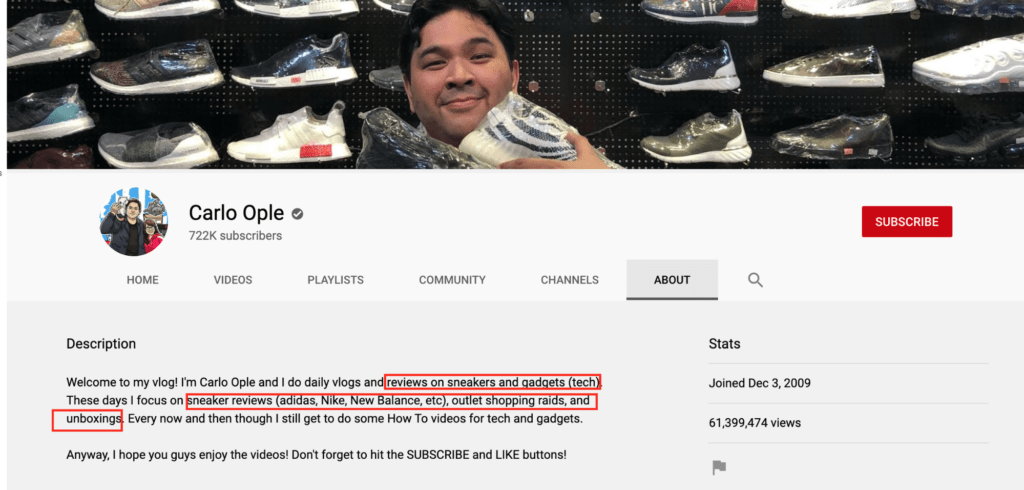 If you love reviewing products, then such a route could make sense for your channel. What's more? It even has an in-built monetization strategy.
3. Get Brands To Sponsor You
Who's it For: Video creators with an engaged audience
Difficulty: Beginner
Users log in to YouTube to intentionally consume videos — not scroll passively like other social media platforms.
That's why businesses across industries — beauty, fitness, food, gaming, apps, tech, parenting, toys, nerd culture, and more —  are willing to pay a premium to video creators on the platform to promote their brand and its products. Organic content on channels converts way better than ads for these companies.
Here's an example of a sponsored video by HBO Max in partnership with Derek from Veritasium. A disclosure saying "includes paid promotion" appears in the video.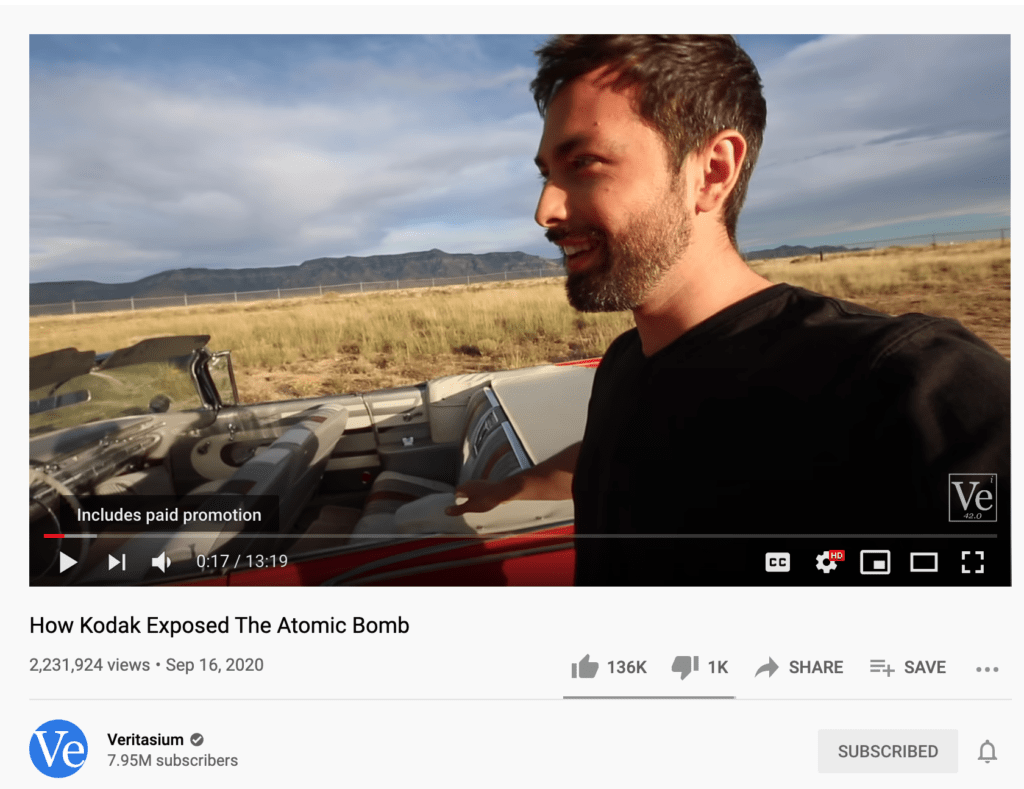 The video itself is educational — consistent with Derek's usual style — and doesn't feel like an advertisement at all. That's the purpose of sponsored content after all, which brings me to three tips to make sponsored content work for you:
Promote products genuinely useful for your audience: Don't blindly follow the money. Your product and brand recommendations should add value to the lives of your audience, be relevant to your channel's theme, and blend seamlessly with your video — else your audience will get turned off.
Disclose paid partnerships: Your subscribers trust you, but you could lose that by hiding that you're getting paid for a product recommendation. Here are the kind of comments you might get on your video if you don't disclose being paid by brands for creating a video:

Stay transparent about product endorsements because otherwise, YouTube may initiate action against your account. The laws and authorities like FTC in your country of residence might carry additional obligations.
And hey, cheating your audience is likely going to ruin your relationship with them and destroy your business — so, don't do it.
Go niche: You don't need a million subscribers for getting started with such brand partnerships. A niche channel with an engaged and loyal audience is indeed preferred by brands.
Experiment between a few of your interests, then narrow your topic down to the one with a decent viewership. Don't switch up between travel, business, lifestyle, rather go deep in a specific theme such as "starting a business with no money in your twenties."
Besides, you'll need to have a few thousand subscribers and a decent engagement rate on your content. Being a part of the YPP also helps.
Once you satisfy these criteria, how do you start negotiating brand deals?
Start researching sponsors of competitor channels with a similar size. Also, email outreach companies in your niche enquiring about their interest in branded content. Marketplaces such as Grapevine and Famebit might work better in the beginning. Below is a snapshot from Shoutcart where YouTube creators can post their gigs.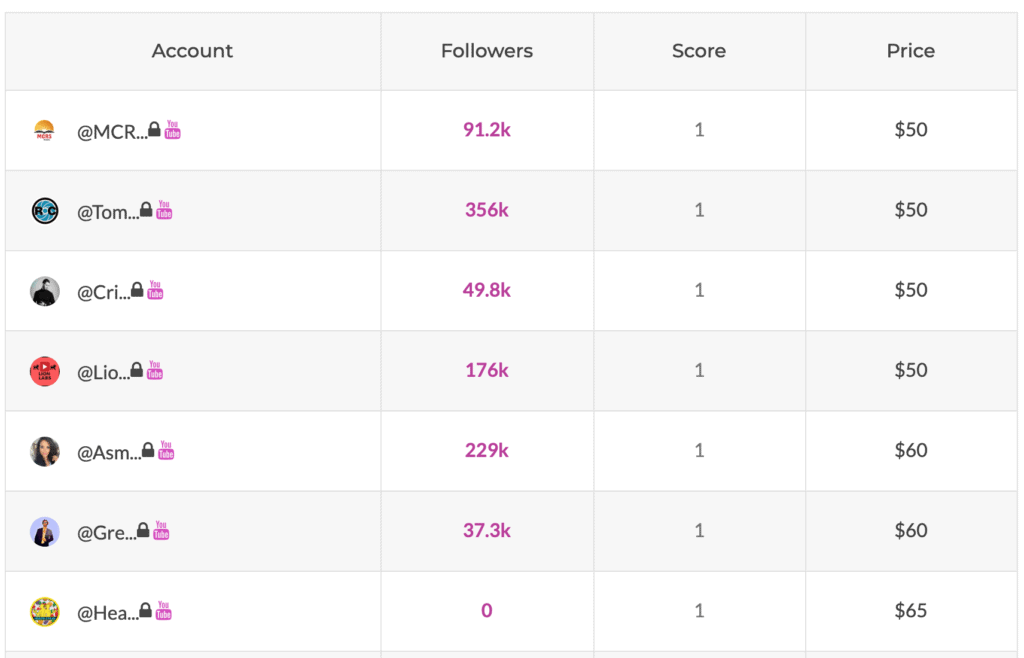 The price for your sponsorship depends on your average engagement, channel size, the kind of video service you offer (whether you create the video or just mention a brand), and other similar factors.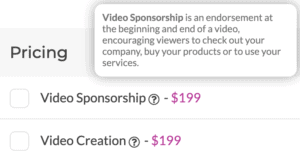 4. Sell Your Branded Merchandise
Who's it For: Live streamers and creators with a loyal following
Difficulty: Intermediate
Within two years of launching its consumer-product business, the Ryan's World franchise is on track to surpass $500 million by the end of 2020.
You might shrug thinking Ryan is the highest paid YouTube creator, but guess what? Most YouTube creators with a loyal audience are now selling their merch.
Specifically, the streamer branded merchandise market is $1.5 billion. Guitarist Matthew Kiichi Heafy from the heavy metal band, Trivium, claims about 15% to 20% of his streaming revenue comes from merchandise. He calls it "mailbox money" because once set up, such income doesn't need you to work actively.
So how can you leverage influence and get started with selling merch that also promotes your brand?
For those of you who are already a part of the YPP, you can get access to the merch shelf and related features if you meet the eligibility criteria below. A minimum of 10,000 subscribers is the threshold for entry.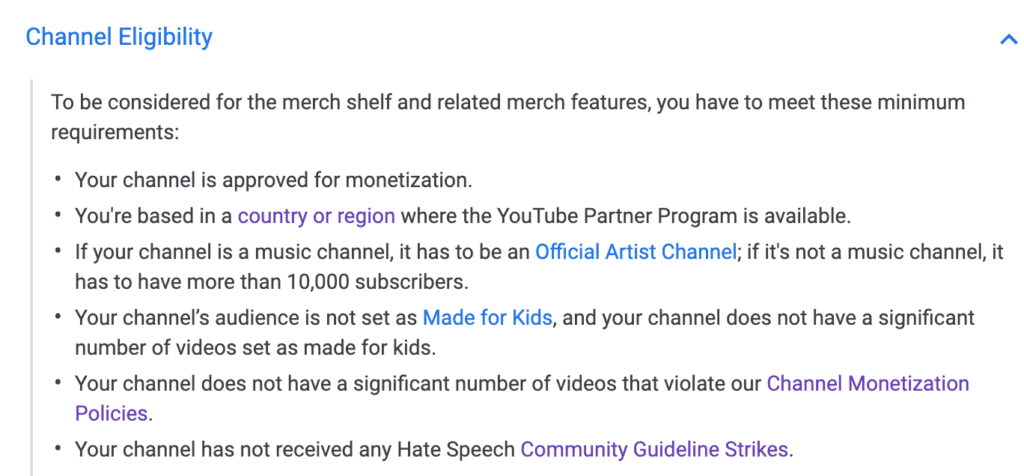 The shelf allows you to display up to 12 specific items below your channel description, facilitated by the YouTube integration with Teespring. Here's an example from a Beastly video: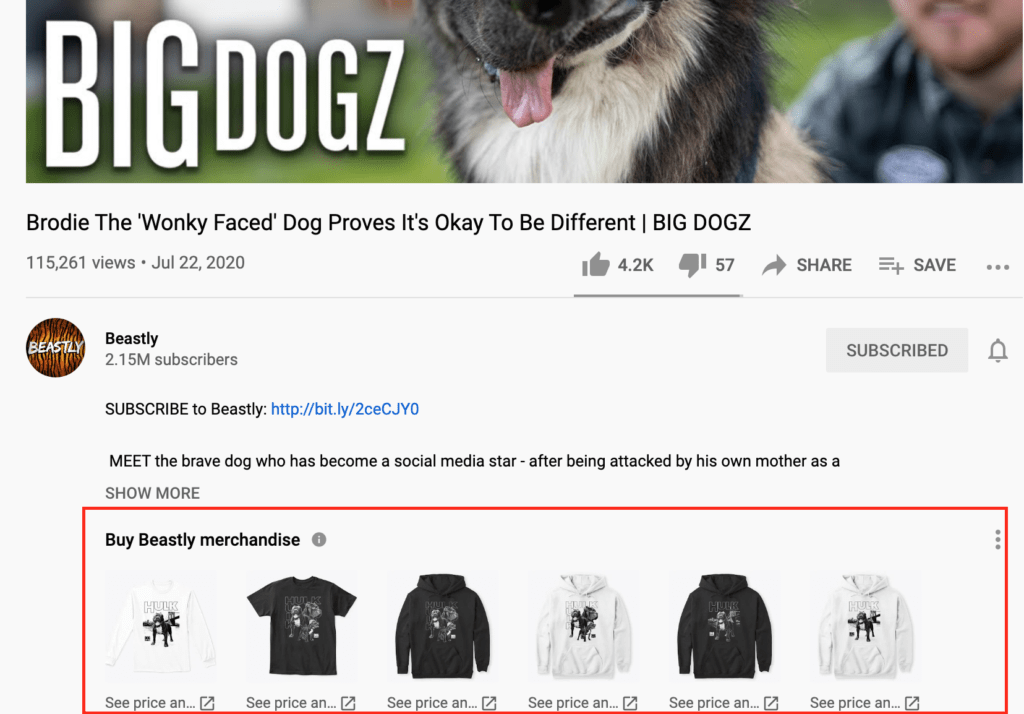 A Printify analysis of top YouTube merch found that T-shirts, hoodies, and caps are the top three products sold by creators — you can also start with selling the same.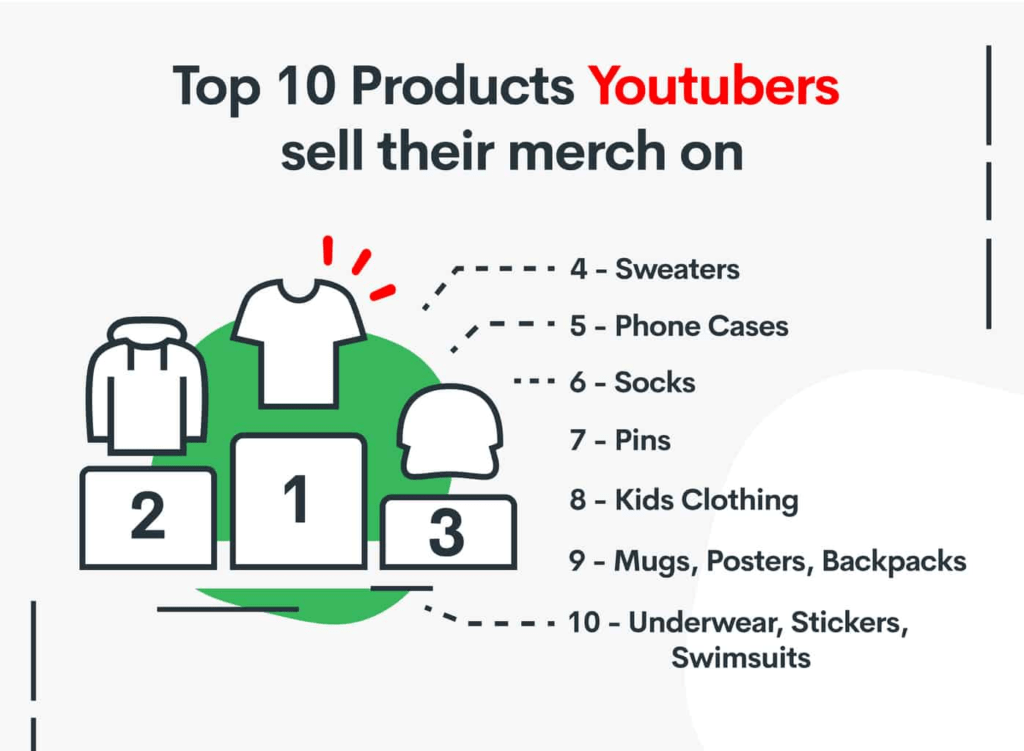 For the designs, YouTube creators tend to put their quotes, logos, and channel names on the merch.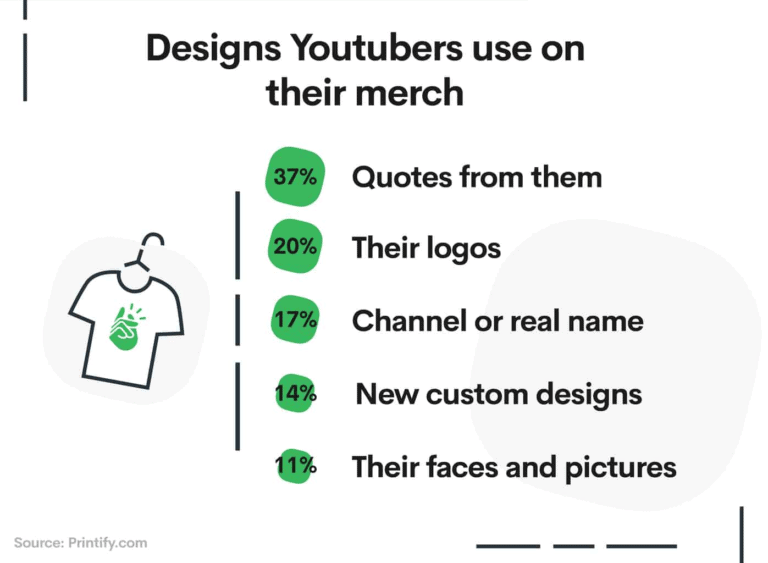 To help with the design, you can hire freelance talent at affordable rates from platforms such as Fiverr.
YouTube also allows you to promote your verified site through cards after you've associated it with your channel. So you can consider setting up a dedicated Ecommerce store using Shopify. It will make for a personalized experience for your audience.
Roman Atwood founded his merchandise line "Smile More" and promotes its store in his video descriptions as well as in the channel art:

If creating your site seems like a lot of work, then you can also partner with approved merchandise sites listed here. Patricia Bright does that by referring her audience to the "Lavish Alice" website: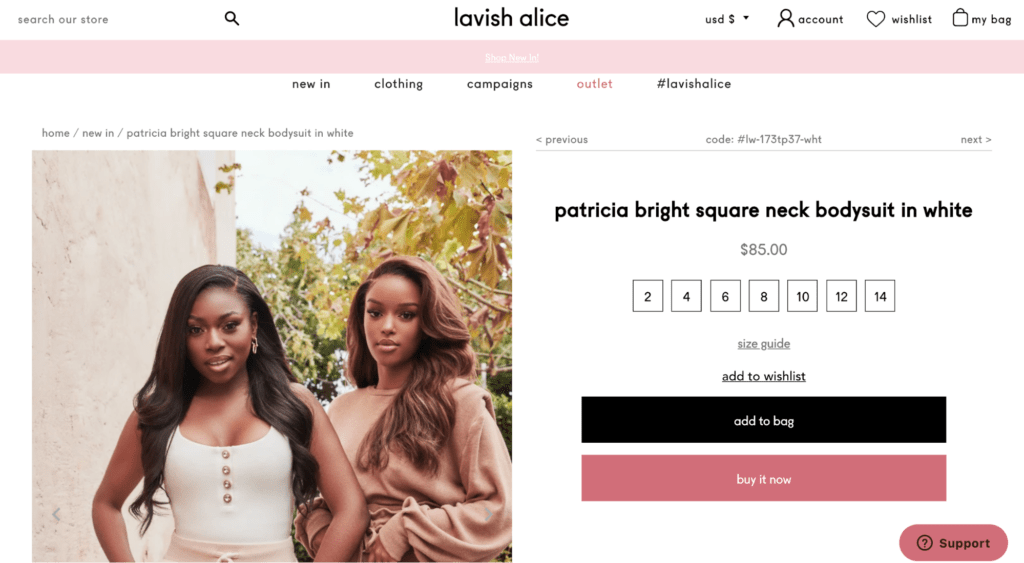 You might lose control over the addition of products, running sales, and other aspects of business on these platforms though.
5. Sell Online Courses (And Other Informational Products…)
Who's it For: Creators who educate and teach skills to their viewers
Difficulty: Intermediate
If you're educating your YouTube audience through your videos, then you already have a lucrative opportunity to make money.
You can package your expertise and teach a skill relevant to your subscriber base through an online course. The subject for the same could be validated by what your viewers have shown interest in. Other digital products such as ebooks, templates, workshop events, printables, and downloadables are also great bets.
Graham Stephan, a 29-year-old YouTube millionaire, earned about $30,000 a month from his two online courses (as reported in November 2019).
One of his courses "The Real Estate Agent Academy" took about a year to make since he wanted to keep it as comprehensive as possible.
But the best part about such products is, an audience of a few thousand can generate a decent amount of revenue. A single course copy itself could generate upwards of $200. Generating this amount of revenue could otherwise take hundreds of thousands of YouTube views.
There's no other raw material related cost for building such products — minimal maintenance and updates will probably ensure these products are good to sell for a few years.
Anastasia, a blogger who also runs a YouTube channel, in one of her monthly income reports, shared that online courses drove 80% of her revenue from $40,000.
Her YouTube videos helped more people find her tutorials on Pinterest marketing. It generated trust in her expertise on the subject — eventually leading to them buying her course and other digital products.
To begin your course creation journey, it's generally recommended to start with an email list. (Pick an email marketing software to kick off yours!)
The reason?
Inbox is a more intimate medium to connect with your audience and build deeper relationships. Email also tends to offer personalized marketing opportunities, which will lead to a higher conversion rate than simply promoting your course on YouTube.
To collect the email addresses of your viewers, you can offer a valuable download giving a little taste of your course as well. Jordan from the Writing Revolt invites her video viewers to start a free course on making money by freelance writing.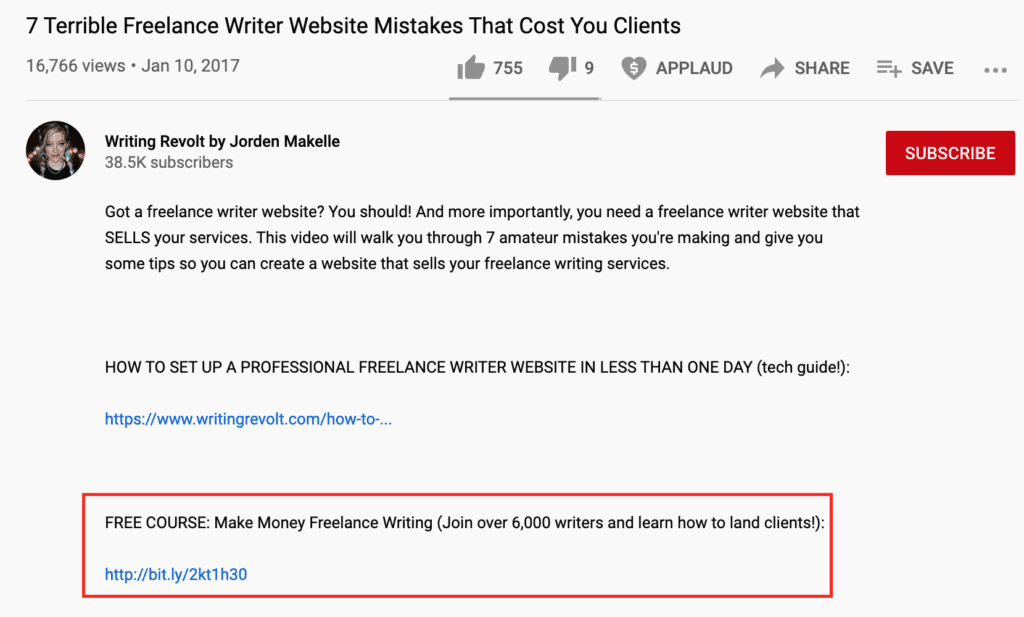 If you click on the link, you'll find the following landing page asking for your email and name. You get a pre-recorded webinar masterclass on signing up — which ultimately pitches Jorden's free course.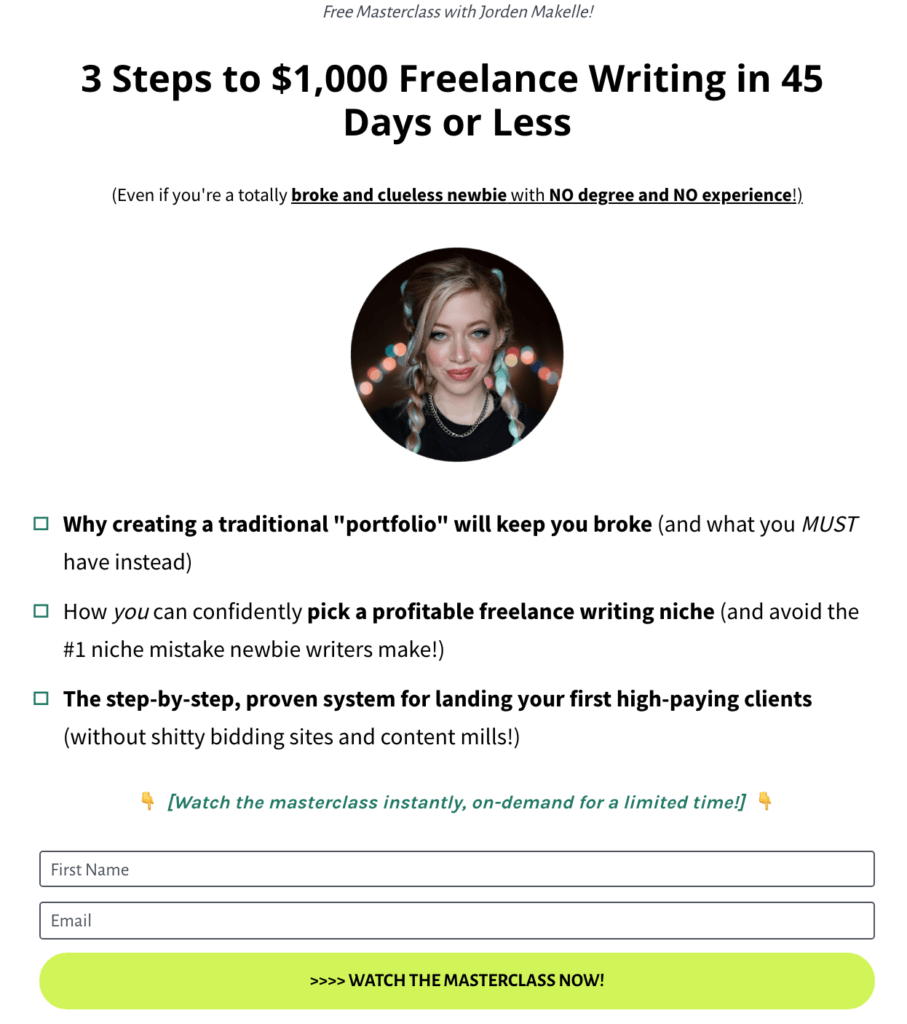 If you already have sufficient clout and believe there's a subject your audience wants to learn from you, then choose one of these online course platforms, and prepare your course. You can publicize the final link for it in the descriptions of your videos just like Stephan does below: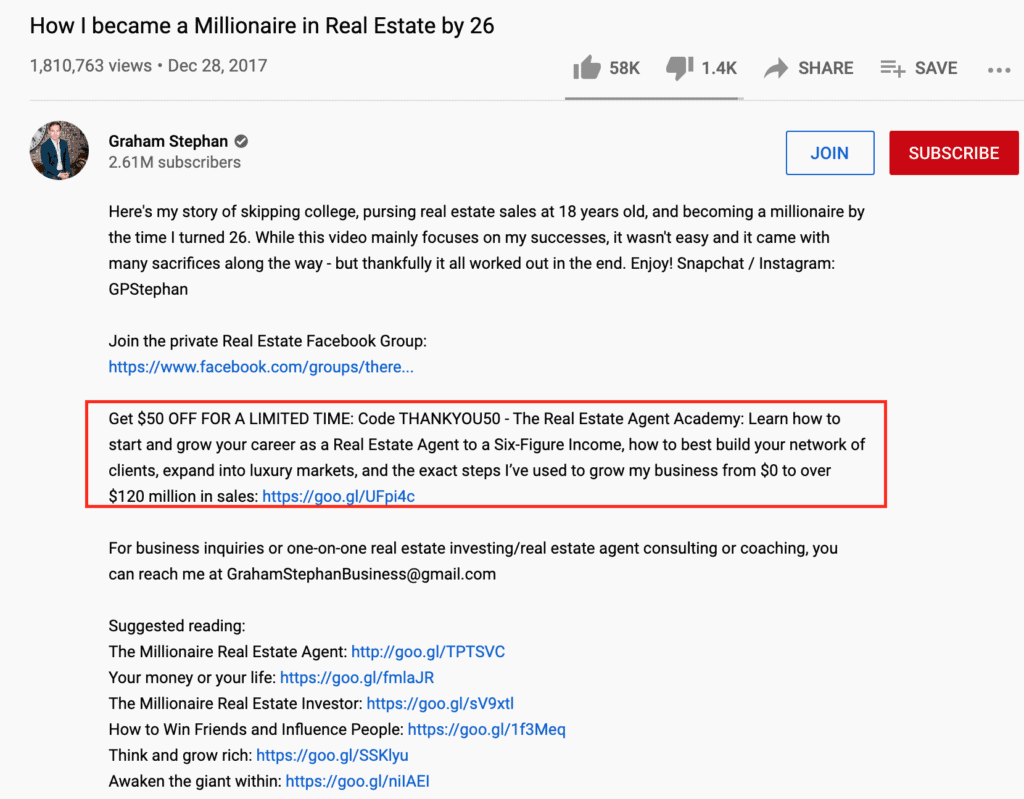 6. Start A Paid Membership Program
Who's it For: Creators who have the bandwidth to create "exclusive" premium content
Difficulty: Intermediate
You can even turn around your loyal audience members into an exclusive community with special benefits — such as access to the digital products you created in the last step. People interested can pay a membership fee, bringing in recurring monthly revenue for you.
One of my favorite guitarists on YouTube, Rob Scallon, runs a Patreon membership with four levels. He lets his audience pay for specific videos giving priority access, additional commentary, an option to download — all the way to add their name in the credits!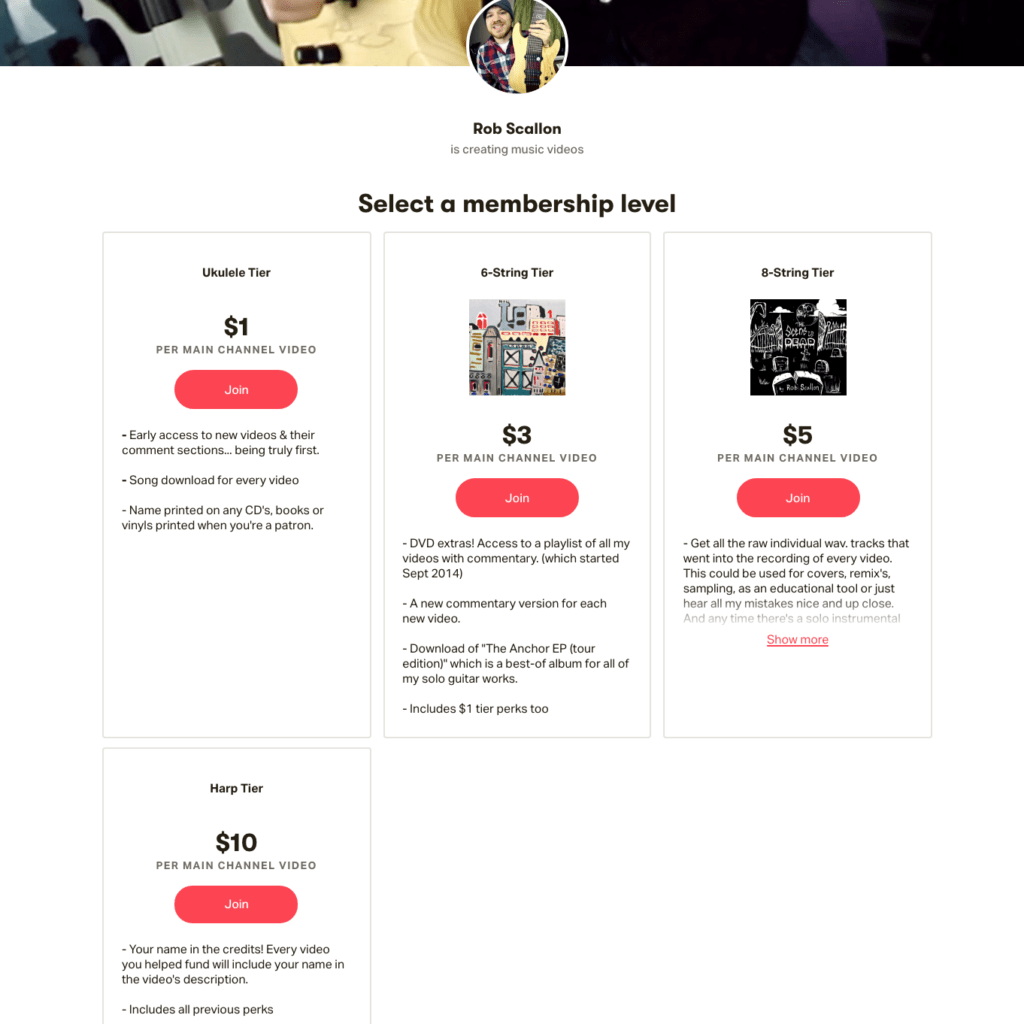 He promotes this Patreon membership in his videos, and uses a "Super Subscribe" button in his channel art linking out to his Patreon page.

Once you've built a repository of such "premium" content, your membership becomes an even more enticing purchase. Rob, for example, offers 628 exclusive posts to welcome his new patrons:

To compete with Patreon and keep viewers within its ecosystem, YouTube launched its own tiered channel memberships. It lets you offer special perks such as emojis, badges, and more to paying viewers. You get to keep 70% of the membership revenue.
Channels offering such a membership have a "Join" button on their channel page as "The Vintage Space" has below:

By clicking on that button viewers can explore the membership tiers and their perks: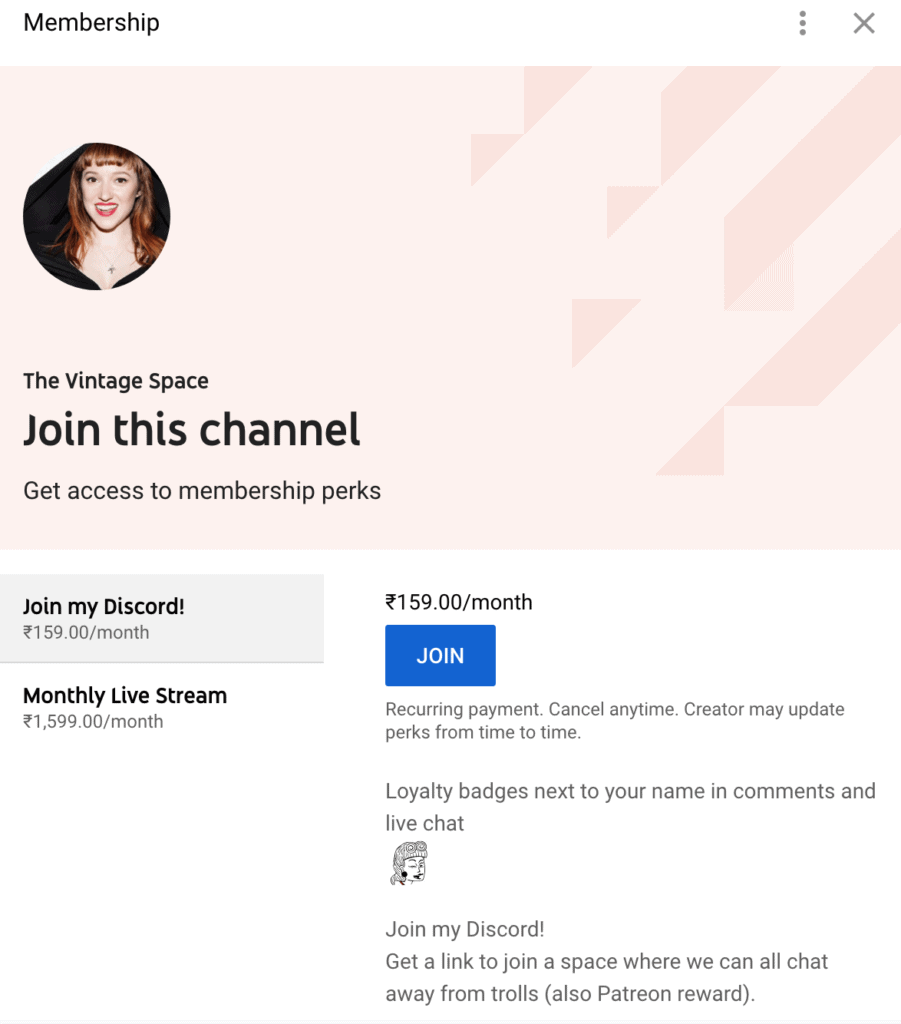 Being a part of the YPP and having 1000 subscribers, are eligibility criteria — at the time of writing this post — for accessing this feature. But it's only made accessible on a rolling basis to creators, so you might not have access to it yet.
The idea behind a paid community is to engage deeper with a few of your superfans — a few of whom might be your true fans — and provide them with exclusive content. If you have the bandwidth, adapting this strategy makes perfect sense.
If you plan to use channel memberships, read and comply with YouTube's policies and guidelines about them.
7. Crowdfund Your Projects
Who's it For: Creators who want to raise one-off funds for special projects
Difficulty: Easy
With approved crowdfunding websites, you can add cards and raise "one-off" funds. Generally, creators use fan funding towards special projects such as books, movies, web series, apps, or developing other products, and bring attention to a cause they care about.
This monetization strategy could be easier to pull off than the recurring membership revenue model, as it involves only a one-time effort. But depending on your funding goals, it can become challenging.
Platforms such as Kickstarter and Indiegogo are generally used for detailing your project idea, the budget required for its execution, and the act of fundraising.
The Veronica Mars Movie Project is a great example of an ambitious Kickstarter project that managed to successfully bring the movie to life. It got pledges crossing $5M with over 91k backers.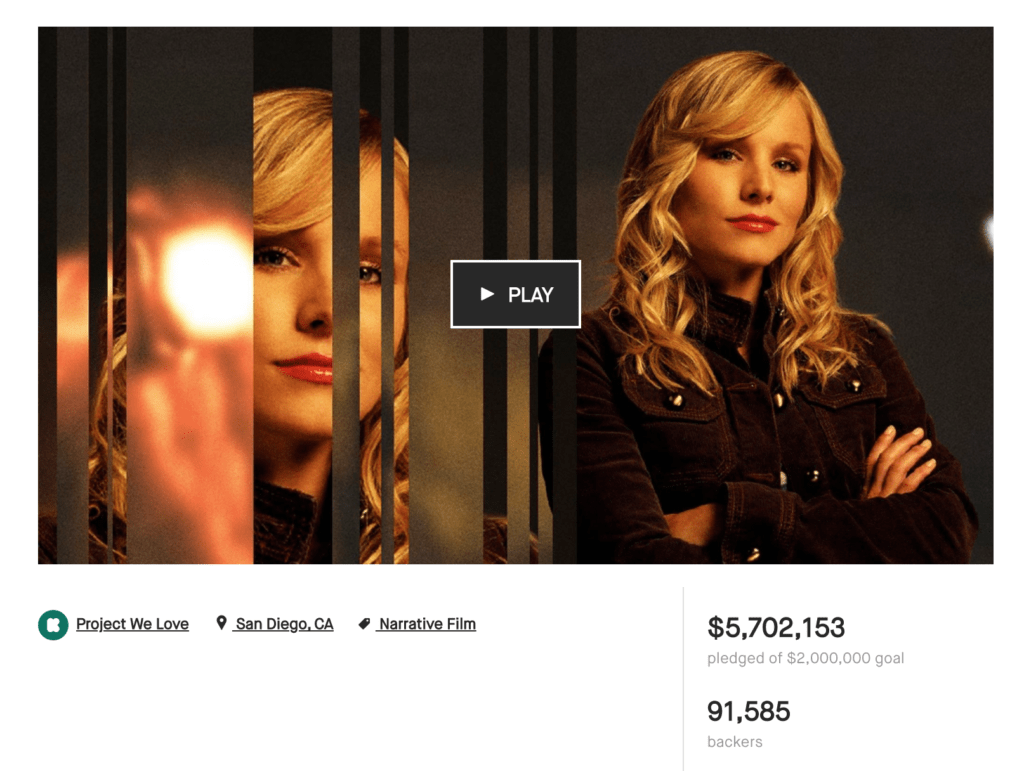 You can also consider occasional fan funding for engaging more with your subscribers through live streams and giving exclusive content. Features like "Super chat" and "Super stickers" are available to bring in some nice revenue.
Rick Beato, one of my favorite creators, runs a dedicated channel for his live streams. The viewers often drop in with monetary contributions with their messages. In exchange, the names and messages by the donors are pinned in the live chat for a specific period, and they receive a shout out from Beato.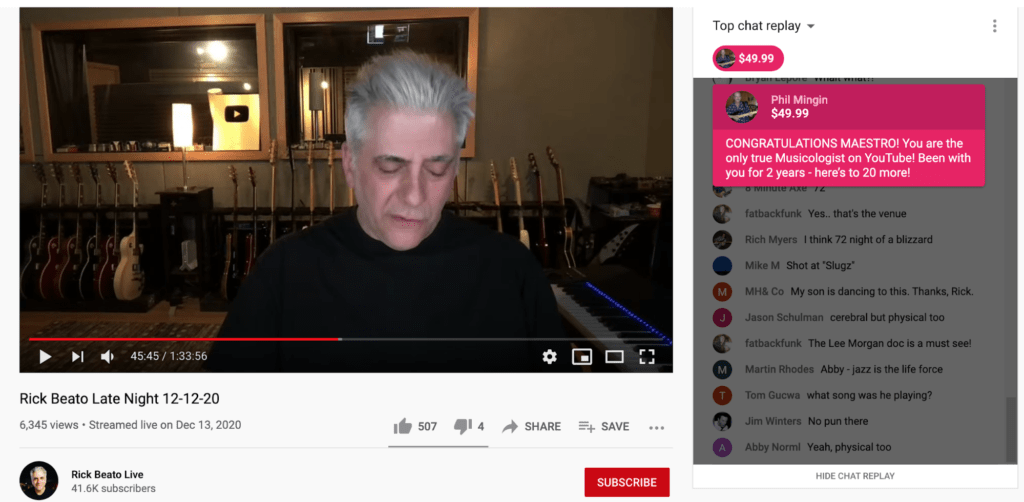 Ensure your channel is monetized and complies with these eligibility criteria. Then learn how to turn on Super Chat and Super Stickers here.
Note: For non-profits, Google launched the YouTube Giving suite of fundraising tools in the United States, United Kingdom, and Canada. If you're a part of the YPP and have 10k subscribers, you're eligible for them. Trevor Noah managed to raise $127,000 from his viewers for the National Revolving Bail Fund through YouTube Giving.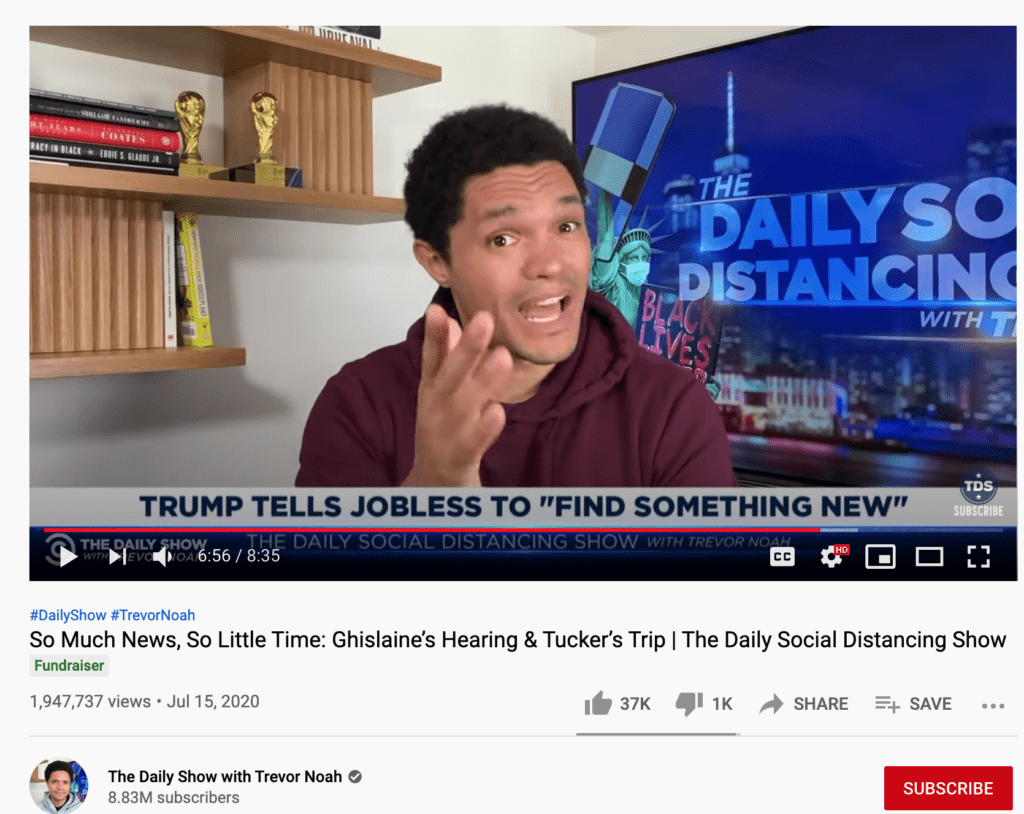 Here's how to get the donate button alongside your videos and lives streams, and access this feature.
8, 9, and 10. Consult, Coach, And Speak
Who's it For: Creators who educate and teach skills to their viewers
Difficulty: Intermediate
Do you have a specialized skill that brands can leverage to generate more revenue? If yes, you can become a marketing consultant offering paid services.
If your channel has already taken off and you manage a few thousand views on every video you publish, then YouTube marketing could be a great bet. Brands will pay you well to manage their channels for them: video marketing stats show businesses are keeping aside a significant budget for YouTube.
Otherwise, you can consult businesses in your area of expertise that you also teach on your channel.
For example, carrieblogger runs a freelance copywriting business on Fiverr, where she has completed over 10k orders. On her YouTube channel, she shares writing advice, sales strategies, Fiverr tips, and more — all while building her brand and inviting viewers to her Fiverr profile.

You can also offer one-on-one coaching sessions to your viewers. While you'll be trading your time for money, you can charge a decent amount depending on the skill you're going to teach. Years ago, I found Chris's channel, "Learn British English Free", a self-explanatory name about his expertise.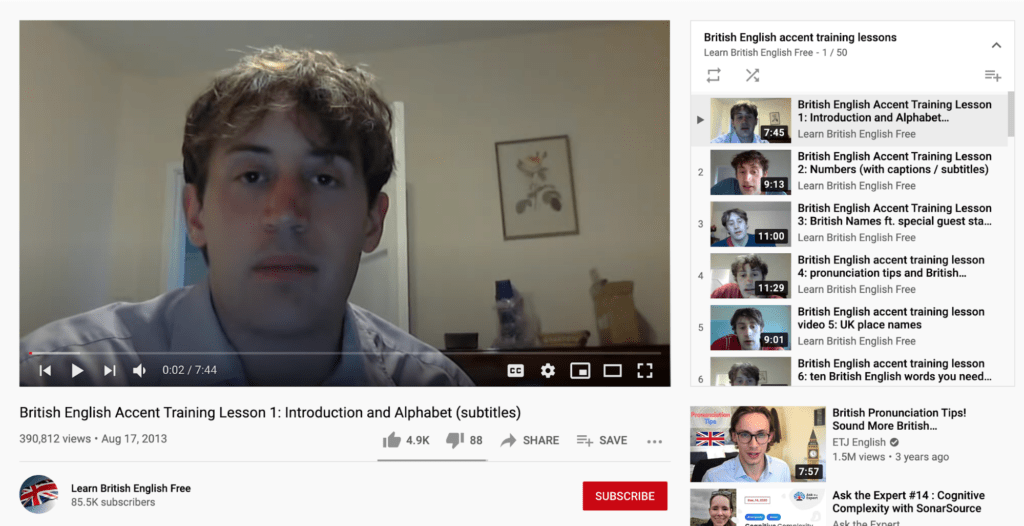 Exploring his website, I found that he offers English lessons on Skype charging £22 to £28 for them depending on their type. He even proofreads essays, reports, and emails at £1 per 100 words.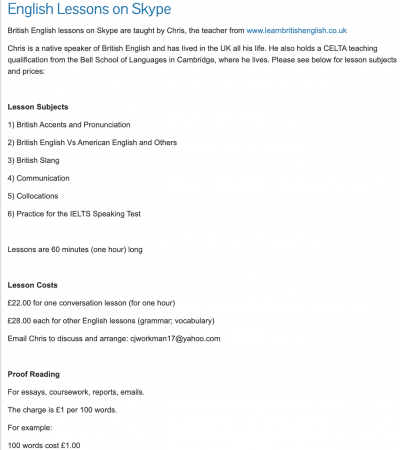 Such coaching and consulting gigs work across most niches. You can become a guitar instructor, mathematics tutor, or even a fashion consultant.
A nice way to make some income from your YouTube viewers, aye?
For such coaching and consulting services, place a direct call to action at the end of your video asking viewers to get in touch over email. Creating a "hire me" (or similar services page) on your website could facilitate a more persuasive experience for prospects who are considering your services. You can promote this page itself on your channel.
The last teaching related opportunity I want to talk about is paid speaking gigs. If industry conferences are commonplace in your niche, then you can get paid well for being a guest speaker at them. In its roadmap, The Speaker Lab details the following steps as necessary to find success as a speaker: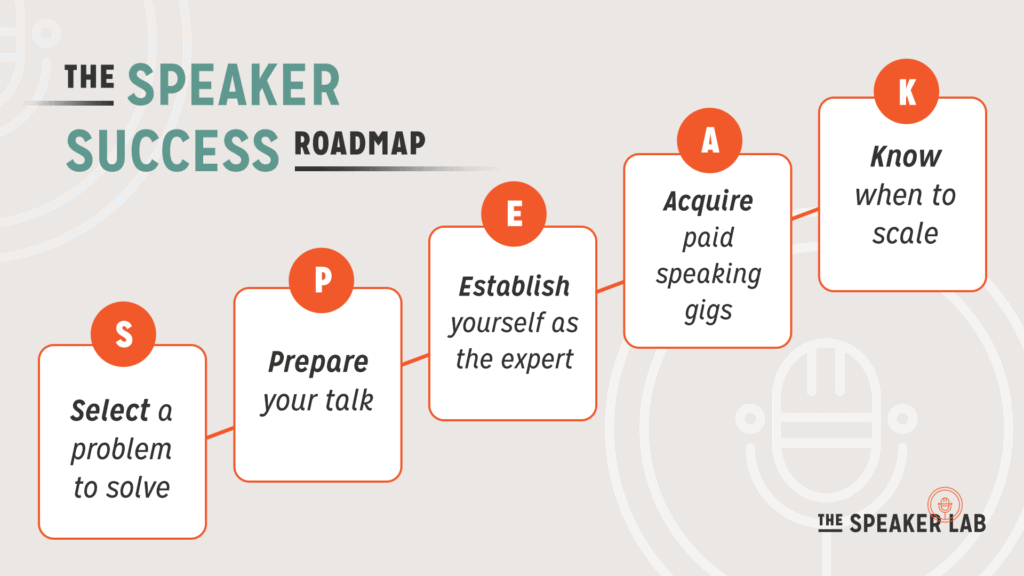 Sounds interesting?
Then research if conferences happen in your niche. Plugging a query such as "your niche" + best conferences in Google will be great for a start. Many of them might have applications inviting speakers to submit their interests like the Typeform below by a marketing conference: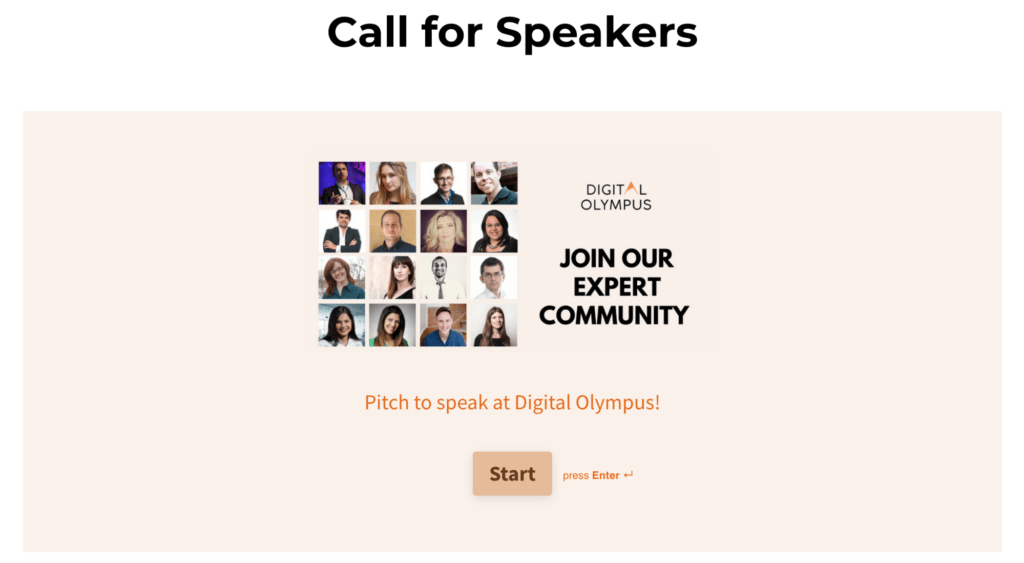 You can put together a few of your best YouTube videos along with their audience engagement stats for social proof of your speaking skills.
Most conferences might have a public application like above. Use a tool like Agent to access the contact information of decision-makers at conferences in that scenario.
In her interview with Science Mag, Cowern — a.k.a Physics Girl — shared that she makes money doing talks and appearances. If speaking and interacting with people live excites you, they could be a nice income stream on top of your YouTube income.
11 and 12. Conduct Physical Events
Who's it For: Most kinds of video creators
Difficulty: Intermediate to Advanced
Note: Due to the ongoing situation, you'll probably need to skip this monetization strategy.
As a YouTube creator, your videos might educate, inform, inspire, and entertain your audience. How about taking your relationship with your audience to the next level by providing these experiences live? Here are the eleventh and twelfth ways:
Create Educational/Informational Content? Then, Host Workshops…
Fit for YouTube creators in these niches: Business, learning, design, art, cooking, fashion, DIY, music & dance educators, and health & fitness.
Running between one to two days, such workshops let you command $500 to $5000. Let me show you a couple of examples of these kinds of events:
a. Rachel Bowman, an aerialist and ballet dancer in Australia, conducts boutique live events. She called her first week-long aerial performance retreat "AiRise" after launching a line of successful online aerial education programs.1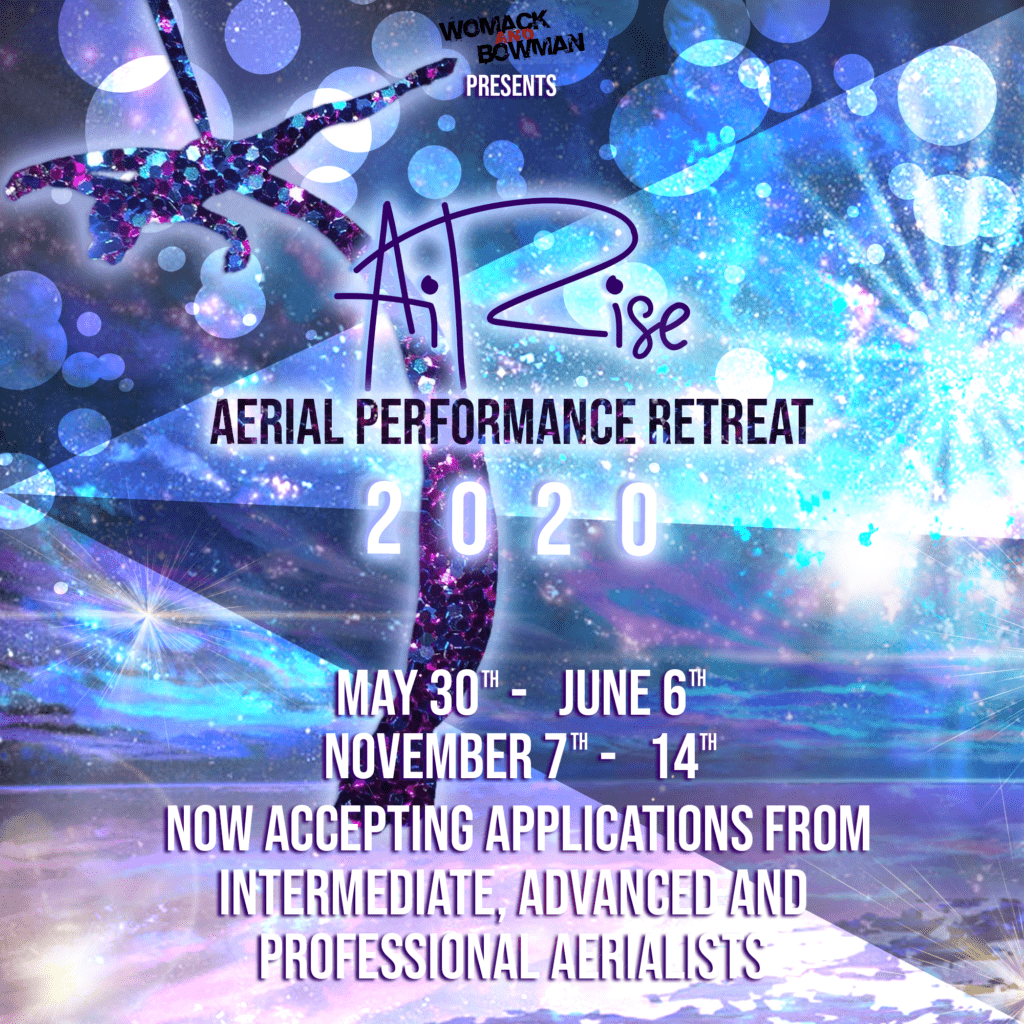 Her previous week-long retreats have resulted in $25,000 of profit. Depending on your niche, you can teach a skill by conducting such a retreat, or you can conduct more intensive events as our next example demonstrates –
b. Pat Flynn (an entrepreneur and renowned affiliate marketer) has hosted multiple live workshops including:
He recommends promising a specific outcome from your masterclass. Flynn shares a ten-step strategy to conduct such a live workshop:
You can conduct the first such session for your audience as just a "speaking session." The potential subjects can be found by checking your YouTube analytics and finding out the videos that garnered the most interest from your audience.
Specialize In Comedy, Music, Drama, Or The Like? Then Perform A Live Show…
Fit for creators in these niches: Music, dance, drama, and comedy, magic, and pranks.
If your channel is related to the performance arts, your audience would love to see you put up a live show. It might be a great opportunity to earn some income and get the privilege of seeing your true fans live.
Frog Leap Studios by Leo Moracchioli creates cover songs regularly on his YouTube channel. He tours and conducts live shows which frequently get sold out.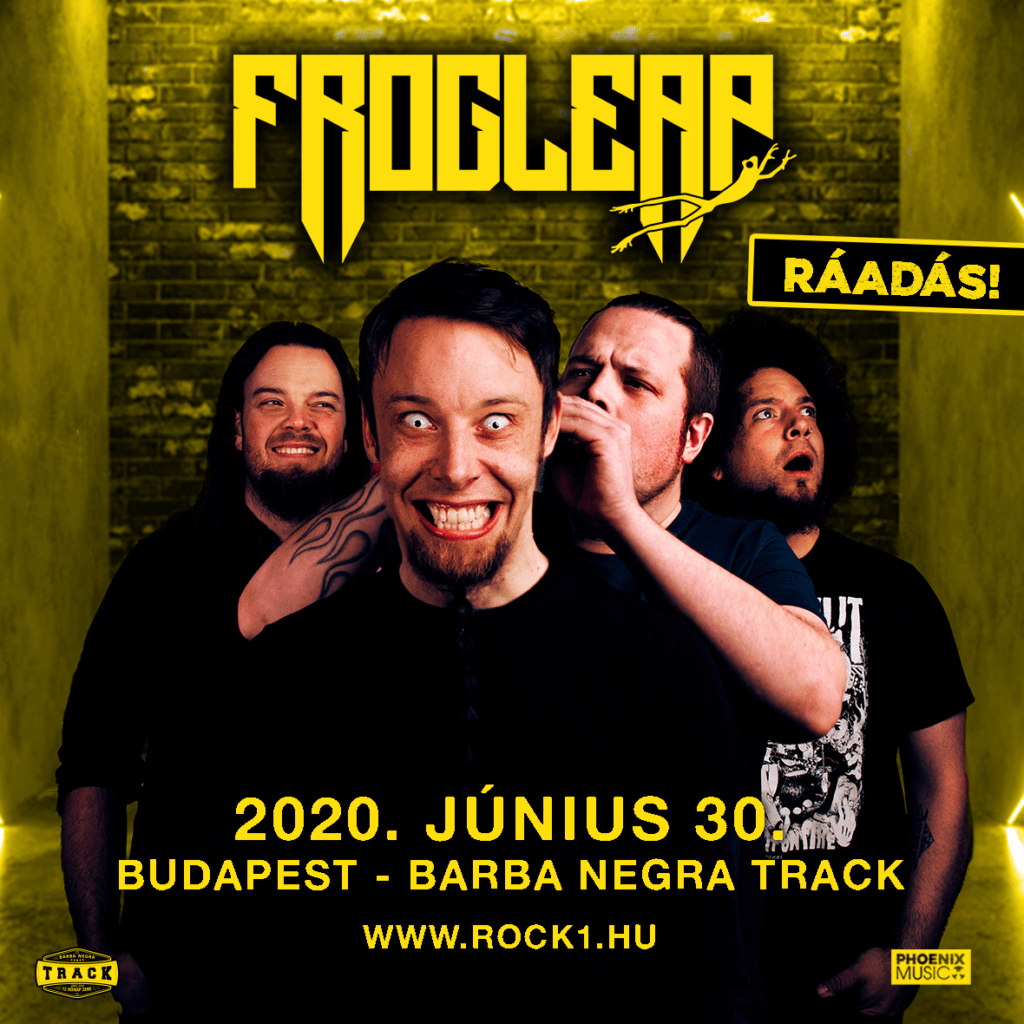 Stand up comedians also tour their native countries, and go around the world conducting shows. For instance, Indian comedian Abhishek Upmanyu announced his national tour last year on his YouTube channel at multiple locations with a link to the ticket booking website.
Depending on the size of your channel and audience demand, you can organize dedicated gigs completely on your own. If you want to get some experience before gigging, then you can sign up on gig marketplaces like GigSalad.
13. License Your Videos To Media Houses
Who's it For: Creators that manage to go viral
Difficulty: Intermediate
A funny YouTube video of an Indian guy paragliding and requesting a quick descent after being outrageously scared went super viral. It quickly became a subject of memes, earned mentions from major media, and made the guy an overnight sensation.
But Vipin Sahu, the guy who uploaded this video, didn't have enough subscribers on his channel to get the YPP berth. So he was losing out on potential advertising revenue.
All the attention he was earning though, could be put to great use by licensing it to media houses. They might be interested in limited streaming rights so that they can broadcast the video. They were talking about it on their platforms already as they had to satiate their content-hungry audience: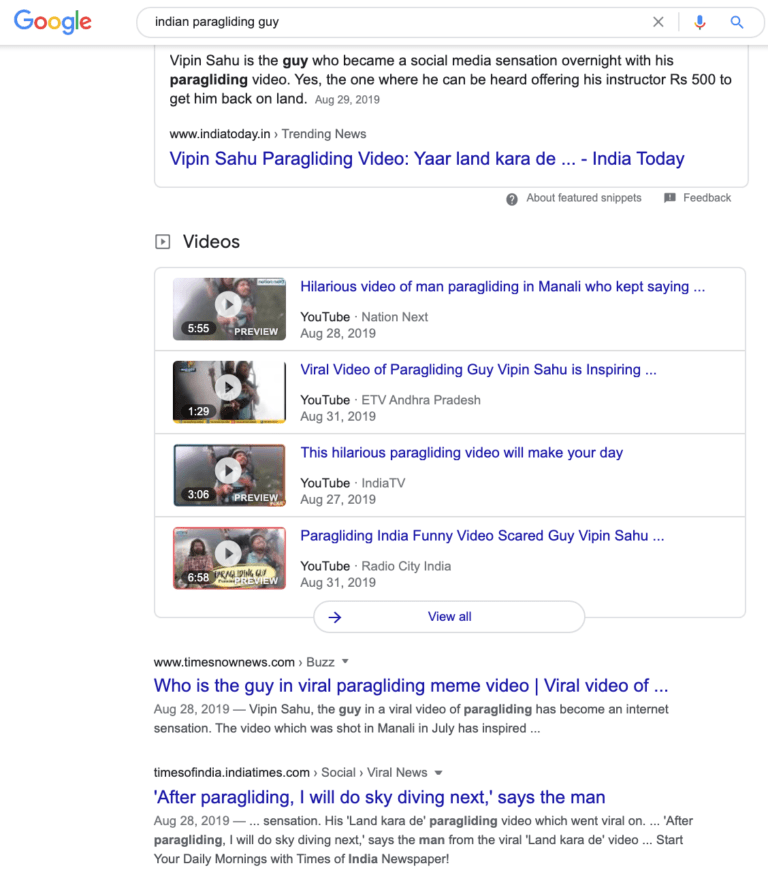 If you have any such cute and funny videos of your dog, babies, cat, or any other adorable creatures, you can probably license them. Here's a Dailymail video of a lion cub which began with a message intimating they pay cash for your video footage: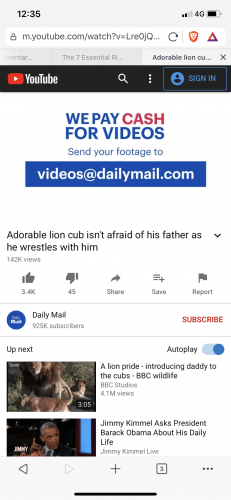 Even your non-viral videos could earn a place in marketplaces such as Jukin Media, ViralHog, Video Elephant, Newsflare, and SellNews. User-generated content — especially that which is entertaining and fun to watch — tends to be in demand. Getting picked up by licensing partners and syndication networks can earn you some nice income from your YouTube videos.
Pay close attention to the rights you disburse by signing up on such platforms. With Jukin, you remain the owner, but they buy the rights to represent and manage your video. It's also an exclusive agreement — so you can't hire another manager for your video.
Sidenote: If you're present in the video you want to sell, then remaining anonymous (which you might want because you're doing something embarrassing) might not be possible.
Eddi, a digital marketer, sold one of his viral videos in which he was swearing — and major media publications misrepresented him as a taxi driver. He shares his story in the video below, highlighting how your privacy might get compromised.
14. Build A Portfolio You're Proud Of And Earn A Big Screen Debut
Who's it For: Creators with an impressive body of work
Difficulty: Advanced
Are you an actor/musician/entertainer who started a YouTube channel to build your online presence? Great choice, given it's now the most widely used digital video websites across the world.
Indeed the platform's fastest growing market is the big TV screen, so working on building your YouTube audience can make you a household name.
As an actor, your YouTube sketches also serve as your work portfolio. You no longer need to audition and persuade gatekeepers — like record labels and movie studios — to beg for a role in their movies.
Directly write a short script, prepare your act, get a cinematographer on board (or record yourself through your mobile camera), and upload the sketch on YouTube. For instance, I create fictional YouTube sketches on my channel Drama Expresso from the comfort of my home.
While you can potentially reach a global audience overnight, don't keep your hopes too high initially. You won't get immediate returns — going viral is a rarity with the intense competition on the video platform.
There's another major tradeoff: You'll need to transform into a legit creative entrepreneur instead of being a pure artist. You might need to upload videos consistently and compromise on creative perfectionism. Heck, you can't even upload videos longer than 15 minutes without getting verified. You might also make losses in the production of your videos.
But all of it might seem worth it if your goal is creating a body of work you're proud of — while putting efforts towards promoting your channel and getting more YouTube views. A casting director (or a gatekeeper for your performing art) could stumble upon one of your videos and recognize you as a fit for an acting role they want to fill.
As a professional filmmaker, Christopher McQuarrie, advocates, "the secret to making movies is making movies – starting with the little movies no one will ever see." Read his complete Twitter thread that advises against trying to 'break-in.' And hey, it's valid for most kinds of performing arts.
If you build a reputation through YouTube, then traditional gatekeepers are more likely to approve you for a TV or movie role. In 2020, Indian web series and YouTube celebrity, Jitendra Kumar, saw his mainstream film debut with 'Shubh Mangal Zyada Saavdhan.'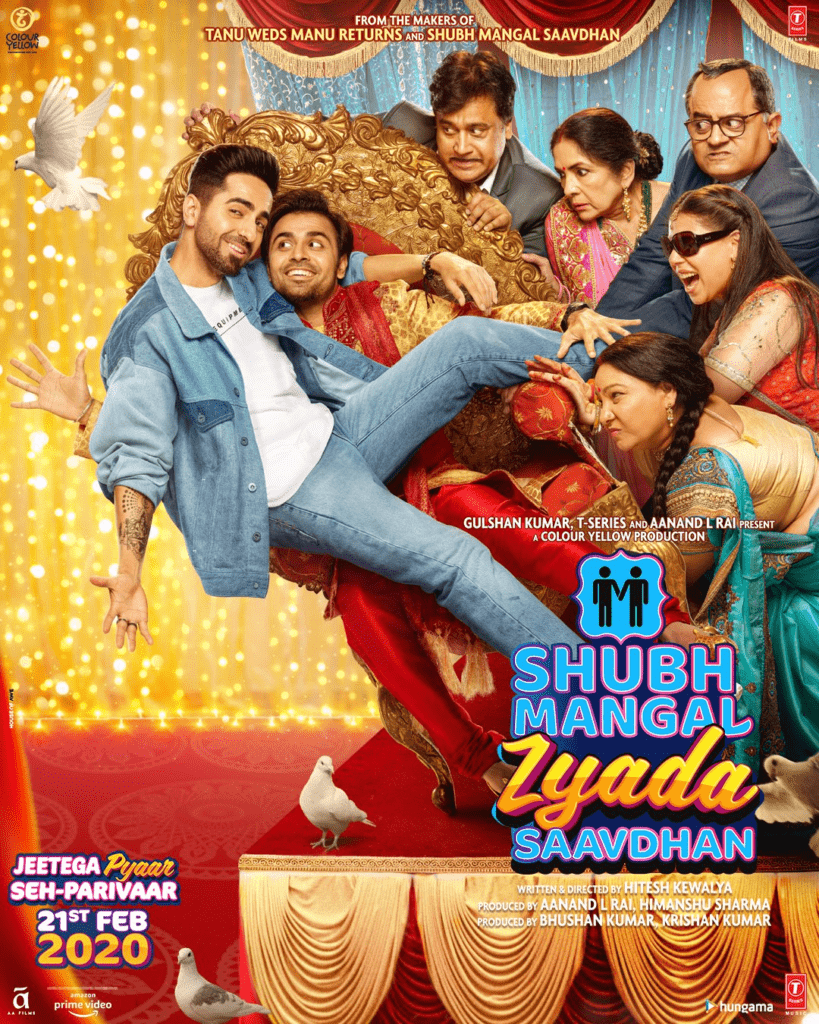 So get busy building creative assets for your career and invite better professional opportunities your way.
15. Learn How To Make Money From AdSense On YouTube…
This is the first income stream that most YouTube creators consider because it appears straightforward. But you need to get accepted into the YPP for taking a cut of the revenue generated from showing ads on your videos.
The YPP requires you to fill an application once you meet the threshold of 4000 hours of watch time in a year and 1000 subscribers on your channel. You also need to create advertiser-friendly content, obey the community guidelines, adhere to the YouTube Partner Program Policies, and get an Adsense account.
I've talked in more detail about YouTube monetization which you can read when you consider applying for the YPP.
Once you're accepted into the program, enable monetization of your video uploads, leaving out the ones on sensitive and controversial subjects. Because if YouTube finds a video inappropriate, it will demonetize them through an automated process anyway — also hurting your repo in front of the video hosting platform.
Most successful YouTube creators think of AdSense income as supplementary "passive income" because of its unreliability. They focus on other strategies I shared above — as should you. Let's wrap up the article on making money by revisiting a few common questions regarding making an income on YouTube.
Frequently Asked Questions Regarding Making Money On YouTube
Here are answers to the most asked questions on creating a sustainable income stream from your YouTube channel.
Can you make money on YouTube?
The video platform doesn't directly pay for uploading videos. But once you meet its eligibility criteria, joining the YouTube Partner Program lets you monetize your videos with ads. Getting brand sponsorships and selling merchandise, your services, paid memberships, and other income streams tend to generate more revenue, though.
When do you start making money on YouTube?
Joining the YouTube Partner Program can unlock a lot of earning opportunities including generating revenue from ads. It requires you to hit 1000 subscribers, 4000 hours of watch time over the last year, amongst other eligibility criteria. If you haven't touched those numbers, offer your own services, and approach brands for collaboration to monetize your channel from the first video.
How many subscribers do you need to make money on YouTube?
To be eligible for monetization through advertisements on YouTube, you need at least 1000 subscribers and 4000 hours of watch time in the previous year. However, you shouldn't rely on ad revenue from YouTube alone as it's limiting your income. Selling merchandise, promoting products as an affiliate, and offering paid consultations are other robust monetization strategies.
How to make money on YouTube without making videos?
You can choose a narrow subject, find videos in it under the "creative commons" license through the YouTube search filter, and produce compilation videos from them. This won't require you to show your face, just edit videos created by others (and available in the public domain) into lists like "top 10 WWE wrestlers."
What is the YouTube ad revenue per view?
The average rate an advertiser pays can vary between $0.1 to $0.3 per ad view and an average channel can get $18 per 1000 ad views. So an average video creator can make $4.18 for every 1000 views.
How many views do you need on YouTube to make money?
You're not paid for the number of views, but based on the number of people that click on ads in your videos or watch them for 30 seconds. The pay might vary between $3 to $5 per view. But you can cash out from YouTube only after reaching a balance of at least $100.
Final Thoughts [And Infographic]
Video is eating the internet, and as a video creator, YouTube is an incredible place to get exposure for your work. However, pay through AdSense is dismal, and the top earners eat over 90% of the pie. So experiment with multiple monetization strategies depending on what makes sense for your YouTube channel.
Also don't start a YouTube channel with the sole purpose of making money because things can get really messy. You should like creating videos to be able to put in the hard work at those times and push through growth plateaus.
Simultaneously don't wait for years (or try to generate millions of views) before making cash. Start offering video editing or other kinds of services — and create multiple income streams.
Also, note that to make money of any kind from YouTube you need to follow the community guidelines. To steer clear of trouble, stay away from creating inappropriate content that's spammy, hateful, infringes on copyrights, or anything that might get reported.
Now it's your turn:
Which of the above income-generating opportunities are you going to leverage for your YouTube channel next? And are there any other monetization strategies that you have leveraged on or through YouTube? I would love to hear your thoughts in the comments below.
Also, if you liked the post, you can pin it to your Pinterest board by using the image below.