Selecting the right podcast editing software is crucial to your success as a podcaster. An ideal recording and editing software for you would be the one that you find easy to use. If you choose complicated software with a steep learning curve, you could end up wasting your valuable hours.
In this article, I'll help you identify the best podcast editing software for your needs. Later in the article, I'll briefly cover the other types of equipment you may require to host and monetize your show.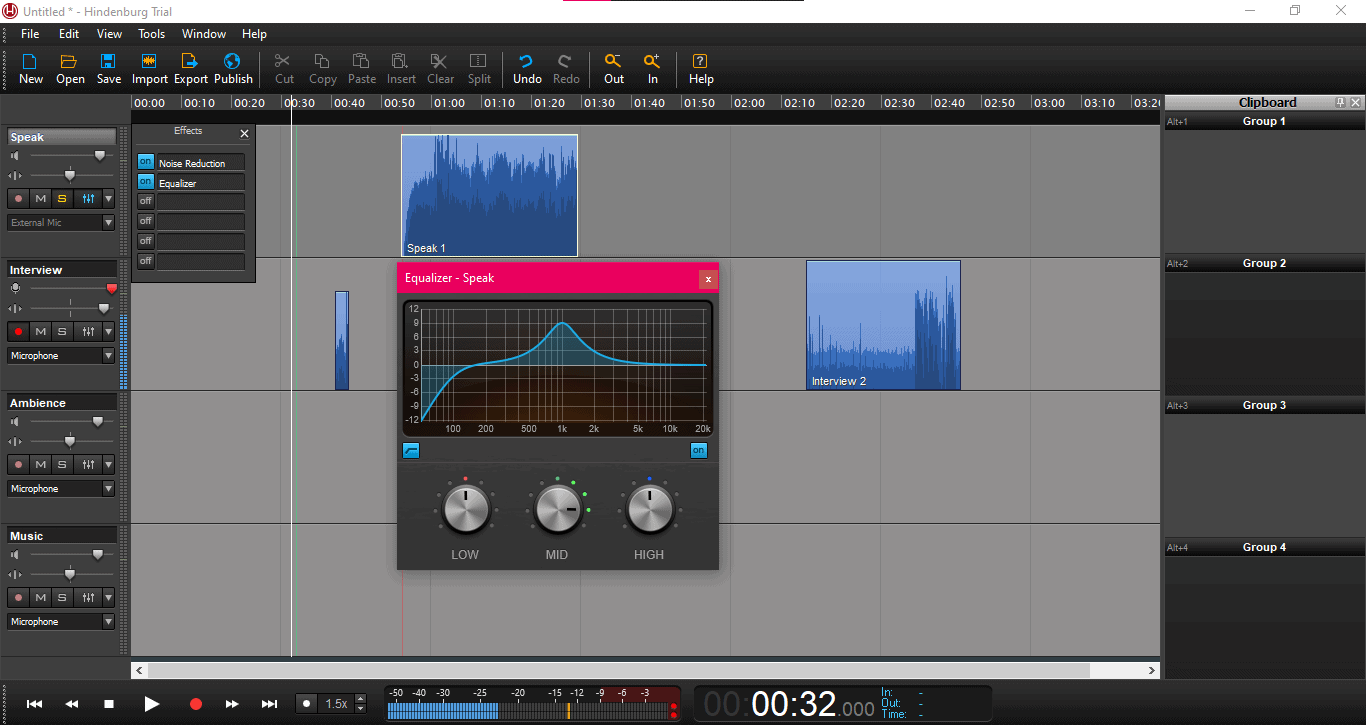 Hindenburg Journalist is a multi-track audio editor specially designed to make storytelling more effective. You can record interviews, add sound, organize the material using the clipboard, edit the audio using automatic sound leveling, adjust EQ via voice profiler, etc.
It also has a built-in publishing tool that allows you to upload your podcast or share it on Libsyn or Soundcloud. There's a Hindenburg field recorder app that you can use to record and edit your audio anytime, anywhere.
Key editing features:
The auto-leveling function takes all the audio elements and places them at appropriate levels from beginning to end.
The clipboard function on the right side lets you organize clips and form a storyline.
It automatically adjusts gains of imported audio files.
The voice profiler tool applies EQ and compression to the voice and optimizes the sound to maintain balance.
Price: Hindenburg has two versions‒ Journalist for $95 and Journalist Pro for $375. Both the versions have a 30-day free trial and are available on Mac and Windows. However, most of its features like multitrack recording, voice profiler, noise reduction are only available in the pro version.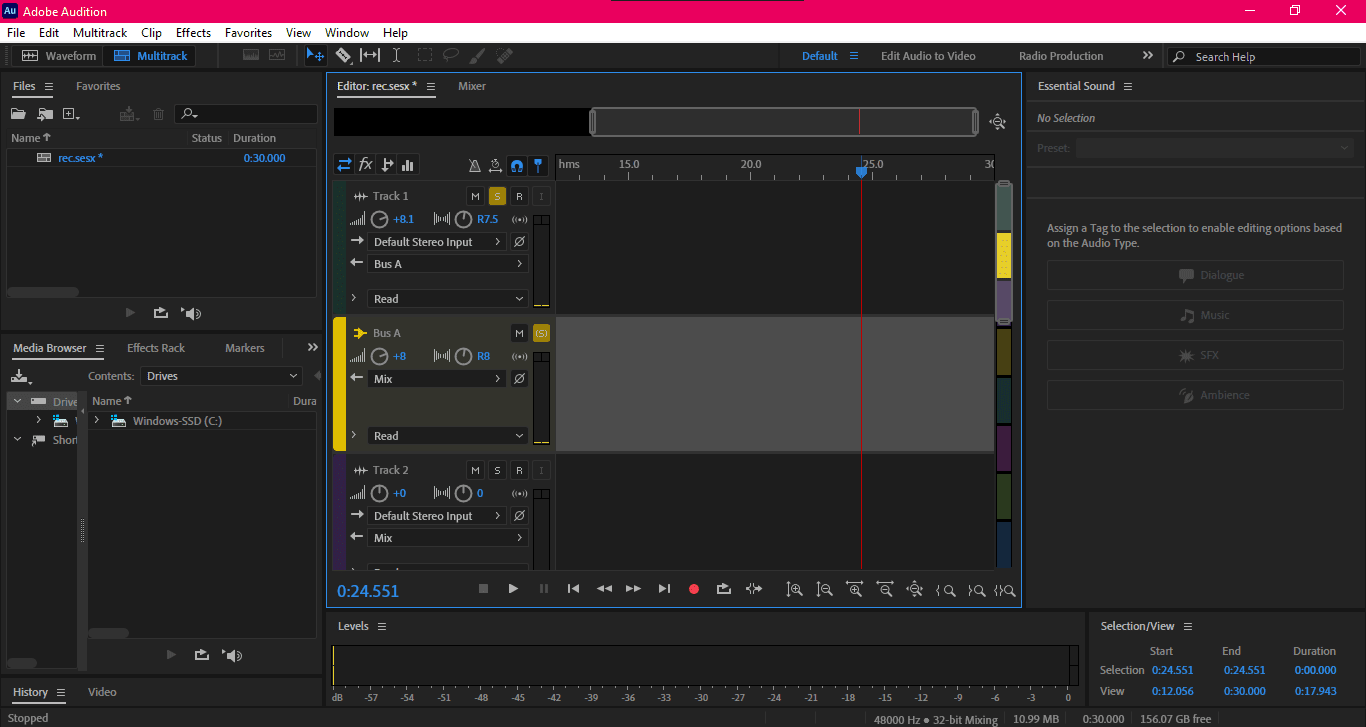 Adobe Audition is a powerful audio editing software for professional audio editors, filmmakers, podcasters, and so on. It's stacked with features that give you complete flexibility and control over your project.
The multitrack format allows you to mix multiple audio files, apply different effects to layers, use ducking to lower the volume of a specific audio file, and more. You cannot record sounds, but you can organize files, use custom-made recording templates and hotkeys.
Key editing features:
The audio restoration and noise reduction properties are highly effective, e.g., you can remove all the hum, hiss, and crackling sound by using the spectral frequency display tool.
Audition also automatically removes unwanted defects from your audio file.
It has podcast-specific plug-ins for voice processing.
By using Dereverb you can reduce or even remove reverb from an existing audio file.
You can use the batch processing capabilities that add the same group of effects to separate files or episodes.
Audacity is a free and open-source multi-track audio editing software that supports almost all operating systems. The interface is simple and easy to use with features such as cut, copy trim, and duplicate.
Key editing features:
It has a speed changer that allows the playback to go faster or slower.
The audio silence tool is easy to apply by selecting an area you wish to mute.
Sync Lock your tracks to ensure if the length changes of any one track, the same is reflected in all, unless you have deselected that area.
The Truncate Silence feature automatically detects silenced areas and reduces the length of such passages.
Pro Tools by Avid is an industry-standard DAW and A-grade music production software. It allows you to record, edit, mix, master, and manipulate the sound in a non-destructive manner, which means the quality of your audio remains the same even after editing.
From just being a drum machine, it has now become a complete digital studio. The interface has two sections: edit and mix window. It allows multitrack recording, auto canceling, layering, and many other features.
Key features:
You can layer different tracks and edit each one separately.
The pencil tool lets you draw your audio waveform or modify your MIDI notes manually.
The smart tool is a combination of trim, select, and grabber tools for better music automation.
There's a dedicated clip fx window that you can use to apply effects in real-time on one or more clips.
You can also fine-tune your tracks by using the mixing controls.
Pro Tools is extremely powerful software, and much like Adobe Audition, it's not possible to talk about all its features in this section. It is well suited for professional editors, and novice podcasters may find it slightly complicated.
Price: It has a 30-day free trial, and the pricing starts at $9.99 per feature per month.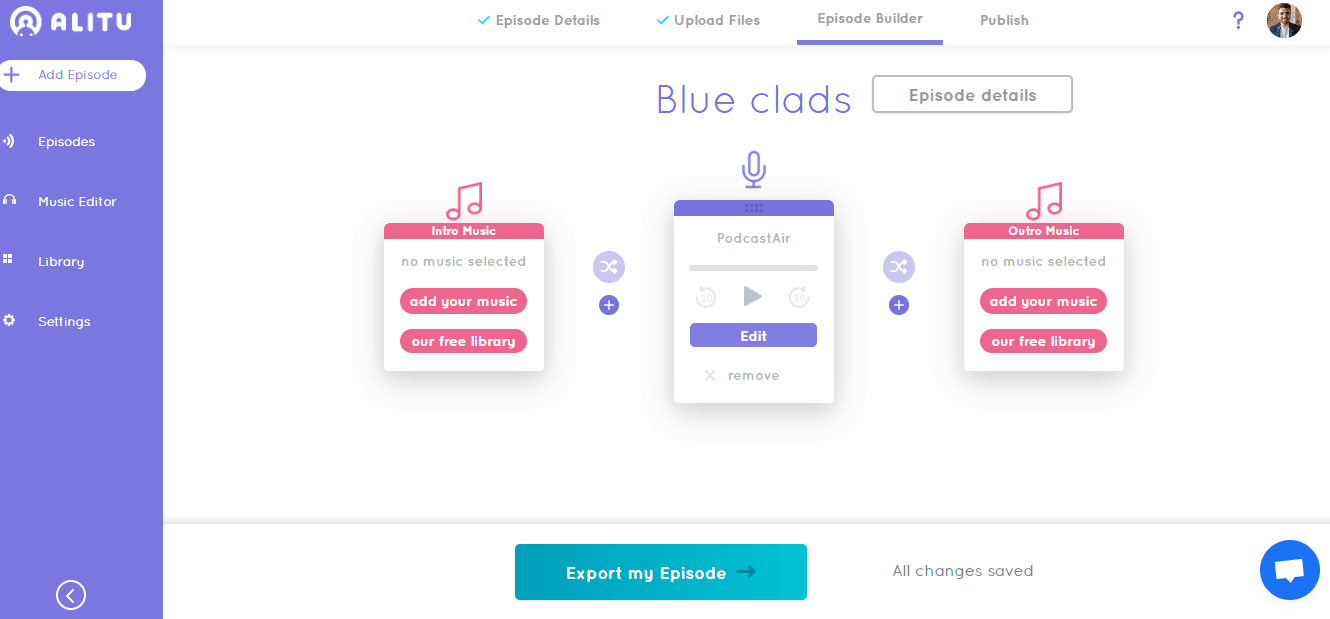 Alitu is a podcast creation and hosting platform with an intuitive interface and automatic audio processing. It does the heavy lifting for you, making the editing and post-production process seamless.
Record a clip or upload a prerecorded file and watch it refine your audio automatically. It has automated audio leveling, podcast host integrations, and a free theme music library. Solo podcasters without technical editing knowledge will benefit from its intuitive settings.
Key Features:
Alitu automatically cleans up the entire audio and polishes it from beginning to end.
It also allows you to record audio files, add intros/outros, music, and fades to your audio.
The editing features are limited to cut, crop, trim and delete.
The files you upload will become available in your library.
Price: There's a 7-day free trial, and the monthly plan starts at $32. If you choose the yearly plan, you can get two months of free subscription.

Buzzsprout is a podcast hosting tool that allows you to create, host, and promote your podcast. It also offers a free website that you can use to showcase all your podcasts. You can also redirect your listeners to other directories such as Spotify and Apple podcasts. It also offers a dedicated WordPress plug-in that you can use to embed your podcast episode.
Key features:
The Magic Mastering feature accentuates audio files automatically, and the software also optimizes technical aspects of your audio to match the industry standards.
Buzzsprout sends your podcast recording to Temi, an automated transcription service, and you get your script in your mail.
It uses the Visual Soundbites feature to let you make a trailer for your podcast.
You can use chapter markers to divide chapters into segments or specific topics.
Price: There is a 90-day free trial with two hours of monthly uploading time, and the pricing plan starts at $12/per user per month.

Reaper is a powerful audio editor, however, it isn't particularly designed with podcasters in mind. It lets you import audio files of any format, use MIDI, compose, arrange and edit any audio file, as well as record multiple takes, layers, and loop audio.
The interface is unattractive and slightly intimidating for the new users as the menu has no icons. Fortunately, you can personalize the interface by using theming engines with a custom toolbar, and it also lets you directly Livestream your videos with OBS.
Unfortunately, the Reaper doesn't distinguish between tracks, which means that the midi, audio, video, bus tracks are on the same track.
Key features:
You can arm and disarm tracks without stopping playback.
To get rid of clicks, you can just drag the top corner of the clip to fade in or out.
Reaper supports many plugging standards, including ARA and Melodyne.
The Reamote feature lets you use the processor of another computer for CPU-intensive tasks.
Price: Reaper has a 60-day trial, after which it costs $60 for a personal license.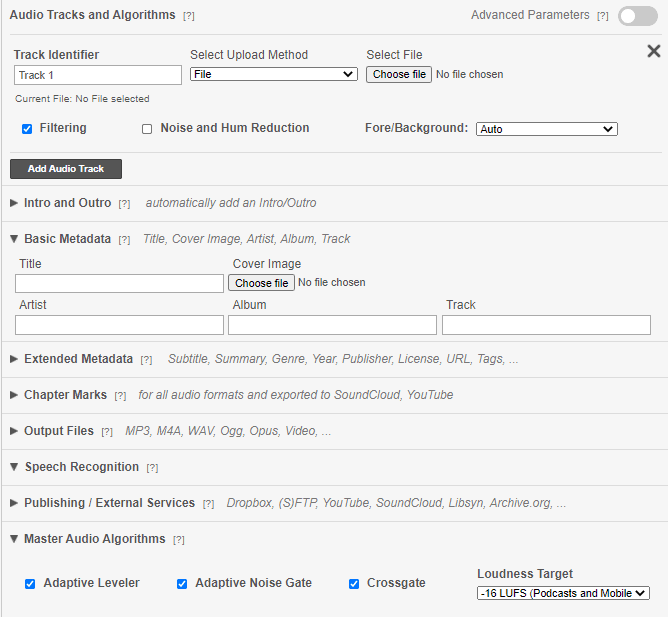 Auphonic is automated editing software that is well suited for beginners. Though Auphonic saves editing time, it also restricts your control over the audio file. Much like Alitu, you just need to upload your file, and the software will do most of the polishing.
Key features:
It uses algorithms to edit audio files and provides an automated post-production experience.
If you have multiple people in your podcast, the software will automatically level out the audio of all the participants.
Auphonic identifies music and voice separately and then processes each of them to optimize the final audio.
You can also use the in-built transcription feature to generate transcription files for your podcast.
Price: There is a free plan with two hours of monthly processed audio, and the pricing plan starts at $11/month for 9 hours of monthly processed audio.
Other Useful Podcast Editing Tools For Production
Once you have edited your podcast audio/video, you will also need to transcribe it. If you have a lot of time at your hand, you can manually transcribe your audio or take help from the transcription software mentioned below.
Scribie is a transcription service company that produces both manual and automated high-quality transcripts for a reasonable price. They perform a 4-step transcription process to provide maximum accuracy. The manual transcripts are naturally more accurate than AI-powered scripts, and if you aren't satisfied with their service, they offer a free review for the same.
You just have to upload your file, make payment, and you'll get your transcribed file in 36 hours. There's an integrated editor that you can use to check your transcript against the audio file. It's possible to review and edit any inaudible sounds that are time-stamped and marked with a blank.
Price: It costs $0.10/ minute for automated transcriptions and $0.80/ minute for manual transcription.
Descript is an all-in-one audio editing and automated transcription software that allows in-built collaboration for podcasters with a team. It has a simple and sleek layout that allows professional and novice podcasters to edit their transcripts and audio.
Key Features:
It transcribes 30-minute audio files in less than 15 minutes.
You can expect 90-95% accuracy in the transcription of coherent audio files.
The editor is easy yet powerful with annotating features and timestamps.
Descript lets you export your files directly to professional editing software like Reaper, Final Cut Pro, Adobe Audition, and Premiere Pro.
Price: There's a free plan for up to 3 hours of speech, and the pricing plan starts at $10/ month for full audio/video and transcription editing.
What other podcast software, equipment, and products do I need?
Other than podcast recording and editing software, you also need the right gear, such as a computer and microphone, but not necessarily everything that's listed below.
Audio interface: It is the bridge between your mic and the computer as it converts the analog signal from your mic into a digital signal for the computer to use.
Mixer: If you have a significant understanding of EQ, reverbs, pass filters, etc., then a mix-minus mixer can be a decent addition to your podcasts. Recording a live show requires you to play your jingle in the beginning, fade it slowly, etc. You cannot edit these in a live show, and an audio mixer is a way to go.
Headphones: Headphones help you hear yourself even in live sessions, minimizing the chances of missed audio problems that you realize later while editing. Closed-back headphones are ideal for recording as they do not pick up the background sound.
Podcast hosting software: Software like Buzzsprout also provides a website to host your podcast and provide your listeners with additional resources to improve your credibility.
These are a few of the things you may require while setting up a podcast.
Final Thoughts
If you are a beginner in podcasting and not big on the tech side of podcasts, editing software like Audacity, Alitu, and Buzzsprout can be handy as they have basic features and an automated editing process that polishes your audio without any hassle.
On the other hand, if you are a professional podcaster who requires more control over your audio, tools like Reaper, Audition, and Pro Tools are your best choices. They provide robust editing tools such as layers, loop audio, deverb, automatic leveling, and much more.
However, Hindenburg Journalist fits in both categories. It's good enough for beginners and also has advanced features like a multitrack editor, automatic leveling function, voice profiler, and more. Surprisingly it's not as intimidating as other software with the same features.
Whichever podcast editing software you choose, keep in mind your skillset and podcast editing needs for the best results.