Beginner podcasters will relish the user-friendly interface with its decent stats, analytics, monetization, and a whole other line of other podcasting features.

Start Using BuzzSprout
Our Rating: 4.5/5
Pros
Beginner-friendly pricing structure
Pay as per the number of audios uploaded
Free podcasting plan available
Allows over 20K monthly downloads
Smooth Onboarding
Excellent customer support
Cons
Free plan audios expire after 90 days
Are you considering starting podcasting and want to explore the features of Buzzsprout?
Then you've come to the right place.
In this article, I'll introduce you to the interface and user experience of the Buzzsprout podcast hosting. You'll see its important features, their functionality, and how to set up your brand new show on the platform. At the end, I compare Buzzsprout to a few other podcasting hosts as well.
Note: Just to let you know, this article contains affiliate links. This means Elite Content Marketer gets a commission if you sign up through us, at no extra cost to you. I only recommend products that I personally find valuable and enjoy. I appreciate your support!
Let me quickly sum up if the platform would be a fit for you first:
As a bonus, you'll get a free $20 Amazon gift card when you sign up for a paid Buzzsprout plan through this link.
Table of Contents
Frequently Asked Questions About Buzzsprout
Before we review the podcast hosting service, let me answer a few of the most commonly asked questions about Buzzsprout.
A podcast hosting platform that lets you publish your podcasts online and provides an RSS feed to distribute your show to listening platforms such as iTunes.
Yes, it has a powerful feature set housed in an easy-to-use interface at an affordable price. Both experienced and beginner podcasters will like it.
How much does Buzzsprout cost?
The podcast hosting only offers monthly plans starting at $12 per month for 3 hours of audio upload. Higher tier plans are even more economical costing $18 per month for 6 hours and $24 per month for 12 hours.
Every Buzzsprout podcast's website can function as a mobile app on your listener's device. It simply requires using the 'Add to Home screen' feature available on clicking the share button on both Android and iOS devices.
Which is better: Podbean or Buzzsprout?
Buzzsprout is better suited for beginner podcasters who want to run one show. It has a top-notch design, a nifty line of features, and unmatchable value for its price. Podbean might work better for businesses and intermediate podcasters who want more storage and do video podcasts.
Buzzsprout Pricing
I like the transparent and beginner-friendly pricing structure of Buzzsprout. They directly charge you by the number of hours of audio you upload per month. There's no contract. You pay month-to-month. They have three tiers that come without any differences in their feature sets. Let's look at them:
$12 per month – 3 hours of audio per month
$18 per month – 6 hours of audio per month
$24 per month – 12 hours of audio per month
If you use this link to sign up, Buzzsprout will give you a $20 Amazon gift card on buying one of the paid plans mentioned above.
If you want to give the platform a try before committing, Buzzsprout also offers generous free podcasting. You get two hours of free audio upload per month with a 90-day expiry period for the hosted files. But your website might contain ads.
Note that episode transcriptions are available at $.25 per minute. You can also buy its Magic Mastering service for noise reduction and polishing of your audio starting $6 per month.
All the above plans come with a 250 GB bandwidth (which covers about 20k to 40k downloads per month depending on the length of your episodes). And they all have the same core set of features.
The only differentiation is by the amount of audio you can upload every month. Indeed buying more upload quota and accessing the Buzzsprout "Magic Mastering" premium feature gets cheaper in its higher-priced plans.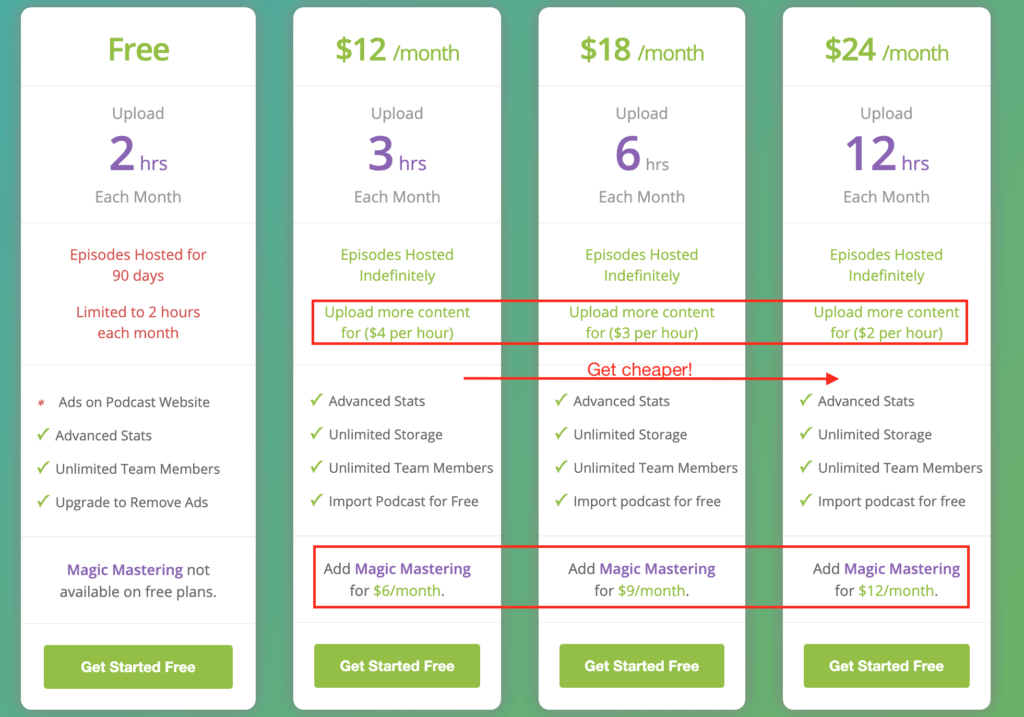 Other expensive podcast hosting services such as Captivate.fm charge you by the number of downloads per month and you get the liberty to run unlimited shows.
But Buzzsprout has a straightforward pricing proposition for podcasters which is useful if you run, say, a 30-minute weekly show. While you can manage a second podcast under one Buzzsprout account, each requires its own plan.
Getting Started With Buzzsprout
Buzzsprout has a smooth onboarding and a welcoming experience for new podcasters. Let me show you around it.
Once you confirm your email address after signing up, you'll be greeted with an email from Alban, the head of marketing at the company. You're asked a simple question, "Which of these would you like help with?" and need to respond with a 'link click.' Then personalized resources and help will be sent to you!
When you log in to Buzzsprout, you'll need to enter some information about your spanking hot podcast (which is required by iTunes). You'll also need to upload a Podcast Artwork, choose an Apple Podcast Category, and the like.
There's an optional "More Podcast Settings" option to plug your website and modify the order of your episodes, among other things.
Remember that the "podcast name" and "artist" fields should be descriptive as Apple Podcasts relies on them for its search.
Once completed, the "Episodes" dashboard serves as the home for your podcast. From here, you can either "Upload a new episode", or if you're moving from another podcast host you can copy your podcast onto Buzzsprout from iTunes or import it through an RSS feed URL.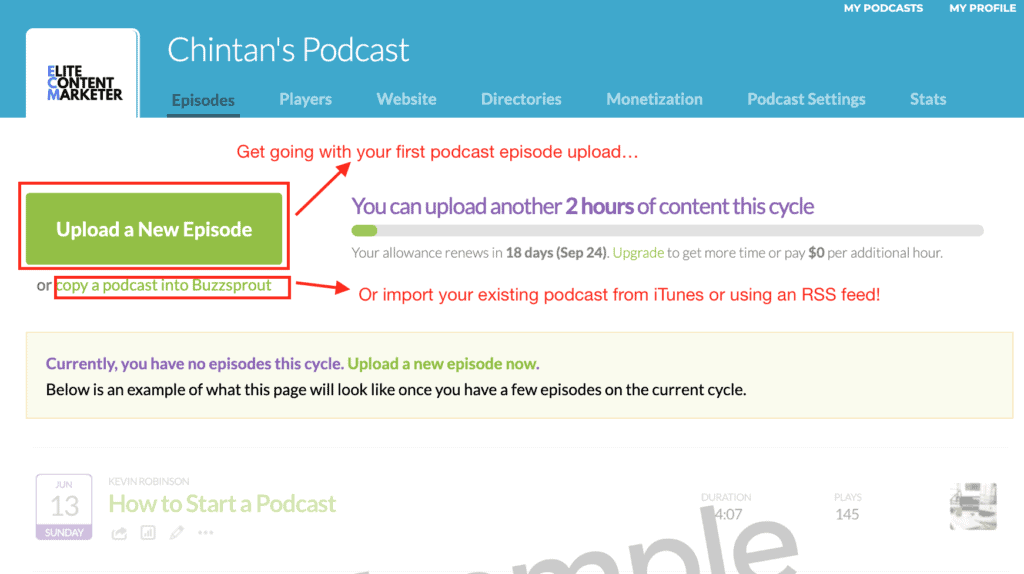 When you upload a new episode, you'll need to fill in a few details such as the title, description, custom artwork (if any), the Season # and Episode #, and the like. There's also an option to choose an upload as a "bonus episode" or a "trailer" for an upcoming one. An additional (but optional) "More Episode Settings" tab is available to plug more information about the episode.
Once you've uploaded the audio file for an episode and entered the above details, you can publish the episode immediately, schedule it for later, or let it remain as a draft.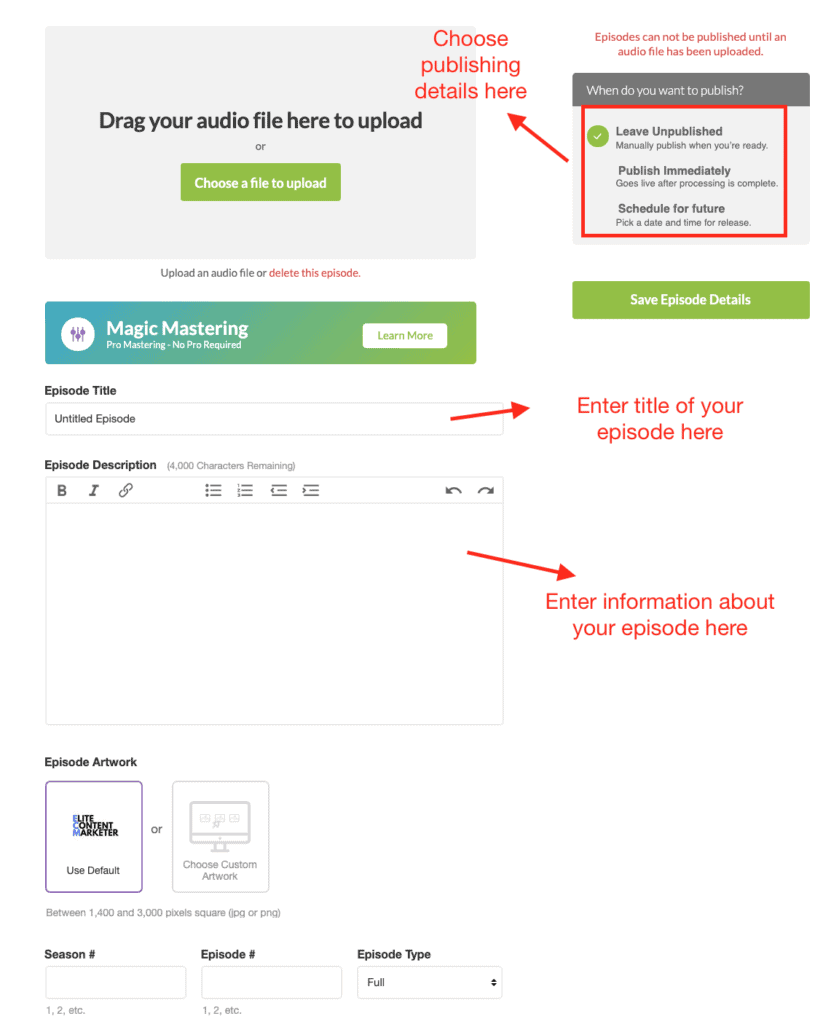 You can even create visual soundbites (called as Audiogram) for your uploaded episodes. They are handy for sharing your podcast on social media.
Customer Support And Other Help Material
Priscilla from the Buzzsprout support team reached out to me with an empathetic email a few days after I signed up and didn't start podcasting. She mentioned how it's difficult to get started with the first episode and offered help through a valuable article from their blog. The nudge with the prompt that she's available for any questions I might have was reassuring.

You can expect responsive and helpful customer support from real humans at Buzzsprout for most such queries. Although self-reported, they had 95% "great" ratings and answered over 7.5k emails within 15 minutes over the last 30 days (at the time of writing this article).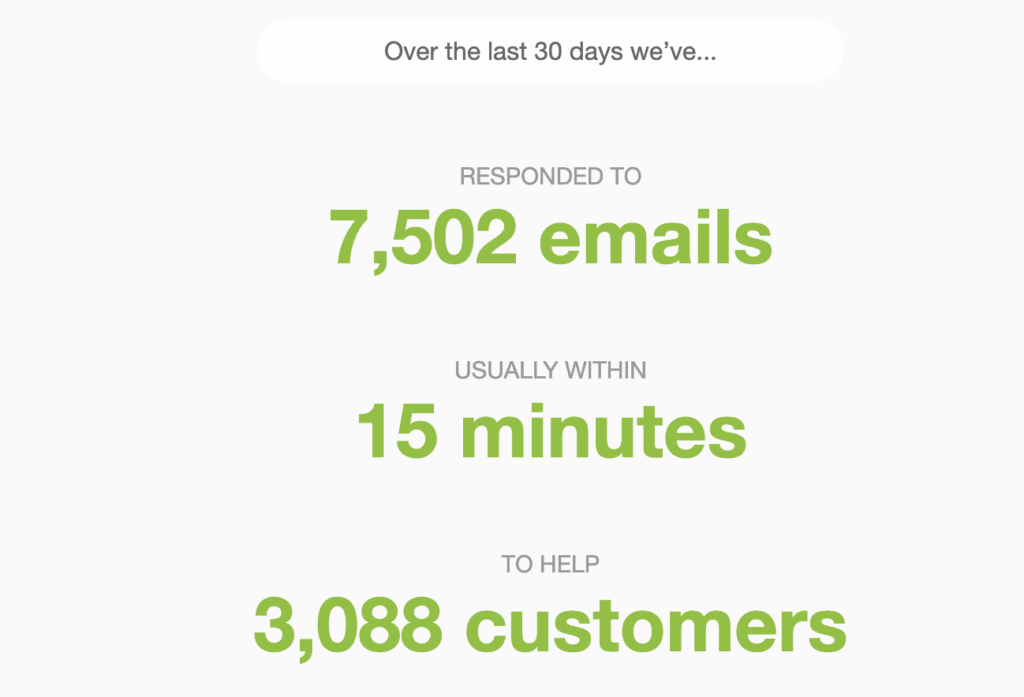 Buzzsprout also has an exhaustive help center with a rundown of most features on its platform. If you're a beginner and need podcasting advice, their blog, YouTube channel (series on How to Start a Podcast), and their Facebook community can prove helpful. You can also access some cool partner discounts from their resources page.
Buzzsprout Features
Now let's explore the major functionalities available to you on the various Buzzsprout tabs.
Players, Website, and Directories
Want to embed your podcast episodes on your own site and customize the user experience for your listeners?
No problem.
Buzzsprout offers you two kinds of players to add an audio player for your site:
Separate player for each episode
Multiple episodes in one player.
Embed codes for both are available in the Players tab.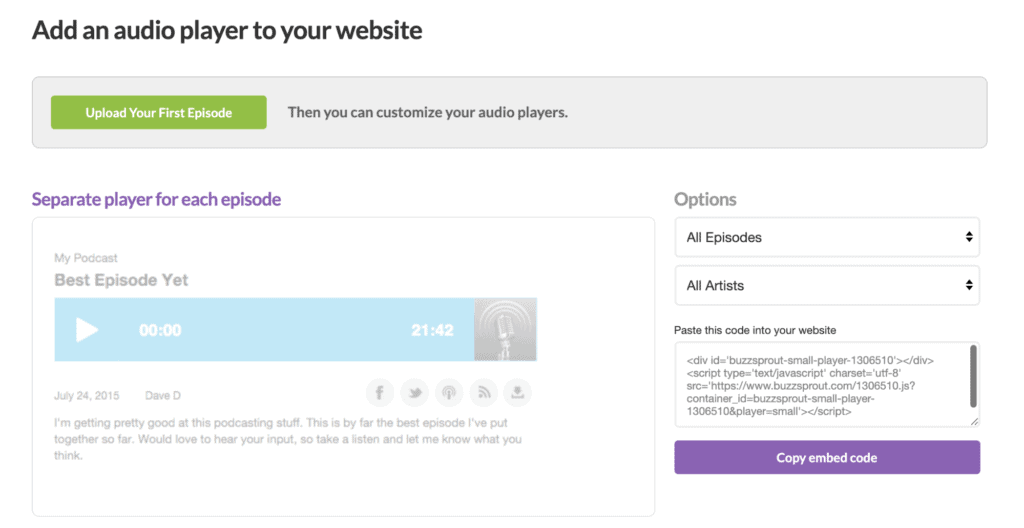 WordPress webmasters can use the free Buzzsprout Podcasting plugin to fetch all the episodes directly and conveniently on their site. From the Website tab, you can (minimally) customize the appearance of your podcast site and its URL.
If you're into podcasting for the long haul, I recommend you buy a custom domain from Domain.com – an affordable domain registrar.
Note: If you need web hosting also, then consider buying a Bluehost plan that comes with a free domain for the first year.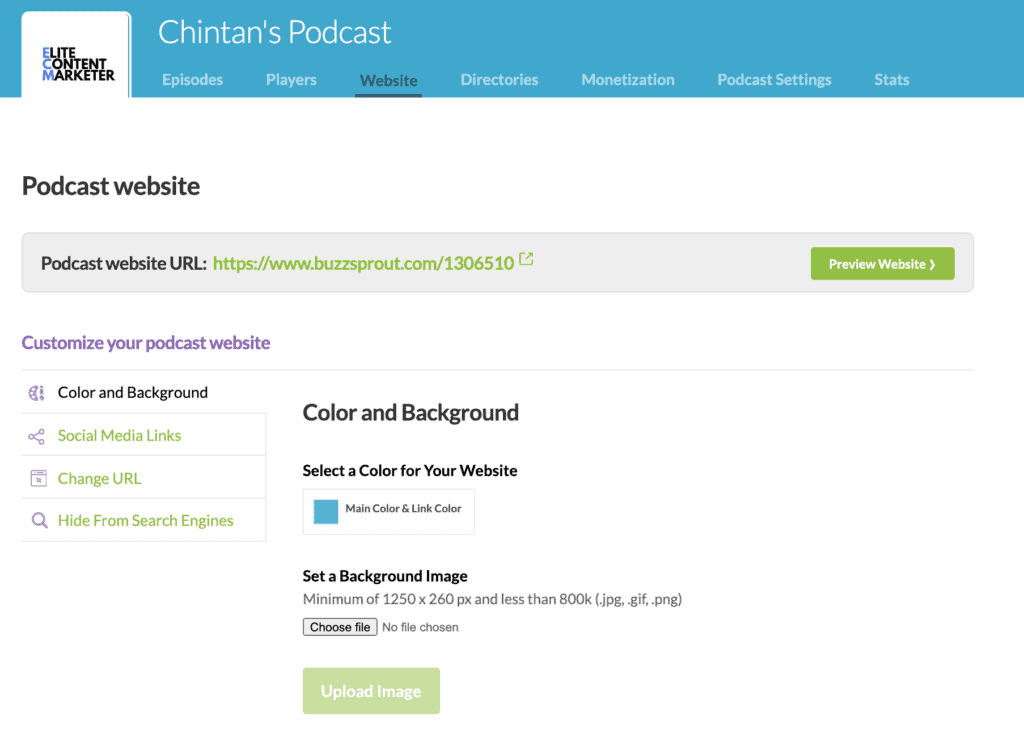 From the directories tab, you can submit your podcast to popular directories that'll enable people to find your episodes in their favorite apps. And start tuning in to your episodes. Your RSS Feed is also available if you want to distribute your podcast manually.
Monetization and Stats
If you have a sponsor for your show, the "Sponsors" tab lets you add them to keep track conveniently. Once added, they could quickly be inserted in your episode descriptions and your show's website. Buzzsprout also has a partnership with Podcorn, a sponsorship marketplace, to help you find relevant sponsors for your show.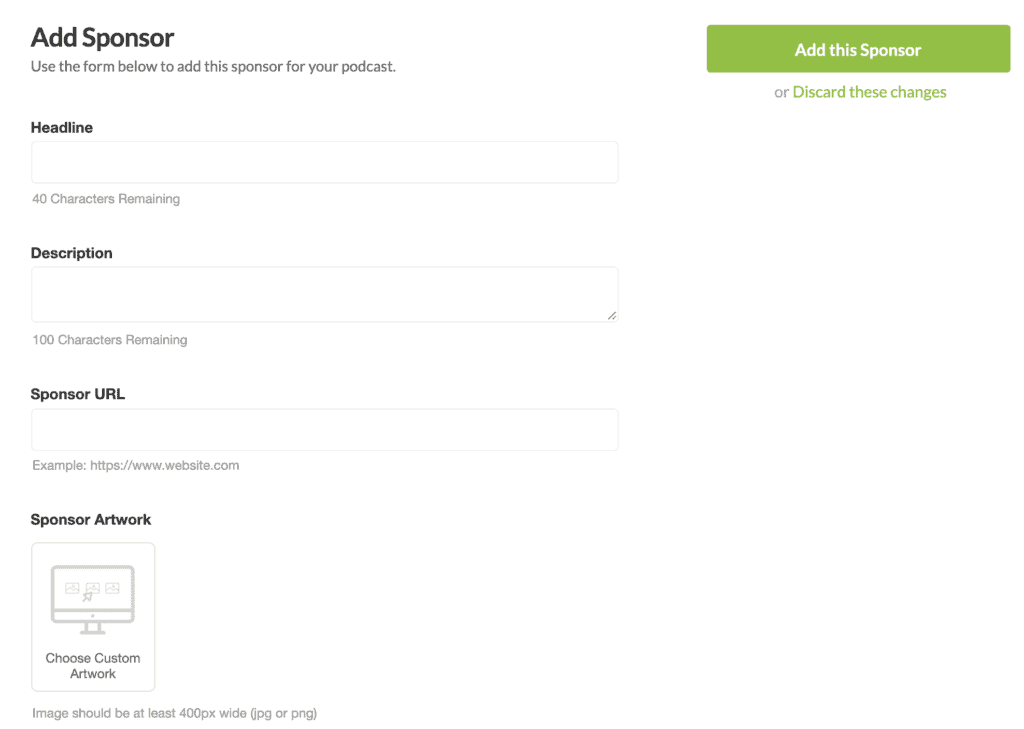 The "Affiliate Marketplace" lets you keep track of affiliates in your show. There are a few brands in their marketplace they have partnered with, which you can consider at the beginning of your affiliate journey.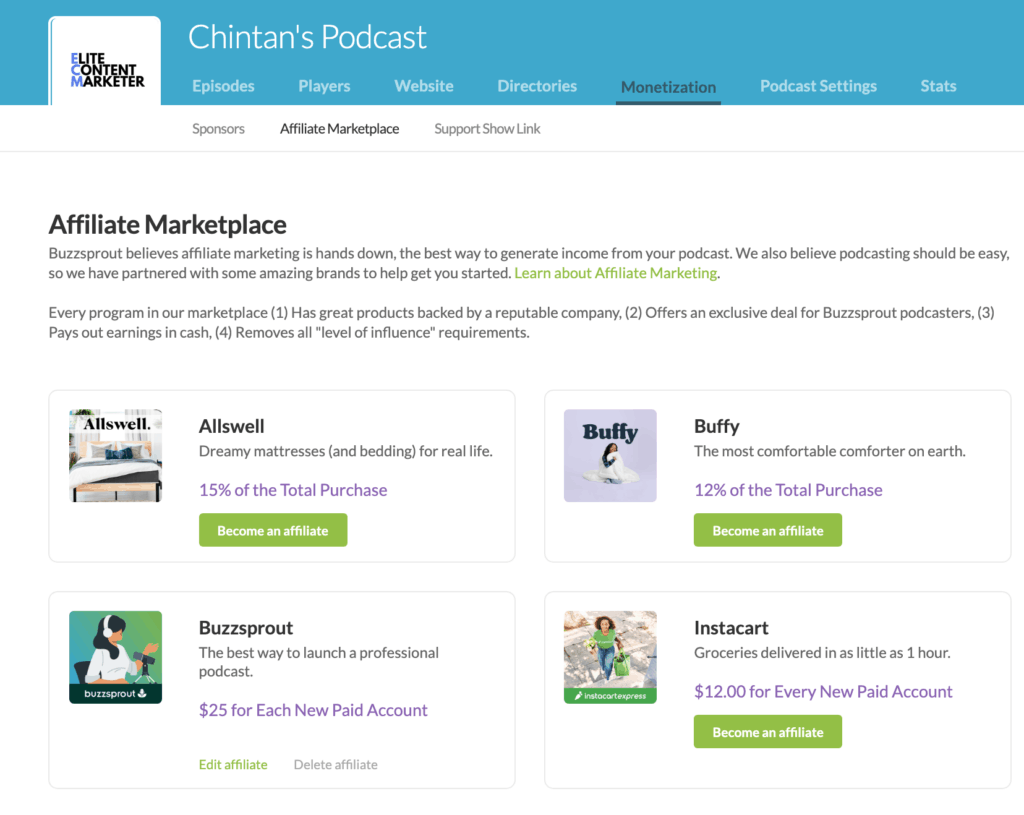 Finally the "Support Show Link", lets you add a link for accepting donations from your listeners. You can add links to your Paypal, Patreon, and other websites for collecting money. The Support Show Link shows on your public website, episode description, and your podcast player.
The "Stats" show the performance of your podcast. You get an overall overview of your downloads and the numbers can be broken down by apps, devices, and location.

It's also possible to head over to an individual provider website to view their stats (as visible below).
Podcast Settings
From the settings tab, it's possible to access the "Podcast Info" that you filled when you got started with Buzzsprout. Additionally from here, you can add unlimited team members, take a local backup, and choose to upgrade/downgrade your podcast hosting plan.
There's a "Cancel/Redirect Podcast" tab if you want to:
cancel and delete your podcast,
Or redirect it to a new host,
Or move it to the Archive plan (at $5 per month) to keep the existing episodes online without adding new content.
API Documentation
From the "My Profile" section, besides adding your basic personal information, you can also add your API credentials. They are useful for developers who want to create a third-party integration with Buzzsprout.
Magic Mastering
A paid feature to reduce noise and improve your production quality, Buzzsprout reckons Magic Mastering is like an "Instagram filter for your audio." Specifically, it levels the audio and ensures the overall loudness matches industry best practices so that your episode sounds crisper, cleaner, and well balanced.
Its pricing starts at $6 per month for the $12 per month hosting plan that comes with three hours of content upload and increases with the amount of storage you need.
Podbean vs. Buzzsprout
Another popular podcast host, Podbean, has an array of features similar to Buzzsprout. But here's where Podbean differs:
Podbean offers unlimited storage space (and 100 GB bandwidth) with all of its paid plans.
You get customizable themes to create your own podcast website and the ability to live stream.
Starting from its higher-tier "Unlimited Plus" plan, you can create video podcasts.
There's a Patron program enabling you to accept donations from your listeners and earn recurring revenue — that too on Podbean itself. It's available starting from the "Unlimited Plus" plan only, though.
Its "Business" plan lets you host private podcasts that come with SSO authentication.
If these unique features sound interesting, then try Podbean.
Simplecast vs. Buzzsprout
Simplecast has a slew of advanced analytics and podcasting features that make it a great choice for podcasters. It offers a top sharing tool, Recast®, amongst other distribution features.
Its basic plan, priced at $15 per month, offers unlimited storage, the ability to create multiple shows under one account, and 2 team member seats. But you only get access to basic analytics under this plan.
To leverage the true potential of Simplecast, you'll need to buy its higher-tier plans starting at $35 per month. I wouldn't recommend shelling out that much money to a beginner.
Also, Simplecast was recently acquired by SiriusXM, an ad-supported audio entertainment streaming service. So expect changes in its user interface, features, and pricing. But you can consider its free 14-day trial (without putting your credit card details).
Libsyn vs. Buzzsprout
Libsyn has been around since the early 2000s and has plans starting at a meager $5 per month. But this plan merely offers monthly storage of 50 MB (consider as 50 minutes). And you need to pay an extra $2 for getting basic stats related to your show.
For storage at par with the Buzzsprout $12 per month plan, you'll need to buy the Classic 250 Libsyn plan. Which means you'll need you to shell out $15 per month.
The look and feel of the Libsyn website are dull and its player looks outdated. Its dashboard isn't user-friendly for completing your tasks either and you might find it difficult to find your way through it.
Though the company has been around for quite some time, the Libsyn hosting user experience isn't at par with Buzzsprout. It's also more expensive. So give it a pass. Here's the link to their homepage if you want to visit them, though.
Final Verdict And Special Offer For You!
While you won't get the bells and whistles which might come with other podcast hosts, Buzzsprout offers a commendable array of podcasting features at an affordable monthly price. It's a value for money podcast hosting service, especially if you plan to run only a single show.
To conclude, we have a quick summary of FreshBooks for you below.
Beginner podcasters will relish the user-friendly Buzzsprout interface with its decent stats, analytics, monetization, and a whole other line of other podcasting features. Its support is top-notch, and monthly pricing is transparent and affordable.
For Elite Content Marketer readers, Buzzsprout is offering a bonus $20 Amazon gift card when you sign up for a paid plan through this link.

Sign Up For BuzzSprout and get $20 Amazon Gift Card

LET'S MEET IN YOUR INBOX 😃
ADDITIONAL READING