Want to create an internal podcast that's restricted to your community members or employees? Then you'll need a hosting service that supports private podcasts.
Creating a private feed lets you securely deliver corporate training, internal company messages, or share exclusive content with your community. Here are eight private podcast hosting companies where you can launch a podcast to a restricted audience.
Note: Just to let you know, this article contains affiliate links. This means Elite Content Marketer gets a commission if you sign up through us, at no extra cost to you. I only recommend products that I personally find valuable and enjoy. I appreciate your support!
Table of Contents
Transistor allows you to generate a private and password-protected RSS feed for your show even in their Starter plan at $19 per month. It simply requires you to check a box in the 'Advanced Settings' to stop making your show publicly discoverable on the web or on podcasting apps.
In the video below, Justin from Transistor walks us through the nitty gritties of creating a private podcast on the platform:
Recently the company launched a feature that allows you to generate multiple private podcast feeds for individual subscribers. It's called Enhanced private podcast, but you'll have to upgrade to the Professional, Business, or Enterprise plan to use it.
Whether you're an author who wants to create an audiobook version of your book (for people who purchased physical copies), or a corporate that wants to share weekly messages from the CEO with your employees, enhanced private podcasts are perfect. To use the feature, you simply need to click on the 'Add a Show' and the 'Create Private Podcast' buttons.
The second company on our list offers security via your organization's Single Sign On (SSO) and their product is geared towards enterprises. So your employees can use their existing organization login for accessing the protected audio and video podcasts.
To set up a private podcast, you'll need to create a new channel for it. You can even make a public channel private by clicking on the 'lock' icon.

And in the pop up box that appears, you need to confirm the move.

Colin Gray, the founder of The Podcast Host Ltd, has created a walkthrough video of making a private podcast with Podbean that I recommend checking out for more help.
Podbean also lets you group users so you can segment your podcasts by their levels, department, and more. It lets you conveniently grant them separate access to podcast channels specific to their roles. It ensures that department specific information does not clutter the feeds of your other employees.
The private podcasting feature is only available starting with their Business plan priced at $129 per month (or $99 per month if you pay annually). It's possible to add 100 private members and unlimited private channels in this plan — indeed two public channels are also included.
The company recently announced its suite of private podcasting features for corporate training or to share premium content with a restricted group of people. WordPress website owners will relish the integration of the software with the Seriously Simple Podcasting Plugin that allows making changes directly from the WordPress dashboard.
To create a private podcast, you need to first hide your episodes from your podcast's page. It's accessible through "Settings" in the Castos dashboard.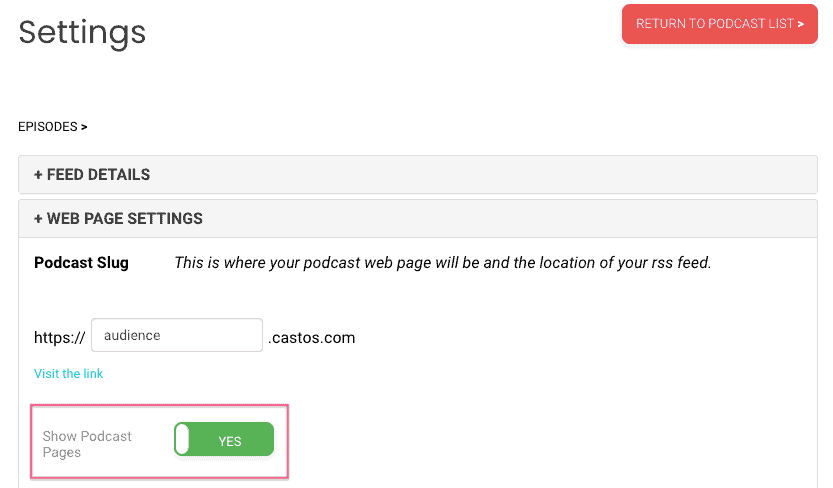 Now your episodes will be hidden from your podcast's page, but you'll also need to password protect the RSS feed for your show, else it's still live. You can do that from the "Distribution" area in the "Podcast Settings" page.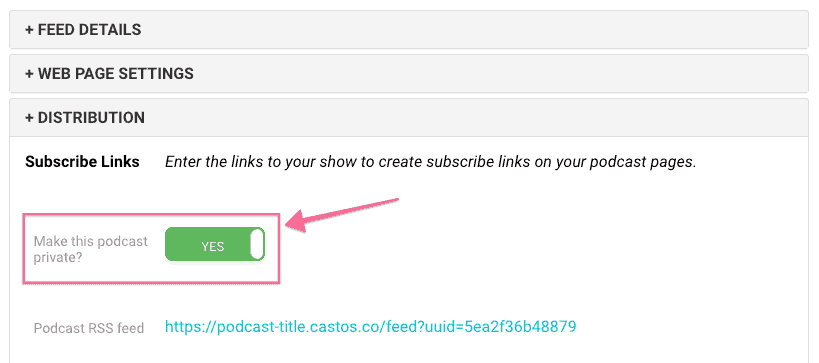 Castos offers private podcasts even in its Starter plan starting $19 per month (or $190 per year). You get everything unlimited on all the plans — podcasts, uploads, and downloads. Additional services you can avail include podcast editing and episode transcriptions. So you can essentially run your show on autopilot.
Spreaker's private episode sharing and private podcast sharing features are wrapped in what it calls 'limited access podcasts.' They are available in its mid-tier 'Broadcaster' plan priced at $20 per month (or $18 per month if you opt for annual billing). This plan comes with 500-hours of audio storage, unlimited listens, and upto 3 hours of live podcasts.
The limitation of this 'Episode Visibility' feature is that listeners can tune into podcasts and episodes only at Spreaker.com or through its embeddable player.
But the company recently announced a limited RSS Feed feature for Spreaker Enterprise clients (priced at $120 per month). This means third party apps such as Apple Podcasts and Overcast can now house special content. To enable the feature, podcasters need to choose 'Limited Access' for the content they want to keep private.
The company in its announcement for the 'private RSS feed' shared that you can enable this feature by getting in touch with their customer care team — once you upgrade to their affordable mid-tier Broadcaster plan.
The platform for creators to launch memberships and get paid support from passionate fans, Patreon, also lets you enable a private RSS feed for each of your patrons. You simply need to head over to the 'Page Editor' from the top right hand corner or the settings icon in the navigation menu on the left.

Here, check the 'Enable RSS audio feed' box by scrolling to the bottom of the page. You can also share the private RSS feeds with your current patrons through email by clicking the 'Notify your patrons' button.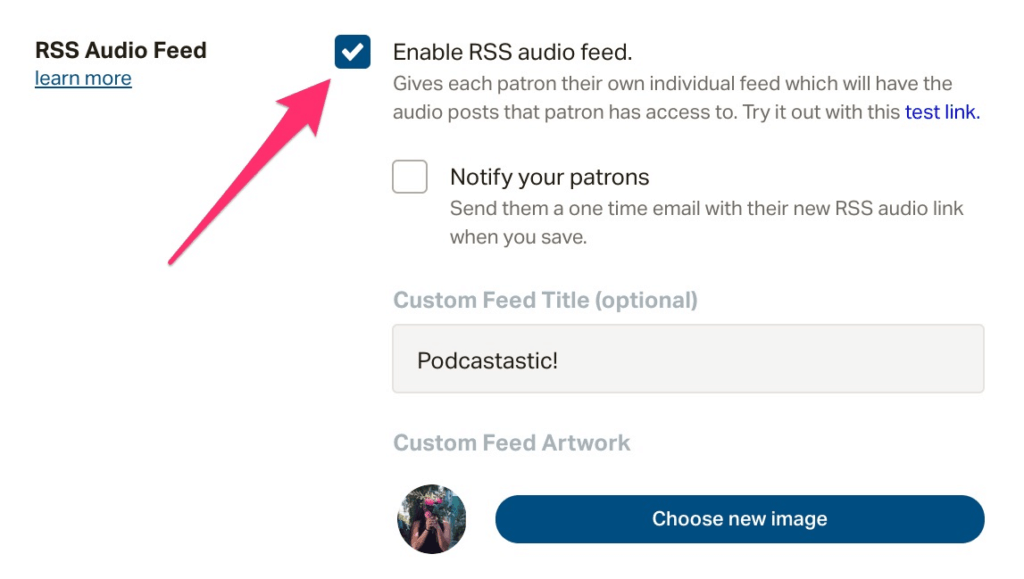 Once the RSS feed is enabled, you need to enter a title for your podcast and upload custom artwork for it. Your paying patrons will be able to listen to your exclusive audio posts on their favorite podcasting apps. You also get to control the episodes available on each patrons' feed based on their tiers.
Patreon takes a cut of all the income you generate on its platform — starting at 5% on its Lite plan and goes upto 12% on its Premium plan. The payment processing fee is separately calculated.
Slate, a veteran digital media company, launched its technology service, Supporting Cast, to help podcasters earn subscription revenue through premium content. Organizations use it for internal company podcast delivery as well. It's a completely white-label service, so you get to customize the experience to match your brand — you just pay a cut of your revenue.
The service was born out of Slate's personal frustrations with distributing exclusive content. It wanted the listeners of Slate Plus to continue using existing podcasting apps for listening to their ad-free, bonus content. Supporting Cast makes it possible to subscribe to premium content in merely two taps.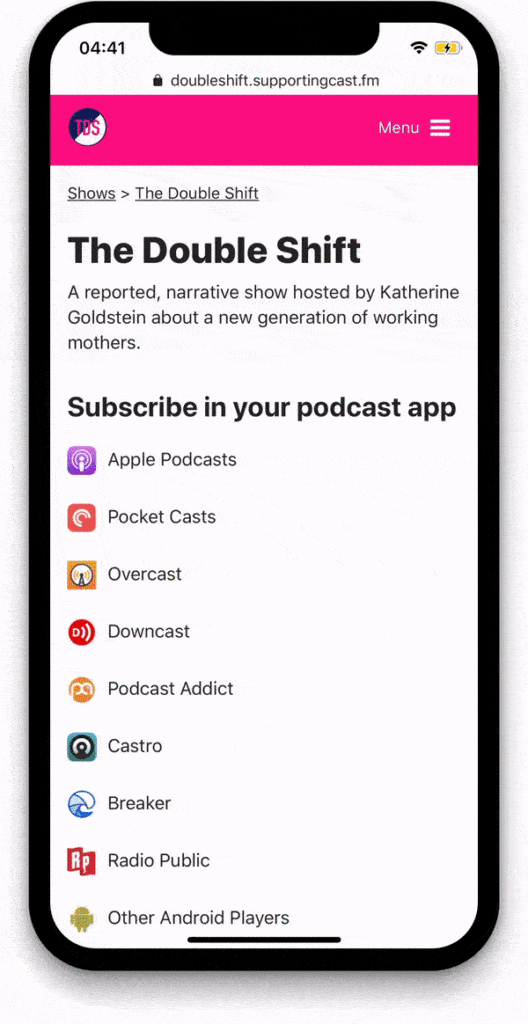 Your audience's listening experience and onboarding is going to be a breeze. There's even piracy protection for your premium feeds. So depending on the sharing threshold you set, a user can get flagged (or even disabled) for downloading an episode too many times.
You can even stick with your current podcast hosting itself for free listeners and serve exclusive content through Supporting Cast. At the moment the platform isn't self-serve, so you'll need to fill a form for a demo and work with the team to set up an account.
The enterprise media platform securely delivers corporate audio and video content. It is built on the pretext that these formats are more effective than email or text.
Their user interface is slick with enterprise grade security — episodes downloaded on a user's device are signed such that they only work on theirs. You can also host audio streams so your employees can tune in live during company events.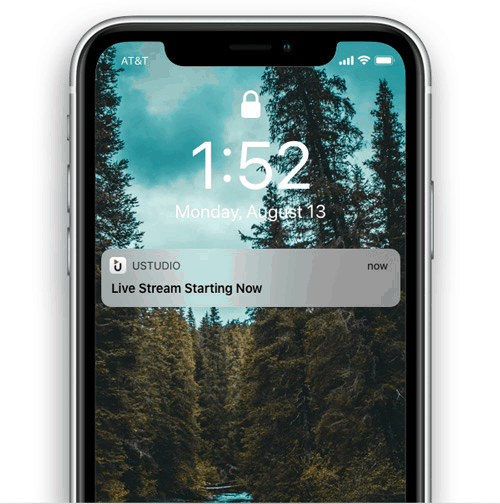 Your audience needs to download the uStudio Enterprise Podcast apps on their mobile phones or install the desktop app for listening to your show. That's probably the only limitation of this robust enterprise private podcasting solution. Want to try uStudio? You'll need to request a personalized demo by filling a form here.
JP Gooderham, a long-time podcaster, built the software out of his own frustration with 'workplace communications requiring to be in one spot at a specific time.' What's awesome is they are a dedicated private podcasting platform for internal audiences of teams at organizations and enterprises.
You can either create password-protected channels or SSO to secure your podcasts. Podcasters can experiment with their free-tier plan by inviting upto 50 listeners via email to their feeds. Streaming is available only on mobile apps (Android and iOS) though, so your audience will need to install a new app, or they log on to the Storyboard site.
As they are a fairly new player in the internal communications market, expect a tad instability in its functioning. The customer service is prompt to fix any issues that arise, though.
Frequently Asked Questions About Private Podcasts
Let me answer a few of the most common questions around private podcasts before we conclude the article.
Instead of a publicly accessible feed, private podcasts are restricted to sharing with a selected group of audience. They are great to share company wide messages and exclusive premium content for your paying audience members.
Can you make a podcast private?
Yes, some services allow you to generate password-protected podcasting channels or use your organization's Single Sign On (SSO) to access their RSS feed. The best private podcast hosting platforms with such security and privacy features are Transistor.fm, Podbean, and Castos.
Yes, you can offer an ad-free experience along with premium content to your listeners in exchange for a monthly membership fee. Such subscription revenue is a viable strategy used by numerous creators to monetize their podcasts. You just need a private podcasting solution that makes it possible to host and conveniently share your exclusive content.
Final Thoughts
Whether you want to launch a corporate podcast or offer premium podcast episodes to an exclusive group of people, private podcasting is perfect.
A limitation is private podcasts are not restricted from being downloaded in podcasting players. You lose control over the access of your audio files once they are on the phone of your intended recipients (except for uStudio which restricts usage on other devices). Even encrypted audio is not free from getting captured through screen recording apps.
So it's mostly impossible to have completely private audio on the internet. Always use your discretion when sharing sensitive information — even with a private podcast.
Which of the above podcasting services will you use to create an internal podcast or share exclusive content with your paid subscribers? Let me know in the comments below.
LET'S MEET IN YOUR INBOX 😃
ADDITIONAL READING