With a user-friendly interface, advanced analytics, and affordable price, Transistor.fm will guide you through the confusing podcasting landscape. Unlike Alitu and Buzzsprout, it does not allow recording and editing a podcast from scratch. It has a 14-day free trial to give you time to test the software and figure out if you can place your faith in it.
Transistor has some powerful integrations with email marketing software and social media apps like MailChimp, Drip, Twitter, Youtube, Zapier, etc. Read the full review to know the key features of Transistor and what makes it stand out from the rest.
Table of Contents
Transistor.fm Pricing
Transistor.fm has three pricing tiers along with a 14-day trial period. Unlike Alitu and some other podcasting services, it doesn't have a free plan. Nevertheless, the subscription fee is quite affordable.
Starter: $19/month
Professional: $49/month
Business: $99/month
Keep your credit card ready while signing up for the trial period. Unlike Buzzsprout and Alitu, it requires credit card details to access its trial version.
The surprising and best part about all the pricing plans is that each one lets you create unlimited podcasts, access advanced analytics, have customer support, etc.
The difference lies in the number of downloads per month, private podcasts and subscribers, the ability to eliminate branding from players, and additional users per podcast.
Even if you go over the download or subscriber limit, instead of automatically shutting down your account their team will contact you and discuss the upgrade plan. Transistor won't take down your podcast from other directories and you'll still have access to the analytics section.
Walkthrough Of Creating A New Show Through Transistor.fm
Since the interface is intuitive and easy to navigate, it took me less than ten minutes to create a new show. Transistor.fm gives you three options: Create a new podcast, import an existing one, or create a private podcast.
If you already have the required information like the name of the show, logo, copyright description, pre-recorded audio (for episodes), etc, you can air your show within minutes.
Much like other podcast hosting services like Alitu and Buzzsprout, Transister has the same requirements for uploading the artwork.
The image should be in JPG or PNG up to 15MB in size
It should be 3000 by 3000px.
In case you want to save all your future episodes on Transister, there's an option of choosing the publishing time and numbering the episode.
I was pleasantly surprised that I could host an unlimited number of shows with Transister.fm with only one subscription fee and multiple user accounts.
As a podcaster, you want to make it easy for your listeners to access your channel. One way of doing that is by submitting your podcast to multiple hosting services like Apple, Spotify, Google podcasts, etc. This will make you more noticeable and increase your reach.
Submitting Your Show To Various Platforms
As with every other process, Transistor makes this one as simple as it gets. Just make sure to upload your audio files in mp3 when registering an episode and it'll present you with the following options in the distribution channel.
Major directories like Apple, Spotify, Google Podcasts, Breaker, Player FM, etc are readily available and waiting to hit the submit button. Transistor also lists 12 other apps and aggregators including Amazon Music and Stitcher.
Once your podcast is submitted to these directories, it may take more than a day to be fully indexed and ready to go. You can also embed a player on your website. We'll talk about it in detail later in the section.
Customer Support
One of the many likable features of Transistor is its customer support. The help center itself documents numerous articles to solve your problems. I liked the way they have categories problems and color-coded them making the process fun.
Some of the categories are:
Using Transistor,
Submitting to directories
Private podcasting,
Your podcast website
iTunes
Spotify
Promoting your podcast, etc.
If you have a specific problem and cannot find anything in their documents, reach out to a customer care executive by using chat support or sending them an email.
If nobody from the chat support team is online, they'll ask you to type in your email and wait for their response. In the meantime, you can play a game if you like.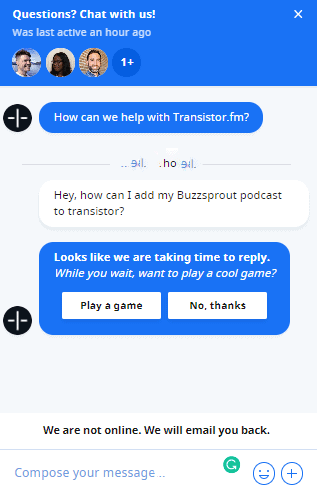 Key Features
There's more to Transistor than just being a podcast hosting platform. Let's look at the perks you get alongside storage space:
Your Podcast Website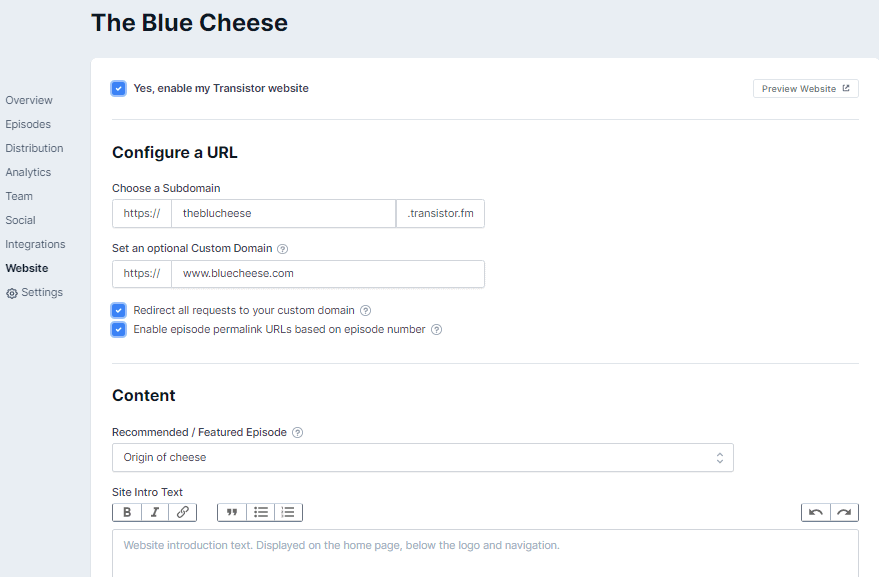 If you don't have a website already, you can create one with Transistor. Choose a subdomain or set an optional custom domain.
Design your website by adding favicons, social sharing images, text and player colors, etc. Add your Google Analytics and Fathom Analytics ID to track the page views. You can also include custom CSS to override any default styles on your site.
Embedding Podcast

All your episodes have a default sharing and embedding option. Click on the three dots at the side of every episode and select the embed option. Copy the link and paste it on your website.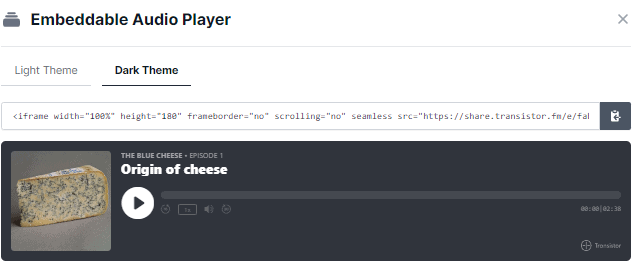 There two-player themes: Light and Dark. Choose the theme that goes well with your overall podcast style. The players are intuitive and each of them has three buttons- subscribe, share, and more info making mini players more responsive and easy to share.
Apple Podcasts, Spotify, etc are podcast players not hosting platforms. When you click on download or subscribe in these apps, they'll send the request to Transistor (host). The podcast player will then download the MP3 file from the server.
Analytics
Transistor.fm has hands down the best analytics section. It pulls the data from all the podcast directories every morning. Access to such data helps you understand the shortcomings and reach a bigger audience.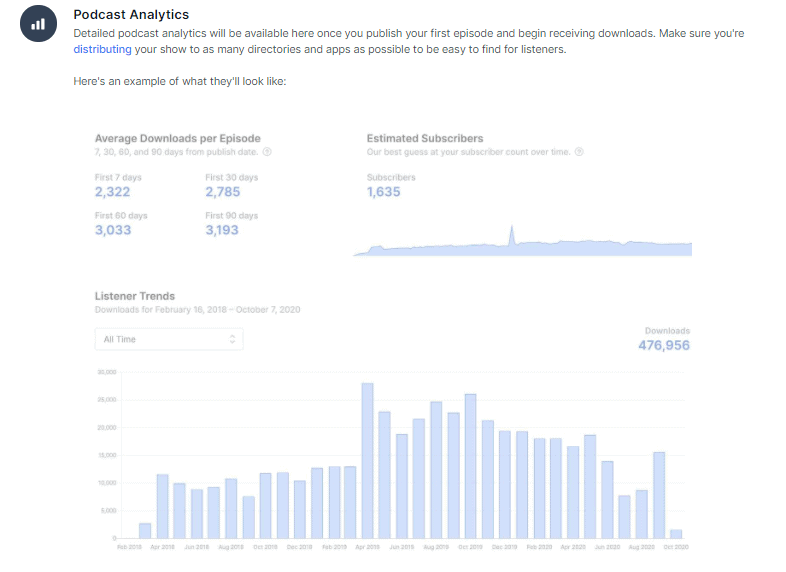 If you are a person with little to no idea about gauging analytics, Transister deconstructs it for you in a way that even a baby could understand. Okay, that was a bit of a stretch, but you get the point.
It tells you the number of downloads, estimated subscribers, listener trends, etc. It also allows you to filter your episode by popularity so that you know the kind of content your listeners enjoy. Additionally, you can also know which podcast app most of your listeners use and visualize where they live by looking at the Transistor's map.
Moreover, you can set up 3rd party analytics like Chartable, Podtrack, Podsights, Polycom, etc in the advanced settings.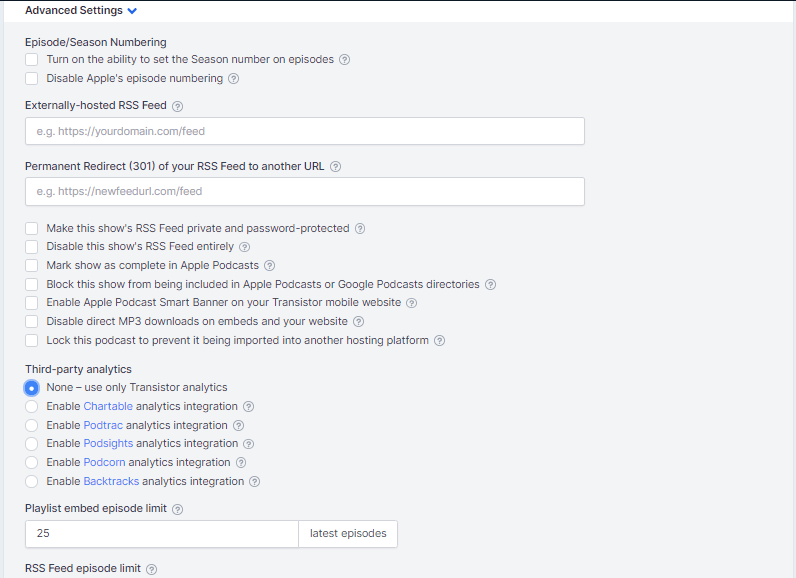 Transistor.fm follows IAB guidelines. This means, they eliminate duplicate downloads, downloads from search indexes, and any download that comes from a bot in the analysis you see on Transistor.
Private Podcasting
Like I mentioned in the beginning, this podcast hosting app lets you create a private podcast. This is a useful feature if you want a selected audience or you are running a business and use podcasting as a mode of communication with your employees.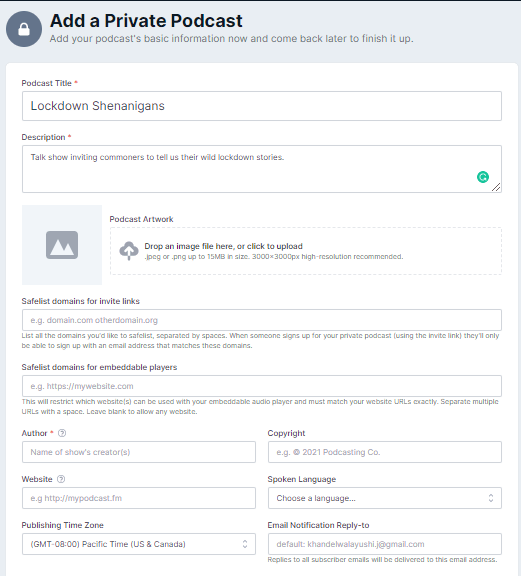 The process of creating a private podcast is the same except for additional details. Add domains to invite links and embeddable players.
Since it's a private podcast, you can always remove the listeners you don't want as your audience and deny access. Further, Transistor.fm lets you have full ownership of your podcast and retains 100% rights reserved even in the public podcast. So you can run your own ads on it.
It's also possible to transfer the ownership as well.
Importing Your Podcast

If you already have a podcast on other platforms, Transistor.fm needs a link to your apple podcast RSS feed or you can directly search your podcast.
Before importing your podcast, you'll get a mail from Transistor.fm for validation. If successful, you'll find your podcast on Transistor.
Final Thoughts
Apart from the absence of a recording feature Transistor has many key features like unlimited podcast creation, collaborative options, advanced analytics, built-in website, easy distribution, 100% ownership of the channel, etc which are not found in most of the other podcasting services.
Even the pricing is affordable for new as well as established podcasters or businesses. With so many benefits it's easy to overlook a few flaws. It's simple, effective, and easy to use. Be sure to give it a try, you may find yourself liking it more than your go-to podcasting service.