All of us make notes — whether it's writing grocery lists, writing briefs, or capturing moments of inspiration. All of us have to jot down notes on a routine basis. It is only reasonable to expect a good app that can meet all of our requirements (and more) with its features.
But in 2021, we're faced with an overwhelming number of apps to take notes. How do you decide which one to choose? It is too time-consuming and exhausting to try each one out.
In this article, I've put together the 10 best note taking apps for all your different note taking needs. I've tried dozens of apps in the market and handpicked some of the best ones. But what if the app you like is not available on your device or you find the price too steep? Every app has at least one other alternative with almost all the same features.
Before we dive into the apps, let's discuss an important question:
What Makes A Great Note Taking App?
There are hundreds of note taking apps available in the market. It's a booming side of tech currently. But as the apps evolve, it is important to not get carried away with each new, shiny, overwhelming app. A great note taking app is easy to use, fulfills your purpose, and doesn't take too much effort to use & organize.
While you evaluate one note taking app against another, remember your answer to the following questions:
What do you need this note taking app for? Do you just need to make to-do lists, jot down inspiration burst ideas, make a writing outline, or just use it for random scribbles? This question will help you decide what features you should look for in a note taking app.
Do you need powerful writing and collaboration features or something basic would do? The more powerful features you want, the more complex apps you need. Decide if you want to use something simple or use something to organize heavy projects.
Where will you need to use this app? This decides on what operating systems you want your note taking app to be. If you want to capture random bursts of inspiration, you would prefer an app that is also available on a smartphone.
Are you willing to pay for extra features and/or storage? Most note taking apps have a free (but limited) version. If you're going to be a power-user of any note taking app, consider if its Pro features are worth the price.
Once you've answered all these questions for yourself, you're all ready to objectively evaluate the 10 best note taking apps:
Microsoft OneNote: Best For Writing Long, In-Depth Outlines
Microsoft OneNote strikes as a solution for discursive notes about any topic. I wouldn't recommend it as your diary to collect random bursts of inspiration or jot down your to-do list — it's far too feature-rich to be just used for that.
I'd highly recommend it as the software to write detailed outlines of your book or blog. It would also be great for jotting down notes if you're taking an online course and want to highlight what you learned.
Price: Free till 5GB storage.
Operating Systems: Web, iOS, Android, Desktop
Key features:
Organize your work into "Notebooks."
Revise your notes using highlights, annotations, etc.
Share and collaborate with your team members.
Tag your important notes.
OneNote Web Clippers saves content you read online with a single click.
Record audio notes, insert online videos and attach files.
Sync your notes across devices.
You can dictate text into your documents.
Pros and Cons:
| Pros | Cons |
| --- | --- |
| Easily organizes your notes of different aspects | Confusing interface |
| Free | Cannot sort notes by newest/oldest |
| Freeform — put text boxes anywhere on the screen | Extra storage requires Microsoft 365 subscription |
| Extract text from images | |
Alternatives: An app that is also great for organizing complex research projects is Roam Research. It can be used to outline your book, your article, or even just your month. But it is only available on desktop browsers and the price of $15/month may be a deal-breaker.
But if you're sold on One Note's ability to draw, Nebo can take it one step ahead for you. It is one of the best note taking apps for stylus and its handwriting feature is as powerful as typed text.
Evernote: Best For Jotting Bursts Of Inspiration
Is it even possible to talk about note taking apps without mentioning Evernote? It is one of the most popular applications in the market because of its powerful features and user-friendliness.
It syncs across devices and the mobile apps are pretty handy — so I'd give it a five-star rating to jot down those random bursts of inspiration. If you're reading something online and want to store it for later, Evernote's web clipper is great for that too.
One catch: The storage capacity and limitation of only 2 devices in Evernote's free plan might not be enough for most creators. And the paid versions are quite pricey — especially if you're on a tight budget.
Price: Free version available. The premium version starts at $7.99/month.
Operating Systems: Web, iOS, Android, Desktop
Key features:
Syncs across your devices.
Allows adding texts, images, audio, scans, PDFs, etc.
Powerful search capabilities.
Assign tasks with due dates, deadlines, and reminders.
Scan your hard-copy documents and store them on Evernote.
Web clipper to save anything you liked on the internet.
Connects to your Google Calendar.
Evernote Teams to collaborate and share notes with others.
Annotate images easily.
A helpful library of templates.
Evernote's OCR can identify 28 typewritten and 11 handwritten languages
Pros and Cons:
| Pros | Cons |
| --- | --- |
| Can search for text in your handwritten notes | Limited offline access for the free tier |
| Different pricing plans for different needs | No markdown support |
| Supports multiple file formats | Not well-organized |
| Handy web clipper | The free plan has limited storage |
| Add tags to your notes | Can use only 2 devices in the free version |
Alternatives: It is tough to find alternatives to Evernote because of its strong capabilities for individuals and teams. But ProofHub comes quite close. It is more suitable for teams wanting an Evernote alternative, but even individuals with complex/multiple projects can give it a shot. Notejoy is a great mix of Evernote and Notion for collaboration purposes.
Ulysses: Best For Apple Users
Ulysses has been around for a while and remains one of the most popular apps for Apple users. If you do a lot of writing on your Mac, iPad, or iOS device, Ulysses would be perfect for you.
The best part about Ulysses is that it takes care of your entire writing process — it has powerful organization features for taking down notes and also has a focus mode to practice long-form writing. This kind of makes it the ultimate writing app — if you like all things stored under one roof. All these features come at a hefty price tag though.
Price: $5.99/month. Free trial available for 14-days. They have a special discount for students.
Key features:
Mark-up-based text editor.
Distraction-free interface.
Can customize your themes and also use the user-generated themes in the Ulysses Style Exchange.
Can operate using only keyboard shortcuts from Mac.
Create hierarchical groups.
Attach PDFs, notes, images, etc.
Filters to search for specific content.
Full iCloud sync across devices.
Can integrate with Dropbox to collaborate.
Publish to WordPress and Medium from within the app.
Live-preview and built-in export styles.
Pros and Cons:
| Pros | Cons |
| --- | --- |
| Write in plain text or using markdown | Not available for Windows or Android users |
| Speeds up writing by keyboard shortcuts | Expensive |
| Can take care of your entire writing process | |
| Has a full-screen focus mode | |
| Publish to WordPress and Medium within the app | |
Alternative: If you're hesitant to try out Ulysses because of the price, Apple Notes is a great alternative. It's built into Apple devices and syncs across all devices in the Apple ecosystem. This is great if you're a casual note taker and don't need a lot of organization. Because while Apple Notes is great, its compartmentalization features aren't as powerful.
Simplenote: Best For Keeping Things Simple
Simplenote gives away its best feature in its name: simplicity. If you're a no-fluff kinda creator who likes nothing fancy, look no further than Simplenote. It has a clean interface and its limited features are what make it free to use.
Know what you're missing out on before you make a choice — you cannot customize themes, organize notes into folders, or attach multimedia.
Price: Free
Operating Systems: Windows, Mac, iOS, Android, Linux
Key features:
Syncs across all your devices automatically.
Markdown support.
Add tags to organize your notes.
Collaborate with your teammates easily.
Available on all devices.
All versions are backed up.
Pros and Cons:
| Pros | Cons |
| --- | --- |
| Desktop app has a focus mode | Only 2 themes are available |
| User-friendly | Can share notes only via link |
| Free | Text only |
| Cross-platform | |
| Syncs and backs up across devices | |
Alternatives: Standard Notes can be an alternative to Simplenote. It has powerful search features and keeps things quite simple. Like Simplenote, the image support is limited. It is supported on all devices, including Linux.
Todoist: Best For Keeping Things Organized
Todoist is my number #1 recommended app for making your to-do lists. I personally use the software to track my monthly progress & goals. Its interface is easy to use and it gives a lot of fun features like earning points when you complete a task.
You can also use it to organize your ideas and write ideas neatly into different boards. It's a great tool for organizing things — whether ideas or your daily tasks.
Price: Free plan available. Pro plan starts at $3/month.
Operating Systems: Mac, Linux, Windows, iOS, Android
Key features:
Can create lists and boards.
Add sections and subtasks for better organization.
Add recurring due dates for repetitive tasks.
Decide priority levels of a task.
Mark some tasks as favorites.
Put in reminders for tasks in the Pro plan.
Delegate tasks to your team within the app itself.
Add labels to your tasks.
Customize the theme of your dashboard in the Pro plan.
Connect Todoist with your calendar, email, and files.
See your productivity analytics.
Integrate with your commonly used apps like Dropbox, Google Calendar, and Zapier.
Syncs across all devices.
Pros and Cons:
| Pros | Cons |
| --- | --- |
| The free plan has powerful features | It may not be suitable for teams |
| Gamify aspect to completing your daily tasks | Not multimedia friendly |
| Available and syncs across devices | Doesn't support handwritten notes or OCR |
| Streamlined interface | |
| Search and filter functionality | |
Alternative: An excellent alternative to Todoist is Workflowy. Jot down your daily tasks, outline your next book (Hatching Twitter was written using this app!) It has a lot of similar features and I find it to be more multimedia friendly.
Google Keep: Best For Google Apps' Power Users
Google Keep is your digital post-it note. I personally use it to jot down everything — from grocery lists to invoice reminders. Since it integrates with all Google Apps, notes are the easiest to find when writing in Google Docs, Gmail, etc.
If you use Google apps heavily for your work, I'd highly recommend using Google Keep to make your life easier.
Price: Free
Operating Systems: Chrome extension, Web, Android, iOS
Key features:
Syncs across devices.
Organize notes into different labels and colors.
Pin your most important notes.
Good search functionality to quickly search your past notes.
Set up reminders for your notes.
Make a list.
Dictate notes and transcribe them automatically.
Transcribe text from inserted images.
Collaborate and share notes with others.
Pros and Cons:
| Pros | Cons |
| --- | --- |
| Handy to jot down notes quickly | Can't do complex organization |
| New updates allow setting more aesthetic backgrounds | Limited formatting options |
| Ridiculously simple to use | Only one level of tags |
| Available on every platform with your Google account | |
| Access your Google Keep notes on all Google platforms — Gmail account, Google Doc, etc. | |
Alternatives: If you don't want to use a Google app due to privacy concerns, a great alternative is Zoho Notebooks. It has similar features and interfaces and also offers its own browser extensions.
If you want something simpler but a similar digital sticky notes app, try Microsoft Sticky Notes. It is the aptest for random scribbles. You can also stick these notes to your desktop. If you don't mind using an app only on your Android device, Material Notes also works quite similarly to Google Keep. Color Note is also quite similar — but more suitable for to-do lists than writing notes.
Notion: Best For Team Notes
Notion can be three apps in one: for note taking, for managing projects, and for making your reference pages. But it does best for collaborating with a team on notes. Its personal plan is great for individual use if you've got a lot of projects that need complex organization. Otherwise, it can be too overwhelming.
Notion works elegantly and there's hardly any better app out there to collaborate with your teammates and set up guidelines for repeated procedures.
Price: Free personal plan. Pro plans begin at $4/month.
Operating Systems: Windows, Mac with intel processors, Macs with Apple M1, Android, iOS
<iframe width="560″ height="315″ src="https://www.youtube.com/embed/aA7si7AmPkY" title="YouTube video player" frameborder="0″ allow="accelerometer; autoplay; clipboard-write; encrypted-media; gyroscope; picture-in-picture" allowfullscreen></iframe>
Key features:
Syncs across devices.
Collaborate in real-time.
Embeds with 500+ other tools.
Can upload multimedia easily.
Drag-and-drop different content blocks.
Flexible pages and powerful tables.
Excellent editor with keyboard shortcuts, markdown facility, etc.
Pros and Cons:
| Pros | Cons |
| --- | --- |
| Complex hierarchical organization | Can be overwhelming |
| Free personal plan | Glitchy for writing |
| Easily collaborate with your team or make your document public | Can't use the app offline |
| Useful built-in templates | |
| Embeds with 500+ other third-party apps | |
Alternatives: If you find Notion too overwhelming, Dropbox Paper is a great alternative. It has similar features and interfaces, but its organization tools are easier to use. It's also more suited for team note taking rather than for the individual.
Slite is another great app for making communication between your teams (especially if remote) easier. Its features and user-friendliness are quite similar to Notion. Many teams also prefer to use Trello — but I recommend using it if you've got a small team and not many complex organizational needs. If you love Notion's wiki feature, Tettra specializes in that as well.
Typora: Best For Writing Long-Form Content Distraction-Free
Typora is one of the fastest writing apps I came across on this list. It is not at all glitchy, is free to use, and works smooth as butter. I strongly think it can replace Google Docs with its outline panel — especially for first drafts or documents where you don't need to collaborate with others.
It's far from perfect to be your full-fledged writing tool, but its distraction-free interface and speed are definitely worth considering.
Price: Free for now since it is in Beta mode.
Operating Systems: Mac, Windows, Linux
Key features:
Distraction-free writing.
Powerful markdown editor.
Keyboard shortcuts.
Organize your files easily.
Syncs with Dropbox or iCloud.
Focus mode and typewriter mode.
Displays stats like word count, characters, lines, etc.
Export or import in multiple formats like PDFs, OpenOffice, Docx, Epub, etc.
Outline Panel like Google Docs to jump to any section easily.
Customize themes.
Pros and Cons:
| Pros | Cons |
| --- | --- |
| User-friendly and aesthetic | Only available on desktop apps |
| Hybrid markdown editor | No app storage |
| Focus mode and typewriter mode | Cannot collaborate or share notes with others |
| Table of contents in the side panel | |
| Themes customizable with CSS | |
Alternatives: If you're a fan of Typora's CSS theme customization, Atom takes it a step further. Using its stylesheet, you can create any possible theme you can think of. It might not make a perfect writing tool, but it is perfect if you want to customize the vibe & theme of your note taking app.
Bear: Best For All-in-one Writing App
Bear is perfect if you want all your note taking, brainstorming, research, and to-do lists under one roof. It has advanced capabilities to organize your different tasks easily and is quite user-intuitive.
It is only available for Apple users, though. But the writing experience is wonderful — it's like marrying Ulysses and Evernote's capabilities.
Price: Free version available. Pro plan starts at $1.49/month.
Key features:
Focus mode.
Advanced markup options.
Full in-line image support.
Various types of themes and typography.
Export into PDFs and Word docs.
Cross-note links to organize your notes efficiently.
Add to-do lists.
Rich keyboard shortcuts.
Multi-device sync across iCloud.
Hashtags to organize notes.
Pros and Cons:
| Pros | Cons |
| --- | --- |
| Can encrypt and lock your notes in the Pro plan | Pricing is only subscription-based |
| Focus mode and word-count feedback | Available only on Mac devices |
| Supports over 150 programming languages. | |
| Simple organizational system | |
| Clean writing experience | |
Alternatives: Joplin is a good Bear alternative, although I find it isn't as aesthetic or user-friendly. But you can collaborate and create different kinds of notes for meetings, work, and chores in one place. Obsidian is another alternative but it is a bit more complex and has a learning curve. It is equal to (if not better) for organizing complex projects neatly.
Milanote: Best For Organizing Your Ideas/Writing Into Visual Boards
Think of Milanote like a visual pinboard. It is not perfect for text-heavy note takers, but if you're a visual thinker and want to collect notes the same way, this app is perfect for you. There are many creative features that can be used for brainstorming, making mind-maps, or building creative briefs.
Price: Free plan available. Pro plan starts at $9.99/month.
Operating Systems: iOS, Android, Mac, Windows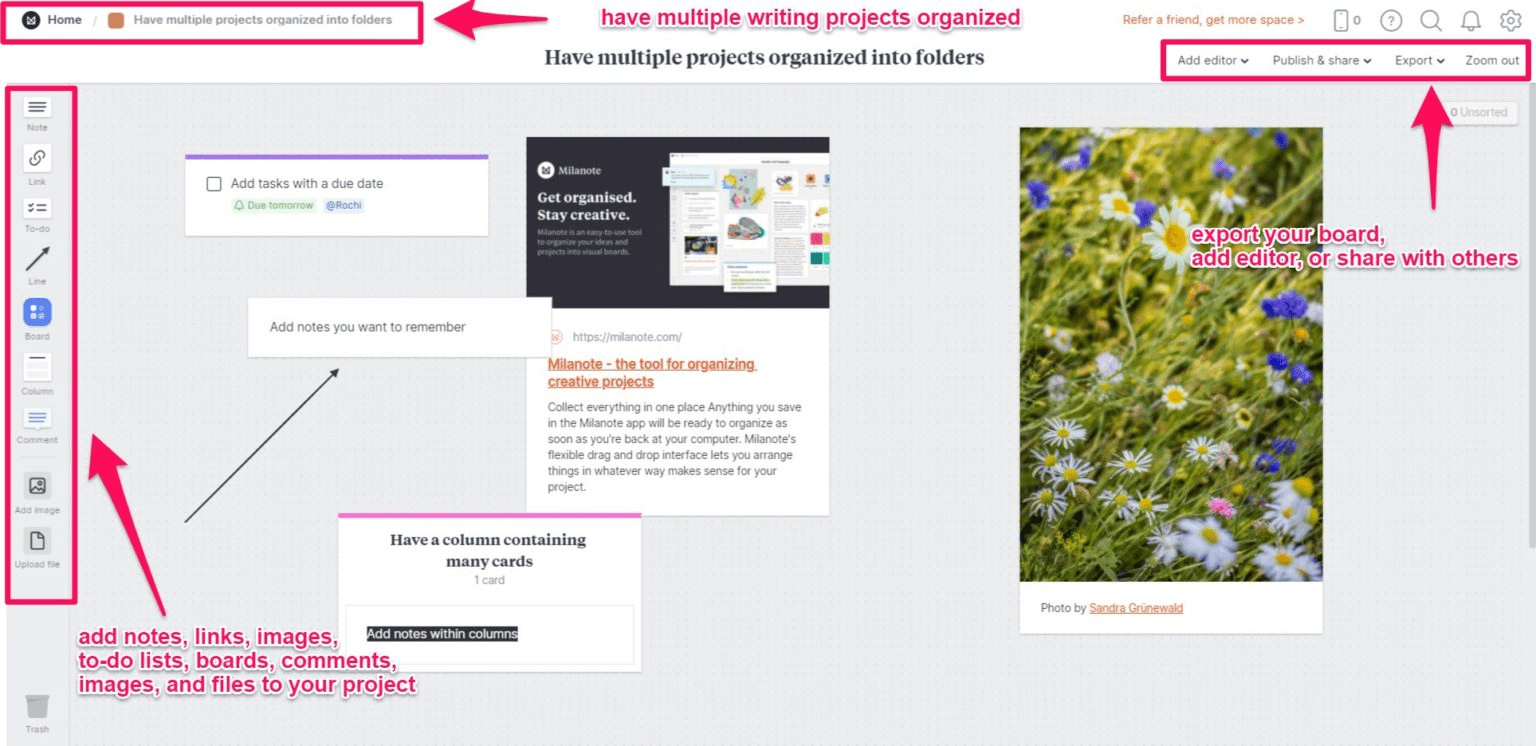 Key features:
Organize your ideas into visual boards.
Web clipper to save ideas from the web.
Collaborate in real-time.
Drag-and-drop interface.
Upload all types of visual files.
Syncs across devices.
Pros and Cons:
| Pros | Cons |
| --- | --- |
| Free plan has powerful features | Can't change the font size or font color |
| Easily collaborate in real-time | Complex organization can be difficult |
| Can be used for different projects | Not suitable for text-heavy note takers |
| Can export the board | |
| Handy web clipper | |
Alternatives: If your mind is more visual than Milanote can take, GoodNotes is an excellent alternative. It is only available for iPads, but it has a powerful feature to turn your iPad into digital paper. It has a powerful search feature and would be my number #1 recommendation if you want something handwritten and highly visual.
For Android devices, you can try Squid. It isn't as powerful as Milanote or GoodNotes — but it is good enough if you like to take handwritten notes. You can customize the "paper" behind and mark up PDFs and images. For Windows and Mac OS, try Notability for visual note taking.
Final Thoughts: Which Is The Best Note Taking App For You?
After reading about so many note taking apps and their alternatives, I hope you're able to find one that's right for you and meets your needs.
You don't need to use just one app for everything — I use Evernote to jot down random bursts of ideas and annotate screenshots. I use Todoist to make my monthly goals and switch to Typora when I'm bored of Google Docs. The ECM team collaborates on Trello and I often keep some ideas handy on Google Keep.
Remember to find apps whose features align with your requirements. A note taking app doesn't have to be too fancy to be utilized well. Find something that can help you get your job done.