Writing a book is hard. Having an "idea" of what you need to write is not enough. You have to do research, make a good plo, jot down important notes, and keep track of all the scenes. 
As if that wasn't enough, even despite solving all that, actually writing your book needs good book software. Because what if you begin to write and the software has no functionality to organize all your chapters? 
A book writing software matters tremendously in publishing a bulletproof bestseller. A good one can help your book be organized. Sure, it won't write the book for you, but it can make things an awful lot easier. 
In this post, I'll cover the top 11 writing software in the market and give you the first-hand details of all the features. 
But, before that, if you need a quick comparison table of all the software, here it is: 
To help you make the right decision, I have separately listed the pros and cons of each software along with the feature details: 
Table of Contents
1. Scrivener

Scrivener is the perfect book writing software for you if you like to keep your manuscript highly organized at all times.  
Scrivener is a writers' favorite book writing software that is designed by writers themselves. The plentiful features allow you to organize your chapters, research your material, outline your work – all in one place. 
It also contains useful templates that can help beginners get started. You can track progress by creating a daily target of reaching a certain word-count and the software will give you space for distraction-free writing.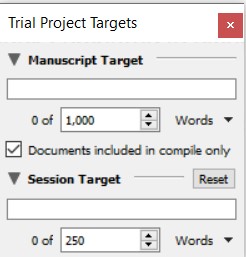 But as amazing as Scrivener is, it is not perfect. It has a steep learning curve and collaboration on the app is difficult. The formatting can also be overly complicated. Despite its flaws though, Scrivener is one of the most popular choices for organized writing. 
Platforms: MacOS, Windows, iOS
Price: $53.60 for a standard license 
Trial: Yes, a free trial with all the features is available for 30 days. These 30 days are of usage. So, if in one month you use the software only 15 days, you can carry the trial to the next month as well. 
| | |
| --- | --- |
| Pros  | Cons |
| Organize all your chapters, outlines, research material in one place | Slow learning curve (especially for advanced features) |
| Drag & Drop feature | Collaboration is difficult  |
| Easy export into other digital platforms  | Formatting is complicated  |
| Composition mode allows for distraction-free writing  | No Android app  |
| Set project targets to meet every day to maximize productivity  |   |
An alternative to Scrivener can be yWriter that is specifically designed for writing novels. 
2. Squibler

Squibler is designed for authors who struggle with consistency. 
Squibler is a book writing software that allows you to organize your thoughts neatly into chapters, notes, and scenes. It has a cork board layout enabling you to see all your notes in one glance. 
It is specifically designed to make you write every day. The rich 30+ template library makes sure you don't have to begin your outline from scratch.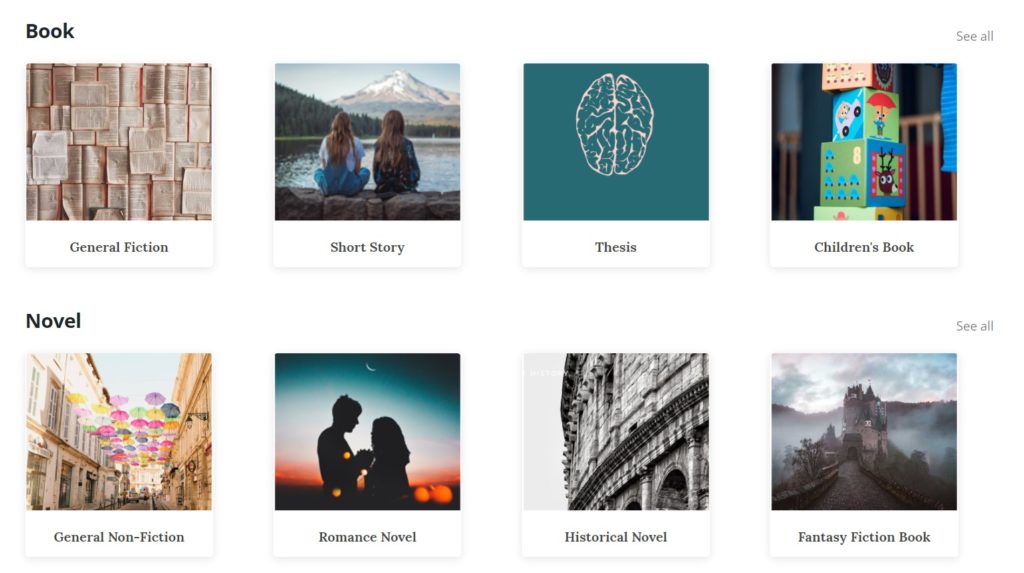 The in-built grammar checker also disables any external grammar software requirement. Collaboration is simplified by a team creation function right in the software. 
Despite being built for the modern-day writer, Squibler does not have some common functionalities like dark mode or distraction-free mode. 
Platforms: On the web 
Price: $9.99/month 
Trial: 14-day free trial available 
| | |
| --- | --- |
| Pros  | Cons |
| Drag & Drop Editor  | No Dark Mode  |
| Team creation makes it easy to collaborate  | No distraction-free mode  |
| Corkboard view of all your book material  |   |
| 30+ outline templates  |   |
| Built-in grammar checking software  |   |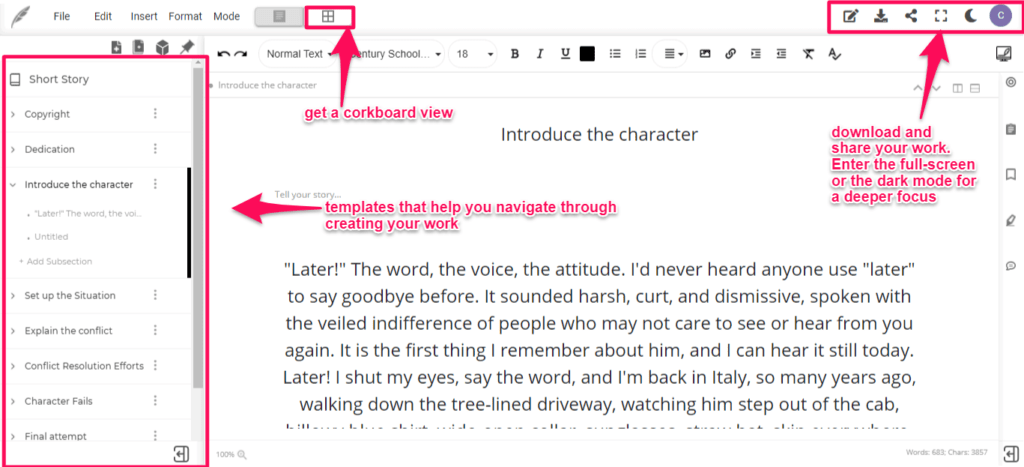 3. Google Documents

Google Documents is the perfect software for smooth collaboration. 
Google Documents is like Microsoft Word that you can only use online. The best part about Google Documents is how easy it makes collaboration. With one click, you can share your Google Document file with multiple people. 
The sharing options are also varied – you can decide if you want someone to only see the document, edit the document, or offer suggestions. This is great when you have different editors, some of whom might only be seeing the story but you wouldn't want them to suggest comments/notes on this file. 
The software also keeps a complete history of all the changes made in the document. More than one person can work real-time on the same file and since it's on the web – you can literally use any device to access it. You can also integrate grammar checking software like Grammarly into Google Docs. 
As great as Google Document is for collaboration, it is a little slow for manuscript writing. The software starts slowing down as the length of the draft increases. This is why I'd recommend it for book editing and not book writing. 
Need more book editing software for comparison? Check the best ones with all the analysis done here. 
Platforms: Available on the web 
Price: Free
| | |
| --- | --- |
| Pros  | Cons |
| Free software  | Lacks document organization features  |
| Multiple sharing options  | Slows down as the length of the file increases |
| Real-time collaboration  |   |
| Easy-to-use |   |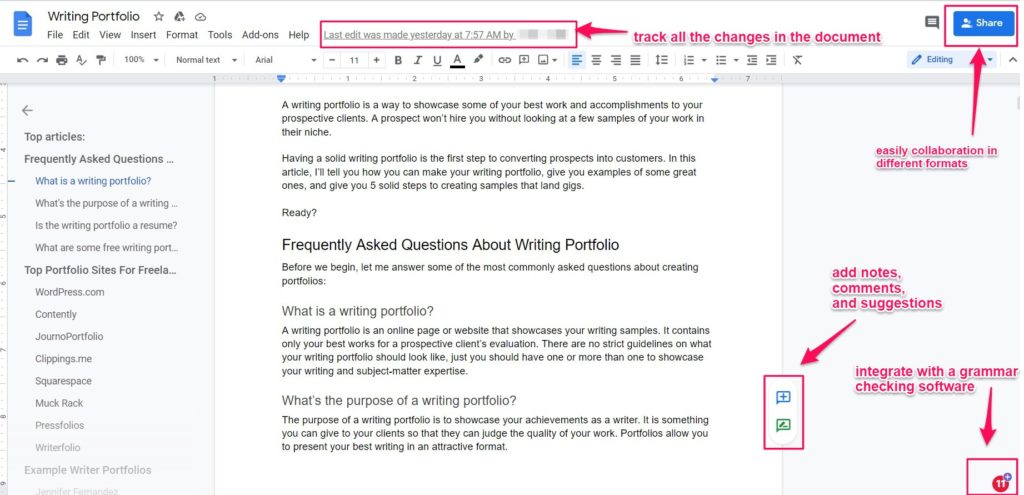 4. Microsoft Word

Microsoft Word is the perfect book writing software for someone who wants a distraction-free environment for writing. 
Before anything else was there, Microsoft Word was the go-to software for writers to write any kind of material, including books and manuscripts. Several decades later, Word is still around because of its simplicity and easy-to-use features. 
Microsoft Word is reliable and gets the job done without hassle. The best part about Microsoft Word is its distraction-free user-interface. You're not on the web, which means you're not just one mouse-click away from social media and email. 
You can format Word in ways that can make it easy to navigate through your manuscript. But despite this, it lacks the organization other software in the market provides. Collaboration is also not as good as Google Docs. 
Platforms: Mac, iOS, Windows, Android 
Price: Starts at $70/year
Trial: 1-month free trial available. 
| | |
| --- | --- |
| Pros  | Cons |
| Easy-to-use interface | Lacks organization features, especially for book writing  |
| Navigation panel can make for a good organizational tool  | Collaboration is difficult (real-time is impossible) |
| Good formatting options  | Software becomes slow as the word-count increases  |
5. Evernote

Evernote is the perfect writing software for your note-taking needs. 
Evernote is a note-taking application that allows you to organize your thoughts, sync your content across devices, collaborate easily, and even save webpages as web clippings. If you often need to brainstorm ideas for plot, character, or narrative, Evernote is the perfect writing software for it. 
The mobile app can be particularly useful for those "aha!" moments when a good idea strikes you and you need to jot it down. Evernote also has a variety of templates across categories that can be immensely helpful for different needs:
And while Evernote is great, it is a bit too functionally limited to function as a book writing software. It works wonderfully as a supplement, but for larger writing projects, you might want to stick to other software. 
Price: Free plan available. But there is an upgrade at $7.99/month with advanced features
Trial: 14-day free trial for the advanced plan available. 
| | |
| --- | --- |
| Pros  | Cons |
| Syncs across devices  | Functionally limited for larger writing projects |
| Handy for brainstorming and quickly jotting ideas | The free plan is limited  |
| Save articles on the web with web clipper  | More notes might be tedious to organize  |
| Customizable templates  |   |
| Organization features like creating notebooks available  |   |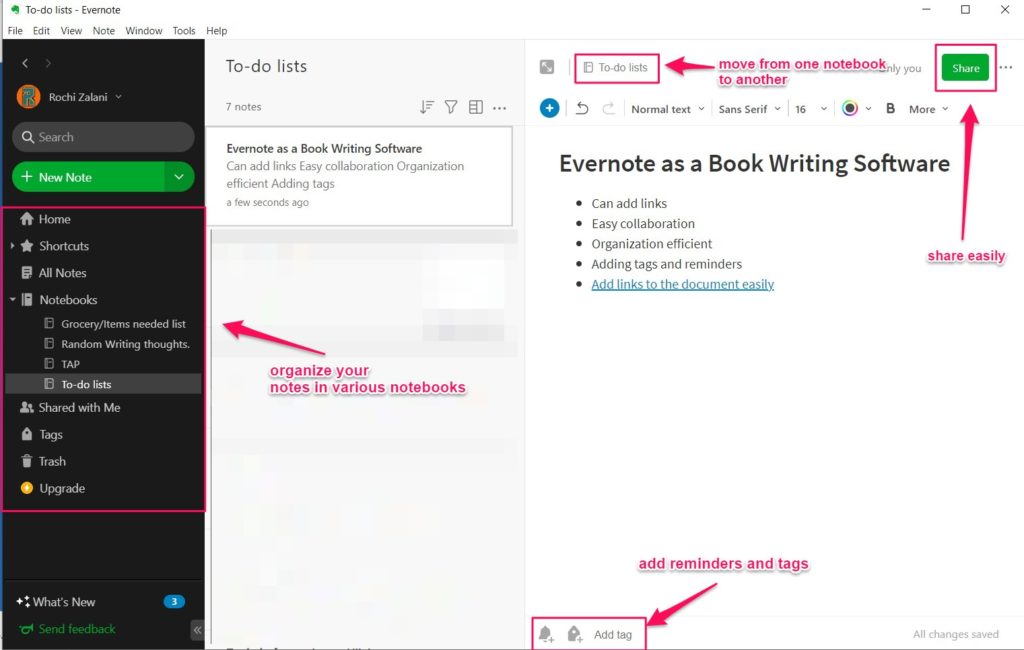 An alternative to Evernote can be Ulysses that has similar organizational features that help you brainstorm ideas on-the-go. If you like organizing things more visually, Milanote is the go-to choice.
6. FocusWriter

FocusWriter is the perfect book writing software for you if you want to eliminate all distractions. 
FocusWriter is a simple word processor that helps you eliminate all distractions so you can write with a deeper focus and greater speed. The toolbars disappear in the full-screen mode unless you hover over them. You can choose the background for your writing and also set writing goals.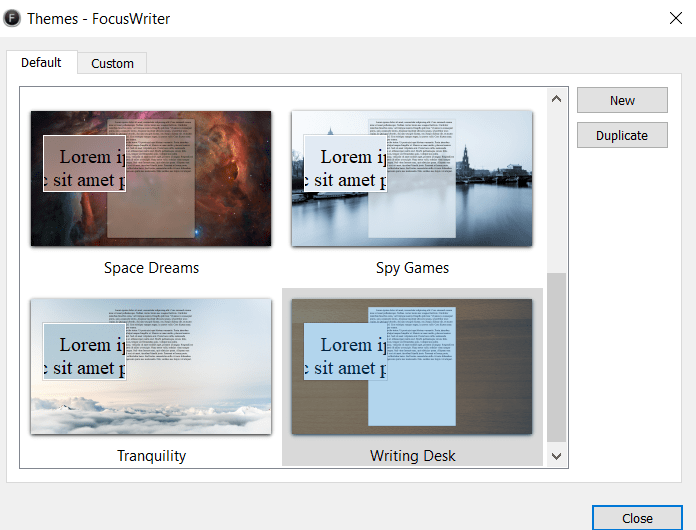 Although the application is great, if you need a lot of features, FocusWriter won't work for you. Simplicity is the game of the app and so it helps you do nothing but write. There's no spellcheck or option to add multimedia, etc. 
Platforms:  Linux, Windows, Mac
Price: Free. But they accept donations. 
| | |
| --- | --- |
| Pros  | Cons |
| Eliminates all distractions  | Limited functionality as compared to other software  |
| Simple to use  | No spellcheck available  |
| Full-screen mode  | No option to add multimedia  |
| Customizable background for writing  |   |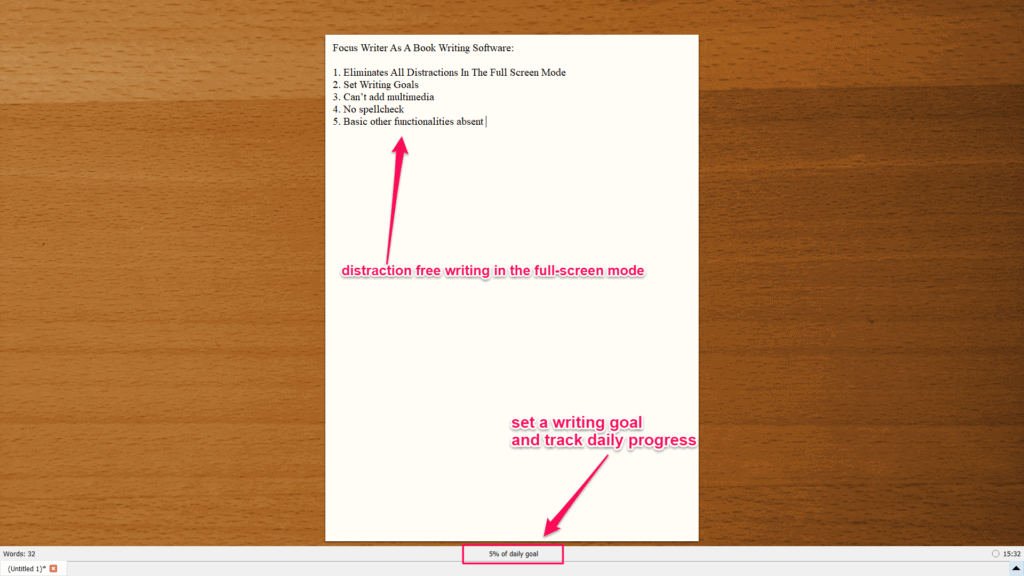 7. Vellum

Vellum is "the" writing software for creating beautiful books. 
You should use Vellum when you are ready to publish your book. You can format it professionally here and create covers that are astoundingly gorgeous. Any word processor can help you write the book, but Vellum helps you create books that look aesthetically pleasing. 
You can export your book within minutes and preview it in different formats (Kindle, Fire, Nook, iPhone). There's an editing feature within the app that allows option-based formatting too. 
Vellum is not a word processor, so it isn't the writing software you need to write that book. It is also relatively expensive and is available only for Mac. 
Platforms: Mac
Price: $200 for E-books and $250 for E-Books + Paperbacks 
Trial: Vellum is free to download and use. But when you want to publish, you have to buy a one-time purchase license. 
| | |
| --- | --- |
| Pros  | Cons |
| Create beautiful looking books in under an hour  | Only available for Mac |
| Preview how the book looks on different devices  | Relatively expensive  |
| Format your book easily with beautiful styling  | Doesn't have a word processor |
| Easy to use  |   |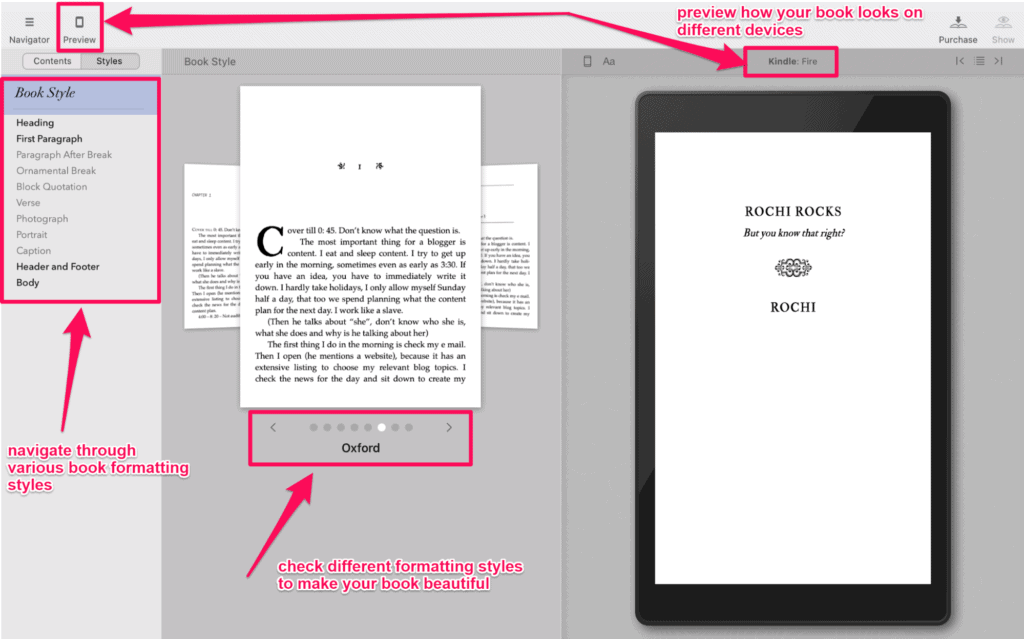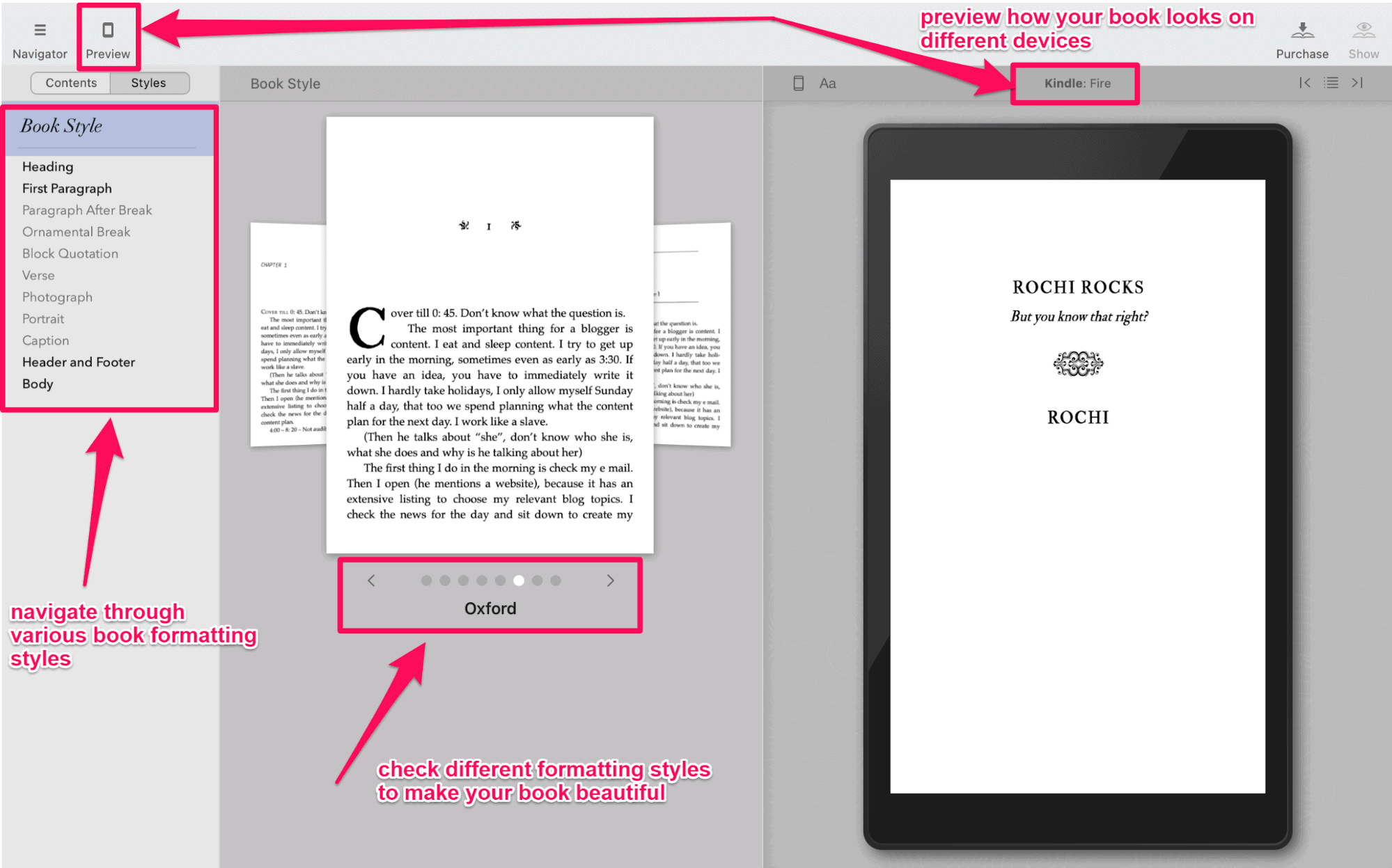 8. Freedom

Freedom is a productivity app that helps you shut-down distractions and experience deep focus. 
Freedom is a tool that helps you block distracting websites of your choice for a set period of time. If you are someone who finds themselves on a Twitter scroll when you should be writing (Uhm, guilty), then this application is for you. Freedom helps you buckle down and write. 
You can schedule a distraction-free session as soon as you log in to the app. You can also select for it to start later at an automatic time or set up a recurring focus session based on your choice of frequency. There's even a "Locked Mode" that disables you to edit even the Blocklist sites during a session. 
You can choose which websites to block and download Freedom across devices to ensure that you can't access the distraction-free websites from any device. But Freedom does not have a word processor that can help you write, so make sure you don't block the site or app you want to write on. 
Platforms: Windows, Mac, iOS, Android 
Price: $6.99/month 
Trial: You get 7 free sessions 
| | |
| --- | --- |
| Pros  | Cons |
| Block distracting apps while working  | Editing of blocked websites allowed unless you aren't in the Locked Mode  |
| Sync the blocked apps across devices  | No word processor  |
| Set up recurring focus sessions  |   |
| Locked Mode and Focus Sounds features  |   |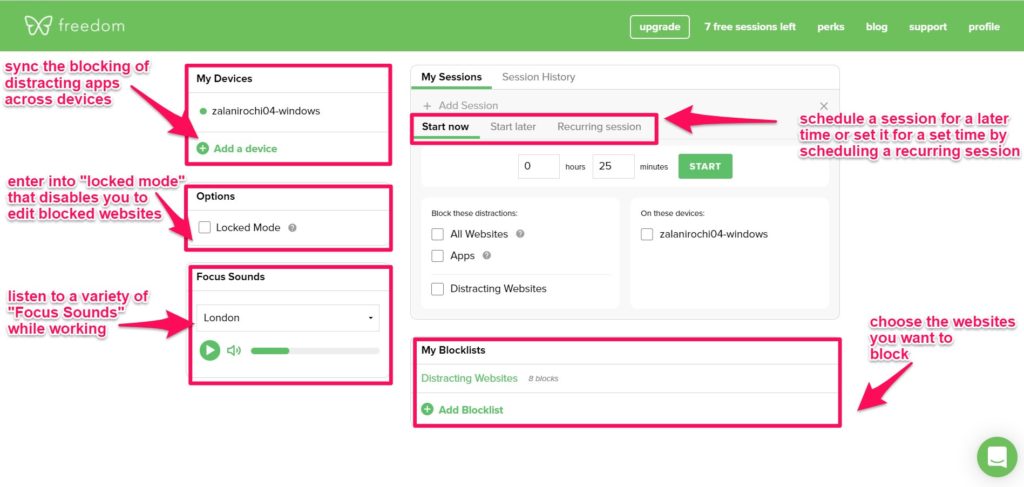 9. HemingwayApp

HemingwayApp is the perfect writing software for you if you want to improve your writing prose. 
HemingwayApp is writing software that helps you improve the readability of your writing. You can check the readability score of your writing, check the use of passive voice, simplify sentences that are harder to read, etc. 
Everything is color-coded making it easy to grasp the changes suggested. But given that it is software, it has its flaws. For instance, it eliminates most adverbs. And it does not take writing style, tone of voice, etc. into account. 
Platforms: Mac, Windows, Browser App
Price: Free on the browser. $19.99 for the license fee in the desktop app. 
Trial: Not available. The web app has all the same features as the desktop applications. 
| | |
| --- | --- |
| Pros  | Cons |
| Improves the readability of your writing  | Desktop app has no extra features from the browser app |
| Desktop app available for distraction-free writing | The suggestions can eliminate all adverbs and individuality in writing  |
| Color-coded suggestions  |   |
| Can alternate between "writing" mode and "editing" mode |   |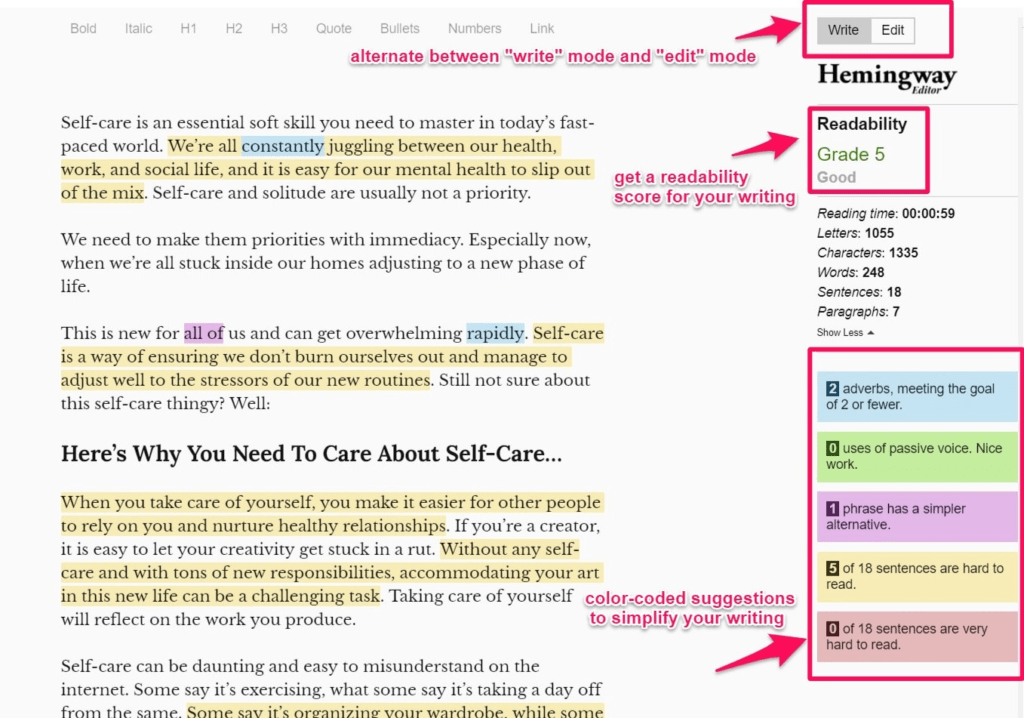 10. FastPencil
FastPencil is the writing software you can use to distribute your books and self-publish. 
FastPencil is a simple tool that helps you write, edit, organize, and publish your books. You can write within the platform itself or choose to upload your manuscript or finished book. FastPencil allows you to easily format and organize the book and distribute it worldwide. 
You can publish an e-book or a printed book. The software also allows you to manage sales and royalties. The software is free, to begin with, but for publishing and additional services (design, formatting, marketing), there are expenses paid plans. The tool's processor also at times feels outdated, clunky, and difficult to use. 
Platforms: On the web 
Price: The starter features are free. Paid plans begin at $4.95/monthly for publishing services. 
Trial: Not available 
| | |
| --- | --- |
| Pros  | Cons |
| Free word processor | Expensive paid plans for publishing, formatting, marketing, and other services |
| Manage sales and royalties easily  | The tool has a slight learning curve  |
| Print your books in e-book or print and distribute them worldwide  |   |
| Available on the web  |   |
11. ProWritingAid

ProWritingAid writing software can help you with basic grammatical, spelling, sentence structure, and writing style checks. 
ProWritingAid is a common name in the grammar software list, but can it be used as a writing software? I think so. The word processor at ProWritingAid is excellent and you can edit common grammar errors on-the-go. 
The best part is that ProWritingAid integrates easily with word processors, Google Docs, Chrome, and even Scrivener. So, if you don't want to use it as writing software, you can definitely complement it with your primary choice. The summary report in the software is top-notch for analyzing your writing style.
The free version is excellent and there's a browser version as well. But if you want the best features of this writing software, I'd recommend going premium. Although the suggestions are helpful, sometimes they can be out-of-context. The software also tends to get difficult to manage as you keep adding on more and more text. 
For a more detailed review of ProWritingAid, check this article. 
Platforms: Windows, Mac, Browser Extension 
Price: Begins at $20/month 
Trial: Not available 
| | |
| --- | --- |
| Pros  | Cons |
| Get grammar suggestions in real-time  | Best features available in the premium version  |
| In-depth analysis of writing style  | Grammar suggestions can interrupt flow while writing  |
| Easy integration with Scrivener, Google Docs, etc.  | Suggestions can be out-of-context  |
| Free version available  |   |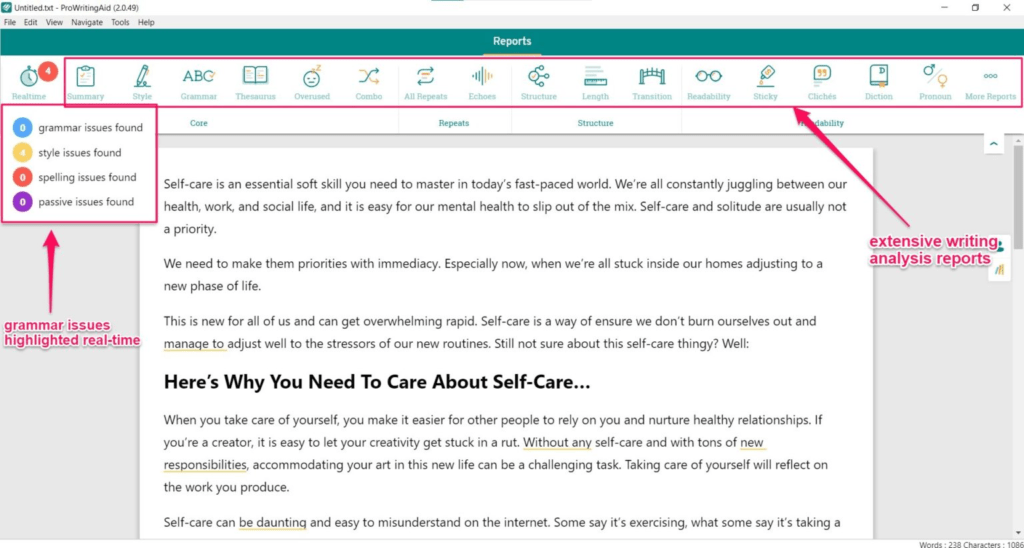 If you are looking for alternative grammar checking software that can double as word processors, check out Grammarly or Whitesmoke. Or if you are simply looking for grammar software, check our post about the best ones in 2021.
Final Thoughts

A good writing software can help you make your writing process easier. You can use one or two software(s) together to make the best of both softwares' features. In the end, what matters is you go get writing.