Our Verdict
Great fit if you are someone who needs grammar and spell checks your articles. Works well even if English is not your first language.

Start Using WhiteSmoke
Our Rating
 4/5
Usability
96%
Value For Money
98%
Customer Support
83%
Strengths and Weaknesses
Strengths
More affordable than competitors
User friendly and easily adaptable
Retains your document formatting
Accurate grammar checking
Available on multiple devices
Collect payments without invoice
Weaknesses
Customer support only available in business plan
Requires you to pay for annual plan upfront
Doesn't offer a free plan
10,000 Characters limit
Are you considering the WhiteSmoke online grammar checker for refining your writing? In this article, I'll walk you through its interface, key features, pricing, and more. If you're on the fence about buying WhiteSmoke online, then this review will help you make the final call. Let's get started!
First Impressions After Using WhiteSmoke
I used the WhiteSmoke desktop application and the browser version, WhiteSmoke Anywhere. Though the software has a limited aesthetic appeal and the buttons have a reminiscent look of Windows 2008, the overall design is minimalistic. As it's built relatively simply, I found it easy to find my way around it.
You have to click on the "Check Text" button once you paste your text. Once you've edited and refined your text, you need to click "Apply Changes" to save your changes.
I found these two steps unnecessary. A first-time user might forget to click on "Check Text" (like I did) or overlook the "Apply Changes" button and lose their edits.
The application scores your writing between 1 to 10 at the bottom left. From what I understood, it is calculated based on your grammatical errors and spelling mistakes along with the simplicity of your writing. The only explanation I could find on their website was the score determines if your text is good to go.

On clicking the "My Score" button, you'll get an analysis of your writing based on your grammar, spelling, and style. The entire software color codes your writing, highlighting spelling mistakes in red, grammatical errors in green, and stylistic issues in purple. The analysis box also gives you a quick examination of your sentence length, word choice, voice, etc.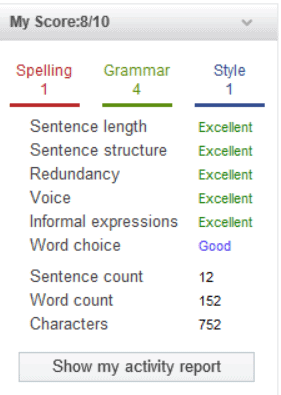 On clicking the "Show my activity report" button, it takes you to a web page that gives you an error summary. Personally, I hoped that this error summary would open in the application itself.
Overall, the software is user-friendly and easily adaptable.
WhiteSmoke Price
WhiteSmoke is an affordable grammar checker, especially compared with its competitor, Grammarly.
You can get three types of annual plans with the "Web" plan being the most basic and the "Business" plan having the most features and a "3-computer license":
You can also buy a 3-year plan at a more affordable cost, divided into the same types of three plans: Web, Premium, and Business.
Note that phone customer support is only available on the Business plan. And the Web plan does not include integration with any other writing platforms.
WhiteSmoke generally offers only annual subscriptions and none of their plans offer a monthly payment option. At the time of writing, there isn't a WhiteSmoke trial (free or paid) available either.
If you don't like WhiteSmoke, you can also request a refund within 7 days of purchasing by sending an email to the billing department.
Customer Service
There's no live chat support for the WhiteSmoke software. But you can raise a ticket and contact their support team in case you get stuck or want to report a bug.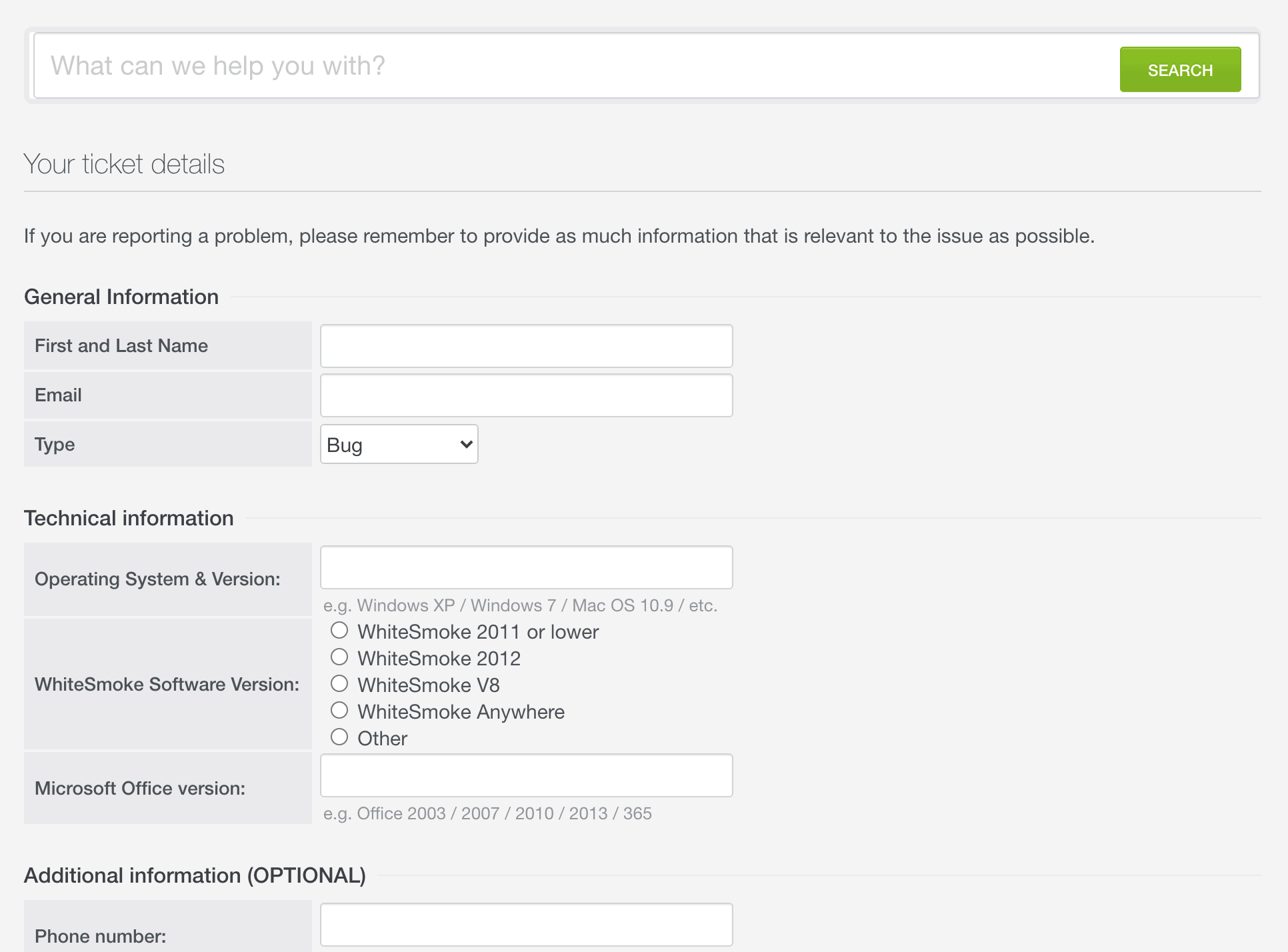 Chintan from my team, raised a ticket when he read a nine-year-old article about WhiteSmoke behaving like Malware. He heard back approximately 48 hours later stating WhiteSmoke is a "safe and secure program." While I like the reassurance, the speed of response could have been better.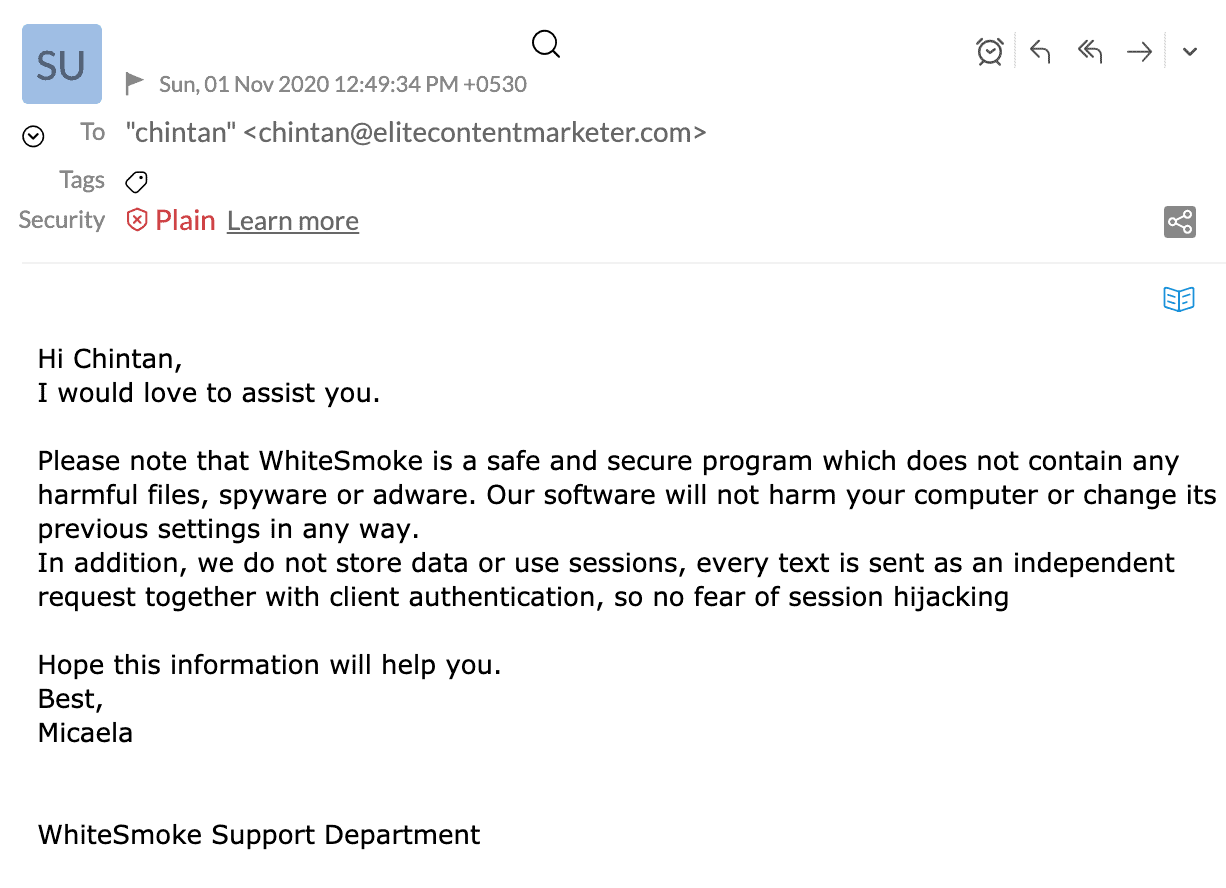 Additionally, there's a knowledge base answering the majority of questions about installing and using WhiteSmoke on different systems, its features, settings, and even a section about common grammar issues.
Desktop Premium Vs. WhiteSmoke Web
The browser version of WhiteSmoke premium works slightly differently than its desktop application. One of the primary benefits I found in the web browser is that your formatting remains intact.
Another difference is that the web application doesn't score your writing like the desktop application.
The same parameters like "Sentence Structure", "Sentence Length" are given a color: green for good, yellow for moderate, and red for needs improvement. And if you hover over the "i" icon, you also get an explanation about the parameters.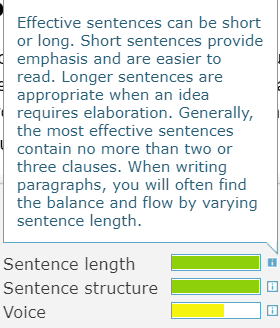 I would love for these features to combine – to get a score and the explanation box for parameters.
Another thing that is different in the web browser version is that you have to hover over the underlined errors to check for the mistake. And unlike the WhiteSmoke desktop application, the web browser version doesn't offer alternatives but just suggestions.
Personally, I like the interface and speed of the web browser version better. The addition of the element of score analysis like the desktop application would make it golden!
Key Features Of WhiteSmoke
Now it's time to look at the core functionalities of WhiteSmoke.
Grammar, Spelling, And Punctuation Checker Accuracy
My favorite part about the desktop application's grammar, spelling, and punctuation checker is that you don't have to hover over the underlined mistake to know the correct resolution. Multiple alternatives show up right above the text:
If you want to understand the reason behind the suggestion, you can click on "More" and see the Explanation, How to Use the suggestion henceforward, a Thesaurus, and even find an Enrichment version of the text or word.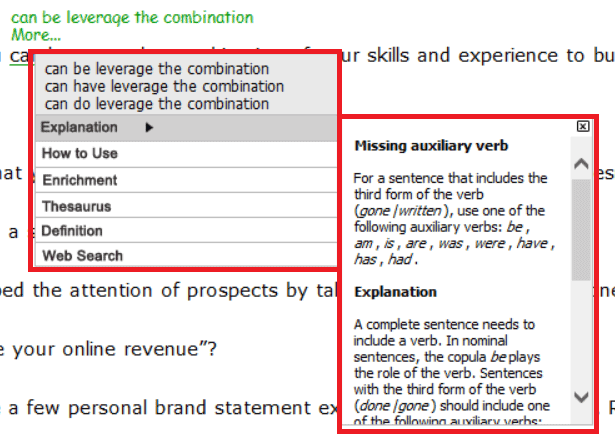 The checker has great accuracy and precision. But if you want to dive deeper into your score out of 10, get an analysis of your writing style, and identify patterns in your grammar mistakes, you're out of luck. WhiteSmoke doesn't offer those. The score summary and activity report is pretty much all there is in that regard.
Plagiarism Checker
The WhiteSmoke plagiarism checker is quick and accurate. I tried copy-pasting one of our articles on the desktop app and it was identified as "Likely Plagiarised" along with the link to the article.
I also copy-pasted my draft to this article to check what happens. It falsely identified just one sentence as being plagiarised with over 57400000 pages of results. This led me to understand that unless you copy-paste directly, the application searches for every possible combination and marks anything that sounds remotely familiar as plagiarism.
This means that while the plagiarism checker is quick, it is not useful unless you want to check if something is copied verbatim from a website.
Translator
WhiteSmoke has a translator of over 55 languages. This is immensely beneficial for students or writers whose second language is English.
Fortunately, Hindi, my first language was also available as a language. I tried to test it with a simple sentence:
Wanting to test it a little further, I copy-pasted a few sentences from this article to see how it holds up.
I was impressed by the speed and accuracy of the translation. It was a pleasant surprise to see it perfectly concise and correct even with the usage of complicated sentences.
Writing Tutorials
The application offers many writing tutorials about different grammar topics like capitalization, case wrong pronouns, noun and verb agreement, etc. Most of them are useful, especially if you aren't a native English speaker. These can help in creating quality content.
Just one thing to keep in mind, there is no pause button on the video. If you hit stop, it starts over.
Templates
This is one of the differentiating features of WhiteSmoke. The software offers a plethora of templates divided into four categories: General, Medical, Legal, and Business.

The use of this feature is pretty straightforward and the entire text is completely editable. You can click on "Copy Text" and the software gives you the option of saving it to a notepad.
These templates are especially useful in the "Legal" category for times when you want to quickly draft an Affidavit or a Contract.
Limitations Of WhiteSmoke
1. Annual Plan: WhiteSmoke only offers its plans on an annual basis. This is inconvenient for those who just want to test out the software or use it for a particular project lasting a few months.
2. No Free Trial: Unlike other Grammar checkers in the market, WhiteSmoke does not offer any free trial. You have to choose from any of the three plans available and make a purchase if you want to use the software.
3. 10,000 Characters Limit: You can only check 10,000 characters at a time. Every letter, punctuation mark, and space accounts for a character. This becomes a severe limitation for any writer wanting to check a long article, or a novelist wanting to check a manuscript. While WhiteSmoke would be great for checking a short article, emails, or social media posts, it is a burden to check anything longer.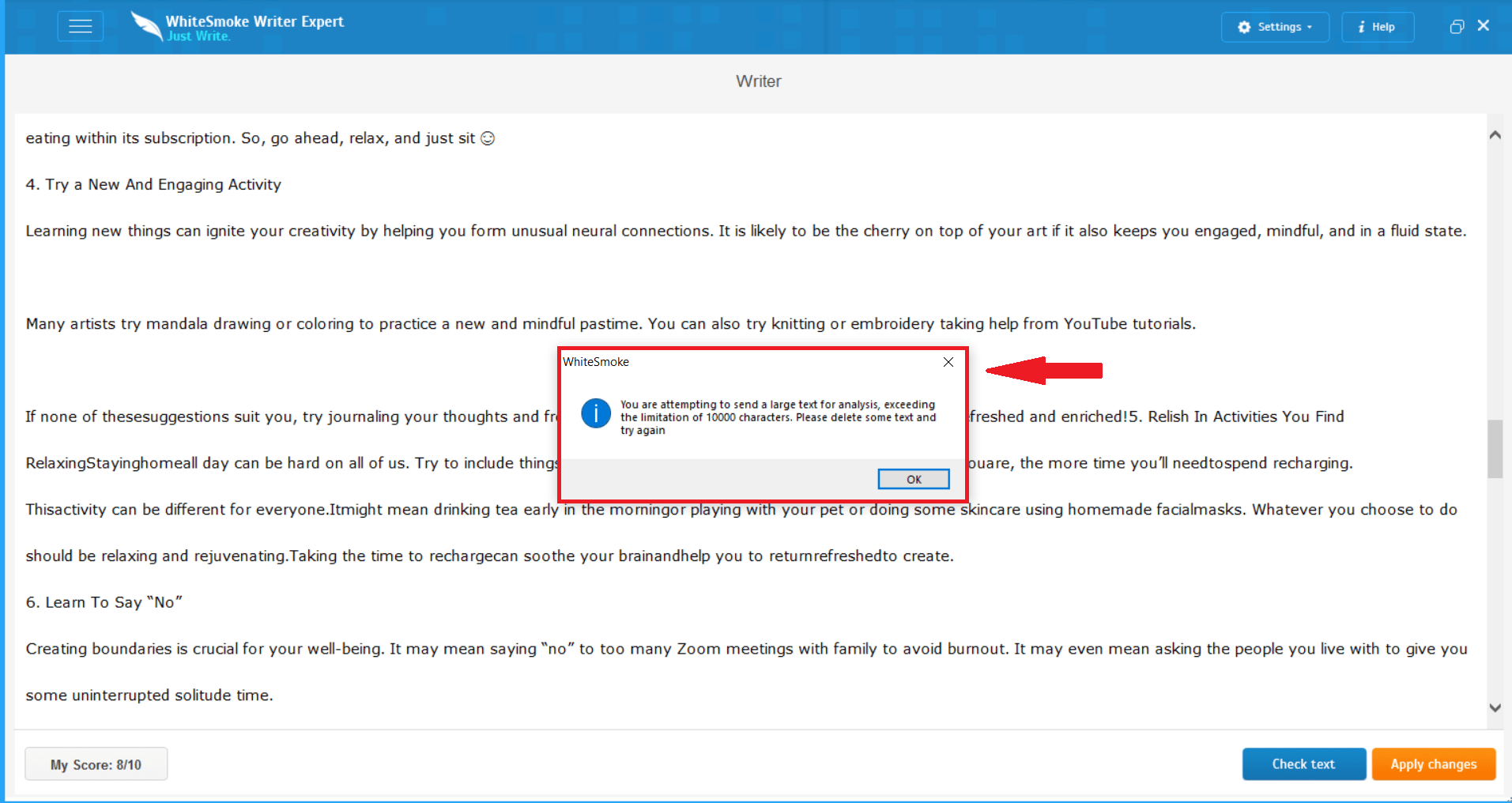 4. Limited Use for Plagiarism Checker: WhiteSmoke's plagiarism checker pulls from a database of 17 billion web pages to check for copied content. But the checker is slow to load and unhelpful unless you want to check if the content has been copy-pasted verbatim. I tried pasting a paragraph of this article's first draft and it displayed over 30400 pages. It nitpicks the tiniest of content pieces and doesn't give you an accurate picture of plagiarism.
5. User Interface: While WhiteSmoke is mostly user friendly, there are a few tweaks that could make the process of checking your content smoother. For instance, I forgot to click "Check Text" multiple times and once lost edited content because I forgot to click on "Apply Changes". The software could do without these buttons and work just as well.
6. Slow: The grammar and style issues highlighted are mostly accurate and helpful. But if you exhaust the 10,000 character limit in one copy-paste, the process of checking the text is slower compared to WhiteSmoke's competitors. The software got stuck multiple times and I had to paste the content again. The plagiarism checker works even slower if you paste too much content at once.
7. Limited Writing Analysis: Unlike its competitors, WhiteSmoke does not offer an in depth analysis of your writing. The report is pretty limited. You can see that you have made 5 subject-verb agreements, but you can't land on the mistakes from the report directly.
For someone who wants to analyze their writing styles and identify the grammar mistakes they usually make, this is a serious limitation. There is also an "Other" category in the error summary with 114 corrections but there is no way to find out what they are.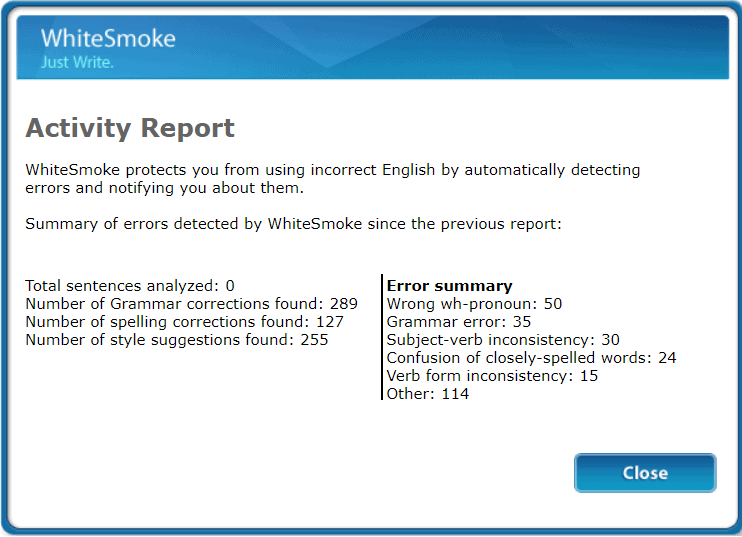 8. No mobile app – Though the company lists WhiteSmoke mobile apps for both Google Play and App Store on their website, they have discontinued them right now. Here's a screenshot of Chintan's conversation with a WhiteSmoke team member confirming the same.
Alternatives To WhiteSmoke
Let's look at how WhiteSmoke fares in its functionalities vis-a-vis its top two competitors – Grammarly and ProWritingAid. Let's start with:
WhiteSmoke Vs. Grammarly
I copy-pasted a piece of the same article in both WhiteSmoke and Grammarly to check how both the software compare.
WhiteSmoke identified 13 issues combining the style, grammar, and spelling:
Grammarly found 18: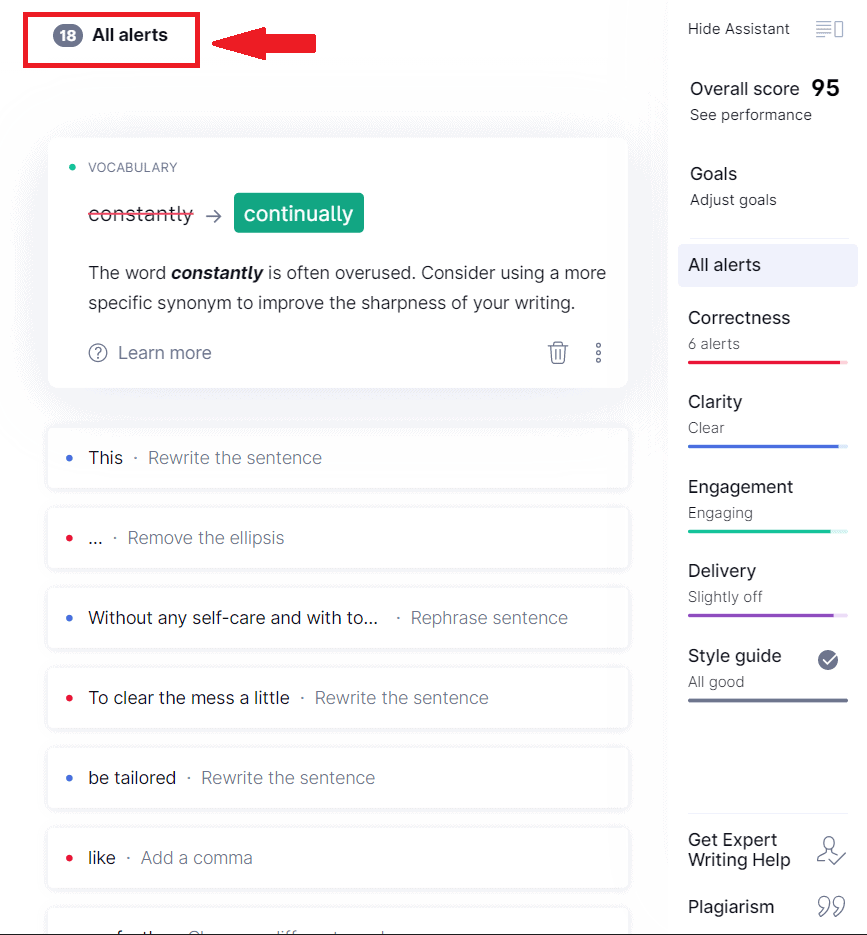 The grammar issues highlighted were similar. But the style issues identified in both the software varied. Grammarly identified more overused words, ambiguous sentences, and passive voice. WhiteSmoke highlighted informal language and repetitive words.
I found Grammarly's analysis more insightful and enriching to improve the quality of my content than WhiteSmoke. There were also a few grammar issues like dangling modifiers that WhiteSmoke seemed to miss.
But I would prefer to use WhiteSmoke for the days when I need a quick replacement for my repetitive words and solve the style issues quickly. While Grammarly gives me a clear picture of the style issues, it does not offer me alternatives I can use instead.
WhiteSmoke Vs. ProWritingAid
I pasted the same article in ProWritingAid to do a comparative analysis of the three software. ProWritingAid identified 17 errors.
Like WhiteSmoke, ProWritingAid also identifies style issues and suggests alternatives. I find this common feature immensely useful.
The style issues highlighted were also similar across ProWritingAid and WhiteSmoke. For eg – both identified "new" as an adjective that can be replaced. This is what ProwritingAid suggested to use instead:
WhiteSmoke, on the other hand, gave more thesaurus words to replace:
The difference is ProWritingAid understands the context of the changes better than WhiteSmoke. So the suggestions from ProWritingAid are more useful and applicable.
Final Verdict
I would recommend you use WhiteSmoke if you are someone who needs to grammar and spell check the occasional short article or social media posts. It is also great if English is not your first language and you need a handy translator along with a grammar checker software.
WhiteSmoke is also more affordable than its competitors which gives it a nice edge over its competition — you've to pay an annual price upfront, though.
LET'S MEET IN YOUR INBOX 😃
ADDITIONAL READING