Usually, when you change a job, something painful happens:
Your reputation disappears overnight.
Then you rebuild it with your new employer from scratch. But it does not have to be that way. You can leverage the combination of your skills and experience to build a personal brand. It ensures that you establish what you stand for, agnostic to your employers.
…And one of the most important aspects of building your personal brand is the statement that defines what you stand for. It's not limited to a specific employer and doesn't change like your job title. Think of it as a tagline that markets you to others. Even with zero experience, you can use such a statement to talk about the skills that you are building.
For example, Jacob McMillen is an SEO strategist and copywriter. On his previous homepage, Jacob grabbed the attention of prospects by talking in a benefit-oriented tone (as visible below).
Will you be interested in hiring just another copywriter? Or someone that can use their words to "increase your online revenue"?
In this article, you'll get a step-by-step breakdown of how to build a compelling statement. First, here are a few personal brand statement examples you can learn from. Ready? Let's go.
Note: This article contains affiliate links. It means if you sign up using my link, then I earn a commission (at no extra cost to you). I only recommend products that I personally find valuable and enjoy. I appreciate your support!
9 Amazing Personal Brand Statement Examples
Building a personal brand is a slow and long-term process. And your brand statement is essential to hook your audience. In this section, I'll show you around a few examples.
I have deliberately left out huge personal brands like Oprah or Gary Vee. Instead, I went down in the trenches and compiled a list of niche websites and business owners who are doing a great job at their personal brand statement. Here's the first one.
Carol Tice is an experienced freelance writer and started her writing blog, Make A Living Writing, to help writers. Her website tagline, "Practical Help for Hungry Writers", will resonate with her target audience. Most ambitious writers get confused when they start their creative entrepreneurship careers because of a lack of actionable tips.
Carol has picked every word in her statement above carefully, and it directly appeals to anyone that could use her writing mentorship.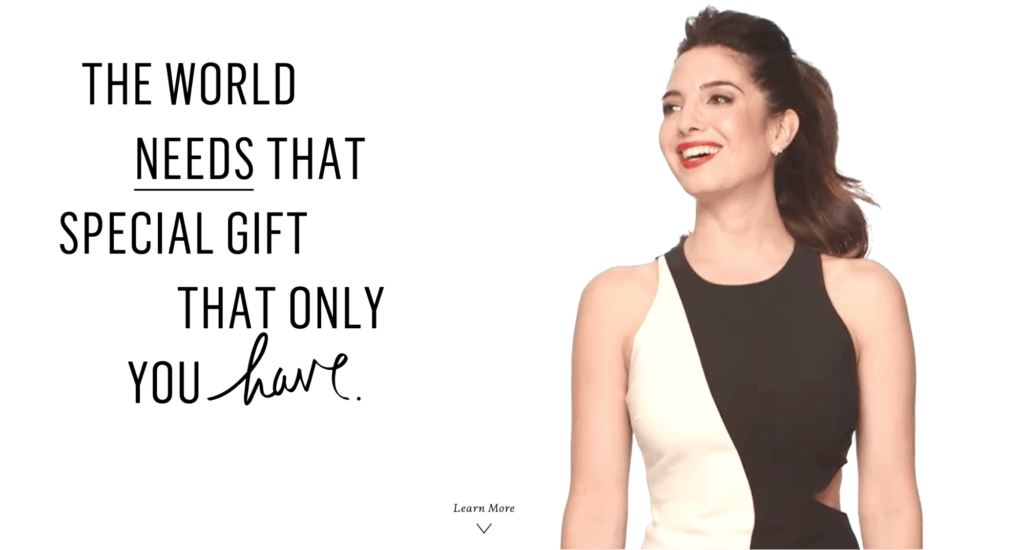 Among other recognitions, Marie Forleo is well-known for MarieTV, where she interviews entrepreneurs. She is a passionate entrepreneur that catches the attention of a browser with her motivating statement, "The World Need That Special Gift That Only You Have."
It's a powerful way to address those aspiring creatives and entrepreneurs (her target audience) that believe in themselves. Marie is an inspiring figure and life coach besides being an entrepreneur. And her brand statement has undertones of all the identities she fulfills.

Matt shares travel wisdom on his website. And in his personal brand statement, he specifically addresses the major pain points of his audience – they want to travel "smarter", "cheaper", and for "longer" period.
His blog shares tips and resources that can help you travel more. Matt has done a great job of preventing travelers from getting overwhelmed by researching tirelessly on the internet. And he aptly points the chief benefits that his website can offer with his statement above.
Also, his personal brand statement is followed by a question "Where do you want to go?" It does a great job of getting a prospect to take action on his site (by performing a search) as soon as they land.
Aaron Orendorff is one of my favorite content guys. He creates seriously EPIC content and has worked with a TON of reputed businesses. His tagline "Saving the world from bad content" perfectly sums up his expertise.
Note that Aaron's audience consists majorly of B2B business owners. Hence, on his homepage, he follows the above tagline with specifics that he creates "B2B content strategy" and lays down the top benefits of his content: traffic, qualified leads, and scalability.
Pat Flynn is a household name in the passive income industry. His income reports have been a huge success and demonstrate that it's possible to build a passive business.
For a new visitor that lands on his site, SmartPassiveIncome.com, Pat offers a helping hand with the statement – "Let Me Help You Build A Passive Income-Driven Online Business." Many aspiring entrepreneurs have a passive-income dream. And with Pat's smug face beside his offer for help, many of the prospects will kick start a relationship with his brand on a great note.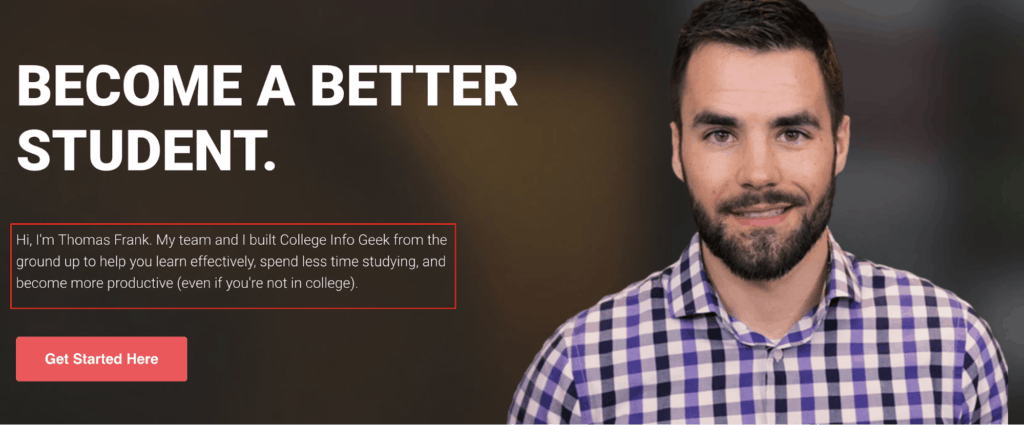 Thomas Frank has built his business, College Info Geek, to help college students. And he neatly lays it down front and center on his site homepage as visible above. His personal brand statement reads "Become A Better Student."
The learning techniques and other resources shared on the site are relevant for anyone interested in being more productive. Thomas clears the same that in the small snippet below his main statement (by using the phrase "even if you're not in college").

How about mixing our list with a renowned life coaching powerhouse? Tony Robbins is a figure most self-improvement enthusiasts are familiar with. His personal brand statement is crisp and inspiring – "Transform Your Life."
It's directly addressing the reader and grabs their attention with a compelling claim. Further, it's followed by a little detail into how you can achieve the huge transformation goal (in the second line "close the gap between where you are today – and where you want to be").
And that's personal brand coaching from a life coach, aye?
There are far too many marketers out there that have promising results. They often end up sounding either too technical or too salesly. If you're a marketing consultant, then you need to appeal to entrepreneurs. And that's what Sujan Patel does.
In the image above, beside his cutesy smile, he lists "Growth and Content Marketing." And on a scroll, you'll find a 'What I do' section. I am considering the answer "I Grow Companies" as his personal brand statement.
It's simple and will direct appeal to any entrepreneur hungry for growth. He also lists his marketing agency that takes on the growth projects.
Alright, this Adam is the new kid on the SaaS scene. He's being guest posting like crazy for the last three months and building a strong case for his personal brand. On his website, he makes a compelling pitch that perfectly packages the unique flavor of his personal brand, "Blog Like a CEO, Not a Writer."
The statement will grab the attention (and even upset!) of any blogger that loves writing (and mind you, most bloggers do…)
Adam presents a strong case of building your blog like a business and decision-making accordingly for quicker growth. In the second line, he uses social proof and numbers to justify his bold statement. Overall, it manages to catch the attention of a reader in the overcrowded 'make money blogging' niche.
Hopefully, those examples have got your creative juices flowing and you're off to the races, writing down your personal brand statement. Now, in the next section, let's break down the specific steps you can use to create an attention-grabbing personal brand statement.
How To Craft An Engaging Personal Brand Statement: 5 Simple Steps
By now you might have understood that your personal brand statement is about a couple of sentences in length (and is punchy). It isn't a long-term entity like your life purpose, career objectives, or personal mission. Instead, the statement tries to (mostly) answer the following questions:
What work do you do best?

Whom do you help (your target audience)?

What's your unique differentiator?
Now, here is a 5-step process you can use to create a memorable statement for your personal brand.
Step #1: List Your Key Attributes (Then, Filter The Unique Ones!)
Take out a piece of paper (or open a new Google doc). And write down your key career and business attributes. The statement talks about "what you do" that nobody else does, but it starts with listing all the qualities and skills you possess.
For example, if you're skilled with understanding search engines and helping startups scale, then you can list your key attributes as technical SEO, growth, startup marketing, marketing technology, and the like.
Next, you need to find the unique differentiators that separate you from the hundreds of other professionals (if not thousands) that do the same job.
For instance, Kaleigh Moore, a freelance writer, is ultra-specific on her site's homepage (which also differentiates her services). She mentions that she writes "blog content" for "Ecommerce platforms" and "software that integrates with them."
How many writers do you know that specialize in writing on Ecommerce? Her message profoundly resonates with her target audience, which brings us to the second step:
Step #2: Define Your Audience
You can't be everything to everyone. If you go too broad, then the people you might work may deem you another generalist. It makes sense to address the industry where your skills will prove to be useful directly. If you lose relevance, then you lose the attention of a prospect.
I have talked in detail about the importance of aiming to appeal to merely 1,000 people along with actionable steps to achieve the same.
Note that specific skills might see a sudden uptick. And hence they can become extremely relevant to particular industries. So it might make sense to find an industry where your current skills are seeing high demand.
For example, I LOVE writing long-form content. And I found that it has suddenly become an in-demand skill for SaaS businesses and marketing companies. That's when I changed my homepage pitch as well.
I'm not alone. Look at the number of results in the screenshot below for the phrase "long-form content writer for SaaS." Many reputed writers have jumped on the opportunity and offer long-form content services to SaaS.
Goes to show the importance of defining your audience and clearly stating your skills relevant to them, front and center, aye?
Step #3: Stay Authentic
I run backward from Twitter bios that read any variation of the phrase "marketing guru". On the internet, self-appointed experts (including ninjas, samurais, and thought leaders) tend to be snake oil salesmen.
When you write your personal brand statement, stay away from using superlatives like "market leader", "the best", or anything of that sort. Such claims should be backed with concrete proof.
Also, the brand statement isn't your resume; it's only supposed to get the interest of prospects in your professional profile. Reserve your laundry list of professional achievements for your resume.
Also, using jargon and TOO much of technical prose will only alienate your audience. Stay away from fancy titles. And let your audience be the judge of how great you are. Here is how Mark Manson (author and blogger) pitches himself on his homepage.
Notice how he states both the opinions about his work and lets the reader decide what they think.
Staying authentic and not overselling yourself is the way to go in the age of social media. Just inform and inspire your audience with complete honesty.
Step #4: Make It Crisp And Memorable
If you can make your work sound interesting and easy to recall, then your personal brand can go a long way. Everyone is running short of time, so you want to keep it crisp and punchy. You can also try testing your statement at networking events and conferences to find the true winner.
For example, Ramit Sethi (author and entrepreneur) extensively tested the responses to the question, "What do you do?" at the bar. He found that the answer "I'm an author" generated twice the interest of the answer "I'm a writer."
There's no proven formula to come up with an insanely creative and sticky tagline. It's about coming up with MORE ideas and testing the best ones. To warm your brain, you can key a term related to your profession inside the slogan generator.
Step #5: Start Promoting Yourself
Now that you've chosen a personal brand statement, it's time to unleash it on social media, guest posts, and your other brand touchpoints. It's crucial that you stay consistent in your branding. For example, Aaron Orendorff uses the same statement as his website homepage ("Saving the world from bad content") on his Twitter handle.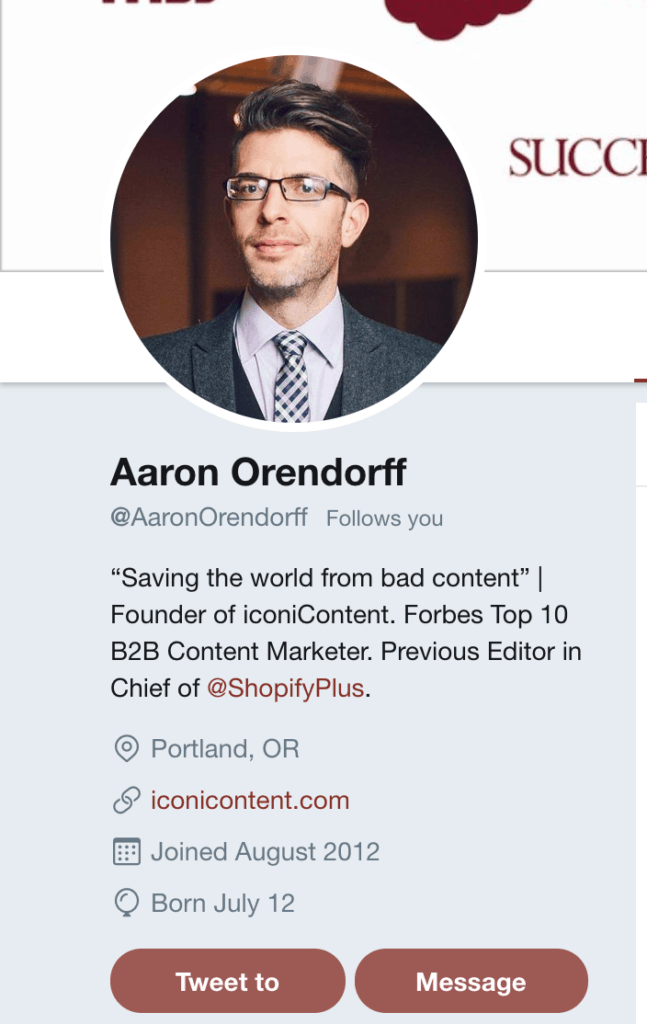 However, it's okay to vary the statement as per the etiquette of the social platform. For instance, Nomadic Matt uses a bunch of adjectives to define what he does on Twitter. Alongside, he mentions that he's the author of a book and that he helps people "realize their travel dreams – without breaking the bank."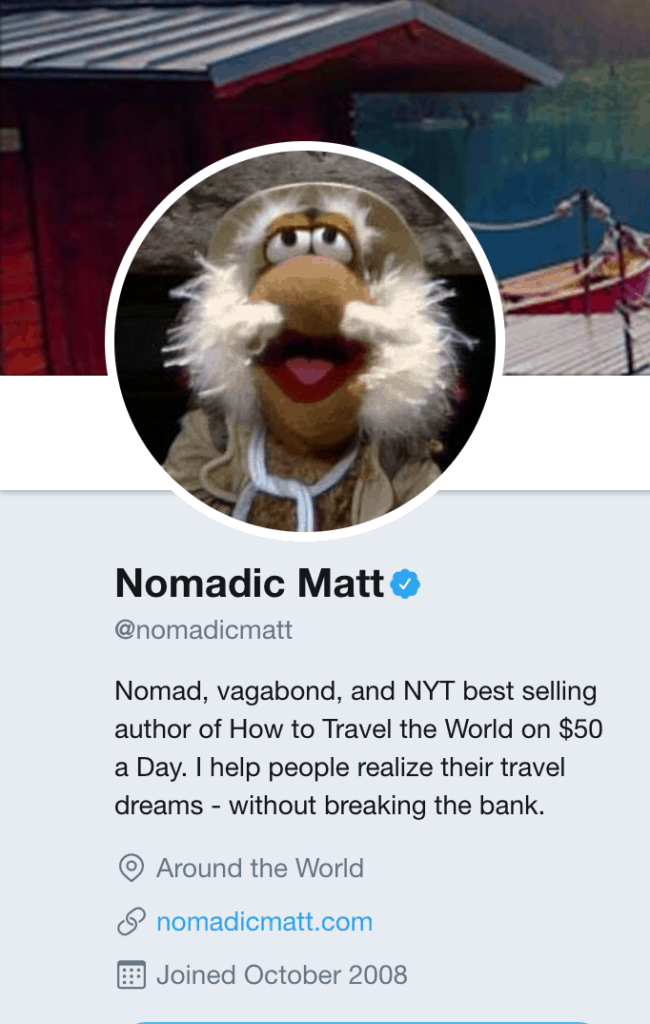 The prospects that get intrigued by Matt's above bio might then check out his site, but they won't be disappointed with his statement "travel smarter, cheaper, longer." The reason is that their promise of "realizing their travel dreams" isn't broken.
And that's how it's done.
Go Leverage These Personal Brand Statement Examples Now…
Building expertise that can differentiate you over competitors is great. But you need to articulate what you do and how you're different memorably.
Now, it's your turn:
Use the nine personal profile examples and the step-by-step process to build a remarkable personal brand statement for yourself. Remember that the statement is a dynamic entity. Ideally, you should revisit it each year to reflect the progress in your professional career.
If you're looking for the next steps to build your personal brand, then check out the Skillshare course, Do Things, Tell People (you can pursue it for free).
What's your experience with writing a personal brand statement? Let me know in the comments below.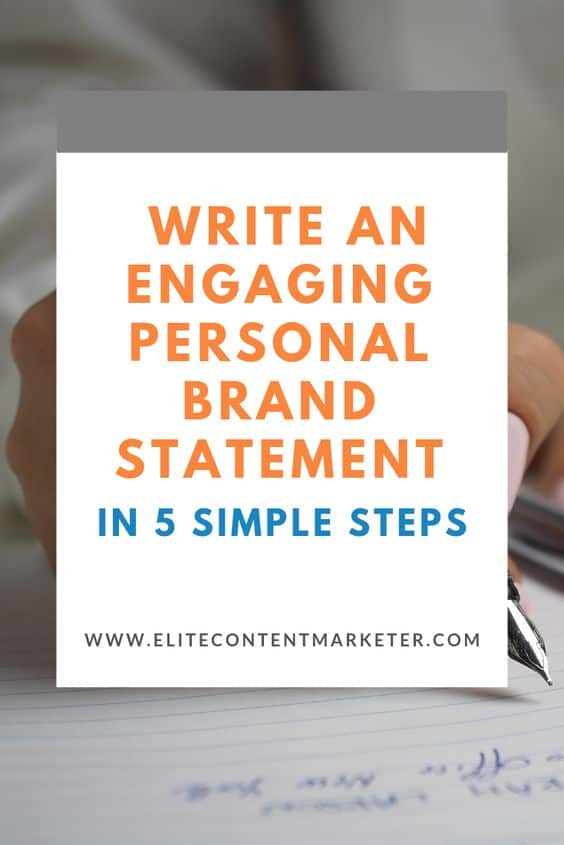 LET'S MEET IN YOUR INBOX 😃
Free online education, online learning sites, online educational platforms, learning platform, learn it online, learn skills online, free online learning
Read More »