Like it or not, people form an impression about you by looking at your social media profiles and your larger online presence. Yet most founders, creators, or knowledge working professionals do not pay attention to their positioning.
Are you one of the rare business professionals that wants to build a strong personal brand? Then begin with defining what you stand for.
An effective personal brand statement communicates your skill sets, goals, and values in a clear and concise way. It's employer agnostic, so doesn't change with your job title.
Further, it provides a compelling reason to your customers, prospects, and your network at large to listen to you. Today, let's look at a few persuasive personal brand statement examples. But first, let's answer a few basic questions about the subject.
Note: This article contains affiliate links. It means if you sign up using my link, then I earn a commission (at no extra cost to you). I only recommend products that I personally find valuable and enjoyable. I appreciate your support!
Frequently asked questions about personal branding statements
What is a personal brand statement?
If you consider yourself a product, a personal brand statement is your tagline. It's a one to two-sentence summary of your skill sets and goals — and how what you do stands out over other professionals.
Here's a personal brand statement example: "Empowering ridiculously good marketing" by marketing thought leader and best selling author, Ann Handley.
How to write the best personal brand statement?
Step 1: List your key skills (then, filter unique ones)
Step 2: Define your audience
Step 3: Reflect on what you do differently
Step 4: Draft a sentence or two combining your findings from the above three steps
Step 5: Polish it and get feedback from 8 to 10 people
What are some cool examples of personal brands?
Oprah Winfrey has one of the biggest personal brands in the world. She's recognized by and inspires millions across the globe. Creators in the digital realm like Mr. Beast and PewDiePie, or even authors like James Clear and Mark Manson also have pretty recognizable personal brands.
How effective is personal branding as a digital marketing strategy?
Being authentic could be one of the most effective marketing strategies. It can establish trust and build your credibility instantly — especially in crowded markets. For example, Tony Robbins is an author with an instantly recognizable brand in the noisy personal development space. However, a personal brand is not scalable. It can also take a toll to maintain it.
5 personal brand statements to inspire you
If you want to build a strong personal brand, you need a memorable personal branding statement. Here are nine to get your creative juices flowing.
1. "The world needs that special gift that only you have" – Marie Forleo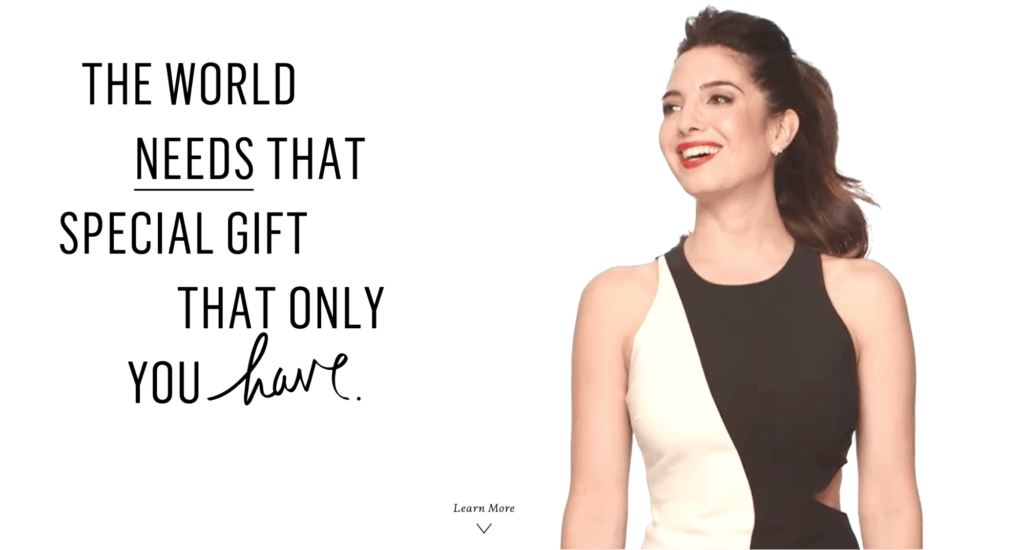 Among other recognitions, Marie Forleo is well-known for MarieTV, where she interviews entrepreneurs. She is a passionate entrepreneur that catches the attention of a browser with her motivating statement,
It's a powerful way to address those aspiring creatives and entrepreneurs (her target audience) that believe in themselves. Marie is an inspiring figure and life coach besides being an entrepreneur. And her brand statement has undertones of all the identities she fulfills.
2. "Travel smarter, cheaper, longer" – Nomadic Matt

Matt shares travel wisdom on his website. And in his personal brand statement, he specifically addresses the major pain points of his audience – they want to travel "smarter", "cheaper", and for a "longer" period.
His blog shares tips and resources that can help you travel more. Matt has done a great job of preventing travelers from getting overwhelmed by researching tirelessly on the internet. And he aptly points out the chief benefits that his website can offer with his statement above.
Also, his personal brand statement is followed by the question "Where do you want to go?" It does a great job of getting a prospect to take action on his site (by performing a search) as soon as they land.
3. "Saving the world from bad content" – Aaron Orendorff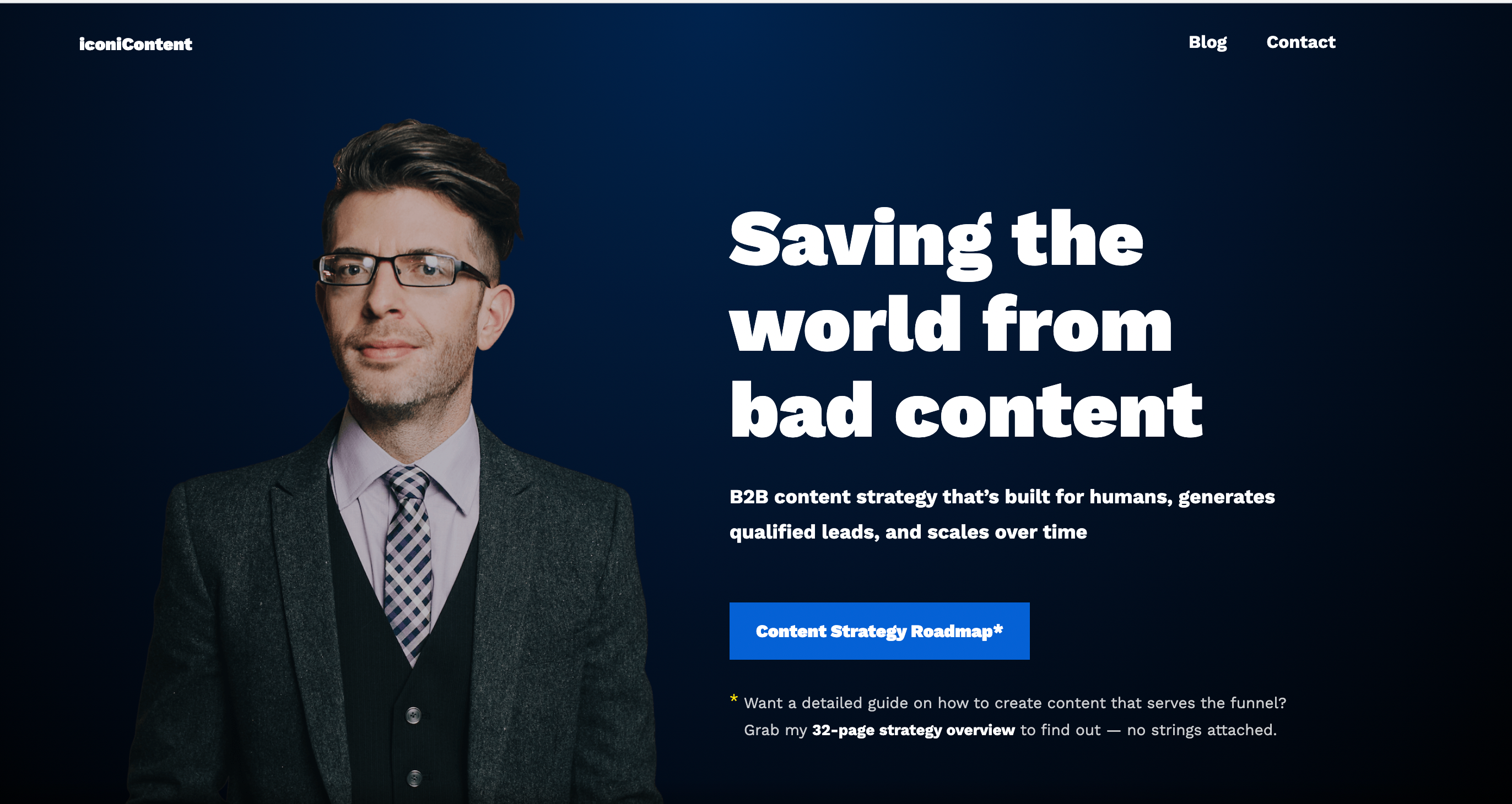 Aaron Orendorff is one of my favorite content guys. He creates epic content and has worked with a TON of reputed businesses. His tagline "Saving the world from bad content" perfectly sums up his expertise.
Note that Aaron's audience consists majorly of B2B business owners. Hence, on his homepage, he follows the above tagline with specifics that he creates "B2B content strategy" and lays down the top benefits of his content: traffic, qualified leads, and scalability.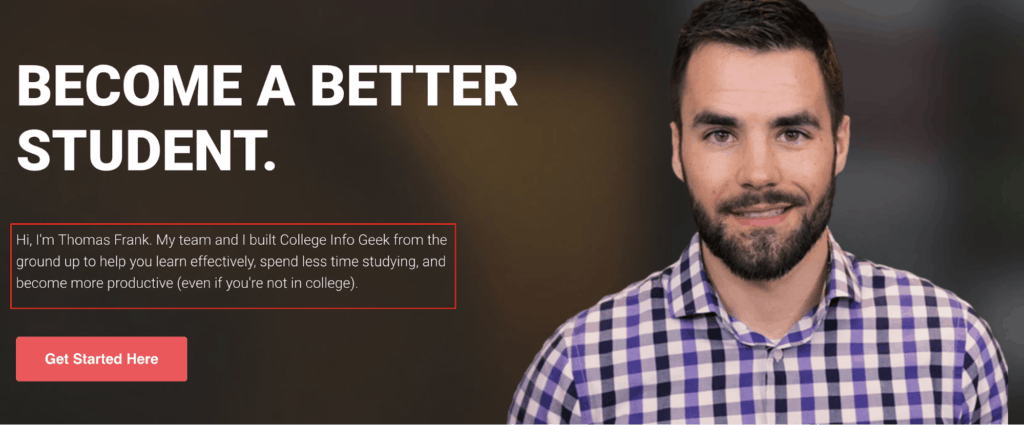 Thomas Frank has built his business, College Info Geek, to help college students. And he neatly lays it down front and center on his site homepage as visible above. His personal brand statement reads "Become A Better Student."
The learning techniques and other resources shared on the site are relevant for anyone interested in being more productive. Thomas clears the same in the small snippet below his main statement (by using the phrase "even if you're not in college").

How about mixing our list with a renowned life coaching powerhouse? Tony Robbins is a figure most self-improvement enthusiasts are familiar with. His personal brand statement is crisp and inspiring – "Transform Your Life."
It's directly addressing the reader and grabs their attention with a compelling claim. Further, it's followed by a little detail on how you can achieve the huge transformation goal (in the second line "close the gap between where you are today – and where you want to be").
And that's personal brand coaching from a life coach, aye?
Final thoughts
Building expertise that can differentiate you from competitors is great. But you need to articulate what you do and how you're different. A personal brand statement is short and memorable phrase that does the same.
Remember that this statement is a dynamic entity. It should reflect the progress in your professional career and growth in your skill sets or unique attributes.