Our Verdict
ProWritingAid is the ideal fit for anyone who wants to analyze their writing style under a budget. It's the writing teacher you wished you had in your high school.

Start Using ProWritingAid
Our Rating
 4.5/5
Usability
86%
Value For Money
97%
Customer Support
90%
ProWritingAid is a grammar checking and style editor software that can help you improve your writing. Can it help you become a better writer? Is it the best grammar checker out there? Is it worth it? How is it different from Grammarly or other grammar checking software?
I will answer each of these questions in this article.
Note: This ProWritingAid review contains affiliate links. It means if you sign up using our link, then Elite Content Marketer earns a commission (at no extra cost to you). We only recommend products that we find valuable and enjoy. We appreciate your support!
ProWritingAid Frequently Asked Questions
Before we begin looking at the features of ProWritingAid, let's answer the basic questions people ask about it.
Is ProWritingAid free?
ProWritingAid is a freemium software. Its free version generously offers 22 detailed reports to evaluate your writing.
Is ProWritingAid better than Grammarly?
Grammarly has premium features such as its performance report clubbed by delivery, engagement, clarity, and more of your writing. But ProWritingAid is cheaper and makes sense if you want a robust grammar checker on a tighter budget.
How much is ProWritingAid?
Besides its forever free version, its monthly subscription comes at $20 and the yearly subscription at $59. You can even make a lifetime purchase of the software for $224.
Does ProWritingAid work with Scrivener?
Yep, you can open, edit, and save your Scrivener projects in the ProWritingAid Desktop App.
Is ProWritingAid safe?
Since none of the text you submit is stored on its system, you can consider ProWritingAid safe. Your writing won't get copied by scanning it with the application.
How To Use ProWritingAid?
ProWritingAid is available on both Windows and Mac, and supports Google Docs, Microsoft Word, and Scrivener. However, there are no iOS or Android apps available for the software at the moment.
ProWritingAid is not only a grammar or spell checker — but it also improves the readability of your writing.
Here are its top features:
Summary Reports: These reports tell you what is working well for your writing and what are some areas of improvement.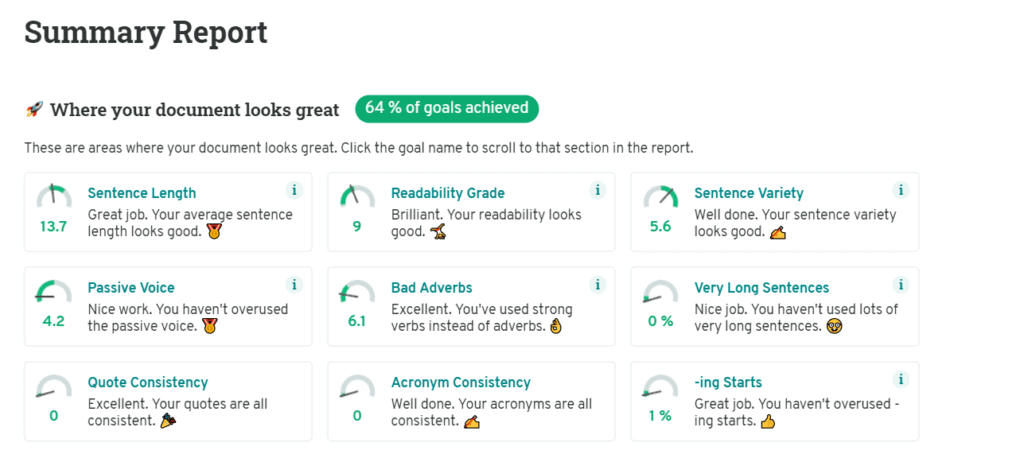 Readability Reports: Like a writing mentor, ProWritingAid analyzes your writing and gives you a detailed report about the nooks, cliches, and diction of your writing and how you can improve.

Grammar checker: Every grammar issue is highlighted in red and every style issue in yellow. A suggestion to improve follows right across when you hover over the error.

How Is It Different From Other Grammar Checkers?
Unlike other tools in the market, this writing tool does more than just a grammar check. Here is how ProWritingAid overdelivers:
It tests your writing for cliches, overused words, abstract sentences, incorrect tenses, and the like. It can help you recognize your consistent writing style issues. There is even an entire section on the software's dashboard for readability! ProWritingAid is the writing teacher you wished you had in your high school.

While popular grammar checkers like Grammarly give you an overall performance summary, ProWritingAid goes out of its way to also measure your writing against the best writers of your genre and provides 22 detailed reports (in the free version) for your reference. Hardly any other grammar checkers provide such comprehensive information.
ProWritingAid has no word-limit. You can check as many words as you want in one go. Hurrah, fiction writers!
It is compatible with Scrivener. Haven't been able to find any other Grammar checker that is.
Pros And Cons Of Using ProWritingAid
Pros:
It is the best at detailed reports: If you want to find stylistic issues in your writing, or wish you had a mentor to assess your writing's readability, ProWritingAid is the way to go.
It has an inbuilt Thesaurus: You can sound smart without opening the dictionary.
Detailed Reports: In the paid version, you can get 25 reports of your writing measured against the best authors of your genre.
It has no word limit: You don't have to copy and paste and check each chapter anymore.
It is cheaper than Grammarly: Same features (almost) for lesser money. Who wouldn't want that?
 It is compatible with Scrivener: If you use it for your writing, ProWritingAid is your rescue from Ctrl+V
 Safe from plagiarism: ProWritingAid does not save what you write after the analysis ends. This applies to both the free and paid versions.
Cons:
No Application: If you want to use this for a quick edit on the phone before a big meeting, it's troublesome to use the browser.
Can be a little slow for a lot of data: Fiction writers, wear your patience seatbelt.
Hovering over: To see the suggested fixes for your errors, you must hover over each and change them. This can get tedious really quickly.
Previous documents are deleted, if not saved manually: Once it's gone, it's gone.
 Does not run offline: Even in the premium version, ProWritingAid does not work offline.
 Analysis limited to 500 words: The readability reports and summary reports are limited to the analysis of 500 words in the free version.
Is ProWritingAid The Right Grammar Checker For You? (Quiz Time!)
ProWritingAid is a delightful grammar checker. But, it is especially just right for you if you meet any of the following conditions:
If you are a fiction writer who needs to check lots of chapters at once.
If you are a writer who is trying to analyze how you write, what are your overused phrases, and how you can improve.
If you are a student who needs to check lots of academic papers and your research thesis that goes on for more words than most Grammar checkers allow.
If you are a teacher that needs to check student papers for plagiarism.
If you are a writer who often needs to check for spelling inconsistencies between the US and UK English.
If you are someone who needs to see the edits quickly update as you write right away.
If you are someone who wants to evaluate the readability of your writing and improve your word choice?
If you score anywhere between 3-6 on this quiz, ProWritingAid is the perfect tool for you.
Personal Experience: ProWritingAid
I posted an article from Podbean to ProWritingAid. Here is an account of what I experienced.
There are a TON of features to explore in the free version itself. This is what the dashboard's top panel looks like:

Summary Reports

The Summary report itself is extensive and it's a good idea to go through the entire thing if you want to do an analysis of your writing style.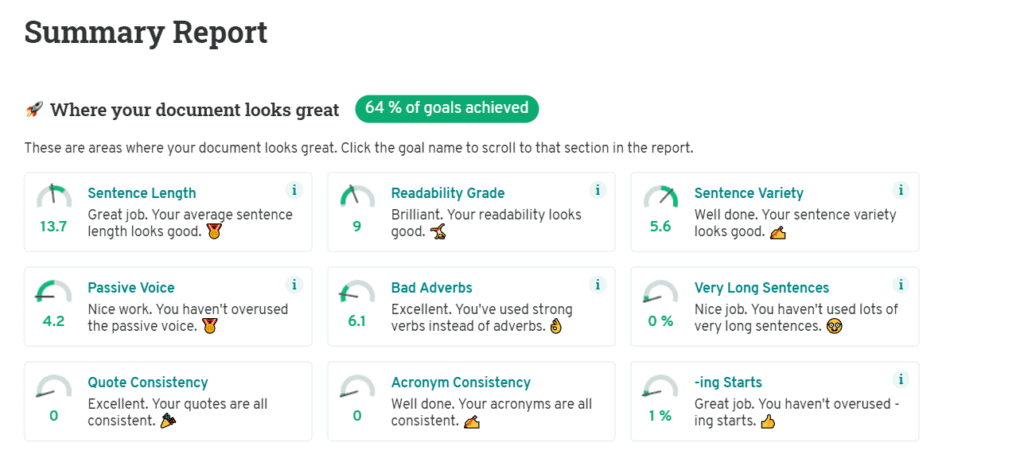 There is also an option to Print this report. It comes in handy for when you want to go through the analysis without an internet connection.
While the first section tells you what works well for your writing, the next section talks about what you could improve upon.

Following these two sections is a breakdown of each of the elements in graphs, pie-charts, and word clouds.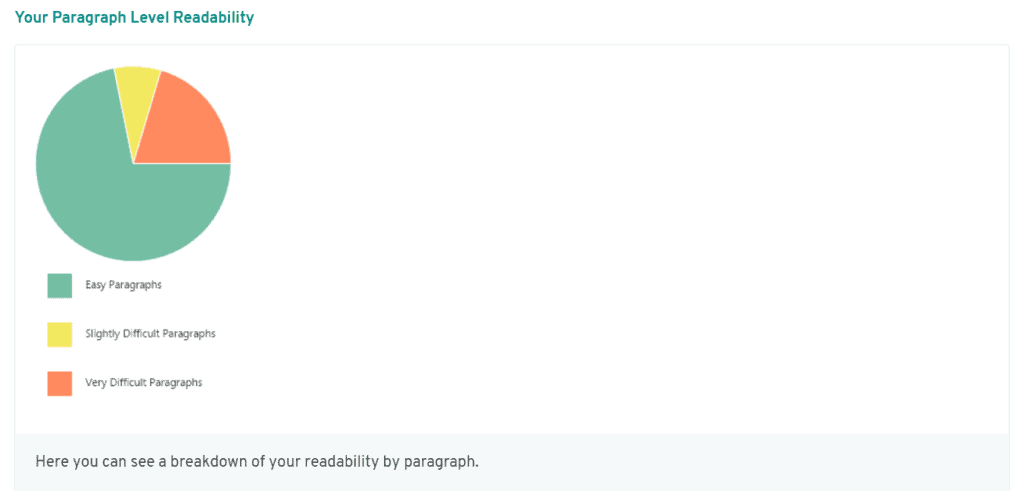 My favorite part was the quick suggestions for every metric evaluated and why it is important:

Summary Reports: What could be better

But the extensive analysis for every metric, while useful, is not feasible for every piece of writing. If I want a quicker analysis, there is no way to go about it in this feature. It is also unclear how the scores for the various metrics are calculated and whether they are reliable.
And while the graphs are useful, it would be more user-friendly to have specific instances documented (or navigated to in the click of a button) that are marked as areas of improvement.
Writing Style Feature

I also wanted to check how ProWritingAid would evaluate my writing style in depth. The toolbar for the style feature appears on the left-hand-side corner with crisp numbered details.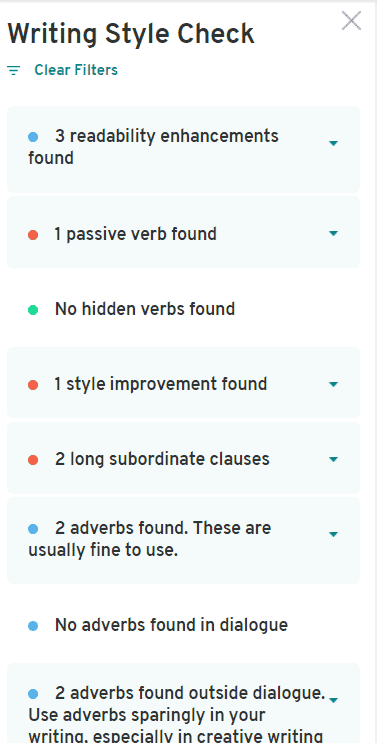 What I found a little tedious here was having to manually check for each recommendation by first clicking the drop-down, then choose the issue, then clicking on "Go to item" to finally land on the recommendation.
While this is not much for brief articles, for long articles or academic papers, or the draft of a book, it is exhausting.

Similar to the style feature, there is a Grammar feature as well. It has the same cons of a too-long procedure to land on the error.
But what I loved here, was the detailed reason along with an article on every issue found by clicking on the "i" button, which is "Learn more about this suggestion"

This is especially useful for someone who's second language is English, like me.
Thesaurus Feature

I also explored the Thesaurus Feature and enjoyed the variety of words that came up as alternatives.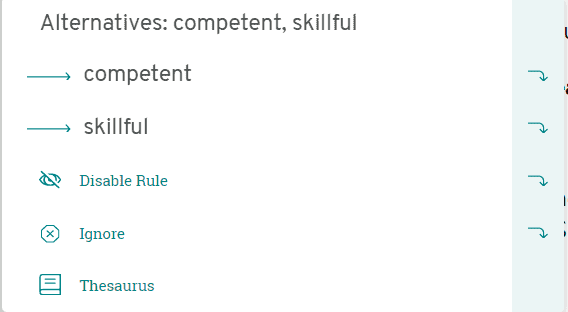 Although like the other features, it has a little manual to go to every issue and fix it; I did not mind it so much here because I could use the resolve button if I wanted to replace the word with a synonym.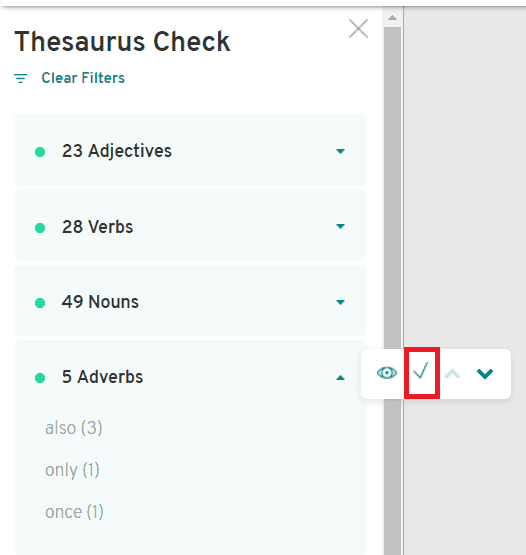 Readability Features
The thing I enjoyed the most about ProWritingAid is the readability features. There are metrics in place for evaluating readability, diction, and cliche usage. If you write for an audience like me, this would be useful to improve the engagement of your writing.
There are also detailed reports on the following topics: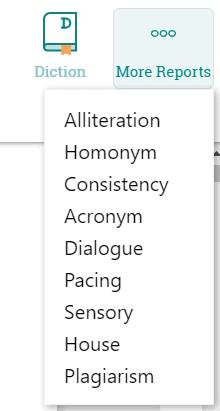 This feature is like a writing mentor to me: it marks all my errors and areas of improvement in red.
What could be better
It would've been amazing if these features worked offline as well, unfortunately, even in the premium version, they don't
What would have boggled my mind is these features work offline too. But, unfortunately, even in the premium version, ProWritingAid requires an internet connection to work.
And a note that I found might be useful for anyone beginning to use ProWritingAid is that it doesn't save your text. I analyzed half of my article and left midway without copy-pasting the rectified errors somewhere else. The next day when I reopened the software, my article was gone and there was no way to retrieve the edits I had made.
So, if you want to check a ton of text, I would recommend only pasting the text you can edit that day itself.
But, apart from these minor cons, I found ProWritingAid a delight. The features helped me get a better understanding of my writing – the words I often overuse, the readability of my writing, how I can improve, along with insightful reports behind each error.
How Much Does ProWritingAid Cost
ProWritingAid costs $0 for the free version, $20 for a monthly subscription, $59 for a yearly subscription. You can also make a lifetime purchase for $224.
The plagiarism checker along with the premium costs $24 for a monthly subscription, $66 for a yearly subscription, and $299 for a lifetime purchase.
But if you just want to buy the plagiarism checker and not the premium version, the cost is check based – $10 for 10 checks, $40 for 100 checks, $120 for 500 checks, and $200 for 1000 checks.
Grammarly vs. ProWritingAid
I checked the same article on Grammarly too to test how the most popular Grammar checker stands against ProWritingAid.
The 'Overall Report' in Grammarly is like the 'Summary Feature' in ProWritingAid. There is a similar option to download a PDF report too.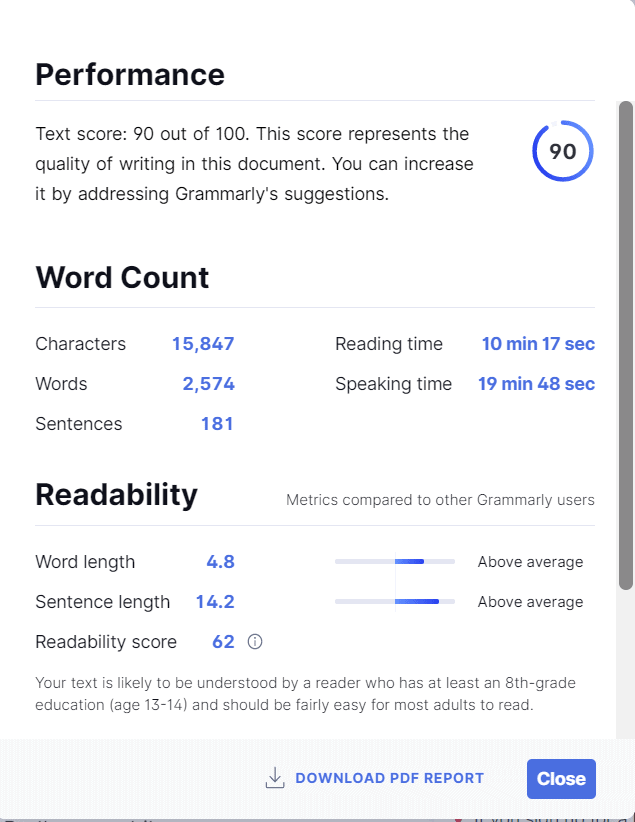 I found the Overall Performance Report in Grammarly more useful than the Summary feature in ProWritingAid because it solved the problem of brevity. Unlike an extensive report, I could get a quick insight into my writing using Grammarly.
I also like that the "Goals" feature is a standout in Grammarly. I could adjust the audience, tone, formality, and intent that I desired for the piece of writing and the reports would change accordingly.
This would be a great addition to the Readability Features in ProWritingAid.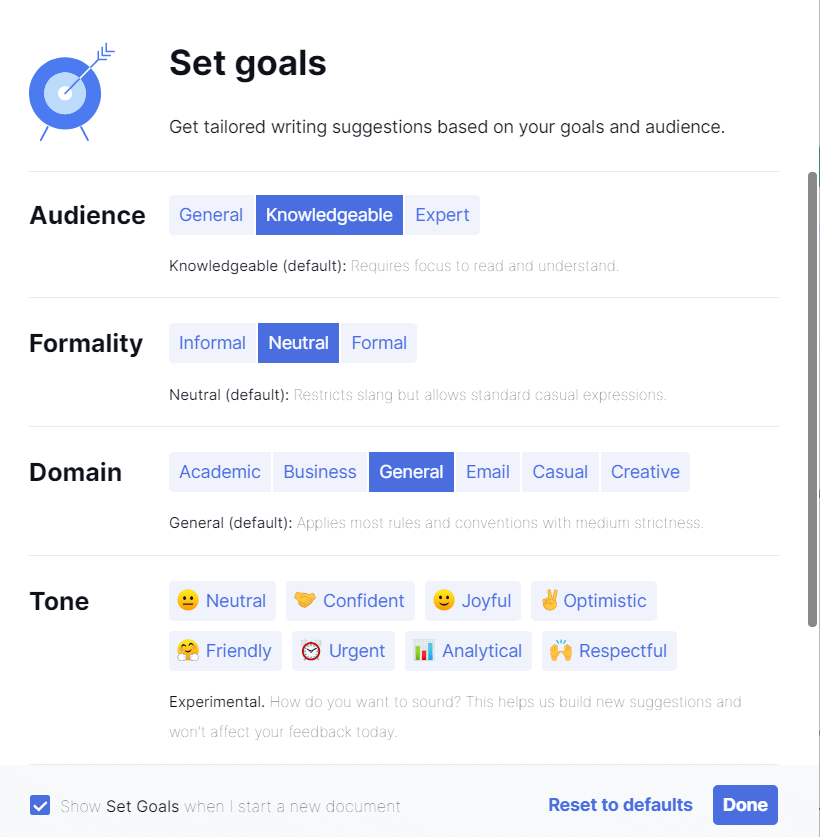 While ProWritingAid offers a ton of features beyond simple grammar checks, Grammarly has kept the simplicity and has only a few additional features in the premium version that evaluate Delivery, Engagement, Correctness, etc.

And while ProWritingAid gives comprehensive articles along with concise suggestions for each error, Grammarly gives the concise suggestion along with examples.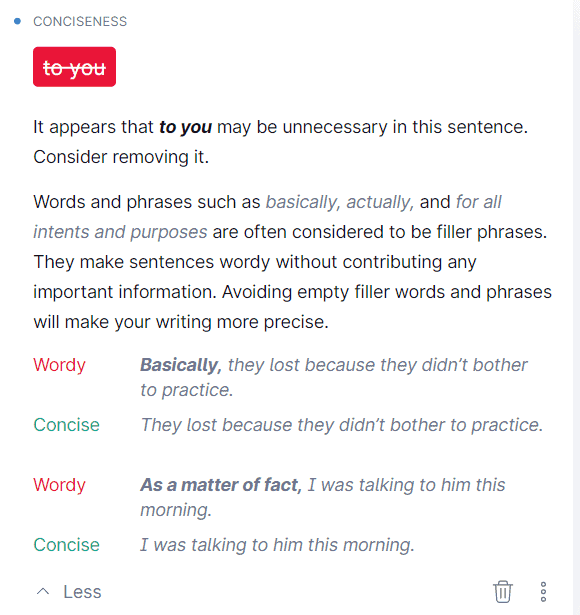 If the jury was out, ProWritingAid would be the ideal fit for anyone who wants to analyze their writing style under a budget.
Final Thoughts
ProWritingAid is a great tool that goes beyond the promised grammar and spelling checker. The comprehensive reports of readability and unlimited words are especially helpful.
I have also found that other Grammar checkers with similar features rarely give this amount of comprehensive reports for free. ProWritingAid only reduces the analysis for 500 words in the free version, but almost all reports are available.
In conclusion, I would highly recommend using ProWritingAid to get a deeper analysis of your writing style, learn more about grammar, and do a comparative study of your writing against other writers of the same genre. Because of its added features, I highly recommend it for fiction writers or authors looking to get a deeper analysis of their writing.
LET'S MEET IN YOUR INBOX 😃
ADDITIONAL READING