Free online education, online learning sites, online educational platforms, learning platform, learn it online, learn skills online, free online learning platforms
I've already shared the best online course platforms with you. But as a creator, you need to keep learning to learn new skills and find inspiration.
In this article, I want to show you around ten of the best online learning platforms. You'll see a brief blurb about what you can expect from each platform so that you know which one fits your learning needs right now. Let's get started with the first one:
Table of Contents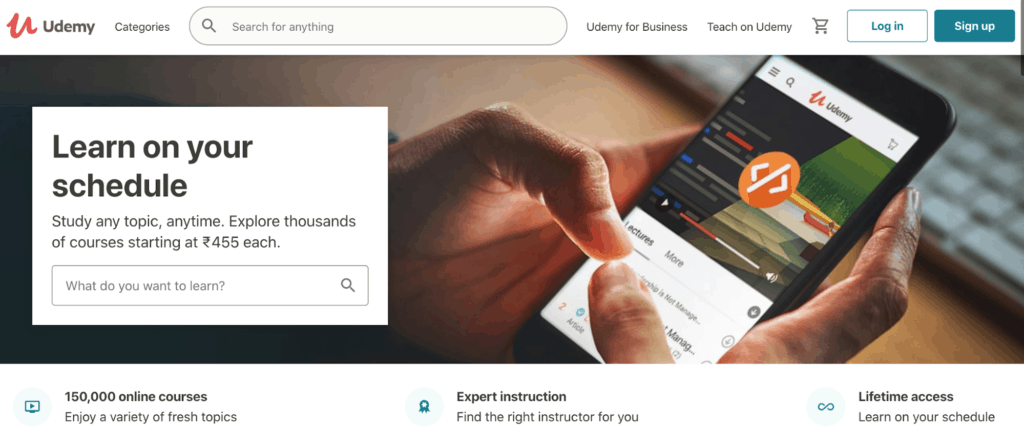 Fit For:
Price:
Courses You Can Start With: https://www.onlinecoursereport.com/the-80-highest-rated-on-demand-online-courses/
That first platform that I want to talk about is Udemy.
I have pursued various online courses on the platform, several of which I am enrolled in at the moment. While I may not have completed every single course I have enrolled in, this platform is very special to me. In many ways, it was the beginning of my online career. I have done courses on writing, editing, copywriting, setting up a freelance business, marketing, SEO, social media marketing, youtube marketing and a whole lot more.
As someone who has experienced it firsthand, I can say that I adore the platform for the kind of diverse instructors that it offers. It is a very affordable course marketplace that enables you to learn directly from professionals. Practitioners of each field teach you their craft along with its tricks and trades.
It contains courses on almost every subject: from art courses to marketing, from language to technical skill courses, Udemy has something to offer for everyone.
However, the quizzes and the discussions that it offers can be haphazard and messy, especially in cases where the instructor abandons the course or the platform due to their personal disagreements with Udemy's policies. One exception to this issue, are the writing and editing courses by Shani Raja, where the discussions are rousing and the instructor is very involved.
Overall, in the case of instruction material and compact introductory courses, Udemy is definitely a platform that you can rely upon. Whether it be people looking for a simple hobby in the quarantine to professionals looking to expand their skill sets, Udemy is a great place for exploration.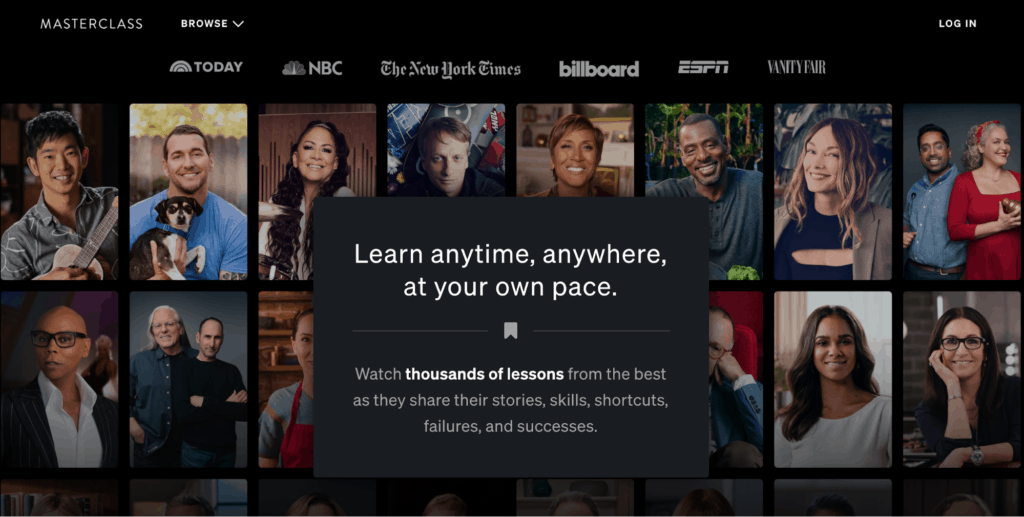 Fit For:
Price:
Courses You Can Start With:
The second platform on our list is Masterclass.
Personally, I don't have a lot of experience with this platform. I have gifted courses to a cousin of mine (hey, a simple gift idea, if you're stuck in a conundrum!), who enjoyed them immensely. The courses that I gifted to him were on Tennis (since he's a tennis fanatic) and he really loved and imbibed the skills that were taught by Serena Williams.
What's really cool about Masterclass is that the courses are taught by the best of the best of each field. These courses offer an inside peek into the strategic approaches and the overarching frameworks that have helped these people become who they are and their work become what it is.
Take for example this course that I am pursuing on Screenwriting. The instruction for the course is very detailed and thorough. The community of students taking the course is very involved and active. We have regular work hours and discussions regarding the topic and the course on the platform. The instructor's breakdown of the course, albeit a little slow, is incredibly well presented and, for the lack of a better word, luxurious.
Obviously, when you take into consideration the fact that you are learning from the best of the best, there really is no parallel to compare your experience to. Simply speaking, Udemy will give to one the tactical skills and specifics of a subject. Masterclass will help one learn from the best the practices that work and how to hone the skills that one has.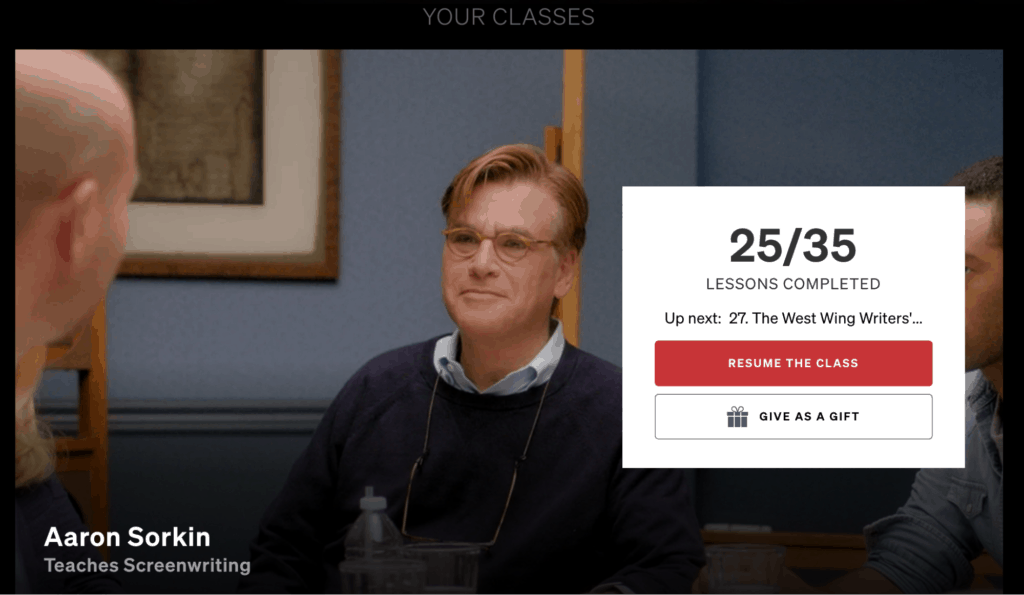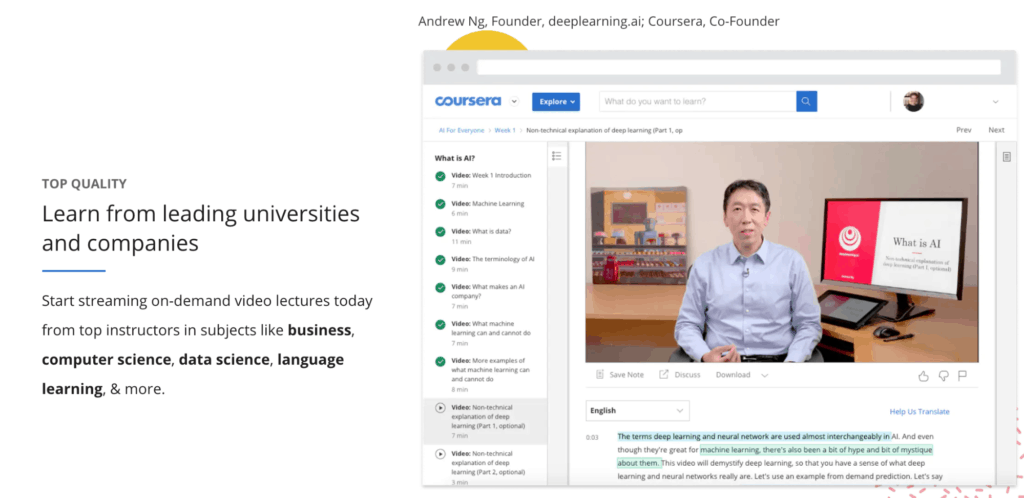 Fit For: Best for professionals that want to explore academic and theoretical courses. It helps that most courses carry credits towards a degree you can pursue later.
Price:
Courses You Can Start With:
https://www.coursera.org/collections/free-online-courses-finish-in-a-day
Coursera began at the forefront of the Massive Open Online Courses (MOOC) movement and actually spearheaded the "online-learning scene", so to speak. Here, you are liable to find only professional courses offered by Universities.
I have taken a songwriting course on the platform that was offered by the Berkeley College of Music, Boston. To say that the course was amazing, would be an understatement. Almost everything about the course was fascinating, from the professor to the instruction, from the assignments to the production quality. Everything was engaging and impeccable and the course went deep into the realms of songwriting, offering not only theoretical, but also practical value. I took the course almost 4 years back, and even today the ideas and content that I learnt during the course are relevant. I've used most of whatever I learnt during the course while writing music for my band.
Coursera still remains a great platform to take professional courses from Universities. Although, to monetise their platform and generate revenue, they now offer mostly paid courses by universities. The universities also provide certifications for the courses taken and you can even go so far as to earn degrees online. For example, a partnership with the Berkeley College of Music, has made it possible to earn a full-fledged musical degree from Coursera, albeit the same is rather expensive.
The biggest con of the platform is that the projects that you are required to do are rather bland and dry and the courses can be extremely theoretical, much like college courses. So, if your intent is to look for courses that offer industry-ready skills and practical projects, then this platform might not be for you.
In that case, try another platform that offers shorter and more skill focussed courses so that you can make your practical projects shine and send them to potential employers. Although Coursera is great for in-depth college level courses that offer a lot of knowledge to imbibe, other platforms may serve you better if that is not something you are looking for.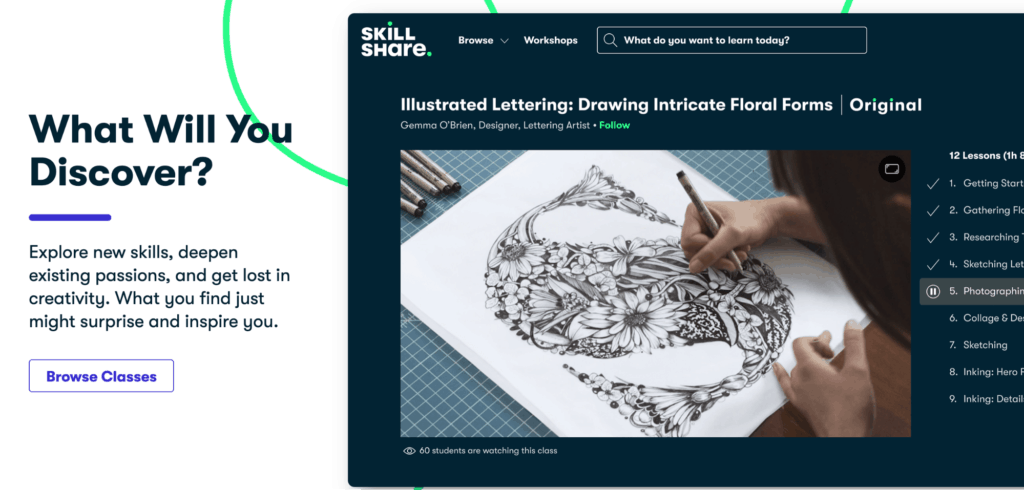 Skillshare is a major competitor for Udemy and have been in the realm for quite some while. Their major focus at the moment is collaborating with instructors and professionals to create mini-classes that span between 20 minutes to an hour.
One can go so far as to say that they are the Netflix of learning. They create "snack-able" learning videos and you can buy a subscription to learn from people who are pursuing their chosen careers and teaching alongside as a "side-hustle". It's a win-win situation for both the learner and the teacher. The learner learns a new skill, while the teacher makes some extra money!
You can use the platform to dip your toes into the industrial aspect of things, but only on an introductory level. You can hone sub-skills or create a singular project, all the while also engaging in video lectures, quizzes and some assignments available online.
Like stated before the classes are very introductory, so it is perfect for exploring or fiddling around with a subject that you're interested in.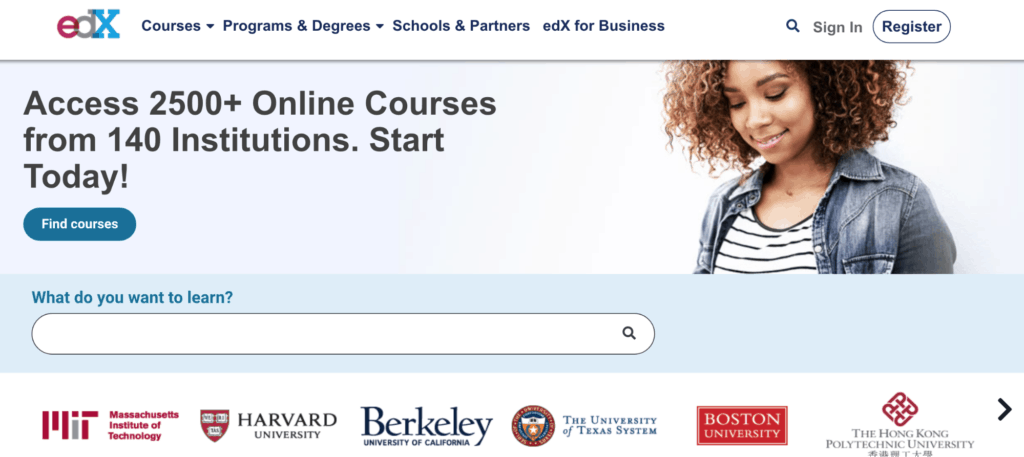 Fit For:
Price:
Courses You Can Start With: Rhetoric: The Art of Persuasive Writing and Public Speaking
Founded by Harvard and The Massachusetts Institute of Technology (MIT), edX offers 2500+ courses from 140 revered institutions. Most classes are free of cost and self-paced. But you'll need to pay for earning verified certificates and enroll during specified dates.
If you miss deadlines during the course of your schedule, edX provides an option to "Shift due dates." You still need to adhere to the course dates (a few weeks after the official deadline) because the content is archived beyond that period.
While its best selling courses are its certifications on data science, python programming, and corporate financing, I liked its collection of literature and humanities courses. Specifically the ones on Shakespeare and on Philosophy and Critical Thinking).
I found the overall user experience of a course on Shakespeare's play I pursued decent. There's even a DemoX interactive course of an hour's duration to explore the learning experience on the edX platform.
There are assignments and discussions for every course, but the community isn't the most active.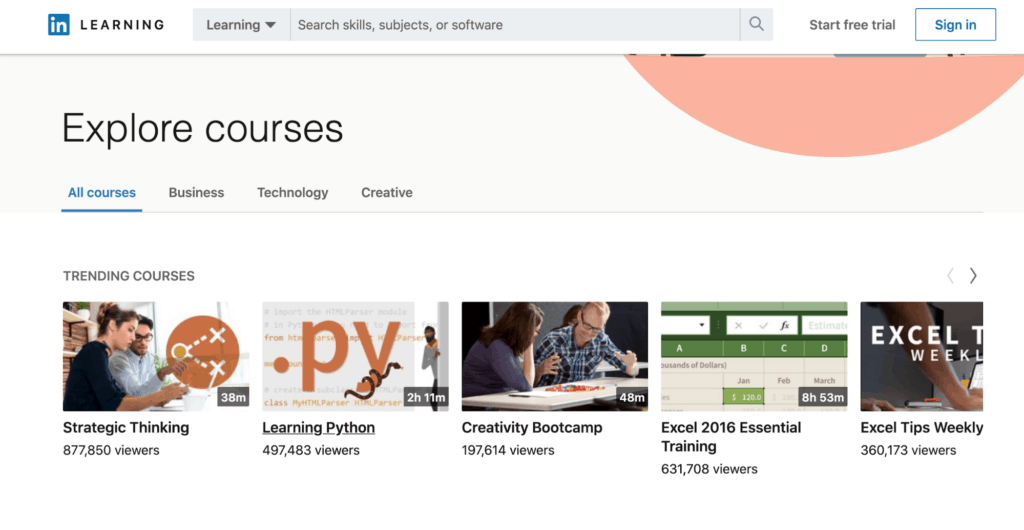 Fit For: Knowledge workers that want to broadly explore business, tech, and creative skills through short courses — while getting to show off certificates of completion on their LinkedIn profiles.
Price: A free month of LinkedIn review is available. Otherwise the online course platform is a part of LinkedIn premium subscription which comes (with numerous additional features) at $29.99 per month. An annual subscription could save you 36% of this cost.
Courses You Can Start With: Remote work fundamentals that you can finish in under two, and maybe the 15-minute lesson on telling stories with data.
In 2015, LinkedIn acquired a 20-year old eLearning company Lynda. Then its courses were migrated to LinkedIn Learning across business, technology, and creative categories. Currently the platform boasts a catalog of 16k courses. You can earn certificates of completion for them to glorify your LinkedIn profile. Here's an example: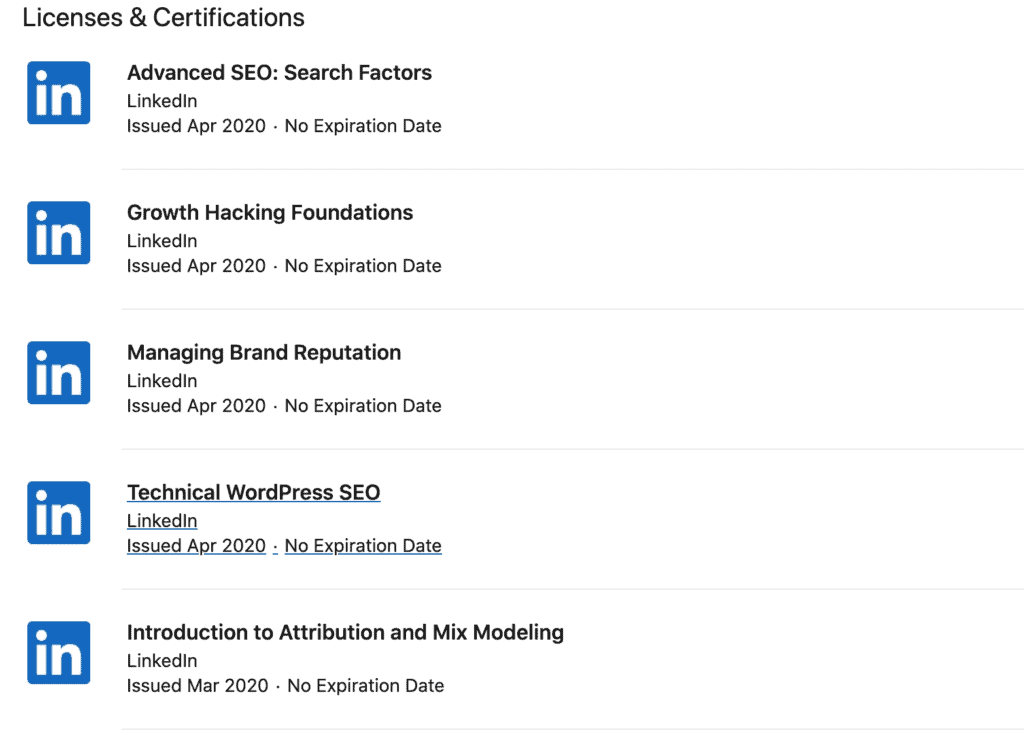 LinkedIn has started pushing its learning in the right sidebar with a list of 'trending courses.' It's also nice that you get a one-month free trial to explore courses of your choice on the platform.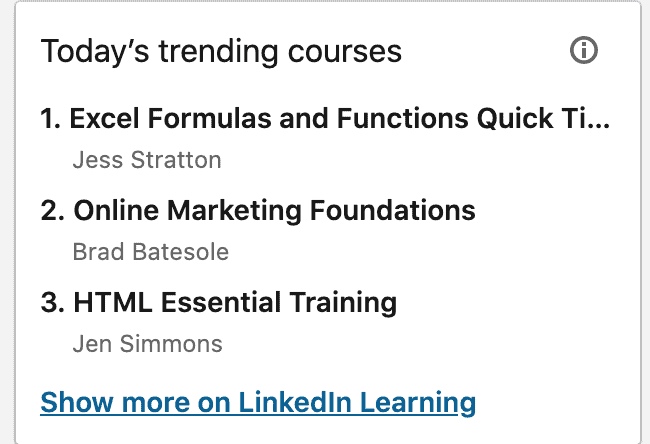 As LinkedIn already has your professional information, they provide personalized recommendations on courses that are relevant to you. The picks shown to me include an editing course, SEO for social media, and a few other generic courses.

There's still a lot of options to choose from, which could overwhelm you. But most courses consist of bite-sized video lessons that you can binge watch with your lunch. Or even while commuting on the subway as the courses are available for download and hence offline viewing on iOS/Android apps.
If you want to explore a domain exhaustively, there are numerous "learning paths" with a collection of courses. For example, Become a Graphic Designer contains 11 course items whose total duration is close to 30 hours!
Overall most LinkedIn learning courses are fairly generic and only introduce you to the subject matter. Advanced concepts are rarely discussed. Quizzes and practical application of concepts inside courses is also limited.
And what about the recognition of these courses beyond LinkedIn (even for job applications on the professional network itself)? It remains in jeopardy. I recommend finding specialized platforms for technical skills (which we'll explore next). For business and creative skills, absolute beginners can give the platform a shot with a few courses — starting with the free month!

Fit For: Beginner freelancers who want to learn the nuances of digital marketing, website design, graphic design, and related subjects.
Price: $0 to $99
Courses You Can Start With: Start with the free course on online freelancing essentials be a successful Fiverr seller if you plan to offer some Fiverr gigs. You can also consider the storytelling program as it's a valuable business skill.
The freelancing marketplace, Fiverr, has put out a catalog of affordable online courses and programs. They are geared towards the platform's audience of freelancers and they rule their niche.
What kinds of course material can you expect? The catalog is pretty limited and revolves around introduction to skills handy in the digital realm such as SEO, photography, Google analytics, conversion rate optimization, blog post writing, and more.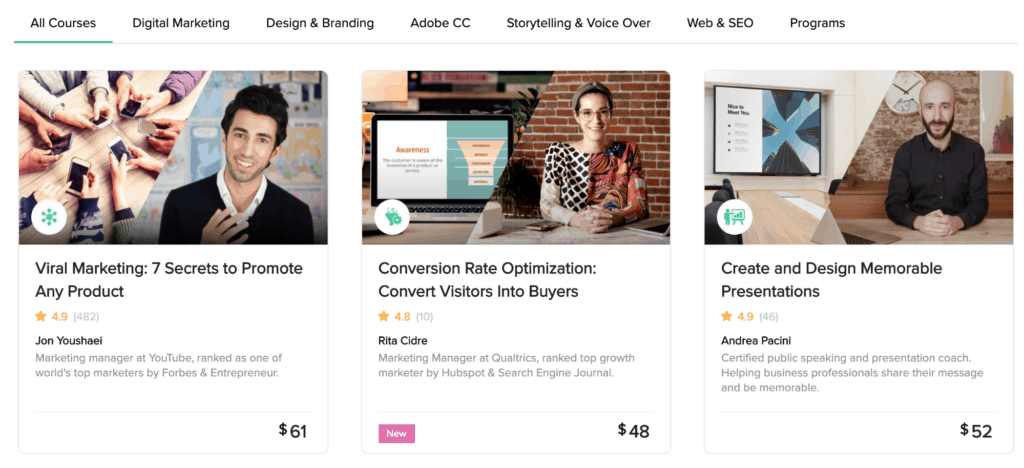 The course instructors are industry practitioners, but some are created by Fiverr Pro users. The utility/depth of these courses is mostly basic and relevant for complete beginners in their domain.
But there are programs with bundled courses that run for even 56 hours — as in the case of Adobe Photoshop. So advanced beginners can also expect to walk away with some new tactics. The syllabus of each course is also easily accessible from the 'Course Syllabus' button.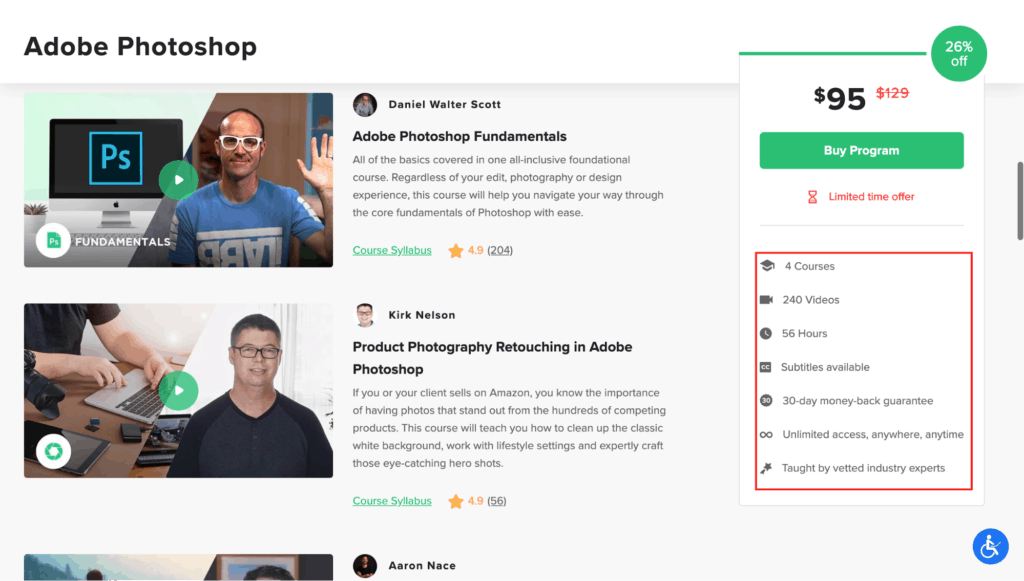 You get badges appear on your Fiverr profile on completion of courses so it could pave the way for your first few freelancing gigs. But in case of queries, there's no way to contact the instructors nor is there an attached community of the students learning the course.
Essentially the courses boil down to video lectures — there's just one quiz at the end of the material to test your newly acquired knowledge.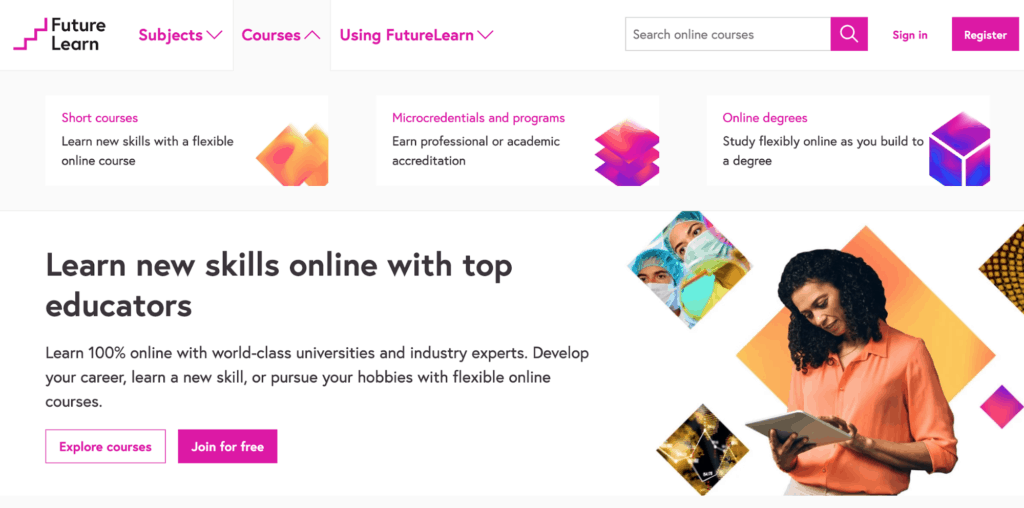 Fit For:
Price: $259.99 for the unlimited annual subscription with access to all the courses. For getting certificates of achievement, you need to
Courses You Can Start With: Explore its collection of 26 boredom-busting courses to learn a language or hobby. For creators, there are exciting options including screenwriting, songwriting, podcasting, and even exploring Rome virtually.
The London-based online learning platform has a catalog of 550+ interesting courses by revered British universities. It also offers online degrees and microcredentials and programs to upskill yourself, else you can earn academic credits for the same.
Most courses are free to enroll in during the duration of the course. But you get access to the material only for an additional 14 days after it ends.
Video, audio, and articles constitute most courses. Often quizzes test you on the knowledge. To get digital and printed certificates of achievement, you'll need to pay a fee for every course.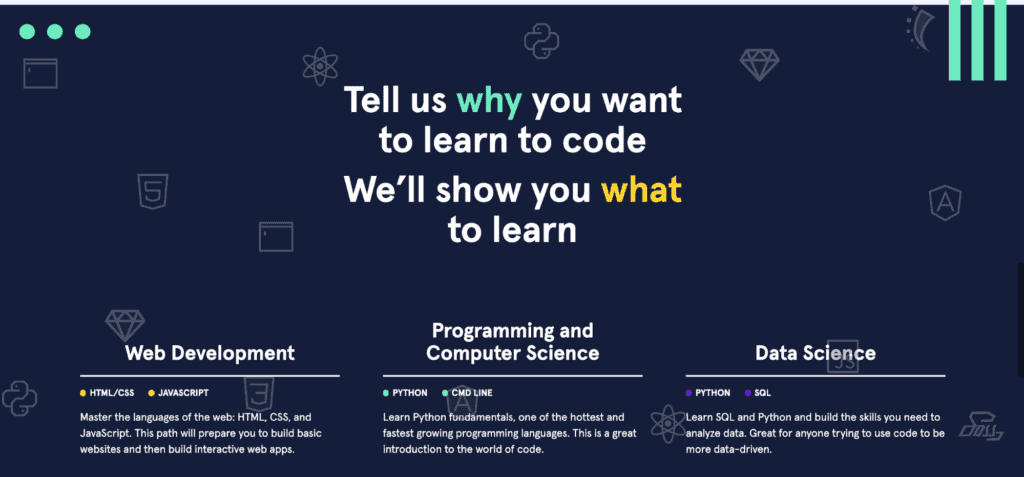 Fit For:
Price:
Courses You Can Start With:
If you want to dip toes in the world of programming languages, then Codecademy is a great place to get started.
It offers courses on PHP, Ruby, C++, SQL, Java, Javascript, Python, HTML & CSS, and lots more. You could also explore its course catalog categorized by subjects such as web development, web design, data science, machine learning, computer science, and the like.
If you're stuck where to start, then you can take the Codeacademy quiz here to find out something the company refers to as "programming personality."
My results labeled me as a 'Dot Connector' and recommended me a 'skill path' (which are structured curriculum roadmaps) based on SQL. It's nice to have such a presentation with contextual understanding of personal strengths with relevant career roles.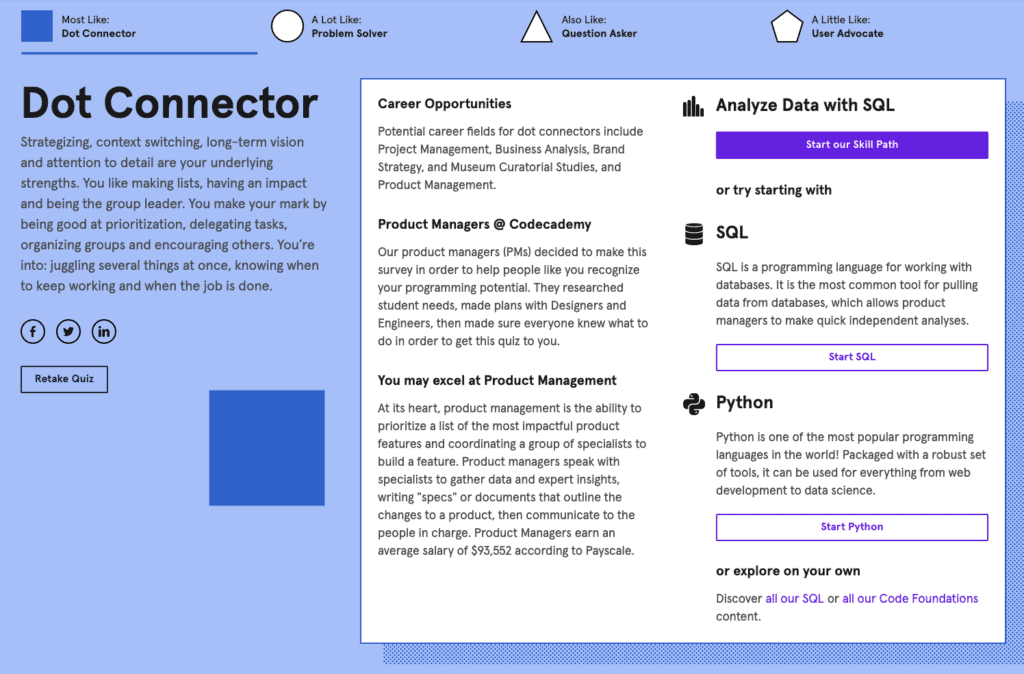 You'll probably need to refer to other dedicated resources for building full-fledged software, apps, and websites. But Codecademy does a decent job at introducing you to "making."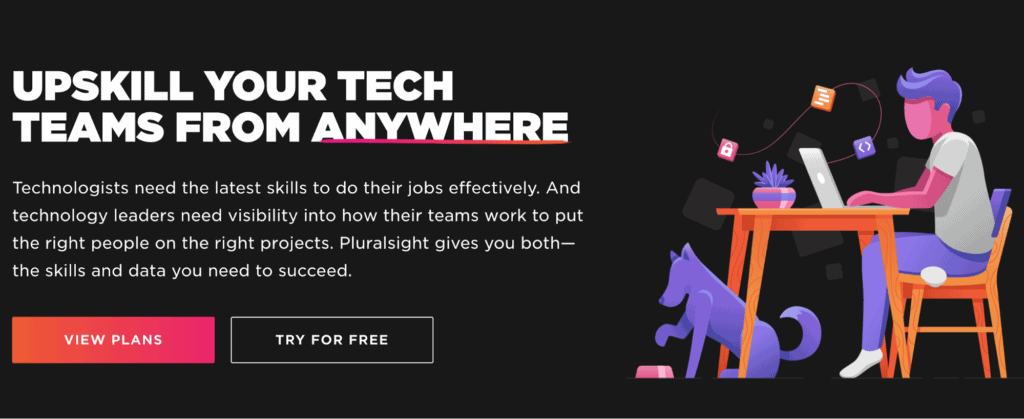 Fit For: Technology teams and tech knowledge workers that want to upgrade their skills.
Price: A free trial with 200 minutes of viewing over a period of 10 days is available. The premium membership costs $499 per year and a monthly subscription comes at $29 per month.
Courses You Can Start With:
Touting itself as the 'Technology Skills Platform', Pluralsight's catalog of courses spans 850+ technologies. It includes categories such as software development, IT Operations, information security with numerous courses.
It's an ideal fit for programmers that want to learn courses on Python, CSS, Oracle from quality instructors that have existing industry experience.
Beginners considering an IT career will probably find the platform most valuable as they get to explore courses packaged in 'skill paths.' In such a case even the difficulty level of courses and the appropriate order of courses is taken care of.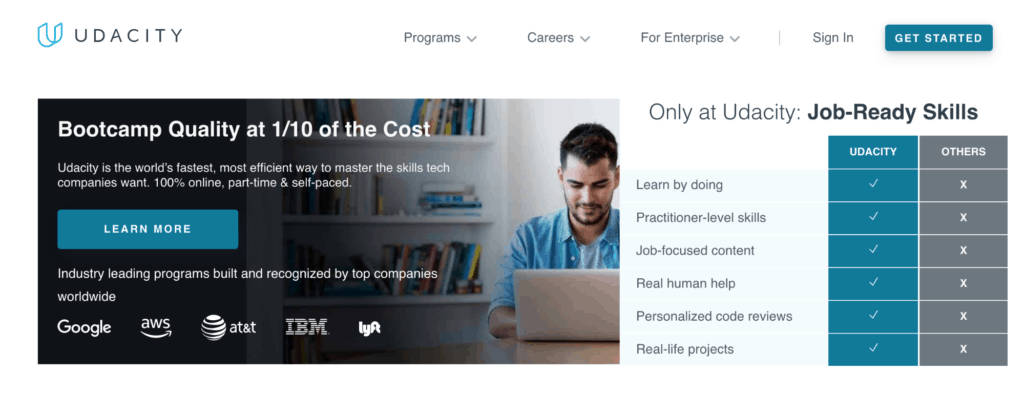 Fit For:
Price:
Courses You Can Start With:
Another top platform to learn tech skills in its trademarked "nanodegrees" programs is Udacity. It includes a series of courses and a project-based learning approach. A technical mentor and personal career coach are also available to guide you through the course of your program.
While the courses on the platform are not accredited, the course subjects are in-demand and job-oriented. They are produced through corporate partnerships so promised to be acceptable in resumes of applications for tech jobs.
After raising multiple rounds of funds, Udacity seems to have diluted their focus on the users. The pricing for their programs has turned really steep.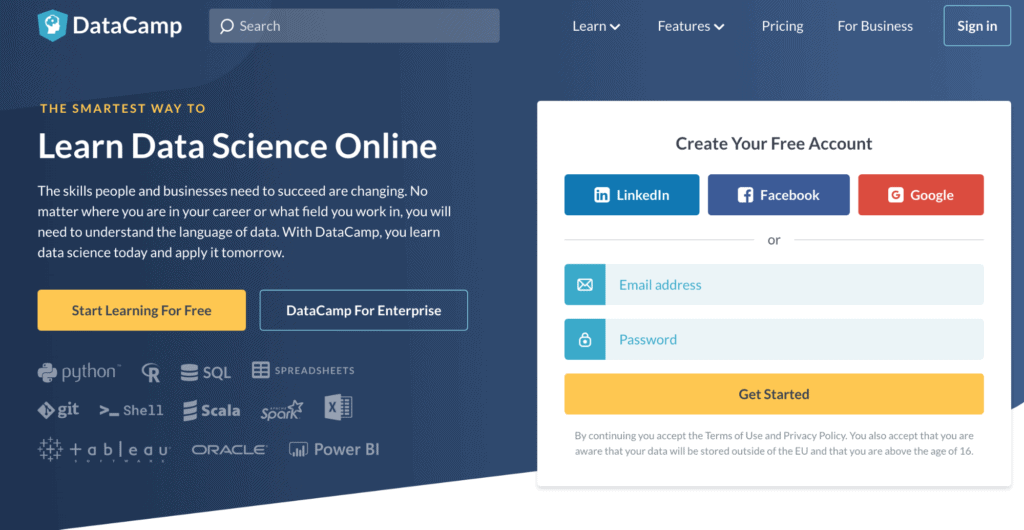 Fit For: Aspiring and professional data scientists.
Price:
Courses You Can Start With:
Data science is a burgeoning in-demand skill and Datacamp specializes in data science courses.
Data camp focuses on three aspects
Making the student learn basic concepts.
Onboarding/handholding towards solving industry/real world problem
Plenty of projects to put your hands on and also build your profile as a lot of industry problems have their cues in such projects so you can document them and keep coming back for reference on learning experience
1. Courses are divided into small modules. Every module is further divided into 7-8 small videos of 3-4 minutes duration. After every such small video, there's a small test and then you progress onto the next video. In the process the track bar gets updated each time. Personally, whenever I started a module, seeing the module progress trackbar kept me going and in every session I wanted to finish one module. I never experienced that kind of urge while doing an online course.
2. The questions where of good quality and that kept my interest. On a lot of other platforms I felt that completing the course would not add so much value to my skill set. It would just be another course completion certificate.
1. The course segregation is really spot on and the linkages between successive courses is very well researched. There's a skill track bar and you really feel the learning experience once you are done with the course/module.
2. It's exhaustive. Almost all your doubts are covered. This feeling of having an end-to-end Portal for learning data science is a great psychological add on.
3. Because it's a one stop solution you don't hesitate while taking a subscription. On some of the other portals like coursera- you attend one university's course and then for another thing you attend another's and the flow disrupts.
4. The platform has lots of industry experts teaching so you also get a feeling of being more close to the industry and job market.
1. Learning programming 2. Exploratory Data analysis, a must now for any profession. 3. Learning machine learning/AI 4. Data camp in short is a one stop portal for python/R programming, learning sql, building machine learning models. The best part is it gives you a feeling that you are learning and improving, this psychological aspect I personally found missing on all the other portals I checked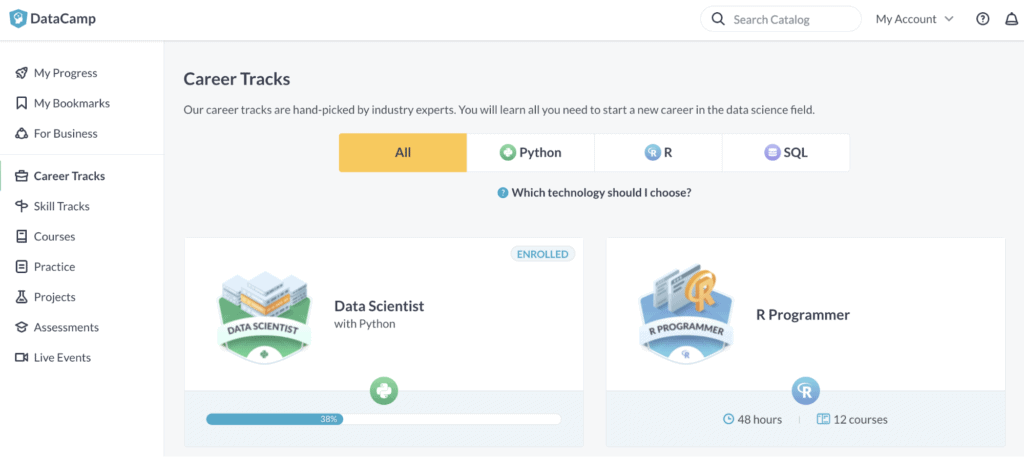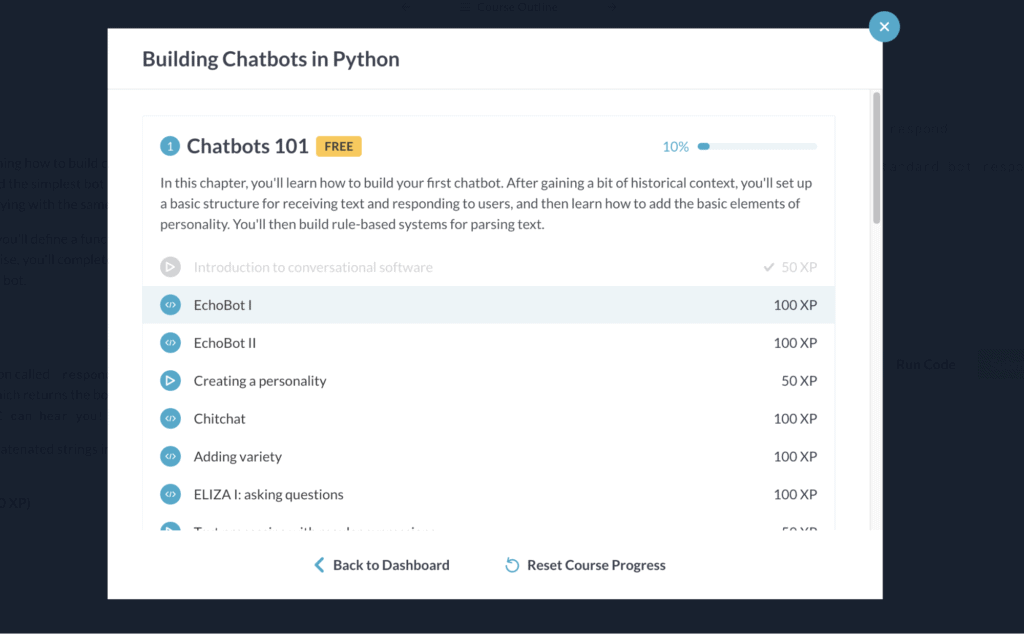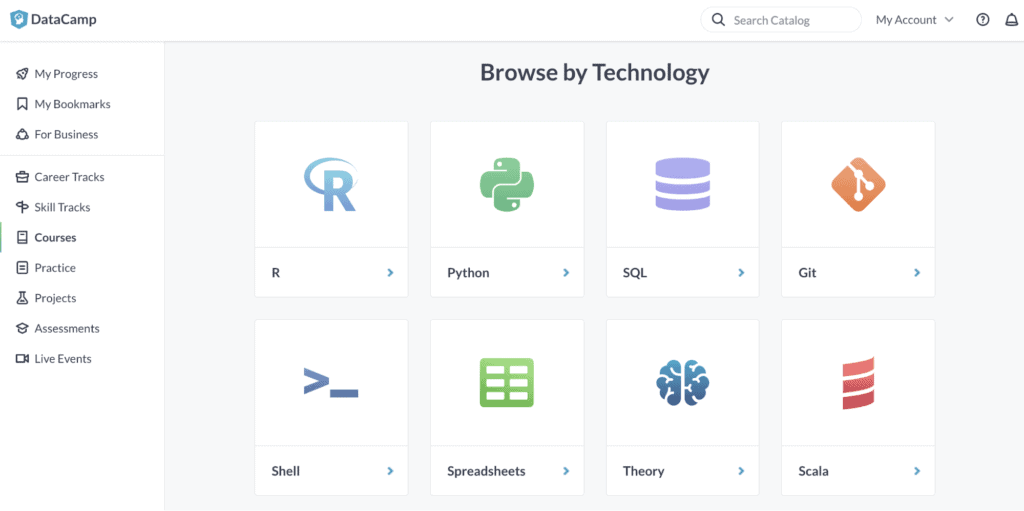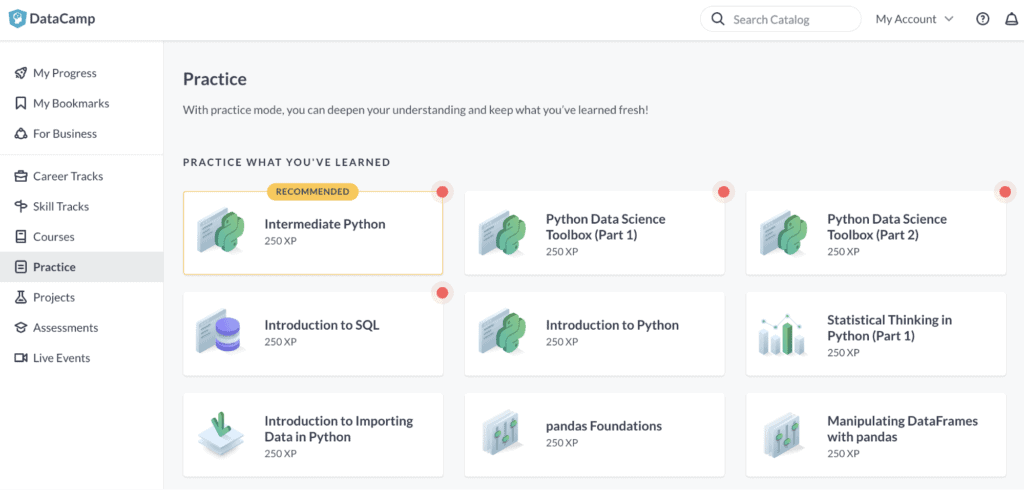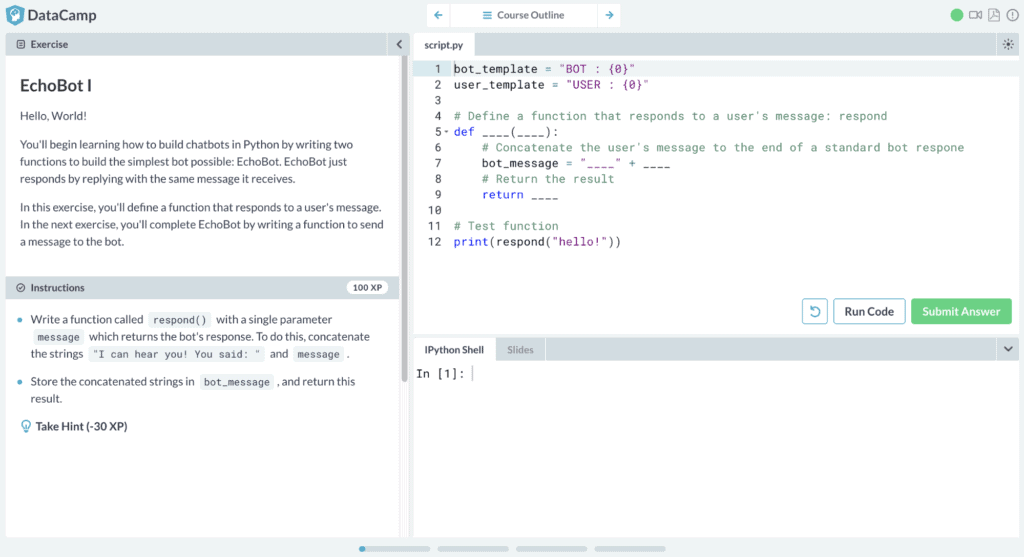 While some might call it a controversial addition to the list, YouTube is the home of "online video." There are numerous educational channels you can refer to for learning skills related to your job, or just get on with a hobby.
The best part of most educational material on YouTube is it's in bite-sized video format. It is available for free and has a conversational tone. You'll get entertained and even get answers to your queries related to the video tutorial in the comments section.
You can begin your search for tutorials and a creator you might like through YouTube search. Its recommendation engine will power you through to related channels with similar tutorials. And you never know which one might end up enjoying the most!
I subscribed to a YouTube channel, MusicisWin, to learn guitar. I found this channel through a Udemy course by the instructor, Tyler Larson. But someday while binge watching his channel, I stumbled onto Rick Beato.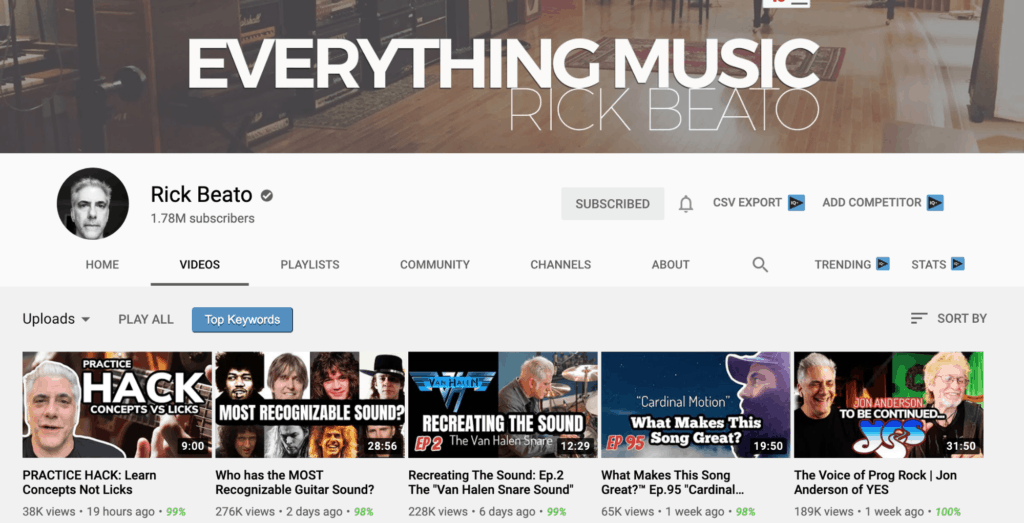 He was a great find for me as he brings years of professional experience that he distills into his guitar and other music lessons. They are in depth, advanced, and incredibly practical. His goal as he mentioned in one of his videos was "to create a Khan Academy" offering free education to aspiring musicians.
A big issue with learning from YouTube channels is you won't get organized lessons in a step-by-step format. The videos could often be not connected with each other and not lend you practical knowledge.
For example, Tom Bukovac, a proficient and renowned session guitarist based in Nashville, started a YouTube channel in the coronavirus induced lockdown. He shares his learnings in a fun manner, but there's less structure.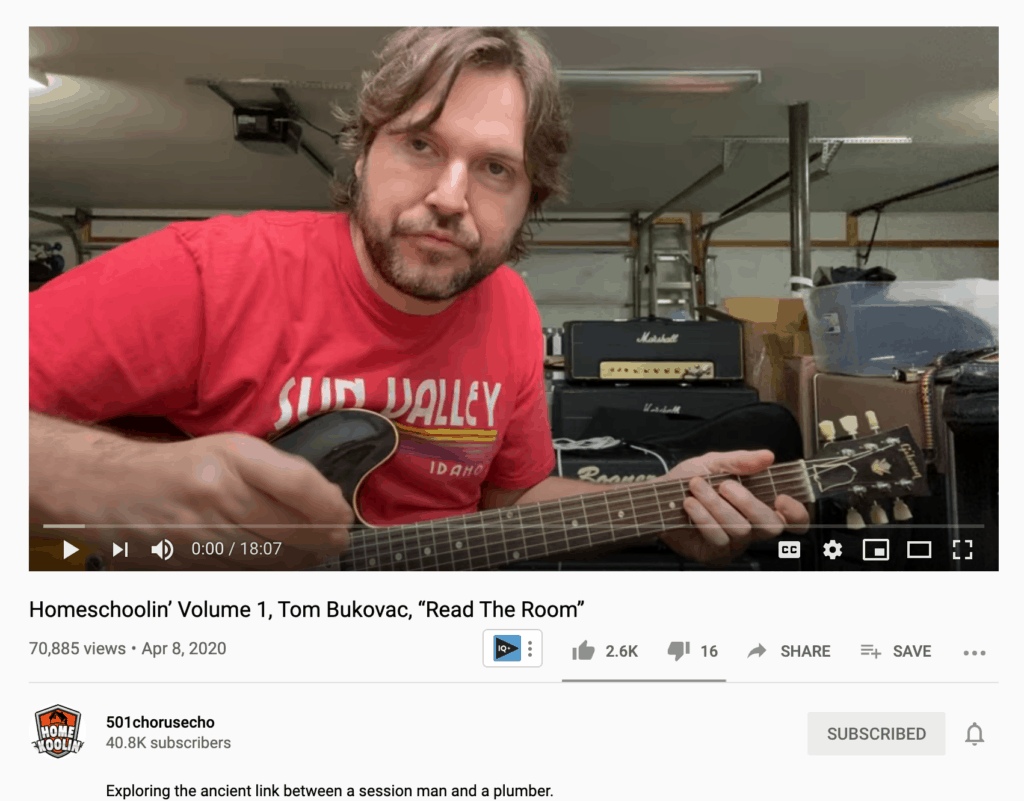 Instead of relying on YouTube search results, then you can also start with the curated hand-picked collection of educational channels at Channels Stack.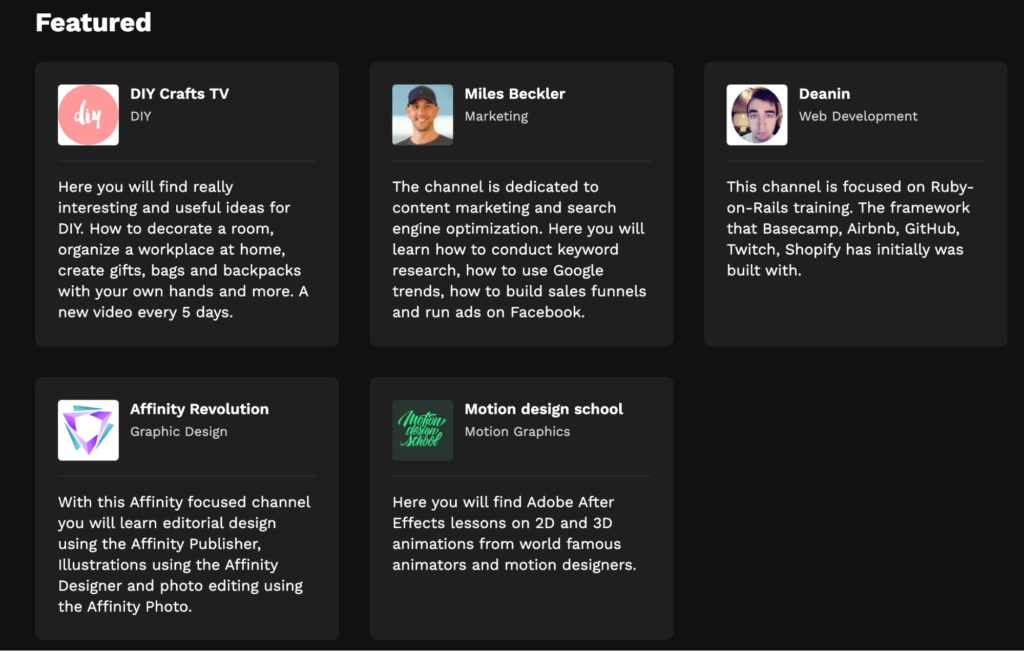 Frequently Asked Questions For Online Learning Platforms
Before we go, let's clear the air around some of the most pertinent questions around learning platforms online.
What are the best online learning platforms?
Coursera and Masterclass offer some of the best educational material online from renowned institutions and personalities. But most of their courses lack practical value. Codecademy and Udemy are a couple of other learning platforms better suited for acquiring immediately useful skills.
What is the best site for free online courses?
Coursera and edX offer some of the best academic courses from acclaimed universities — including MIT, Stanford, and Harvard — for free. For learning practical skills though, Udemy and Codeamacy are better suited.
Yes, there are various online platforms that offer free courses to learners. Prominently among them, edX.org lists 2900+ courses across programming, management, communication, and various other disciplines. By paying a fee, you can also get verified certificates on successful completion of your course material in its stipulated time.
Is Harvard giving free online courses?
Yes through the edX learning platform, Harvard provides various open learning opportunities in computer science, public health, arts, politics, poetry, business, history, and lots more.
Do employers care about online courses?
While Google recently announced that its suite of six-month long online career certificates would be considered "the equivalent of a four-year degree for related roles", there's a long way before recruiters recognize the value of online courses on a resume. You're better off executing a project based on acquired skills from such educational material.
Parting Advice On Online Learning!
The completion rates for online courses hover around 10% (as per research by various platforms). I can attest from personal experience of enrolling in hundreds of courses — both free and paid — that the stats are true.
It's often not a result of dislike for the material (which is a good reason to abandon a course). Rather you might lose steam as days pass after enrolling the course. So prepare yourself for drop in motivation levels as you progress through the course material.
Consider announcing your perusal of online courses on social media for public accountability. You could also invite your friends/colleagues who find the course you want to pursue as equally interesting. Such small tactics could ensure you follow through and make decent progress in the online courses you enroll in.
What's your experience with online learning platforms? If you've not pursued an online course before, will you do so now? Let me know in the comments below.
LET'S MEET IN YOUR INBOX 😃
ADDITIONAL READING