Video has threaded into the lives of consumers and drastically changed marketing. It works because it's an intimate medium to communicate, retain attention, and build relationships with your audience (customers and non-customers alike).
So, if you want to get the buy-in from your CMO for producing videos for your brand, or you simply want to know where video marketing is headed in 2020, then this article is for you. I've compiled the most current and relevant video statistics to help you brainstorm your next video campaign and make informed decisions.
I've organized the video stats into three sections for you. Let's get started by looking at the behavior of social media users.
Social Media Video Statistics
Which social media platform is the favorite video consumption platform? Where are all the brands flocking? Which video format rules them all? Find out the answer to all of these questions and more in the stats below!
1. There are over 2 billion logged-in users visiting YouTube each month. In total, users are watching over a billion hours of video on the platform every day.
2. No wonder, YouTube is the second most popular website in the world (after Google).
3. HubSpot research confirmed that YouTube is the favorite platform for watching videos, but Facebook is catching up with it. I recommend you get started with your YouTube channel and I've already got you covered on how you can promote it.

4. The social media video app, TikTok, touched 500M monthly active users in October 2018.
5. In its State Of Social 2019 report, Buffer found that merely 14.5% of marketers don't publish any video content. And Facebook (at 81.2%) is the most popular channel for marketers that are posting video content. It's followed by YouTube at the second spot.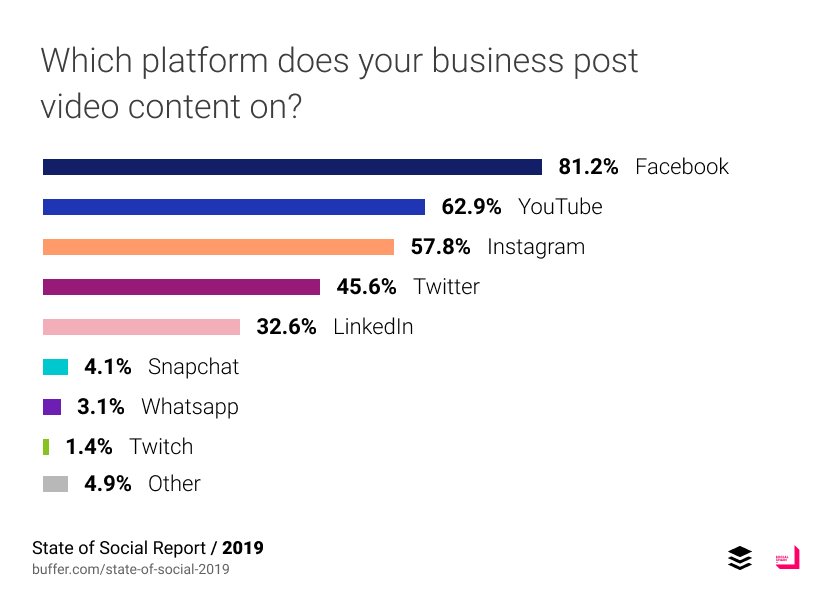 6. A study of over 777M Facebook posts by Buffer found that videos manage 59% more engagement than other post types. Indeed 81.8% of the top 500 posts were videos proving they are the best performing type of content on Facebook.
It wouldn't be a bad idea to repurpose your top trafficked blog posts into a video. For example, Buffer received 16k shares on this explainer video on the Facebook algorithm that they had created from one of their most popular articles (for the year 2018) on the same subject.
7. In the last 12 months, video views have grown 220x on Twitter. Also, 93% of the video views on the microblogging platform happen on a mobile device (did someone say mobile-first?)
8. Tweets with videos are 6x more likely to be Retweeted than Tweets with an image and 3x more likely to be Retweeted than Tweets with a GIF.
9. No wonder, video is the fastest-growing advertising tool on Twitter.
10. In its survey of direct to consumer brands, IAB research found that advertisers have adopted new ad formats. They are more likely to spend on stories and shoppable ads.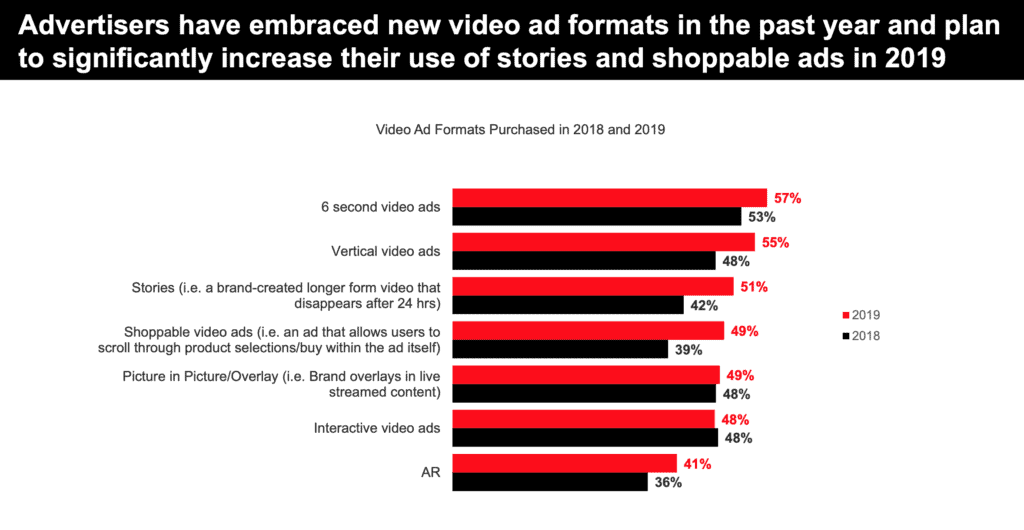 11. A 2016 study of 1.5M pins found that only 0.3% of pins contain a video.
12. Early data (from the limited release) showed that native LinkedIn videos were getting shared 20 times that of any other type of content.
Video Content Stats
People love consuming content in a visual format, so video content is now an integral part of the marketing strategies of most companies. Here are some statistics that show the promise of this format.
13. Over 50% of consumers prefer video content from brands and it's the most liked form of content.
14. The Wyzowl report supports it. It found that 96% of people have watched an explainer video to learn more about a product or service. And over two-thirds would prefer to learn about a new product through short videos.
The Animoto 2020 Social Video Report with consumer insights even established the number one way customers are moving from discovering a brand to purchasing its products. It's video ads!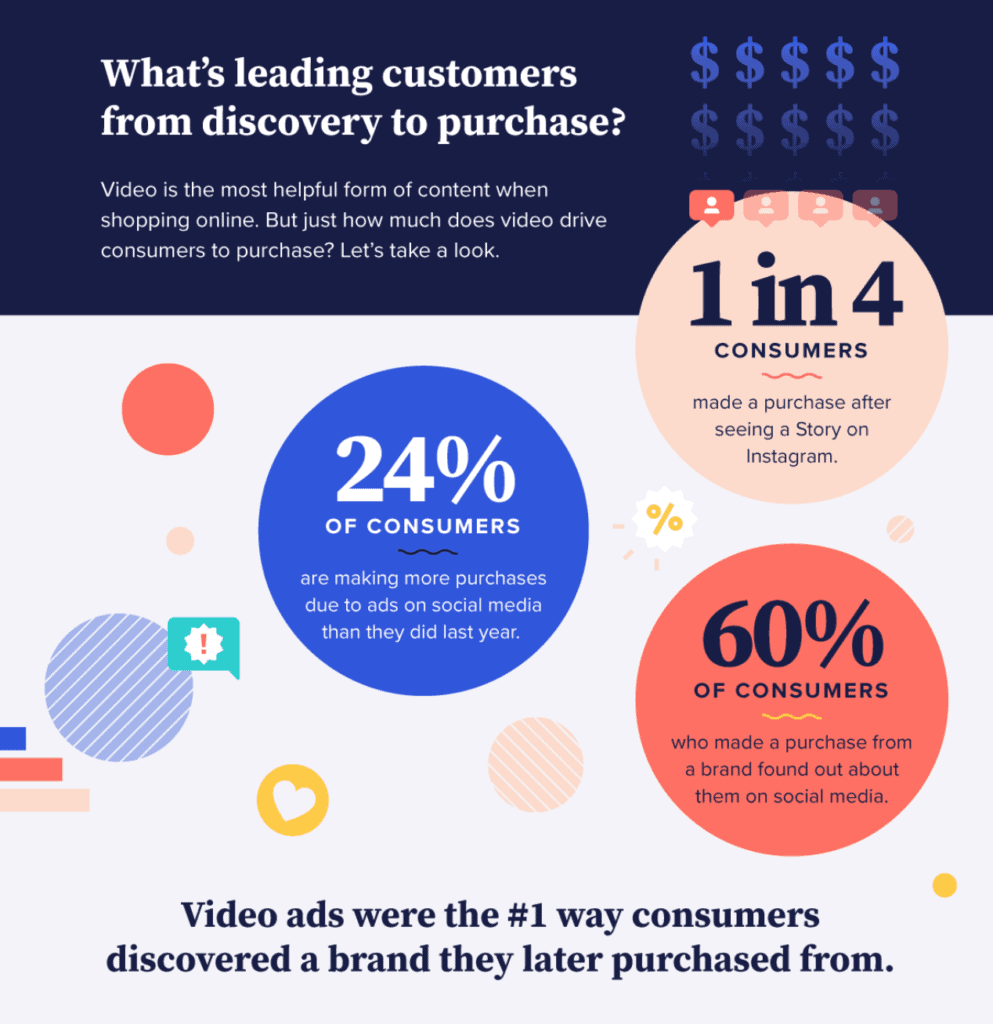 15. It's inevitable then that 87% of businesses now use video as a marketing tool. This number has been increasing for the last two years.
16. The above stats are in line with Animoto's 2020 Social Video Trends report (with marketing insights). It stated that 91% of marketers are satisfied with the ROI of their video marketing efforts on social.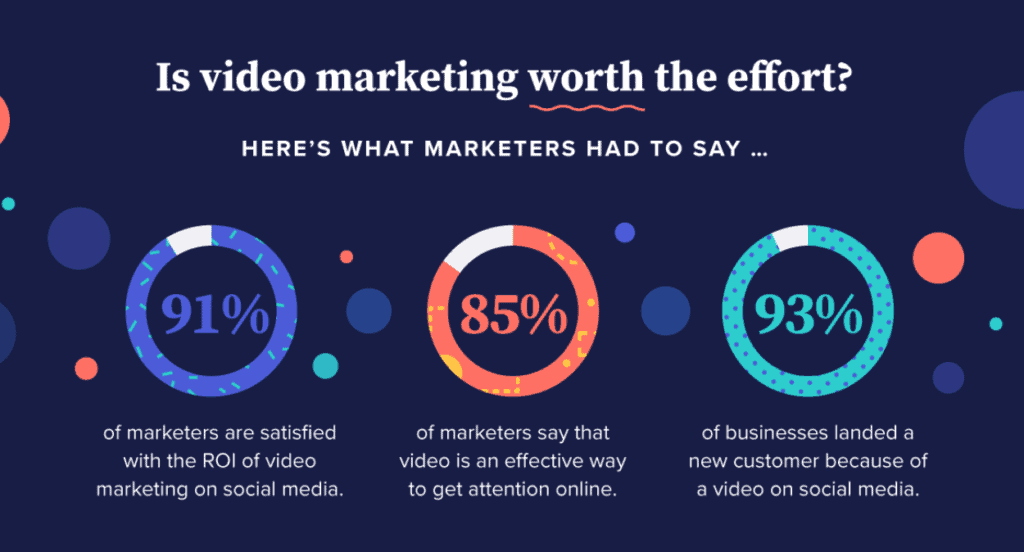 Online Video Consumption Statistics
Are there any patterns in the user behavior of video consumption? How much traffic do videos really contribute and what's the contribution of live video to it? Here are the answers to these questions and other statistics around online video consumption.
17. A 2017 Cisco whitepaper forecasted that 82% of all IP traffic (both business and consumer) will be video IP traffic by 2022.
18. Also live internet video will account for 17% of internet video traffic and grow 15-fold from 2017 to 2022.
19. So how are users deciding the kinds of videos they will watch? When it comes to YouTube, its artificial intelligence driven algorithm accounts for 70% of the time you spend on the platform (through its recommendations).
20. For under 45 seconds, mobile is the leading device for video consumption in Australia (at 69%). But the non-connected living room widescreen is king of the screens for over 55 seconds (at 61%).
Indeed consumers are no longer using a single device to watch video content. Viewers watch on whatever screen is best available to them when they want to consume video.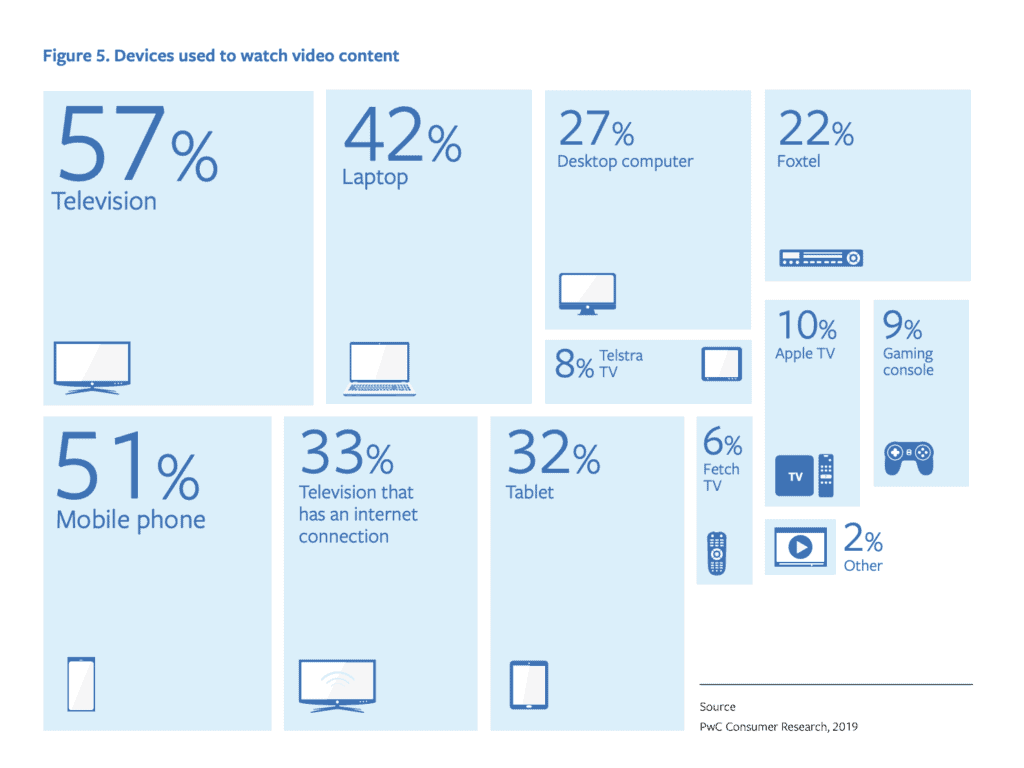 Final Thoughts
If your brand still hasn't taken the video leap, then you should consider relevant platforms where your audience hangs out and publish your first video. It might seem challenging at first to attack this complex format, but once you get the hang of it, you'll find it delivers better results than other formats.
Hope that these statistics help you chart an informed video strategy for your brand.
Do you have any other relevant pieces of compelling video stats that can help marketers create a compelling strategy? Tell me about them in the comments below.