Thinkific and Teachable are consistently ranked among the best online course platforms on the first and second spots. But which one of them is better suited for your online education business requirements without breaking the bank? Let's break down Teachable vs. Thinkific course platforms.
Note: This article contains affiliate links. This means if you purchase anything using my link, then I earn a commission (at no extra cost to you). I only recommend products that I personally find valuable and enjoy using. I appreciate your support.
Since both of them have so many similarities, it is hard to determine which one is better amongst them. After breaking down every primary feature of the two platforms, Thinkific has certainly fared better. There are certain instances where Teachable would work better (more on that ahead), but for most creators, Thinkific would be the better choice.
Comparison Table
I've also broken down all the analysis I've done into a quick table listing the parameters and a surface comparison of Teachable and Thinkific:
Course Creation And Customization 
Parameter 
Thinkific 
Teachable
Winner
Course Creation And Structuring
Allows you to add "assignment" and "live" lessons, User-intuitive design
Allows bulk actions for multiple lessons, Allows importing from the cloud, Allows to add an upsell block
Thinkific (for beginners); Teachable (for an upgrade)
Course Player For Students
Easily search lessons, Has a full-screen mode
Offers an iOS App
Thinkific
Coaching vs Community
Create "Community" pages
Create a 1:1 "Coaching" program
Depends
Learning Features
Has "Assignments" feature, Advanced quizzing options, Easily Duplicate your questions, Add multimedia, and import questions from a file
Has a simple "Quiz" feature with no advanced abilities
Thinkific
Course Certificates
7 templates, Allows you to use the same design for multiple courses
3 templates, allows you to create a custom certificate using HTML
Thinkific (close tie)
Course Reporting and Analytics & Student Management
Beta version of advanced reporting, Limited video analysis
Easily export reports, see advanced student analytics
Teachable
Security and Uptime
99.9% uptime guarantee, 24/7 monitoring
24/7 monitoring
Tie
Pricing Plans, Customer Support, and Payouts
Parameter 
Thinkific 
Teachable
Winner
Pricing Plans
Offers a free plan
Offers a 14-day trial
Thinkific
Customer Support

Does not offer a personalized response, Good response time, Excellent knowledge bank

Excellent knowledge bank, Good response time, Personalized response with clear alternatives and solutions

Teachable
Payouts
Easy to understand, the First payout takes 14 days
Confusing to fully grasp, the First payout takes 21 days
Thinkific
Marketing Capabilities
Parameter 
Thinkific
Teachable
Winner
Course Website Design & Customization
Offers 3 themes with 3-4 styles each, Has many advanced "Sections" you can create
Minimal freedom for designing your website, No themes available, Limited "blocks" to increase interactive element in the website
Thinkific
Email Marketing And Dripping Content
Integrates with Mailchimp,  Aweber, ConvertKit, Constant Contact, and Active Campaign
Integrates only with Mailchimp and Convertkit (Has Zapier if you need other integrations)
Thinkific (Close margin)
Course Pricing Options
4 types of payment plans, Offers a feature to charge a "setup" fee in a subscription-based pricing model
Allows you to charge in different currencies, 4 types of payment plans
Teachable if you have a global audience; Thinkific if you have a membership site
Coupons and Affiliate Marketing Abilities
Allows you to select which courses you want to add coupons for (you can do 2/4), Might need coding for affiliate marketing if you host a landing page somewhere else
You can only choose a coupon for one course or all courses, Automatic affiliate payout, Easily access affiliate marketing even if you host a landing page with another provider
Thinkific for coupons; Teachable for Affiliate
Integrations with third-party apps
Has 6 categories
Offers a few integrations only
Thinkific
Outlier features in both
"Groups" allow you to sell your course in bulk
"Blog" feature is rudimentary but allows you to create a simple post on your website using Teachable only
NA
Course Creation And Customization
While you're beginning, it's important to know if the platform you choose has the course creation abilities that you need. For instance, if you need advanced examination features, the course platform you choose should offer you that. With Teachable and Thinkific, we'll examine the common features and the features that differ before we declare a winner.
Course Creation And Structuring
Thinkific and Teachable are pretty similar in their course uploading and structuring. Both of them allow you to upload video, audio, PDF, text, quizzes, and other types of files for your course.
But Thinkific's user interface is a lot simpler and intuitive to use than Teachable's. Especially for beginners, Thinkific is quicker and easier to use.
Course creation on Thinkific
You can easily duplicate lessons, turn them into free previews, make the lesson a prerequisite, and even add a live Zoom link so your students can participate. Although this feature is only available on Pro plans and above, it is an excellent upgrade to engage with your students.
Thinkific also has an "Assignment" feature that is great for any homework submission you might want to give your students. This element is absent from Teachable.
Both Thinkific and Teachable allow you to do a bulk import, create a drip sequence, and customize the design of your course. Teachable is ahead in the design department. It offers design templates and presets to your video thumbnails that Thinkific doesn't.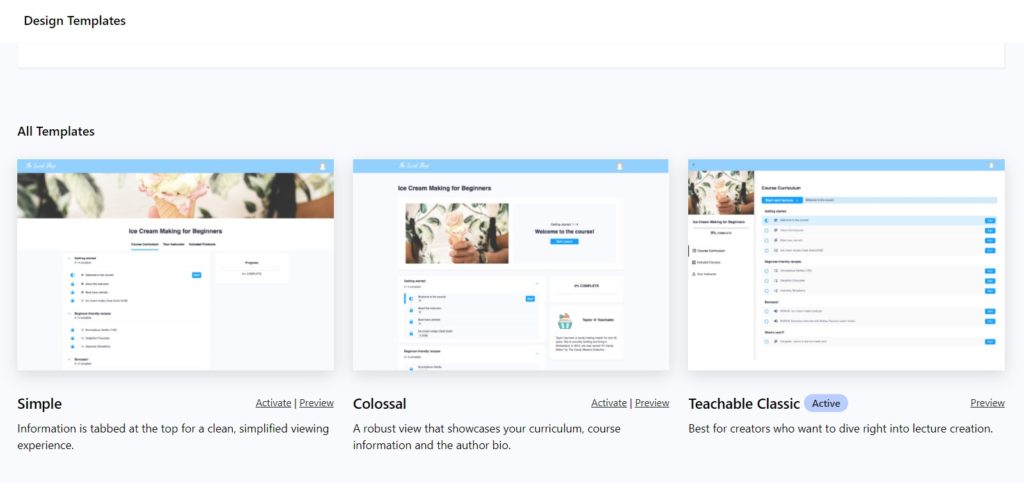 Teachable also allows you to change the course settings in bulk. This is a quicker way than Thinkific, where you have to manually change your settings for each lesson.
Another feature where Teachable is ahead is allowing you to import data from Dropbox, Google Drive, One Drive, and even a URL. This makes the upload process quicker.
Thinkific has a turnaround for this though: Once you upload a video, it is stored in your video library and you can quickly upload it later.
And lastly, Teachable also has an option for you to add a custom code and add an upsell button to your other courses. This feature is absent from Thinkific.
Winner: Thinkific If You're A Beginner; Otherwise Go For Teachable 
Thinkific's simple user-friendly design is perfect for you if you're a beginner. The process is easy to grasp and you can begin creating your course within minutes.
But if you've done this before and are looking for an upgrade, Teachable is the better option. You can create live Zoom links with your students, upsell, create custom code, and upload video lectures from Cloud quicker.
Course Player For Students
Both Teachable and Thinkific are excellent in their content delivery. The platform is easy to use for students and looks modern & professional. Both have easy navigation and are enabled on mobile browsers as well. Teachable also offers an iOS App.
But Thinkific leads in this area because it has 3 features that Teachable lacks:
Students can search through course lessons by typing in the search bar
There's a full-screen mode that enables distraction-free learning
Thinkific has a feature allowing you to create custom pages based on your audience's purchases
Winner: Thinkific
Thinkific is the winner in this area because it has 3 extra features that Teachable doesn't. All these features enhance the user experience and enable you to customize your standalone content.
With that said, Teachable is a great option if you don't see the use of the 3 extra features for your course building requirements.
Coachings vs. Community
Teachable and Thinkific both have options for students to comment and interact with each other and you on the course. But Teachable takes it one step further through its "Coaching" product while Thinkific allows you to have a "Community Page" on your website.
Teachable's Coaching feature allows you to create a 1:1 coaching program with your clients. In 7 simple steps, you can customize how clients can book a coaching session with you. You can choose to build an intake form, decide pricing plans for your coaching (free, subscription-based, or customized), and set up an enrollment date.
Your students/clients can schedule their coaching with you easily because Teachable also allows you to link your calendar in the program. They natively integrate with Calendly, but I used Google Calendar and the integration still worked fine.
Thinkific does not offer a 1:1 coaching program. But through its "Support your students" option, you can create a Community page and decide which students have access to this community. All students who have access can easily create posts, interact with each other, and follow any conversation going on in the community.
Please note this feature is only available from the Pro plan for Thinkific. It is unavailable for Basic and Free plans.
Winner: Dependent On Your Requirements
If 1:1 coaching or consulting enhances your course's requirements, then you should definitely go with Teachable. This allows you to earn the extra money in personalized consulting and create it easily from your course builder itself.
But if you're building a membership program for students/clients and expect a place where they can easily interact with each other, don't think twice about going for Thinkific.
Quizzes, Assignments, And Other Learning Features
Both Thinkific and Teachable allow you to create quizzes in your courses. But Thinkific is ahead in many aspects of quizzing and learning features from Teachable.
Here are some of the features available at Thinkific but absent from Teachable:
Import your questions from an XLSX file
Add multimedia to your questions
Easily duplicate your questions in one click (allows for easy edits)
Add explanation with your questions (in case they require some context or a hint)
Allow students to submit their assignments (available for Pro Plan and above)
Integrate with Brillium examination that allows for robust testing (available for Pro Plan and above)
Randomize your quiz questions (available for Pro Plan and above)
Winner: Thinkific
Thinkific is the clear winner here because of the variety of the features it has which are all not yet available on Teachable.
Course Certificates
Teachable allows you to create a course certificate from 3 pre-made templates or create a custom certificate using LIQUID/HTML. Thinkific offers 7 templates but no custom creation of one using code. Both platforms allow you to easily edit the content and design of the certificate.
If you're creating multiple courses using one platform, Thinkific might be the better choice because it allows you to use the same certificate design for multiple courses. In Teachable, you have to create different certificates for different courses.
Winner: Thinkific (close tie)
Both Thinkific and Teachable have a certificate completion feature that would suffice the needs of most creators. But Thinkific has a close win because of its extra templates and ease of use in using the same certificate design for multiple courses.
Course Analytics Reports And Student Management
To understand how a course is performing, you have to have the correct and accurate analytics. This aids in finding actionable insights and modifying your next course and marketing message accordingly. Analyzing how your students are faring also helps in managing their concerns effectively.
Teachable allows you to analyze multiple reports like Lecture completion, Quiz Scores, Video Engagement, etc. The "Video Stats" report at Teachable gives you the play rate, visitors, engagement rate, etc.
The dashboard also segments each data point into a student breakdown and a percentage breakdown. You can also export the CSV of the reports.
Thinkific's reporting is not at par with Teachable. You can check the analytics of your videos in the "Video Library," but you can't check a stat report for all your videos in a single course in one place.
However, Thinkfic has an "Advanced Reporting" feature available that allows you to track revenue, student engagement, enrollments, and orders. This feature is currently in the Beta stage and is only available for Pro and Growth plans. This reporting also has advanced video analytics.
Winner: Teachable
While Thinkfic's new "Advanced Reporting" feature is certainly useful, it is still in the Beta stage and only available for the high-tier plans. Teachable has useful analytics available on every plan and has advanced features that allow you to make sense of the data. The exporting feature is a huge plus when you want to share the course insights with your marketing team to implement newer strategies.
Security And Uptime
As a course creator, you don't want your website to be down while prospective students and buyers want to purchase your courses.
You also don't want to lose all your content because it wasn't properly backed up in your membership platform. Apart from the loss in revenue, these things also damage your brand reputation.
Thinkific ensures daily backups, 99.9% uptime, 24/7 monitoring, and built-in security. Teachable also similarly ensures 24/7 monitoring so that you don't face any outages. Both also offer an SSL certificate.
Winner: It's a tie
Both Teachable and Thinkific have similar security measures and uptime guarantees in place. It's a tie when it comes to this. But personally, I am leaning towards Thinkific because of their transparent move to display the 99.9% uptime figure on their website. Teachable shows no such number.
Pricing Plans
Teachable and Thinkific both charge you monthly. The primary difference is that Thinkfic has a free plan that allows you to test-drive their features at no cost. Teachable offers you a 14-day free trial as a test-run, but no free plans.
With Thinkific, the paid plans begin at $39/month charged annually. Going for their annual membership (instead of monthly) saves you 20% on the charge.
The paid plans at Thinkific allow you to integrate your email marketing service, get a custom domain, increase the number of site admins, and get priority support.
Teachable also offers you a discount on annual payments. The basic plan begins at $29/month. The basic plan at Thinkific and Teachable share a lot of the same features. An important thing to note here though is that Teachable has a transaction fee of 5% on their basic plan. Thinkific has no transaction fee on any of their plans.
Winner: Thinkific
Thinkific is the clear winner in pricing plans because it offers a free plan and has no transaction fee in any of its plans.
The freemium makes it the preferred choice because users can easily leverage security, reliability, and functionality through it. Not to mention it's an excellent choice for beginners who don't have the budget to pay for creating an online course.
Customer Support
Both Teachable and Thinkific offer virtual chatbot customer support that can redirect you to the relevant knowledge bank articles on the website. If you want to talk to a customer support agent, both platforms have made it possible through their respective virtual chatbots.
Thinkific's support ticket said that they usually get back to a query within 1 business day while Teachable gave no such timeline apart from "as soon as possible." I submitted a request to both platforms on Friday and both Thinkific and Teachable got back to me on Saturday.
While the time frame was similar in both, Teachable's response was more personalized and tailored to my request than Thinkific's response. Thinkific's support agent only gave me a list of articles from their website and they weren't even specific to my query. But Teachable's response was clear and top-notch.
I asked Teachable if they have a facility for my students to submit homework and assignments directly through the course portal. This was the agent's response:
At Thinkific, I asked about the reporting analytics in the "Basic" plan. I was given a bunch of articles on the analytics available. The problem is some of these features are only available at Pro or higher plan. While the agent did specify this, it wasn't specified which features are actually available in the basic plan. The response wasn't personalized and I had a feeling that this response is actually a template copy-pasted for similar queries.
Teachable also has a separate website where you can just find their knowledge base and manage your support tickets. This gives Teachable a slight edge in customer support because you can easily see the current status of all your tickets.
Both Teachable and Thinkific have excellent knowledge bank material on their support websites. You can find video tutorials, easy how-to guides, FAQs answered, and neatly separated categories for different features of the platform. In the knowledge bank area, it's a tie between Teachable and Thinkific.
Winner: Teachable
While it is clear that the knowledge base and response time has a tie, the personalized response is where Teachable wins. It is also helpful to have a separate page where all your tickets can be tracked, which Teachable has. Thinkific also closed the ticket on their own while Teachable sent me a follow-up to ask whether the query is resolved. In the customer service area, Teachable is a clear winner.
Checkout Experience and Payouts
Teachable and Thinkific both offer your students to pay via credit card or PayPal. Thinkific's "Payout" dashboard allows you to easily see and track the payments. The same is directly deposited in your bank account. No third-party app is involved here.
The time taken with Thinkific depends on what country you reside in and which bank you use. But, typically, most payments are processed within 2 business days. The first payment may take 14 days because Thinkific needs to verify your account.
Teachable's payout method is a little different. You can choose your preferred Payout schedule (daily, weekly, or monthly) from Teachable's Payment settings. But the daily payments are paid on a 2-business day rolling period. The first payout may take 21 days to process and verify.
Winner: Thinkific
The processing of payouts is easier at Thinkific. While trying to grasp the documentation at Teachable, there were a lot of fluff words and conditions. Thinkific's process was far simpler.
Marketing Capabilities
When you're building a course, it's important to keep in mind that marketing is crucial to increase your revenue and grow your brand. A website is a great place to redirect users to buy your course. But even if you don't have a website, many course creation platforms offer to create one for you.
In this section, we'll evaluate which platform gives you more freedom with designing your website and more flexibility to your end-users for payment, using coupons, etc.
Course Website Design And Customization
Your website can be an excellent way of getting more buyers for your course. Both Teachable and Thinkific offer website building on their platform.
First things first, both Thinkific and Teachable offer you free hosting, SSL certificate, security, and backup of your website. You can also customize your subdomain (xxx.teachable.com or xxxx.thinkific.com) on both platforms or get a custom domain.
Both platforms allow you to see how your website looks across devices and even change the language. This is where the similarities end.
Thinkific offers 3 themes in 3-4 styles that give you a lot of freedom to customize your site. The "Theme" builder in Thinkific only allows you to add a brand logo, choose the font family, and customize the colors. There are premade page templates that can help you get started quicker, but there's little you can do in customizing your site theme.
Thinkific also allows you to import a theme straight from your computer or modify the code in the backend with existing themes. This functionality is only available for high-tier plans.
Another area where Thinkific is way ahead of Teachable is the Page Builder. While Teachable's page builder is easy to use and may suffice in the beginning, Thinkific's page builder has a lot of advanced features that make your website much more interactive.
With Thinkific, you can add countdown timers, different types of testimonials, checklists, upsells, videos, instructors about blocks, etc. None of these advanced features are available at Teachable.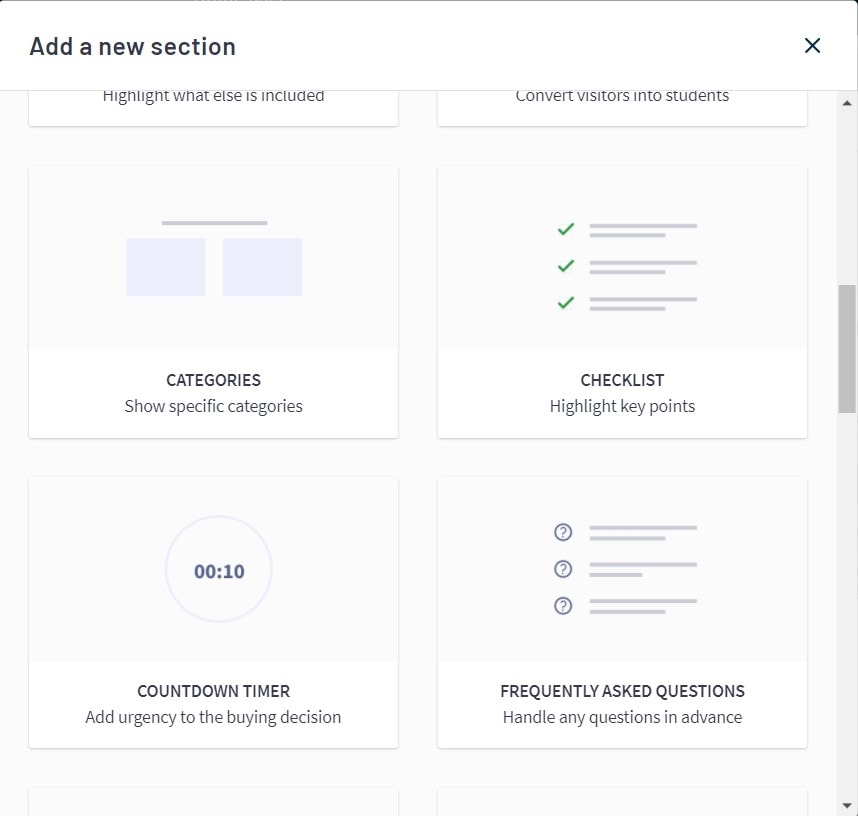 Email Marketing And Dripping Content
A "Drip" feature allows you to control when your students will have access to course content. This limits the number of lessons you share with your students in a time frame and also helps you reach out to your students when they complete certain milestones in their course's journey.
Dripping works quite similarly on Teachable and Thinkific. Both platforms allow you to schedule your content based on when a student is enrolled or by course start date. In this department, it's a tie between the two platforms.
Note: Thinkific allows the Drip feature to only work on paid plans.
But where email marketing integrations are concerned, Thinkific is ahead. It integrates with Mailchimp, Aweber, ConvertKit, Constant Contact, and Active Campaign. Teachable only offers integration with MailChimp and ConvertKit. If you want to integrate any other email service provider at Teachable, you'll have to integrate it with Zapier. The same applies to Thinkific too.
Winner: Thinkific (Close Margin)
Because it offers more email marketing integrations, Thinkific wins this round with a close margin.
Course Pricing Options
Both Thinkific and Teachable offer you four ways to price your course:
Free
One-time payment
Fixed number of monthly payments
Subscription-based pricing
Note: Thinkific offers subscription-based pricing and the fixed monthly payment pricing only for Pro plans and above.
You can set multiple ways to pay for one course. For example, if one of your buyers cannot afford the large sum of a one-time payment, you can give them the option of paying the same amount in 2 months. Both Teachable and Thinkific give you the option of having a trial period for the subscription-based model.
But the similarities end there.
Teachable allows you to add a pricing point in multiple currencies which allows you to offer a variety of currencies that your students can pay in. This increases your payment options widely: students can pay in the currency of their choice and opt to pay a one-time fee or a monthly payment.
And Thinkific is ahead in the subscription-based pricing where it also offers a setup fee upfront. This is handy when you're trying to build a membership site.
Winner: Teachable if you have a global audience, Thinkific if you have a membership site
Both Teachable and Thinkific offer similar product pricing models. But both have one feature that is missing from the other.
It's a tie with product pricing – but if you have a global audience, Teachable will allow you to price your course in different currencies. Thinkific is better if you're building a membership site and want a setup fee for your buyers.
Coupons And Affiliate Marketing Capabilities
Creating a coupon allows you to give discounts to your potential buyers. You might want to use this when a customer buys multiple courses from you or you want the first 500 people to get a discount and leverage that sale.
Both Teachable and Thinkific offer the facility to create a coupon for your courses. With Teachable, you can generate bulk coupons as well.
Both platforms allow you to give a % discount coupon or a $ discount coupon. With Teachable, you can either get a discount coupon for one course or all your courses.
But with Thinkific, you can choose exactly which courses you want to apply a discount coupon for. This is great when you have a membership site and many courses and you want to group them together to give a discount on a set number of courses.
Along with coupon codes, both Teachable and Thinkific also allow you to create affiliate links in your courses. You can select which courses you want to promote and a custom percentage point for your affiliates. The affiliate dashboard allows you to track your performances.
Affiliate payouts are easy and automatic with Teachable. This is helpful when you have a large number of affiliates in your school. Teachable is also helpful because it allows you to create affiliates even if your landing page isn't built on their platform. To do this with Thinkific, you'll have to do some coding.
Winner: Thinkific For Coupons, Teachable For Affiliate Marketing
Thinkific is great for coupons because it allows you to select a number of individual courses and create discount codes only for those. With Teachable, you can either choose one course or all.
Teachable is ahead in affiliate marketing because of its automatic payout feature and ease of use despite hosting the landing page of the course on another service provider.
Integrations With Third-Party Apps
How a course platform plays with other marketing tools is an important factor in deciding whether it's a good fit for you. Both Teachable and Thinkific integrate with Google Analytics, Facebook Pixels, Segment, and Zapier.
But Thinkific is a clear winner in this segment. They have divided their integrations into 6 categories and integrate with a whole lot of useful apps like Accredible (Certificate Solutions), Shopify, and Zoom.
Note: Many of these apps are integrated only in the Pro plan and above.
Winner: Thinkific 
Thinkific offers you much more third-party integrations that are useful and popular. They've also neatly divided their integrations into categories making it easy for you to search your desired app.
Outlier Features In Thinkific And Teachable
There are some extra features in both Thinkific and Teachable that deserve a mention in this article.
Thinkific has a "Groups" feature that allows you to sell your course easily to cohorts or organizations. This is useful if you sell your course in bulk to organizations or schools. It allows you to enroll several students at once and also keep them organized.
Note: This feature is only available in Pro plans and above.
Similarly, the "Blog" feature and the "Coaching" product at Teachable are an outlier in the course building platforms.
Final Thoughts
After analyzing all the important features of both Teachable and Thinkific, it is clear that both platforms have a lot to offer. But it's clear that Thinkific has the most "Winner" points in this article. It does certainly have an edge over Teachable.
That being said, Teachable would work better in certain cases. For instance, if a creator also wants to offer a 1:1 coaching service, Teachable would be a better fit for them than Thinkific. It is also worth giving a try to existing course creators who are looking for an upgrade in their analytics.