Thinkific and Kajabi are among the leading online course platforms. But which one will suit your needs and give you the most bang for your bucks? Let's find out in today's Thinkific vs. Kajabi comparison.
In my analysis, I found both platforms are great and useful but fulfill different needs.
Already have a website and an active email list on another platform and don't mind different service providers? Then Thinkific may be better because it's budget-friendly. It's also better for someone who is just getting started and only wants to build a traditional e-learning course.
If you want to get (or migrate) all your business needs like website, email marketing, blogging, and courses in one place, then Kajabi is the platform for you.
Thinkific Vs. Kajabi: Comparison Table

Before we begin with in-depth analysis, here is the comparison table for each feature, pricing, and support: 
Course Design, Customization, and Engagement Features

Parameter 

Thinkific 

Kajabi

Winner

Course Creation And Structuring

Beginner-friendly, easy to use, has all basic functionalities, Live Zoom sessions feature, video library

Allows automation, Allows uploading videos from the cloud, can add "subcategories" level 

Thinkific for beginners; Kajabi for power users

Course Player 

Excellent content delivery, intuitive 

10+ course player themes, Mobile App 

Kajabi

Dripping and Locking Features

Students cannot skip over because one locked module blocks all the content ahead, allows setting a video % requirement 

Send drip emails automatically

Kajabi in Drip Feature; Thinkific in Locking Feature

Student Discussions and Community 

Can open topics for discussion, can create a community page

Club your community page to your membership site or sell it as a separate product, Allows you to organize discussions into relevant topics

Kajabi

Assessment Capabilities

Can randomize questions, can add questions from a file, can reject assignments, can create advanced exam environment through the Brillium feature

Allows you to add assignments and quizzes, Easily grade all, No option to reject submissions

Thinkific

Course Certificates

7 pre-made templates, has integration with Accredible, can use the same certificate for multiple courses

No native certificate creation feature

Thinkific

Pricing Plans, Customer Support, and Course Analytics

Parameter 

Thinkific 

Kajabi

Winner

Pricing Plans

Has a free plan, Paid plans might have limited features

14-day trial on all plans, all-in-one platform for all business needs

Thinkific (close tie)

Customer Support

Quick live chat response

Template response 

Kajabi

Course Analytics

The advanced Reporting feature in the Beta stage allows you to track student engagement 

Video heatmaps, Different analytics for everything

Kajabi

Marketing and Sales Features

Parameter 

Thinkific

Kajabi

Winner

Page Builder, Site Design Customization, and Blogging 

3 themes, can easily create website pages and customize 

8 themes, much more customization options, blogging feature, sales builder

Kajabi

Email Marketing And Automation 

Allows to send emails but not automatically, cannot be your email marketing provider

Can send email sequences and email broadcasts

Kajabi

Course Pricing 

4 types of plans to choose from, payment can be done via credit card or PayPal 

Can charge for your course in multiple currencies 

Kajabi (close tie)

Checkouts and Upsells

Limited features and an outdated 2-step method to checkout 

Has advanced features to upsell and make your checkout page aesthetic

Kajabi

Affiliate Marketing

Dashboard to give you all analytics of affiliates

Can create a separate registration page

Kajabi

Payment Processing 

Cannot pay via PayPal in any pricing model apart from the one-time charge model

Integration with Stripe and PayPal

Kajabi

Third-party integrations

Has 6 categories of apps that are available for integration 

Has basic apps for integration 

Thinkific
Kajabi Vs. Thinkific Pricing

The primary difference between Thinkific and Kajabi pricing plans is that Thinkific has a free plan that allows you to release your course at absolutely no cost (given that you can't use few features that aren't available in the free plan). 
While Kajabi does not offer you a free plan, it gives you a 14-day free trial for all the 3 plans available on its platform. You save 20% with annual billing and the Basic plan begins at $119/month. 
Note: A credit card is required to start your free trial. 

The paid plans at Thinkific are much cheaper and the Basic plan begins at $39/month. You save 20% on annual billing here too.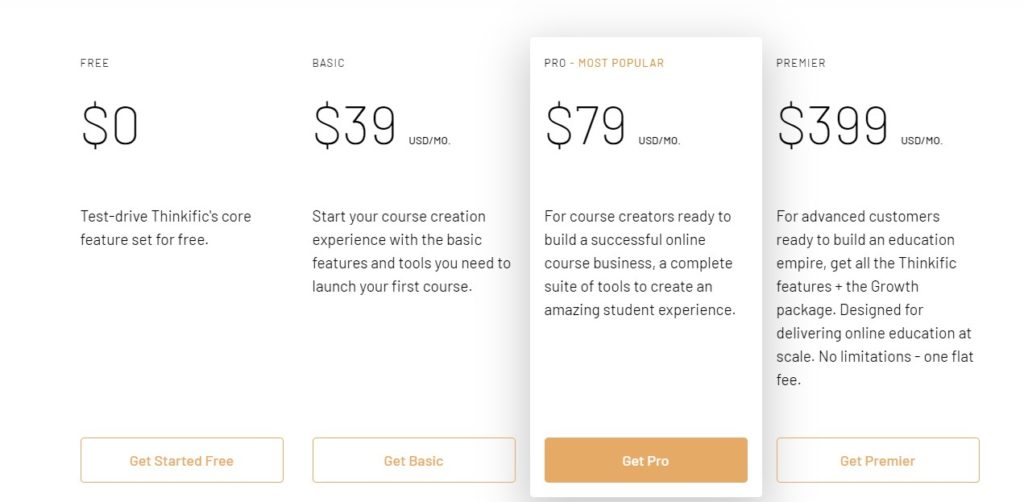 Both platforms also offer a 30-day money-back guarantee. 
But don't dismiss Kajabi just because of its heavy pricing. If you take a closer look at the features offered, you'll realize that you will need to switch to the "Pro" or "Premier" plan at Thinkific to get the features available in Kajabi's "Basic" plan. You might save money at Kajabi because it has multiple tool builders in one platform (we'll get to that in a bit). 
Winner: Thinkific (close tie)
Despite the amazing features at Kajabi, its pricing is way too expensive compared to Thinkific. The free plan at Thinkific has all the core features of the course-builder and allows you to add unlimited students. Although Kajabi might work better in certain cases for specific creators, Thinkific's pricing will suit most people comfortably. 
Customer Support
Thinkific offers virtual chatbot customer support while Kajabi offers live chat, creation of a support ticket, and a live Q&A training session. 
When I reached out to Thinkific, they responded within a reasonable time frame of around 24 hours. But their response was rather templated and did not cut the bar for personalized service. 
I had asked about the analytics feature available at Thinkific's "Basic" plan and was given a list of help center articles that could help – but some of those features were only available for Pro and Growth plans. The agent did not care to specify which features would actually be available in the basic plan.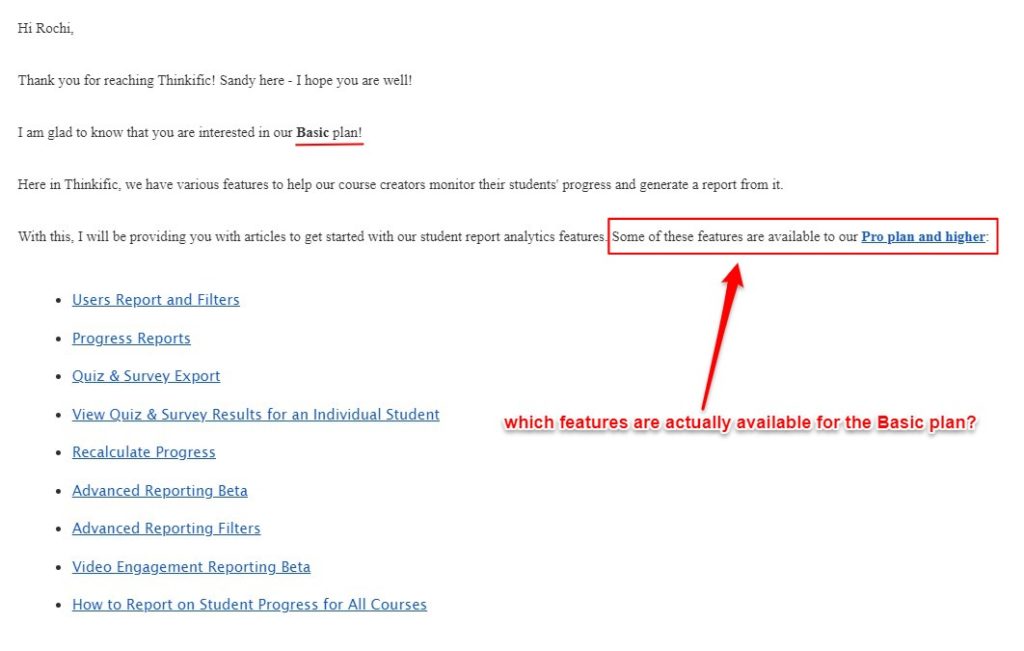 At Kajabi, the customer service was impeccable. I could reach out to an agent through live chat (available 24/7 in Growth and Pro plan) and they responded to my query in clear, concise terms in under 15 minutes. I had asked if there is any way to reject the assignments given by students at Kajabi.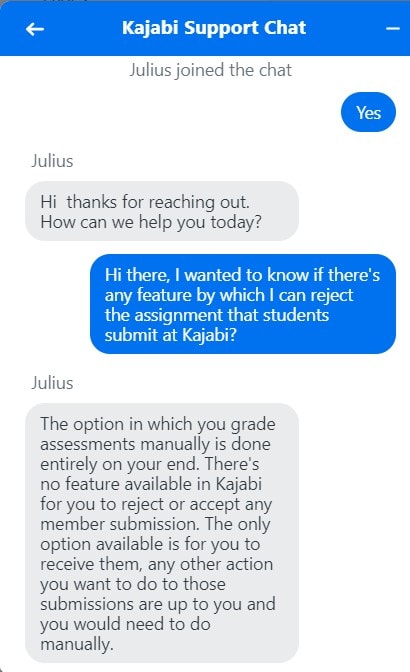 I asked a couple of follow-up questions after this and all were answered in quick succession with the same clarity. 
Winner: Kajabi
Kajabi is the clear winner here because nothing beats live chat support. The response at Thinkific was also a little copy-paste templated rather than personalized. 
Course Design, Customization, And Engagement Features

It's important that the platform you choose has the course design, customizing abilities, and engagement features that you require. For instance, if you require your students to periodically submit homework or an assignment, then whatever course platform you choose should be able to offer you that. With Kajabi and Thinkific, we'll examine all the features you might need before we decide a winner. 
Course Creation and Structuring 
Kajabi offers you many products you can create apart from an online course. You can create a coaching program, a mini-course, a drip course, and even a membership & community hub. If none of this suits you, they also have a blank blueprint that allows you to start from scratch.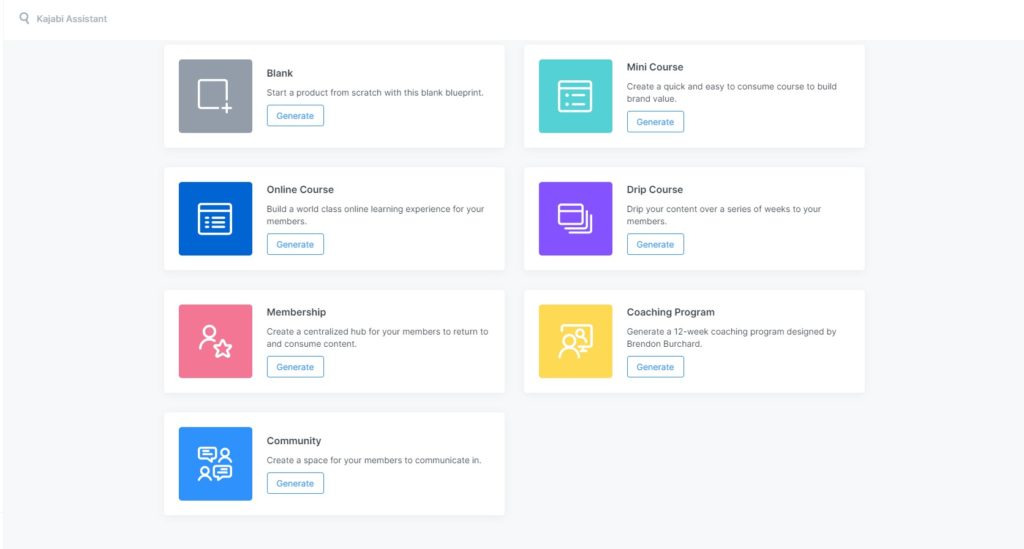 There are minor differences between Thinkific and Kajabi in terms of course building. You can add downloadable PDFs in both platforms, design quizzes, bulk upload your content, decide to enable or disable comments/discussions, etc. 
I personally found that Thinkific's course builder is easier to use. It is beginner-friendly and the various options are easily accessible and available to someone who has never made a course before.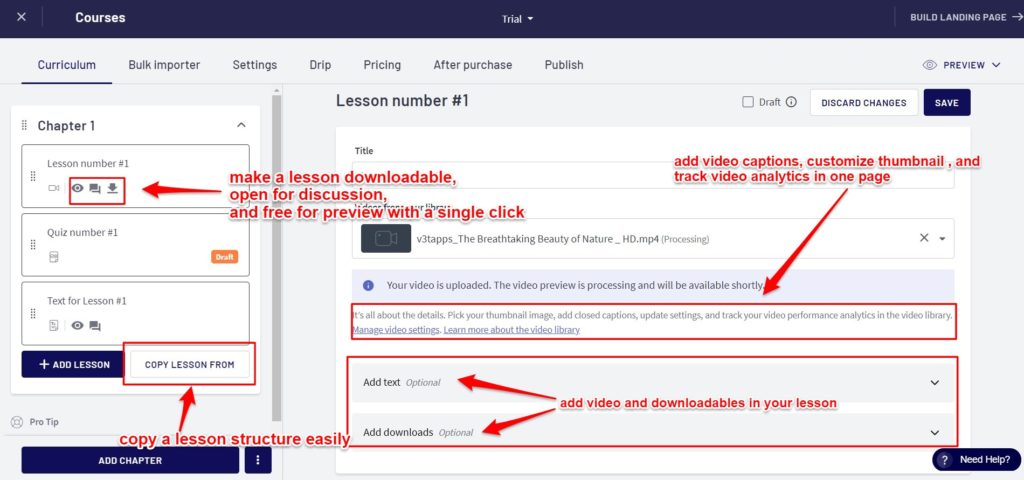 Kajabi has similar features and is great at building lessons, but it can be tough to utilize all the features for someone who's a beginner. The design is not as user-intuitive as Thinkific.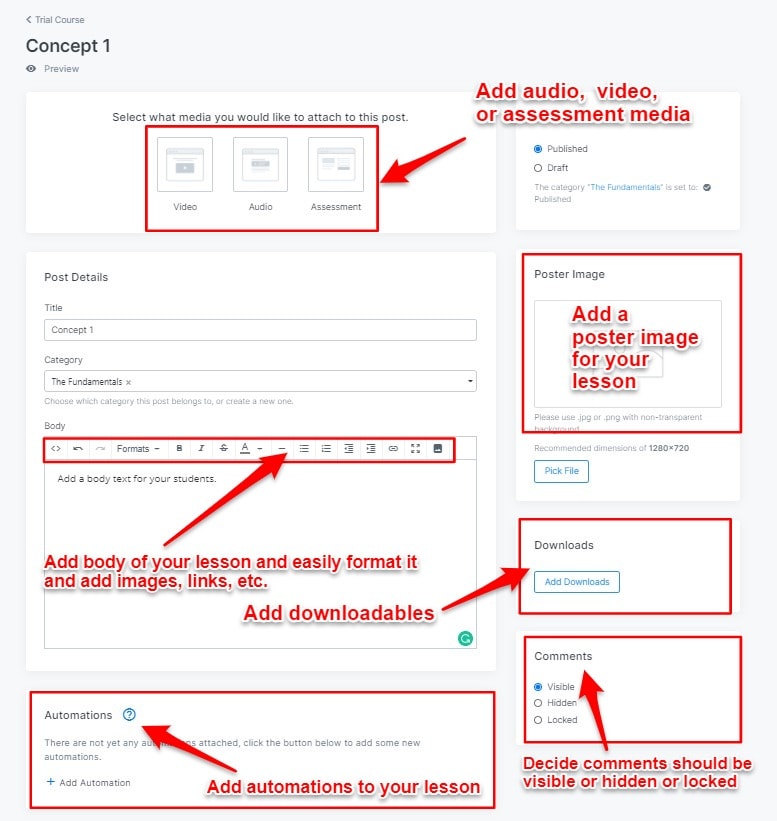 There are certain differences in the course builder at Thinkific and Kajabi. Although they are minor, going through them can help you decide which features you prefer for building your course. They are: 
You can upload videos from the cloud in Kajabi, but you cannot do so in Thinkific.
Thinkific does make a "Video Library" of all the video content you upload for easy additions of the same later. Kajabi has no video library. 
You can automate actions and add further conditions in Kajabi. For example, if you want to send an email after the first lesson is complete for a student, you can do so in Kajabi but not in Thinkific. You can also add further conditions in Kajabi like "Send this email if the person hasn't opened the last email in 7 days."
You can add a third level in Kajabi called "Subcategories." Thinkific allows you to add only two levels to your course. 
You can easily duplicate a lesson in Thinkific but you cannot do so in Kajabi. This is a huge time saver, especially when your course has a complex structuring. 
You can add a Live Zoom lesson or Webinar in Thinkific. You can't do so in Kajabi. You can have a coaching program for it instead. 
Winner: Thinkific For Beginners; Kajabi For Power Users 
As you can see, Thinkific is quite beginner-friendly and Kajabi has some extra features that will be handy for someone building a membership site or who is a power user of course creation platforms. Overall, evaluate the differences and see which features the best suit your needs to determine which one you should purchase. 
Course Player 
The course player is where your students watch the content you've created for them. This part is important because it is where your students engage and experience your course. 
Kajabi offers 10+ online course player themes for your liking. This is available for all the products and websites you create through Kajabi. I personally like the "Momentum" theme best for online courses.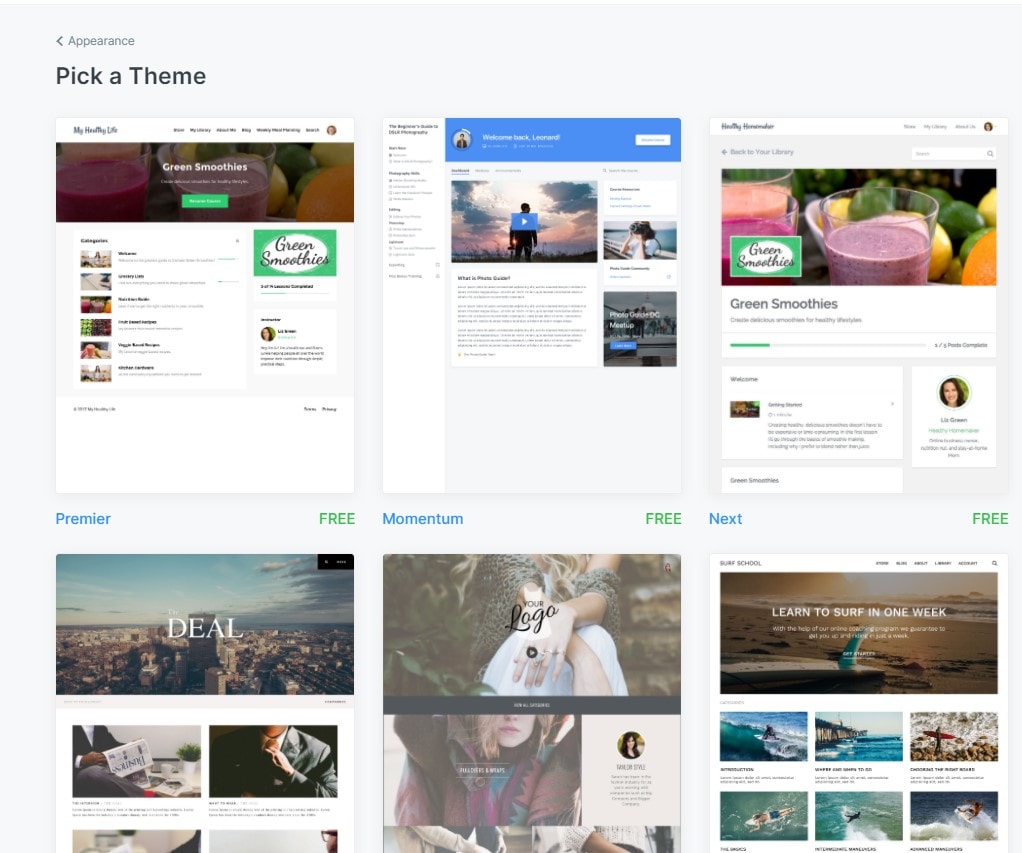 With these themes, you have a lot of room for customization. Almost all the themes look professional, sleek, and aesthetic as it is, but you can also personalize them without writing a single line of code. But if that doesn't suit you, Kajabi also offers the option of uploading your own theme.
The course player at Thinkific is not so advanced. There are no themes to choose from and customization options are limited. This doesn't mean that the course player is an absolute disaster. In fact, the course player at Thinkific is quite similar to the "Momentum" theme of Kajabi. The content delivery is excellent and the design is user-intuitive for your students.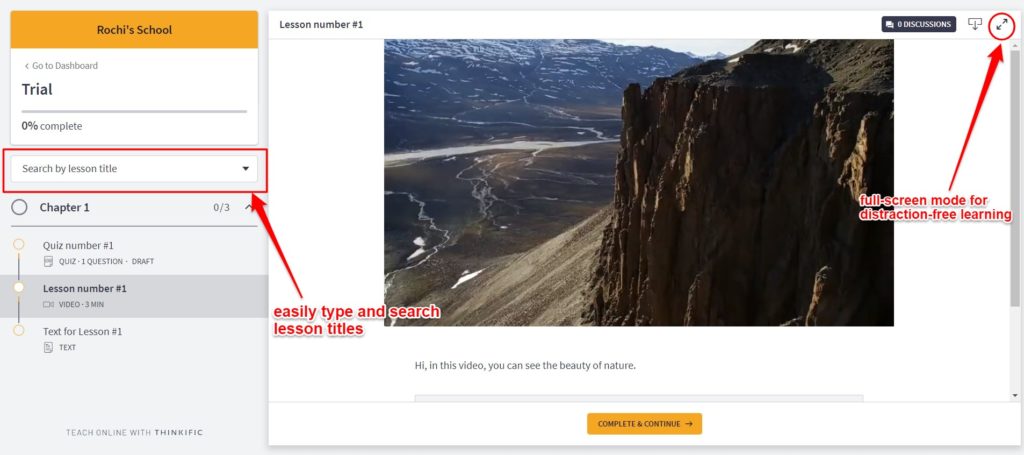 Both platforms are functional on mobile browsers, but Kajabi has mobile apps on both Android and iOS as well. 
Winner: Kajabi
Kajabi is the clear winner in content delivery because of its themes and availability as a mobile app. While the design of Thinkific's course delivery platform is great, there's not as much freedom to customize or choose a theme. Thinkific also does not offer a mobile app. 
Dripping & Locking Features
Both Kajabi and Thinkfiic are quite similar in their dripping and locking features. You can restrict certain content to be accessed until a lesson is completed and/or an assignment is submitted. You can also schedule your content to be sent when a student is enrolled or at a certain date based on your requirements. 
You can easily choose to "Drip" a section in your course at Kajabi. You can then decide the number of days you want to drip the content for. But in Thinkific, the platform cannot send drip emails to your students automatically. 

Both the platforms also allow you to mark certain lessons as a prerequisite to lock further content. But in Kajabi, the student cannot access only the content that is locked. This means that the modules ahead can be accessed if they aren't locked too. 
In Thinkific, however, once you take a lesson or module as a prerequisite, all the modules ahead are locked as well. So, the student can't skip and move over to the unlocked sections. Thinkific also allows you to create a "video % completion required" so that a student can move ahead only when he/she/they watch a certain percentage of the video. 
Winner: Kajabi in Drip Feature and Thinkific in Locking Feature 
Kajabi's drip feature is great because it sends emails to your students automatically when new content is released. Thinkific's locking feature is better because it logically blocks all the modules ahead so a student cannot skip over. It also allows you to create a lock-in video-watching percentage. 
Student Discussions And Community 
One of the easiest ways to keep your students engaged with your course is to allow them to engage with each other and with you easily on the course platform. 
Luckily, both Thinkific and Kajabi offer options to comment and discuss respectively. Both areas have different names but work similarly: they allow students to discuss the lesson, ask questions, and get feedback.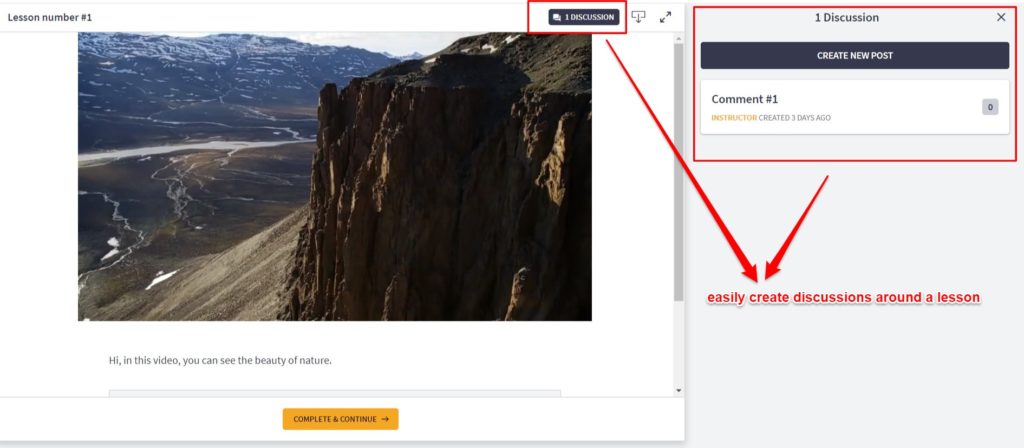 While comments are a great way to keep connected to your students, community-building is not possible through them. This is why both Kajabi and Thinkific also offer a feature to build communities within your course. But Kajabi's Community feature is much, much better than Thinkific's. 
At Kajabi, you can club your Community to your membership site or your course or sell it as a separate product. Students can easily join this community or create one of their own. They can participate in discussions, start a new thread, and message other students & you. 
The best feature of the Community product is that you get to organize the discussion into relevant topics. You can pin posts,  send information to members, and choose to display topics on the Community homepage.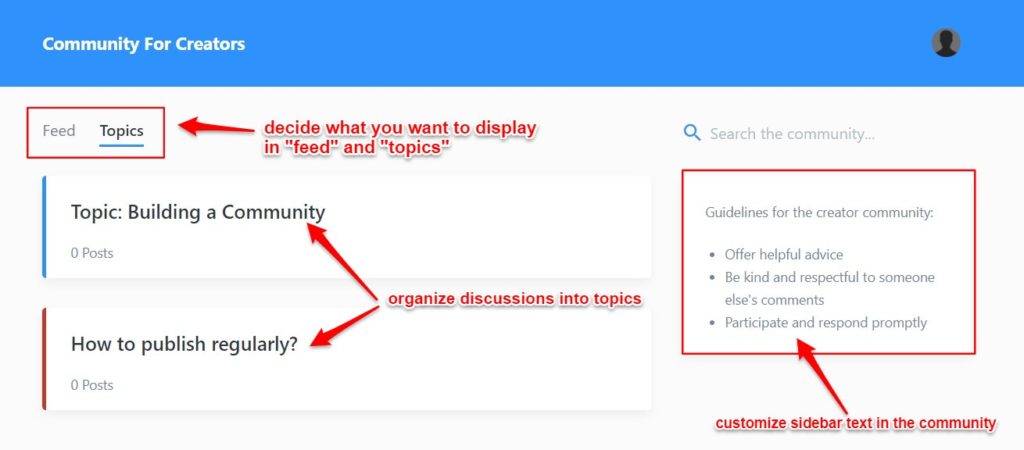 You can build a community using Thinkific as well, but that feature is only available for Pro plans and above. But you cannot organize the feed into neat topics in the Community page at Thinkific. The design and functionality of the "community" feature at Thinkific is still rudimentary compared to Kajabi. 
Winner: Kajabi
Kajabi is the clear winner in this segment. The community feature is excellent at Kajabi. The flexibility and advanced functionality it offers allow you to replace Facebook groups with Kajabi Community. 
Assessment Capabilities 
Your course will require different ways to assess your students based on your preference and the niche you are creating a course in. Kajabi and Thinkific both offer amazing assessment capabilities that will meet most of your needs. But Thinkific has more advanced features in this section. 
With Thinkific, you can create a quiz, an assignment, a survey, or a brillium exam within your course.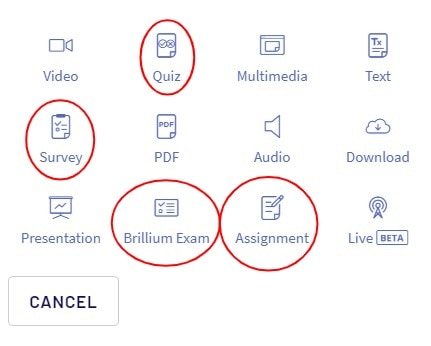 Thinkifc's assessment abilities include advanced features such as: 
Randomize the questions of your quiz
Import quiz questions in an XLSX file 
Add explanations to your questions to give context or case studies 
Accept or reject the submissions given by a student via the "Assignment" feature
At Kajabi, you can create assessments similarly, but you don't get the advanced features of Thinkific. You can format quiz questions and the student will be automatically graded. But you can't randomize questions, reject submissions, add explanations, or import a file. 
Winner: Thinkific 
Thinkific has advanced assessment abilities within all its features of quizzes, assignments, and surveys. You can also create an advanced learning environment through Brillium. Kajabi is quite similar to Thinkific in its assessment features but lacks advanced functionalities. 
Course Certificates
Thinkific offers you 7 pre-made templates as course completion certificates. You can edit the content and design of the certificates and use the same certificate design for multiple courses. This is a huge time-saver, especially if you personalize your certificates with your logo. 
Thinkific is also integrated with Accredible, which is a powerful tool for creating certificates and exporting them easily. This automates the process of issuing and you can also set an expiry date to your certificates. 
Kajabi does not have a native creation for certificates on their platform. You can create a certificate through a third-party platform and automate the process of sending it through email once the course is completed by a student. 
Winner: Thinkific
Thinkific is the obvious winner here because of its integration with Accredible and its premade templates. Kajabi can automate the process but you need an external solution and an integration in place for that to happen. Overall, the process at Thinkific is much smoother.
Course Analytics And Student Reports

Analytics can help you determine which parts of your course are working well and what aspects need improvement. To have correct and useful analytics can be tremendously beneficial to not just your online course, but your online business. It is imperative that the course creation platform you choose has the analytics you need. 
Thinkific's reporting has a new feature called "Advanced Reporting" that lets you track student engagement, revenue, orders, advanced video analytics, and enrollments. But it is currently in the Beta stage and only available for Pro and Growth plans.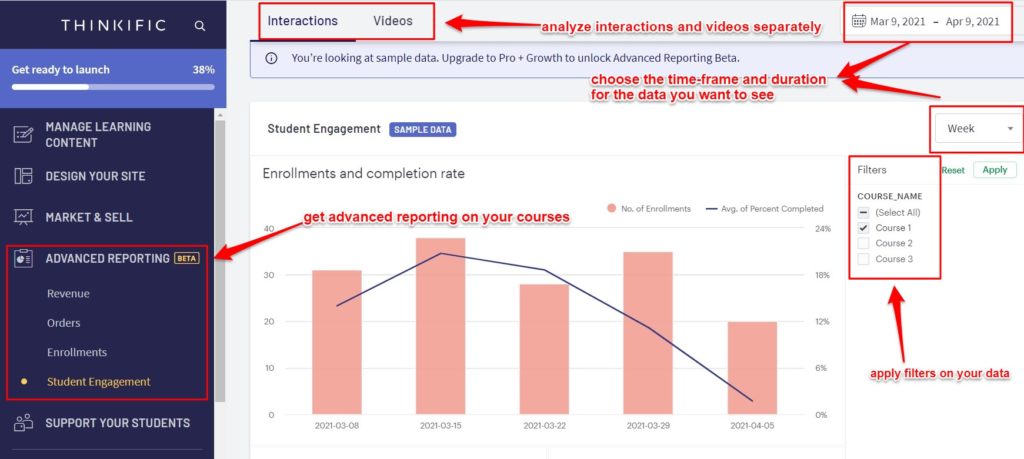 Kajabi's analytics are far more advanced and truly useful when you run a membership site or have multiple courses published. You can see a report of revenue, opt-in, subscription metrics, affiliates, etc. in the "Analytics" section of your Kajabi account.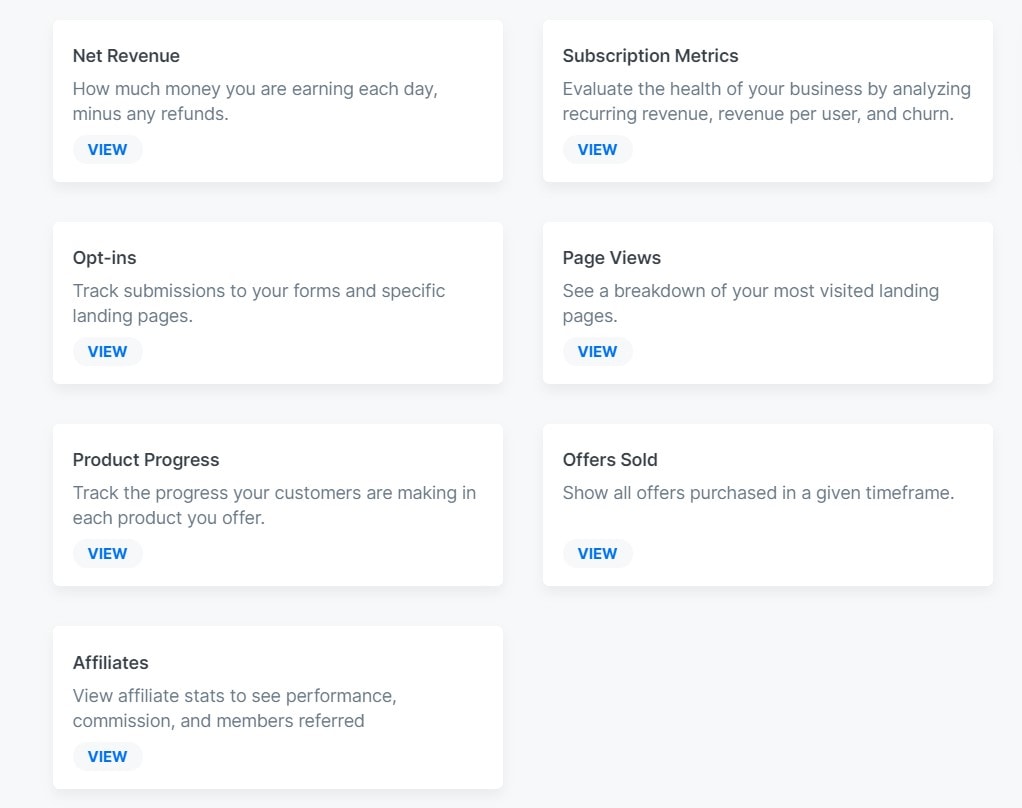 If you want to track the progress of a particular course, you can choose "Product Progress" and select the course there. Here, you can also filter and export your report based on a certain segment or even for individual members. 
Both Thinkific and Kajabi also allow you to track video analytics like engagement, play rate, etc. But the difference is that Kajabi has video heatmaps available while Kajabi does not have that visual engagement. 
Both platforms also allow you to easily analyze students' responses to quizzes, assignments, scores, etc. 
Winner: Kajabi
While the reporting feature at Thinkific may suffice for a creator who just wants the basic analytics of their video courses, Kajabi takes it a step further by their comprehensive reports on multiple areas. The visual heatmap for videos is also why Kajabi is the winner in this segment. 
Marketing And Sales Features

It is important to remember that marketing and sales are a crucial part of building a course. The right website, the correctly written landing page, and affiliate marketing can make or break the enrollments you get in your course. 
Fortunately, both Kajabi and Thinkific are laden with marketing and sales features. In this section, we'll explore all of them. 
Page Builder, Site Design Customization, And Blogging
Both Kajabi and Thinkific make having a customizable website very easy for you. The technical aspects are similar in both platforms: both offer SSL certificates, security, maintenance, and domain. You can also remove their branding from your course and website. 
Thinkific has three themes you can choose from while Kajabi has eight. Kajabi also has six other "Legacy themes" which the team doesn't work on anymore. In my opinion, the eight "Premier themes" are better anyway. You can also upload a theme or customize an existing one via code on both platforms. 
The page builder at Kajabi is much more powerful than at Thinkific. Both have drag-and-drop builders that are easy to use, but Kajabi gives you more customization options. You can decide how your page appears on a desktop vs on a mobile, you can add animations, and even create a layout of your choice. Kajabi also lets you create a sales pipeline builder – something which Thinkific doesn't have at this point. 
All of this is not possible at Thinkific's page builder platform.

Another feature where Kajabi shines is in its blogging capabilities. If you want to run a blog along with a course at Thinkific, you will have to resort to third-party services like WordPress or Squarespace to fulfill your needs. But with Kajabi, you can blog easily using its built-in blogging feature. Sure, the feature isn't as powerful as WordPress and might not fulfill all your SEO needs, but it is decent enough for the average blogger.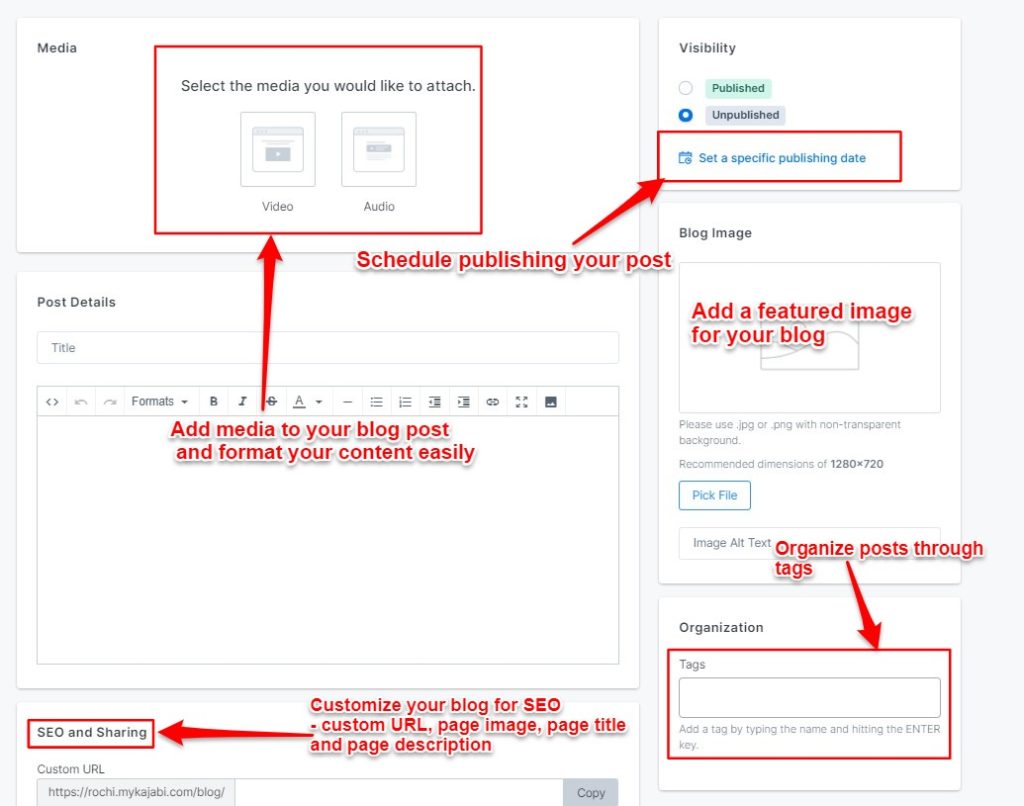 Winner: Kajabi
Kajabi is the clear winner because of its native ability to create blogs, more themes, and more customization options. 
Email Marketing And Automation
Thinkific has a basic email marketing service allowing you to send email broadcasts to your students. It does not support autoresponders or allow you to manage your email list from the platform. If you also want to run an email list, you will have to use another third-party email marketing service like Mailchimp or ConvertKit. 
Kajabi, on the other hand, allows you to create both an email broadcast and an email sequence. You can use this to welcome new students or announce a new product launch. Scheduling automated emails from the same platform as your course reduces a lot of your work. Kajabi also offers several aesthetic email broadcast themes you can use. 
You can also tag your customers to easily organize different types of students and also create an email sequence based on the tags assigned. This combination of automating and tagging is powerful enough to fulfill the email marketing needs of most creators.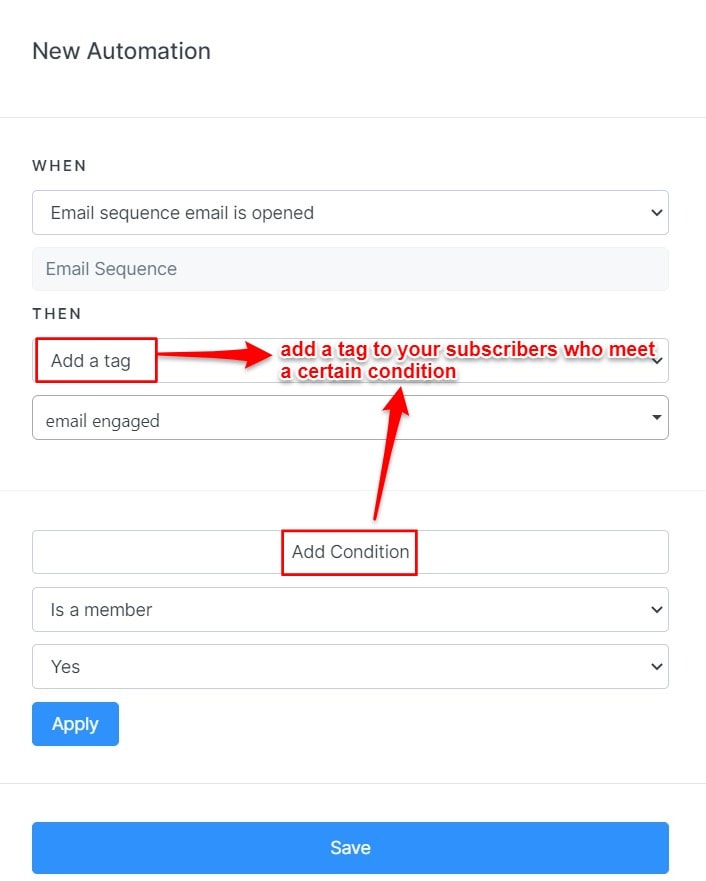 Winner: Kajabi
Kajabi is the winner because of its robust email marketing feature that enables you to manage your email list and your course from the same platform. 
Course Pricing
Kajabi and Thinkific have a lot of similarities when it comes to pricing options. Both offer you to create 4 types of pricing plans: free, one-time payment, multiple payments, and a recurring subscription. Both platforms also allow you to give your students a free trial or charge them a setup fee. 
The difference between the course pricing features in Thinkific and Kajabi are: 
You can create a weekly or bi-weekly subscription at Kajabi, which is not possible in Thinkific 
Kajabi allows you to charge for your course in multiple major currencies. Thinkific does not offer this feature
You can add a "Gift This Course" pricing option using Kajabi's automation feature which is not currently available at Thinkific 
Winner: Kajabi (close tie)
Because of the 3 extra features, Kajabi has, it wins this segment. But the course pricing options are majorly similar on both platforms. Most creators would not have a problem with Thinkific in this area. 
Checkouts And Upsells
Kajabi is the biggest winner in this segment. Its checkout page allows you to: 
Have a one-step checkout process
Customize your page – add testimonials, video, etc. 
Request your customer's shipping address (handy if you want to send physical products)
Add an order-bump 
Create a single-click upsell offer on the "thank you" page
Track customers who abandoned their purchase and email them automatically 
Thinkific has a basic 2-step checkout process that will never be nearly as convertible as Kajabi's. 
Winner: Kajabi
Kajabi lets you create a checkout page that converts your potential customers at a very good rate. With all its extra features, it is the clear winner in this segment. 
Affiliate Marketing 
You can create and manage affiliate programs at both Kajabi and Thinkific. On both platforms, you can manage sales, commissions, and get a personalized dashboard.
The primary difference between them is: 
Kajabi lets you create links that can be redirected to any website. But with Thinkific, you can only redirect users to your Thinkific website. 
You can create a separate registration page for affiliates at Kajabi. To this, affiliates get approved automatically. You have to do this manually on Thinkific and affiliates first need to sign up on your Thinkific website as a regular user. 
Winner: Kajabi
While both platforms are quite similar in terms of affiliate marketing, Kajabi has a certain edge in features and flexibility. 
Payment Processing
Kajabi and Thinkific both have integration with Stripe and PayPal, allowing your customers to pay via credit card or PayPal easily. The major difference is that Thinkific does not let you offer the PayPal option for courses that are not priced at a one-time pricing model. This can be a serious limitation for membership-building sites and even for creators with an international audience. 
Winner: Kajabi
Kajabi is the clear winner in this segment because it allows your customers to pay in multiple currencies on all pricing plans, something that is missing from Thinkific. 
Third-Party Integrations
This section can't be concluded without taking a look at the third-party integration facilities at both platforms. A third-party integration allows you to work seamlessly with multiple service providers. A good course-building platform is one that would easily integrate with all the other platforms you already use. 
Thinkific has divided its integrations into 6 categories which have a lot of popular, widely-used, and useful apps like Zoom, Accredible (for certificate creation), and Shopify. 
Kajabi also has quite a few integrations in email marketing and analytics like ConvertKit, Mailchimp, Google Analytics, ClickFunnels, etc.
The best part is that both Thinkific and Kajabi integrate with Zapier which in turn integrates with thousands of other third-party apps, enabling integration here as well. 
Winner: Thinkific 
While Kajabi has a lot of useful integrations and an integration with Zapier might fulfill most needs, Thinkific wins this segment because it integrates with a lot of different apps directly. 
Final Verdict

Kajabi and Thinkific are both great course creation platforms. But both fulfill different needs and may suit different creators. 
Thinkific might be better if you already have a website and email marketing in place or you're just getting started at online courses. 
Go with Kajabi if you want all of your business on one platform and don't mind the cost.
I hope this review helped you decide which platform suits your needs better.