2021 is a great time to begin a freelance writing career.
Many businesses are going online and written communication is in demand more than ever. If you are thinking of starting freelance writing for real, this is your year.
But where do you begin? Don't worry, I've got you.
In this article, I will tell you the three prerequisites that you can implement immediately to get a headstart on your freelance writing business. After that, I'll give you 14 places where you can find your first freelancing gig! Finally, we'll talk about how you can convert your prospects into clients.
Here are the three steps that you need to follow before you start pitching to clients:
Step #1: Choose A Niche
This advice is repeated regularly and for good reason. Choosing a niche will not only help you get focused but also establish your expertise with your prospective clients. If you want to make consistent money, you'll have to narrow down your niche.
Finding your niche can be relative to everyone. If you have a specialized degree, like law or medicine, then choosing that niche can help you build authority and reliability. Clients will also be willing to pay a premium rate for writers with expert knowledge who are also aware of the latest trends.
Find a niche considering the following two things:
You have knowledge in the niche you choose: It can be an academic qualification or work experience that makes you an expert in the chosen niche. If you don't have any, you can also build knowledge by learning about it via courses or guest-posting on it.
You want to get paid to write about this niche: You should enjoy writing about the niche you write and be known as an expert in the industry.
As a beginner, give yourself some time to find what your ultimate niche is going to be. It can be challenging, but work in a few industries and start your niche down the process. You might also find that some niches are more lucrative than others, and it is absolutely fine to pick the more profitable one.
Step #2: Build A Respectable Body Of Work
Here's how to get your writing portfolio rolling:
Start Your Website And A Blog
This is the simplest way to get your writing alone and find freelance writing jobs as a beginner. Check out this post on how to build your freelance writing website. Trust me, you don't have to be tech-savvy to build a great one.
You will also need to set up your blogs preferably in your niche. This is the place companies and brands look at, so make sure to post something they'd like to find. Check out Chintan's guide on starting your own blog.
A website allows you to self-publish and show off your writing skills. But it also shows clients that you are serious about your services. Having your own website and blog is something that will help you generate leads for years to come.
Write Articles On Self-Publishing Platforms Such As Medium
There are many platforms like Medium, that allow you to self-publish your articles. You can choose to republish the ones you have posted on your own blog or write fresh ones.
The benefit of such platforms is that they already have a reading audience that can be of tremendous help in getting exposure. Once you post your article on Medium, ask your existing contacts to read, clap, and share it to get some eyes on your work.
Another great way is to reach out to Medium Publications who already have an established audience to publish your article. Find publications that have a decent number of following and are consistent with posting things in your niche.
Some other self-publishing platforms that can help you put your content out there are  ThriveGlobal, Vocal Media, and Quora.
Sign Up For A Portfolio Website Like Contently
Contently is a platform to showcase your portfolio. Here is what Chintan's Contently profile looks like: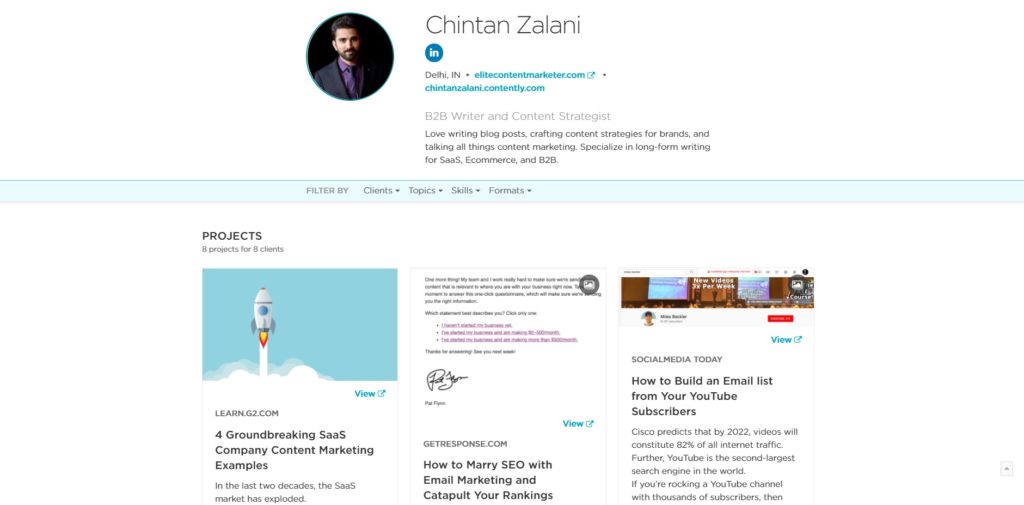 When you register, they ask you to fill out your information and where you've been published. You can submit your blog posts, self-publishing samples, or guest posts.
When you apply to job boards or communicate with prospects, having a portfolio can be immensely helpful in showcasing your samples. Only put out the type of content you want to get paid for on these portfolio websites.
You can also have a "Portfolio" tab on your own website and can showcase your samples there.
If Contently doesn't suit you, you can also try Clippings.me, Journo Portfolio, Muck Rack, or Writerfolio.
Step #3: Start Building Relationships
Did you think that writing is a solitary career? You couldn't be farther from the truth. Building good relationships with prospects and other freelancers can help you land your first gig, or gaining referrals from one client can help you land another.
Network With Prospective Clients
If you have a list of prospective clients who might be interested in your services, start networking with them via warm-pitching.
Follow them on social media and gain some meaningful interaction through their tweets, by commenting on their LinkedIn posts, sharing their Instagram posts, and the like. Be intentional with this form of networking – don't share and reshare just for the sake of it.
This can be the beginning of networking! Once you have that communication, it is easier to email and ask if a prospect is interested in your services or knows someone who might be.
Make Freelancing Friends
Making networks with other freelancers is a way to prove that you are genuinely a part of the industry. Find your role model freelancer and interact with them through social media, blog comments, email lists, etc.
This helps you get out there, ask for help, and even land your next client. If you have a good relationship, a writer might refer you to a prospective client and help you grow your freelance writing business.
Elna Cain, a freelance writer and coach, got her first ideal client through another freelancer's recommendation: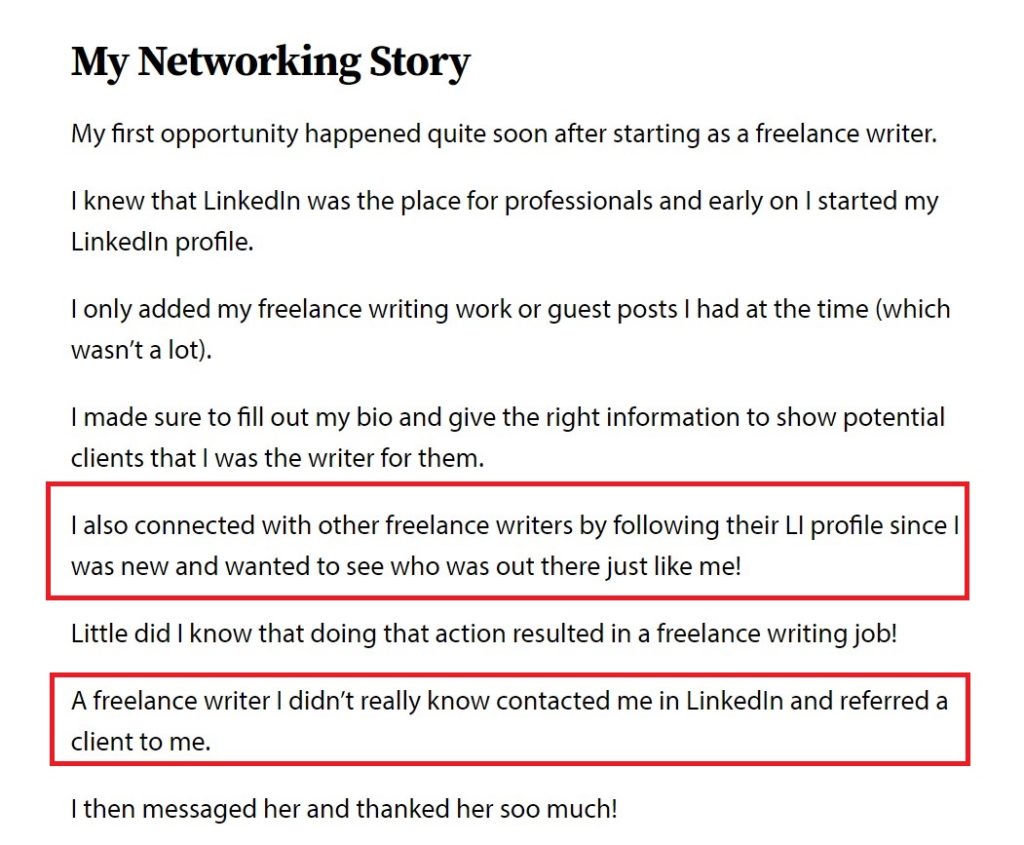 You can also visit the websites of other freelance writers, learn how they market themselves, and see what they write about.
But tread with caution, this is relationship building – be genuine, give more than you take, and be strategic.
After you've done these prerequisites, begin the hunt by going to these 14 places to find your first gig!
14 Places To Find Beginner Freelance Writing Jobs
There are many places you can find prospective clients to pitch your services to. With so many techniques and websites, it can be hard to narrow down which ones are beginner-friendly. Here are some places you can find freelance writing jobs as a beginner:
1. Problogger
Problogger is one of the most popular sites to hunt for freelancing jobs. There are tons of new leads here daily. But they are not screened enough, so do your research before applying. There is also a lot of competition here, so having a niche helps expedite the search process.
2. All Freelance Writing
All Freelance Writing discloses the pay of all the jobs displayed on their website. You can't sort jobs based on your keyword or niche, but the listings are separated by skill level – semi-pro, low pay, and pro-rate.
3. BloggingPro
BloggingPro is perfect for you if what you are looking for in your freelancing gig is writing blog posts. But many other job postings are also available on the website and it is updated daily.
4. Upwork
Upwork brings the freelancers and clients together every day. Bid on a job you like and a client may accept it. You can also take various tests here to show your skill-expertise to prospects.
5. LinkedIn Jobs
LinkedIn Jobs allows you to decide on a location to work in if that is what you prefer. This platform also enables you to create a portfolio of sorts – with its summary section and various tests.
6. Publoft
Publoft is the middle-man of your freelancing business that takes care of all the freelancing trouble for you (except writing of course). It is awesome for a beginner looking to find clients and manage them effectively.
7. Journalism Jobs
Journalism Jobs posts listings in newspaper jobs, radio jobs, newsletters, digital media. If your niche is journalism, this website is your goldmine.
8. We Work Remotely
We Work Remotely has a collection of copywriting jobs and many other listings in the "freelancing" category.
9. Solidgigs
SolidGigs handpicks good clients and/or great jobs for you. They have a paid membership but it is worth the cost of vetting every job and client yourself manually.
10. Flexjobs
Flexjobs is the pioneer in finding scam-free jobs. It is also paid but the jobs range in a wide variety of categories.
11. Writer Access
Writer Access is a small army of freelance writers. You'll have to take an assessment to determine your skill level here. It has a growing popularity for companies and people who want content. It's free.
12. Craigslist
Although the jobs aren't verified, you can find some writing jobs on Craigslist as a beginner. Just be diligent and examine your prospect thoroughly.
13. Get The Ball Moving With Writing Mills
Getting prospects to convert when you have no experience as a beginner can be a Catch-22. Sometimes to build your portfolio and get a few content pieces out there, you have to start by writing mills – these are companies or websites that pay low rates to writers for providing web content.
They are not recommended as a long-term strategy, but if you are just starting out and need to build a portfolio, you can turn to these sites:
TextBroker
You can register for free on TextBroker as an author and bid for clients. This can translate as working for extremely low pay because companies are usually looking for that here.
WriterBay
To register as a writer at WriterBay, you need to pass a grammar test consisting of 15 multiple choice questions and a test on how to avoid plagiarism. Then, you can select your writing project, upload the work, and get paid for it.
Fiverr
Fiverr is popular for not just freelance writing but web design, WordPress, logo design, etc. too. The word with Fiverr is speed – the prospects there expect content to be delivered quickly.
iWriter
iWriter is the go-to place for many beginners in freelance writing. You start getting writing projects once you pass their test. The rating system also helps you become an Elite Plus Writer and get better pay.
14. Intern In A "Content" Or Journalism Role
The first writing job I had was as a content writer intern. Many companies require consistent content and willingly hire full-time or part-time content writer interns for the role. LinkedIn has many such opportunities – just search "Content Intern" in jobs. You can also find them on Internshala. These internships help you build a portfolio and learn more about the industry.
So, now that you know where to find prospective clients, let's move to how to convert them into customers.
How To Land Your First Freelance Writing Job
You did it all – followed the three prerequisite steps, hunted for jobs in the 14 places above, and found prospective clients, what next? How do you convert them into your first customer(s)? How do you build credibility and reliability? Here's how:
1. Cold Pitch The Above Sites (And Small Businesses…)
Cold pitching is when you pitch to companies that aren't actively looking for writers but may benefit from your services. Pitch to those businesses in your niche that might truly gain something from receiving your content.
Once you have an idea of who your ideal client is, you can search for cold-pitching prospects at Techcrunch or use something like Limeleads to do the job of hunting clients for you. There are many things you can do to get that cold-pitch right. One of them is keeping them personalized. Here is Chintan's pitch that hits the nail on the head: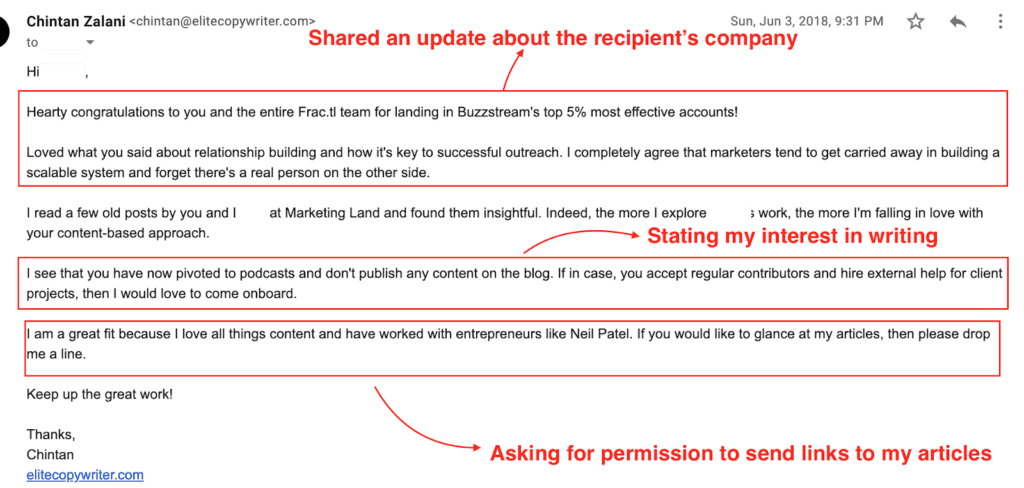 You can check two more ways to make cold pitching work for you here.
2. Guest Post
Guest Posting remains a popular and effective way for you to not only get samples and build your portfolio but also to gain your first freelancing job. Writing for big publications and authority sites will be the best way to increase your reach.
It is recommended to pitch to websites that publish articles in your niche, but as a beginner, feel free to play around a little bit until you settle on one.
Guest articles on reputable websites are the best way to build authority, attract prospects, and build your portfolio.
3. Get Testimonials, Build Social Proof, And Keep Pitching…
Have you written for a relative or friend before? Did you put on an extra hat at your day job for revamping the blog section of your company? Use that as social proof!
Testimonials are the best way to build trust among prospective clients. It is social proof that you run a freelancing business and provide valuable services.
You can also use the testimonials in your next pitch with a simple "See what my clients have to say" and build reliability.
Ultimately, pitching and guest posting is a numbers' game. Keep doing it right and you'll hear back from one or one too many prospects!
Frequently Asked Questions About Freelance Writing For Beginners
I know you still have questions. You're wondering if you need some qualification or experience to land that first client. And if you do, how much money are you going to make as a beginner? I answer all of those questions below:
How do I start freelance writing with no experience?
All freelance writers begin somewhere. Start by making your own blog and website to show off your best writing skills. You can also begin writing at self-publishing platforms like Medium. After you do both of these things, guest-post at reputable websites to create your samples and build an experienced portfolio.
How much does a beginner freelance writer make?
The writing skill and niche can determine how much money you can make with freelance writing as a beginner. How much you make as a freelancer also has a lot to do with marketing. The more you market yourself and provide samples of your writing skill, the more earning potential you have.
Do you need qualifications to be a freelance writer?
Absolutely not! It helps if you have academic leverage over certain lucrative niches like finance or law, but there are plenty of other profitable niches that require zero experience. Many freelance writers also opt to learn more about their niche through online courses, build authority through guest posts, and land their next gig!
Final Thoughts
With so many businesses working remotely or going online, the possibilities are endless in 2021. There are many digital-native brands popping up, influencers searching for content creators, and thus the demand for freelance writing is only increasing.
If you are just starting, focus on building a good portfolio in a lucrative niche. Samples can easily be built by making your own blog and guest-articles. It's a numbers game – don't give up!
Hope this article helped you in finding freelance writing jobs as a beginner.