There has never been a better time to be a freelance writer. With so much advice out there on how to land your first client, it can get overwhelming. I mean, where do you even begin?
Look, I get it. Making consistent money is your number one goal as a freelance writer, right?
Instead of knowing everything there is to know about freelance writing, you just want to know how you can barter your words for some money. To be able to do that, you must be able to find jobs.
Enter – Job boards. I've found the following 6 boards (and an extra 3 at the end!) essential to finding a well-paying writing gig. If you find yourself applying to these job boards for 15-30 minutes every day, you'll be earning a livable wage within a few months.
There's no shortage of job opportunities for people who can write well. Whether you're a newbie or experienced, here are the top 6 freelance writing job boards that will help you land your next client.
Table of Contents
ProBlogger is a perfect fit for someone who is an expert in their niche and is comfortable with competition and slightly lower pay.
ProBlogger is one of the first websites to make freelance writing jobs available. It remains one of the oldest and most popular free job-board for freelance writers.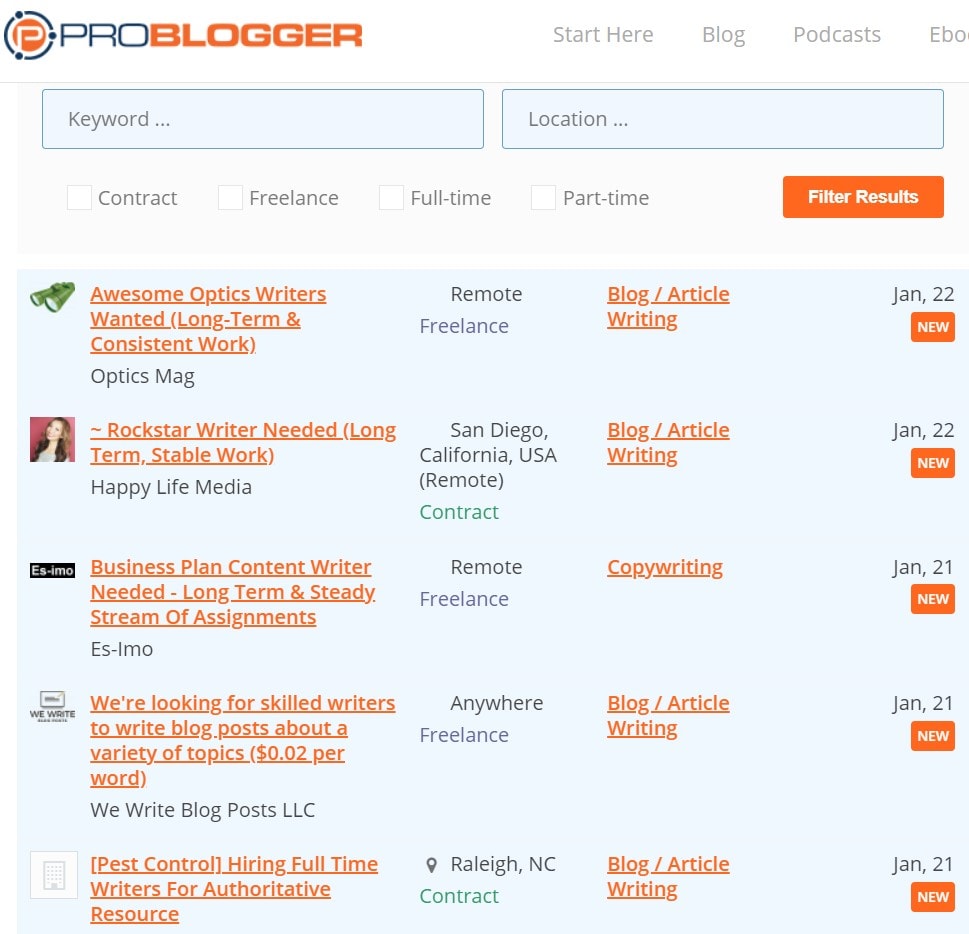 You can search for the freelancing gigs you want based on various filters available on ProBlogger's job board: location, freelance, niche, etc.
Darren Rowse, a professional blogger himself, is the owner of ProBlogger. Since it is so popular, the competitiveness here is also pretty high. The jobs range from beginner to expert and a lot of the jobs here might not be high-paying.
Writing leads source: The advertisers are charged $50 for the post to be run for 30 days.
Update frequency: The ProBlogger job board is updated daily.
Freelance Writing Job Board is suitable for freelance writers looking to apply to a dozen or so jobs every day without going through the trouble of finding postings.
This website is a fantastic source for new freelance writers wanting to spend some time applying to new jobs daily. Freelance Writing Job Board offers jobs in all kinds of categories: content writing, technical writing, translation, etc.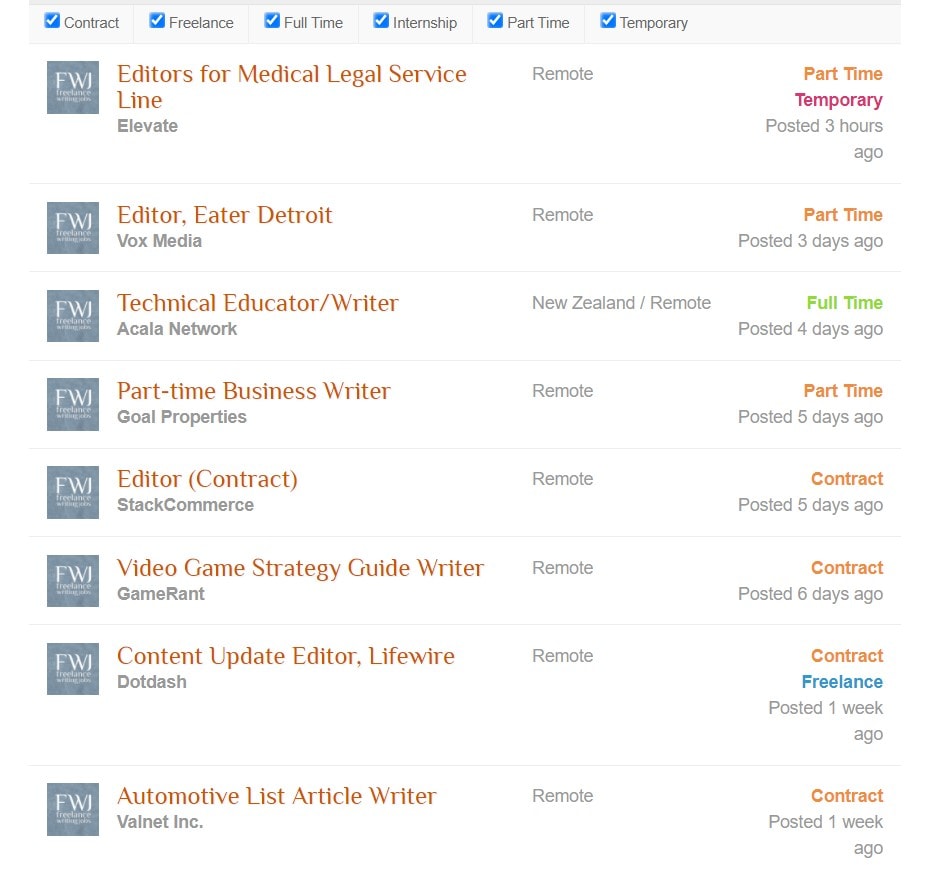 You can also filter out these jobs based on location, your niche, etc. The various categories can also come to your aid as huge time savers.
Writing leads source: Freelance Writing Job board gathers the listings from various websites like Craigslist.
Update frequency: There are new jobs posted daily at the Freelance Writing Job board. You can separate the jobs based on the date of posting or the category of the job you want.
BloggingPro is the perfect job board for someone looking to get a freelance blogging gig.
BloggingPro is similar to ProBlogger in filtering jobs based on your niche and finding a filtered list of job postings.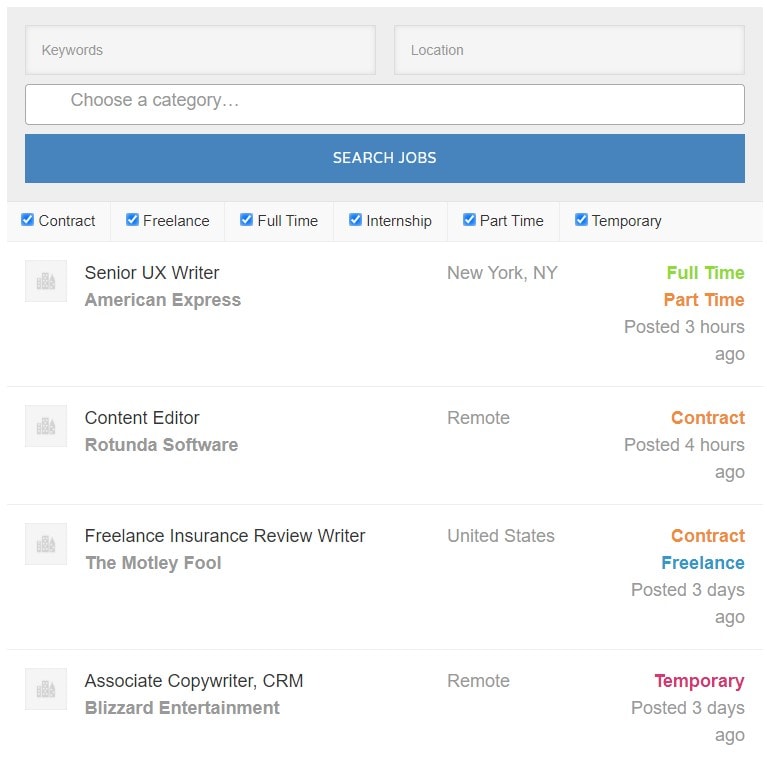 You can find many types of jobs here, but most would be blogging type gigs. The filtering can also help you comb out any unnecessary listings.
Writing leads source: A job board banner ad in BloggingPro costs $60 to stay put for 30 days.
Update frequency: Blogging Pro is updated daily with fresh job listings.
Journalism Jobs is the perfect place to job-hunt for your freelance writing gig if you are a journalist or looking for journalist jobs.
Journalism Jobs is an essential resource for you if you are a journalist. You can browse through newspaper jobs, radio jobs, newsletters, digital media, etc. You can also do a detailed search for industry, salary, and position.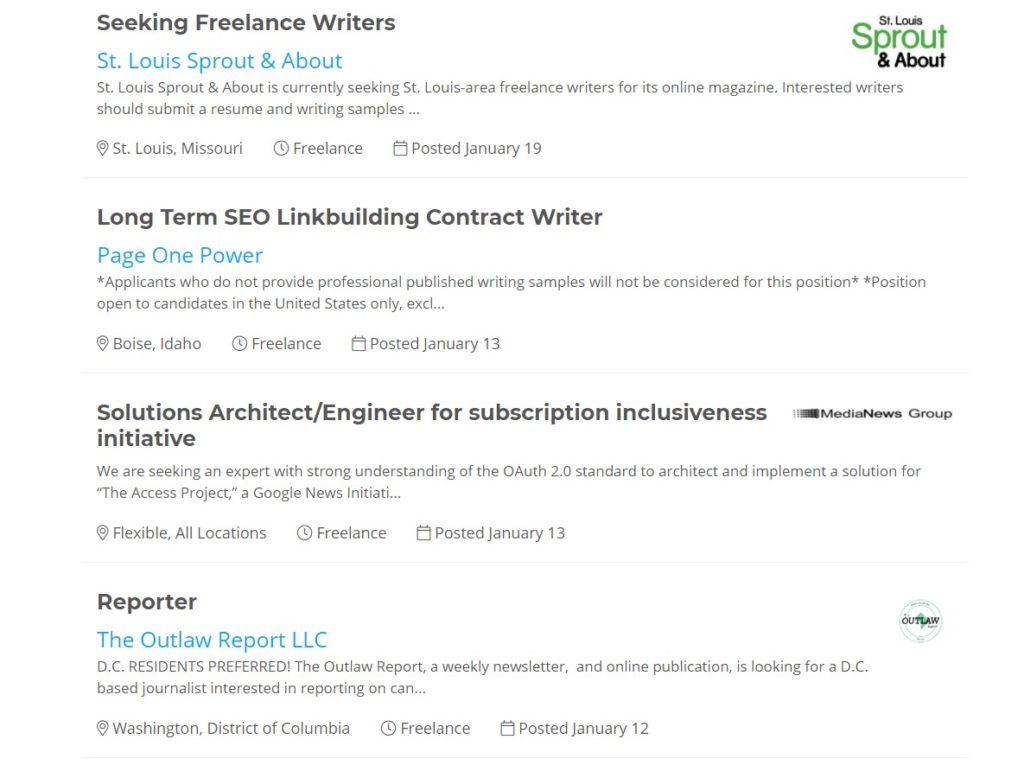 This job board has listings for everybody, from beginner to advanced freelance writers. You can find both local and national journalism jobs on this job board.
Writing leads source: A single-job posting ad at Journalism Jobs costs $100 for 35 days.
Update frequency: Journalism Jobs is updated almost daily. The latest job I found was a day before. But you can also sign up to receive daily job alerts.
All Freelance Writing is a place for freelance creators who would want the pay disclosed and don't mind a little infrequent job hunt.
All Freelance Writing is a no-nonsense freelance writing job board. It does not have the option to filter out job listings based on your keyword niche, but it does separate jobs into semi-pro, low pay, and pro-rate.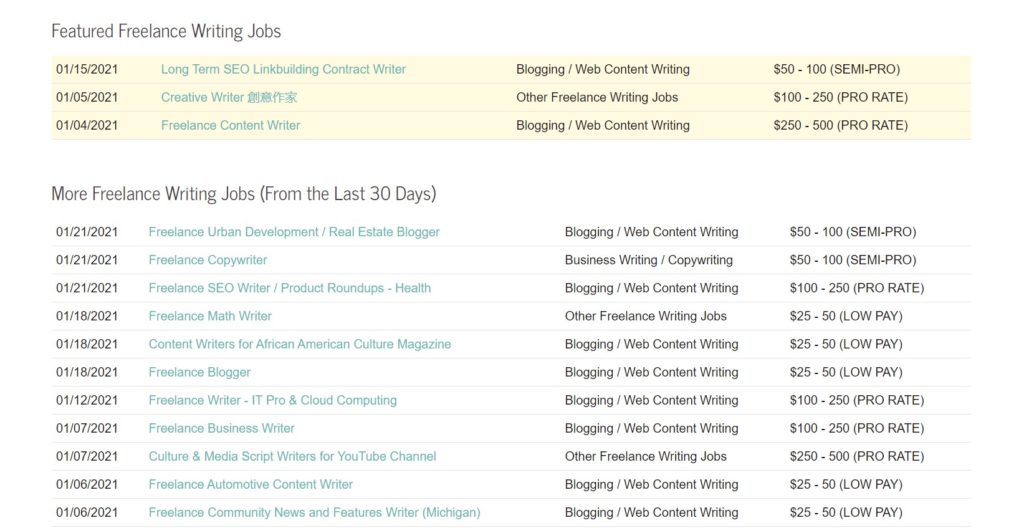 There are the "featured" freelance writing jobs and more jobs from the last 30 days. The featured jobs aren't always recently posted.
Writing leads source: Posting a job ad on All Freelance Writing costs $19.95 for 30 days. But the website also confirms that along with their own ads, they also highlight third-party ads.
Update frequency: The latest job posting on All Freelance Writing was four days ago, so it is not updated daily. But you can sign up to receive leads in your inbox.
Writers Weekly is the place for a freelance writer who is looking for infrequent job postings segmented by markets.
Writers Weekly is a unique job board where you can browse job markets and job listings.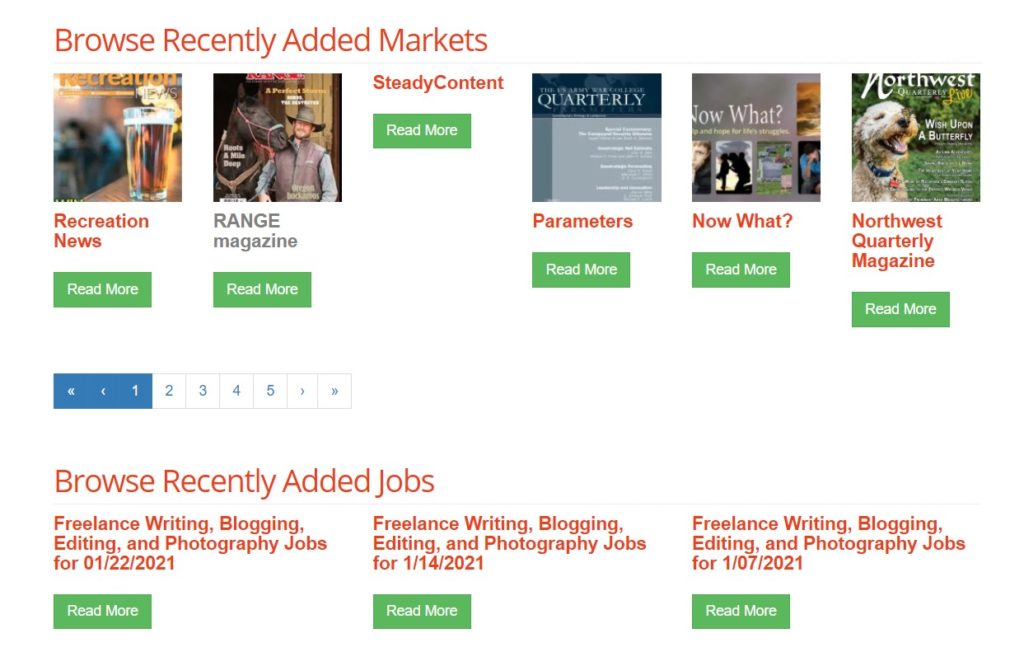 The jobs go out every week but how recently the markets are added is unclear. The "jobs" have a lot of jobs within them but the "markets" have just one job under each heading. I found the structure to be a little difficult to navigate around as a beginner.
Writing leads source: Writing Weekly allows ads on its website for free.
Update frequency: The last "market" added was four days ago and the "job" was added three days ago. In short, the Writers Weekly does not have a daily-update job board.
Apart from these six established free freelancing job boards, certain other websites offer paid memberships for vetted job opportunities. You'll have to hunt a bit for the "decent-paying-non-scam" gig on the free boards, but in these 3 paid job boards, you'll find those gigs hunted and handed to you in your inbox:
SolidGigs is the place for experienced freelancers who'd like good jobs handpicked in their inbox weekly.
SolidGigs hand-picks great freelance job opportunities for you on autopilot. If you are looking for decent-paying freelancing jobs, SolidGigs might be it. It vets jobs from great companies and good rates.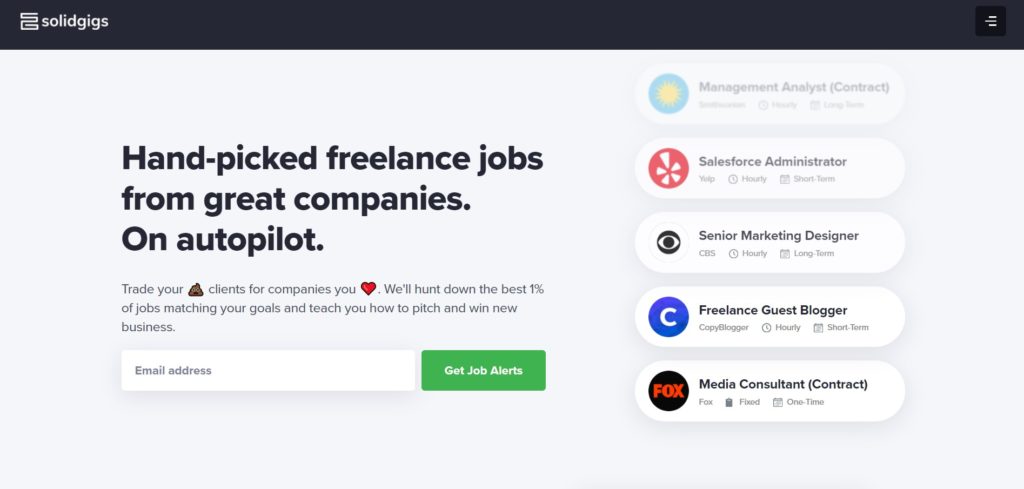 You can sign-up for their membership that begins at $19/month and gives you job listings in your inbox every day. A 30-day trial is available for just $2 as well.
Although the jobs provided on this site can be useful, many of them are also high-demanding. It would be a little tricky to put them in the "freelancing" bucket. The listings also require you to have some experience, so this might not be the place for beginners.
Writing leads source: SolidGigs claims that they hunt over hundreds of freelancing job listings and send the best ones to you.
Update frequency: Members of SolidGigs get job listings in their inbox weekly.
FlexJobs is a paid freelancing job board that would be perfect for a creator who wants scam-free jobs handpicked from hundreds of websites directly in their inbox.
FlexJobs helps you find high-quality freelance writing opportunities by researching the job and companies for you. The website claims that they handpick the good jobs for you and also provide you with premium service.
Their cheapest plan, for one week, costs $6.95. You can also opt for monthly, quarterly, or yearly billing.

FlexJobs remains popular and trusted among its users. They have a reputation for offering no-scam jobs that sound too good to be true. Their "Advanced Job Search" is a feature that allows you to find just the freelancing writing gig you are looking for. It makes sorting through hundreds of jobs a lot easier.
But, like SolidGigs, the jobs have a lot of competition. Reviewers also complain that FlexJobs doesn't have high-paying job opportunities.
Writing leads source: FlexJobs combs down hundreds of freelancing job listings and gives you a list of only the genuine ones. They also have an employer membership.
Update frequency: Members can sign-up for email alerts whenever there is a new job posting.
Peak Freelance is perfect for you if you are hunting for a community of freelance writers along with finding decent gigs.
Peak Freelance is a community of freelance writers designed to help you grow your freelance writing business. Members join an exclusive Slack-group to share wins, find jobs, and ask questions. The members also get free access to all of Peak Freelance's paid products.
You can get an all-access monthly membership for £20, or a Slack-only membership for £8. You can get the all-access membership annually for £220 as well.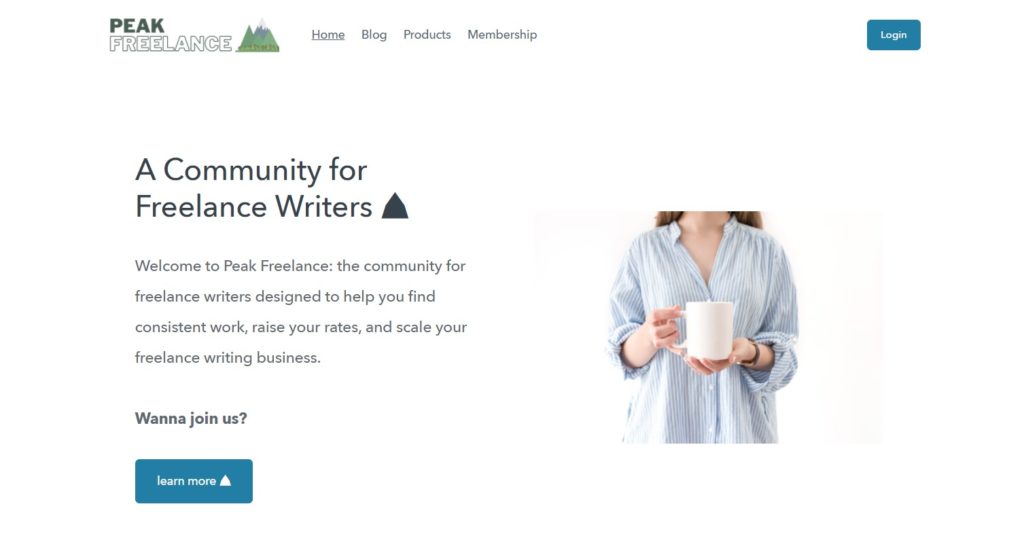 Frequently Asked Questions About Freelance Writing Job Boards
How do freelance writers get work?
Freelance writing is the practice of writing for money while working independently. There are many ways a freelance writer can find work. They can start cold pitching clients, use their existing networks, or apply to job board listings.
Can you make a living off freelance writing?
You can make more than a living while freelance writing if you are willing to put in the time, energy, and hustle to make it happen. The amount you charge goes up with experience, the length of the blog post, and the demand in your niche.
How much should I charge for writing a 500-word article?
How much you should charge per word depends upon a variety of factors like the experience you have, your existing prospects, and the demand in your niche. But the industry standard for a 500-word article is $50. This rate varies from client to client and also depends on your writing expertise.
Final Thoughts
Earlier, freelance writers had to rely on cold calling or existing networks to find reliable and high-paying jobs. But today, with the advent of job boards and listings, you can walk away with a freelance writing gig in lesser time and with lesser effort.
There are hundreds of job boards in the market for freelance writers. Some are free like BloggingPro while others are paid like SolidGigs. This article gives you the top worthy websites in both. If you're new to the game, spend most of your time pitching to job boards every day.
If you are an experienced writer, which website helped you land your first gig? Tell me in the comments below!