Are you contemplating creating your own show that people can tune in to and listen to your voice? If so, you'll need a podcast hosting platform to serve as a home for your audio files — from where you can distribute your podcasts as well.
If you just want to test the waters and pursue podcasting as a hobby, you might be tempted to choose a free hosting service provider.
Why pay when you can get free software?
When you've a limited audience and are learning the ropes of podcasting, free podcast hosting services work well. But as you grow and consider building a sustainable business around your show, then you might run into problems. We explore them in the next section before looking at five of the best free podcast hosting services in the market.
Note: Just to let you know, this article contains affiliate links. This means Elite Content Marketer gets a commission if you sign up through us, at no extra cost to you. I only recommend products that I personally find valuable and enjoy. I appreciate your support!
If you want to skip the detailed analysis, Buzzsprout is my top pick for free podcast hosting — it's easy to use, reliable, and doesn't skimp on any essential podcasting features. As a bonus, you'll get a $20 Buzzsprout Credit (sent after 2nd paid invoice) when you sign up for a paid Buzzsprout plan through this link.
Ditch "Unlimited Storage And Forever Free" Media Hosting
If you're serious about podcasting, you should avoid 'forever free' hosting platforms. Here's why:
1. Free Podcast Hosting Platforms Do Not Have Sustainable Business Models
Podiant, a free podcast hosting company, was launched in 2016. The platform was designed on the premise of giving "a voice to those who might not have one." With the focus on fostering a community, they gave professional grade podcast hosting for free,  only expecting Patreon support in exchange from 'some of the users.'
They were liked and grew rather well, until one day in 2017 when their CEO, Mark Steadman, shared an email update that the company "just can't afford the computing power." And he announced closure of the free media hosting plan asking the community to migrate away or get a paid plan for themselves.
Free companies majorly rely either on such voluntary community support or monetize through ads — neither of which are stable business models alone. So such companies are vulnerable to getting shut down, acquired, or pivot to offer exclusively paid versions of their product. The average lifespan of a free media service is probably a few years at best.
2. The Files You Upload And The Data You Create On These Platforms Usually Ends Up Being The Product
As they say if you're using a product for free, then you probably are the product. Completely free services will monetize your listenership by finding sponsors and sometimes even own the data you've created. So your profile page with all those show subscribers you toiled so hard for?  Yeah, they aren't yours if you're using free podcast hosting sites like Anchor.fm.
Occasionally, services have come under fire for claiming they own the copyrights to content published on their platform. Which means they can edit, distribute, and monetize your podcast without your consent. They may not even compensate you for it either.
3. You Get Little Control Of Your Show's Experience
You get limited storage space, in some cases little control of your listing on distribution platforms like iTunes, and less flexibility with the design of your podcast site. Also, if you end up burning the limited bandwidth provided by a free service, then a prerecorded message is played for any new listeners. If you ask me, I probably won't listen to another episode of the show.
4. "Free" Podcast Hosts Carry Many Hassles and Barriers For The Creator
Even if you're pursuing podcasting as a hobby, free hosting causes headaches by offering low storage, monthly bandwidth limits, and setting an expiration date of your audio files. The hassles of limitations coupled with an impending fear could make podcasting stressful.
5. Your Show Can Disappear Overnight
Let's say, you work hard on building an audience for your show only to find it deleted a few days later. That probably can't happen right? Well, free hosting companies are not obliged to inform you before deleting your account and your files. Indeed, the terms and conditions of some hosts reserve the right to remove any show as per their liking.
If you plan to take podcasting seriously, then free services probably won't make the cut. That said, I'll share a few affordable podcast platforms with limited free versions (which means their business model is sustainable) so you can experiment with them. You'll also like them if you're a hobbyist podcaster. So let's go:
The company is generous with professional podcasting features (even in its free plan), which are integrated into a simple dashboard — Buzzsprout will suffice for hobbyists or serious podcasters alike.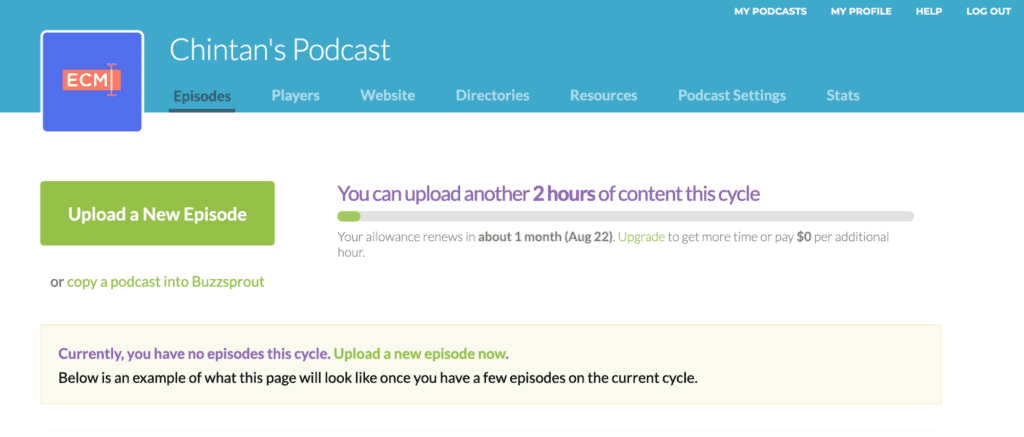 The flag bearer of "free podcast hosting", Buzzsprout is an established player in the industry with robust podcasting features even in its basic, Free Plan. Its dashboard is easy to use with self-explanatory tab names (as visible in the screenshot above), so you can create your show without any technical headaches.
It lets you integrate unlimited team members, upload custom artwork, and direct listeners to a customizable public podcast site on the Buzzsprout domain. For creators who own domains, there are two customizable players for directly embedding one or multiple episodes to their sites.
Once you upload an episode, you can enter some basic details about it and submit your podcast to numerous directories. If you want to promote your show on social media, Buzzsprout lets you create video soundbites.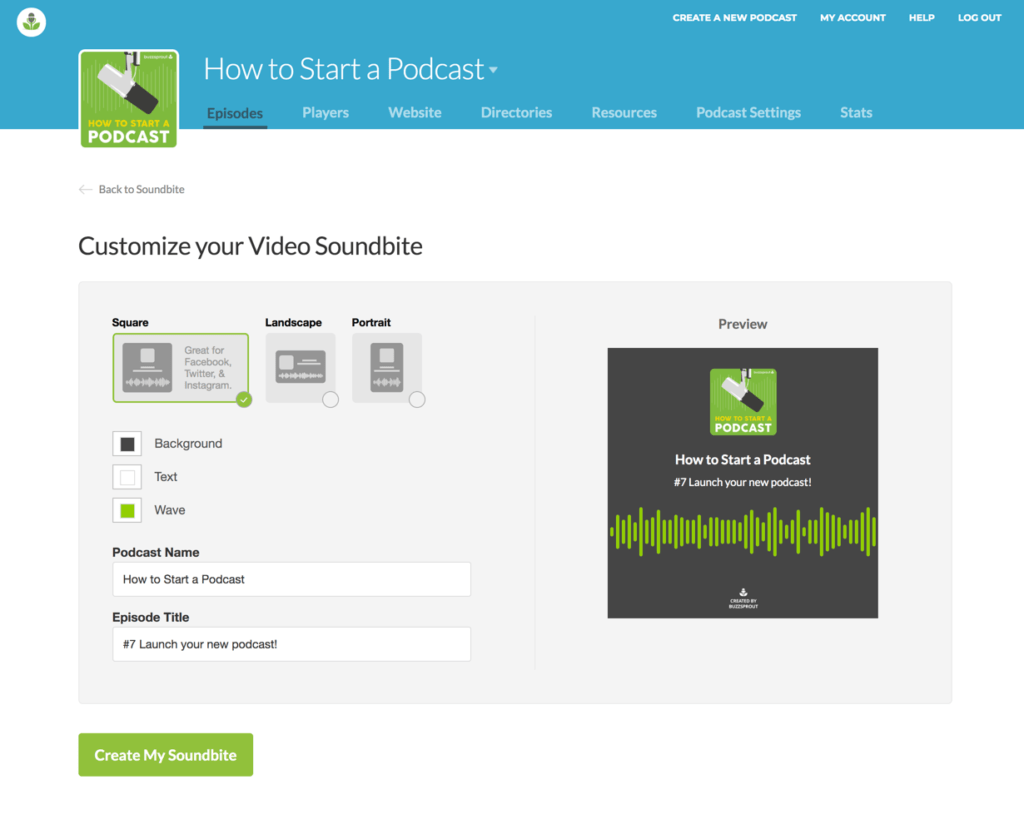 You can also add transcripts and add chapter markers to your podcast episodes, and a "Support The Show" link that leads to your Patreon or other membership platforms to accept donations from your listeners. Finally, there's a 'Stats' tab to access downloads and other listener insights about your podcast.
Free Version Limitations:
Buzzsprout offers only two hours of audio content upload every month with limited bandwidth.
Your episodes will only be hosted for 90 days, after which they will get deleted.
The company inserts ads on your podcast website in this free plan, which might turn off your listeners.
Don't you worry if these turn you off — Buzzsprout also offers the following paid plans, so you can switch to one and ditch the above limitations.
| | | | | |
| --- | --- | --- | --- | --- |
| Plan Name | Free | $12/month | $18/month | $24/month |
| Storage  | 2 hours/month | 3 hours/month | 6 hours/month | 12 hours/month |
| Hosting Expiry | For 90 days | Indefinitely | Indefinitely | Indefinitely |
| Bandwidth | Limited | 250 GB | 250 GB | 250 GB |
| Statistics | Available | Available | Available | Available |
| Extra Uploads | Limited to 2 hours each | Available at $4/hour | Available at $3/hour | Available at $2/hour |
Overall it's the most reliable free podcast host, as they have been in the industry for over a decade. Even if you want to grow your show into a sustainable business if the opportunity arises later, they have paid plans you can upgrade to. Just ensure you don't create more than one free account per person, as it's against their terms and conditions.
Read my detailed Buzzsprout review.
2. PodOMatic
Comes with a handy app so even the not so tech savvy can launch their show within minutes. While it isn't as agile and lacks features compared with other free podcast hosts, the company is committed to independent 'casters and you can rely on them to house your podcast for a long time.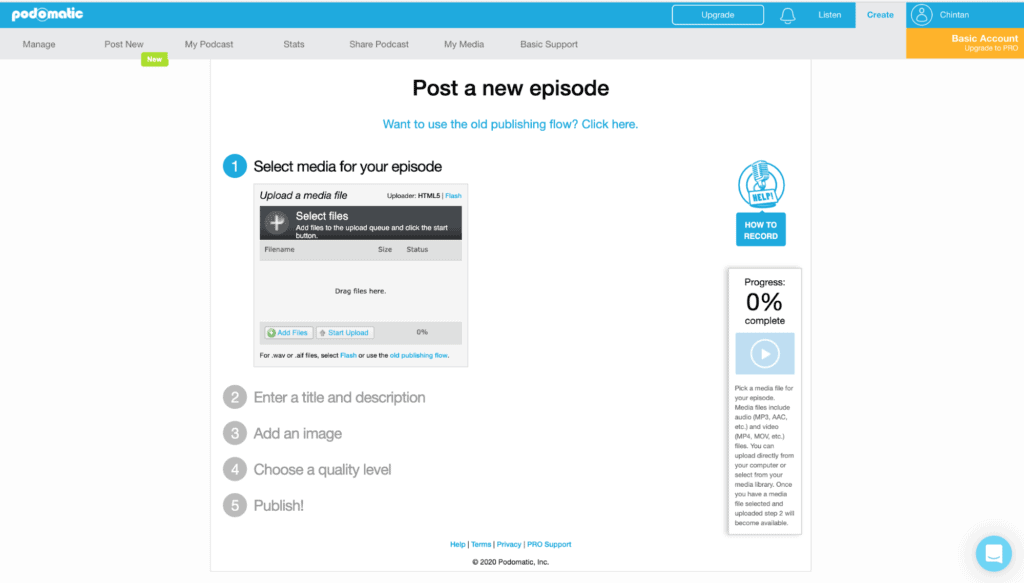 The publishing workflow of the service is straightforward and comes with live chat support. There's a progress prompt and clearly spelled out steps for posting a new episode. While I wouldn't call its design modern and even the interface is pretty basic — the software is uncluttered and beginner-friendly.
For your very first podcast, PodOMatic is great for experimentation. To get started, customize your podcast site URL (choose from an available subdomain of podomatic.com). They provide decent storage, promotional tools, beginner stats, and a feed where listeners can discover your show and connect with you.
There's even a browser-based 'Recording Booth' to record and publish your first episode without even leaving PodOMatic.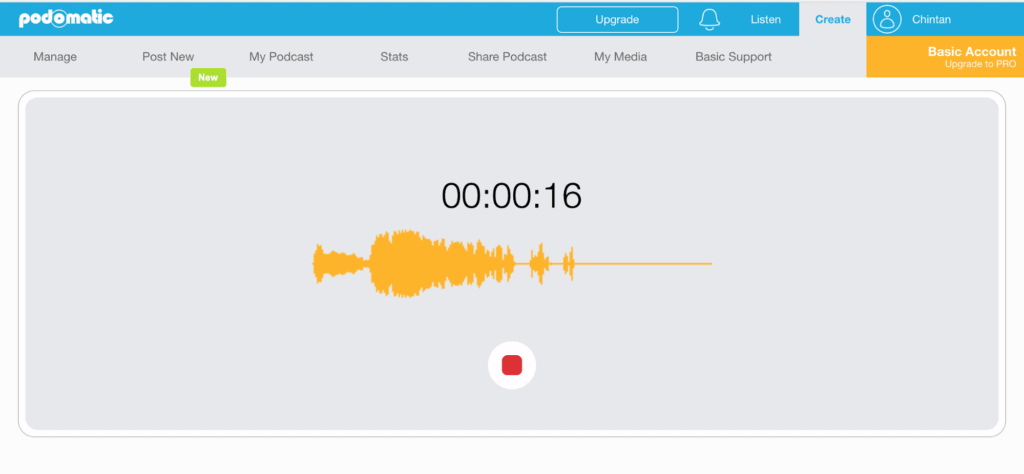 In a conversation with CNET in 2006, the company's founder, Johnny Mansour, proclaimed "…it's about leveraging the technology to enable anyone to express themselves even if it's only to an audience of 5 people."
Further the company's promise in the free plan (visible in the screenshot below) shows its priority has been to support independent podcasters. So you can trust you're in secure hands.

Free Version Limitations:
500 MB storage with 15 GB monthly bandwidth.
Weebly (a Pro Design tool) is not available for designing a professional looking podcast site.
Advanced stats and integration with Patreon to get funding from your listeners are also restricted.
Overall I'm bullish on the existence of the free service PodOMatic for the foreseeable future. If you want more storage and bandwidth, here are the paid plans offered by the company.
| | | | | |
| --- | --- | --- | --- | --- |
| Plan Name | Free | Pro | Pro Plus | Pro Platinum |
| Cost | Free | $9.99/month | $14.99/month | $24.99/month |
| Storage Time | 500 Mb | 2 GB | 2.5 GB | 5 GB |
| Hosting | Indefinitely | Indefinitely | Indefinitely | Indefinitely |
| Bandwidth | 15 GB/month | 100 GB/month | 200 GB/month | 500 GB/month |
The host is perfect for creators who want advanced audio production capabilities through a free recording studio (even works on mobile). Additionally, you get to create a publicly accessible biography page and conduct short live broadcasting sessions. 
But it isn't the most secure free hosting – as its terms and conditions state the company "reserves the right to terminate Free Accounts at any time, with or without notice."

The third free podcast host on our list has a neat user interface with slick prompts to guide you when you get stuck.
When you're ready with your first podcast episode, simply click 'Create a New Podcast' from its elegant content management system (CMS). You need to fill in basic information including your podcast's title, choose a language and category, upload its artwork, a cover image, and a description.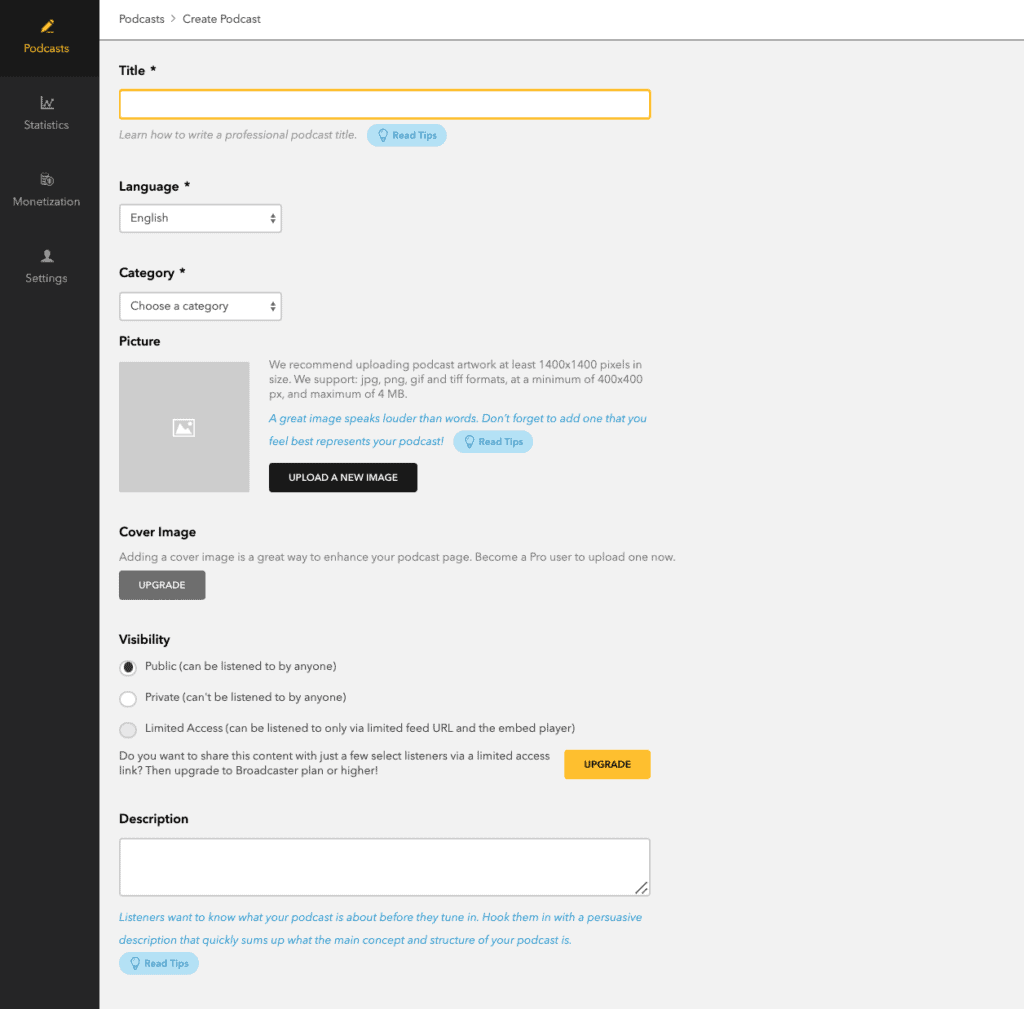 It's possible to customize your username and public profile data with your biography, website, social media links, and picture — so your listeners can know more about you. Once you start distributing your show to social media, handy stats are available to understand your audience. Distribution of your podcast to Apple Podcasts, Google Podcasts, Stitcher, and other RSS-catching platforms is also possible.
And hey, Spreaker Studio is available for both desktop and mobile. It's a free podcasting app for you to record, edit, live stream, and manage your episode drafts conveniently. A podcast player is also available for your listeners if they prefer listening to original Spreaker shows on the company's app itself.
Free Version Limitations:
Only 5 hours of audio storage is available. Also, the company can terminate your account after 90 days of inactivity without providing any notice.
Its unique feature of live broadcasting is limited to 15-minute sessions with a gap of at least an hour between each session.
You can't join the Spreaker Monetization Program, where you get to earn revenue by inserting ads in your show from Spreaker's trusted partners.
Your podcast stats aren't exportable as .CSV. Indeed advanced statistics around listener geolocation, demographics, likes, devices, sources, and the like are also not accessible.
You can't change the visibility to 'Limited Access' and create private podcasts accessible through a limited feed URL.
For more audio storage, advanced stats, and a stable and secure podcasting experience, you'll need to switch to one of their paid plans below.
| | | | | |
| --- | --- | --- | --- | --- |
| Plan Name | Free | On-Air Talent | Broadcaster | Anchorman |
| Cost | Free | $7/month | $20/month | $50/month |
| Storage | 5 hours | 100 hours | 500 hours | 1500 hours |
| Hosting | Indefinitely | Indefinitely | Indefinitely | Indefinitely |
| Bandwidth | Unlimited | Unlimited | Unlimited | Unlimited |
| Statistics | Basic | Basic | Advanced | Full |
| Limited Access | – | – | Available | Available |
| Monetisation | – | Available | Available | Available |
| RSS Feed | Fixed | Customizable | Customizable | Customizable |
| Multiple podcast Hosting | Available | Available | Available | Available |
Perfect for a new 'caster who wants to play with the look and feel of their podcasting website. A free audio recording app is also available for your mobile with background music, sound effects, and some slick post-production features.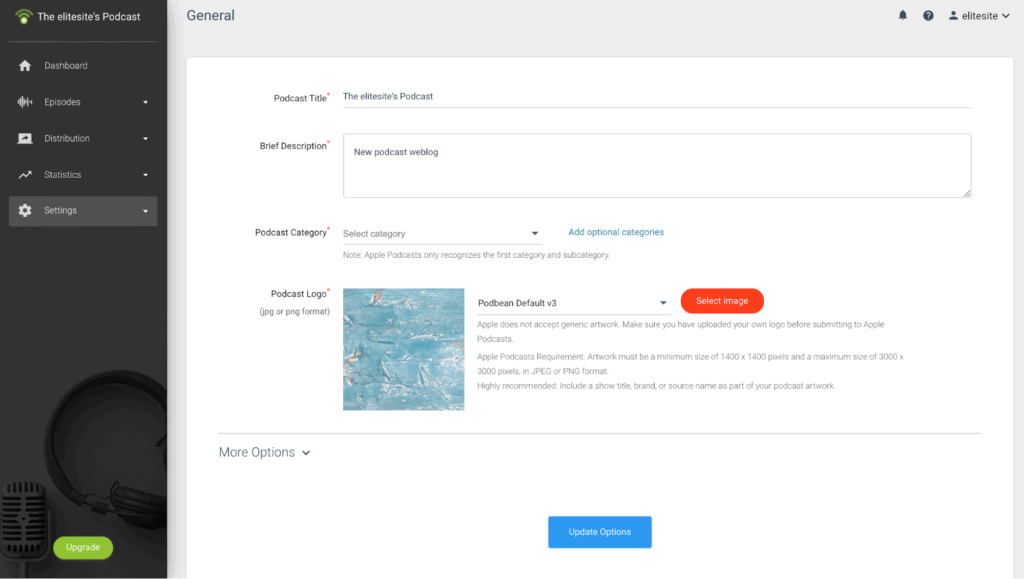 Once you sign up, the uncluttered Podbean dashboard welcomes you with tips to set up your podcast and publish your first episode. It's possible to publish a 'text only' episode if you plan to mix up the content formats for your show.
Beyond uploading and publishing tools, you get a few free customizable theme templates. Alike WordPress, there are Podbean plugins to add functionality to your podcast website — such as importing files from Dropbox to the Podbean Media manager, sending email subscribers updates about your show, managing SEO meta data of your episodes, and more.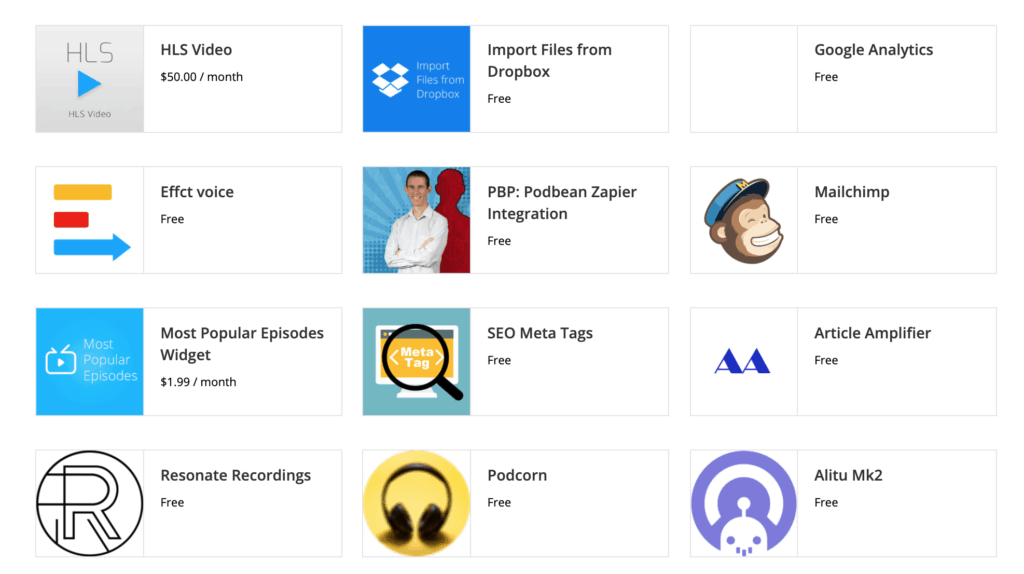 To distribute your show, you can submit it to popular podcasting apps from Podbean itself. By connecting your social accounts to the software, it will share your new episodes automatically on them (except for YouTube which is restricted in the free plan).
Free Version Limitations:
Only 500 MB (or 5 hours) of MP3 audio with a 100GB bandwidth are available. Also, users can publish a maximum of 3 episodes per day and the size of a single file should be within 100 MB. Video hosting is also restricted.
You can't remove the Podbean branding from your podcast and map your own domain to your podcast (but embedding the player on your site is possible). The free theme options are also scarce and a tad dull for my taste.
Advanced stats with comparison between the audience listenership of episodes isn't available. Nor do you get to access features for selling premium audio and earning subscription revenue from listeners.
Most unique features of Podbean are available with its following paid plans exclusively:
| | | | | |
| --- | --- | --- | --- | --- |
| Plan Name | Basic | Unlimited Audio | Unlimited Plus | Business |
| Cost | Free | $14/month | $39/month | $129/month |
| Storage | 5 hours | Unlimited | Unlimited | Unlimited |
| Video Podcasts | – | – | Available | Available |
| Bandwidth | 100 GB per month | Unmetered | Unmetered | Unmetered |
| Statistics | Basic | Full | Full | Full |
| Limited Access | – | – | Available | Available |
| Monetisation | – | Basic | Full | Full |
| Custom Design | – | Advanced | Full | Full |
Want to try the paid Podbean features for free? Then sign up for a plan through this link (or click on the image below):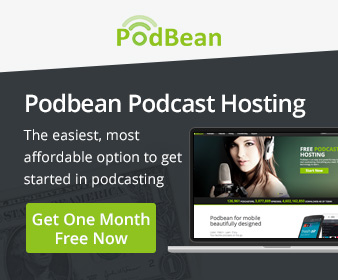 It is a 'social' audio streaming platform, so podcasters who want to focus on growing a community around their podcast might find it a fit. You get limited podcasting features though as the product is geared towards artists and musicians.
As you login to your SoundCloud account, you're encouraged to upload your profile picture, a header image, quick bio information, and links to your site and social media. The platform supports a variety of formats besides MP3 and your files are called 'Tracks', which shows its focus on music streaming. (I have a blues improvisation on guitar uploaded from years ago!)
As a new 'caster, you'll like its features which are geared towards audience interaction and being social — your SoundCloud followers can comment on your track and even 'repost' your tracks to their profile page. Your SoundCloud podcast feed can also be submitted to other distribution platforms such as iTunes and Stitcher where listeners are more probable to tune in.
The engagement features could help you reach a completely new audience on the platform. Many avid listeners are familiar with the platform's user interface and might even have used its mobile apps — after all it's touted as the 'YouTube for audio.'
If you're on the go, the SoundCloud Pulse app lets you view the stats, reply to your followers, and post new tracks from your mobile. A dedicated app is also available for your listeners to catch up with their favorite shows and musicians.
Also note that while basic SoundCloud stats are available, the analytics are not IAB compliant. These statistics refer to the industry standard metrics to measure the listening numbers of your podcast. Without them, getting sponsors will be tricky.
Scott Young, one of my favorite bloggers, uses SoundCloud for creating audio versions of his text articles.

Free Version Limitations:
Only 3 hours of audio upload is possible, but acceptable file size is upto a generous 4GB.
Advanced stats and control of their visibility, a Pro badge, and monetization and numerous other tools are not available.
Only the Pro Unlimited plan at $16 per month (or $12 per month when paid annually)  makes sense for podcasters as it lets you upload unlimited audio content. The other paid plan only offers 6 hours of upload and restricts you to 1,000 downloads per track so it's inadequate for most growing podcasts.
SoundCloud's future was once in jeopardy and it had to lay off employees. Though the company raised $75M recently, beware that things could go south.
Remain Cautious When Using These Free Podcasting Platforms
Here are a few other popular podcasting platforms that are famous for being free, but I urge you to be careful while building your audience on them.
1. Anchor.fm
With Anchor, while you can connect your podcast with Apple Podcasts, you don't own the listing. You also get blocked from viewing your podcast stats, which is crucial if you want to monetize it later on. Further Spotify bought Anchor.fm, so its future remains uncertain.
2. Amazon Web Services (AWS)
At the outset, the AWS free tier might seem promising for hosting your podcast. Even its paid plans are extremely affordable. But you'll need to manually build your RSS feed, gather podcast stats, and upload the artwork elsewhere. The absence of podcasting features make it a fit only for DIYers.
3. RedCircle
This is a new startup launched in 2019 and is designed for 'smaller creators'. It offers free hosting in exchange for running ads in their shows. Does that ring bells? So even with the company's creative features such as cross-promotion of shows and securing $1.5M in seed funding, I would err on the side of caution while opting for their services.
For serious podcasters, giving a cut of their revenue from subscriptions and donations makes little sense in exchange for the free hosting anyway (which is what the company does).

Might as well pay for a podcast host and have complete control over your business, aye?
Frequently Asked Questions Related To Free Media Hosting
Now let me answer a few of the most common questions around free podcast hosting.
You can launch your podcast on a free hosting platform without any additional cost. But as your listenership grows, you'll need to spend some money to ensure a good experience for your audience.
Do podcast hosts pay their guests?
The general expectation is that guests aren't usually paid as they also get free exposure to your audience.
What is the best podcast hosting site?
Buzzsprout is the best free podcast host for beginners. Captivate, Podbean, and Transistor.fm are also great choices.
Final Thoughts (And A Special Offer!)
Ultimately free podcasting hosts are great only for those 'casters who don't know if they will be sticking with it. So if you're on a strict budget, I recommend giving Buzzsprout a spin for 90 days (until your files aren't deleted). Once again, if you sign up through this link for Buzzsprout, then you'll get a $20 Buzzsprout Credit (sent after 2nd paid invoice).
And if you plan to remain a hobbyist podcaster, then the PodOMatic free tier plan seems the most reliable. Don't trust a new entrant in the podcast hosting space — while the "free" may seem appealing, their services, and by extension, your show, might not even see the light of day a few months from now.
What subject do you plan to start your show on? And which of the above free podcasting hosts seems like a fit? Share your thoughts with me in the comments below.