I've been a freelance writer for over two years now. I remember spending a lot of my time going through all the types of freelance writing jobs. And the biggest trouble I faced was choosing a writing niche — which is different than the kinds of writing, btw.
Below I've compiled ten types of writing jobs you can consider as a beginner freelancer. I've also mentioned the kind of freelance writing rates you can expect alongside.
If you prefer looking at just the six most profitable types of writing jobs, here's a video for you:
1. SEO Writing
Every business wants to make an online presence strong for higher conversions. SEO writing helps business rank their websites on the first page of search engines. It increases the chance of users purchasing products or services from their websites.
To get website ranking, businesses hire freelance writers specializing in SEO writing.
An SEO writer uses search engine optimization strategies to boost a website's ranking. It includes meta titles, meta descriptions, keywords, tone, style, and readability.
SEO writing is one of the highest-paying writing jobs. According to Ahrefs, freelance SEO writers can charge $75-$100/hour.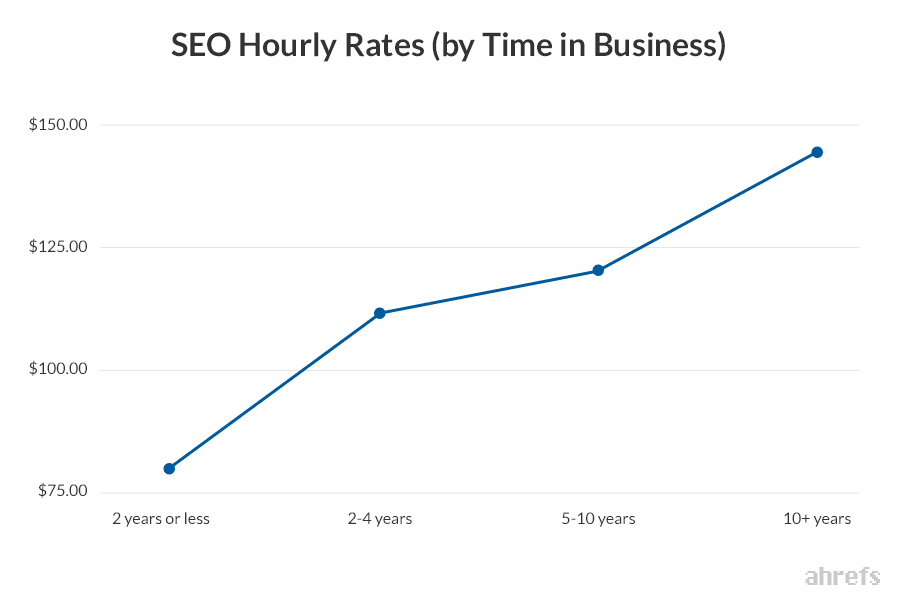 2. Video Scriptwriting
Video marketing has huge potential. Because are expanding on it because video gives a boost in traffic and high ROI. Videos help them reach more and more people, thus more sales revenue and a high margin of profits.
As per Wyzowl's State of Video Marketing report, 86% of businesses used video marketing in 2022.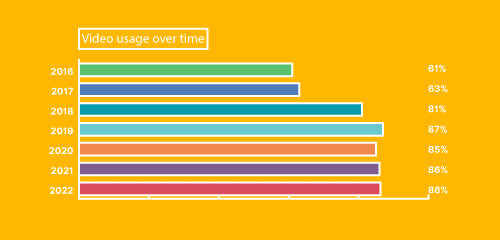 As a video scriptwriter, you can write scripts from YouTube videos to webinars. You can write for every stage of the buyer's journey – from awareness to retention.
You can repurpose blog posts and podcasts with video scripts.
You can also work with influencers and help them with scripts. You can also film, web series, TV shows, etc. for advertising agencies and production houses.
Types of writing jobs you can include as a scriptwriter are:
YouTube Videos
Educational Videos
Product Videos
Sales page Videos
Promotional ad videos
Instagram Reels
As an entry-level scriptwriter, you can make earn an average salary of $57,299.
3. Landing Page Copywriting
The landing page copywriter induces visitors to take action or make a conversion. They use persuasion techniques and understand the sales funnel.
Copywriting is knowing the art of framing and structure. If you do it right, you can attract more visitors to visit your landing page and accept your offer. Strong copywriting can bring massive revenue success for marketing campaigns.
To become a better landing page copywriter, you should practice these things often:
Write attention-grabbing headlines
Structure of the copy
Incorporating social proof to woo the audience, and
Provide a clear CTA (Call-to-Action)
As per the 2022 survey by Ashley Cummings, landing page copywriters can make up to $2175 per project. You can also earn a royalty on the number of conversions (depending on the deal with the company).
4. B2C Writing
B2C stands for business-to-consumer. B2C writing helps consumers decide on buying a product or service.
B2C writing is personal and emotional. It voices out the needs, fear, and happiness of an individual. This includes writing website content, sales pages, and crafting email marketing campaigns, etc.
As a B2C writer, you're expected to write on topics such as "How to choose the best outfit for Christmas", etc.
You've to solve readers' problems and compel them to take action.
H&M has an online magazine that focuses on B2C content that also compels its readers to buy from its website.
This type of copy applies to any copy and requires good research skills. There are three purposes of B2C writing:
Create brand awareness
Generate leads
Sell products and services
Some of the B2C writing niches are:
Health and Wellness
Lifestyle
Food and Nutrition
Fashion
Travel
Education and E-learning
E-Commerce
Parenting, etc.
An average B2C writer can earn an average salary of $58,171 per year.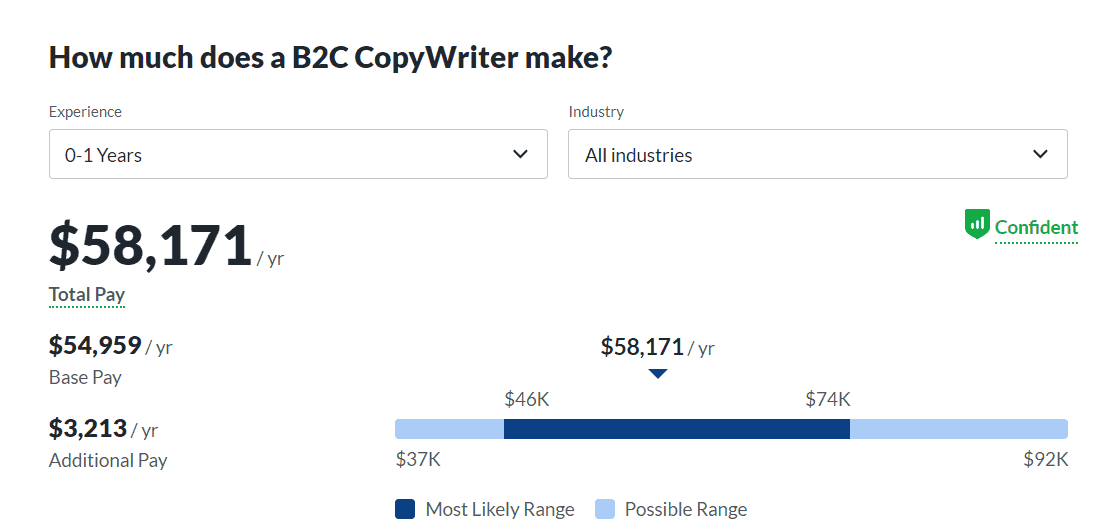 5. B2B Writing
B2B stands for business-to-business. B2B writing or long-form content is anywhere between 2000 and 8000 words. B2B companies write content for other companies to sell their product or services.
B2B writing is more focused on the long-term SaleCycle (6 to 12 months). The goal of this writing is to educate, inform, and persuade other businesses.
Hubspot has a blog that generates B2B content to help companies grow. The Hubspot Academy also offers courses for marketing, sales, and customer service professionals.
A B2B writer writes blog posts, articles, guides, whitepapers, case studies, emails, etc.
A B2B writer must learn these skills:
Persuasion techniques
Storytelling skills
Understanding of complex products and sales cycles
Good research skills in audience demographics, problems, solutions, technographics, intent data, etc.
Some of the B2B writing niches are
Finance
Digital Marketing
Real Estate
Software-as-a-Service (SaaS), etc.
Payoneer's 2022 global freelance income survey states freelance writers charge $28/hour. This is somewhat higher than $21 in the 2020 report. . In the B2B SaaS industry, a freelancer can earn a minimum of $1500 per article.
6. Email Copywriting
Email copywriting is the most effective method to convert leads into customers. Businesses craft funnels to convert leads into customers throughout the buyer's journey.
The main purpose of an email copy is to increase open and call-through rates. An email copywriter must know how to write attention-grabbing headlines.
An email copywriter writes copy with the purpose of engagement and conversion. The goal is to encourage conversions from both existing and prospective customers.
Email copywriting is a well-paid job. According to a survey, an email copywriter charges between $2500- $4,00 for an email sequence.
7. Case Study Copywriting
A case study writer is someone who can write about the success of the product of the company. As a case study writer, you need good communication and interview skills. These skills will help you collect accurate data points required during research.
For example, an ABC music therapy app wants to promote its services through a case study. "How do ABC music therapy services help people reduce anxiety and get proper sleep?"
To write a case study with backed data, you'll need to interview certain people. Understand their pain points. Provide solutions to their problems. The content might include people's experiences before and after using the app.
Case Study copywriting is a demanding job with good pay. Generally, for case studies, the average cost is around $2000. Freelance writer Ashley Cummings charges at least $2000 for case studies.
8. Ghostwriting
A ghostwriter is someone who writes for someone else. A client hires a ghostwriter when they want someone to organize their ideas more creatively.
Clients hire ghostwriters to write articles, resumes, ebooks, etc.
As a ghostwriter, you don't get the publishing right over the content. The client takes due credit and publishes it under their name.
The most common type of ghostwriting service is writing a blog or an article. You can provide ghostwriting services in different niches and in different formats.
According to the AWAI, a ghostwriter can charge $150-$500 for a blog post.
9. UX Copywriting
UX Copywriting is the copy on apps, websites, and other digital products. It helps companies showcase to the user how to use the product. UX copywriting helps to enhance user experience. It defines how people interact with a product and what they feel about it. Thus, it demands a high skillset.
For example, after entering your details, you get a message, "Your form has been submitted". It is a UX copy that states the result of your action.
UX copywriters make the audience journey easy and pleasant. To become a UX copywriter, you need to understand user-centered design. Learn about microcopy, headlines, and button copy.
Freelancers make more bank than full-time employees. According to Upwork, 47% of US workers work as freelancers and earn more than from a traditional job.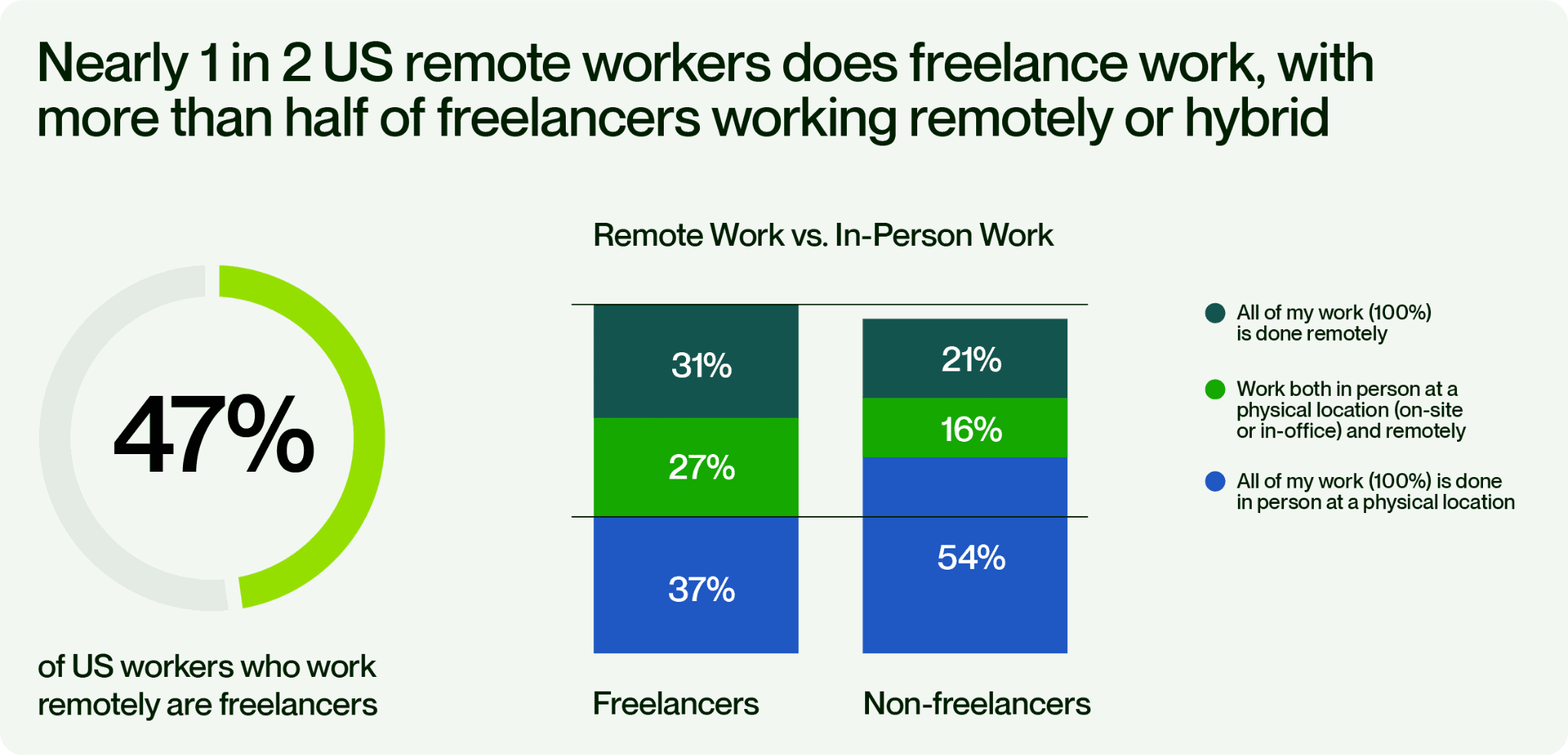 A UX writer in the United States earns an average salary of $1,15,000. An entry-level freelance UX writer can charge between $100-$150 per hour.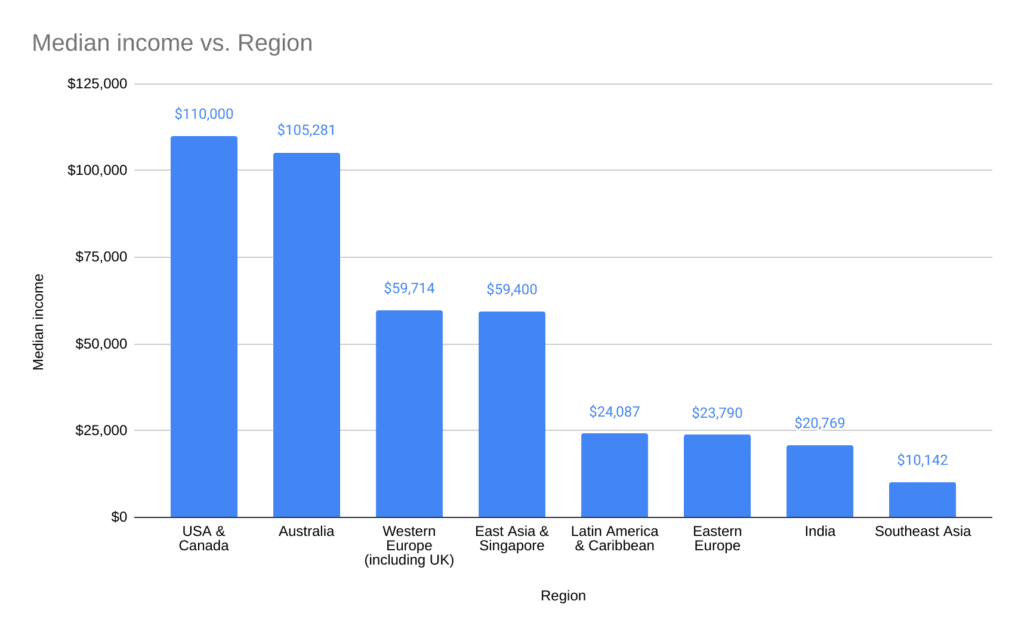 10. White Paper Writing
White paper writing is one of the most well-paying writing jobs.
To explain the benefits of a particular technology or product, businesses create guides or reports. These guides or reports are known as White papers.
In technical writing, writers use evidence, data, and technical terms to present information. in white papers. They're expected to develop user guides, software manuals, and other technical documents.
A technical writer should be able to write for both businesses and consumers.
As a tech writer, you're expected to write on topics such as
B2B Technology
Blockchain
Web 3.0
Cybersecurity
According to the Peak Freelance survey, an average white paper freelance writer charges between $500-$999 per project.
Other Types of Writing Jobs
There are a lot of writing jobs that you can do as a freelancer.
1. Transcription Writing
Transcription writing involves transcribing recorded dictation into written form. As a transcriber, you've to listen to an audio recording and type the exact content. This job is mostly preferred in the medical field. But nowadays, transcription is also used to write captions for videos.
To become a good transcription writer, you need to have:
Strong listening skills
Language skills
Fast and accurate typing skills
Editing and Proofreading skills
2. Academic Writing
Academic writing is used in schools, universities, and publications. To become an academic writer, you should have a good command of a subject. You can use your academic qualifications to become an academic writer.
Academic writers help students write essays, reports, and projects. Companies like Assignment Help provide professional academic writing services in different subjects.
3. Editing and Proofreading
Editing focuses on making your content more readable. Editors assess the clarity, style, and citation of the article. Editing checks whether the content matches the goal of the article. Whereas proofreading eliminates errors and grammar, punctuation, spelling, and formatting mistakes.
Tips to become a good editor and proofreader:
Make an editing checklist
Read line-by-line
Try to look for errors
Follow the brief
Make long sentences short
Use active voice
Correct grammatical mistakes
Check spelling and punctuation
4. News Writing
News writing is done for publication in radio, newspaper, and television. This is often used to inform and educate readers to report current events.
To become a news writer, you should be aware of current happening. Having a background in journalism is a good (not a must). You must be aware of the styling guide for news writing. You can work with news channels as a freelance news writer or start your blog and write on current events.
5. Grant Writing
Grant writing means writing an application to get funding for a project or program administrated by NGOs.
A grant writer crafts a well-persuasive proposal to seek funding from the government, groups, donors, etc.
Grant writers usually work with NGOs to help them get funds. These NGOs are for the homeless, hungry, disabled, children's education, etc.
Grant writers can also work with music, dance, and other art organizations.
To become a good grant writer, you should be well-versed with:
Write a compelling cover letter
Problem statement
Goals and objectives
Strong research skills
Knowledge of funding departments and organizations
6. Speech Writing
Speech writing is a method to convey the reader's opinion and thoughts to a larger audience. Speech writing serves three purposes:
Giving information
Persuade the audience
Entertain the audience
You can also offer your services to community groups or campaign leaders. You can write for political party leaders, mid-level managers, and senior-level managers. You can even work with notable speakers, celebrities, and public figures.
Final Thoughts
I hope all your confusions are clear now. I've covered almost all types of important writing jobs.
You can compare different writing jobs and choose what's best for you. You can find these jobs on different job boards available online.
To start with freelance writing, you can also start a blog to showcase it as proof of work. So go on, and get started!