Whether you host a podcast or run a YouTube channel, transcripts could make your content accessible to a wider audience. Instead of manual transcription — which can get tedious — artificial intelligence (AI) powered transcription software can take work off your plate. They can produce up to 90% accurate copies of your media files, and do it in a flash!
I tested 5 of the top AI powered transcription tools with low-quality audio with background noise and clear audio with minimal ambient sound. Here's a quick overview comparing their performances:
| | | |
| --- | --- | --- |
| Software | Readability (Score out of 10) | Accuracy(Score out of 10) |
| Sonix | Low Q        Clear Aud | Low Q        Clear Aud |
| Trint | Low Q        Clear Aud | Low Q        Clear Aud |
| Temi | Low Q        Clear Aud | Low Q        Clear Aud |
| Otter | Low Q        Clear Aud | Low Q        Clear Aud |
| Descript | Low Q        Clear Aud | Low Q        Clear Aud |
Now, before we review each of these transcription software, let's look at the factors that you should consider to choose one for your creative project.
Table of Contents
How To Choose A Transcription Service?
Here are the factors you need to weigh for choosing a transcription software:
Accuracy and audio quality: Even the best transcription software has 90% accuracy because the machine learning model that a transcription software uses determines the quality of the transcript.However, the quality of your transcript also heavily depends on the quality of your recording. Some of the transcription software are affected by the background noise more than others which means you need to upload different types of audio and video files to check the accuracy. For 100% accuracy, you need to edit the draft that you get from the machine transcription software or use human-based transcription software.
Turnaround time and ease of use: It takes about 30 minutes for an AI-powered software to convert an hour-long video/audio and 24-round time for human-powered software.
Timestamp and automatic conversion: Timestamps make the transcripts easy to navigate when you're following along the transcript with the audio to edit or correct the transcript.Powerful transcription software will let you specify how often you want the timestamp to be visible such as every 15 seconds, or when the speaker changes the audio.
Download formats: Usually all transcription tools allow you to download your file as .txt or docs which you can open in Microsoft Word, Google docs, etc, to further edit or share them. Powerful transcription software also lets you download the file in VTT/SRT formats that are useful for generating subtitles for Youtube, Facebook, Vimeo, and Instagram videos.
Security: Good transcription tools try to minimize the amount of data stored on their server by deleting your audio/video files after processing them or discarding them in some other way. You should also have complete control of your data to delete all copies of your transcript without any hassle.
Cost: Some software charges by the hour, or on a per-minute basis, for eg, Temi charges $0.25 per minute. A trustworthy software will never claim to provide an unlimited amount of transcription hours for a fixed price as it would bankrupt them. Such tools aren't transparent about their pricing and would have hidden fees. Now that you know what makes good transcription software, let's go through the options I've mentioned below in detail.
Sonix's interface is slightly clunky and outdated, but you can drag and drop your files or upload them from Zoom, Youtube, Dropbox, and Drive.
It gives you a brief report about the quality of the transcript and shows if the draft needs heavy or light editing and the percentage of very confident, fairly confident, and slightly confident words with tips to improve the recordings.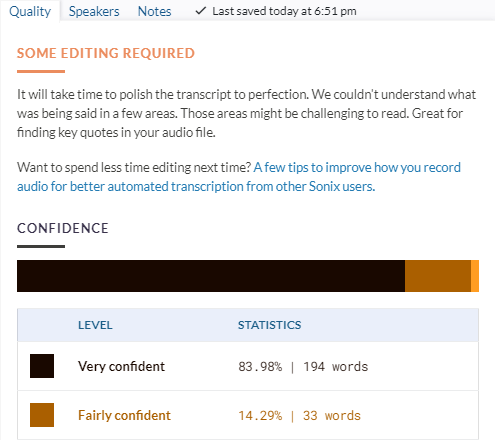 You can add timecodes, rewind and forward, change playback speed, add subtitles, see the number of words each speaker says, add words to the Sonix dictionary, use the find and replace feature, add notes, and customize the editor's interface. However, Sonix needs to improve its accuracy for low-quality audio transcripts.
Pros:
It has a robust editor.
You can directly integrate with Zoom and Zapier.
It gives you a report on the quality of the transcripted draft and a rough idea of the amount of editing it would need to be perfect.
Sonix allows you to directly upload your files from Zoom, Youtube, Dropbox, and Drive.
Cons:
It cannot transcribe low-quality audio with even a minimum percentage of accuracy.
You may experience delays in exporting your transcripts.
It can take time to understand editing features.
Readability:
Though Sonix completely changed the script in the first draft, it gets 8/10 for readability as most of the sentences are readable with a few fragments. It is comprehensible and divided into paragraphs with different speakers.
The second transcript is near perfect, gets 9/10 for readability as only a few words are omitted and every sentence makes complete sense.
Accuracy
I cannot score the first transcript as it's not even vaguely similar to the audio file. The second recording has 90% accuracy and Sonix even got the words that other AI software detected wrong.
Trint has tons of powerful features and it goes beyond transcribing as it can also translate your document into 31 different languages. The interface is quirky with options to upload a file, create a new folder, rename your files, export them, share them with your colleagues, view version history, and create a new story right from the dashboard.
You also get access to a vocabulary builder, Trint players, and tons of useful integrations like Zoom.
You can use keyboard shortcuts to make edits like strikethrough, highlights, adding a marker, use the find and replace feature, undo and redo your changes, add comments, adjust time code, and playback speed.
Although Trint is packed with useful features, it did an average job of transcribing even the coherent audio which most of the other AI software got correct. As for the second recording with background noise? It was no less than a disaster.
Price: There are five pricing plans: a customizable enterprise plan and a free trial for three transcription files with no cap on time duration.
Starter: $60/month, billed annually, for7 transcription files.
Advanced: $75/month, billed annually, for unlimited day-to-day transcription.
Pro: $85/month, billed annually, for unlimited day-to-day transcription.
Pro Teams: $85/ user/month, billed annually, for unlimited day-to-day transcription.
Pros
You can export your file in multiple formats like DOCS, SRT, VTT, TXT, STL, EDL, HTML.
It lets you see the version history of each edited transcript.
Trint translates the script into 31 different languages.
There's a call recording feature that you can use directly from the dashboard.
You can create public links to share your transcript.
Cons
You need polished audio without even a hint of noise in the background to get better transcription.
It does not transcribe phone calls accurately.
Readability
In the first recording with ambiance sound, Trint couldn't flesh out a readable script, and none of the sentences made sense, therefore, I cannot give any score for it.
The second transcription gets 7 out of 10 because it was average at best with sentences that make sense but missing or random punctuations
Accuracy
It's a shame that Trint cannot transcribe phone calls even with remote accuracy. However, it was 75% accurate in the second transcription, besides the misplacement and omission of words, and sentences.
Temi did a below-average job at transcribing both the low-quality audio and the clear one. It even failed at differentiating between the two speakers and missed the fairly coherent words and sentences.
It's a shame I couldn't get 50% of the content correct in both cases as the editor is quite easy to use and handy.
You can double-tap any word to play your media from that specific word, search for keywords with its find and replace feature, mark important words or quotes with a highlighting tool, use tab as a shortcut to play and pause the audio and utilize the enter key to add a speaker.
Temi also lets you share your full or highlighted parts of the transcript right from the dashboard and download it as Microsoft word, pdf, plain text, SRT, and VTT formats with or without timestamps.
Price: It is relatively inexpensive as it charges $0.25 per minute of audio and is suitable if you are on a stringent budget. There's also a free trial for one audio of 45 minutes.
Pros
It produces transcripts within minutes.
The editor is powerful and easy to use.
It lets you share and download your transcript in text and caption file formats such as .docx, .txt, .srt, .vtt.
You can get one free transcript of 45 mins media file to test out the software.
Cons
The accuracy is below average.
You cannot count on it to produce readable results if your audio contains background noise or the accent is different than American.
Temi doesn't transcribe phone audios accurately.
Readability
The sentences are abrupt and grammatically incorrect, which makes them illegible. It could only transcribe 2 paragraphs out of the many and mixed both speakers, therefore it gets a score of 0 for the first transcript and 8 for the second one.
Accuracy
I would give Temi 3 out of 10 for accuracy for the first audio, as it missed most of the parts and didn't transcribe the rest of the audio accurately. The second transcript gets 8/10 because it was accurate for the most part apart from wrongly placed words and fragments.
Otter works best for in-house communication between the team with the live notes feature, which is  an add-on for Zoom meeting hosts to enable live transcriptions and note-taking
Otter's interface is attractive and sleek, it also gives you a video tour of all its features to help you understand how to utilize them and lets you set daily agenda, schedule meetings, create a group, share files and folders, etc.
This speech-to-text transcription software has a web interface, desktop app, and mobile applications available on iOS and Android.
In my testing of the two audios, I was impressed with the addition of keywords at the top of the transcription. It makes the work easy by jumping to sentences where the keyword is used when you click on it.
The transcription of the first audio was way off. If I thought the other software was bad, Otter is worse as it transformed the entire script into meaningless sentences. However, the audio with little to no background noise was more comprehensible.
Editing the transcript is a smooth process. You can highlight, copy, add a picture and photo to a specific word and export the file as TXT, DOCS, PDF,  SRT file, OR share the URL link to people in your Otter group
Price: There's a basic plan which is free to use with 600 minutes of transcription and 3 import files and there are three pricing plans as follows:
Pro: $8.33/month, billed annually with custom vocabulary and advanced exports.
Business: $20/month, billed annually with Zoom live notes & captions.
Pros
You can record audio right from the dashboard.
It lets you add pictures to specific words.
You can see all the keywords of the transcript at the top of the dashboard.
Otter lets you auto-tag and rematch speakers.
It has an accuracy of 85% with less or no background noise.
You can directly integrate with Zoom.
Cons
The grammar can be wrong with missing words and inaccurate punctuations.
Otter poorly transcribes unfiltered audios.
There is no option to export in VTT format.
Readability
Otter deserves 3/10 for the audio with background noise as it was readable to an extent but unfathomable. The clear audio gets 8/10 for readability because the punctuation wasn't right and even missing at some places.
Accuracy: 
I would give 0 for the first audio draft as it made no sense whatsoever. Otter did not even get the speakers right, nor did it transcribe clear sentences with less background noise.
The second transcript gets 9/10 for accuracy as it not only identified the number of speakers correctly, it omitted fewer words and got hardly one or two wrong.
Both the audio transcripts had glaring differences. Descript missed more than half of the words and got the rest of them wrong in the recording with background noise. However, it did a near-perfect job transcribing the clear audio file. It omitted a few words and got 5 of them wrong which is easily editable.
In the second audio, Descript almost accurately differentiated the audio into two paragraphs, unlike the first one which broke down into words and fragments.
Price: It costs $2 per minute of media transcription and gives you four hours of free transcription.
Pros
It transcribes 30-minute audio files in less than 15 minutes.
You can expect 90-95% accuracy in the transcription of coherent audio files.
The editor is easy yet powerful with annotating features and timestamps.
Descript lets your export your files directly to professional editing software like Reaper, Final Cut Pro, Adobe Audition, and Premiere Pro.
Cons
It does not produce accurate transcription for audio files with background noise.
Descript is not available online and you will have to download its desktop version.
Readability
Take a look at the second transcription file.
The grammar isn't too bad including correct punctuations, it's legible, comprehensible and there are no fragments or abrupt sentences except for one line that is split into a new paragraph. Therefore, I'll give it a readability score of 9 for a clear audio file.
The unclear audio gets a score of 1 for readability as neither is it comprehensible nor is the script divided into scannable paragraphs with proper punctuations. Even the speakers aren't detectable.
Accuracy
For the first transcript, I'd give Descript 2 out of 10, and for the second one, it gets 8.5 out of 10. This transcription tool does a bad job with low-quality audio and the human transcriptor is much better at it. But, you can expect up to 95% transcription accuracy for clear audio with little ambiance noise.
Final Thoughts
If you're looking for maximum accuracy of good quality audio with basic editing software then Descript is the best option for you. Sonix on the other hand is suitable for average accuracy, extensive editing tools, and direct integrations with Zoom and Zapier.
However, if you want transcription software for in-office training, messages,etc then I would highly recommend Otter for its live notes feature, which is an add-on for Zoom meeting hosts to enable live transcriptions and note-taking.