You'll never be able to buy the best domain if you don't know the different ways to buy one. In most cases, the people/clients require a website but don't find the name of their choice, and here are the things you should remember before buying a domain.
Domains with popular keywords rank higher on google and other search engines making them more worthy,
Older domains have a higher value and cost more than new domain names,
Shorter domains are easy to remember, and users are more likely to find you, hence they can easily cost over $100k. For eg., tom.com got sold for over $2.5 million,
Domain names that are common and can fit within any industry have a generic value.
You can do some research around domains of similar length, keyword value, generic value, and similar age. Now you know what makes a valuable domain name, let's look at the ways to find one.
1. Buying solely a new domain: Choose a reliable domain registrar authorized by ICANN to buy one or many domains with different extensions. Whichever domain you choose, make sure the registrar provides WHOIS privacy that protects your personal details
2. Buying a domain name bundled with hosting: If you're starting from scratch, then buying a bundled hosting package that includes a free domain might make sense. Some hosting companies might also provide a free domain on their advanced plans.
3. Buying through a Reseller:
Noah Kagan, the former owner of SumoMe.com, spent $1.6 Million to get Sumo.com because of two reasons:
It's one word with four letters which is easy to remember
Branding is a significant aspect of any business as it shows customers and competitors that you are serious about your business.
Therefore, buying through a reseller is one option to get the desired domain name.
After thorough testing, I have listed the seven best domain registrars, some of which also provide web hosting with bundled plans and reseller hosting. I bet you can find one solution out of these domain registrars listed below.
Quick Overview
Don't take my word for it, see for yourself which one of the domain registrars fits best fulfills your requirements.
How To Choose A Domain Registrar: 5-Point Checklist
How would you feel after signing up for a domain registrar service that looks cheaper at the first glance but has hidden costs? Or perhaps a high renewal cost that cuts your budget to half? This is one way to get tricked into losing hard-earned money.
Here's a five-point checklist to keep in mind while choosing the best domain registrar.
Pricing and Renewal Cost
Many domain registrar sites may offer shockingly low introductory prices even for popular extensions like .com, .org, etc, however, they hike up the renewal cost. You should compare the prices with other domain registrars before spending your money on any domain name.
Domain Transfer
If you want to sell your domain, or if you have security issues with your current registrar, it's better to transfer your domain to a new registrar.
According to ICANN, domains can be transferred after the first 60 days of registration are over and domain registrars like Domain.com, Namecheap, etc, charge no transfer fee.
Bundle Extras and Add-Ons
Most registrars offer add-on services such as web-hosting, private domain name registration, email hosting, SSL certificates, website builder, and design services and you should consider the add-ons that interest you while choosing a domain registrar.
You may prefer buying these services from a specialized vendor for better prices or use the same provider for domain name registration and add-on services.
Sites like Bluehost, GoDaddy, Hostgator offer bundled pricing that includes a domain name registration along with their web-hosting service in the first year of their starter plans.
You should always check the regular rate of domains and other extras that you'll have to renew after the first year.
WHOIS Privacy and Protection
When you register a domain name, your d such as name, email address, phone number, mailing address, etc are saved in a public database called WHOIS, and domain privacy protection is an add-on service that you buy that hides your data and protects it.
Some domain registrars offer it for free forever or bundle it with hosting plans for a cost.
Sites like Domain.com charge an additional cost for it but also integrate it with Sitelock to provide prevention against malware or transfer hijack which happens when someone is trying to fraudulently take control of your domain name with the motive of selling the domain name back to you or your competitor.
Customer Support
Although on rare occasions such as when transferring a domain, you may need help with the technicalities (such as pointing out domain to a specific name server), and business queries. Some sites offer live chat support and a database with FAQs while others combine it with email, and phone call support.
On that note, let's look at the top domain registrars.
1. Domain.com: If You're Looking For Transferring Domains
I love Domain.com because of its highly advanced features and automated transfer services which cause no downtime to your website.
There are a variety of TLDs and over 25 country code TLDs as well as premium names like insurance.com, privatejet.com, etc, which are already owned by an individual or a registry.
You also get access to additional features with each domain name registration.
DNS Management: You get to control the DNS that makes editing domain records easier and manage traffic.
Email Forwarding: It'll automatically forward an email address under your domain to another valid email address.
Transfer Lock: It protects your domain from unauthorized transfer or hijacks.
The .com extension is available at $9.99 and renewal at 13.99/year. But there are extensions like .bid available for as low as $2.99/ year and at a renewal cost of $4.99/year.
Add-on WHOIS privacy and protection comes with Sitelock integration that scans your domain and website for malware and blacklist prevention.
You also have to pay for premium SSL certificates at $3/month.
There are three types of SSL certification:
Domain validated SSL: available at $3.00/month
Wildcard SSL: available at $9/month protects multiple subdomains.
E-commerce SSL: $22/month for enchanted e-commerce and payment protection.
Customer support is available via 24/7 online chat support and also a plethora of articles in their knowledge base.
Domain.com provides additional services such as Website Builder, Web Hosting, G Suite plans, Microsoft 365 email hosting. They also offer shared hosting, which means it's low cost but you'll also share your server with other websites and companies.
However, only limited extensions like .com and nine others are available for free with hosting plans. The lowest hosting plan starts at $3.75/month for a period of 12, 24, or 36 months with no difference between them.
All these hosting plans come with free SSL Certificates.
Pros:
Domain.com is straightforward and easy to use.
They have transparent pricing.
You can browse through a variety of TLDs.
Cons:
They don't offer the cheapest prices.
The onboarding process doesn't involve a detailed process on how to use their services.
2. Namecheap: For Cheapest On Domain Names
Namecheap lives up to its name by offering some domain extensions (.us, .top, .click, etc.)at 99 cents only. It has a Beast mode that lets you enter up to 5000 domains or keywords and filter results by registered or premium domains, etc. You can also search by suffix/prefix.
Their interface is uncluttered and free of upsells making domain management easy.
The .com registration is for $8.88, renewal at $12.98/year, and transfers at $8.58. Namecheap also provides bulk registrations at discounted prices.
WHOIS Privacy and protection of domains come with no additional cost with registration or transfer of eligible domains.
Another perk is free DNS management, security tools, and live customer support to help you through the process.
Hosting your WordPress site with Namecheap will be quick with 99.9% uptime and faster backups. It also has other hosting services and plans.

Namecheap is best for people who want to buy a domain name with hosting services at affordable prices.
Pros:
You will not experience forceful upselling.
There are many available add-ons like DNS management, security tools, and live customer support.
The prices are affordable.
Cons:
Their renewal prices are expensive.
3. Google Domains: For small business owners
Google Domains sport more than 100 TLDs at a low cost. The interface is simple with no special offer, no ads. It's a straightforward sale and works like any other google product such as Gmail, classroom, etc.
You won't have to create a separate account as you can directly log in with your Google account and set up a two-factor verification to ensure security.
However, it doesn't have as many extensions as other sites like domain.com. But each domain comes with forever free privacy protection. Additionally, you get domain and subdomain forwarding, google name servers with 10 million DNS resolutions per year. How cool is that?
The .com extension is available at $12/year and isn't the most affordable or the cheapest option available on the internet. However, it has no hidden costs. What you pay for registration is what you'll pay for renewal.
Here's the best part, you get to use Google's Cloud DNS with amazing speed at no additional cost and you can run email hosting with G Suite integration or use the free 100 aliases offered by Google Domains. Google Workspace integration is an add-on and costs according to the plan chosen.
Unlike the other options, Google Domains does not offer any hosting service at all which means you cannot buy and host with the same provider.
The customer support is available via chat, phone, email, or help center, including detailed documentation on various queries.
Pros:
The interface is clean and easy to use.
Google provides free WHOIS privacy.
Cons:
There are no offers or discounts.
It doesn't provide hosting services.
Small extensions are less in number.
5. GoDaddy: For Easy Domain and Website Management
Touted for its affordable hosting and domain prices, Godaddy is actually a little more expensive than others on the list. The interface is neat, attractive, and easy to navigate.
The .com extension costs $11.99 for the first year and $18.99 for renewal that is higher than a few other domain registrars. Transfer price for.com the domain for $ 8.99/year and is an automated transfer process like Domain.com.
When you register or transfer 6 or more domains (bulk ) you can get 31%off. You can even auction a domain name!
It also has an investor app. You can buy and host from the same provider. It has a website builder, online store builder, dedicated WordPress hosting service, reseller hosting, email hosting, and business hosting.
With GoDaddy, everything comes for $9.99/year for an upgrade but is free with the basic plan. It protects your identity by redacting your personal information from the WHOIS database along with malicious transfers and domain hijacking.
In case you hit a rock, their live chat call support is available round the clock. The video guides are high quality and make the onboarding process better than others.
If you don't want to just buy a domain name, you can bundle it with other tools.
Economy: $2.19/month and renewal at $8.99/month for one website, and a free domain with an annual plan.
Deluxe: $7.79/month and renewal at $11.99/month for unlimited websites, and a free domain with the annual plan.
Ultimate: $8.99/month and renewal at $16.99/month with a free SSL certificate for the 1st year.
All shared hosting plans come with 1 year of free Microsoft 365 email hosting service.
GoDaddy's annual plans have a 30-day money-back guarantee and a 48-hour guarantee on monthly plans.
Pros:
The starting prices are relatively low.
Its annual plans have a 30-day money-back guarantee.
Cons:
It uses aggressive upselling methods.
6. NameSilo: For Bulk Domain Registrations
The interface isn't the best one in terms of design, all the add ons such as WHOIS privacy by ICANN, email forwarding, Domain Defender Protection, custom WHOIS records, and DNS management is 100% free for life.
It is hard to believe, but there are no hidden costs. This puts NameSilo ahead of the other companies that charge extra for all these services.
They have more than 400 TLDs and you can filter extensions by category of domains like premium and regular. The popular .com domain is available for $8.99 and renews for the same price but that isn't the case for all extensions.
Unlike GoDaddy, you get bulk discounts, which is crucial when buying more than 100 or 10,000 domains and even the renewal prices are fairly low as the .com extension renewal for 5000+ domains is $8.39.
They have 3 million active domains which speak volumes about their credibility. NameSilo also provides Web Hosting with more freebies like email and website builder.
It does have the cheapest rates and they make sure to give your proof of it by comparing it with other domain registrars.
I like how they don't force you to navigate through upsells while buying a domain name. Another impressive addition is the 100% parking.
There is a live chat feature much like other domain registrars however, there is no onboarding process to guide you through and it can get a little tricky if you don't have much experience understanding the terms.
Pros:
They have transparent pricing.
There's a live chat feature to assist you.
Cons:
The interface is less intuitive.
There is a lack of a detailed onboarding process.
7. Bluehost: For Hosting Bundles
Bluehost is a popular web hosting service but also a reliable domain hosting registrar. Let me start with the best feature– bundled hosting.
The .com extension is available at $12.99 for the first year and the renewal price is $17.99.
However, if you go with one of the hosting bundles you get a free domain for a year with free SSL certification and CDN.
Their lowest bundle price is $2.75/month for 36 months which doesn't give you domain privacy and you'll have to pay extra for it unless you opt for their Choice Plus or Pro Plan which has a significantly higher cost but added benefits.
If you choose to buy a domain name alone, WHOIS privacy and protection will cost you $11.88/year. Professional email hosting with Microsoft 365 starts from $35.88/year that you'll get at free of cost with the bundles.
The interface is sleek and exudes professionalism with no popups and easy navigation. You can search for your preferred domain with one click and Bluehost, much like other sites, offers you alternative domain names if the exact match isn't available.
Auto-renewal is another useful addition by Bluehost. You don't have to spend time and energy manually renewing your website domains.
If you are somebody looking to create a WordPress site, there's a committed service for the same. You can either go for Shared hosting, VPS hosting, Dedicated hosting, or complete WordPress Hosting.
The three-year plans mentioned above include automatic WordPress installation and updates as well as customizable themes and it is also recommended by WordPress itself.
So I'd say if you're looking for a domain registrar with a web hosting service you'll get enough and more with Bluehost's bundled packages. In case you don't like the service provided by Bluehost, there's a 45-days money-back guarantee.
Pros:
They have high-performance servers.
The security features like Sitelock, Codeguard basic, and Spam experts are powerful and ensures you have a seamless experience using their services
Cons:
It's expensive for only domain purchases.
WHOIS privacy and protection aren't free with just domain registration.
It's not fit for people looking for domain registration alone.
8. Hostgator: For Reliable Uptime
Hostgator like Bluehost is a primary web hosting platform. Their hosting plan includes one year of free domain registration along with free site transfer, SSL certification, unmetered bandwidth, one-click installs, unlimited storage, and more.
It has an uptime guarantee which means if they drop below 99.90%, you will get one month of credit.
I love the quirky names of their plans–Hatchling, Baby, and Business. The lowest-priced plan, Hatchling, is for $2.75/month and is a shared hosting plan.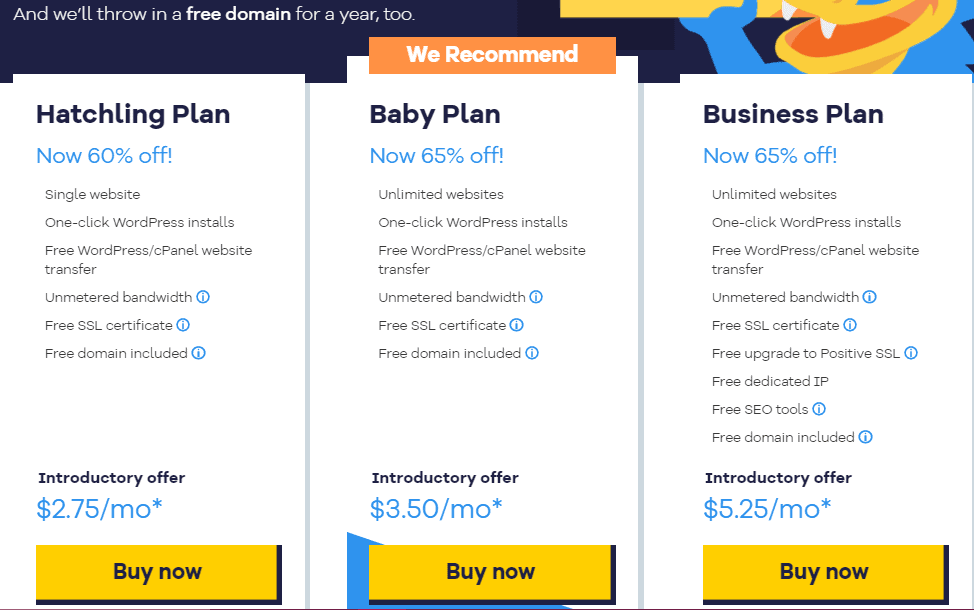 They do give you free domain registration for a year with a noteworthy catch. If you click on the blue info icon you'll see this.
In case you choose to cancel your hosting within a year of buying it, you won't get the domain fee of $17.99 + taxes charged by them that is the same as the renewal cost of a .com extension which will be auto-renewed.
Choosing to buy a .com domain alone will cost you $12.95 along with hidden fees. Another add-on cost while buying the domain extension is the WHOIS privacy and protection fee of 14.95/year.
Though they advertise a live chat feature, they take hours to respond to a simple navigation query.
Another downside is the additional cost that you'll have to pay to install the Sitelock feature which comes free with Domain.com's plan.
Much like GoDaddy, they have a 45-day money-back guarantee that applies to all resellers, VPS, and shared hosting plans.
Pros:
They provide unlimited disk space.
You can host unlimited domains except in their starter plan.
They provide 99.9% uptime.
Cons:
It is not a dedicated domain registrar.
They have pensive renewal prices.
Their customer support is bad.
Final Thoughts
If you're tight on the budget but still want the best, go for Namesilo because getting a domain name at an affordable price along with free WHOIS privacy and protection, email forwarding, Domain Defender Protection, custom WHOIS records, and DNS management is 100% free for life is the best you can get.
However, if you want to use the same provider for buying and hosting services or especially for WordPress, then Bluehost is tough to beat. It is recommended by WordPress itself. Still, it's more expensive than other options.
Domain.com on the other hand is fit for all kinds of businesses with a dedicated domain registration service, providing top TLDs, easy to use, and the best customer support.
Google Domains is my pick for small businesses. It does not offer web hosting support, but the prices are transparent with no hidden costs. The registration and renewal prices are the same for the domains. If you have a slightly bigger budget, it is worth considering Google Domains for its integrations as well.
I hope this article helps you find the best domain registrar that suits your requirements.