Whether you're a YouTube creator or want to share video instructions with your colleague at work or create online broadcasts, screencasting software can help.
For most kinds of projects and use cases, there are robust screen recorders in the market — and we'll look at them in the article. First, let's explore the features a top screencasting software must have.
What Features Should A Robust Screencasting Software Have?
✅The ability to record high-quality videos
✅The ability to customize the recording area
✅Can record both microphone and system audio
✅The ability to record the webcam and screen simultaneously
✅Has an inbuilt editor and video converter
With these parameters in mind, here are our picks for 2021's best screencasting software:
1. Ice Cream Screen Recorder: Best for Elementary Instructional Video Recordings
Platforms: Available for Windows and Mac
Icecream Screen Recorder is ideal for recording simple instructional videos, game recordings and professional screen recordings.
The Ice Cream recorder captures videos in high definition at up to 60 fps, and even  lets you customize them.
It is possible to record the whole screen, a particular area, the last recorded area, and areas around the mouse — at different resolutions. This means that you can split your screen and continue to work while recording another section.
There is no video recording limit in the premium version which is pretty cool. If you are a gamer, this screencaster also offers the option of game capturing with a webcam.
But there are no advanced video editing features like transitions, color correction, frame cropping, etc. In fact, you can't do much to your video recordings apart from trimming and cropping them. There is no option to add filters or other overlays either. That said, you can quickly export to your operating system, Dropbox, and even to YouTube.
Pricing
You need to pay $29.95 as a one-time fee. While there isn't a free trial, it's quite inexpensive compared to other screencasting software but with limited features.
[table id=26 /]
2. Filmora Scrn: Ideal for Professional video editors
Platforms: For Windows and Mac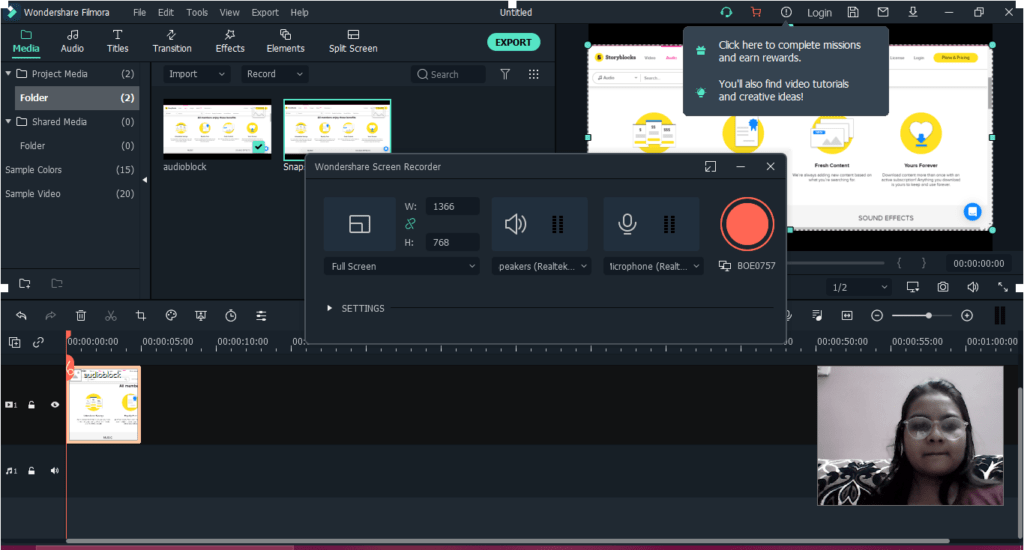 Filmora Scrn recording software offers the editing features of softwares like Adobe Premiere Pro and Aftereffects feel. The software is so much more than just a screencaster and its premium version is relatively cheap with extensive features.
Much like the Ice Cream Screen Recorder, Filmora has the option to customize screen recording to full screen, custom size, or a target area. The free version of Filmora gives you 10 minutes of recording time and the video cannot be used for commercial purposes. The premium version lets you customize your watermark or even eliminate it.
Filmora lets you import your clips, add captions, overlays, and arrows. Both the video and audio settings are extensive. It is possible to increase speed, change opacity, scale, split-screen, rotation, position, color, etc. Moreover, the background noise can be removed with three levels of intensity. It is effective in noise cancellation too: the ambient sounds aren't audible at all.
Unlike other screencasting software, Filmora lets you customize "hotkeys" and save time. Various effects, elements, and transitions at your disposal including 12 export options. The frame rate ranges from 12 to 120 fps in the premium version, and 15 to 60fps in the free trial.
However, there are no camera panning and zoom options as seen in Adobe video editors. It also doesn't offer the option to ripple delete for maintaining the sequence of clips after deleting a sequence in the middle.
Pricing
It costs 19.99 annually, and $29.99 for a lifetime.
[table id=27 /]
3. OBS Studio: Best for Professional (Screencasting) Live Streaming
Platforms: Windows, Mac, and Linux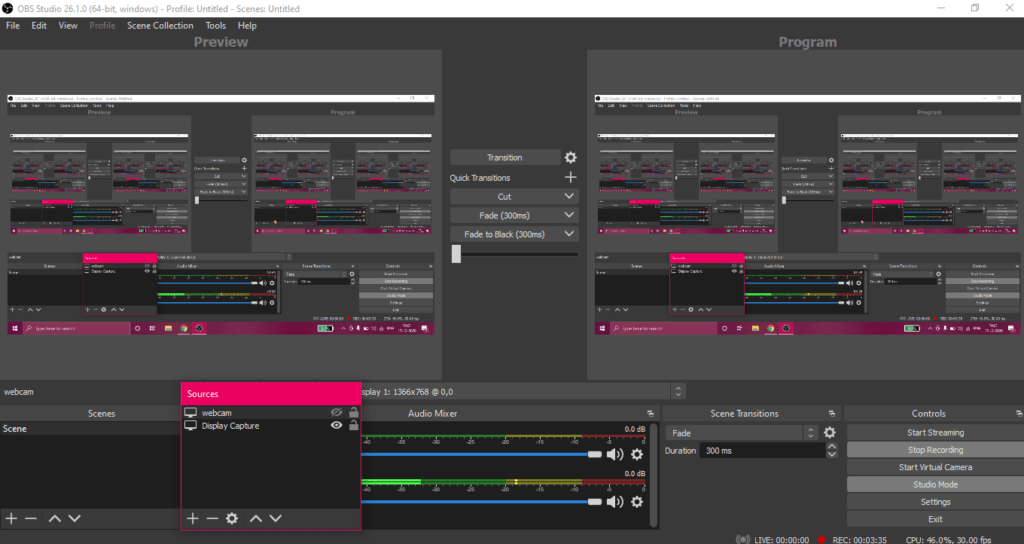 The OBS Studio tool lets you live stream, screen record, screencast, and integrate with Youtube, Facebook, Twitch, and other professional software. It is an open source software that can be configured to your needs.
Its interface can be intimidating for beginners with a bit of a learning curve. But It has a wizard to get you started which will automatically test your system and find settings your computer can handle — including streaming, recording, the ideal bitrate, and more.
There is the option of recording picture in picture webcam, adding personalized watermarks, amongst other features. Compared to others, OBS requires the shortest installation time, but setting up can take long. The process isn't as straightforward as that of other screen recording software.
There are no time limits or restrictions on video length. While the default frame rate is 60fps but can be customised to be higher. It is also possible to customize the hotkeys.
As a gamer, you can easily live stream from OBS to popular software like Youtube or Twitch.  The recorder works in the background, and there is no countdown before starting. There are limited screen transitions and filters. But, it allows you to set properties for every transition.
You can completely customize the software, but it'll take you a while.
Pricing
It's an open source software.
[table id=28 /]
4. CloudApp: Best for Marketing Integrations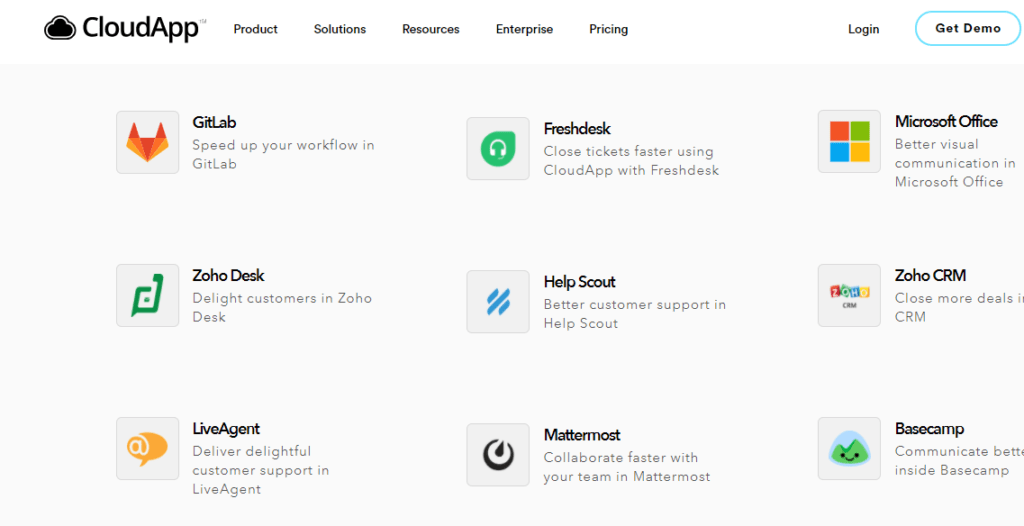 CloudApp has a simple interface with only two video editing options in the free version. The premium version lets you record unlimited videos and even capture screenshots.
You can record the webcam simultaneously with your screen. This feature is quite useful when you're making instructional videos.
It also has a built-in video editor. While it is possible to annotate and highlight areas during the recording, it isn't possible after exporting your file. Annotation is a must-have feature in screencasters to bring attention to a specific feature.
Usually, HD videos take a long time to upload, but this screencasting software generates a shareable link right after recording the video.
What differentiates CloudApp from other screencasters is its drag and drop feature with a wide range of integrations. You can drag and drop videos from CloudApp to Github, Sketch, Zapier, WordPress, Slack, email, Twitter, and other locations.
Pricing
It has three categories: Free, Pro, Teams, and Enterprise. The free version has a recording limit of 90 seconds. The upgraded version starts at $9.95/month.
[table id=29 /]
5. Screencastify: For Creating Demo Videos/Or For Classrooms
Available for Chrome

Screencastify is a chrome extension, making it easier to operate than most screen recorders. You can record your webcam, entire screen, or a select tab.
It does the job as a screen recorder and autosaves files directly to google drive. It offers tools like annotating, highlighting, drawing pen tools, mouse spotlight, and more.
It is a wonderful tool for teachers as it integrates with other Google education products like Google Classroom. You don't have to be tech-savvy to find your way around its editing features. But don't expect professional-grade editing features like Filmora and Camtasia, it only offers basic features like splitting, trimming and merging.
You can share HD videos in seconds and even upload directly to Youtube.
Pricing
You can record videos up to 5 minutes each in the free version. The upgrade starts from $49 to $99 with more editing and submitting features like submitting to Google Classroom.
[table id=30 /]
6. Camtasia: Best for High End, Professional Training Videos
Available for Mac and Windows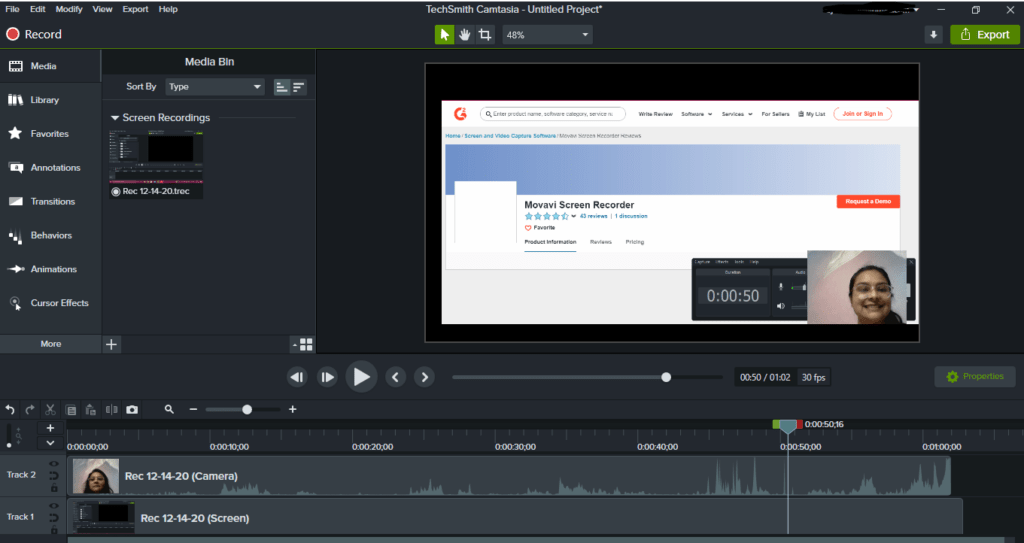 Camtasia is more than a basic screen recording software: it gives your video recordings an expert touch. But, it requires heavy bandwidth. You cannot run any other application simultaneously. The in-built video editor provides:
10 video effects like colorize, drop shadow, glow, etc
Audio Effects like compression, speed, fade in, fade out, and noise removal. In my usage of this software, I couldn't cancel out the traffic noise.
Annotations, Callouts, and Captions. To make your screen recording more accessible, you can also add closed captions.
As with every other screen recording software, the recording area is customizable.
Camtasia has impressive cursor effects. It allows you to zoom and pan your videos, and crop them after recording. What sets Camtasia apart from other screen recording software is its interactivity feature.
Training videos can be made user interactive by adding quizzes at the beginning, end, or throughout the video. I used a few transitions and callouts to add a professional touch to my video.
You can directly import your presentation from PowerPoint and access a comprehensive library of royalty-free music and photos. Unlike professional video editing software like Adobe Premiere Pro and Final Cut, Camtasia doesn't have a separate track for editing audio, and the average rendering time is not known.
You can set screen dimensions as per your requirement and also record videos in Ultra HD. 
To facilitate video communication, you can instantly share your exported video to online platforms like Vimeo, Screencast.com, Youtube, and more.
Pricing
A 30-day free trial with watermark is available. The Pro version starts from $249.99.
[table id=31 /]
7. Screencast-O-Matic: For Educational and Solution Videos
Available for Mac and Windows.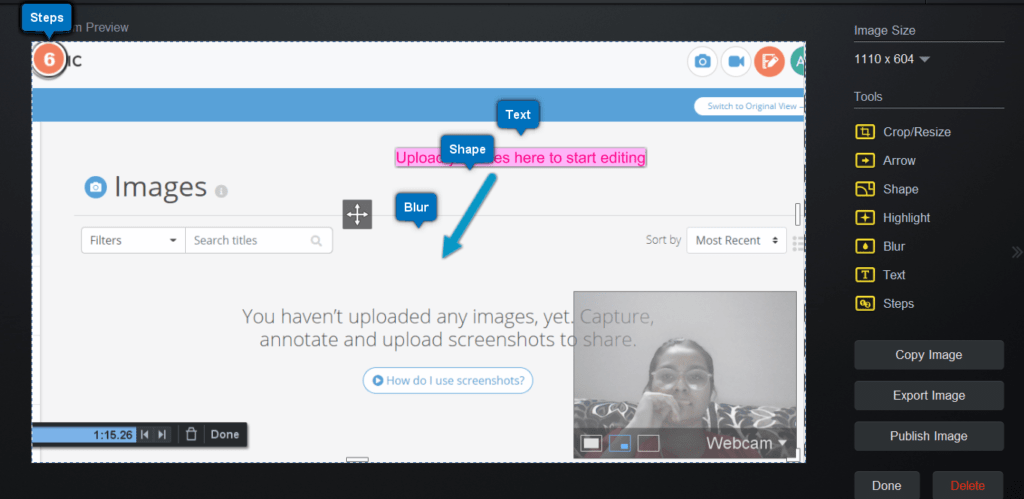 Screencast-O-Matic has a clean and easy to use interface as compared to some of the other software. Before your first screen recording or snapshot, the software prompts you to download an additional web launcher.
You can simultaneously record your webcam and screen. Customization is also an option by adding annotations, cropping, and resizing images, blurring, and highlighting different areas.
Screencast-O-Matic has a distinct feature called scripted recording, which is available in the premium version of the software. Here, you can enter a script, record your audio, and then record your video, which will have a playback to it. It is like adding voiceover to your videos.
Like Camtasia, Screencast-O-Matic allows zooming into the screen while recording it, but only in the premium version. However, there is no pan effect. The maximum length of the screen recording is 15 minutes in the free version and unlimited in the premium. Free users cannot record system (computer) audio.
The trouble with microphone recording is that sometimes it does not sync up to the video and syncing the two can be troublesome. This screen recording software is meant for basic editing.
You don't have robust options like scrolling capture and OCR recognition. But, it does offer features like text to speech captions, and adding one out of 30 royalty-free music tracks. It can even record live game streaming on multiple devices. To increase efficiency, you can even set up keyboard shortcuts.
Unlike Camtasia which has the option of 4K recording, this screencasting software captures videos in full HD(1080p). Most of the features are only available for paid users.
You can directly upload your videos to Youtube, and also share them on Vimeo, Google Drive, and Dropbox using Screencast-O-Matic.
Pricing
The premium version starts at $15/year.
[table id=32 /]
8. Movavi: Best for Recording Webinars and Tutorials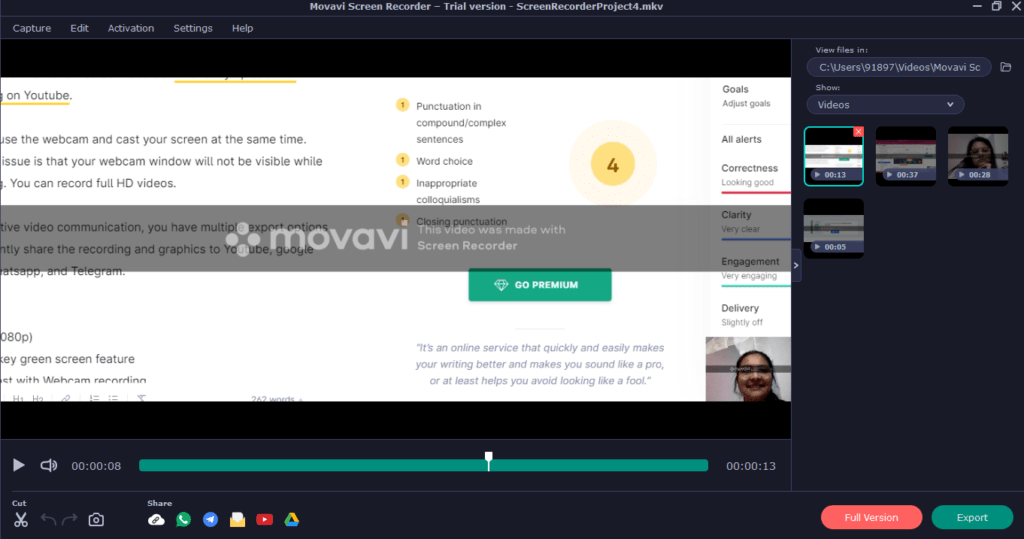 Movavi screen recording software has a scheduled recording feature. This feature is beneficial when you have to record a webinar, and you are away from your screen. You can set the time and prompt the desktop to turn it off after the scheduled time.
It's available for both Mac and Windows. It is the only software after Camtasia and Filmora to have a Chroma Key Green Screen feature. This means that it is possible to replace your webcam background with an image.
Movavi, unlike most screencasters, has extensive video editing features like slow motion and video stabilization. You would see such features in robust video editing software like Final Cut Pro and Premiere Pro.
Unlike Screencast-O-Matic, Movavi allows you to use system audio in the free version. You can also record system audio and microphone simultaneously.
The trial version has a limit of 5 minutes per video with a huge watermark. The premium version allows you to forgo the watermark and even add your logo to your videos.
If you are a content creator who creates videos for online platforms, Movavi will let you directly upload the recording on Youtube.
You can use the webcam and cast your screen at the same time, but your webcam window will not be visible while recording. You can record full HD videos.
For effective video communication, you have multiple export options like instantly sharing the recording and graphics to Youtube, Google Drive, Whatsapp, and Telegram.
[table id=33 /]
Final Thoughts
Apart from the screencasters mentioned in this article, I also reviewed a few others. Here's why I didn't include them.
1. Tiny Take: Has intrusive ads which slow down the recording process. Even the premium version has limited recording time. It is similar to the Icecream screen recorder in terms of editing options.
2. SnagIt: Best for screenshots, crashes, and takes most of your device memory.
3. APowersoft: lets you edit in real time but crashes, freezes and doesn't save recordings instantly.
4. Free Screen Recorder: Intrusive ads, downloads unwanted software
5. ShareX: Intimidating user interface, the configuration takes a while, prompts you to install additional audio software to record system audio.
Based on our review of the best screen recorders of 2020, you can choose whether you want to opt for a professional recorder with video editing features, live streaming, or with more integrations. These are the best screen recorders available on the internet:
Icecream Screen Recorder: Best for elementary instructional recordings
Filmora Scrn: Ideal for professional video editing or as an alternative to Camtasia
OBS Studio: Best for professional live streaming
CloudApp: Best for marketing integrations
Screencastify: Best for creating demo videos/ or for classrooms
Camtasia: Best for high end professional training videos
Screencast-O-Matic: Best for recording educational and solution videos
Movavi Screen Recorder for Mac and Windows: Best for recording webinars and tutorials