This review is authored by John Cirelly
Whether you're starting a podcast, playing video games, pre-recorded videos, or just trying to reach your audience, choosing the right streaming software can make all the difference. In this article, I'll explore five of the best video streaming software platforms in 2023. Let's dive in!
What To Look For In Streaming Software
As I tested various streaming software, I kept an eye out for a few specific criteria. While your use cases may be different, here are a few things to keep a look out for when choosing which streaming platform is right for you.
Ease of Use – Streaming shouldn't feel like rocket science. Look for streaming software with templated overlays, alerts, and an uncluttered interface.
Compatibility – Ensure the streaming software you choose supports the platforms you want to broadcast to. For example, do you need to stream to multiple platforms at once? Also, ensure the software supports your hardware setup and operating system.
Customizability – Consider your creative needs and make sure the software supports them. For instance, do you need custom scenes? Are you making your own animations and overlays? Not all streaming software supports these details.
Value – Considering the price, are the features worth it to you? I personally am willing to pay more for streaming software that enables me to syndicate my stream to various accounts at the same time.
Restream – Best Overall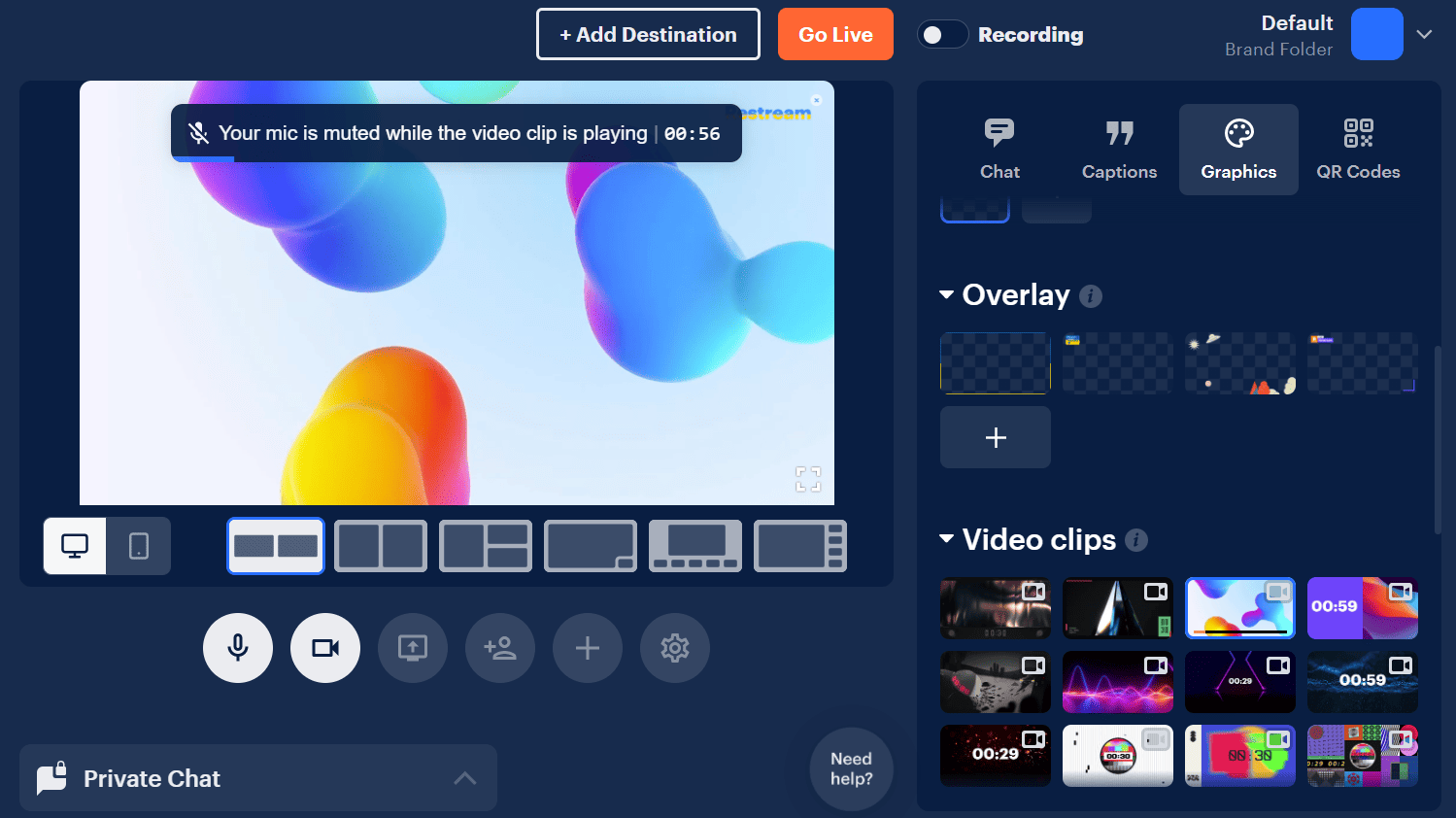 Restream is my top choice for the best overall streaming software. During my research I noticed Restream was rated quite highly, so I put it to the test. Restream allows you to stream to over 30 different platforms from either your platform, or from third-party sites like Zoom.
The setup was super simple and only took a few minutes. What I really enjoyed was how Restream strikes a balance between templated features and advanced functionality. For example, Restream has over a dozen video clips and overlays you can use right away, while still allowing the user to add their own custom animations.
While Restream doesn't offer as much technical freedom as OBS, it is much easier to use, especially for those who aren't as tech-savvy. The platform includes auto-captioning, six screen configurations for five-plus people, and QR codes for easy sharing.
Pricing starts at $19 a month, supporting six-hour-long streams and up to 5 destinations at once. Serious streamers can get two months free when they subscribe annually.
What I Liked
Super easy to use.
Supports virtually any streaming destination (including custom RTMP)
Includes customizable QR codes for donations, joining, and more
Four flexible pricing options with annual discounts
What I Disliked
The unwatermarked version is $49/mo
The website video player only supports 10,000 viewers on the premium PLUS plan
Streamlabs – Best For Gamers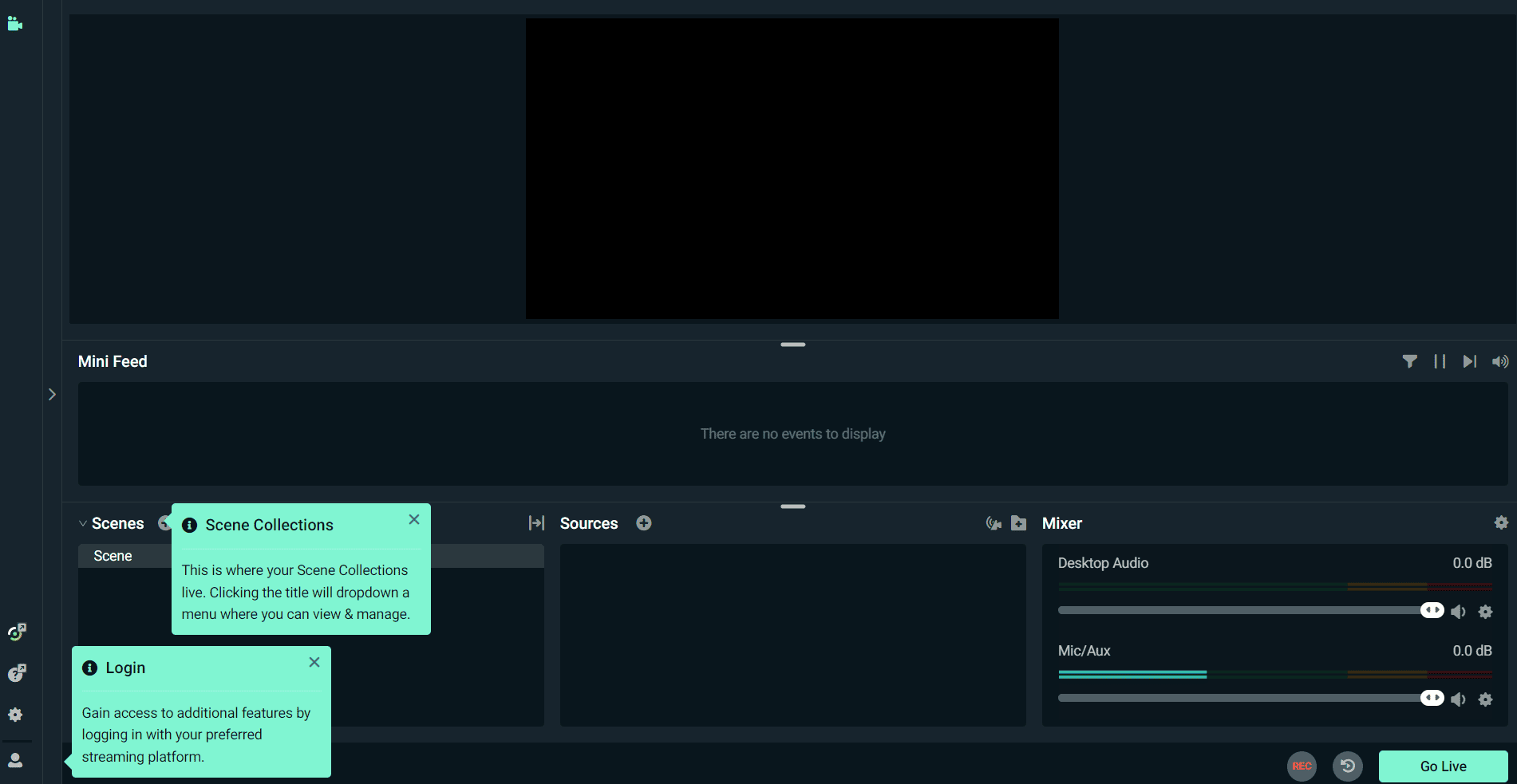 Streamlabs is a classic streaming software for any gamer, and for good reason. It's a free streaming software that offers widgets, games, overlays, polls, and donation support.
On streaming platforms like Twitch and YouTube, keeping your audience engaged is vital for earning long-term viewers. Streamlabs makes staying connected with your audience super simple, all right from your favorite browser.
For example, I wanted a way for viewers to see a visual tip in a jar when they donated. Setting this up in OBS from scratch would be a near-impossible task. With Streamlabs, I can add the animation as a browser source, and it's done.
Steamlabs is easily the most generous streaming software platform in terms of pricing. A vast majority of its features are completely free.
The upgraded Streamlabs Ultra is $19 a month and gives you access to premium features like a thumbnail creator, priority support, 60+ new add-ons, and access to sponsorship opportunities.
What I Liked
Tons of done-for-you templates, overlays, widgets, and polls
300+ free overlays
Supports browser streaming, Windows, and even mobile platforms like Nintendo Switch
Everything you need for basic streaming in the Free plan
What I Disliked
Streamlabs caters to gamers – not an ideal fit for businesses
Browser streaming can feel glitch (disable your adblocker beforehand)
Stream Yard – Best For Podcasting
Streamyard is easily one of the best streaming software platforms for podcasting that I've tested. I love that Streamyard makes it easy to host both audio and video podcasts in just a few clicks.
A major challenge in the podcast streaming scene is guest voice quality. If your podcast guest is remote, you'll be at the mercy of their mic quality and internet connection. Streamyard overcomes this with my favorite feature, local recording. This simply stores the audio and video data locally and then sends it to the host after the stream.
Streamyard supports a range of easy-to-use features, like background music, screen overlays, titles, and one-click multistreaming. While I had never hosted a podcast before, my demo podcast with my friend went surprisingly smoothly. When it's time to edit, Streamyard gives you the option to download each guest's track individually, which makes the entire syncing process super simple.
Streamyard has a free version that supports up to 20 hours of live streaming per month, and two hours of high-quality local recording. Paid plans start at $25 per month and include unlimited streaming, custom RTMP destinations, and limitless local recording. Subscribers can save $60 by purchasing annually.
What I Liked
Supports high-quality recordings from remote guests
Offers unlimited streaming and recording at an affordable price
Has a generous annual discount for long-term projects
Includes music, overlays, and guest titles in the free plan
What I Disliked
HD 1080p steaming is only available in the Professional plan
The video streaming quality could have been better.
OBS – Best For Customization
Open Broadcaster Software (OBS) has been a cornerstone tool for streaming since 2012. I personally use OBS for my streaming and local recording projects because it's flexible and easy to customize. It's open-source, probably the best free streaming software — at least in terms of the features it offers.
Unlike browser-based streaming software, you install OBS on your computer. OBS currently supports Windows, macOS, and Linux, making it ideal for practically any setup. OBS is great for streamers who aren't afraid to get a bit technical, or for businesses that need professional local recording and live-streaming options.
I personally like having total control over each scene. For example, you could set a scene with a custom background overlaying yourself over your desktop, and assign that to a hotkey for quick toggling.
If you want to nerd out, you can even add your own browser sources and customize them on the fly through OBS's CSS options. While I've loved OBS for years, I've had to learn a ton to get it working just right. From bitrate setting to encoder presets, OBS can be intimidating for new streamers. That's where simple tools like Restream and Streamyard really shine.
What I Liked
Limitless customization
Support for a wide range of add-ons thanks to its open-source development
Tons of documentation and community support, and online tutorials
Works well for almost anyone – from gamers to business webinars
What I Disliked
No support for audio-only (not ideal for podcast streaming)
It can be technically challenging to learn
Can use a lot of system resources (especially if not configured properly)
Best Practices Of Live Streaming
It's important to keep in mind the effects of factors such as audience interaction, use cases, user experience, etc, that change the way your content is consumed. The following best practices will be useful in gaining engagement while live streaming.
Choose the appropriate live streaming tool: There are certain social media platforms that provide live video streaming services, like Facebook Live, Twitter's Periscope and, YouTube Live, Twitch. YouTube Live and Twitch are for gameplay. You need to know which one's the best suited for your purpose.
Use Enterprise live streaming software to avoid API crashes: Streaming software like Dacast, Wirecast, etc, come with API, and you can use them to embed the live stream on any website while controlling it from the cloud dashboard.
Create your own live streaming platform: If you don't wish to stream on established platforms, you can create a website like Twitch and allow other streamers to join you to make some bucks.
Make a blueprint for audience engagement: Find out what your audience needs. Some of them may want to be a part of the streaming and engage with them. Restream Studio is one such app that excels in supporting viewer interaction tools.
Promote your broadcast: Talk about your stream in advance by scheduling events using streaming and broadcasting software. Build hype around it and promote it as much as you can to get an audience for views.
Select an appropriate time: Keep in mind the global time factor and select a time that works well for your viewers. Moreover, set a CTA at the end of the session, like subscribing to the newsletter, adding links to other videos, or downloading options.
Wrapping Up
So there you have, my top four streaming software options for 2023. While I think each software has its own strengths and weaknesses, Resteam's ease of use combined with its done-for-you widgets sealed the deal for me.
While you make a choice, I would recommend sticking with a cloud-based streaming software just for the convenience it offers.