Gamers, advertisers, big brands, sports producers, filmmakers, etc are a few of the many professions that use live streaming as a form of engagement and brand promotion. 
As a retail company, you may want to live stream the launch of your product but is it enough to stream on one social media platform? How do you stay ahead of your competitors? How do you make sure to stream a professional video? 
Let me answer all those questions and ease the process of choosing the best live streaming software. In this article, we'll go through the best practice of live streaming and also help you understand the one broadcasting software that you require right now. 
Best Practices Of Live Streaming
It's important to keep in mind the effects of factors such as audience interaction, use cases, user experience, etc that change the way your content is consumed. The following best practices will be useful in gaining engagement while live streaming.
Choose appropriate live streaming tool

: There are certain social media platforms that provide live video streaming services like Facebook Live, Twitter's Periscope and YouTube Live, Twitch. YouTube live and twitch are for gameplays. You need to know which one's the best suited for your purpose.

Use Enterprise live streaming software to avoid API crashes:

Streaming software like Dacast, Wirecast, etc come with API and you can use them to embed the live stream on any website while controlling it from the cloud dashboard.

Create your own live streaming platform:

If you don't wish to stream on established platforms, you can create a website like Twitch and allow other streamers to join you

to make some bucks.

Make a blueprint for audience engagement:

Find out what your audience needs. Some of them may want to be a part of the streaming, engage with them. Restream Studio is one such app that excels in supporting viewer interaction tools.

Promote your broadcast

: Talk about your stream in advance by scheduling events using streaming and broadcasting software. Build hype around it and promote it as much as you can to get an audience for views.

Select an appropriate time

: Keep in mind the global time factor and select a time that works well with your viewers. Moreover,

set a CTA

at the end of the session like subscribing to the newsletter, add links to other videos, or download options. 
With that in mind, let's go over the best streaming and broadcasting software available on the internet.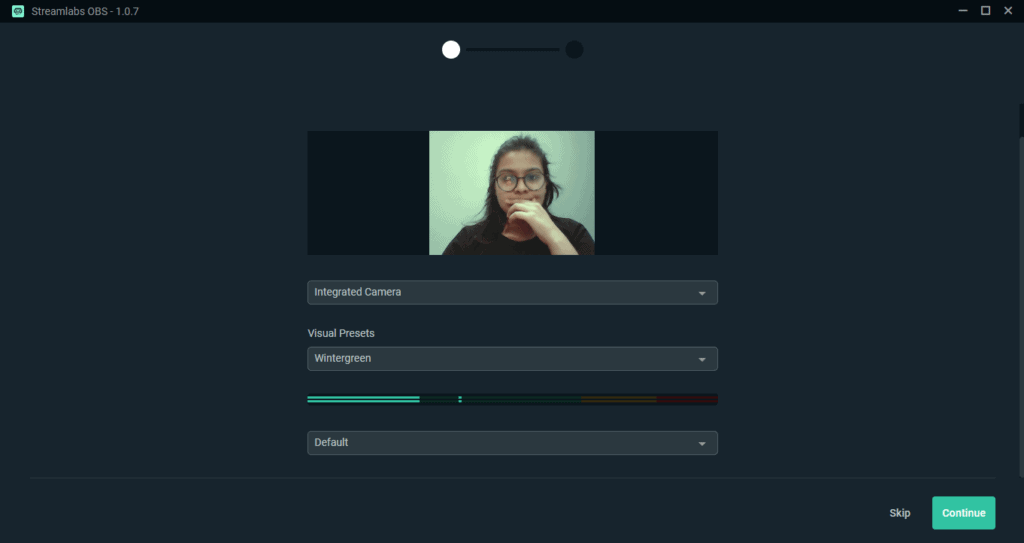 Famous gamer Ninja prefers Streamlabs and has been using it for the last 8 years or so. It's an open-source broadcasting software much like OBS Studio. 
The installation took less than five minutes. You can either choose a live streaming platform or log in to your established one. Because I had nothing to import, I started afresh stream.
This was the first time software offered webcam effects and that's pretty cool. Although not many, they have some decent effects for webcams.
There are six professional themes that you can choose and install in the desktop app itself. The drag-and-drop editor makes the process easy and fun. In case you want to show comments or another screen just select what appears on your stream and record selectively.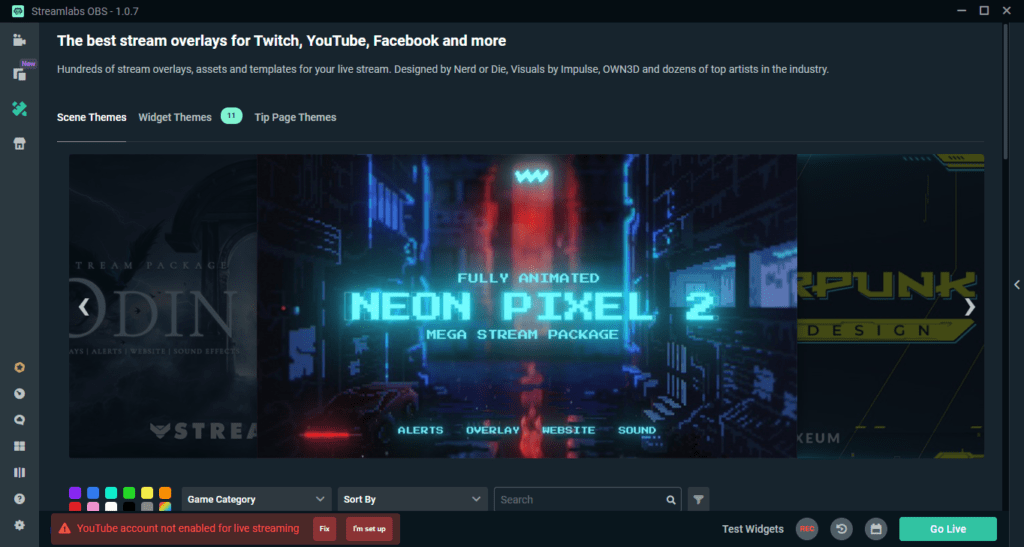 OBS offers popular streaming services like Twitch, YouTube/YouTube gaming, Facebook Live, Restream.io, Twitter/Periscope, Lucra.live, StageIt. In case you don't find the platform you're looking for, it allows custom streaming by entering URLs. 
 As a gamer or a streamer with guests, the multi stream feature is a requirement. In less than a few minutes, you're live. For audience interaction, OBS allows customizable alerts for managing viewers. 
I was more than disappointed with the functioning of the software. It lags, freezes, and slows down the entire system. 
Price: Free to download but you need to upgrade to prime to use other apps offered by Streamlabs. 
Operating System Compatibility: Windows, Mac, and Linux
Pros
Gaming overlays

Multicast streaming

Offers popular streaming services
Cons:
Lags, complex interface. 

Limited themes 
Coming from Streamlabs to Streamyard instantly makes everything look more simple but unattractive. The UI is easy to navigate however has less to offer in terms of design elements. 
Streamyards is an Online platform with no desktop app. The dashboard asks you to choose from their available streaming servers such as Facebook (page/group/profile), LinkedIn (events/page/profile), YouTube, Twitch, Periscope, and custom RTMP. 
If you aren't sure about the destination, run a test broadcast that comes with a record-only feature. 
The green screen has only two free background options, and it didn't work in my case. The feature is useful but isn't well thought out and functions poorly. The screenshot above doesn't show the background I chose. 
To customize your logo, you need to switch to the Pro plan. But with this free full version, you can add your own overlay, change the badge color, add a background image and video clips. 
With a professional plan, it is possible to record separate audios for each guest, customize guest settings, and have more than 6 people on screen at once. 
I must say, businesses using live streams will love the Linkedln streaming ability. 
Price: There are a free version and two paid plans. 
Free: $0/month with streaming limits.

Basic: $20/month

Professional: $39/month with unlimited streaming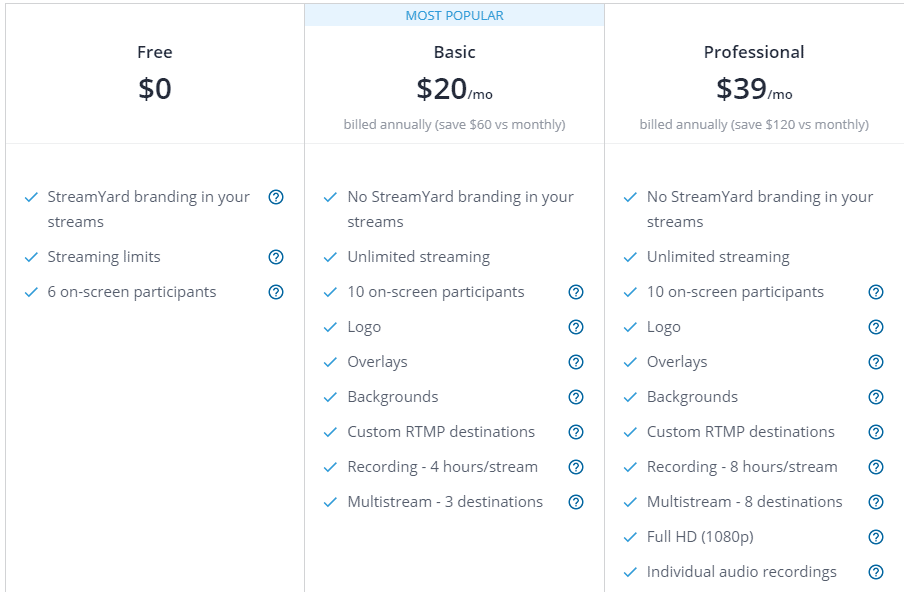 Operating System Compatibility: Windows, mac
Pros
Short learning curve and easy to use.

Intuitive dashboard.

Has a test broadcast feature and LinkedIn integration
Cons
Not as advanced as Streamlabs OBS

Most of the feature is available in the Pro Plan

Even the paid plan allows only 10 streamers at once.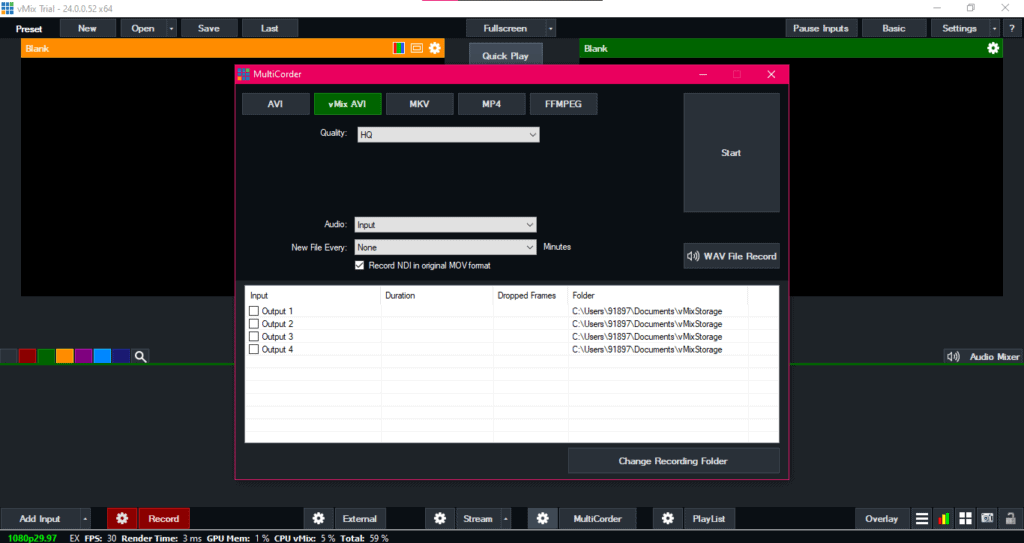 Vmix is the most complicated of all streaming software listed here. It has a generous 60-day free trial which gives you ample time to test the software and know if it's the right fit for you. This streaming software takes a lot of device space and more time to download. 
I had to refer to the user guide to understand most of the features locked away under the options in the taskbar. The UI isn't the most attractive but is highly advanced and supports a wide range of inputs and instant replay and slow-motion features. 
If you're a broadcaster who prioritizes user experience over anything, then vMix has multi-bitrate streaming support to facilitate just that. Record your video in 4k resolution and export it in multiple high/low-quality formats as you like. 
GT-string is yet another feature offered by vMix which offers a cast-full of animations, transitions, and effects you can add to your video. Making presentations isn't a problem either as it supports Powerpoint input. 
Here's another amazing feature called vMix Social. It allows you to display content from social media platforms. There's a chroma key green screen feature like in other streaming software as well as scoreboards. 
Price: If you choose to continue using vMix after the 60-day trial, here are the 6 editions and their cost.
Basic HD: $60 USD

HD: $350 USD

4K: $700USD

Pro: $1200 USD
Once you purchase vMix, the session never expires. 
Operating System Compatibility: Windows
Pros 
60-day trial

Many advanced features

Supports a wide range of inputs
Cons
Extremely complicated and unattractive UI.

Relatively expensive 

Not suitable for beginners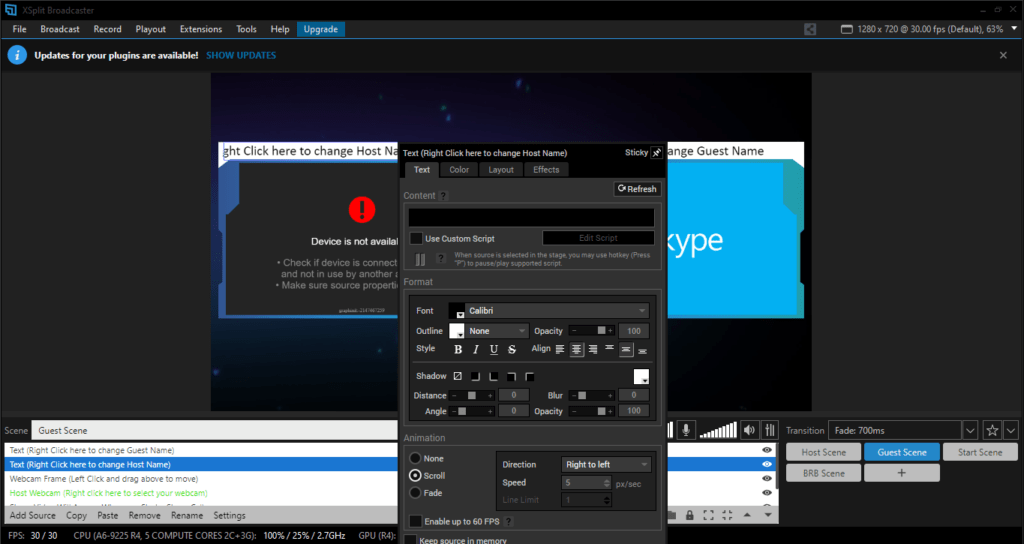 Much like vMix, XSplit Broadcaster's installation alone took more than half an hour. It's a slightly complex process. 
The dashboard reminds me of OBS Studio, but better. Before testing the software you can check the manual and take a tutorial to help understand all the features of the software. 
Unlike other streaming software that is exclusively designed for gamers, it has templates for different use cases—PC gaming, console gaming, online talk show, podcast, presentation. I went ahead with the talk show template and needless to say it didn't disappoint me. 
Xsplit like Streamyard works for both live streaming and recording. Customize recording settings to a high-quality video output or select the option to automatically optimize for YouTube.
I am impressed with the CPU usage indicator at the bottom of the screen. High CPU usage slows down the performance and it alerted me for the same. 
Additionally, while recording or live streaming you can change transition speed, add transition effects, add stinger and luma transitions. It also allows taking screenshots in the middle of recording and live streaming. 
Here comes the unusual fact. Chroma Key feature that is available in most streaming software for free comes with a cost in XSplit Broadcaster. Another slightly off putting element is the watermark that applies to videos with a resolution over 720p. 
Oh, and thinking of using videos for commercial use? Guess what? That isn't free either. 
Popular live streaming partners: FC2, Twitch, Livehouse.in, Intel, Facebook, YouTube, Meridix, Niconico, Streamshark, Restream.io, OBS Studio. 
Price: License for three months of premium starts at $18.71. They have a lifetime license at $149.25.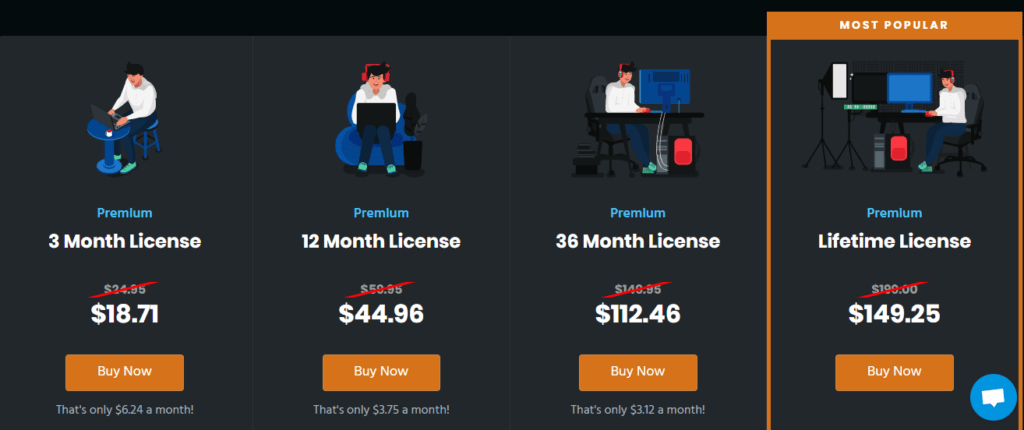 Operating System Compatibility: Windows 7 OS and higher. 
Pros
Facilitates streaming and recording.

Has templates for different use cases.

Automatically optimizes for YouTube.
Cons
Most of the features like the green screen are available in the paid version. 

Video resolutions over 720p have a watermark.

Not available for Mac and Linux.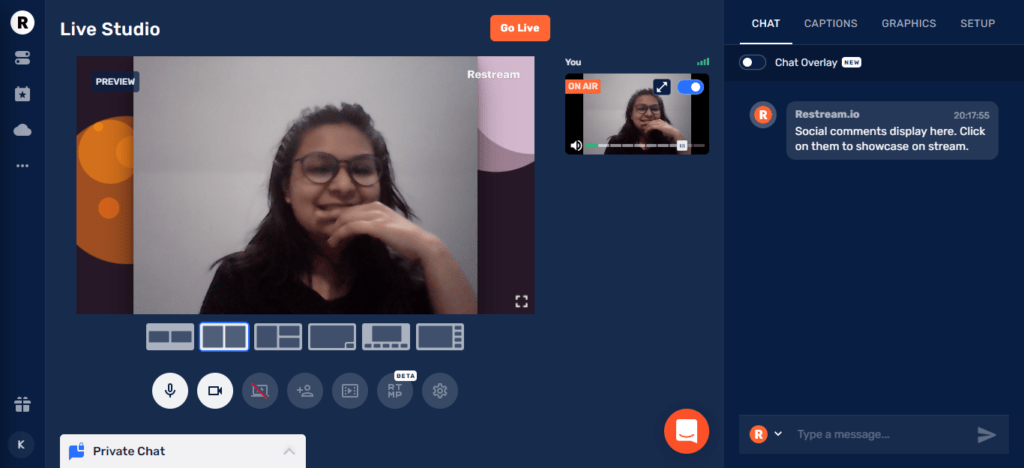 The most simple of all the streaming software listed in this post with an engaging and intuitive interface. Restream Studio is an online streaming software like Streamyard. 
Dashboard opens to available channels: Facebook Live, Twitch, YouTube, and LinkedIn. If you don't find your destination, enter your URL to add the channel. 
Scheduling a live event is easy and you can run it with the Restream studio, Obs studio, Zoom, or vMix via RTMP. You have another option to schedule a recorded event to let your audience know when you'll start streaming. 
But, there's a catch. There's a limited time of 10 minutes before scheduling that rules out the possibility of scheduling an emergency event. 
Analytics section is vital, powerful, and impressive. It gives details about average stream duration, streamed times, most loaded period, messages, chatters, and chat trends. 
Stream metrics such as average viewers, max viewers, watched minutes, and new followers make it one of the best audience interaction tools.
Restream allows you to stream live to more than 30 social media platforms at once and require no encoding tools. You can also change all titles at the same time with just two clicks. 
Here's what you won't like – the branding. It's added to all streams unless you pay for it. You also need to upgrade to stream a full 1080p video. 
Price:
The plans are divided into individuals and companies. Apart from the free plan, there are four others.
Standard: $16/month

Professional: $41/month

Premium: $83/month

Business: $249/month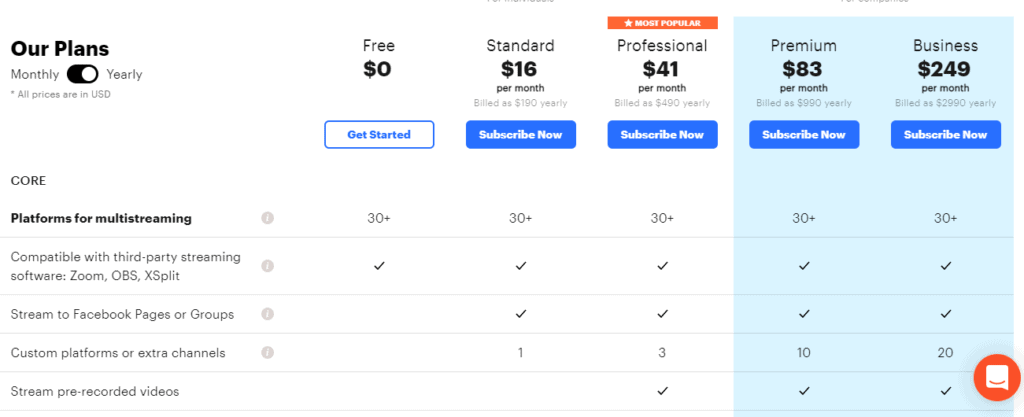 Operating System Compatibility: Windows and Mac
Pros
Allows multistreaming

Robust audience interaction tools

Easy to use
Cons
Has a cap on scheduling events

Most of the features are available in the Pro plan

Has watermark in the free plan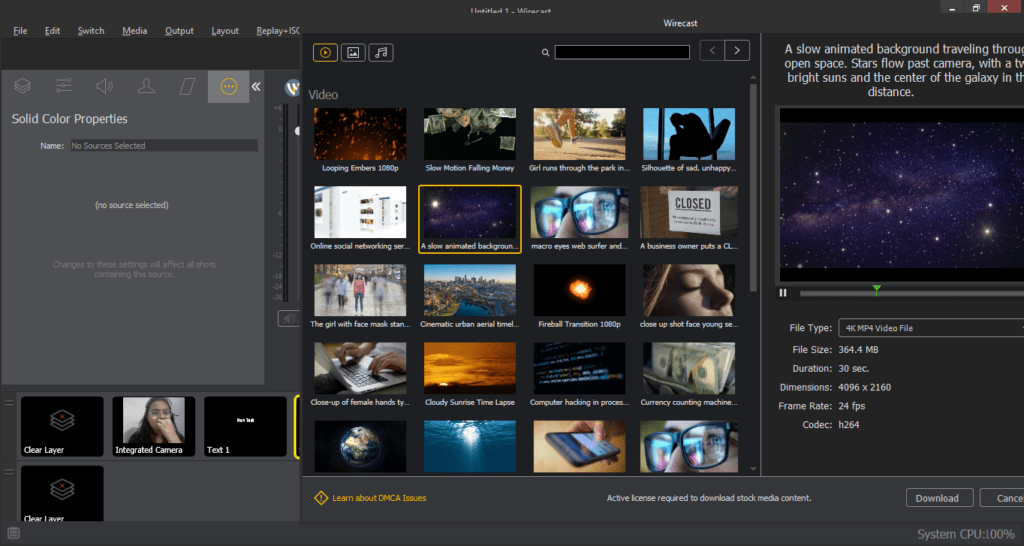 Wirecast has a free or a demo version with no time limit. The interface is a bit intimidating and requires time and effort to learn its features. I had a few issues while logging into the software and it took me one full day of trial to successfully access it. 
The dashboard is different from all other streaming software and works by adding layers. Media files, webcam, colors, texts, etc are all added in different layers. Every layer is editable and even the webcam has multiple templates, most of which are available in the upgraded version. 
Wirecast has tons of built-in templates and a stock media library for pictures, animations, and sounds. It also has a built-in screen capture tool with unlimited capture ability. The free version adds a watermark to the files. 
Moreover, it has professional audio support for ASIO, WASAPI with multi-audio ingestion. It supports multistreaming with services like Zoom, Facebook, YouTube, Wowza, Twitter, etc. 
If I thought Restream was best in providing audience engagement tools, Wirecast tops it. There's a built-in comment curation and display for Twitter, polling for Facebook, and live viewer count to build community and engage with viewers. 
Additionally, this professional streaming software also has a mobile app for iOS with access to Wirecast Cam. 
I cannot restrict Wirecast to one particular use case. It can be used for entertainment, live concerts, educational content, sports, news broadcasts, product launch, etc. It's difficult to list all the features in this article. 
The only downside is the limitations in the demo version. Most of the features are available in an upgraded version of Wirecast. And, sadly it even in its pro version, it only allows 7 remote guests. 
Price: There are two versions with a one-time fee.
Wirecast Studio: $599

Wirecast Pro: $799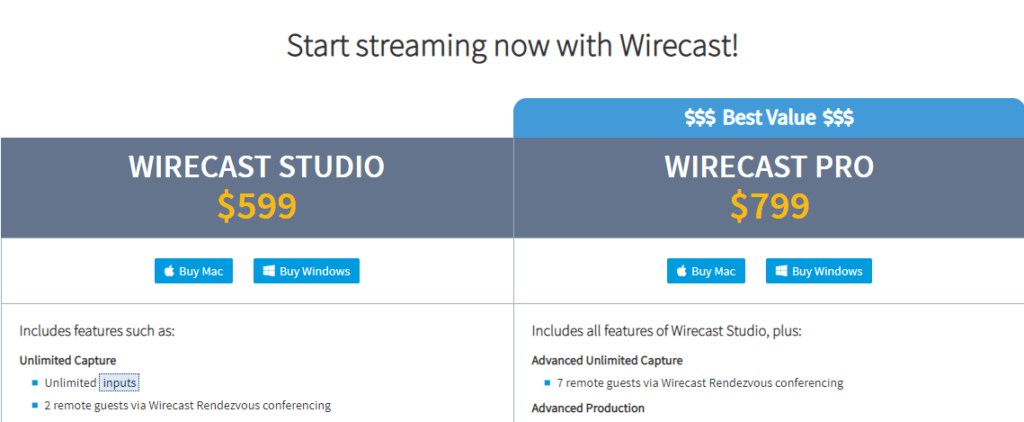 Operating System Compatibility: Windows, Mac
Pros
Professional streaming software with multiple use-cases

Has a mobile app.

Has highly advanced features. 
Cons
Steep learning curve.

The sign-up process can be a problem.

Doesn't have a mobile app for android and most features are only available in the paid plan. 
Though I've eliminated the process of trial and error with streaming software, it all boils down to the purpose of needing the software. 
In my opinion, nothing beats Wirecast if you are producing professional video on a large scale or as a live marketing tool. Gamers on the other hand should go for Streamlabs OBS or vMix. As a person using it for business needs, Restream Studio or Streamyard could be a good option due to the LinkedIn integration.