This review is authored by Amy DeYoung.
Creating landing pages can be time-consuming and stressful.
After all, you don't want to waste time making a dedicated landing page for your digital course or email marketing list and not generate qualified leads or sales.
What is Unbounce?
Unbounce is one of the most popular landing page builders.
It offers many advanced features, especially its continual expansion into AI technology features like AI optimization, copywriting, and insights.
However, Unbounce may not be for everyone.
For starters, its simplest plan has a sizable starting price point of $99/month. You can't create your entire website through it, which some Unbounce alternatives allow.
So, what are the best alternatives to Unbounce? Keep reading for my three best software similar to Unbounce, their pros and cons, and who will benefit most from their most specialized features.
ClickFunnels
First Impressions & Overview
ClickFunnels is an online marketing tool and landing page builder that works as an all-in-one digital marketing launcher and manager for your website, sales funnels, digital courses, and more.
One of the company's strong points is its impressive data analytics, A/B testing, and visitors' activities reports featured neatly on your dashboard.
Features
My initial reaction when logging into ClickFunnels is that the dashboard is overwhelming.
There are many functions to choose from, which left me feeling paralyzed and unsure where to head to get started. I also dislike how the page lacks color.
Compared to Unbounce and other landing page builders I've tried, this marketing tool isn't as user-friendly or visually appealing, which is hugely important to me.
On the positive side, I like how you can manage everything from your landing page, the whole lead generation process, online courses, website, and set-up marketing automation. If you're looking for an all-in-one package for your content creation business, ClickFunnels delivers.
I also like the way that the templates are organized. They are clearly labeled and sorted into helpful categories based on the end goal, like opt-in pages versus thank-you pages.

When editing web pages, I found the click-and-drag interface easy to use.
I loved this page builder's time-saving "clone" feature, which allows you to quickly duplicate text boxes, pictures, and other assets to create your page much faster.
Pros
Landing page builder and lead generation machine
Co-founded by digital marketer Russell Brunson
Training modules available
Free 14-day trial
Cons
Ugly and clunky dashboard and user interface
More expensive than Unbounce (Starts at $147/month, compared to Unbounce's $99/month)
The Verdict: Ideal for creators not intimidated by a steep learning curve and interested in an all-in-one digital marketing platform.
Leadpages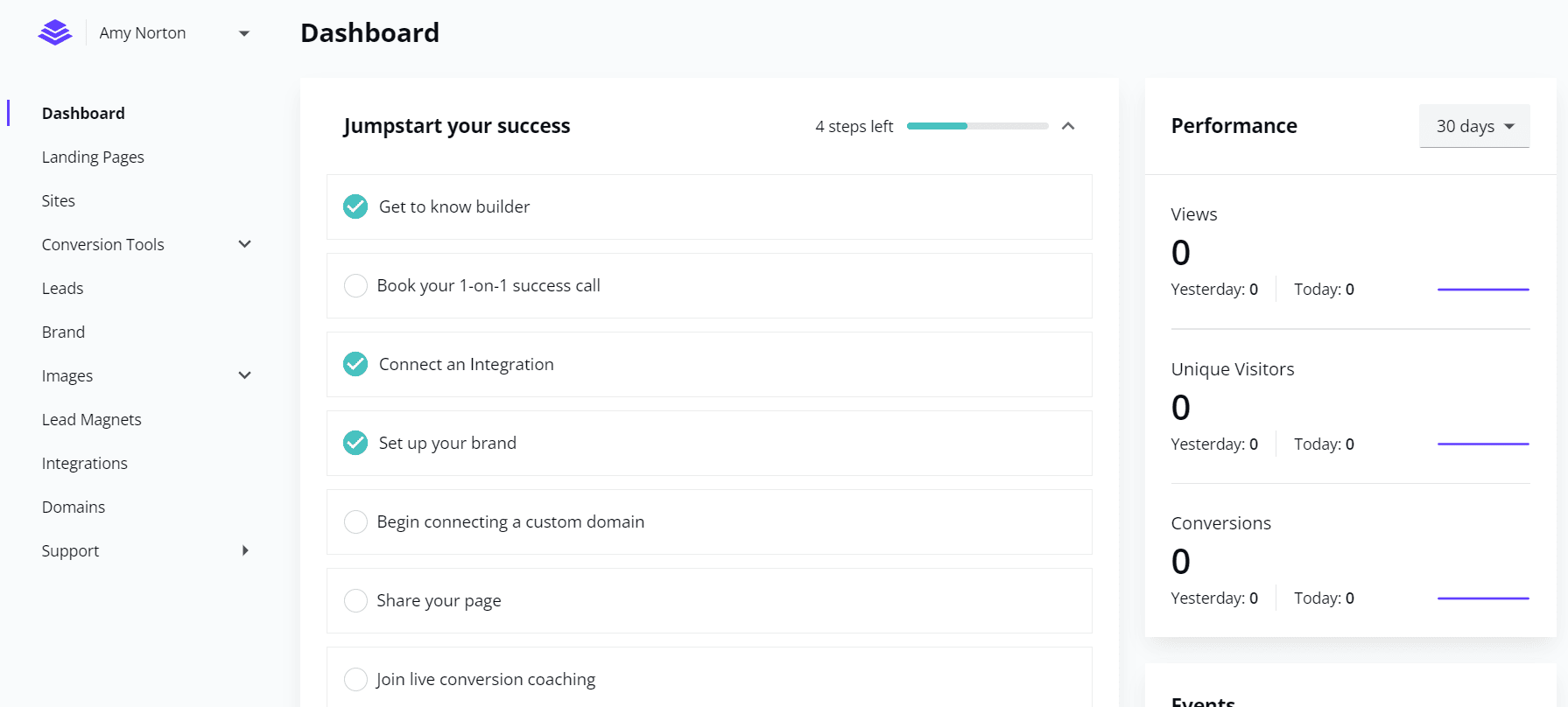 First Impressions & Overview
My first impression of Leadpages is how easy it is to use. After answering a couple of questions about how experienced you are in building landing pages and what niche you are in, Leadpages recommends an extensive selection of landing page templates.
Leadpages offers over 200 pre-made templates with many fonts, colors, and widgets, like tracking bars or Calendly embeds, making it easy to customize your website.
I especially like the simple drag-and-drop landing editor and the A/B testing, which allows you to compare your different landing pages side-by-side.
Features
One of my favorite Leadpages' features is its AI-copywriting support. At the top of the landing page editor is a "Leadmeter," which rates the text on your page.
If you hover over the meter, Leadpages provides a checklist, automatically indicating which best practices you are meeting.
The meter analyzes your page in real-time to give you automatic feedback on where you can improve your website copy, such as shortening or lengthening the headline.
Whether you're new to creating high-converting landing pages or a pro, this is a handy feature that points out recommended improvements as you create.
Compared to Unbounce, I feel Leadpages is ideal for smaller creators or businesses starting out. It allows room to grow from its standard plan and is at a much more affordable price point of $49 per month or $37 per month if you choose annual billing over the more expensive monthly billing plans.
However, it lacks some of the more advanced AI features and quantity of app integrations that Unbounce offers.
Pros
Drag and drop interface
Free 14-day trial
More affordable price point (starting price is $49/month, compared to Unbounce's $99/month)
Pop-up forms and alert bars are easy to create
Online sales and payment features (PRO plan)
Cons
Lacks AI insights (no personalized AI recommendations based on data to improve your page)
A/B split testing is limited on the standard plan
The Verdict: Best for individuals looking for an extremely easy-to-use landing page creation tool with virtually no learning curve required
Instapage
First Impressions & Overview
Instapage is Unbounce's biggest competitor for a good reason.
It offers some of the most comparable cutting-edge technology features, like AI copyrighting, and many other feature-rich tools to improve email marketing sign-ups and sales conversion.
Features
Like the other marketing tools on this list, Instapage offers A/B testing so that you can assess which ad campaigns and landing pages capture leads best.
Its drag-and-drop editor also made it easy to replicate sections across several landing pages, saving me a lot of time creating multiple versions of my landing page.
I found that Instapage's editor offers greater precision editing capabilities, allowing me to group, resize, and align assets easily.
As an alternative to Unbounce, I think the editor is good but not as intuitive. I personally preferred the more intuitive editors built into Leadpages and Unbounce and was able to create landing pages faster with these tools.
An example of Instapage's collaboration feature
Pros
Collaborative tools allow team members to work in sync
Optimized to work with paid advertising, such as Google and Bing Ads
Offers more competitive AI features than other Unbounce alternatives
Integrates with Salesforce, Marketo, and over 40 different platforms
Cons
You can't create entire websites
It doesn't offer as many customizable templates as LeadingPages or other dedicated page builders
Not as intuitive as other landing page builders
The Verdict: Ideal for more established creators or mid-level enterprises working with marketing teams to create the best-performing landing pages.
The Verdict: What is the Best Unbounce Alternative and Landing Page Builder?
The best landing page builder depends on your preference. I personally prefer Leadpages for my business needs.
As a small business owner, I appreciate that there is virtually no learning curve in creating landing pages. The visually attractive interface was also easier to use and more pleasant on the eyes.
However, if I wanted a complete marketing package to build landing pages and manage sales, I would look into ClickFunnels or Instapage.
Make a list of your top needs, then eliminate which alternative to Unbounce lacks your most important features.
You'll find that many of these powerful tools have similar capabilities, such as creating pop-ups or sticky bars. However, each software is geared towards a different goal, type of business, and skill set.